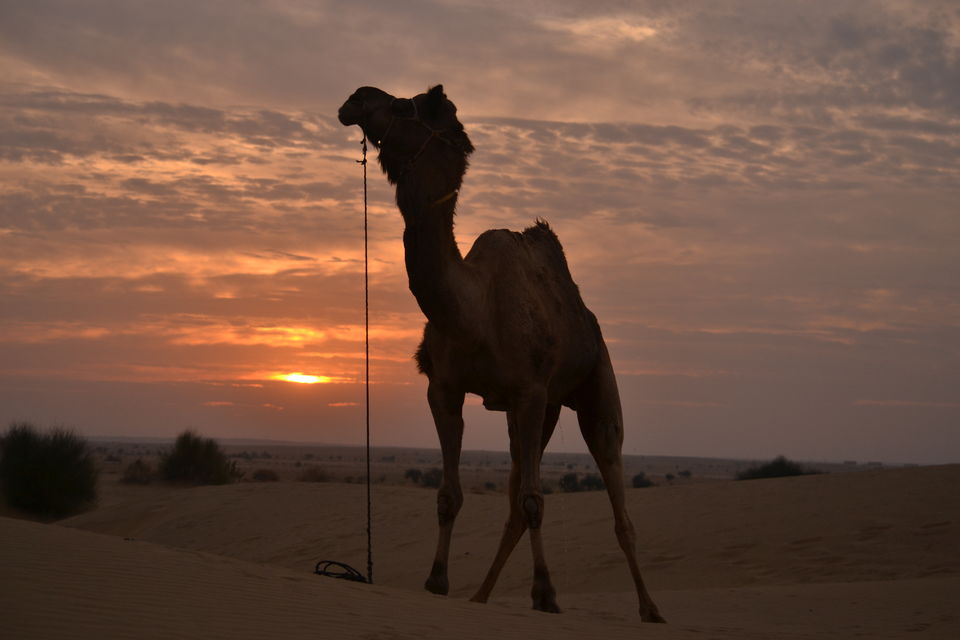 This is a much awaited trip and is long pending to be ticked in my bucket list. I don't want to combine the tranquil serenity and the adventure of desert Safari with the mystic effect of lake and forts of the city. So, I divide the whole chapter of travel in two blogs. This is more of a backpacker blog with minimal budget.
This blog consists of budget staying options with travel in local transport but what I can bet after reading this that one will get is the perfect understanding of the local culture and cuisines along with some motivation.
After reaching Jaisalmer in the afternoons, I decided to relax in the evening and to prepare myself for the next day Safari. Being a budget backpacker, I booked a dormitory in the hostel which costs me 300 INR per night. Almost every hostel has their own arrangements for desert Safari, so do ask them before getting ruined in the hands of external safari agents who charge you actually much more than the usual costs. The Safari cost me 1700 INr for a night stay in the desert along with transport from the hostel to the desert, dinner and breakfast. The drive from the hostel to desert was frequented with large blade windmills on both side of otherwise deserted road. I got myself in a group of three with a German and an Australian guy which also helped in splitting bills (though there aren't any but I got memories).
We started after our lunch in the afternoon. There are two main Safaris namely Sam sand dunes and Lakhmana Dunes. We prefered the Lakhmana one because Sam Dunes are very popular and thus crowded. We got our camels and our friend and guide who remained with us until the next day. He cooked us food and helped us in all other small endeavors. Finally We were on the camel and my long awaited dream actually got real. With no trees in the horizon, soon it got really hot and our groins started getting exhausted with the tough camel ride, even though our guide helped us to seat with all comfortable arrangements. He also helped us with all the photos for our social media engagements. Soon we reached the place where we would be spending our night.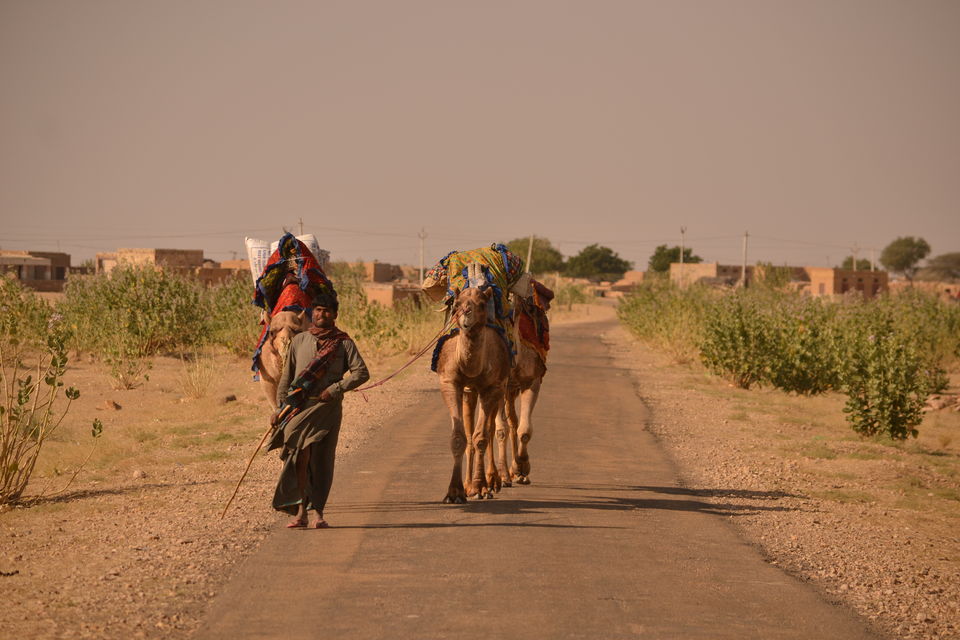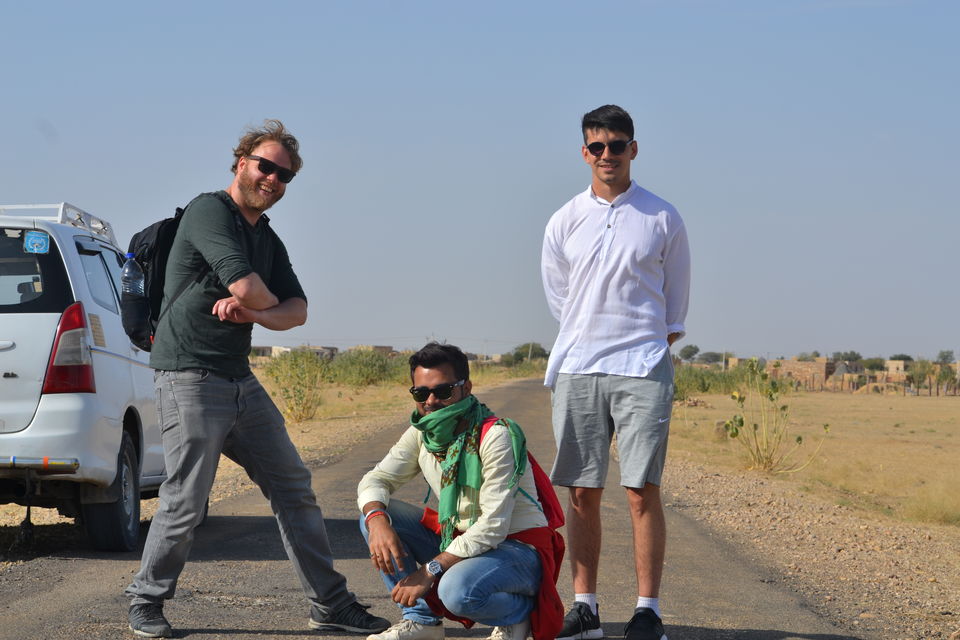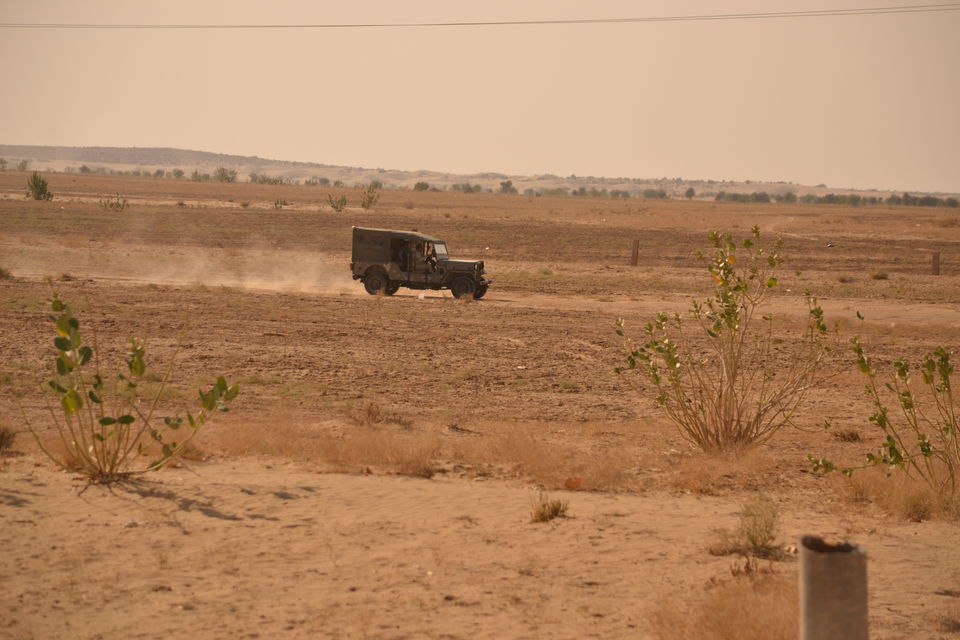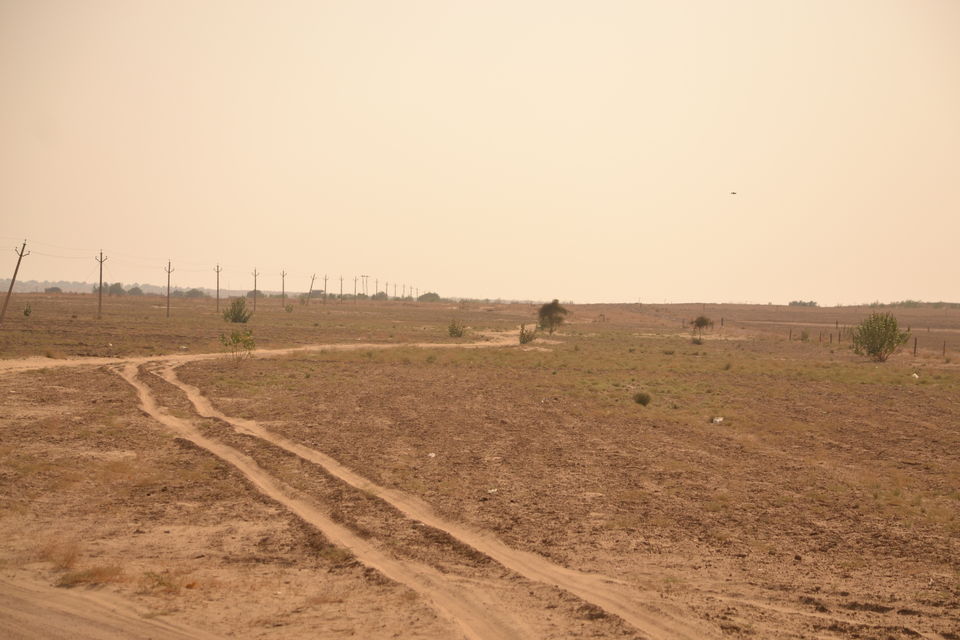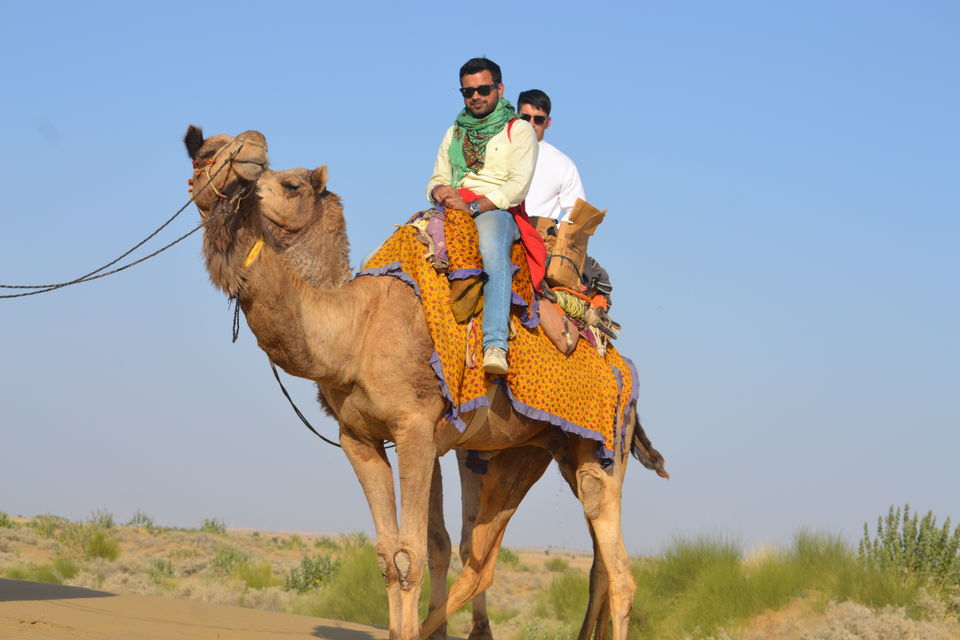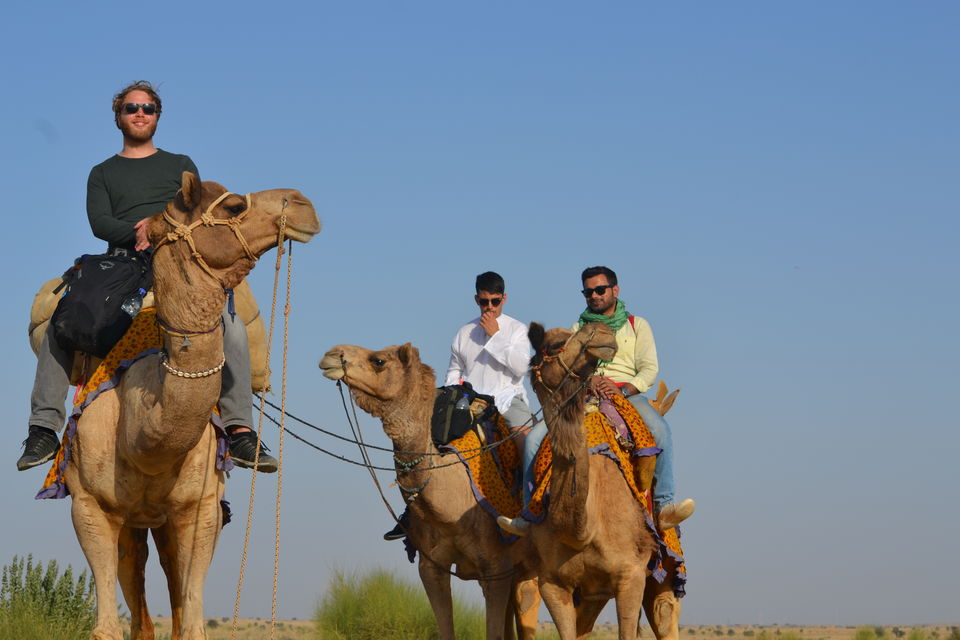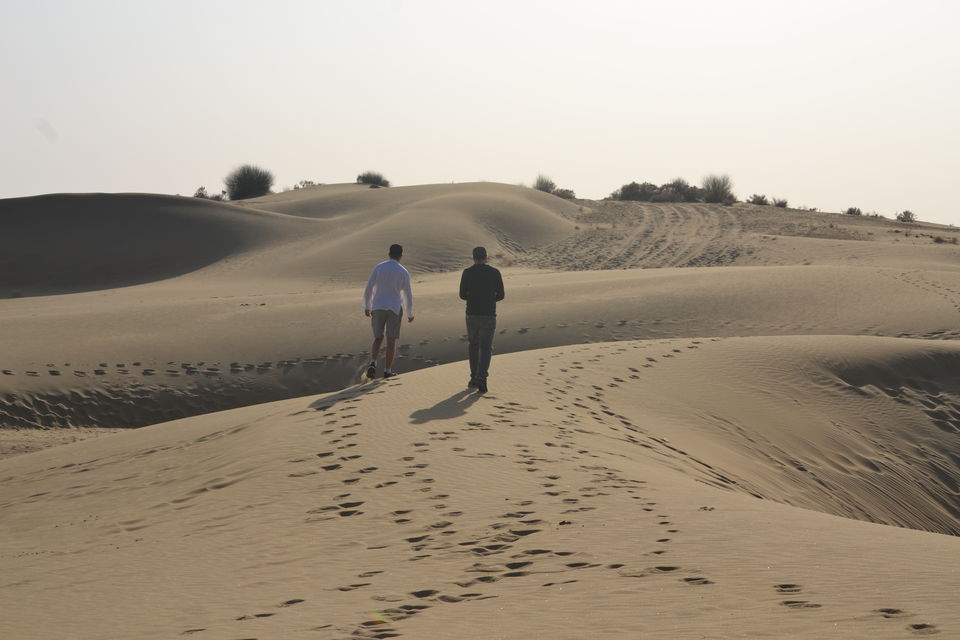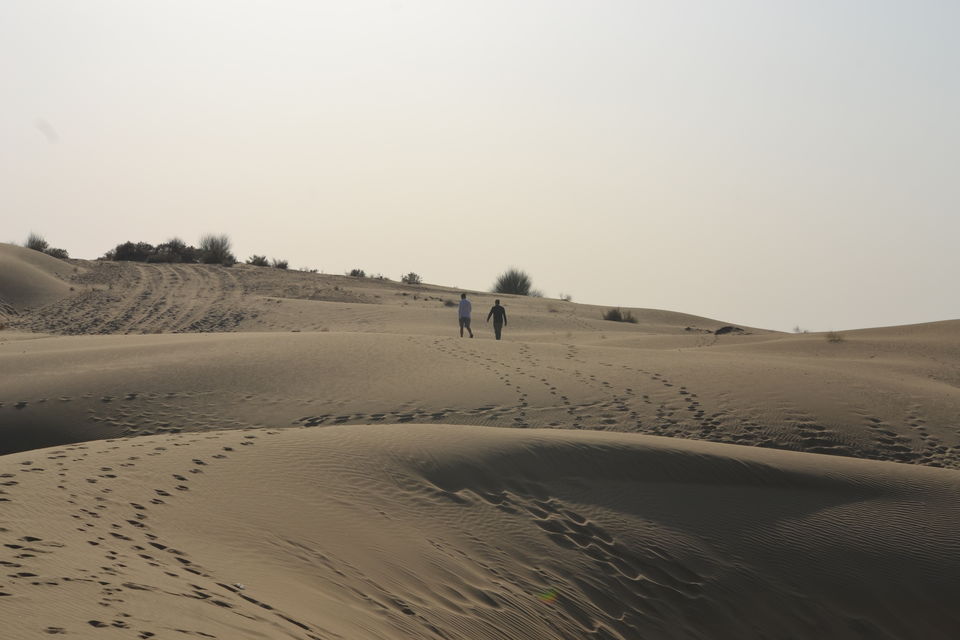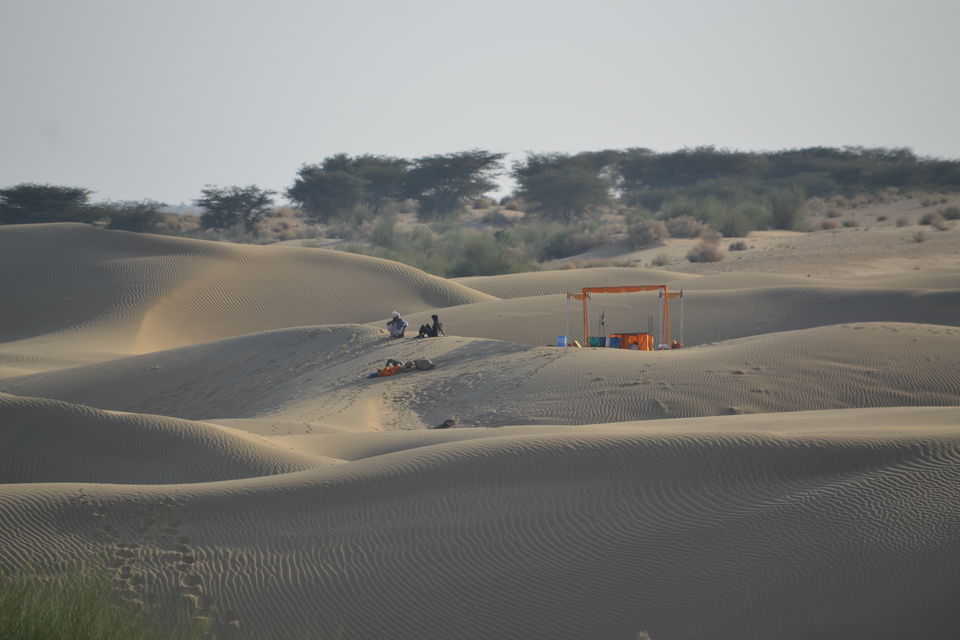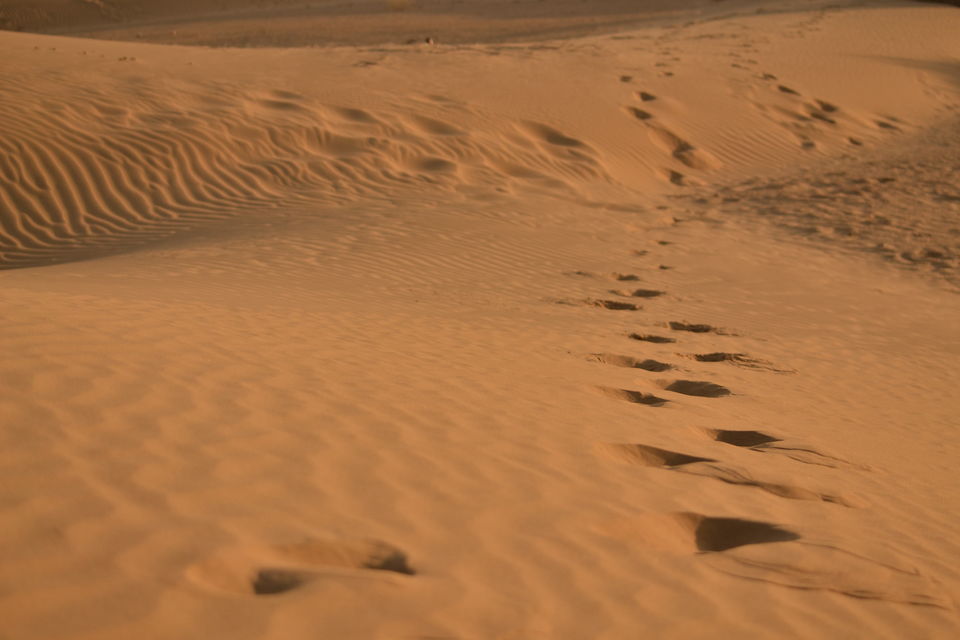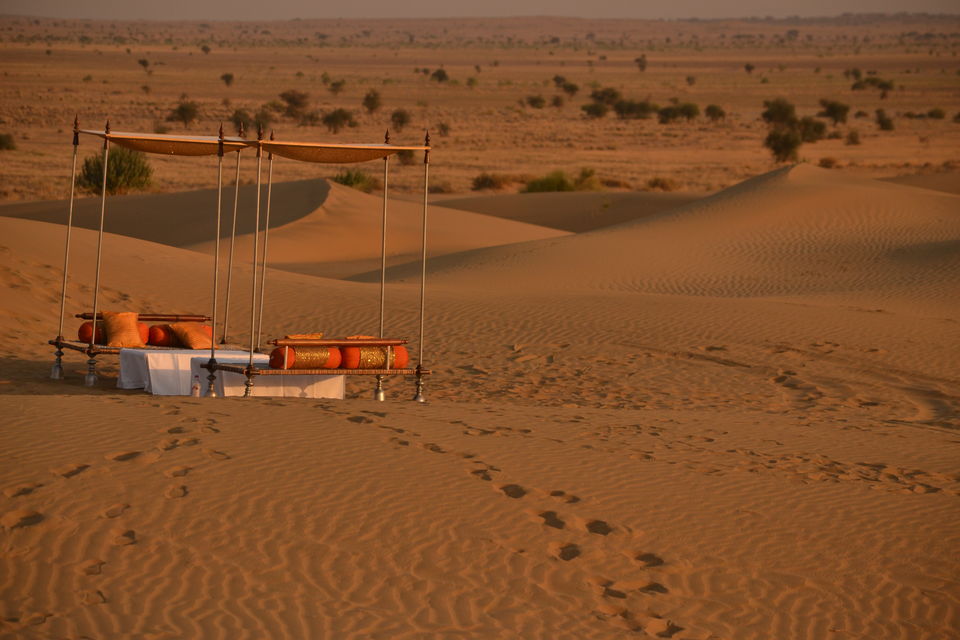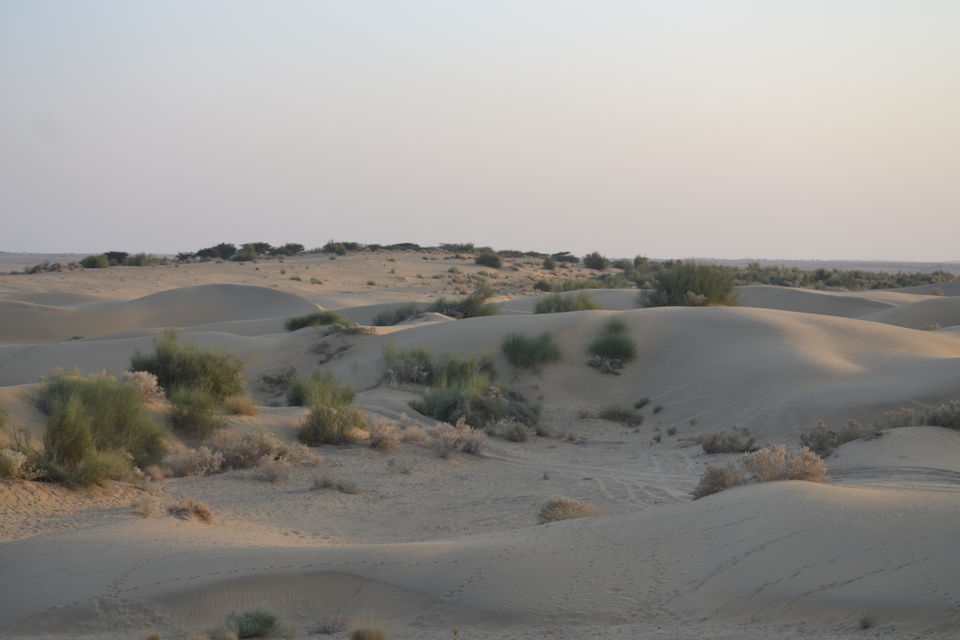 The perfect place with cots placed under the sky and small bushy shrubs lingering around. We are welcomed with some hot tea and then we went a a bit astray exploring the dunes. The camels were tied beside our resting place. We started strolling along the slightly visible marked pathway on the sand but could only witness vast stretches of nothingness. Soon we we encountered a few travellers who camped a bit far away. Soon the colors of the sky started changing from blue to orange and a soothing breeze started to flow. Very quickly the sky changed into hues of different colors with a large ball of gold glittering above th horizon. The dunes soon changed their color from brown to golden and the footprints felt like dark shadows of gold dust. After the sunset we gathered around a campfire for some hearty gossips which will be cherished for long. Soon a local arrived out of nowhere and helped us more the much needed snacks. We defined him as the "Desert Man" as he seemed to pop out of the dunes. Soon our delicious hot dinner is served and we enjoyed every bit of it in that slight cold winds and the sand floor of the desert. Once we started retiring to our beds, we witnessed the sky so full of stars that we left awestruck. I have never witnessed sky with so dense arrangement of stars and it is almost touching the horizon. Soon we slept and I had one of the best sleeps under the star studded sky.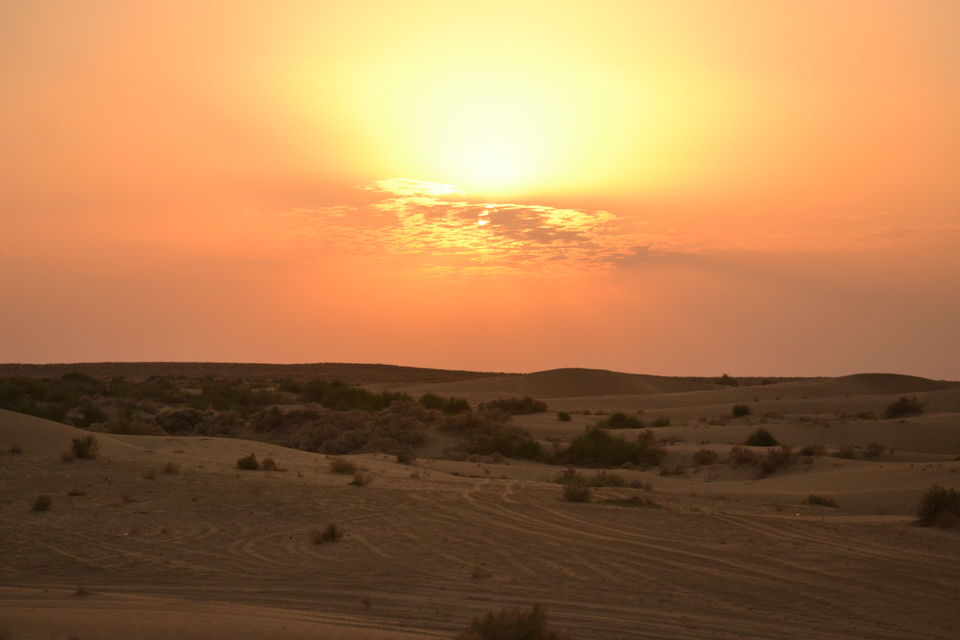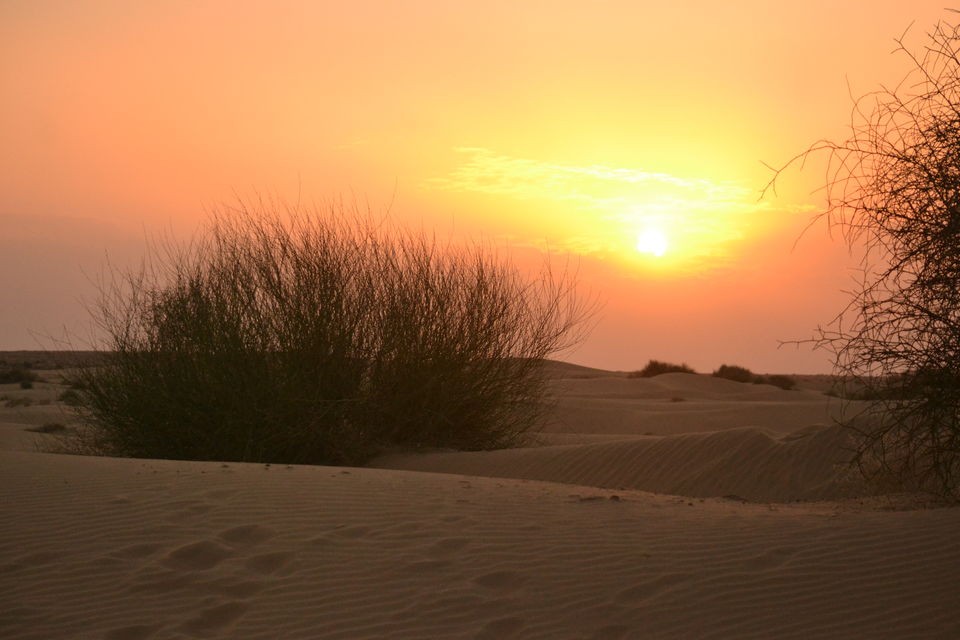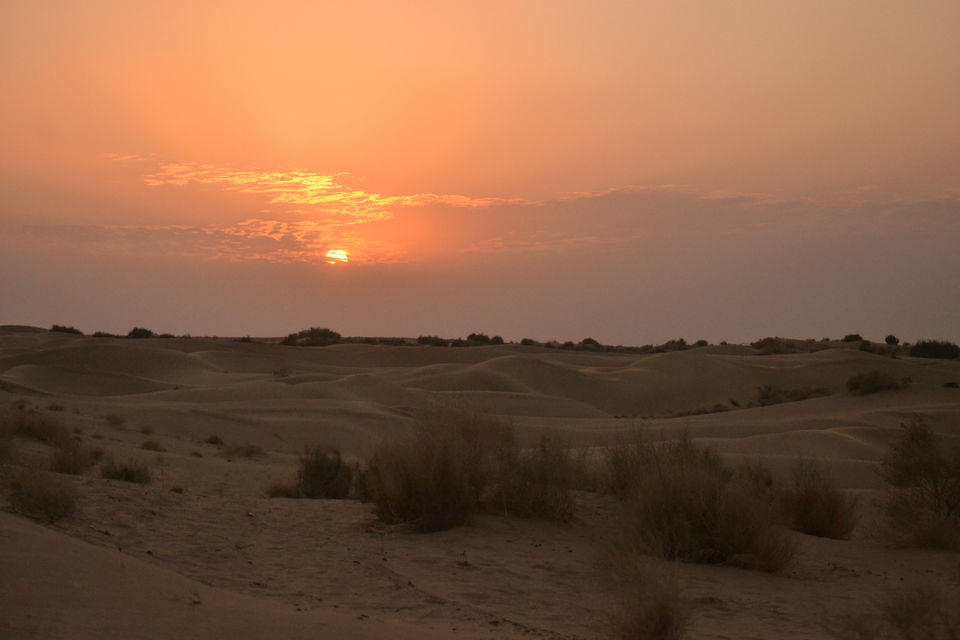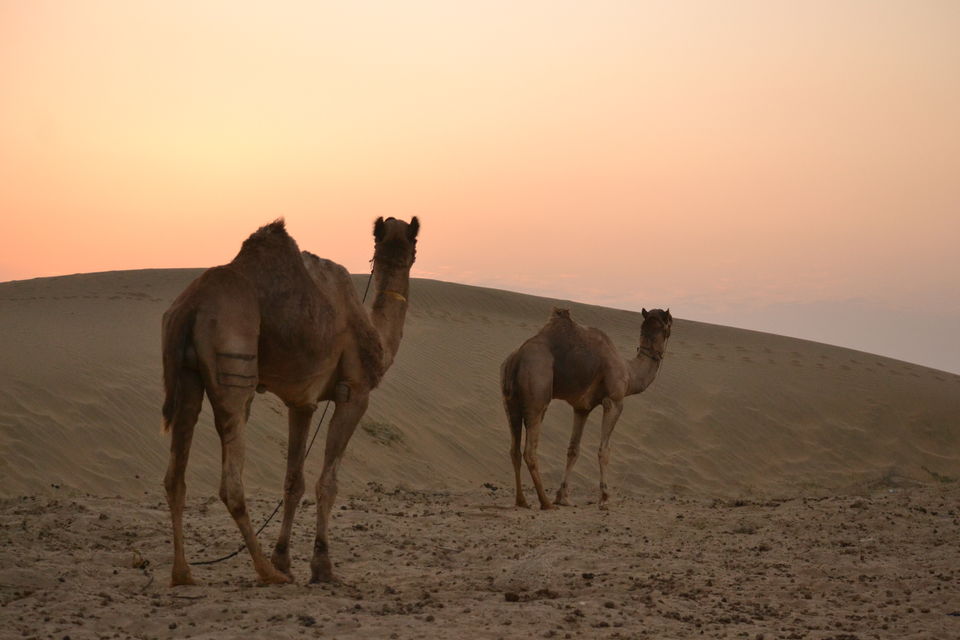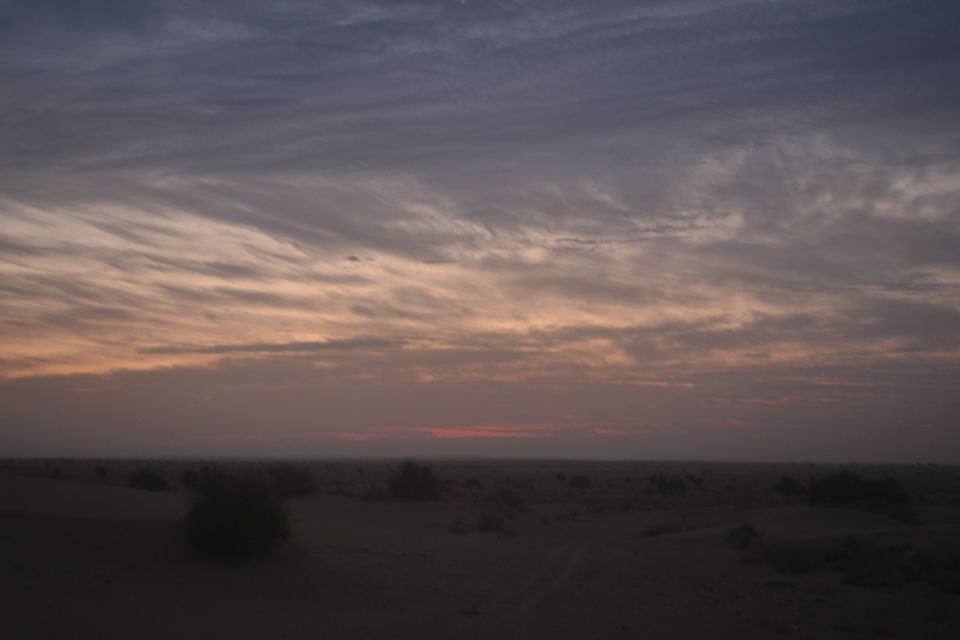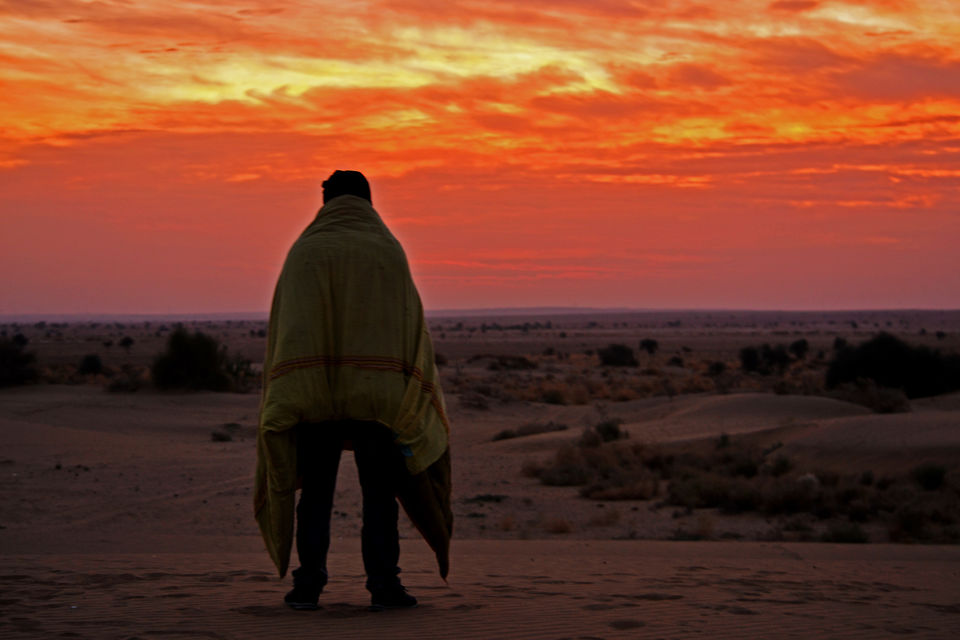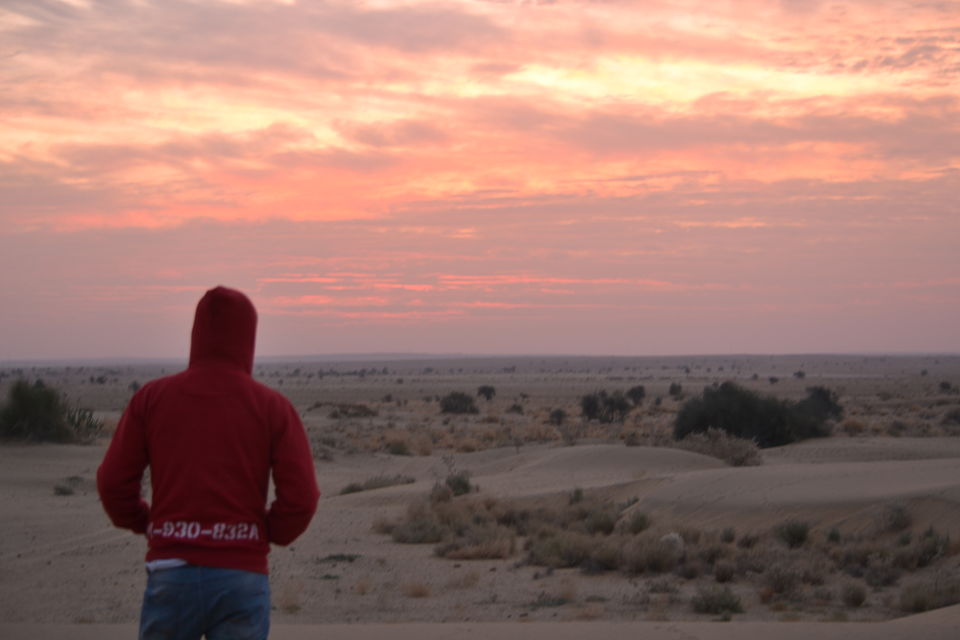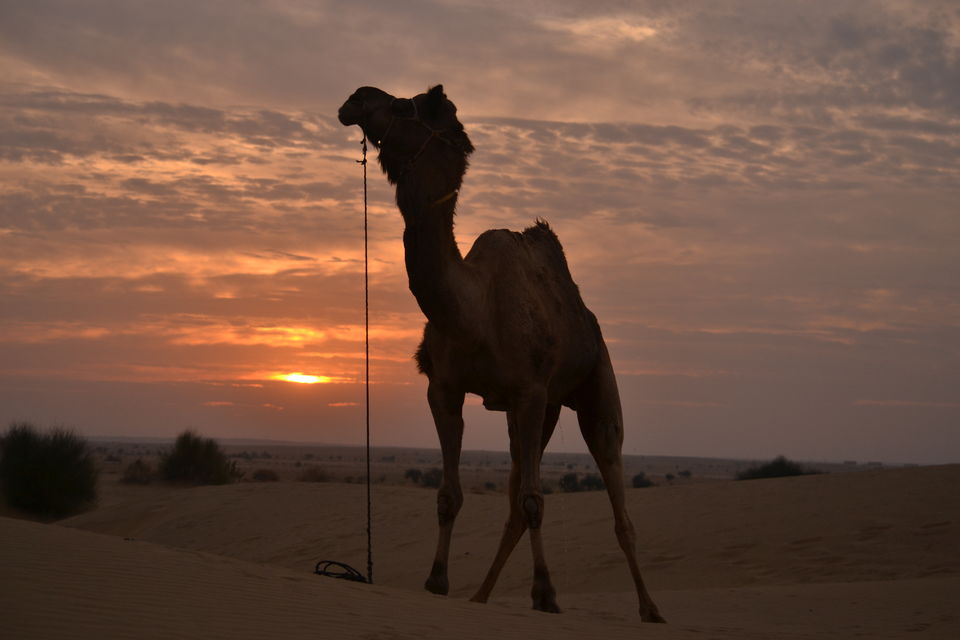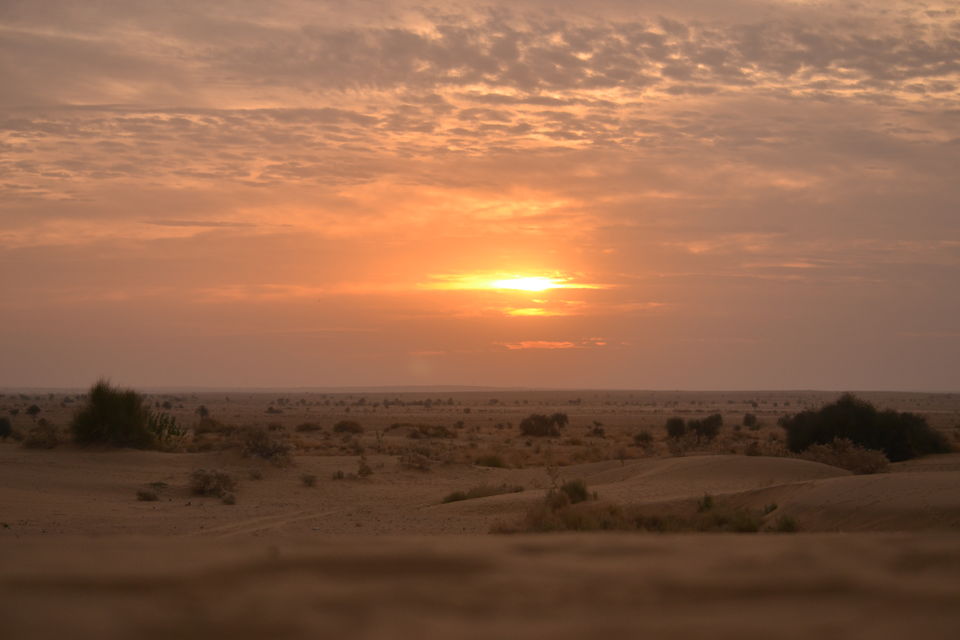 We got up early to witness another lifetime phenomenon - Sunrise in the Deserts. The soft yellow light gradually emerging from the horizon and lighting up the whole sky is a moment to remember. The gradual change of the soft ball of light into the heat scorching sun is more than brilliant. After our breakfast we again got ready for our camel ride back. The guide enjoyed us by making some of the camels run which made sitting on them really challenging. After a strenuous yet memorable 90 minutes we reached road where we can find some stray houses from where our scheduled car was waiting for our way back to hostel