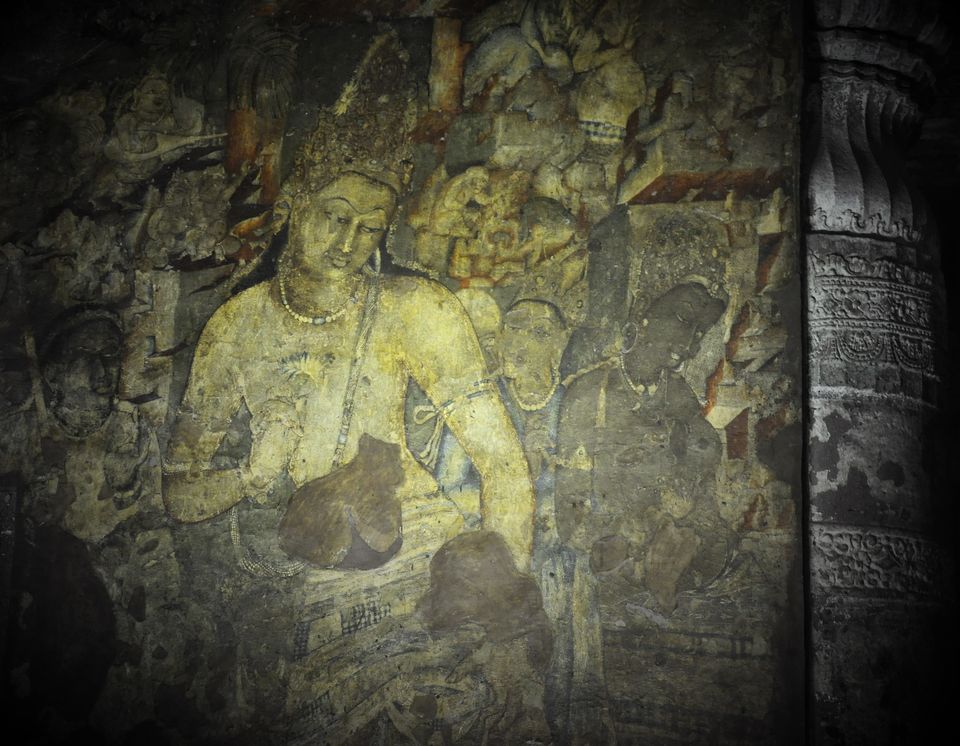 #Aurangabad #Ajanta #Ellora #MaharashtraTourism #UNESCOWorldHeritageSite
History excites us. Stories of Kings, Sultans,Messiahs, battles, scandals, conspiracies, artists.. anything from the pages of history compel us to know more about that. In my school days I faced hard times to complete my history paper in exam, even though I read the entire book (just like reading storybooks). Is that how we want to experience the history by reading books under the restriction school syllabus!! Although "experiencing history" - sounds bit paradoxical until time travel will be a reality, but people like me always have that desire to experience the remarkable historical incident, and when you are an Indian then that desire becomes more intense because of our rich heritage.
The heritage city Aurangabad and ancient marvels like Ajanta and Ellora can insist any Indian to think about the glorious past of India.
Trip planning:
Friend 1: I want to plan something during the long weekend in August (11-15th Aug).
Me: Come to Bangalore, lot of destinations are nearby, we can go to Coorg, Gokarna, Chikmaglur..
Friend1: Nah! not a weekend destination..plan something bigger, like Thailand
Me: How about second trip to Goaaaa...
Friend 1: I am always ready for Goa.
Me: Wait a minute! How about some place other than beaches and hills, some place which will be an experience for life time.. like.. like Ajanta!!
Friend 1: Done!!!
Ultimately we became a group of 6 people - Me & My wife from Bangalore, 2 friend from Kolkata, 2 from Mumbai and 1 from Pune.
Travel Itinerary :
11th Aug: Started from Bangalore by a Spicejet flight at around 11 pm (flight got delayed)
12th Aug: We reached Pune at around 12.45 am, hired one OLA Outstation cab for 4 people, started from Pune Lohegaon airport at around 2 am, reached Aurangabad Hotel at around 6.30 am. We visited Aurangabad caves and Biwi ka Maqbara at afternoon.
13th Aug: Visited Ajanta caves
14th Aug: Visited Daulatabad fort and Ellora.
15th Aug: Back to Bangalore following same route (Aurangabad-Pune-Bangalore)
Some Important information:
Ajanta is closed on every Monday, Ellora is closed on every Tuesday, Daulatabad fort keeps open everyday between 8am-6pm. People can avail cab package for 2 days which costs 3500 for Swift and 5500 for Innova. They promise to cover Ajanta on one day and Ellora, Daulatabad fort, Panchakki, Bibi Ka Maqbara on another day if the time permits.
Travel Story
Day 1: We reached hotel Vijay Residency on 12th Aug at early morning, though the hotel was almost packed they managed to give us rooms pretty much quickly. We had an advanced booking for 3 rooms for 6 people. Vijay Residency is situated at Jalna Road which is not exactly inside the city area, although we chose that hotel because of comparatively cheap rate and very good review, and to be very honest our experience was really good. We had a good breakfast, got fresh, took rest till lunch. After lunch we hired couple of autos went out for sight-seeing, that day we only visited Aurangabad caves and Bibi Ka Maqbara.
Aurangabad caves are situated at the top of a hill which is almost 9 km far from Aurangabad city. Although these caves are less visited and overshadowed by Ajanta and Ellora, it's a perfect place to start your trip before getting overwhelmed by the beauty of Ajanta and Ellora. The view of Bibi Ka Maqbara from Aurangabad caves is quite ecstatic.
The stupa, rock carving of Buddha and goddess figures of these caves show an extra-ordinary mixture Mahayana Hinayana and Vajrayana art-work.
Bibi ka Maqbara is in close vicinity of Aurangabad caves, afternoon or early evening is the the best time to visit this place. You can spend the entire afternoon by admiring the beauty of Mini-Tajmahal of Deccan as well as enjoying cool breeze in the garden.
Here are some shots of beautiful Bibi Ka Maqbara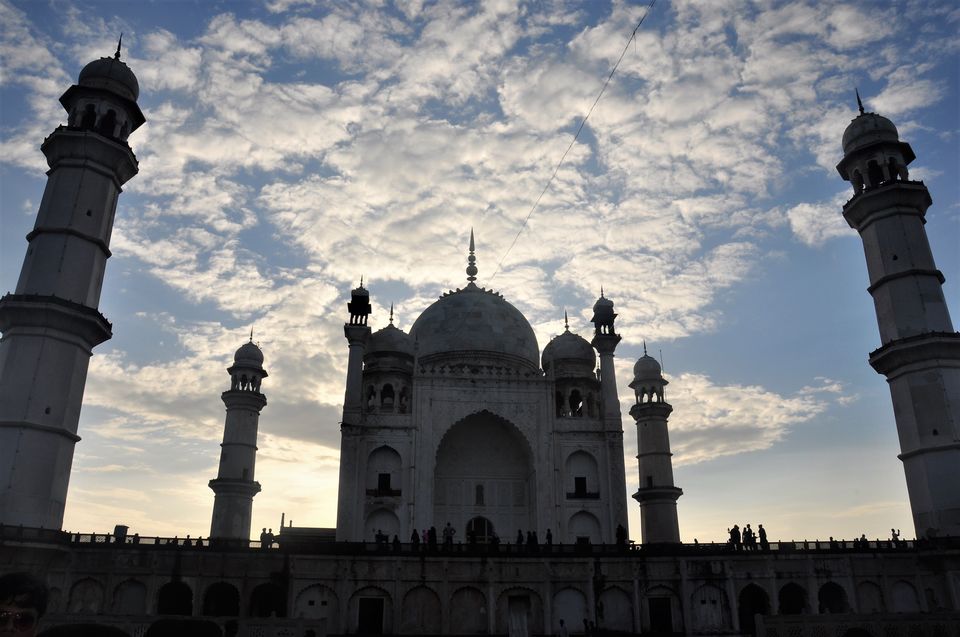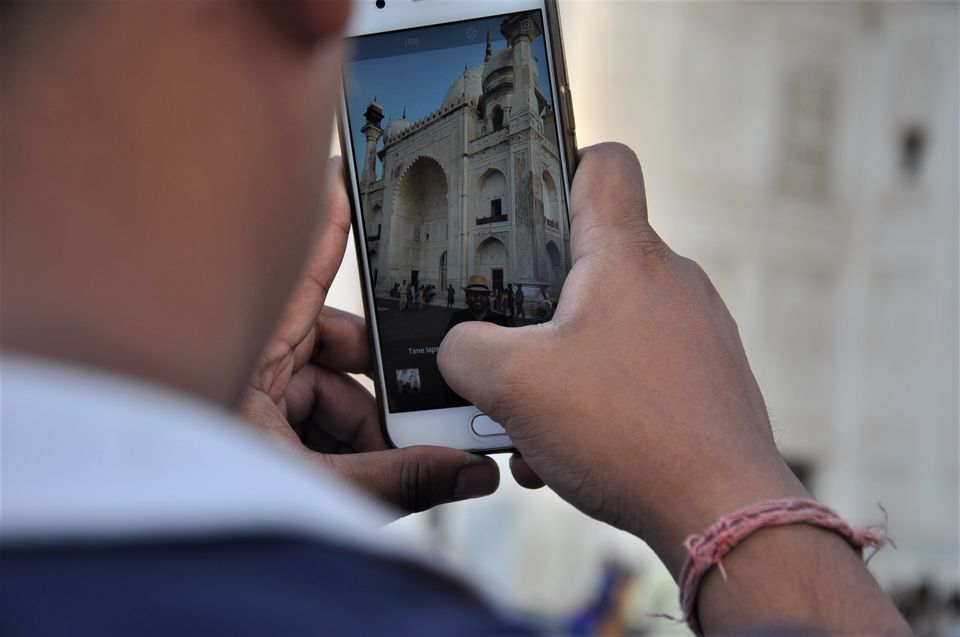 Ajanta the magnificent.. we spent entire day 2 there at Ajanta, but still I cannot say exactly how many days will be required to experience the beauty of Ajanta properly, and if you ask what have I meant by 'properly', I don't have any answer either. When I first had a glimpse of the mural "Bodhisattva Padmapani" at cave 1, I realized that I had never seen such an exquisite art-work in my life and I doubt I will ever get a chance to see another like this at any other place. The artistry of the fresco are beyond comparable and until and unless one person experiences it through his/her eyes, he/she cannot understand how brilliant those artists were, and how much dedication they put to paint those beautiful fresco.
Ajanta or Ajintha village is 97km far from Aurangabad and it took us around 3 hrs to cover the distance by car with 1 break-fast halt. External or private vehicles are not allowed near to the caves, you have to go to the caves by the buses ran by ASI. At first I thought they will provide us battery driven vehicles to protect cave murals and curving from pollution but we saw only normal buses were running.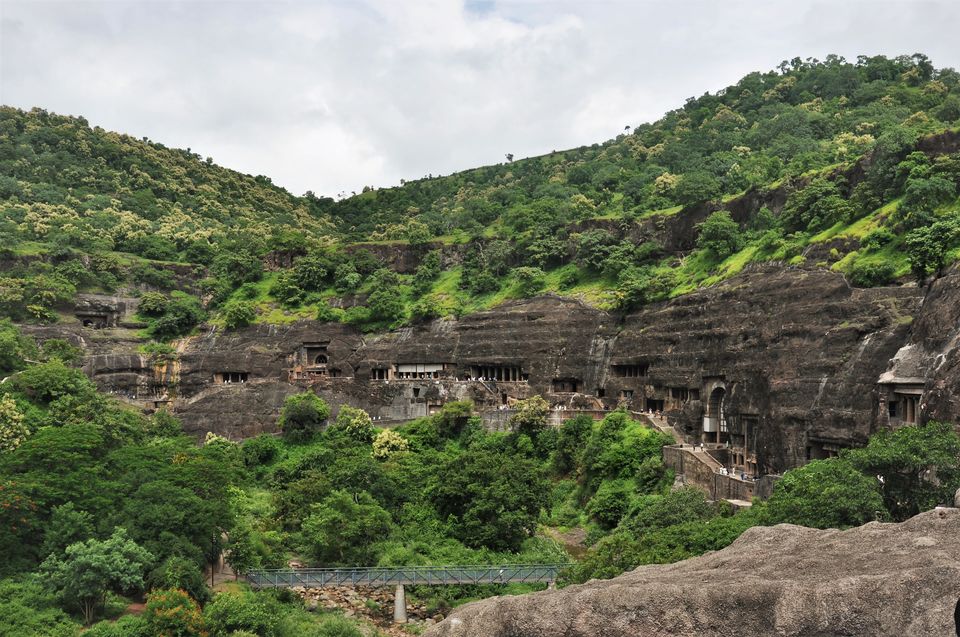 Both Mahayana and Hinayana art-works are present in Ajanta in the form of mural, stupa and curvings. There are around 29 caves in Ajanta and if somebody has only one day to visit Ajanta caves he/she has to be choosy. So before visiting Ajanta please go through the ASI website, and choose at which caves you want to spend more time. My suggestion is that don't miss the caves of mural like cave -1,2,6,10,11,16,17 etc. Please buy a guide book which will help you a lot to find and understand different paintings without any guide. Here are some shots of Ajanta cave murals and curving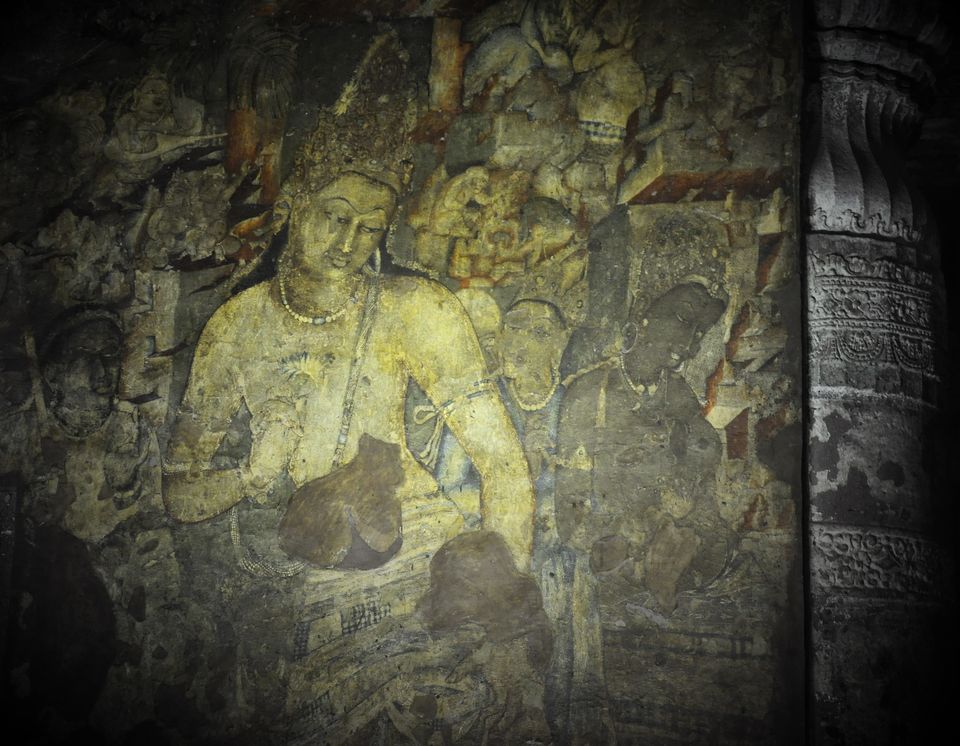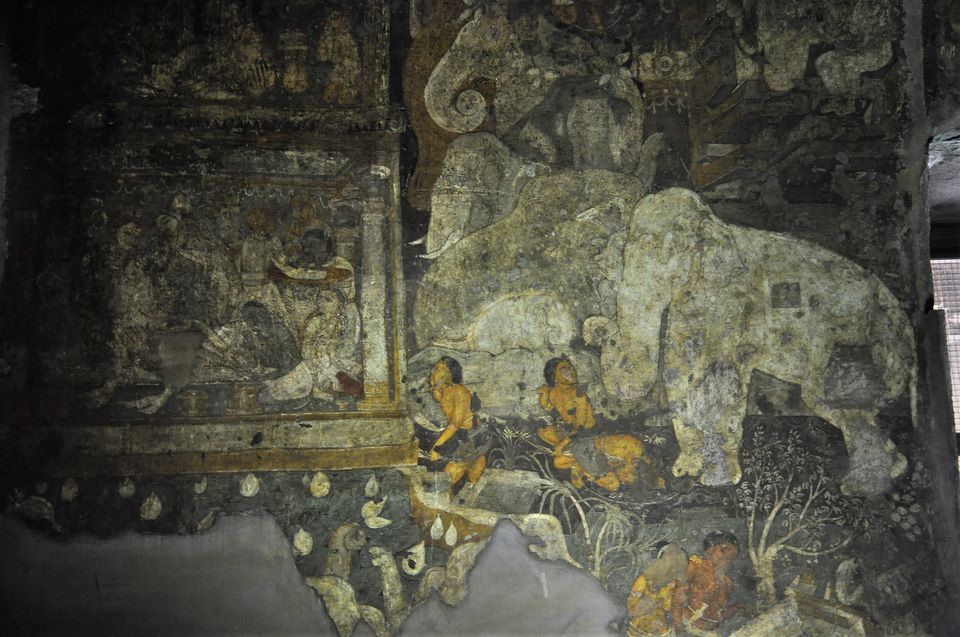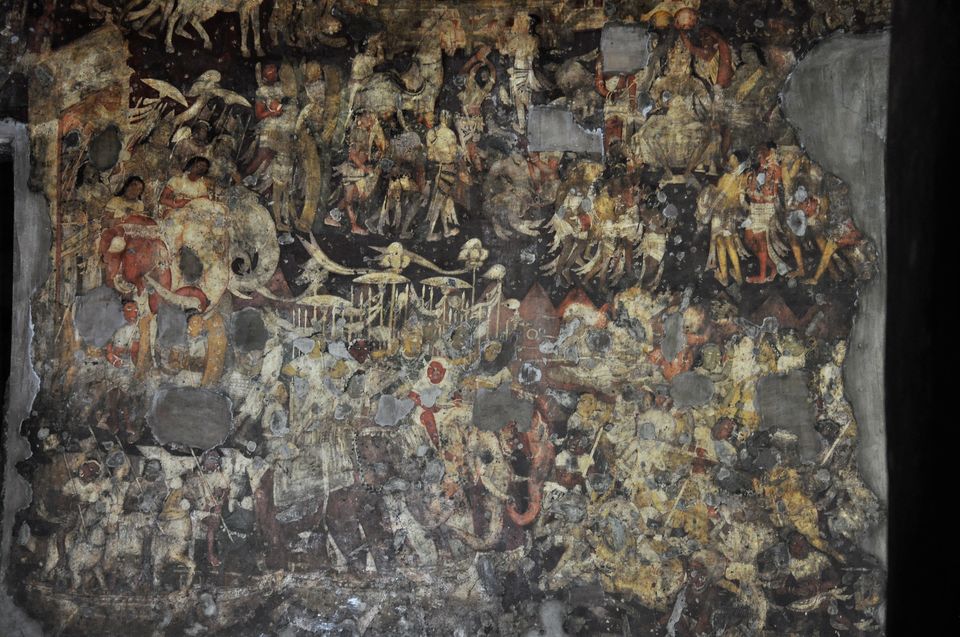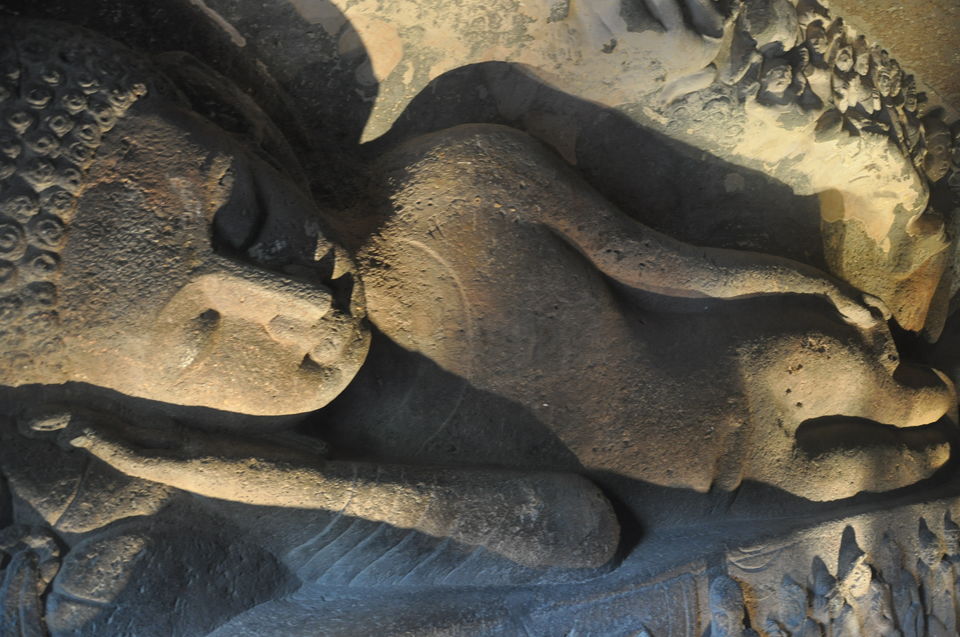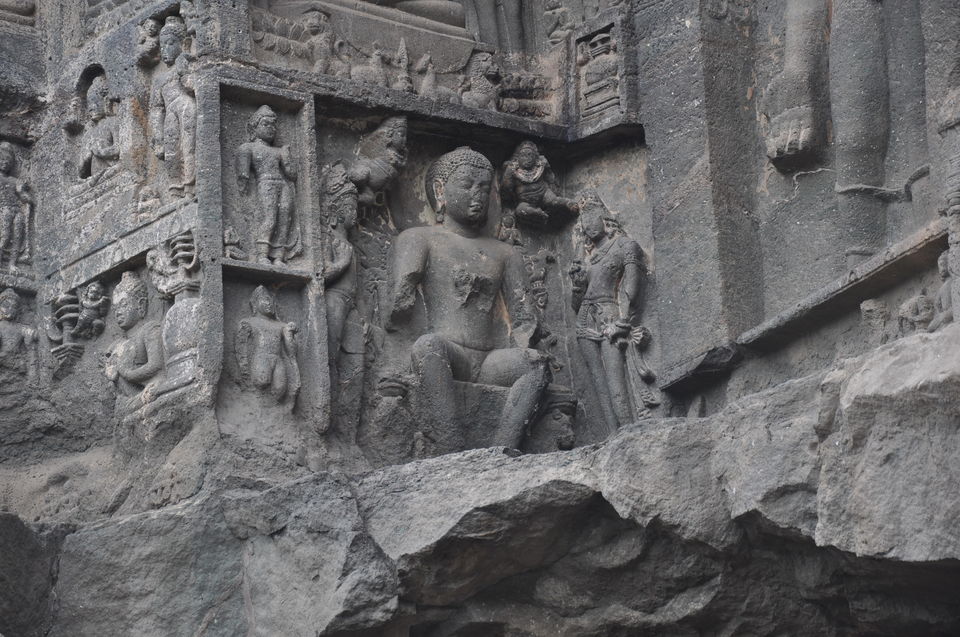 There is a small hill just opposite of the cave range, well built steps are there to reach the view-point at the top of that hill, so keep some energy at your back-pocket to climb those steps and reach at the view-point to get shots like below.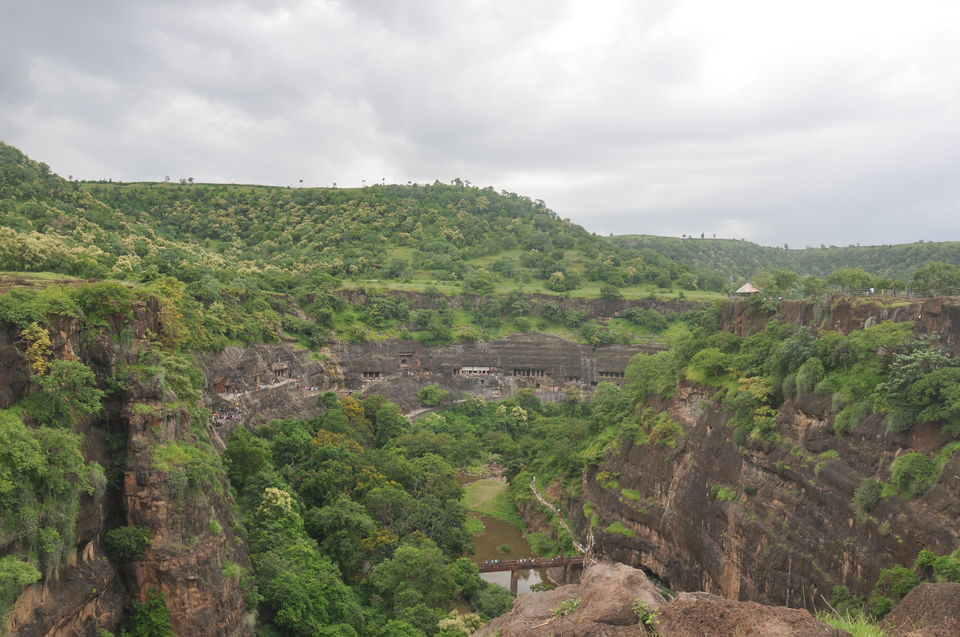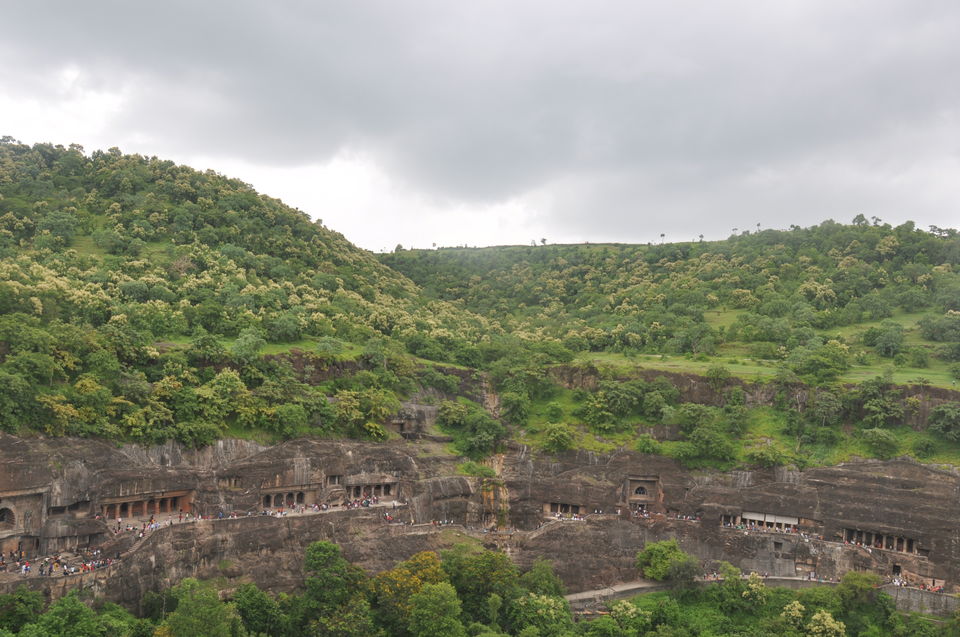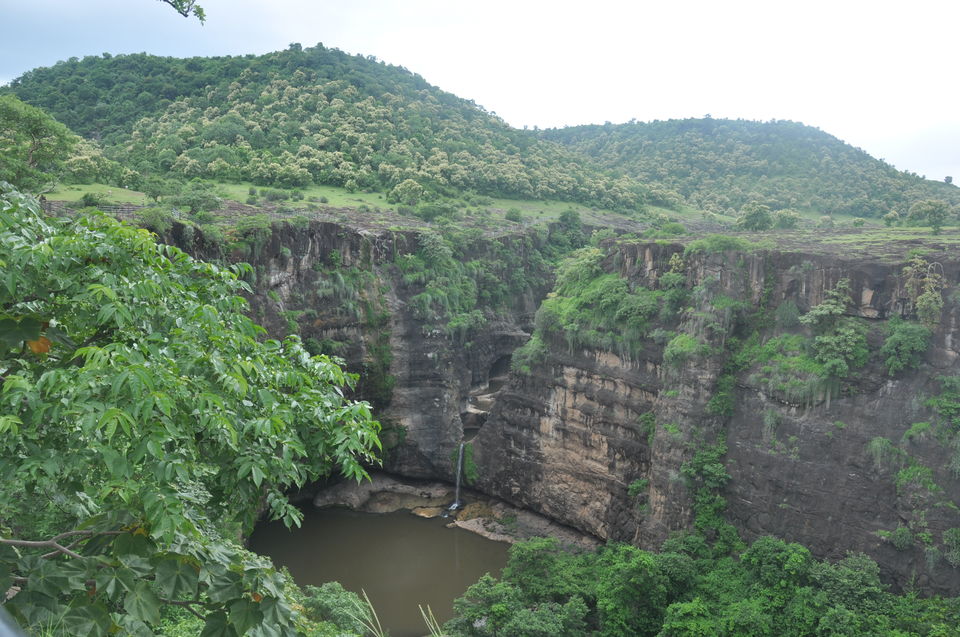 Day 3
On the day 3 we visited first Daulatabad fort in the morning. This place is located at Devagiri which is around 16km far from Aurangabad. Daulatabad fort is huge in structure and quite popular for it's bhulbhulaiya or andhari (dark confusion passages). This fort is famous for the rulers like Md. Bin Tughlaq and Aurangzeb who ruled from this fort. Don't miss the dark passage of this fort which is quite adventurous if you are not afraid of bats. Views from the top of this fort is euphoric.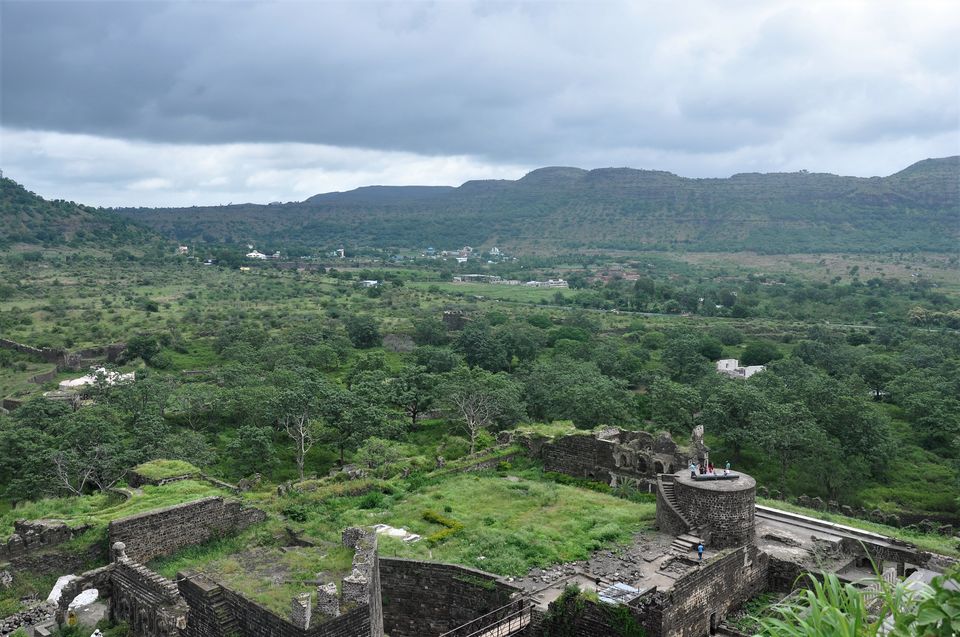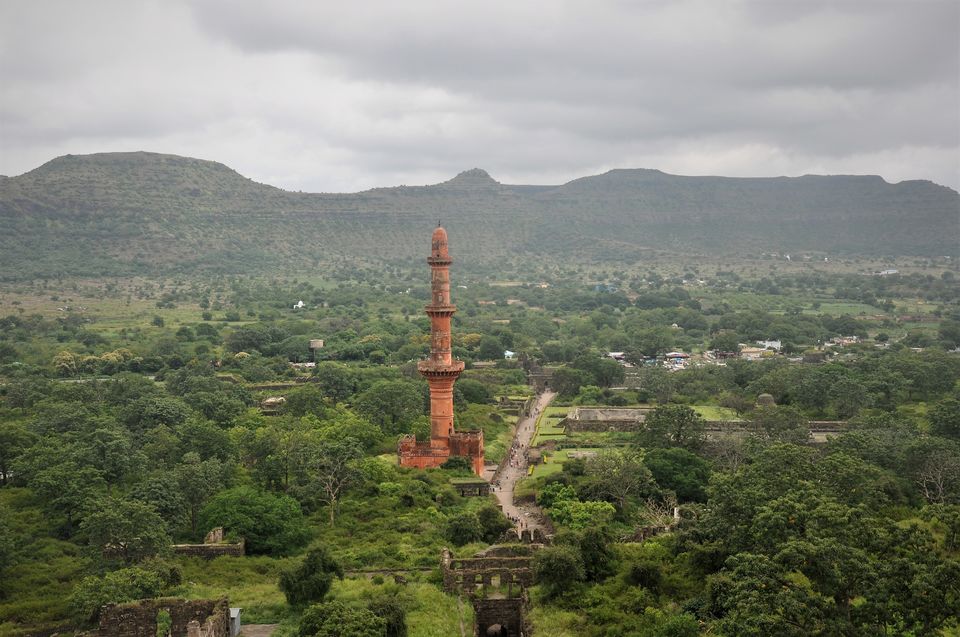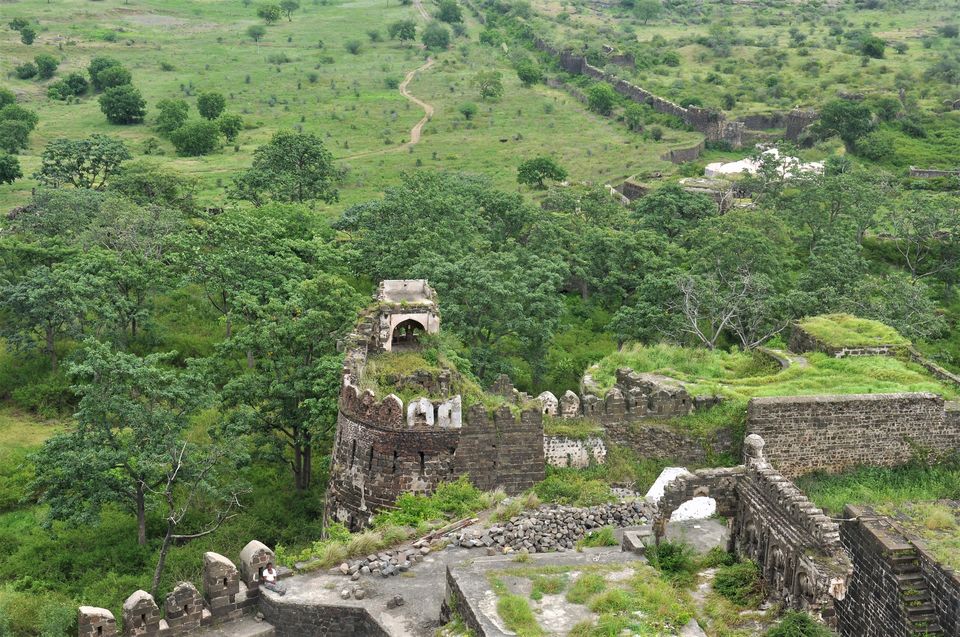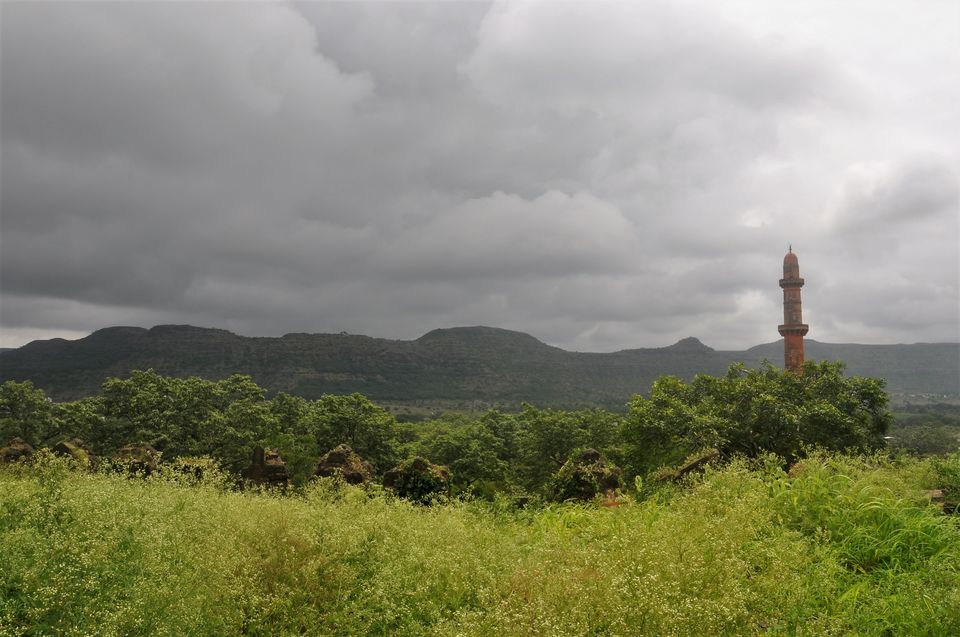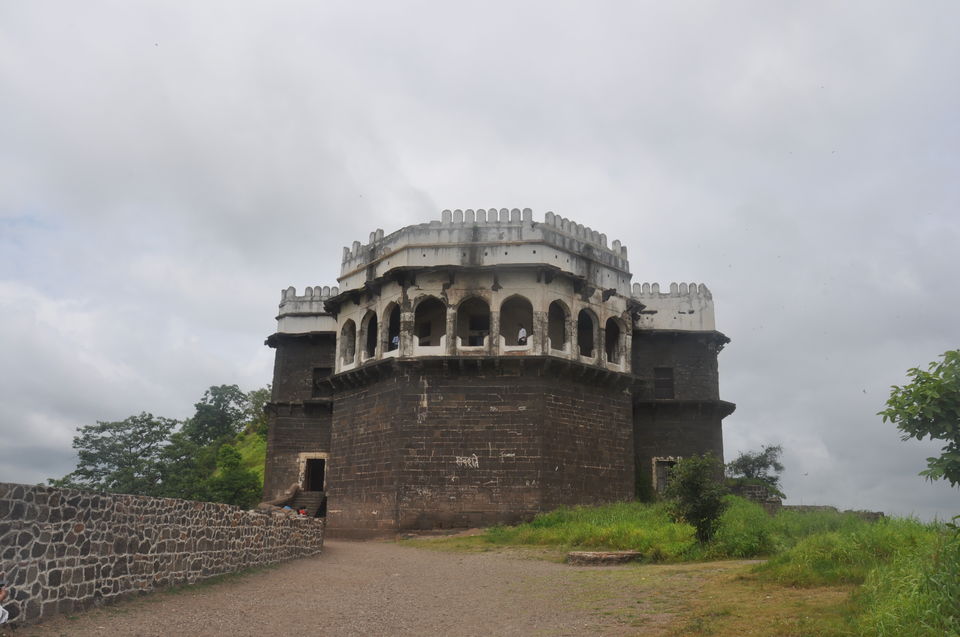 My recommendation is don't spend too much time in exploring Daulatabad fort, you should spend more time of the day at Ellora. Ellora is architectural marvel of ancient world,and whatever time you have planned to spend in Ellora that seem less to yourselves at the end of the trip. Ellora is 12 kms far from Daulatabad and it took us around 30 minutes to reach there from Daualatabad. We skipped Panchakki and Auranzeb's tomb to spend more times tin Daulatabad.
The giant Kailasa temple is considered to be as mysterious as Egyptian or Maya pyramids. As per some conspiracy theories it was an impossible task for the human race to build this gigantic temple from a single rock in such a short time. As per the archaeologists the Kailasa temple was excavated from top to bottom and it was built by different rulers of Rashtrakuta dynasty. Kailasa temple is mainly dedicated to Lord Siva but it's full of carvings of different deities, carvings which depict stories of the epics Mahabharata and Ramayana and other stories of Vishnu's dasavataram.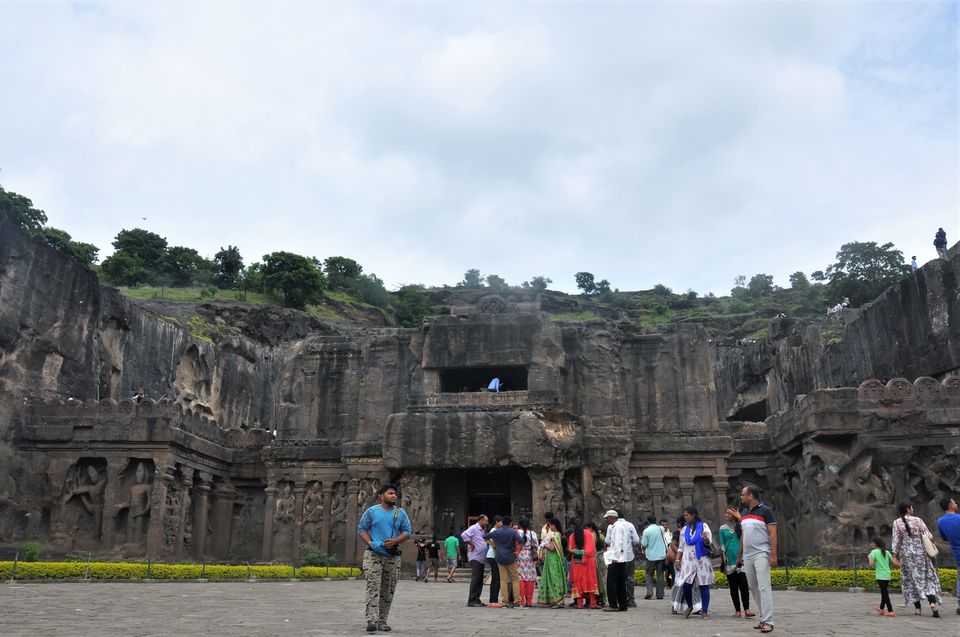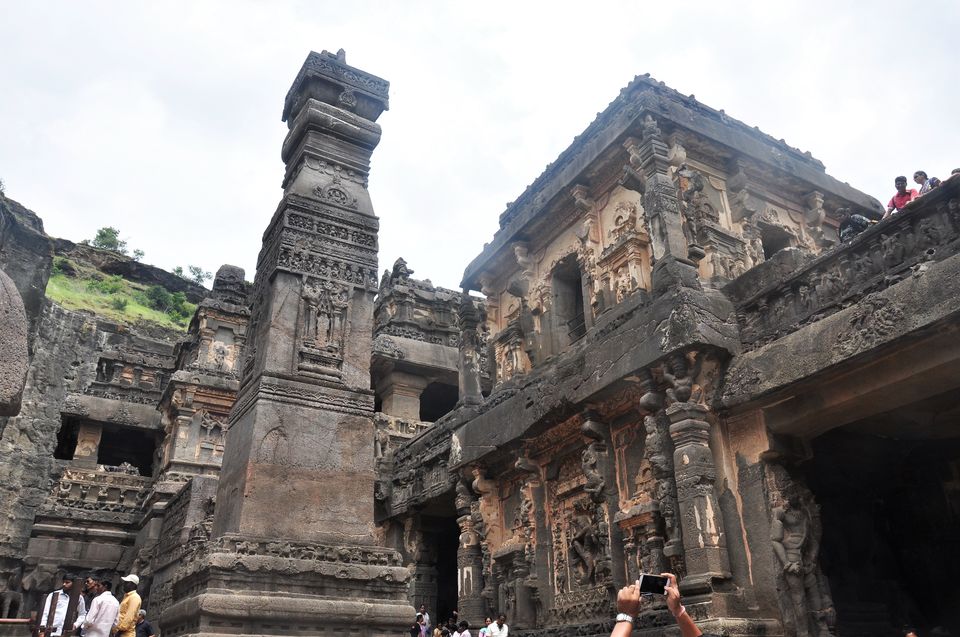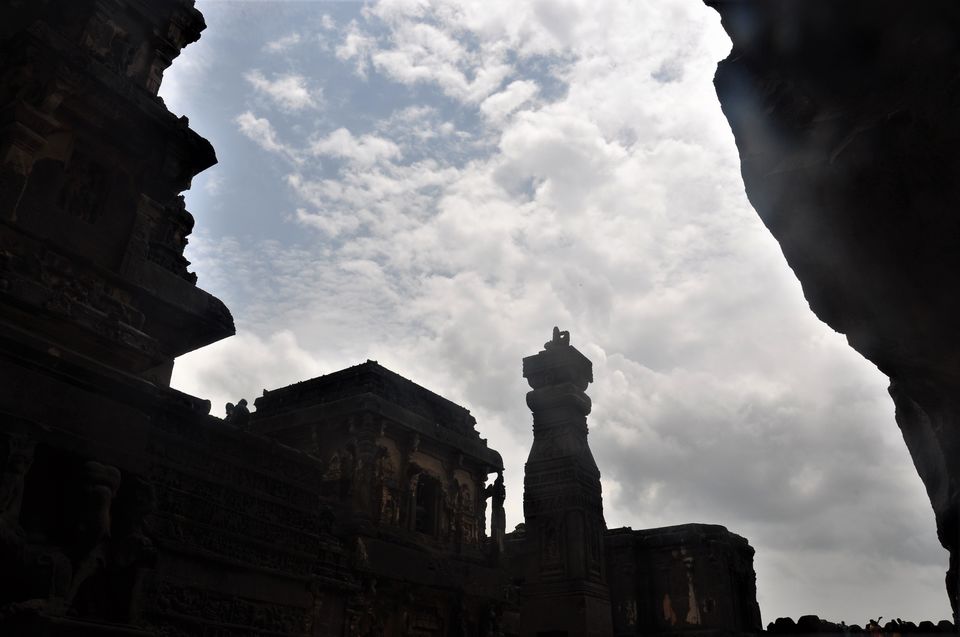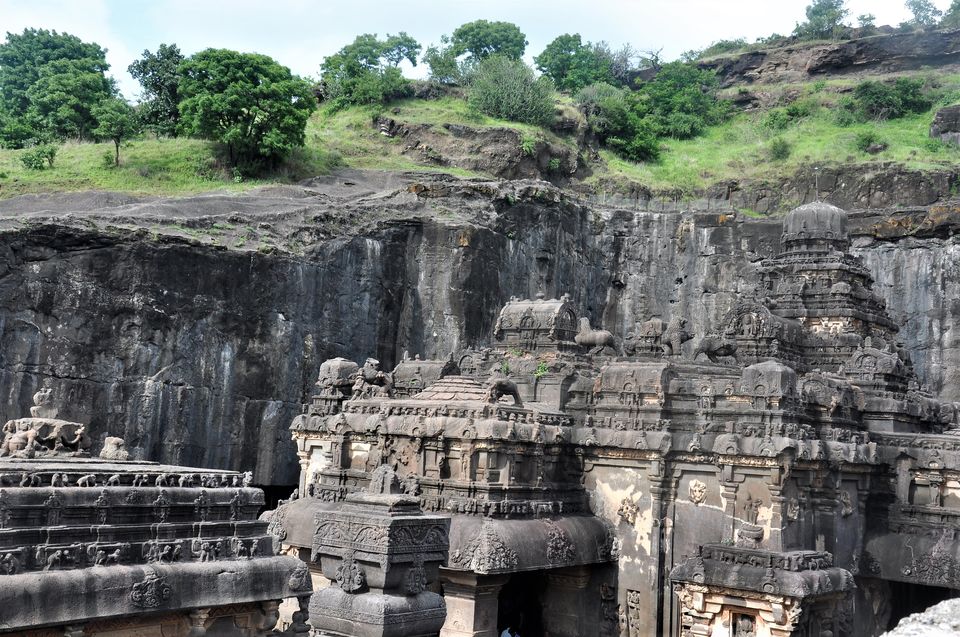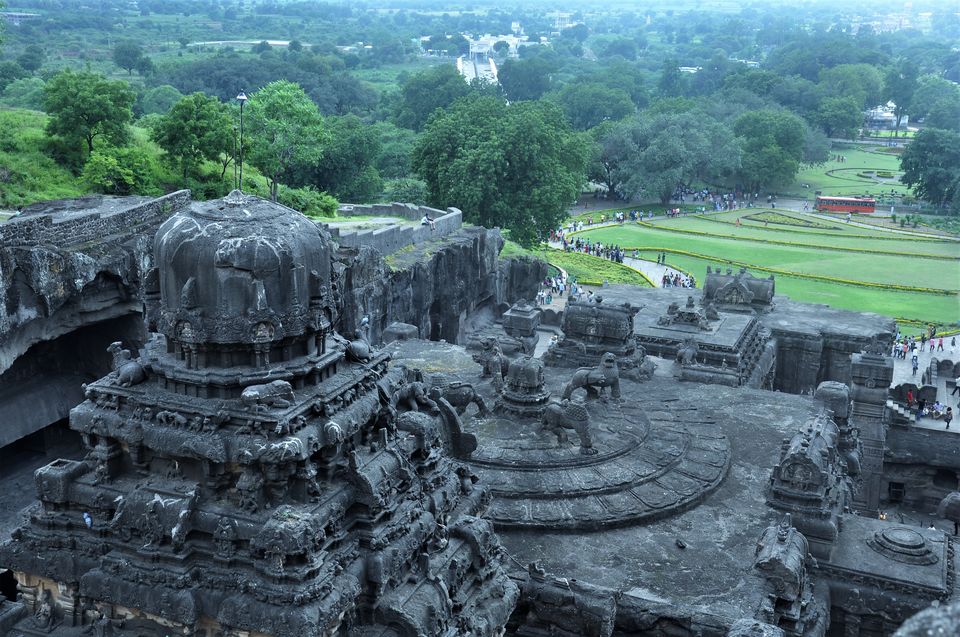 Ellora has altogether 34 caves which are dedicated to Buddhism, Hinduism and Jainism. Please keep one guidebook and map of Ellora caves handy so you can select the caves which you want to visit and plan accordingly in short time.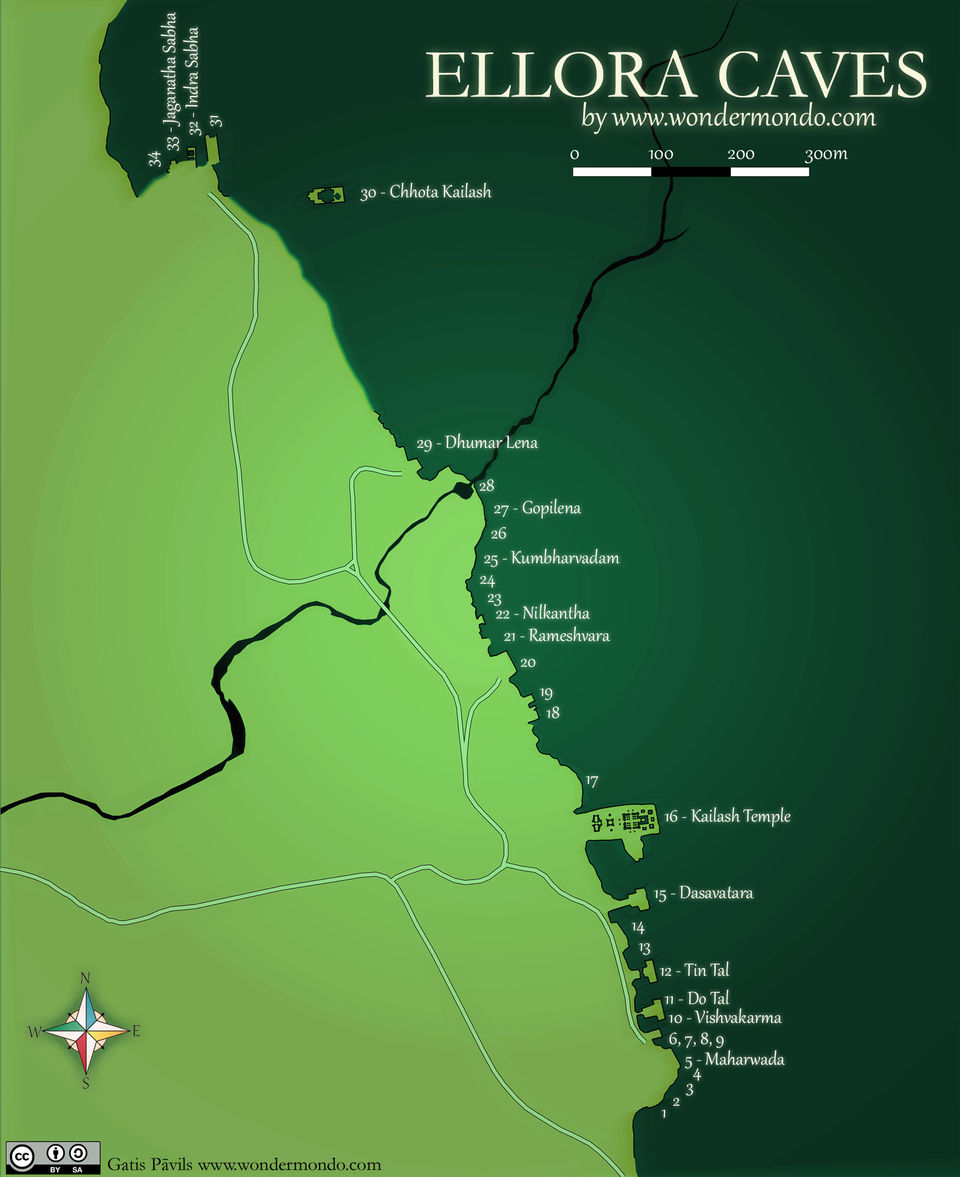 Out of 34 caves, some of them are incomplete or almost empty, but some of them you cannot wish to miss.
Here are some shots of different caves.
The Jain monuments: Caves 30-34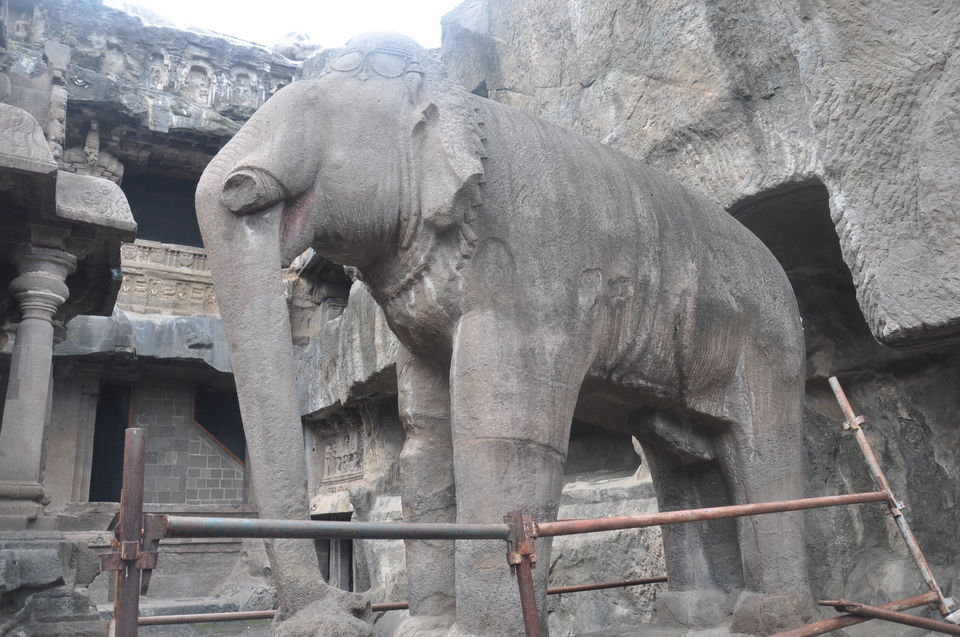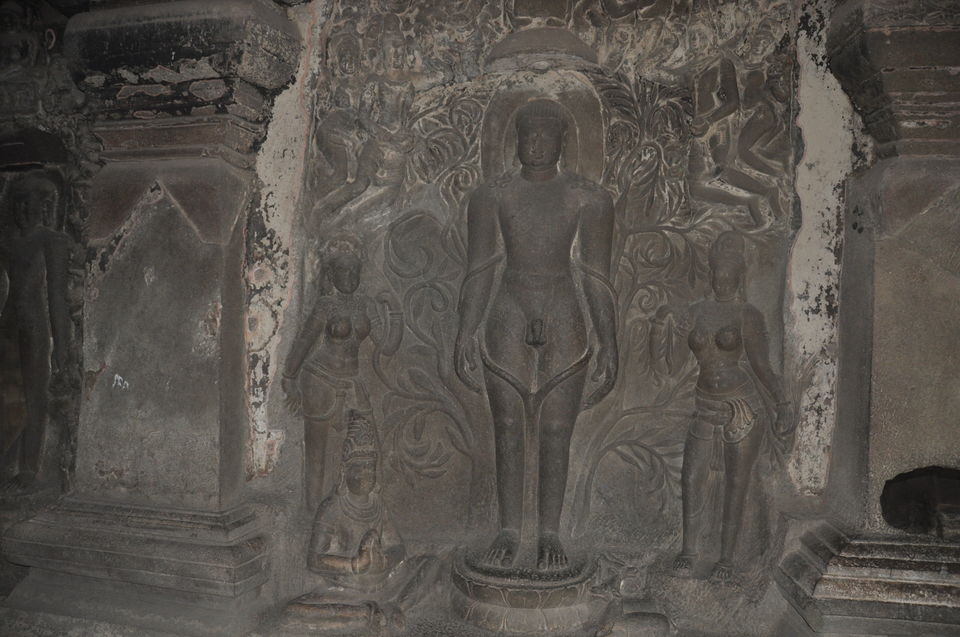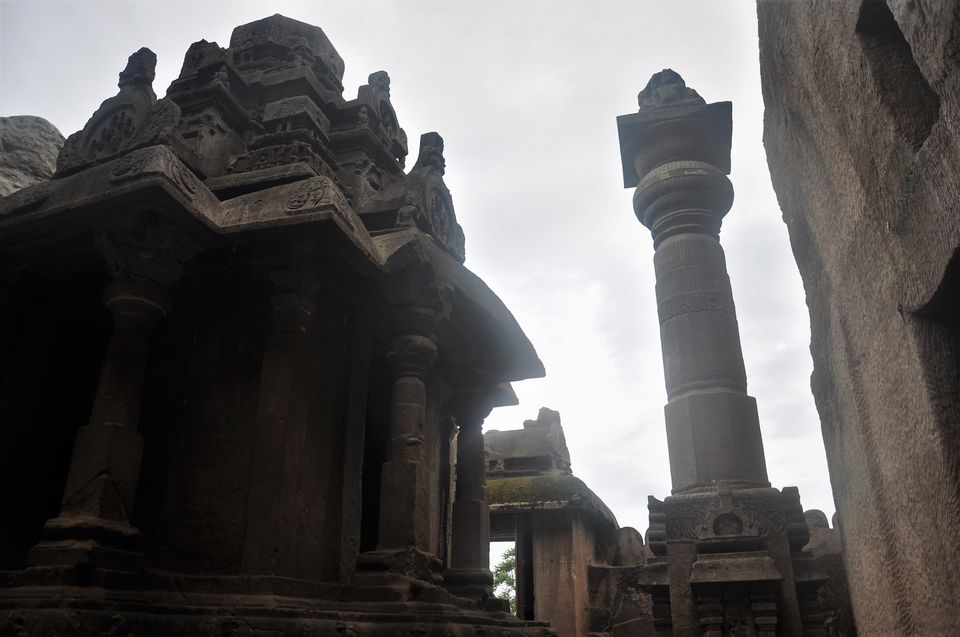 The Buddhist Monuments: Caves 1-12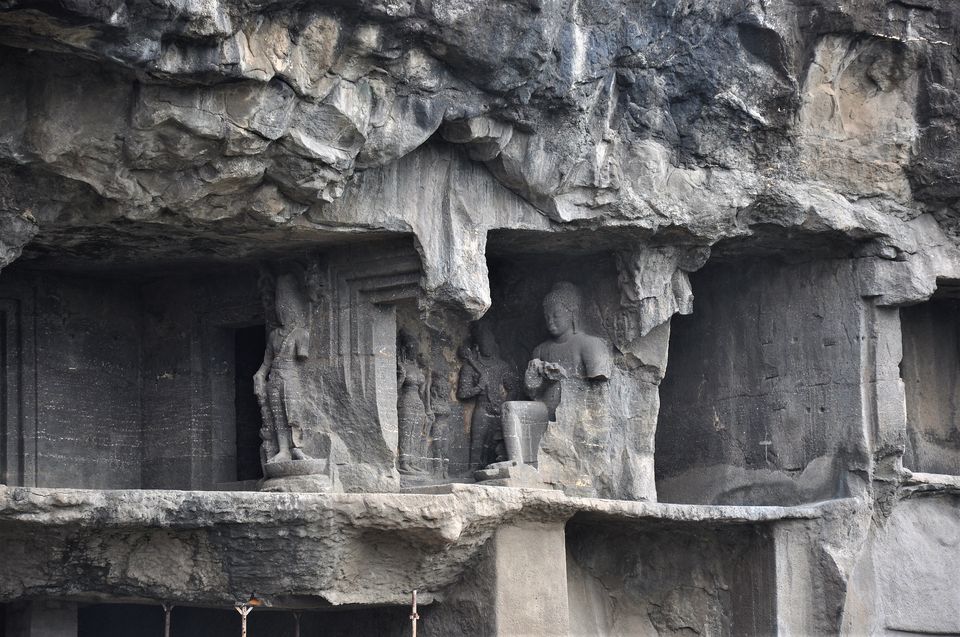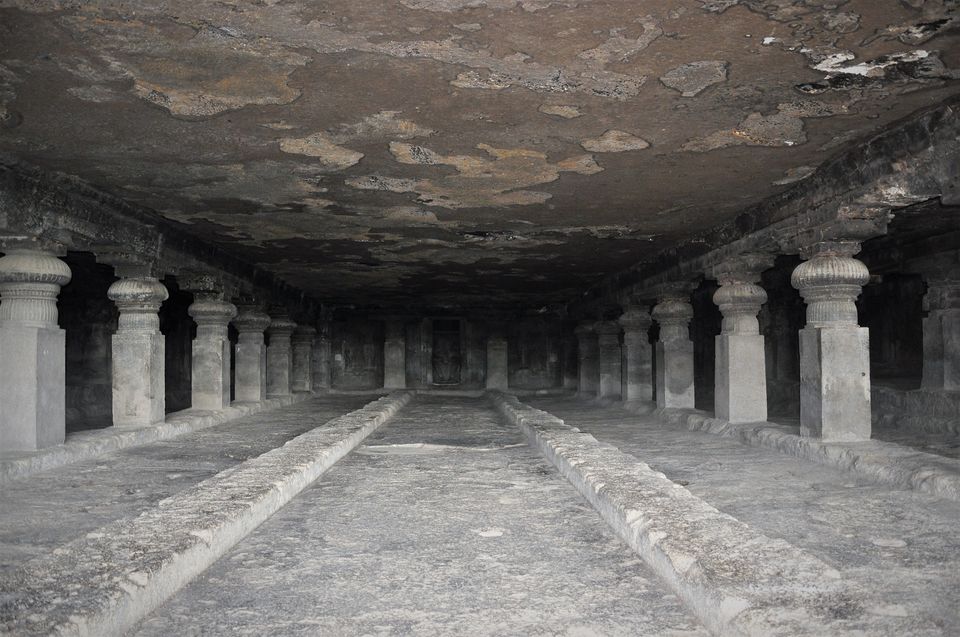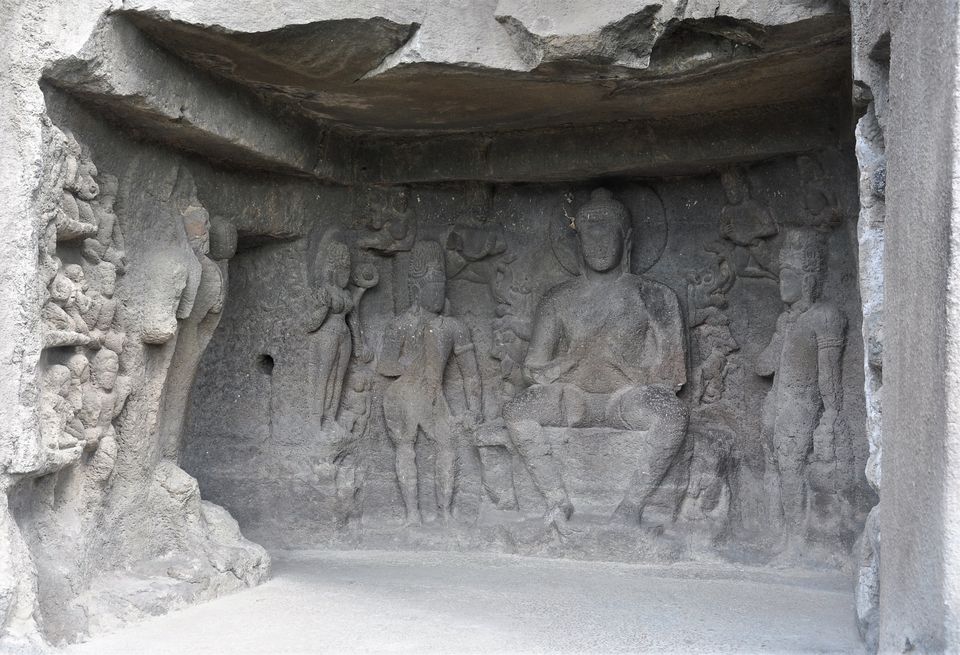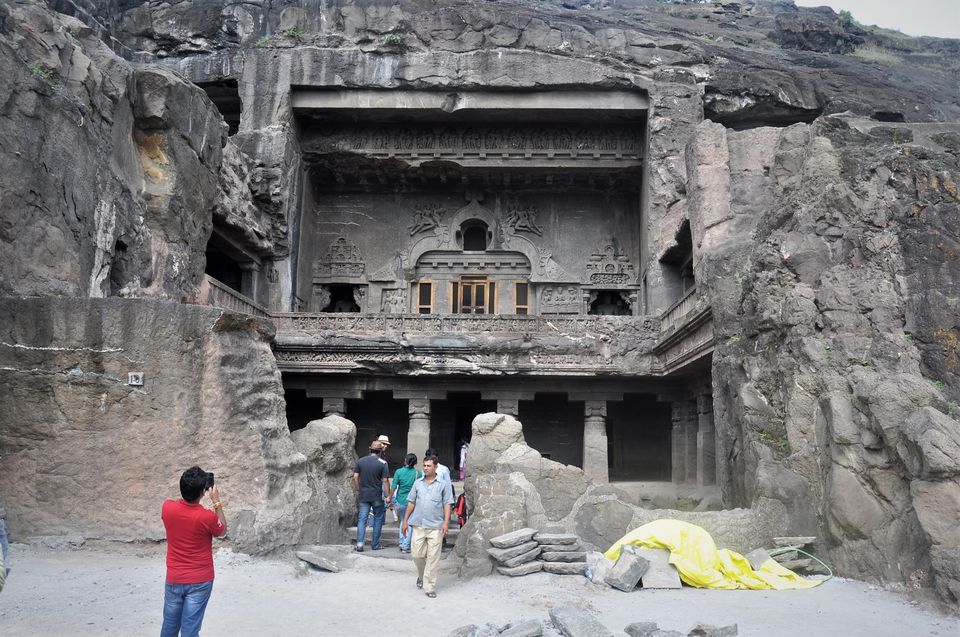 The Hindu Monuments: Caves 13-29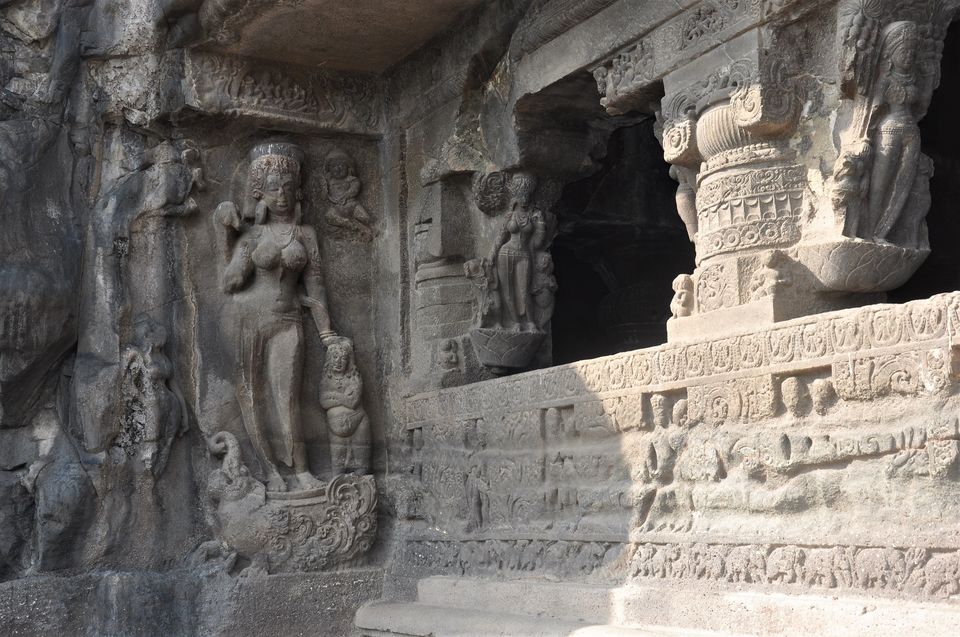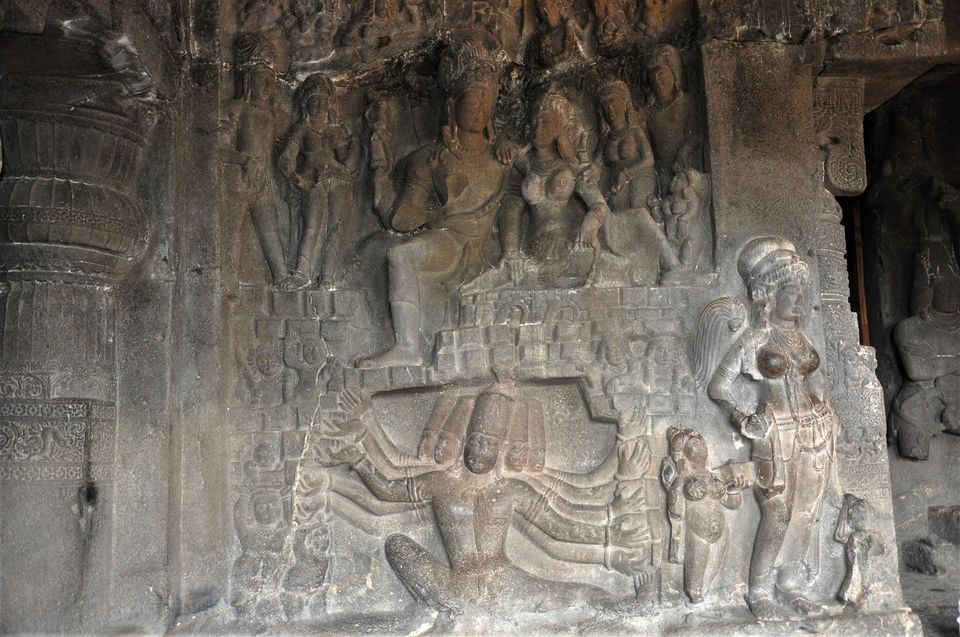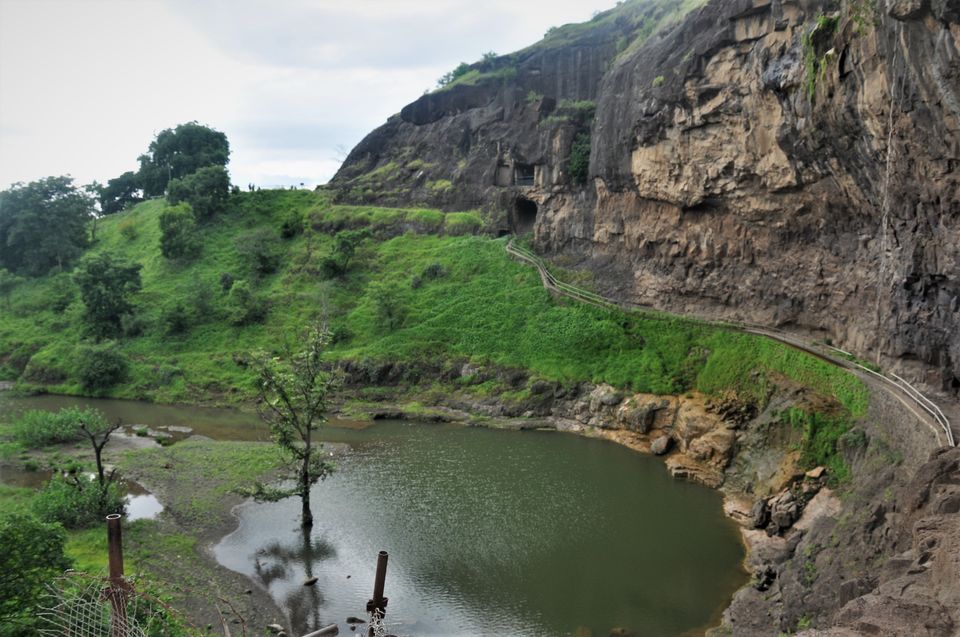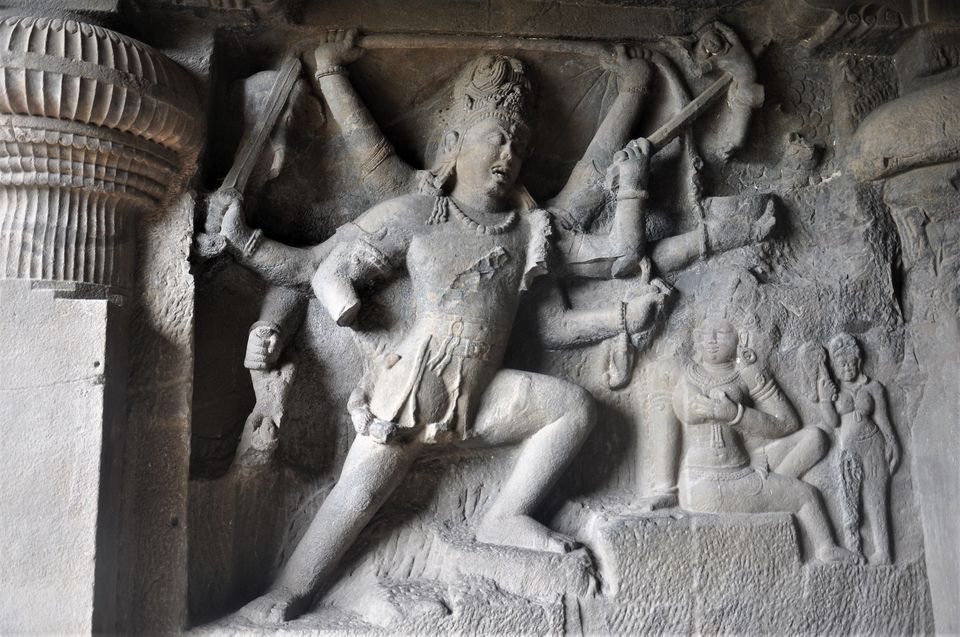 Though we covered all the caves but I feel we should have spent some more times at different caves of Ellora.
I believe Aurangabad, Ajanta and Ellora should be in the bucket list of any Indian tourist or traveler, and travelling these historical as well as ancient religious places are more required and significant for us now in this time when people are more eager to show destructive side of religious belief. These places help us to realize that how religious belief can make human being and their creations larger than the life, how dedication towards their religions led those artisans and the architects to gain the superhuman power to reach at such pinnacle of artistry where they can seize the time in such gigantic but delicate stone carvings, amazing monuments, unique monolith structures and magnificent murals.