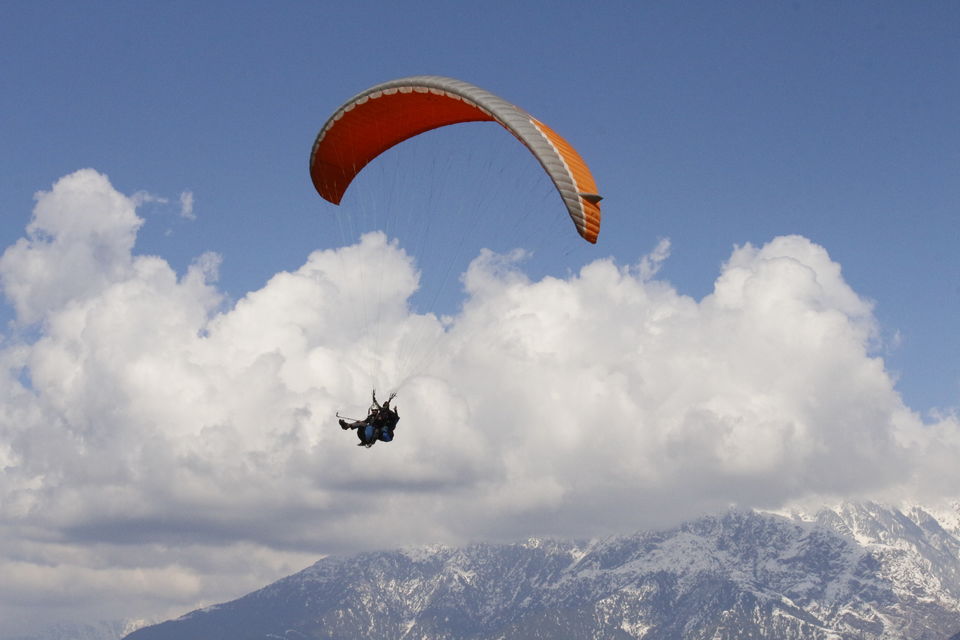 I had conquered  mountains while trekking , wrestled with the water of ganges while river rafting , ended up punching rocks during rock climbing and now it was time to experience another daring adventure. So I decided that I will contest with the "masters of flying art"(eagles) and will challenge them in the snow-capped himalayas. This is when I decided to experience paragliding and I reached a small village , located only 60 km from Dharamshala in the state of Himachal Pradesh in the ordinary bus of "Himachal Road Tourism Corporation" . This village is called "Bir" , resting on the elevation of 1525m this is known as the "paragliding capital of India". While "Bir" is the landing site for paragliding , "Billing" is the take off site and collectively they are known as "Bir-Billing".
It's been months since I met my all weather friends (mountains) and I was excited to have a cup of tea with them and talk with them for hours while counting stars. As soon as I touched down at Bir , I was welcomed with a very hefty shower as the weather had already made up its mind to challenge me with its "keeping on changing" ability. You can rent a cab, take a scooty or if you are much more adventurous then you can trek all the way up to Billing. I had plan of trekking all the way to Billing which is 14 km from Bir but the "keeping on changing" ability of weather didn't allow me to do that.I was forced to hire a car till halfway and then start my trek as the trekking route becomes confusing in harsh weather and I might have ended up losing the right path.
Till now I had almost started cursing the weather but I didn't know that it has a bag full of wonderful surprises for me. As all this happened , I had already made 3 friends out of which 1 turned out to be my paragliding pilot. As we started driving to Billing on a beautiful road which had become slippery because of such heavy rain , little did I knew that I will encounter something which I have always dreamt of witnessing . After driving and reaching a certain level of height, the weather whom I was cursing 30 minutes back gave me first surprise of the day from its bag as the hefty rain turned into snowfall. It was coming down like petals of flowers and I was happy , electrified and was left stunned at the same time.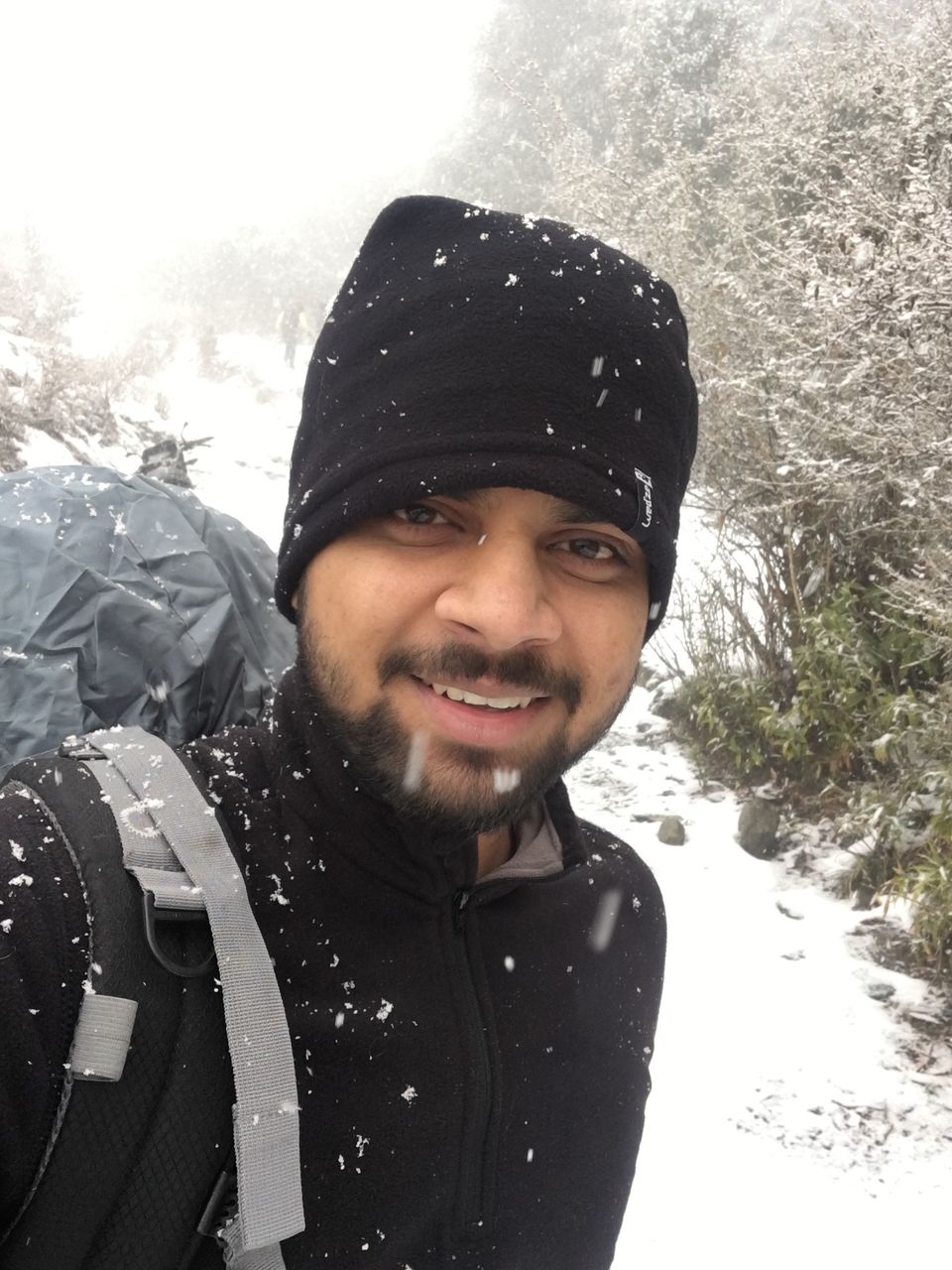 As soon as I reached mid-way I came out of car, wore my gears and readied my rucksack for a breathtaking trek . The visibility got limited to only 20 metres and later to only 10 metres. I was accompanied by my paragliding pilot turned friend and 2 other locals who too made up their mind to trek till Billing with us.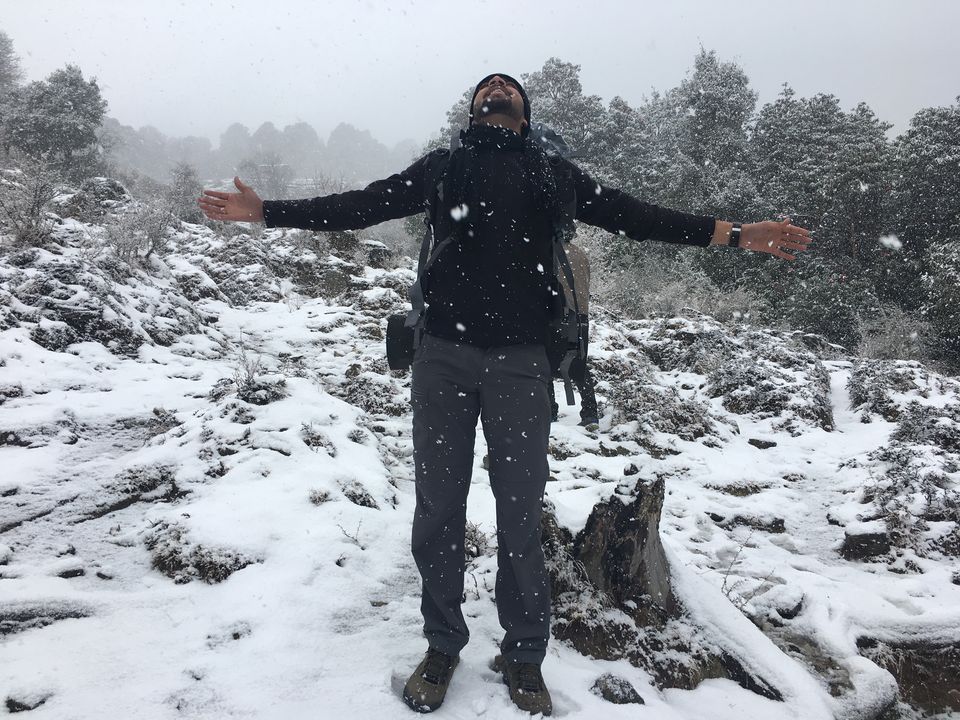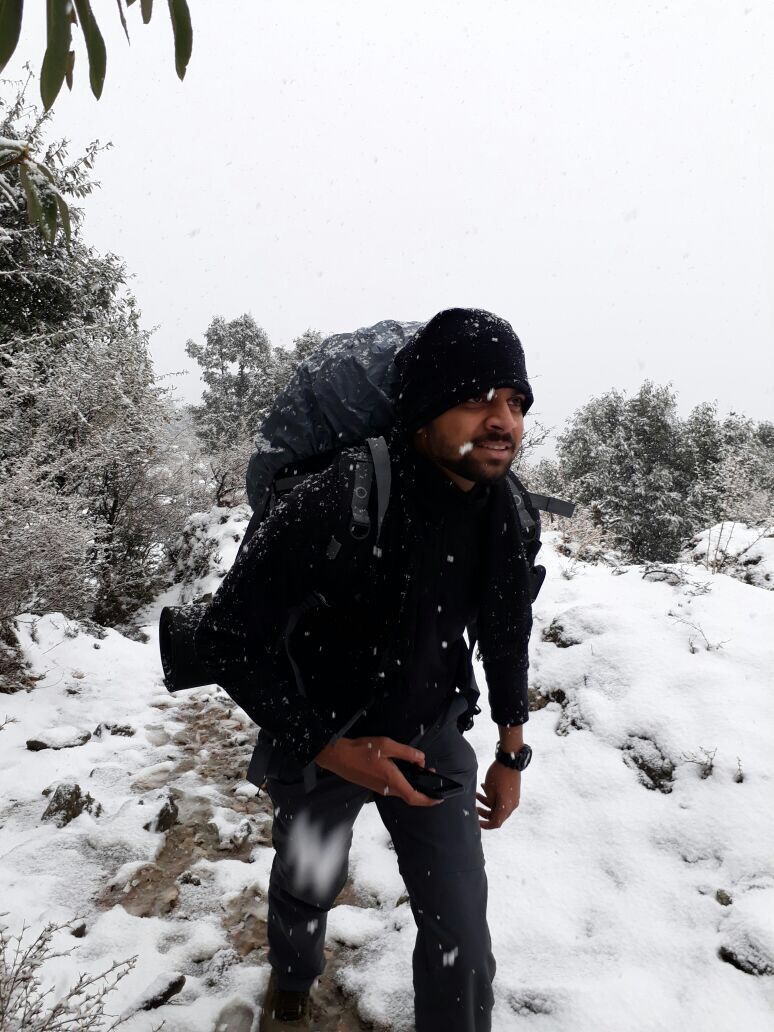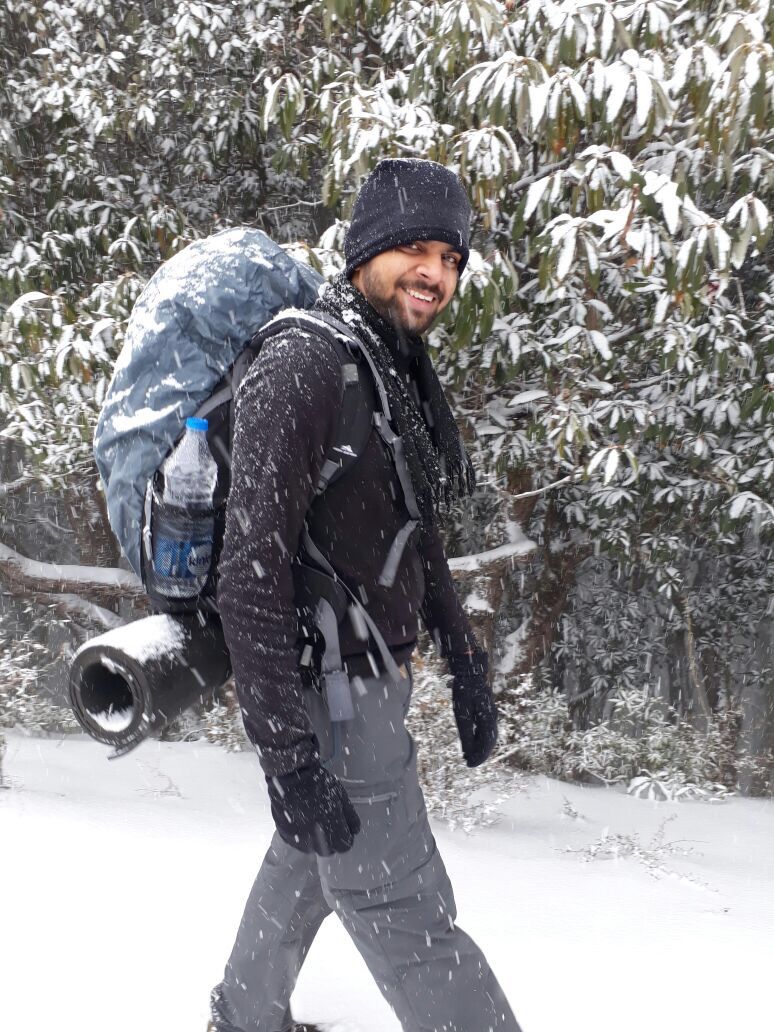 The trek had already been started and 1 of those 3 locals suddenly put out a bluetooth speaker and started playing himachali songs. I didn't understand even a single word but enjoyed the slow and melodious music which was making snowfall dance on the tune.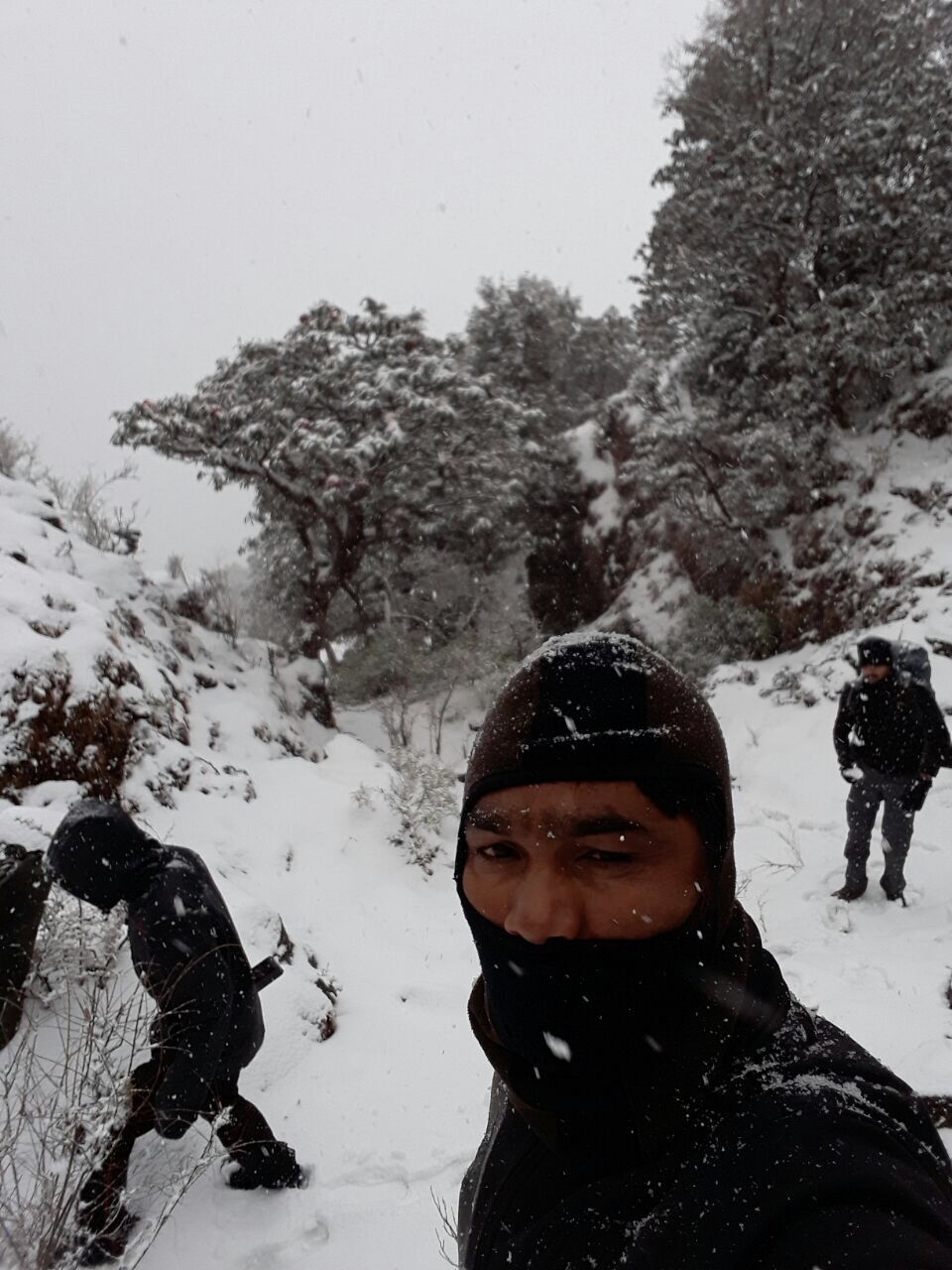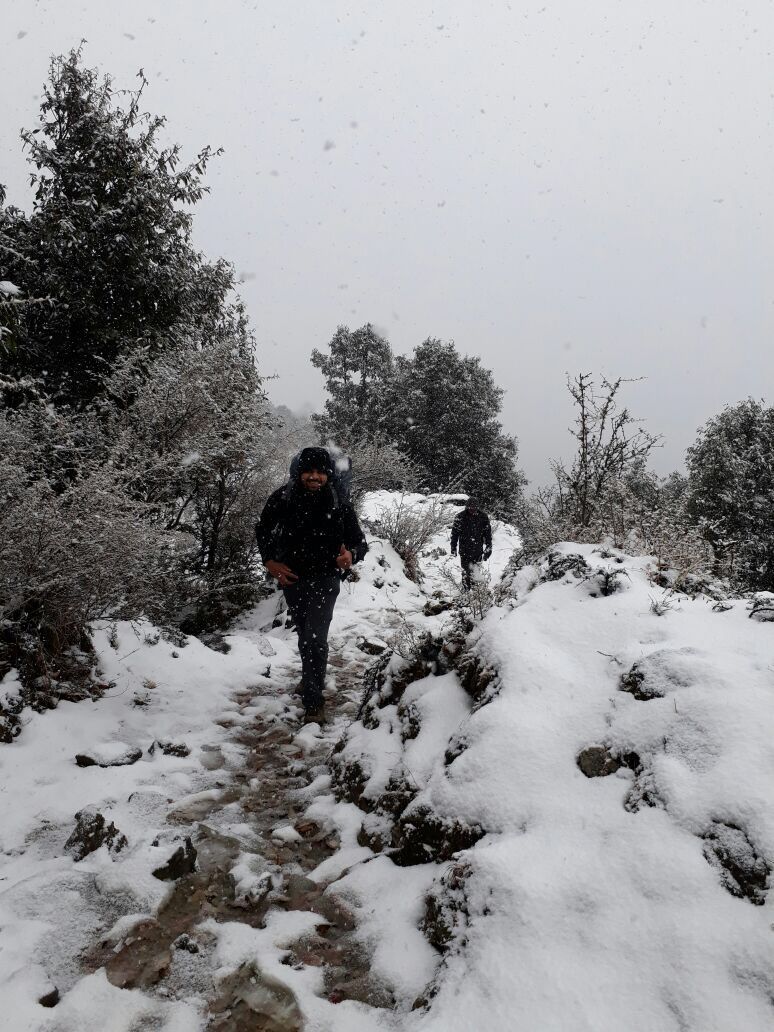 After trekking for about 3 hours on a gradual trek I finally reached 1 of the 3 shops that were located just below the first takeoff point ( there are 3 takeoff points in Billing) of Billing which was looking like a lifetime away due to lack of visibility. Weather was so unpredictable since morning that I was only the second person to visit that shop.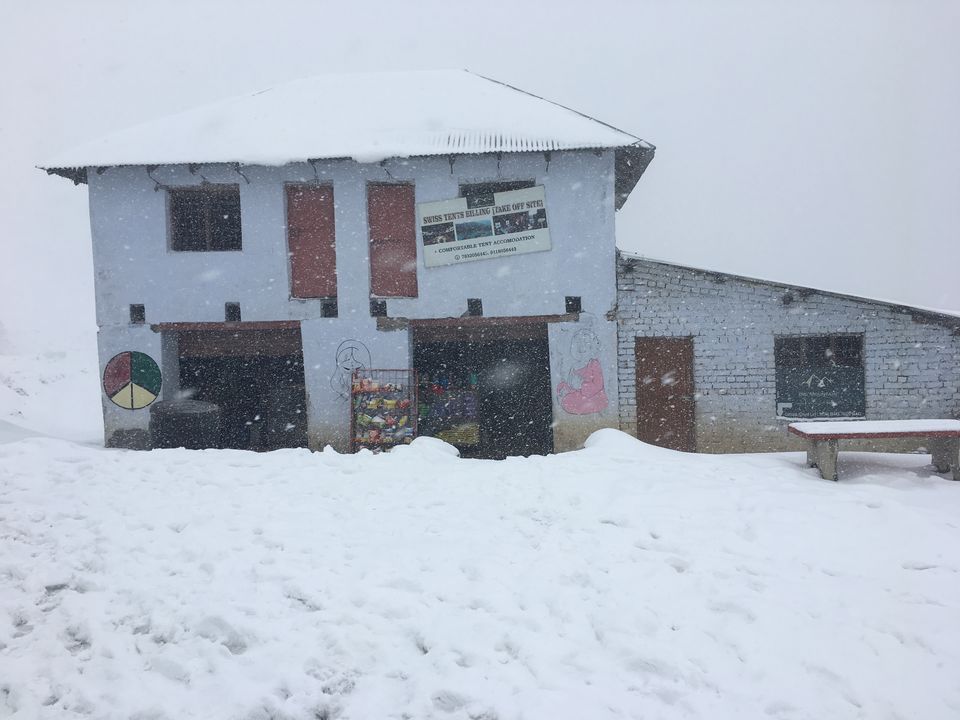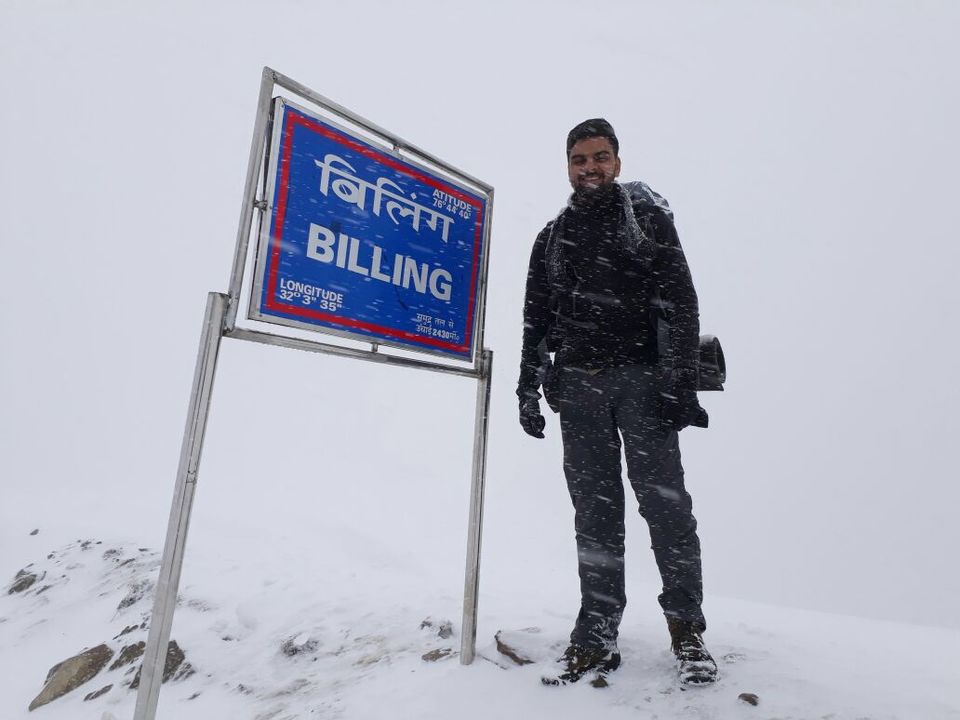 I rested there for a while and went to the most famous shop of Billing that was run by a 63 year young man famous with the name of "Chachu Chaiwala". The shop got famous because that was the oldest among all 3 shops and its owner was a brilliant storyteller. I put my bag there , gulped 4 cups of hot tea , ate few hide & seek biscuits and hiked to the highest take off point of Billing in excitement. As the weather was not suitable for flying, my flight got scheduled for next morning.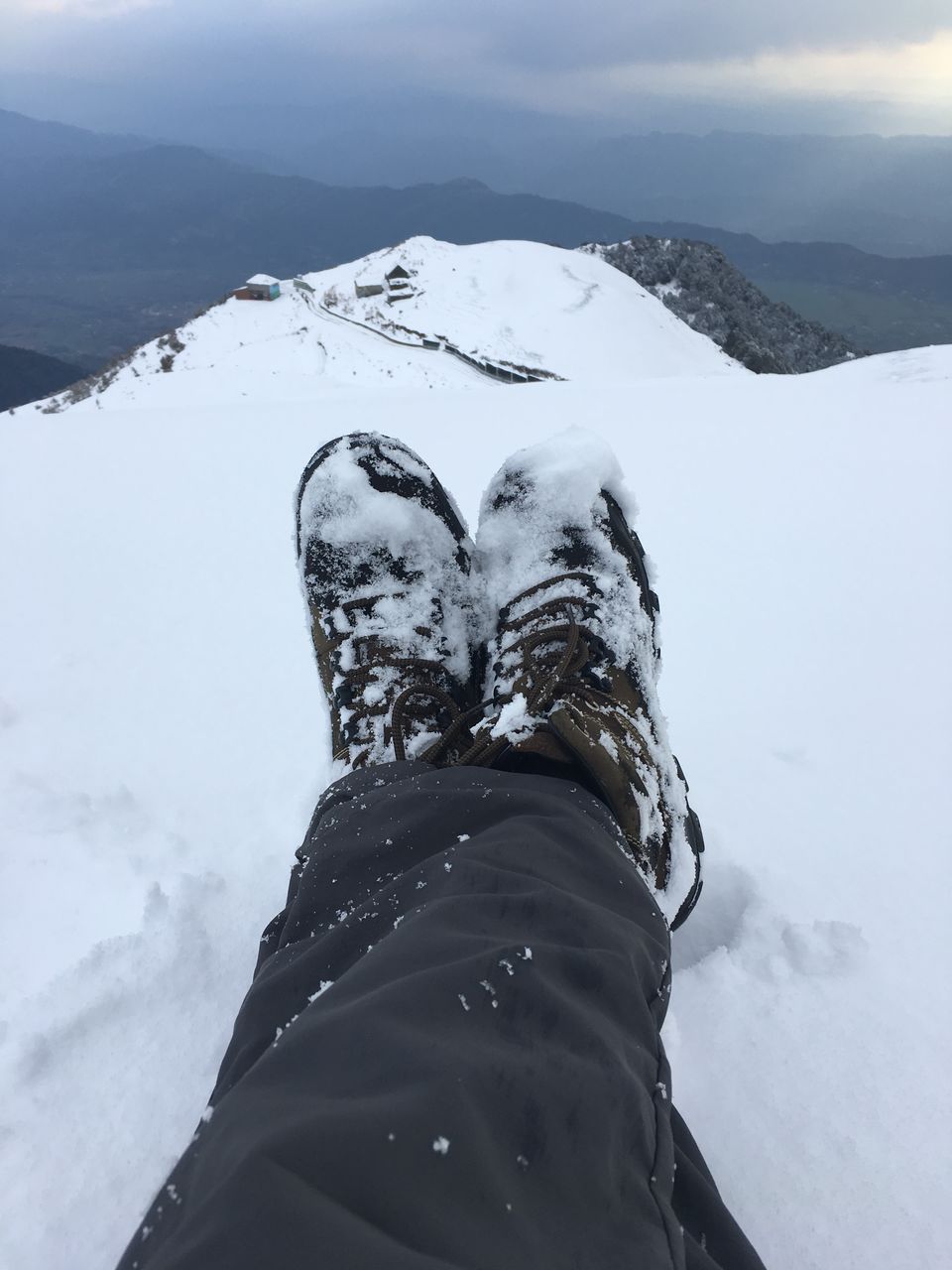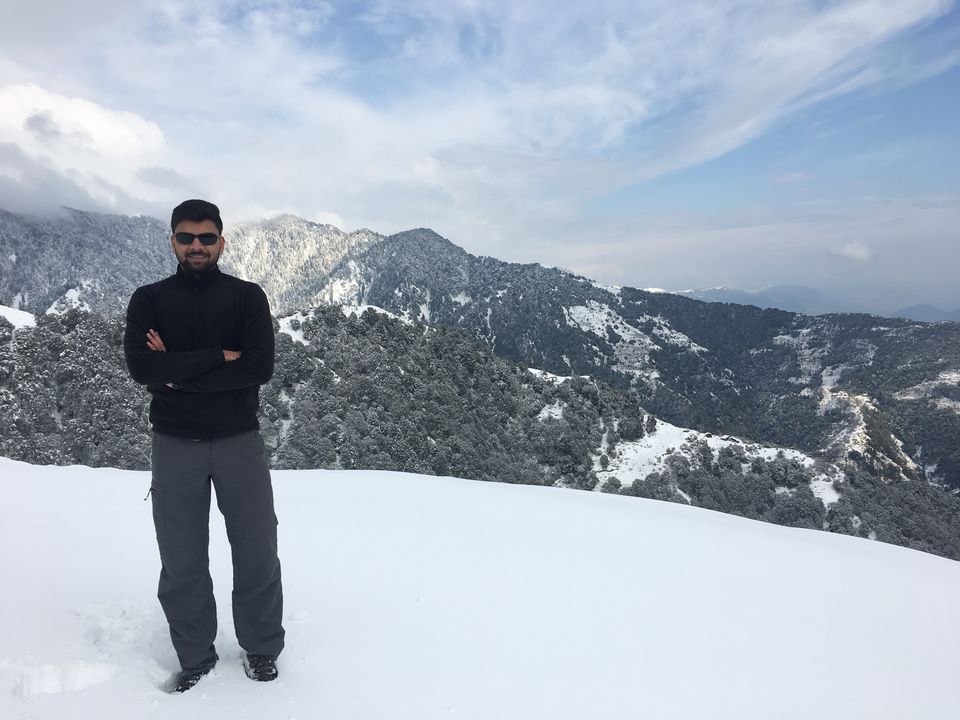 I immediately pitched my tent with help of my new friends in the lap of a mountain. I sat with Chachu Chaiwala and my new friends and talked for hours about how the paragliding actually started, how the takeoff points were built, he told me stories about how he started his shop, and what all struggles this village has to go through and how successful the paragliding world cup was.
You must be thinking "Paragliding world cup? where did that came from?? "
Yessssss, this place has organized paragliding world cup in 2015 between 24th oct-31st oct and paragliders from all over the world took part. I have one more thing to tell you that this place is the 2nd best paragliding site in the world yet many of us have not even heard its name.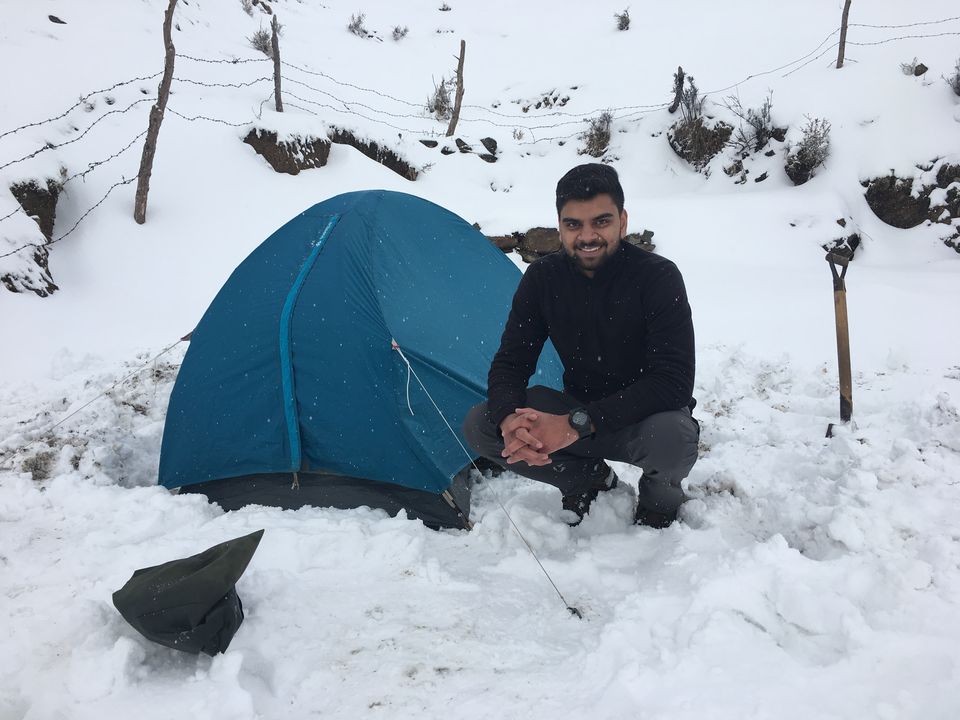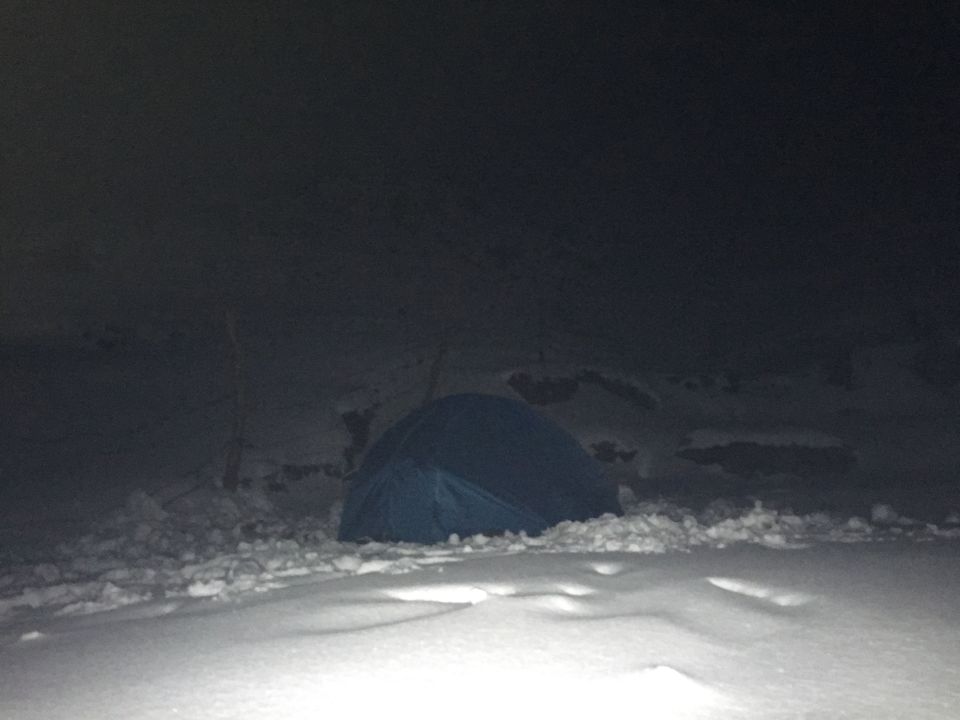 After few more hours the blanket of darkness covered this unimaginable small place and it was time for stars to arrive in style. I was hell hungry and this is when "Chachu Chaiwala" served me with the simplest yet delicious food I ever had in himalayas. Till then the weather dip down further and went to -4 degree. I requested him to give me a jug full of hot tea with the flavor of elaci and ginger and a bonfire to sit in front of as he was about to sleep in his small yet very hot hut. This was the time when there was utter silence and when I and mountains started gossiping. They told me stories of how they and sun play hide and seek everyday with each other behind the moving clouds and how the snowfall bring surprises for them (mountains) before leaving with a promise of coming next year with more surprises and I told them how my life remains like a black and white movie of 1960s without seeing them for months. After gossiping for 4 hours I slept in my tent in their (mountains) lap.
I was sleeping in utter silence when a dreary sound of crows woke me up.I looked out of my tent and found that the sun was trying to settle himself above the clouds before finally meeting me. This is when the weather gave me second surprise from its bag to me as the snowfall was gone and I embarked a new day in the presence of very bright sunshine.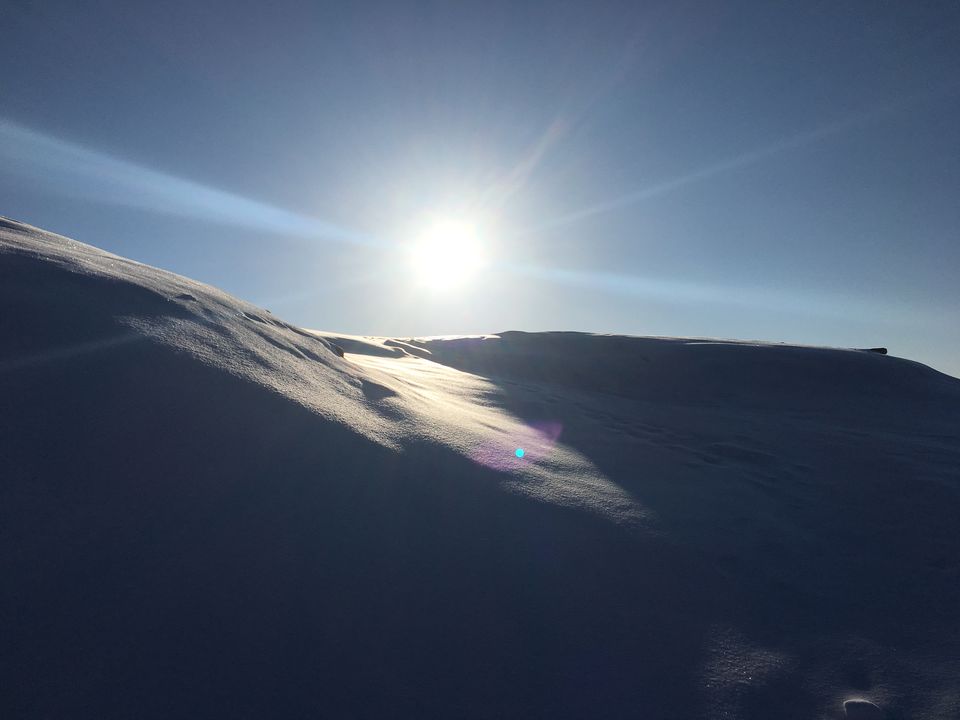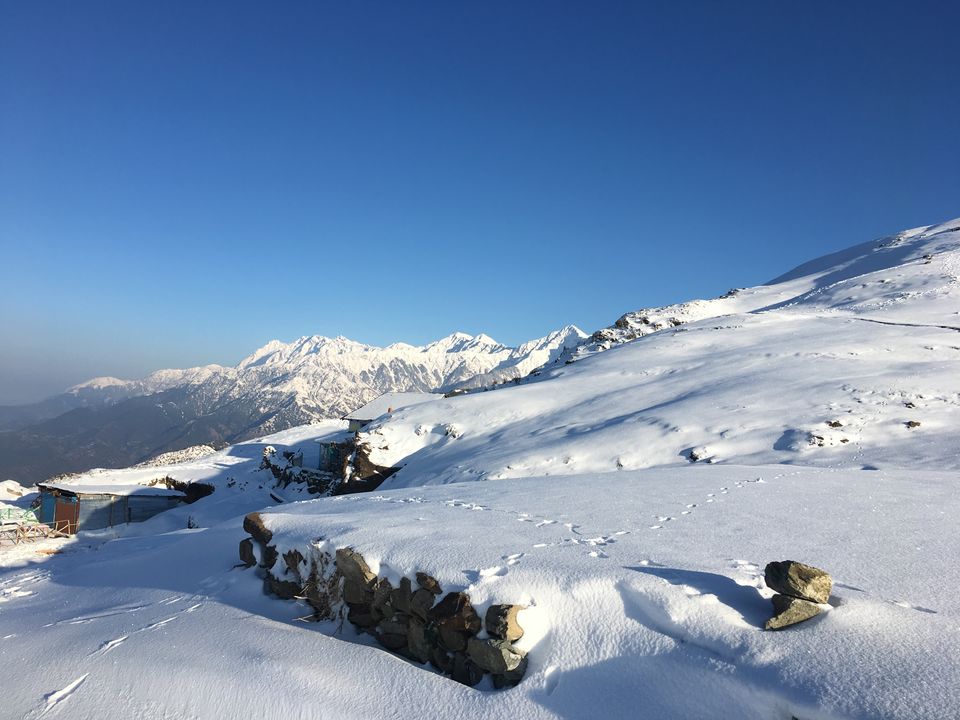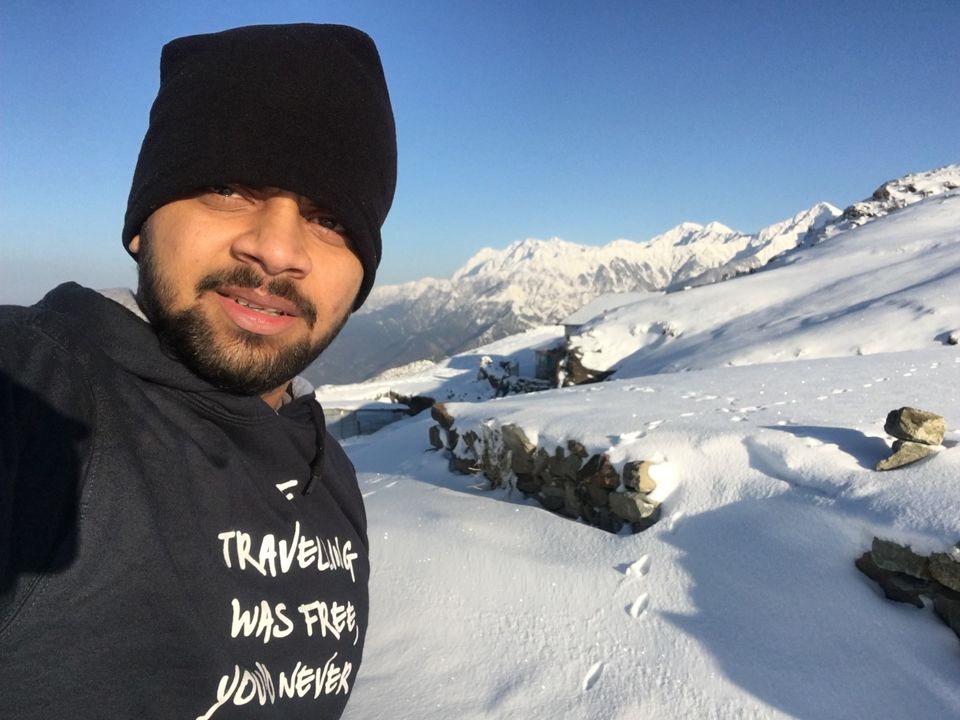 I came out of my tent, and went on to a more higher point where my feet were covered under 2 feet thick snow . I never imagined that the weather whom I was cursing a day back will give me a chance to witness its two different sides and will allow me to fly high in the sky.
As soon as seconds turned into minutes and minutes turned into hours I saw tourists arriving along with their pilots to jump off from a high point with a hope of flying high and within a matter of time there were around 50 people waiting for their turn.
My pilot too arrived at 10 a.m sharp and seeing that wind was not supporting much on the first 2 takeoff points, he took me to the highest takeoff point among all and within 15 minutes I was all set to experience another level of adventure. My heart was beating hard and there were butterflies in my stomach . I was not at all nervous and was thrilled for the start. He checked all safety gears, adjusted the go pro, and told me to run towards moat. While running I felt like someone was pulling me from behind , it was none other than the glider who was lifting me up with its arms and in next 30 seconds my feet were in the air and I was shouting as hard as I can because of excitement and happiness. My teeth were clearly visible throughout the flight as I was feeling contented. Throughout the entire flight he performed several stunts which made my heart come out and also briefed me about the area by pointing to each and every thing that was visible from top. Vehicles , monasteries , and tourists were looking like a small drop of water on a grassland.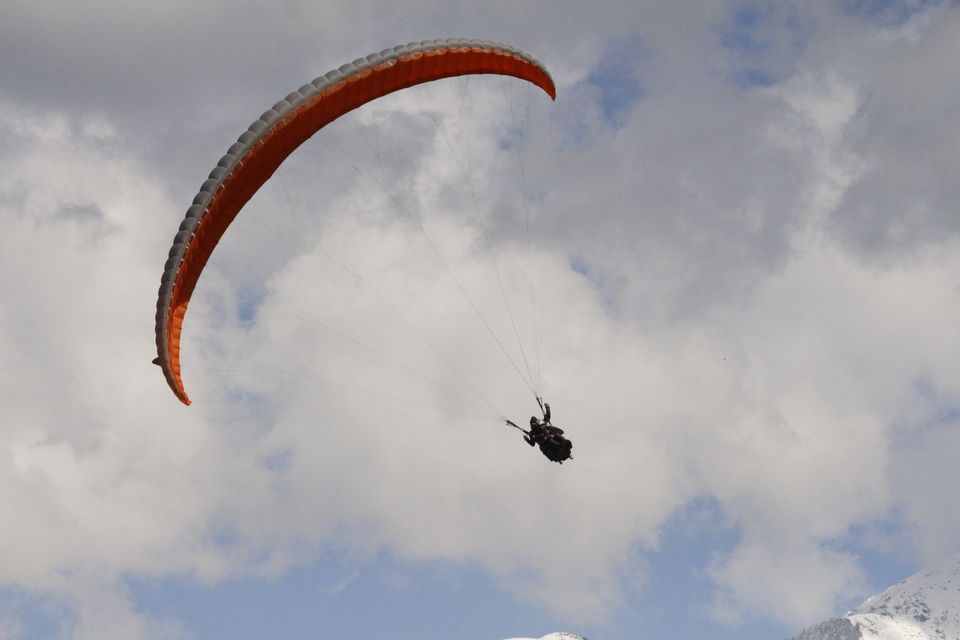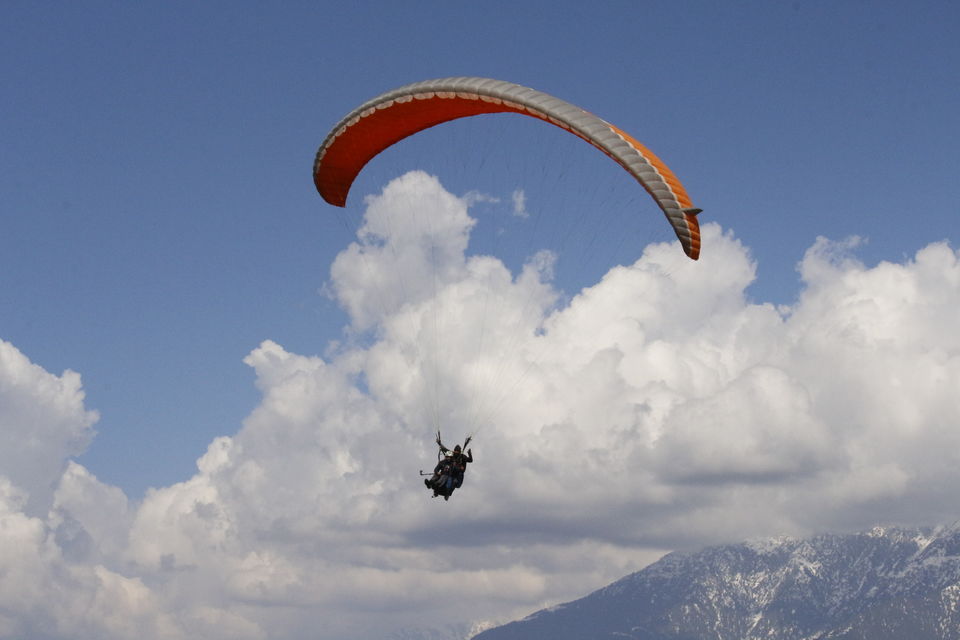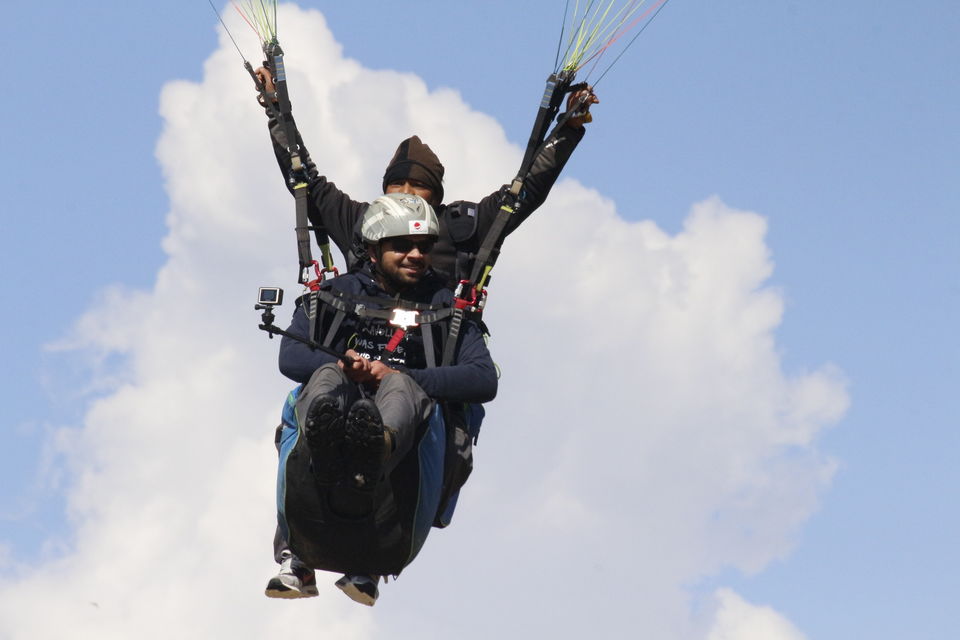 After remaining for 45 minutes in sky I finally touchdown and the landing was very calm and smooth, just opposite of the takeoff. As I touched down I posed for few photos with humongous mountains in background for my photographer and headed to have a very healthy breakfast in a restaurant near by.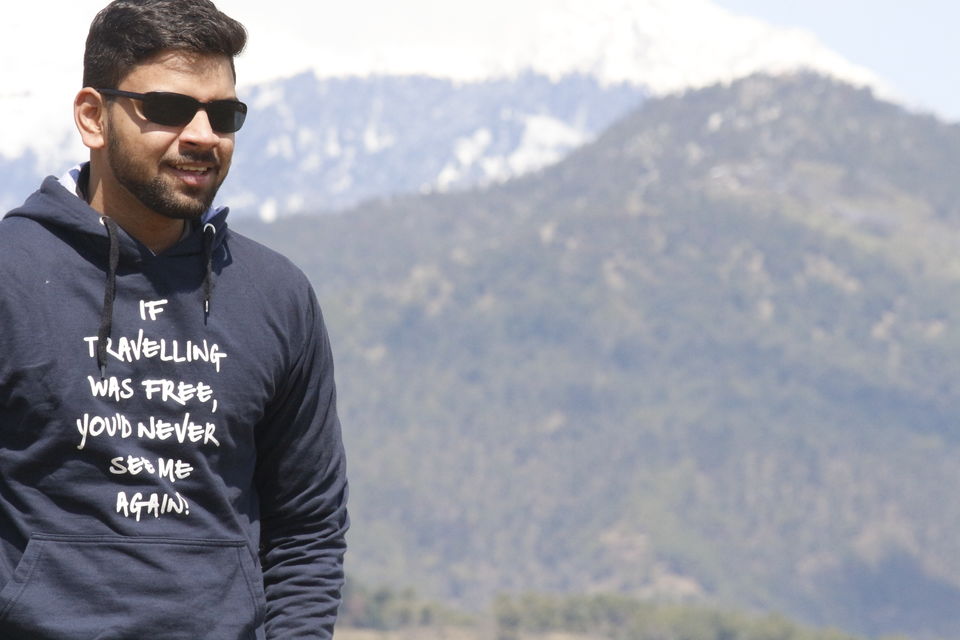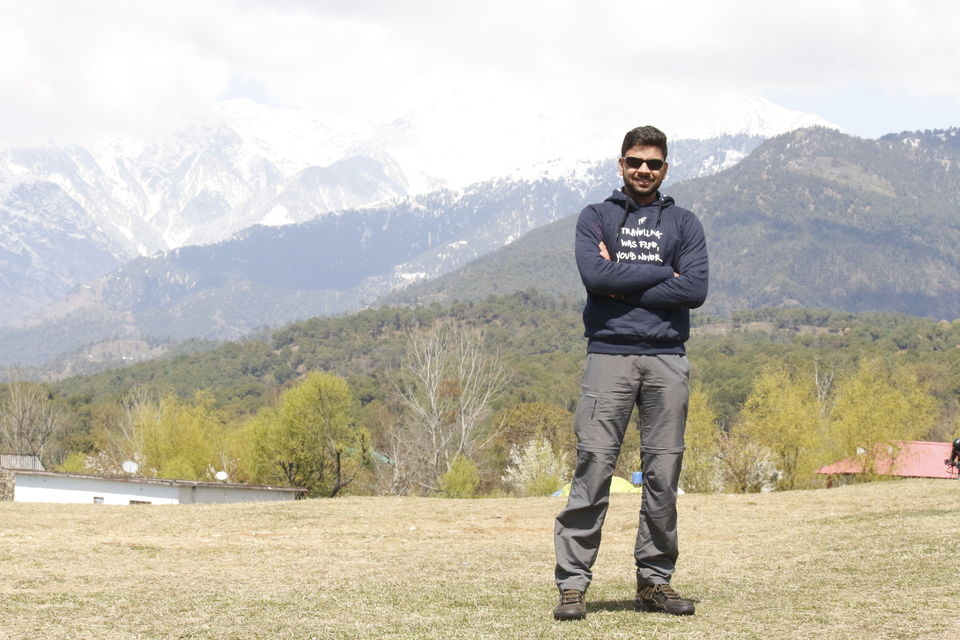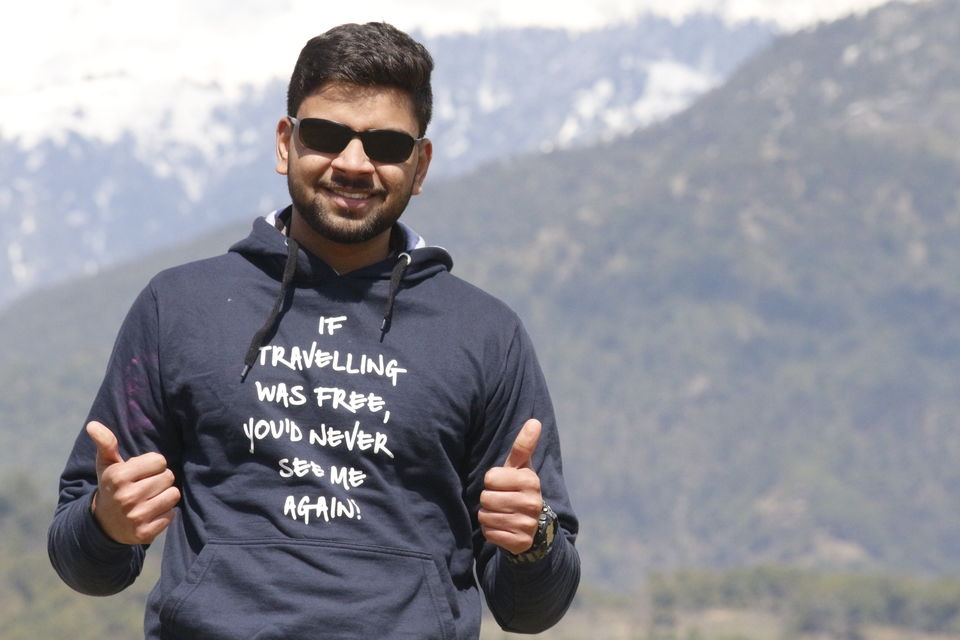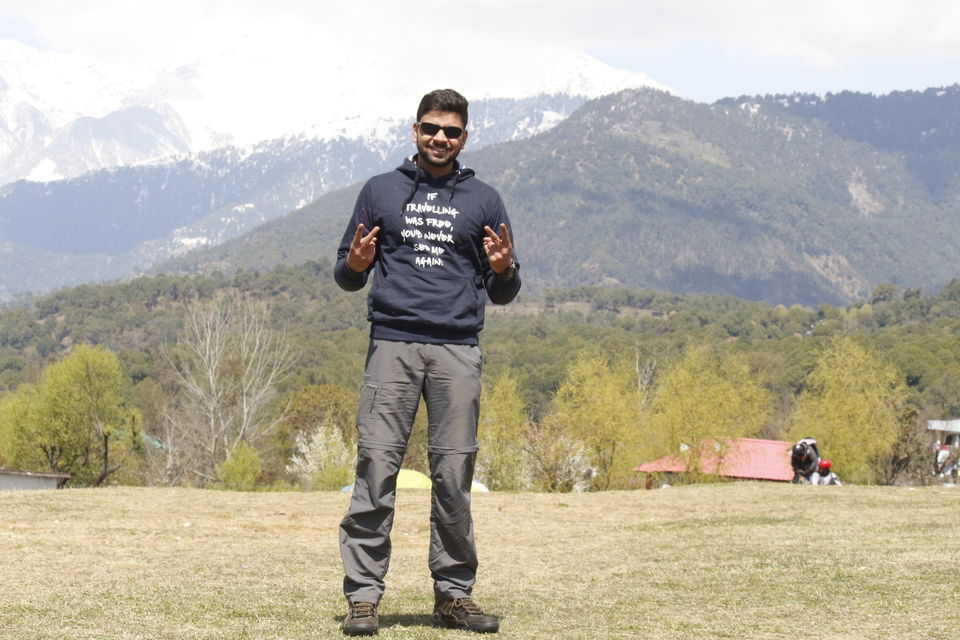 As I came out of restaurant , the bright and sunny sky was filled with dark clouds and it was like a shaded part of a picture. The wide and boundless landing area forced me to lie-down and watch the gliders flying. I stayed in the landing area for few hours, had tea in between and collected my photos from the photographer.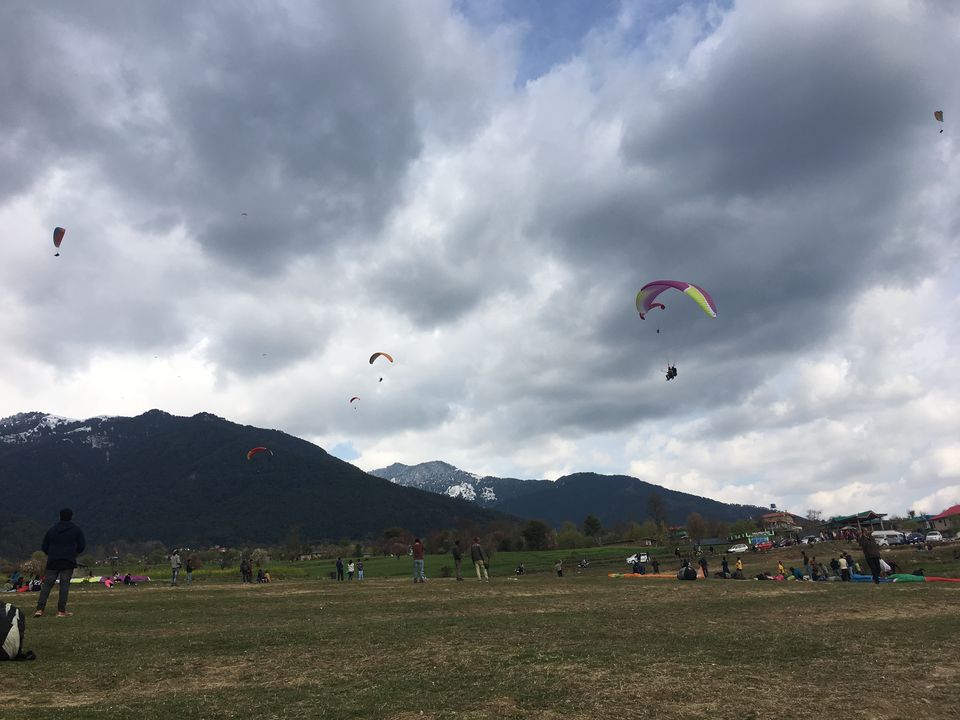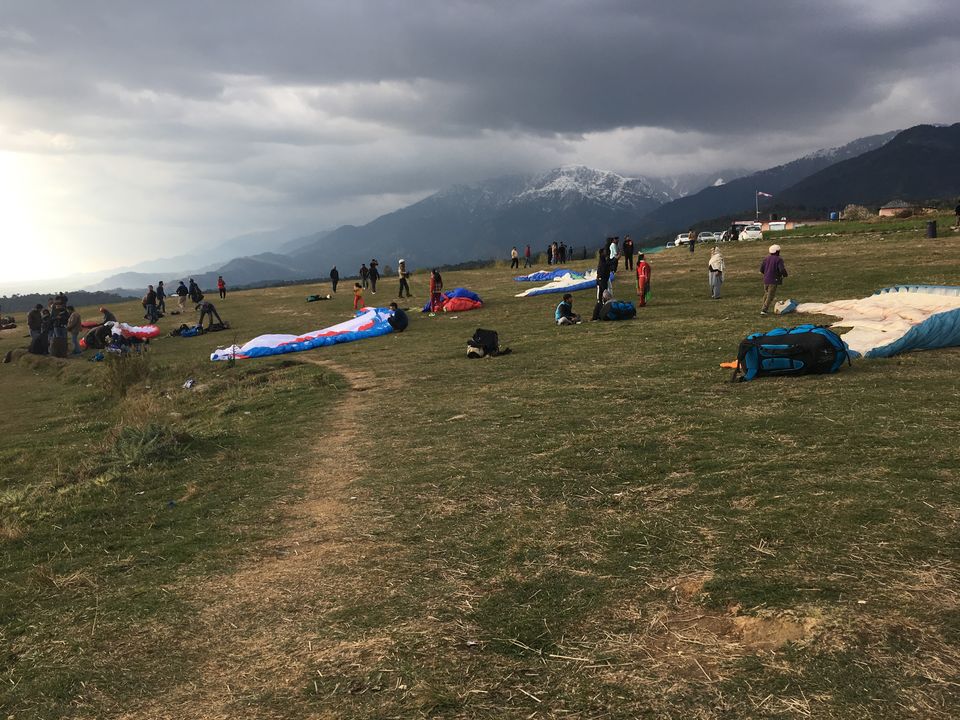 I visited one of the monastery before leaving and met few monks who were having an everlasting smile on their face as if they were carefree and had attained prominent spiritual awakening.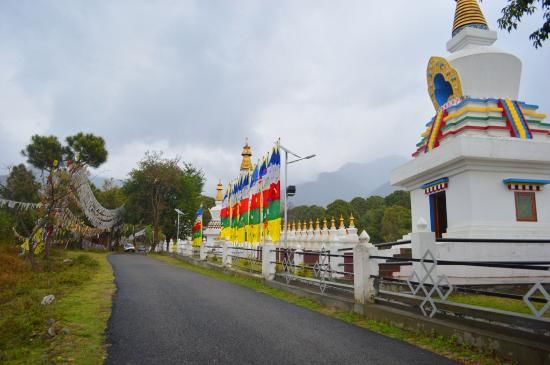 It was 4 pm and was the time to say goodbye to one of the most amazing villages of himachal pradesh , its not only the best paragliding sites in India but also has space for those who come here for spiritual awakening. It is a prominent center for meditation and ecotourism . With only handful of tourist visiting this place every year, this is an ideal destination for people who need a break from a fast moving and hectic schedules.
I hitchhiked till the bus stand and took a bus to Baijnath from where I was suppose to catch my bus for National Capital of India. As I had couple of hours left I decided to visit Baijnath temple which is a very ancient temple dedicated to Lord Shiva and took bus to came back from where the journey was started.
"Twenty years from now you will be more disappointed by the things you didn't do than by the ones you did do. So throw off the bowlines. Sail away from the safe harbor. Catch the trade winds in your sails. Explore. Dream. Discover". This quote by "Mark Twain" has always encouraged me to travel extensively to the unknown lands and meet new people. Experiences makes you a better person , so never hesitate in packing your travel bag and leaving for new adventures. Dare to do risky things so that you can have a new story to tell every time you meet your friends and never doubt yourself because not all those who wander are lost.
GO TRAVEL.
From
A SOLO TRAVELLER.
For more info on Bir Billiong visit: http://www.travelbirbilling.com/