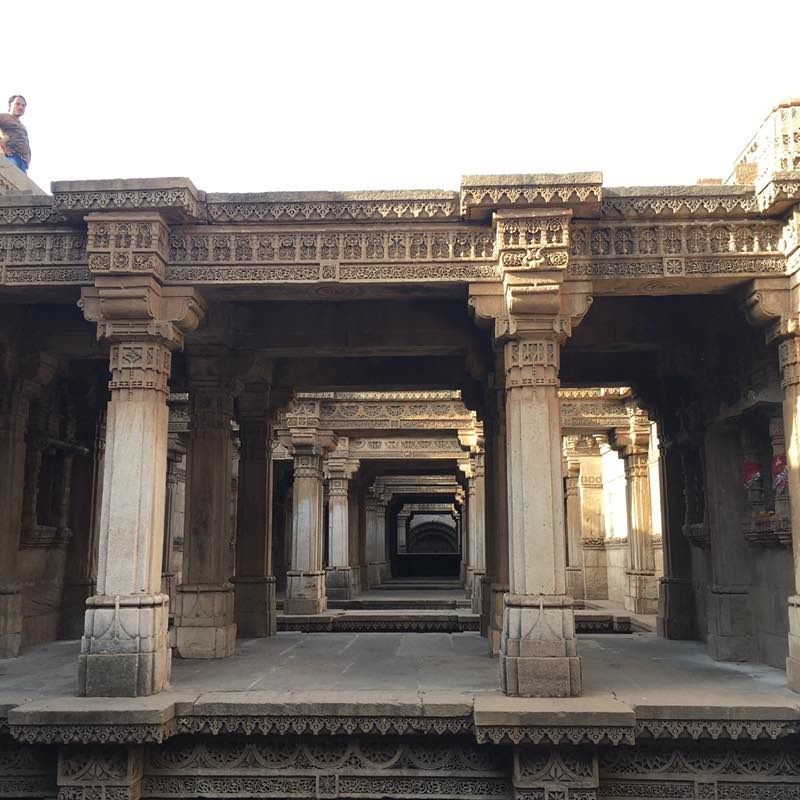 I always wanted to visit the place where I was born. Many times, I planned to visit Ahmedabad, however it didn't really happen. So when I heard about Moved by Love retreat which happens in Ahmedabad, without wasting a second I applied for it. Within a week's time I landed in Ahmedabad. I had already planned that I would spend at least 2 days to explore and to get the feel of the place where I was born :-)

During the workshop, I got an opportunity to visit Gandhi Ashram, I couldn't believe I was standing at the place where Gandhi ji actually walked, lived and ignited the idea of independence, and the fragrance of peace, truth and non-violence still exists in Gandhi Ashram.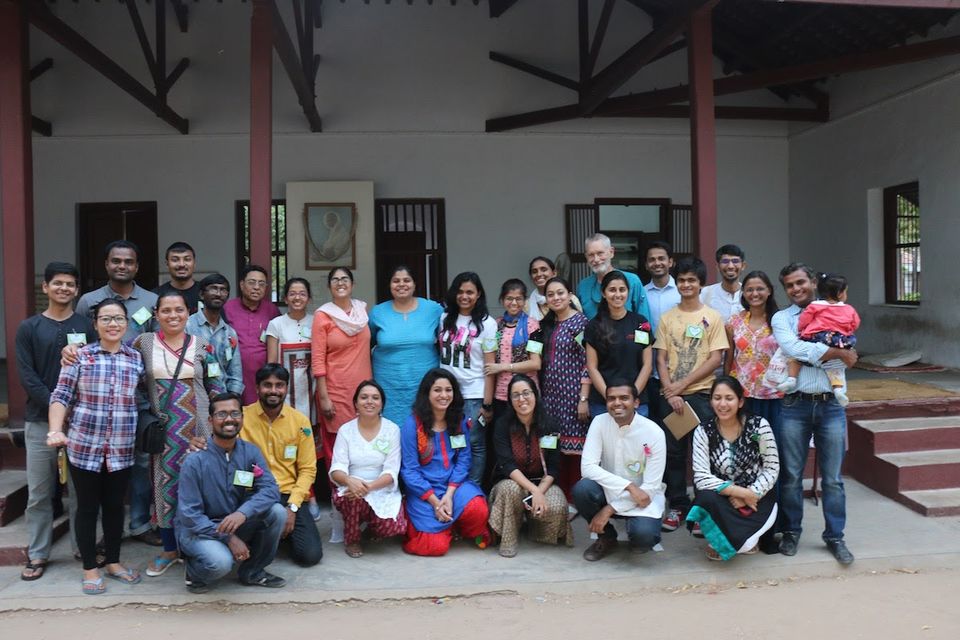 Then we went to Seva Café, This café runs on gift economy- It is a restaurant where staff and volunteers cook and serve loving meals, have conversations with the guests and in the end present them with a cheque that just reads Rs 0 and a little note "Your meal was a gift from someone who came before you. To keep the chain of gifts alive, we invite you to pay it forward for those dine after you." Interestingly they even have a volunteer who is just 10 years old :-) We had amazing dinner comprising of Sandwiches, masala puri, uttapam, chutney and mouthwatering kheer.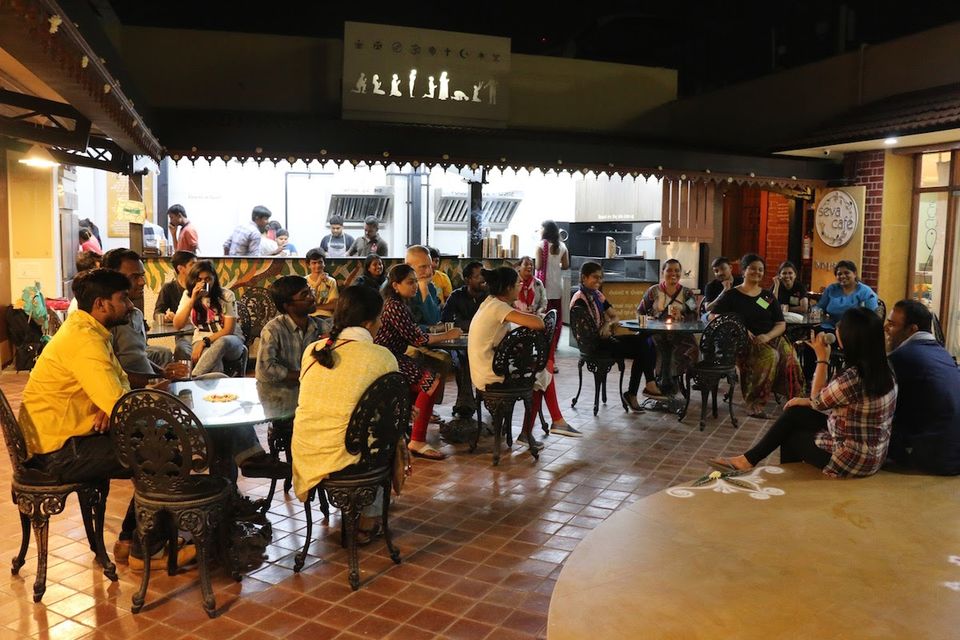 The retreat concluded in the afternoon of the 3rd day, almost everyone was ready to go. I thought I would be all by myself to explore the city, however there was one participant who asked me whether I would like to come along her as she will also be exploring the city! I was more than happy to have a company. So we left ESI, Sughad and went to our first destination Adalaj- step well. Built in 1499 by Queen Rudabai, wife of the Vaghela chief, Veersinh, this five-storey stepwell was not just a cultural and utilitarian space, but also a spiritual refuge. There is an opening in the ceilings above the landing which allows the light and air to enter the octagonal well. However, direct sunlight does not touch the flight of steps or landings except for a brief period at noon. Hence some researchers say that the atmosphere inside the well is six degrees cooler than the outside. Another remarkable feature of this stepwell is that out of the many stepwells in Gujarat, it is the only one with three entrance stairs. All three stairs meet at the first storey, underground in a huge square platform, which has an octagonal opening on top. The vav is a spectacular example of Indo-Islamic architecture and design.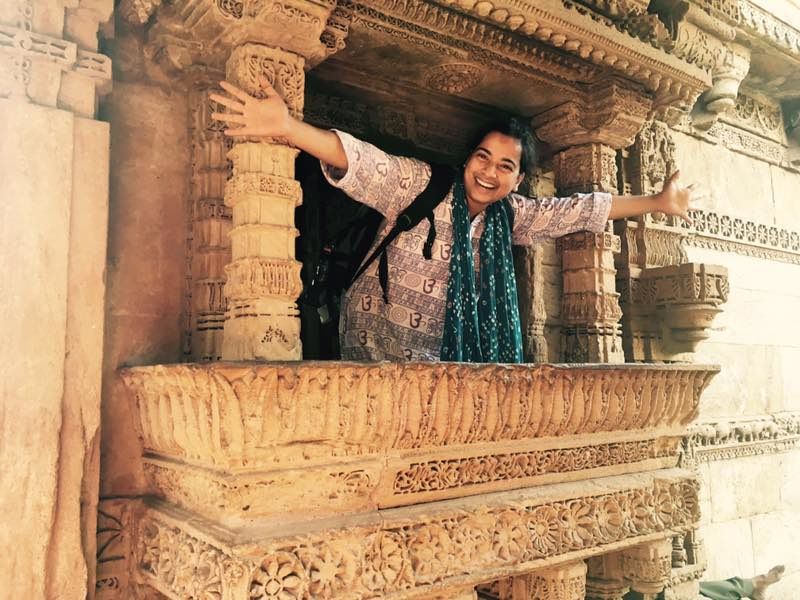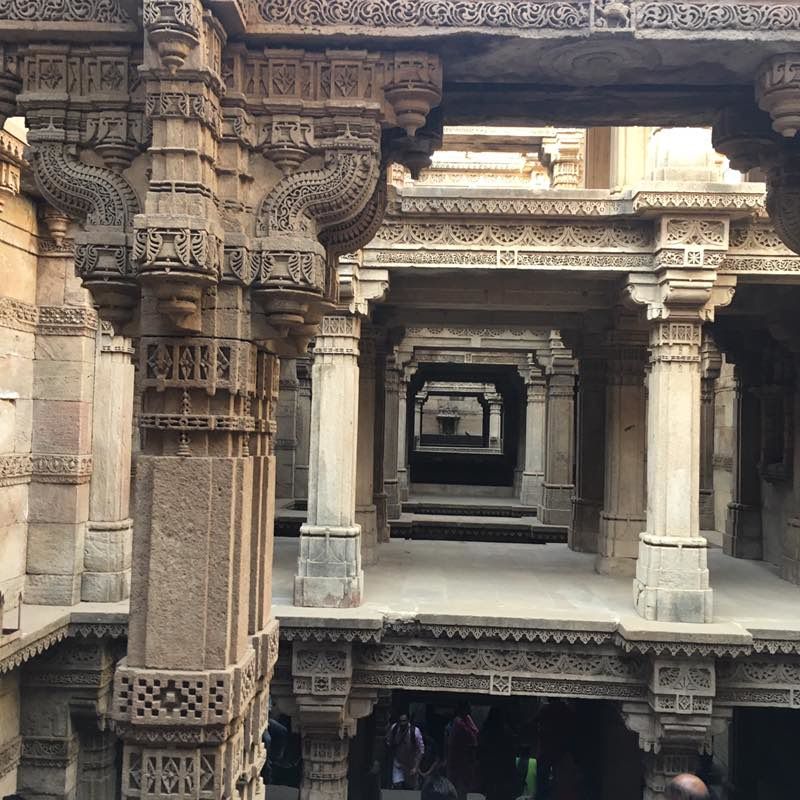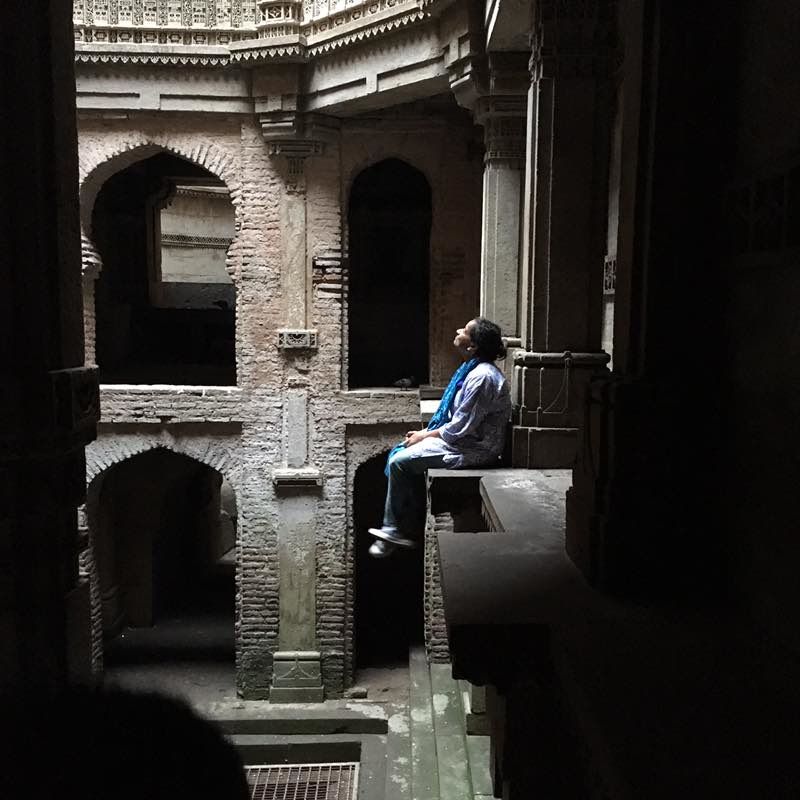 Our second destination was 'Akshardham Mandir' – Located in the capital of Gujarat, the complex was built over 13 years and is a tribute to Swaminarayan and his life and teachings. he mandir's central chamber houses a seven-foot-tall, gold-leafed murti, of Swaminarayan, who is worshipped by followers as God. The first floor of the mandir is known as the Vibhuti Mandapam and features lotus-shaped displays describing the spiritual character of Swaminarayan, while the basement of the mandir, called the Prasadi Mandapam, houses a historical display of various sacred relics from Swaminarayan's life.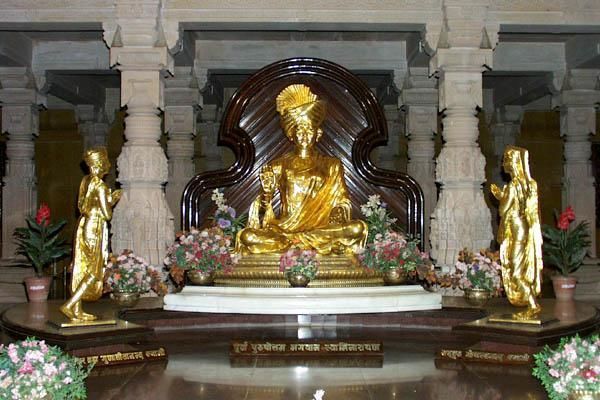 I was blown away by the exhibition, we took more than an hour to explore and it could have been more if we weren't supposed to rush for 'Light and water show'- one of a kind show based on the mythological story of Nachiketa. The vibrant show employs fire, fountain animations, laser, water screen projections, music and live characters in a 45-minute story. I became a child while watching it, it was so real and spectacular!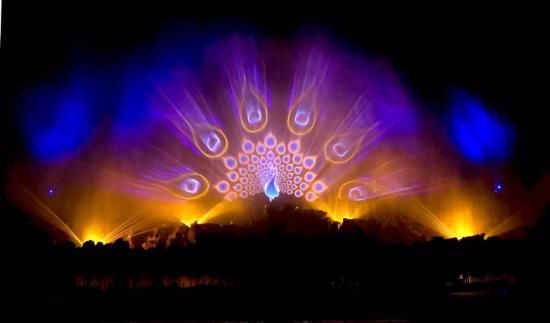 Interestingly we got a win win deal on a travel website so we booked a room in 'The House of mg' which is only boutique heritage hotel in Ahmedabad that is centrally located, has luxuriously designed rooms offering all modern amenities in a grand but homely ambience. It's said that if you come to Ahmedabad, you should stay here because staying here itself is an experience :-) We reached at about 9.15 pm, surprisingly our booking was upgraded, now we were getting a bigger room. The House of mg offers night heritage walk which starts at around 10 pm from Mangaldasni Haveli 1, so quickly we checked in and got ready for the heritage walk.

The historic 'Old City', is a site to behold – a tightly condensed humanity going about daily chores as if time had stood still, with chaotic bazaars, crisscrossing narrow streets (called 'pols') punctuated by beautifully carved bird feeders, roaming cattle, crumbling but stunning examples of vernacular architecture and artisan workshops. The only way to experience this milieu of vibrant living culture is to walk through it.
Our tour guide Mr. Bhai Lal Panchali was waiting for us at Pol Kholi the old city café. Interestingly we were the only 2 people as the tourists because it was Sunday. I was so excited, this café has been made out of Mangaldas in Haveli 2. They also have rooms to stays, one of the most peculiar part of them was that they didn't had numbers on them instead they were identified with the animals.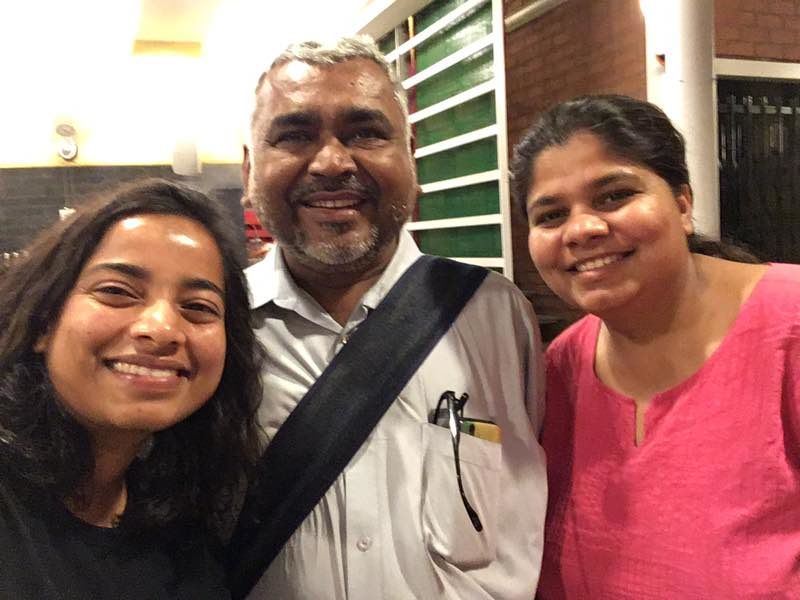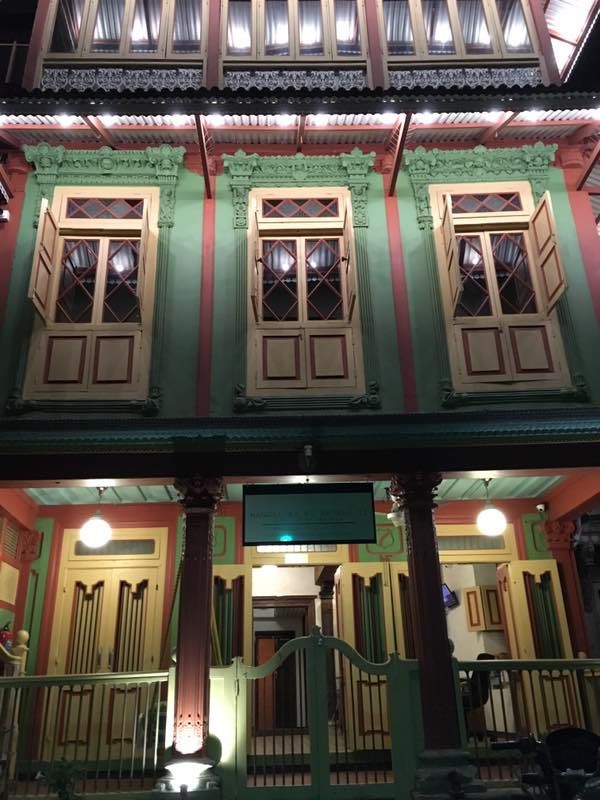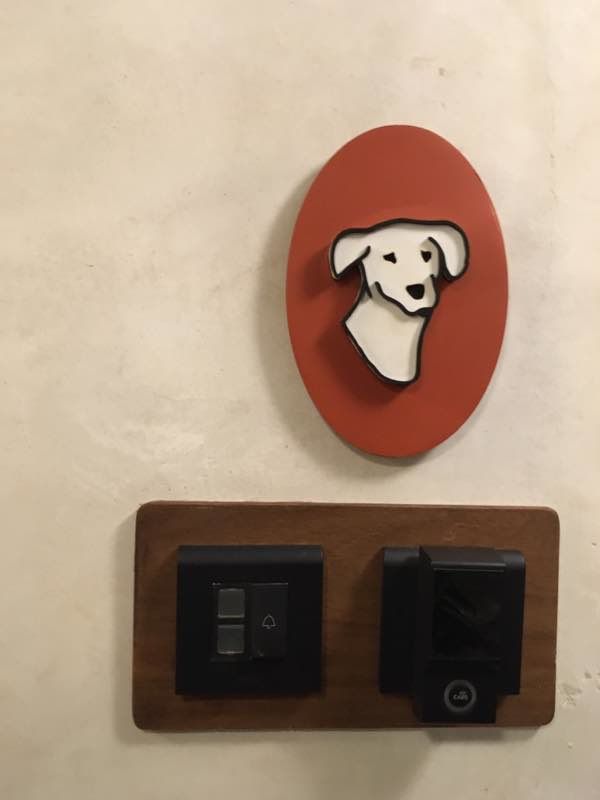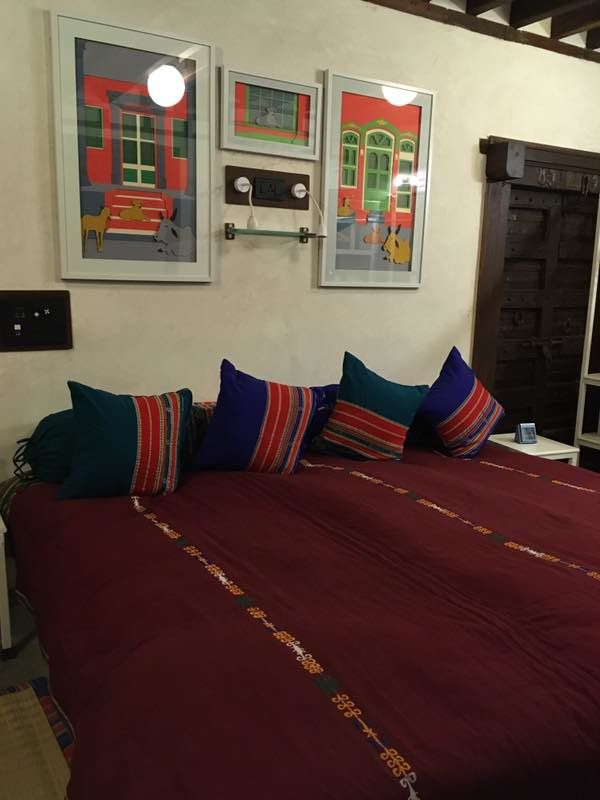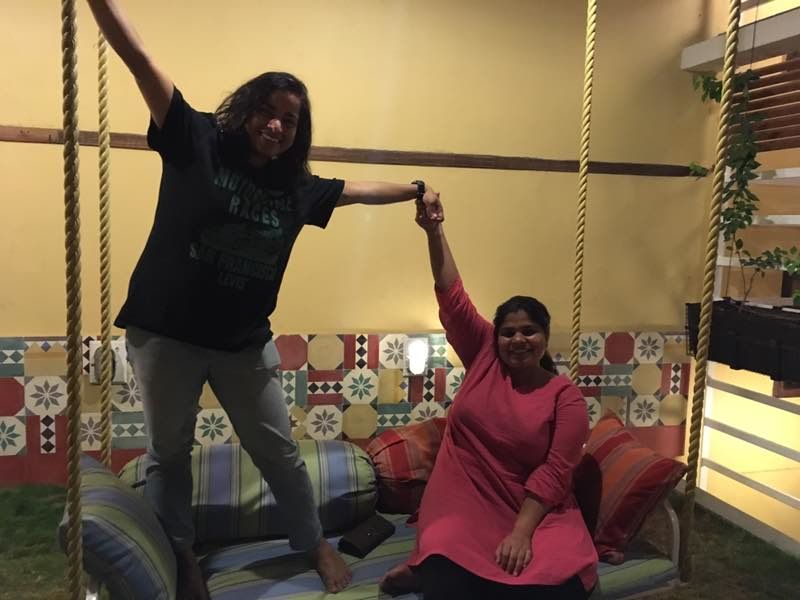 Walking few steps, there was Chocolate home which was previously Darwan ni haveli, it is same place where Bollywood film 'Kai po che' was shot. It is constructed using tik wood which was brought from Burma. It had beautiful ambience, the peculiar construction kept the haveli cooler, there was a well inside which was used to harvest rain water. Usually night heritage walk starts from Mangaldas ni haveli 1 however because of maintenance it was closed for visitors and tourists.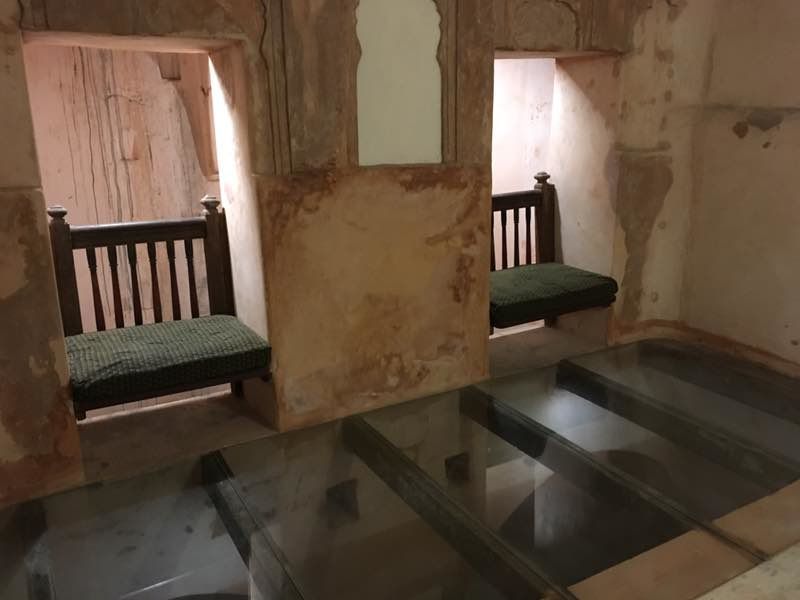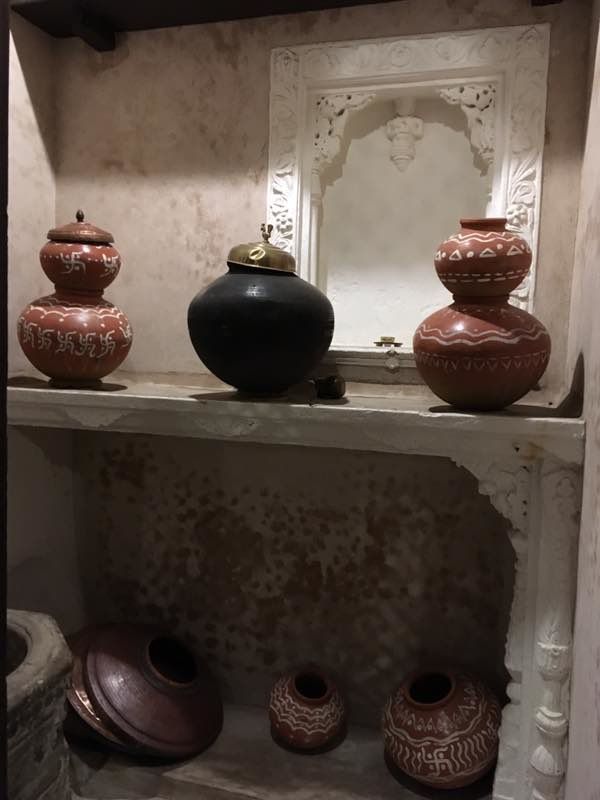 Ahmedabad is famously known as walled city with approximately 600 pols, 1600 mandirs, 69 mosques and more than 200 bird feeders (as told by Bhai lal ji). The pols are housing clusters which comprises many families of a particular group, linked by caste and religions. Many of the pols were built between 100 to 300 years ago with the oldest being aptly titled 'Mahurat Pol' built around 1714 ('Mahurat' means 'inaugural'). These pols were built by community members to protect their respective groups in times of attack and other such disturbances, and so every pol had an entrance gate which was manned at nights and secret passageways for emergency escapes.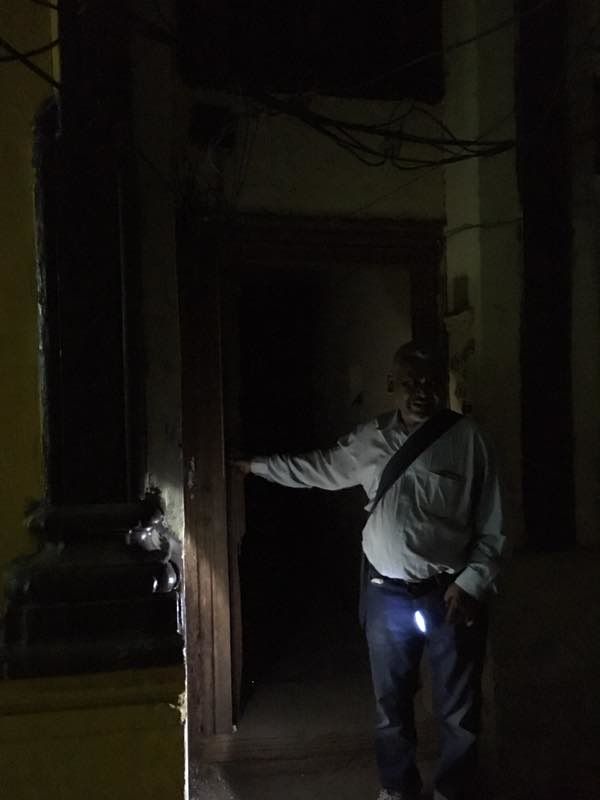 A typical pol would consist of a cluster of interconnected houses along with at least one temple, a well, and a 'Chabutra' (bird feeding tower). It's not less magic that there are over 60,000 houses in 600 such pols in Ahmedabad.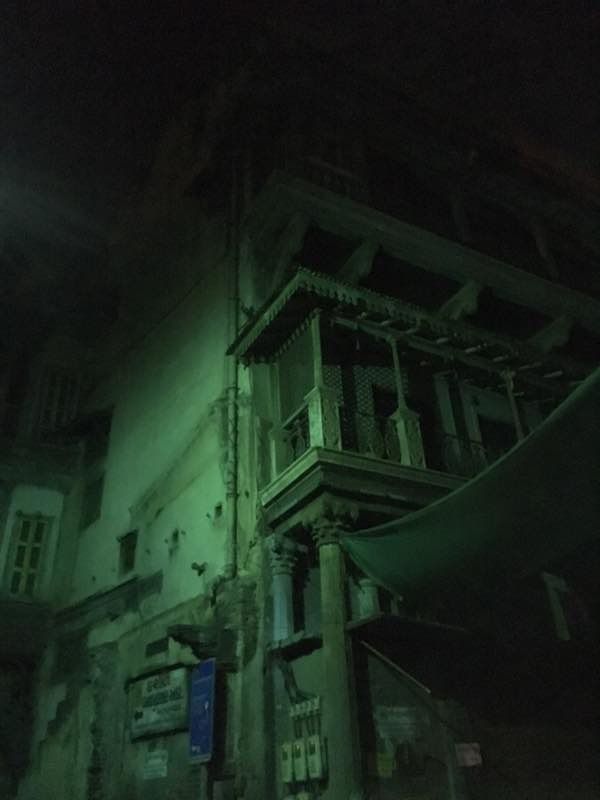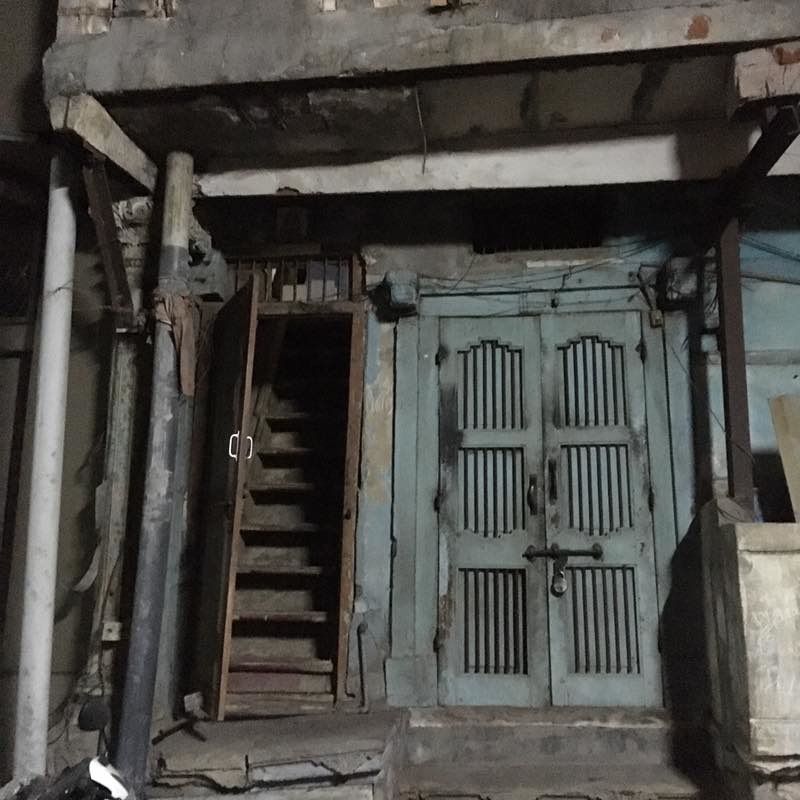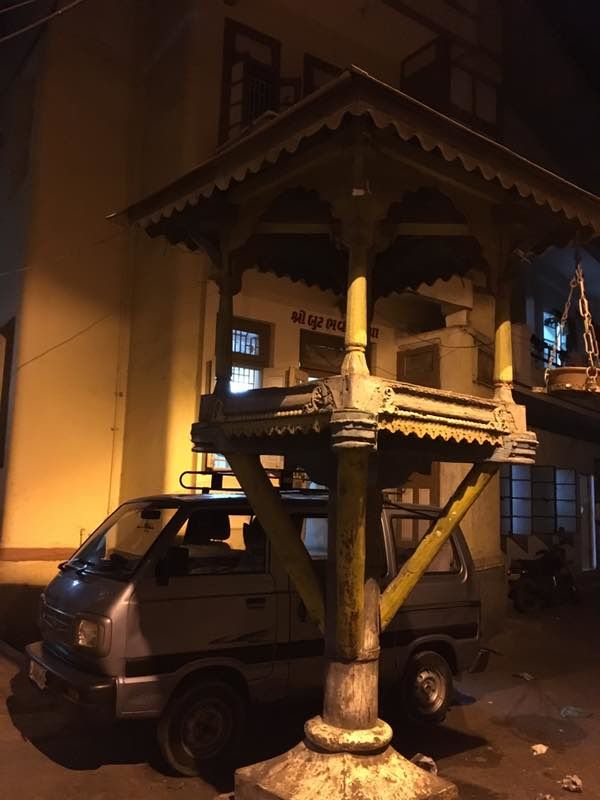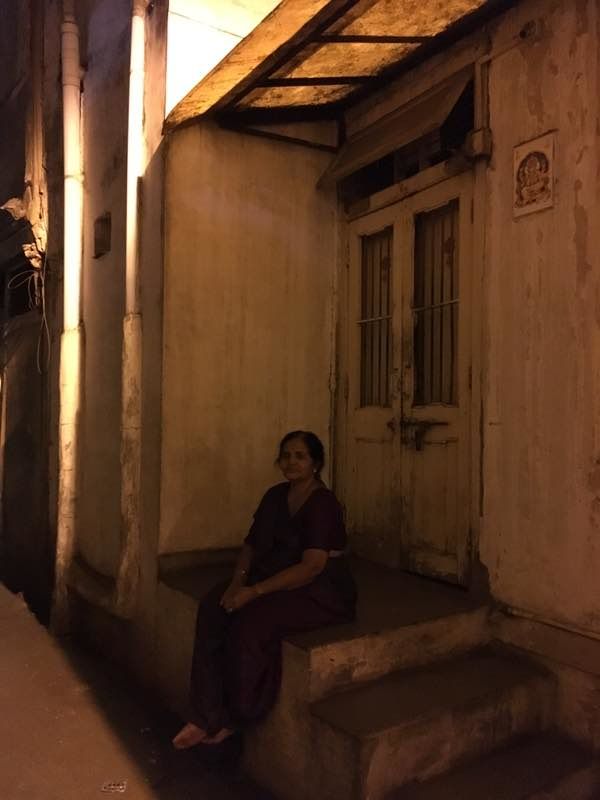 Hoshiwada ni pol has 'Har kunwar sethani ni haveli' which is huge with 3 floors and 60 rooms with only the owner who is the sethani living here. Our tourist guide Bhai lal ji was an interesting man who engaged us with frequent jokes and amazing information about these pols, he introduced us to 4 women who always chat during late evenings at a same settings for years even during rains. It was beautiful experience to observe this kind of community living.

Also Bhai lal ji has plethora of information about architecture of the old Ahmedabad city. As we walked through the pols, his wife joined us in the walk, this is the routine they have been following for years, she hugged us, spoke to us and also invited us to their home. It was beautiful walking across Fernandez bridge- it is place where book sellers sell all sort of books and they leave their materials there itself and nobody steals it :-) I have never witnessed such thing ever!
Bhai lal ji introduced us to another amazing thing called "Sheru bhai ka rock concert"- while we are in Muslim pol, there is this place where Sheru bhai sits at 11 pm every night playing various instruments exactly in front of Badshah ni Dargah. Since it had narrow staircase, we had to go all by ourselves, I can vouch it was worth an effort. We were refreshed and energized with the music and interestingly he plays the music even if anyone is there or not- according to him he plays for allah every night as gratitude :-) I was touched, does such humanity actually exists?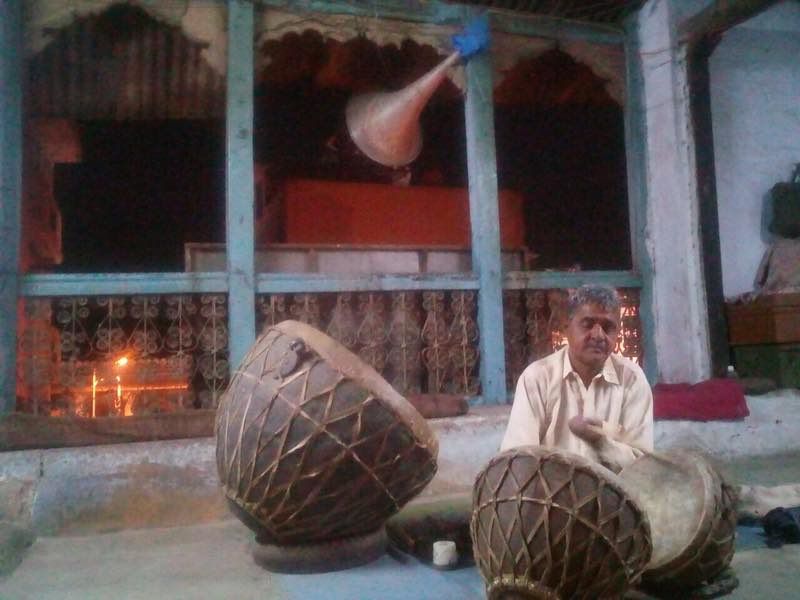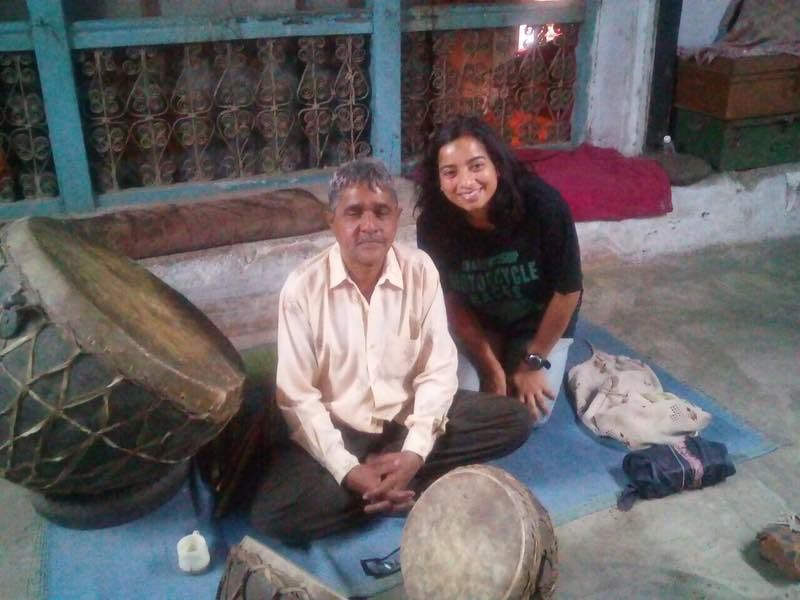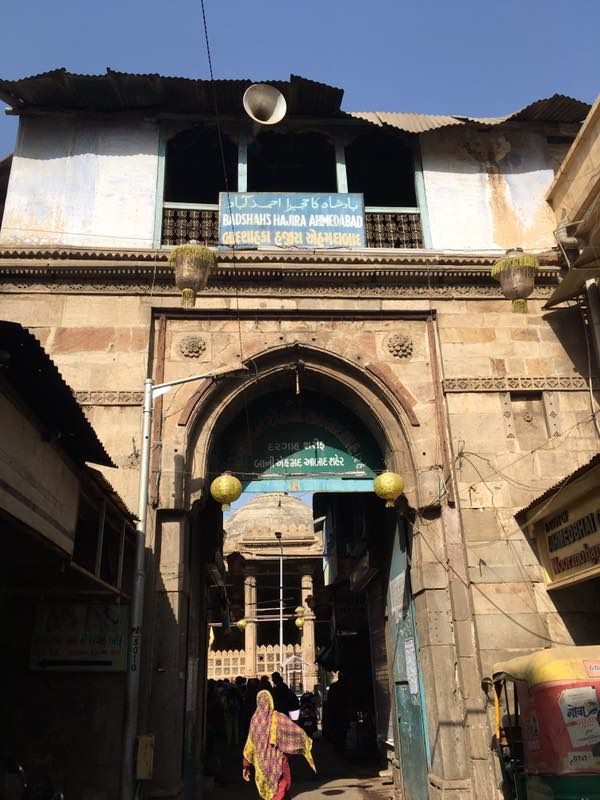 We also saw old stock market where Bollywood film "Guru" was shot. Bhai lal ji left us at Manek Chowk, which is the second biggest jewel market in India, and that's not all- it is also known as Khao market which is a foodie's paradise. We had pineapple sandwich, mini pizza and chocolate sandwich which is most famous here! It was unbelievable to see huge crowd of people eating at this hour of night. I was overjoyed and enthralled.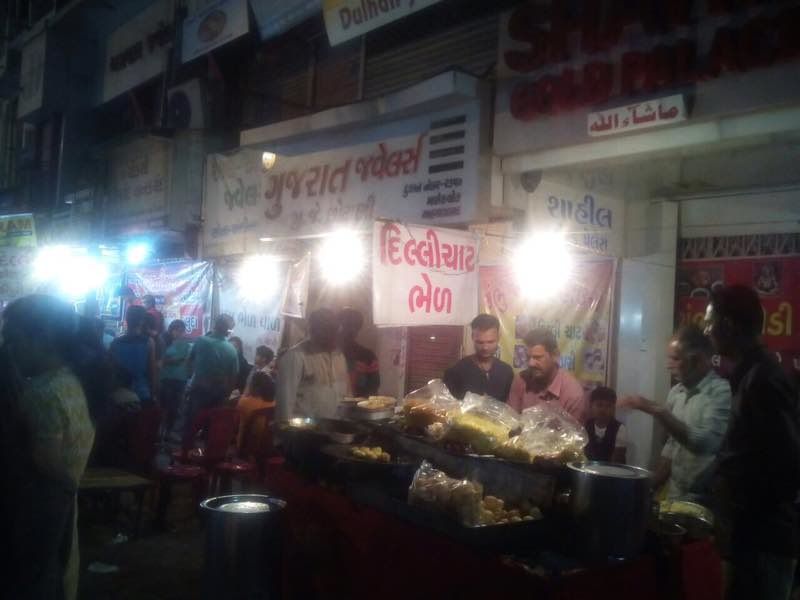 We were back to 'The House of mg'- the room was magnificent and the bathroom was as huge as the room, we also had a balcony with the jhula. We were tired of the day's extravagance, so we went to sleep in our cozy bed!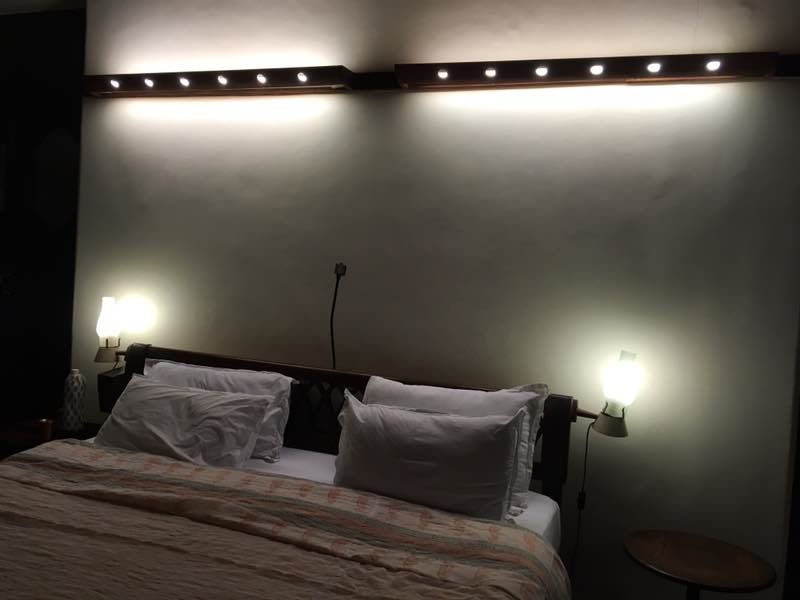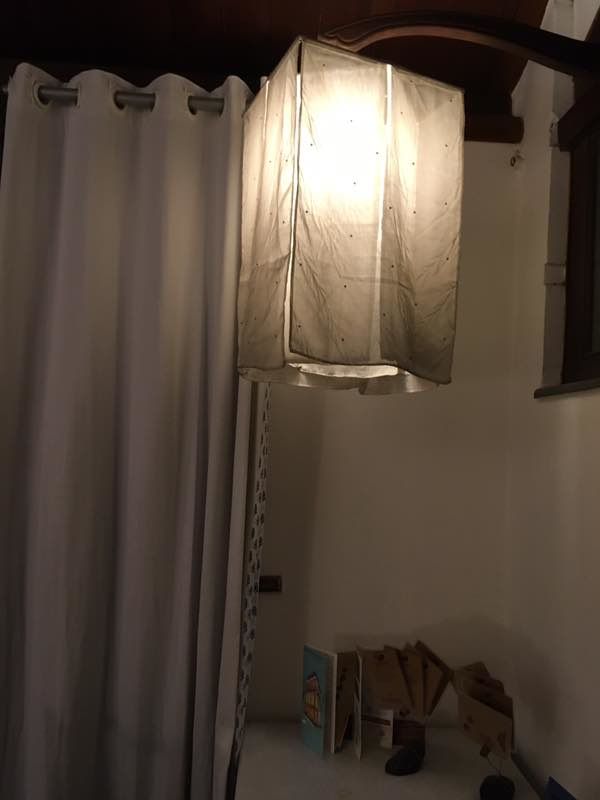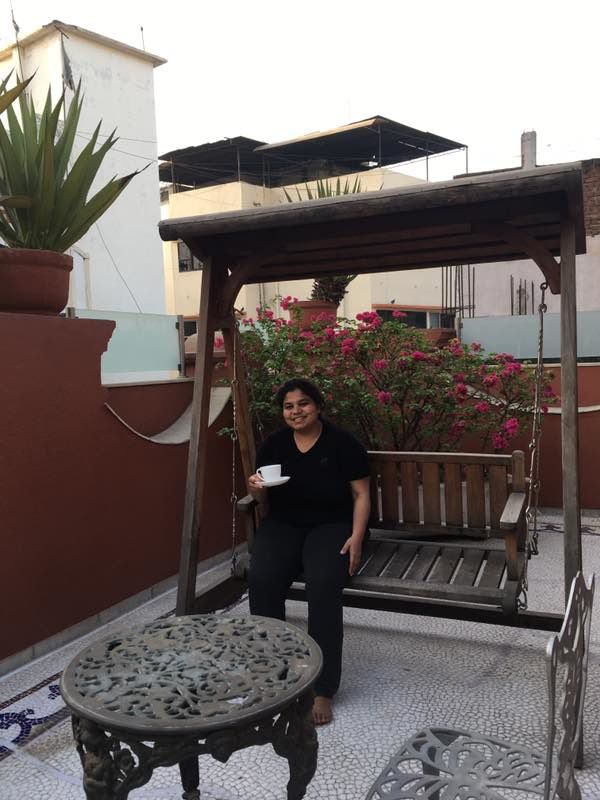 There were few places that we missed out in the night heritage walk because of the obvious reasons. We tried to catch up with morning heritage walk, but couldn't so we decided to explore on our own. We started with Swaminarayan Mandir located in Kalupur which has state of art architecture, with beautiful carvings on the pillars!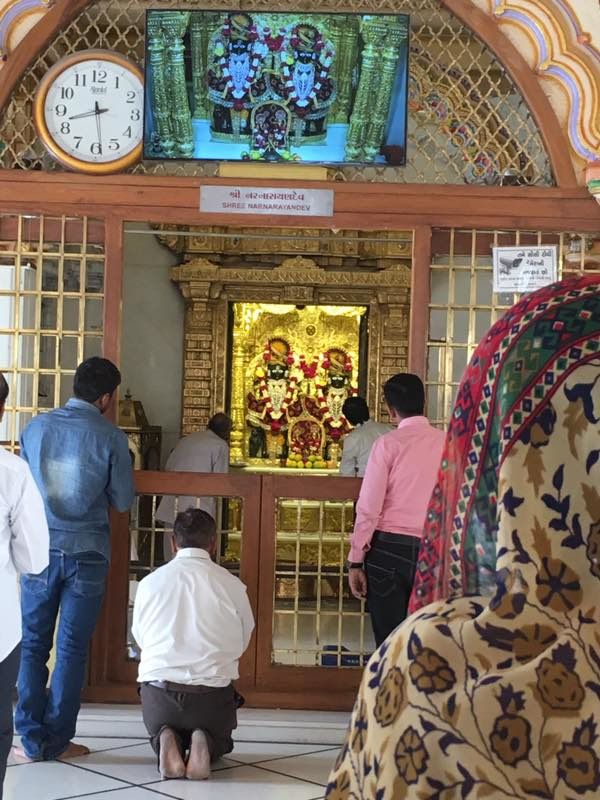 We had already seen pols, so without spending much time we moved towards Rani no Hajiro . The hajiro is a vault for graves and served as the last resting place for queens of Ahmed Shah empire. The walls surrounding these graves from the outside are magnificently carved out of stones. The burial place is in the centre and demarcated by a veranda. The art of Brocade, which is as old as the history of Gujarat itself, was introduced in the reign of Ahmed Shah. A great example of the mix of Hindu, Jain and Islamic culture, Rani no Hajiro showcases intricate design and carving work on the walls and domes.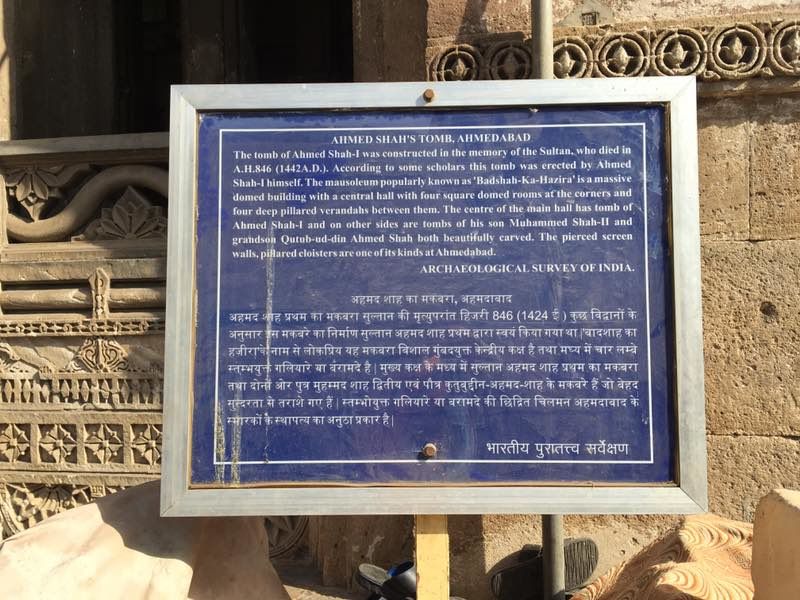 Followed next was Ahmed Shah's Tomb, locally known as Badshah no Hajiro or Raja no Hajiro. It is situated close to Jama Mosque and Manek Chowk. At Badshah no Hajiro, which was buit in the year 1446, rest the mortal remains of the founder of Ahmedabad, Ahmed Shah I. This is where the male members of the royal family were buried. Women are not allowed to enter, and men must wear something to cover their heads before entering. There are also a few minister's tombs laid out across the road. It lies to the west of Manek Chowk.
Jama Masid: The Jama Masjid of Ahmedabad was probably the largest mosque in the Indian subcontinent built in this period. Designed as part of a major plan desired by the Emperor Sultan Ahmed Shah, the mosque is located south of the processional axis that runs from the Maidan-i Shah at the door with three arches, Teen Darwaza.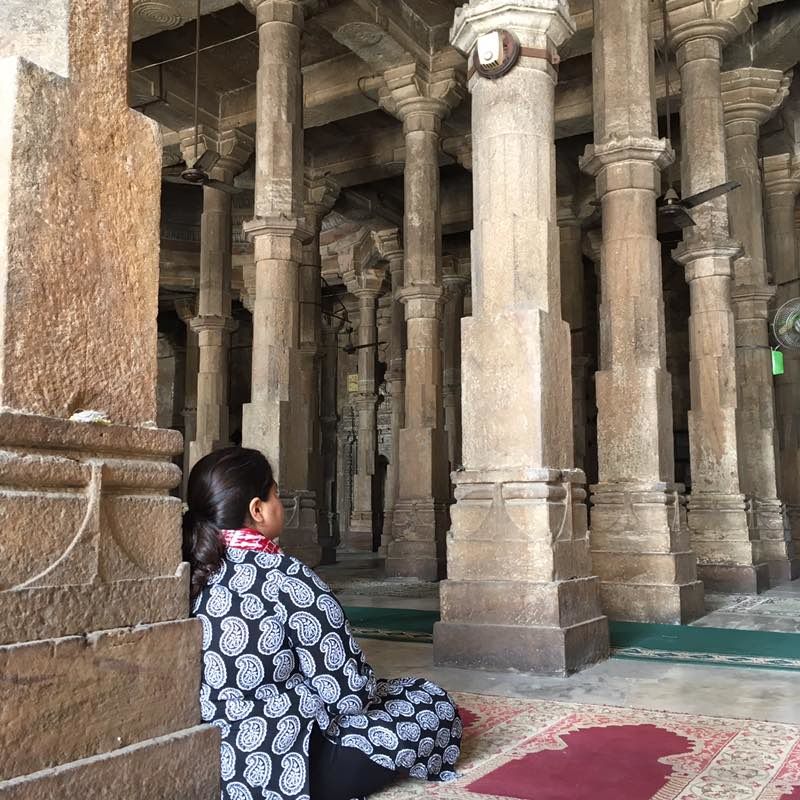 We rested here for a while and there was uncharacteristic silence and peace which brought serenity to our souls as well. Bhadra Fort and Teen Darwaja are located very near to Sidi Sayed mosque and have many local markets in and around the place. Teen Darwaja is always an eye-catching sight for tourists who have never seen a huge door in life.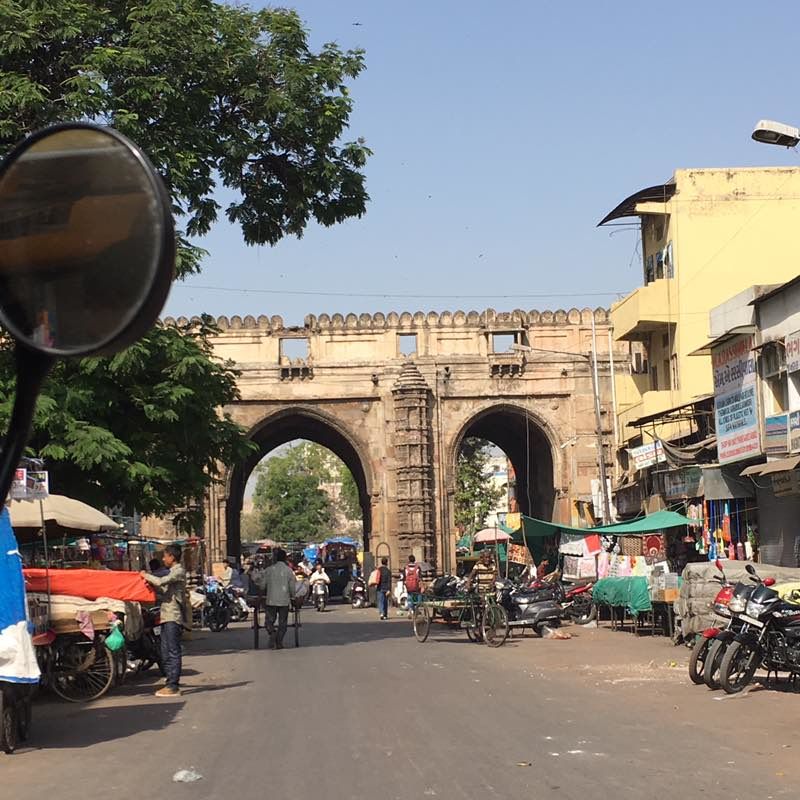 Sidi Saiyed mosque- it's man made marvel. More popularly known as "Sidi Saiyyid ki Jaali" (Sidi Saiyyed Ni Jalli), built in 1573, is one of the most famous mosques of Ahmedabad. This intricately carved lattice stone window is the Sidi Saiyyed Jalli, is the unofficial symbol of city of Ahmedabad and the inspiration for design of the logo of the Indian Institute of Management, Ahmedabad.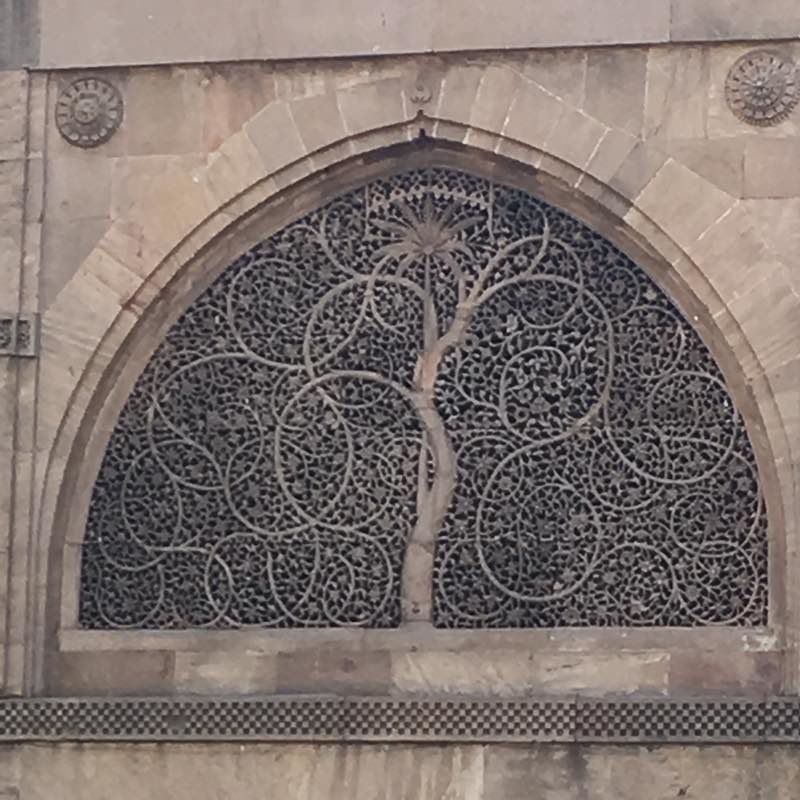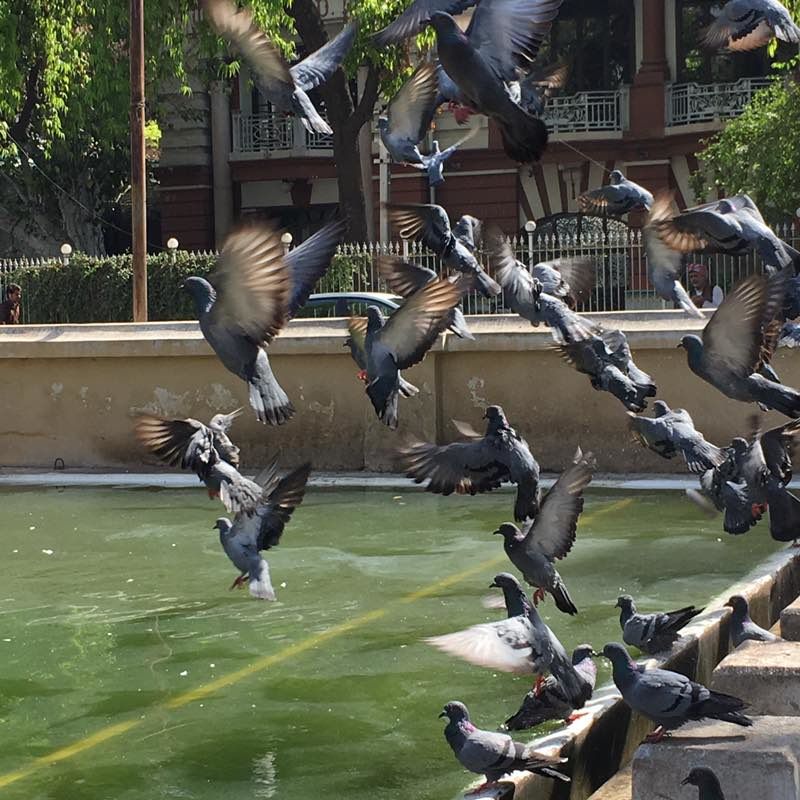 And just next to it was our destination "The House of mg" We thoroughly enjoyed exploring rather experiencing the magic called old Ahmedabad!
After checking out we went to Vishala for the desire of having authentic gujrati food in the most traditional gujrati style. I missed gujrati kathi which is only served in night, however the food was superb, ambience was pleasant, so much that after having food we not only enjoyed roaming around but also rested for a while.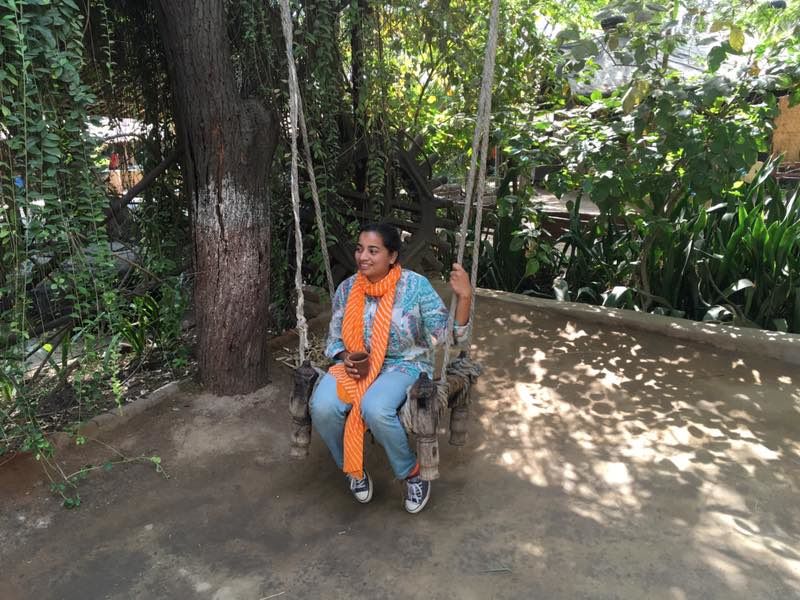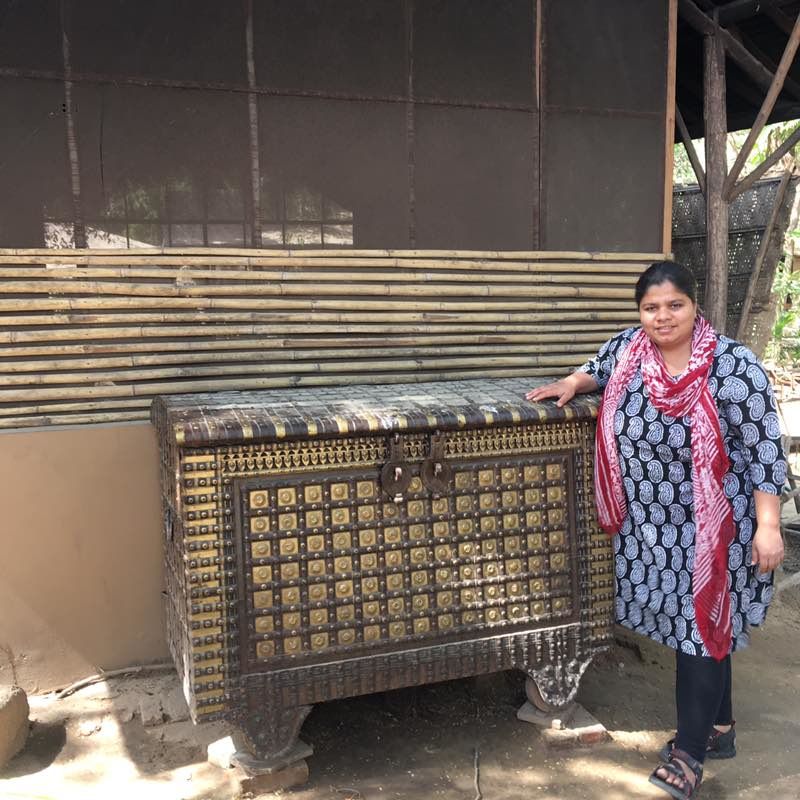 Both of us had heard a lot about Zen café that has a beautiful underground art gallery. Unfortunately there are 2 Zen cafés and we reached at a wrong one- however since Nandini had to leave, we had coffee and pizza. It's beautiful and calm place to sit, read books and do personal work (like a co-working space).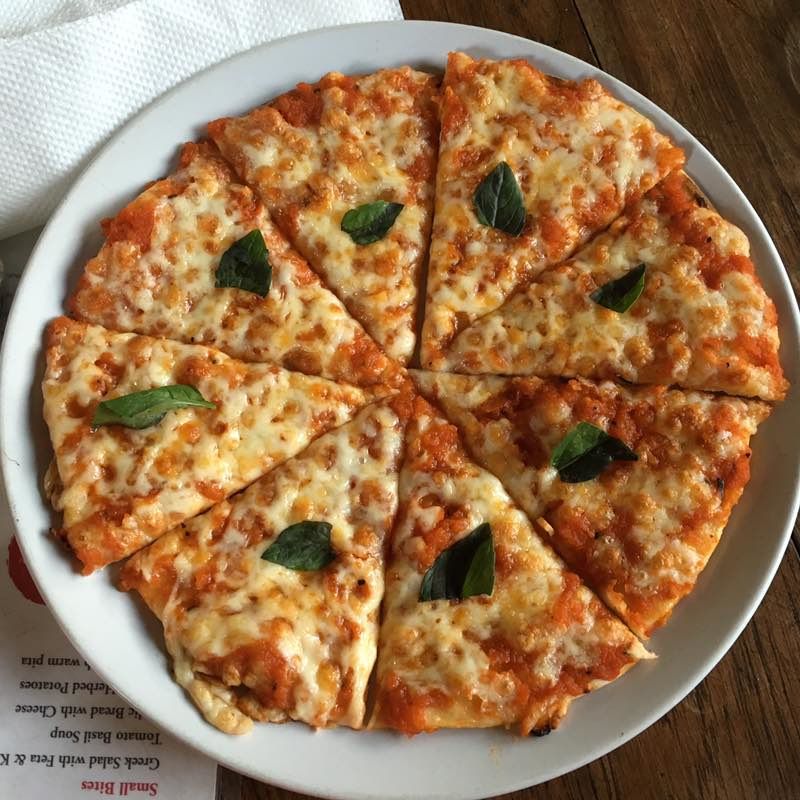 But if you want to visit you must mention the name "Amdavad ni Gufa" - It is an underground art gallery designed by the Balkrishna Vithaldas having paintings by MF Hussain.
From I went to Vastrapur Lake, I was deeply disappointed as there was no water in the lake, it was more like a park with a walking area and amusement activities primarily for children.
It was evening so I thought to spend some time near Sabarmati river front, it was beautiful and soulful to be in a city that I always thought to visit.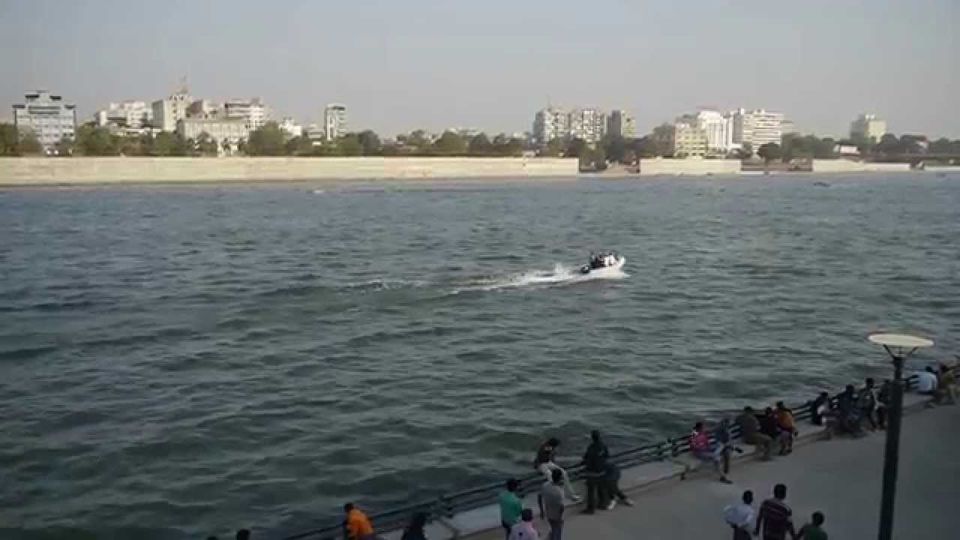 Next day, I hired an auto and went to Science city. It took me about 45 minutes to reach, as I had checked out of my hotel, I was carrying luggage too. I invited auto rickshaw bhaiya to come along. It was interesting that he has come here after many years, last he visited Science city when he was 12 years old studying in a school. It was amazing to be here since whatever I studied in my school life was shown so creatively. It showcases contemporary and imaginative exhibits, minds on experiences, working models, virtual reality, activity corners, labs and live demonstrations to provide an understanding of science and technology to the common man. We also watched "born to be wild" in IMAX theatre. However I was disappointed by the ill maintenance, many things were not working. It took me about 2.5 hours to explore the place, had other things been working, it could take almost a day :-)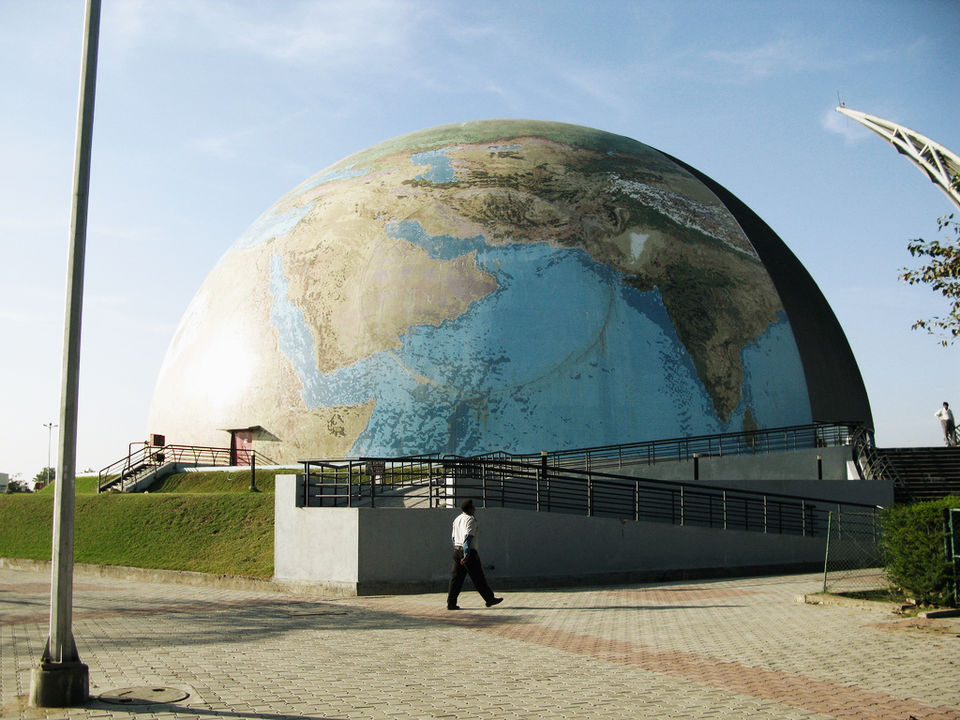 The last thing on my list was Kankaria Lake. Earlier known as Hauj-E-Kutub, Kankaria Lake is the biggest lake in Ahmedabad. Once a bathing place for badshahs, it now boasts of an island-garden in the centre of the lake with a summer palace called Nagina Wadi. Food corners and pathways to walk around make it an ideal place for both families and couples. It also serves as a popular picnic spot. It was afternoon time, so I didn't really had the capacity left to roam around, the best way was to hop on to the toy train which covered the entire place.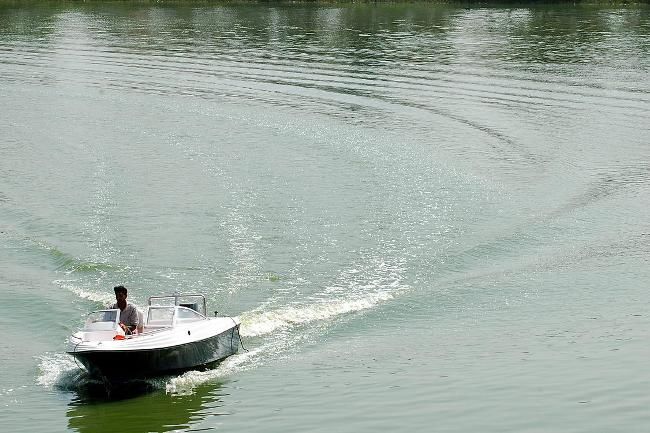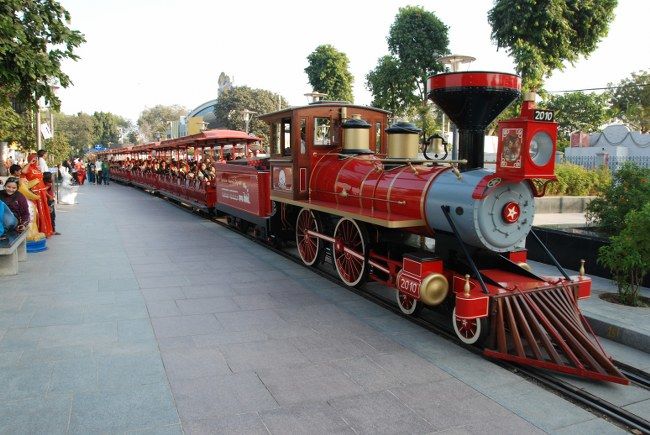 The stay at Ahmedabad made me go back to my childhood, I overjoyed each and every moment of my stay here, be it the light and water show of Nachiketa, or the night heritage walk to visit to science city and then the toy train journey at Kankaria Lake :-) I loved being a child once again who was left on her own to experience this magic called "Amdavad"