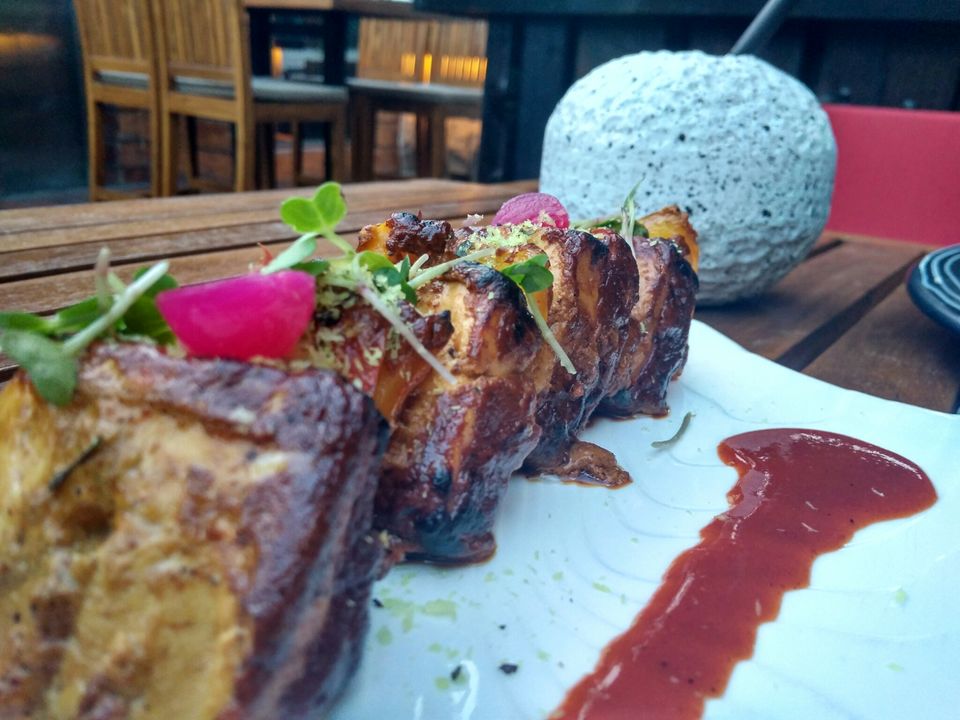 This place is on my wish-list for long and ultimately I made time to experience such a gem in Sector 29.Thanks to the receptionist for escorting me inside.
Ambience - 4.5/5
The wired filament bulbs with glass on one side and shrubs on the other made a majestic entrance. As soon as I entered you can find the name "Philtre" flashing from above with bottles organized beautifully. The rooftop is mesmerizing with both car and kitchen counters. The red colored cushions accentuated the warm reddish light after dark very well.
Food - 5/5
I would rate this as one of my best food experience and this place will definitely find a spot in my top five list.
Chettinad Paneer - The ultra tender paneer embossed with spices and alternated with capsicums is a treat to the taste buds. A bit of south Indian with a dash of north east Indian "bhoot jholakia sauce" proved perfectly complementary.
Ghee Roasted Lamb - The is by far the best lamb I ever tasted. The juicy lamb ribs with a thick gravy of whole spices and some edible flowers elevated our taste buds.
Rajma Galouti - This is an innovative trick to a much average dish. The galouti is made of rajma and instead of a normal bread, they serve triangle shaped baked and crunchy paranthas.
Chhole Chawal - They came in the shape of balls with chhole and rice wrapped inside a ball of wheat flour. The crunchy outside and a very known taste inside makes it a very unorthodox dish.
Maggie fish finger - These are normal fish fingers wrapped around with crunchy baked maggi which although tasted like normal sevpuri even though the fish is very soft.
Sarso Ka Saag - This is a very clever presentation with sarso ka saag wrapped around styled makke ki roti and served with sauce.
Cocktails - 4.8/5
Even though I not liked each one of it but I must admit that each of them have an explicit presentation and a story behind it.
Botany of Desire - This cocktail is all about floral desires. A concoction of White rum, coconut water, nutmeg and a bit of pineapple juice makes this ultra soothing. it is served in a stone bowl with flowers around.
Amphora - It is a cocktail in which cheese is used and I would suggest it to try only if you the taste of it. They serve it with flamed whisky beside it for the aroma.
Desserts - 4.9/5
Gajar Halwa - This is served with a bed of halwa, biscuits with carrot cream and waffles .
Rabri - This has a fabulous presentation. Almond cake with a perfect mousse and a crisp jaggery and a thin chocolate to make a perfect dessert.
Thanks to service guys for making it a wonderful evening. Cheers to the chef and the bartender.