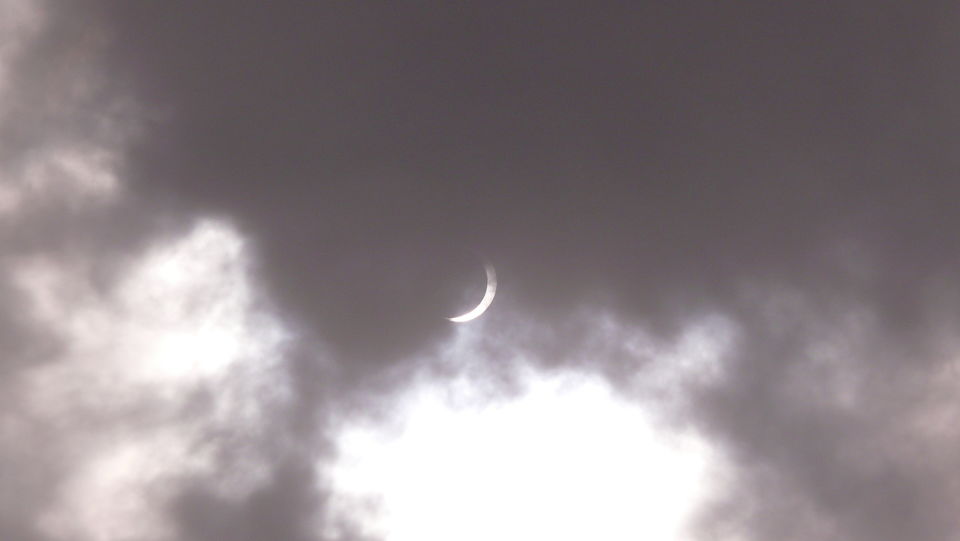 Let me tell you a story about the day the sun and moon met. It was summer 1999 and I was working in the north of England as a newspaper reporter. I knew there was going to be an full solar eclipse in August and I knew just what a rare event that was. It would be the first 'total' solar eclipse visible in the UK since as long ago as 1927, a jaw-dropping a few minutes during which the moon would completely cover the central sphere of the sun. It would be a shame, I thought, not to make the most of such an opportunity.
As it happened, my cousin had recently moved south and was living with her soon-to-be-husband on the south coast near Brighton. We exchanged a few emails and came up with the idea of me travelling down to stay with them. The three of us would then trek up to Chanctonbury Ring on the big day. This a rather spectacular iron age hill fort was only about half an hour from where she lived at the time, with a commanding view over the soft green folds of the South Downs. My cousin and her boyfriend were waiting, I think, for an excuse to go.
So that's just what we did. I travelled down and stayed with them for a few days, enjoying the summer sun, sandy beaches and sushi bars of Brighton. And then 11 August dawned. We drove to the little picture postcard town of Steyning, all immaculately thatched cottages and tea shops. And then, after fortifying ourselves with a late breakfast and equipping ourselves with bottles of water, we set off the Ring. It was, in my memory at least, a beautiful, sunny day, with not a single cloud to disturb the bright blue above us.
The route involved walking up a long country lane overhung by trees and bordered by brambles, before we stepped out onto the downs themselves. A winding rise soon brought us to the Ring itself: an impressively broad crown of trees encircling ancient earthen ramparts. Sussex surrounded us – a great green patchwork of ragged fields and pebbly houses unrolling into the misty distance.
Local legend has it that you can summon the Devil by running round the Ring seven times anticlockwise. It was tempting to try but the eclipse was imminent. You could already see a blurry, dark shape obscuring part of the sun.
Of course, we were not the only people to thought of coming up to the Ring. Around 30 others milled around – locals, school children, amateur astronomers with cardboard projectors hooked up to their telescopes, so they could watch the eclipse occur without risking their eyesight by staring directly at it.
The three of us, by contrast, had brought not a single piece equipment with us, just our sunglasses.
The minutes ticked by. The blindingly bright sparkle of the sun grew darker and darker, and the light, startlingly, dropped. The world fell into shadow and a cheer went up as the moon finally slid into place and obscured the sun completely, leaving only that fiery corona on view.
It was one of those all-too-rare moments in life when the transcendent intersects with the everyday. And then all too soon – no mre than a minute or two had passed – the moon began to slide out from the other side and the show was over. We're still waiting for it to begin again: the next total solar eclipse visible in Britain is not due for another eight years. And weirdly, it's scheduled for a future August 12: in 2026.
That long gone summer day, we wandered back down the hill, pleased the weather had been so kind to us and pleased we'd made the effort. Eclipses don't roll around very often.