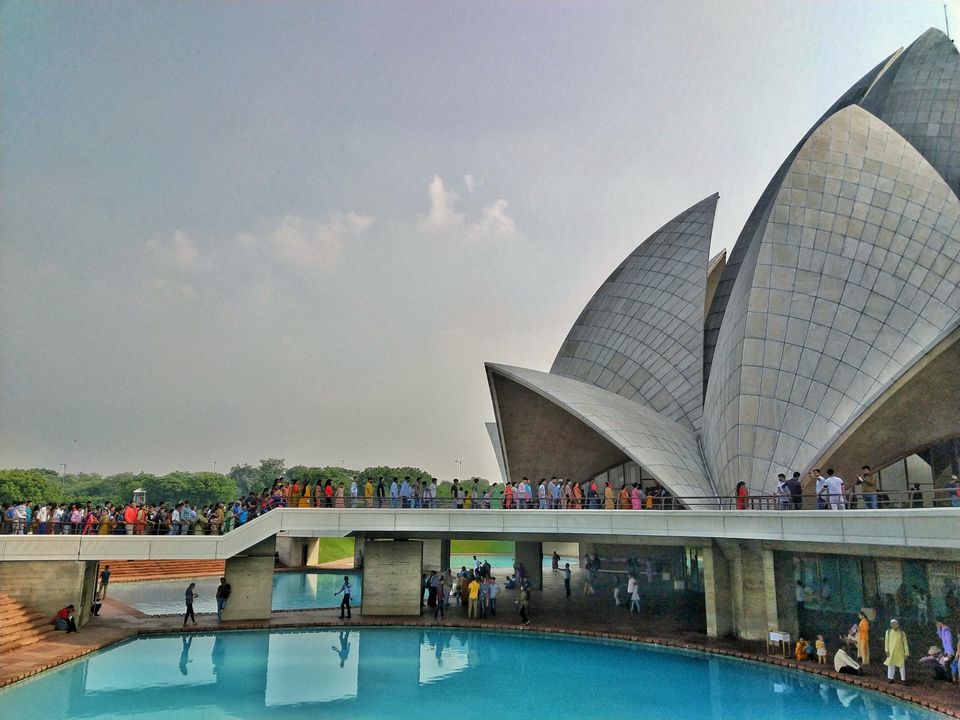 A short vist to lotus temple.
Near to asia's one of the biggest whole sale computer market(Nehru place Delhi)  lies the beautiful unique  contemporary urban architecture shaped in lotus. If you ever visited ancient temples of India they all appears to sit on lotus  platform like Modhera.  As lotus signifies positivity this whole architecture takes its fragrance to a  next level.
Just like a regular tourist I programmed to photographed the architecture finesse of the temple, but what amazed me the most when I stepped inside the main complex of the temple. Where you are not allowed to take pictures and remain silent. Certainly not a place for selfie lovers.
This temple really shines from inside, not just it's  huge arches of concrete walls but the silence .  We are required to be quiet but luckily little mainas who had made their habitation in hidden crossing of walls chirped, and  it feels you are inside the muted jungle. This union of sound and silence sheds away all your stress. Certainly not a place for bird watching 😂.
This temple respects all religions and if you like to see how it happens just wait for the clock when it struck 3 afternoon. Here is one particular woman who chants different religions and this you should not miss. She is the nightingale of the Lotus temple.
Finding peace is always challenging but her voice and the silence inside will soften the tones of impatience and anxiety.
(In a hot humid September you won't feel uncomfortable inside though it has no fans no AC but has  air blowers and do find out where they are being placed. I was quite amazed where they have been located. )