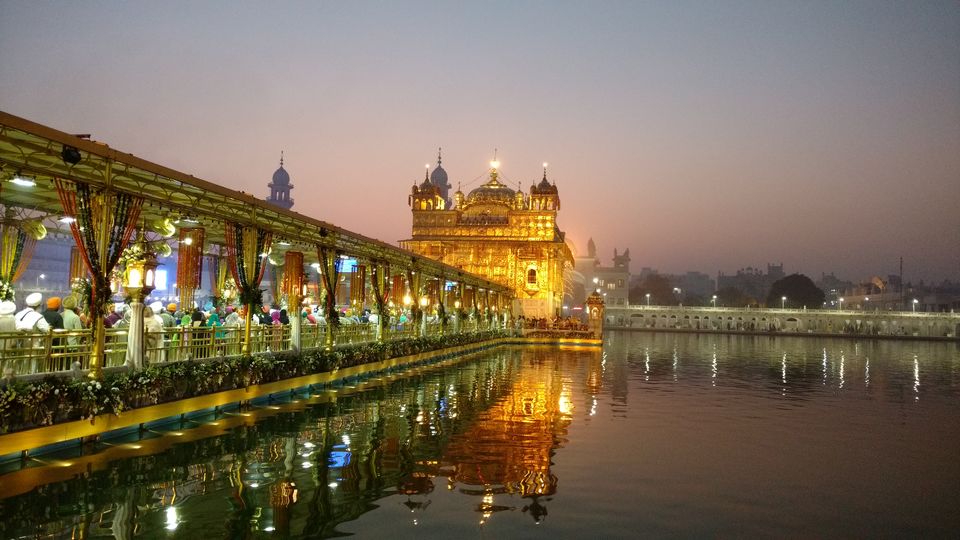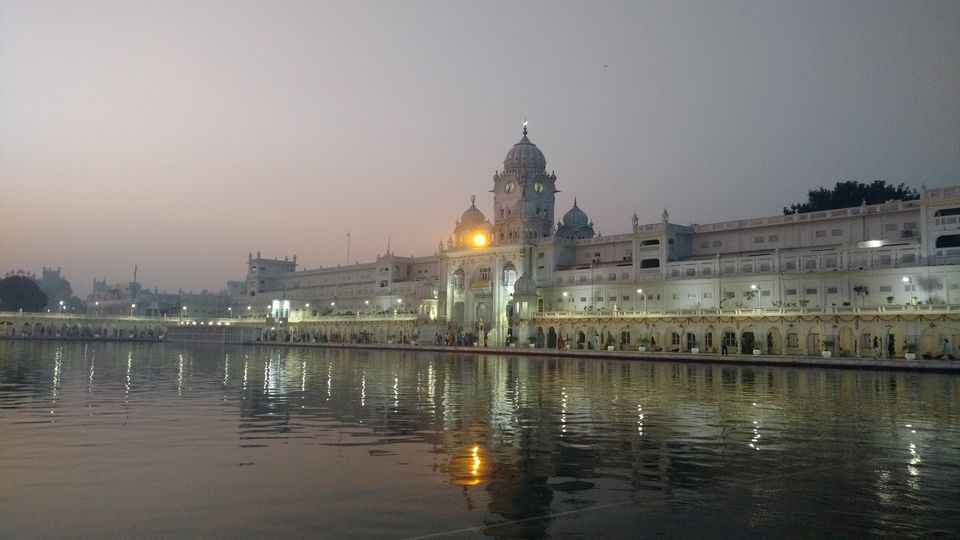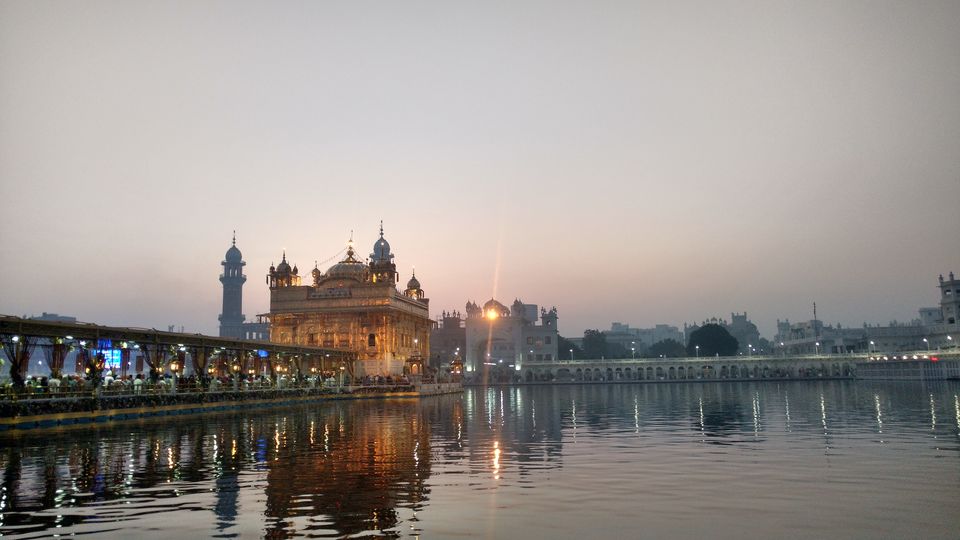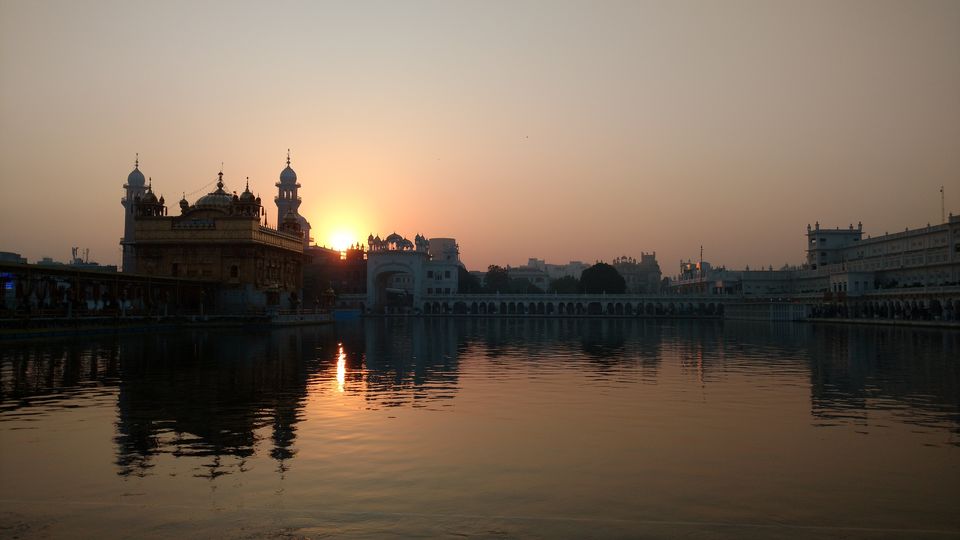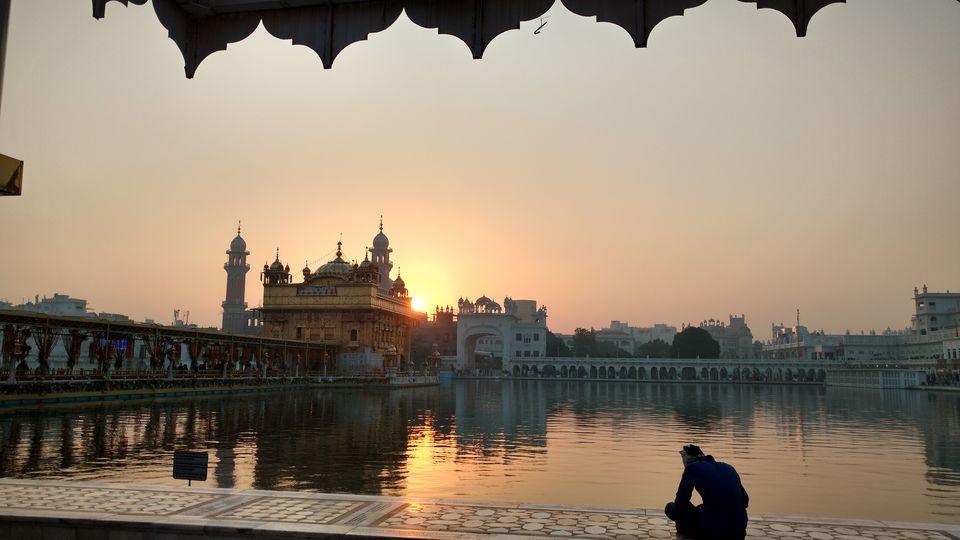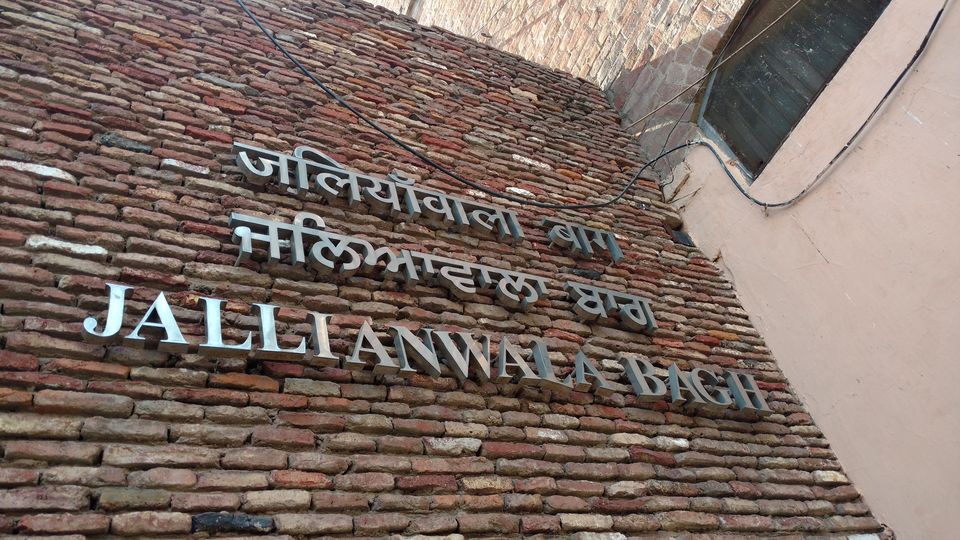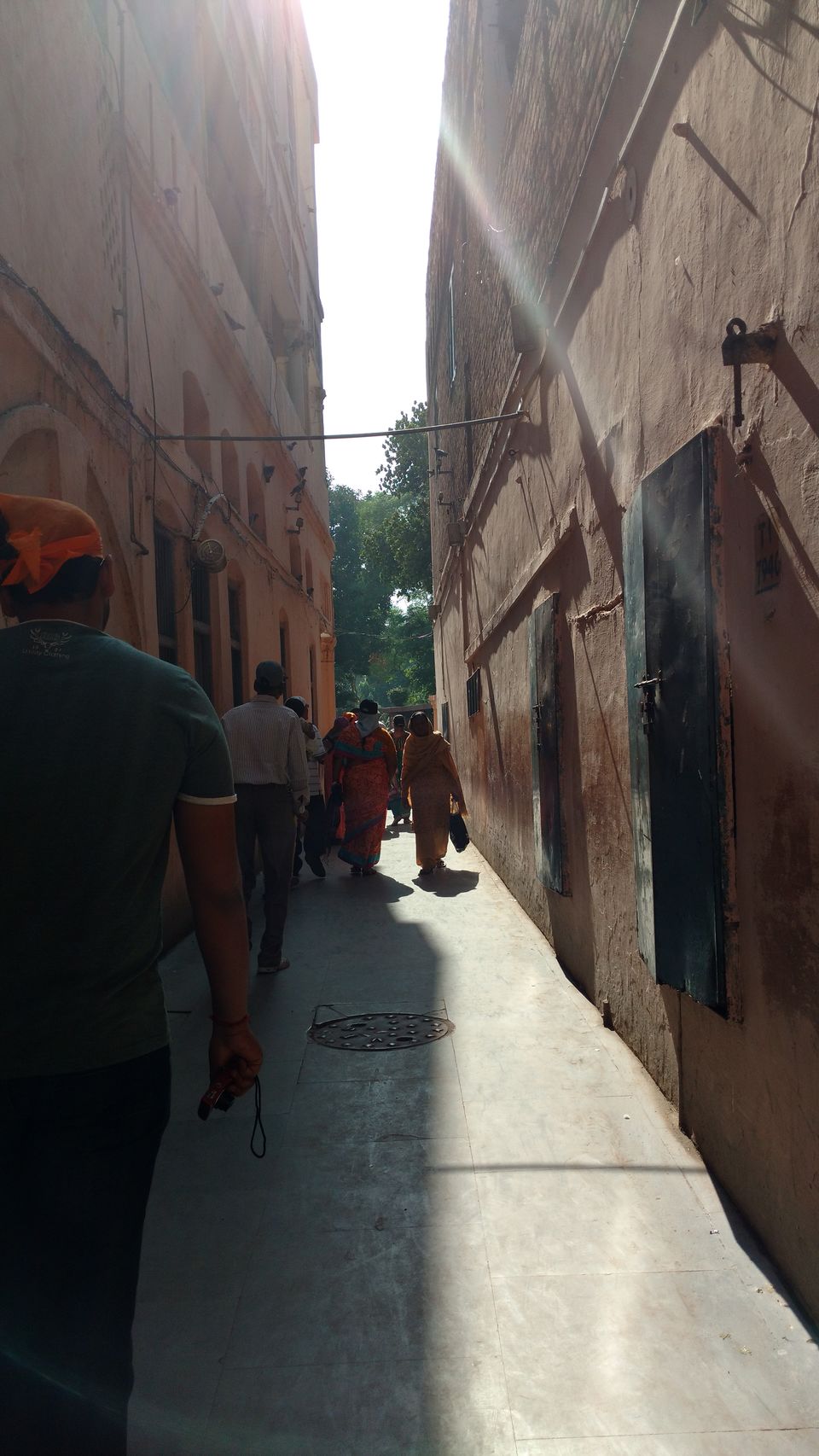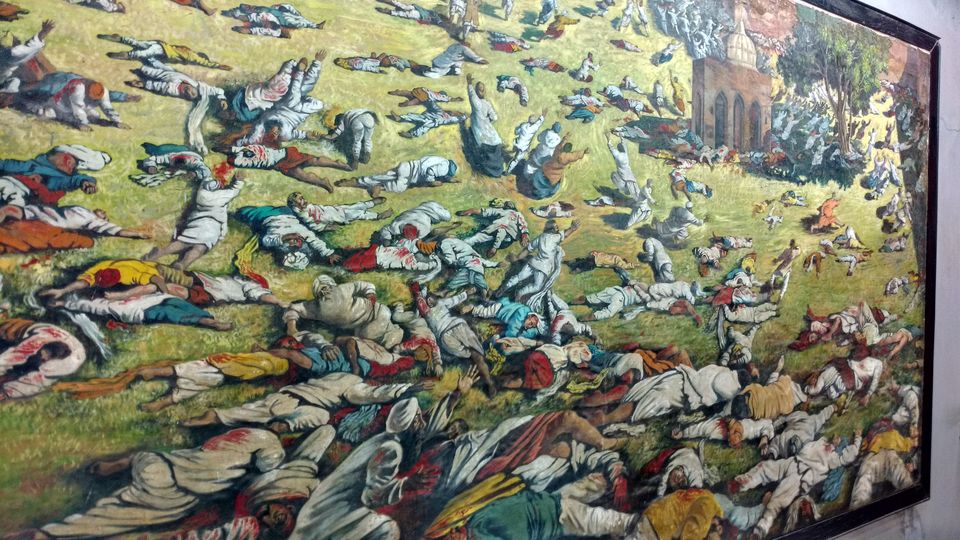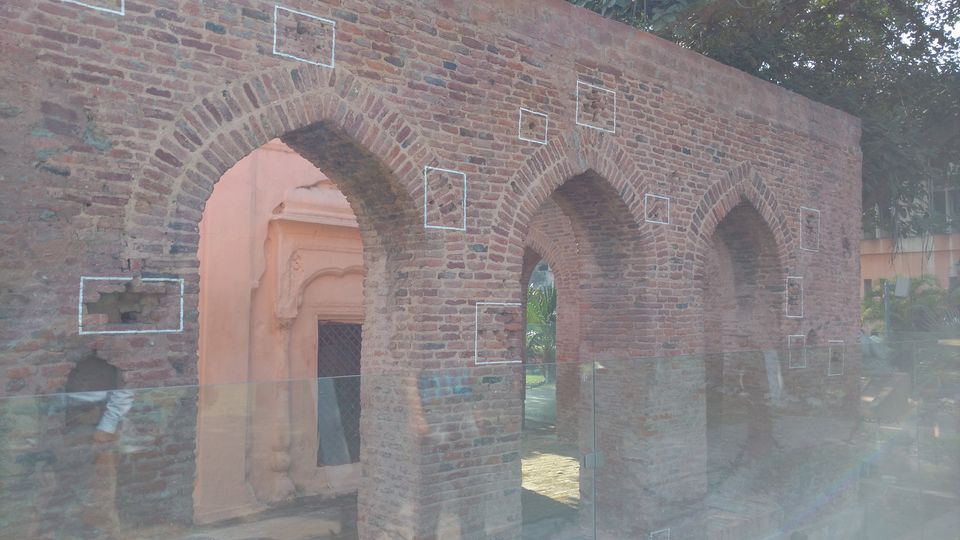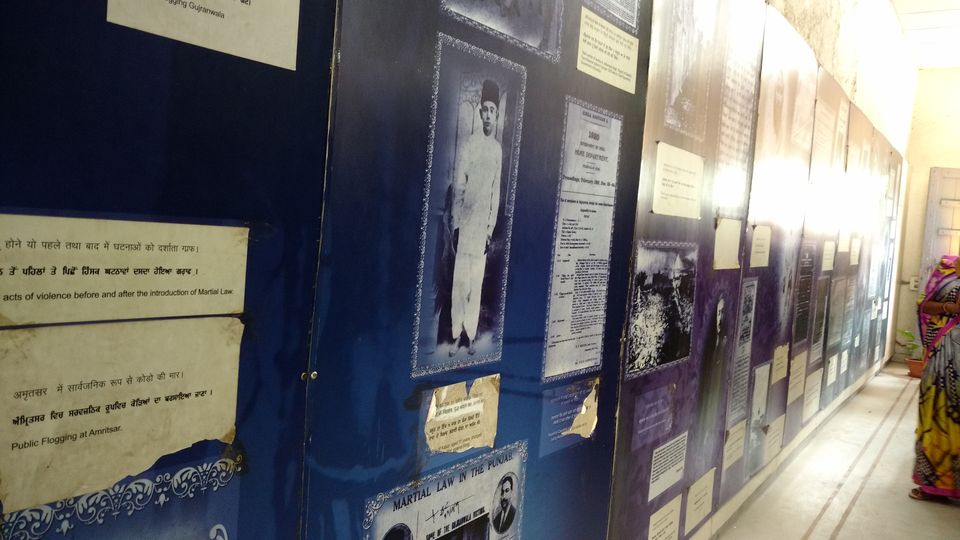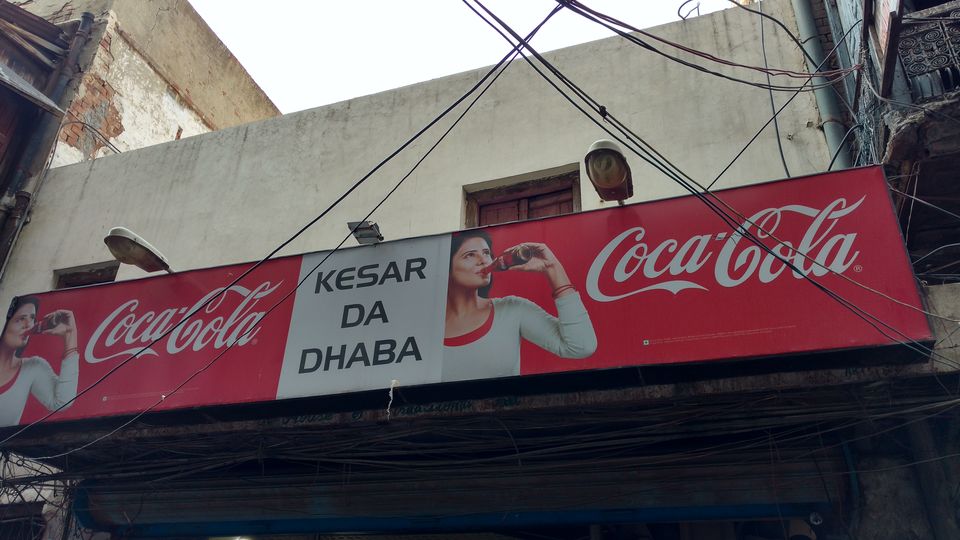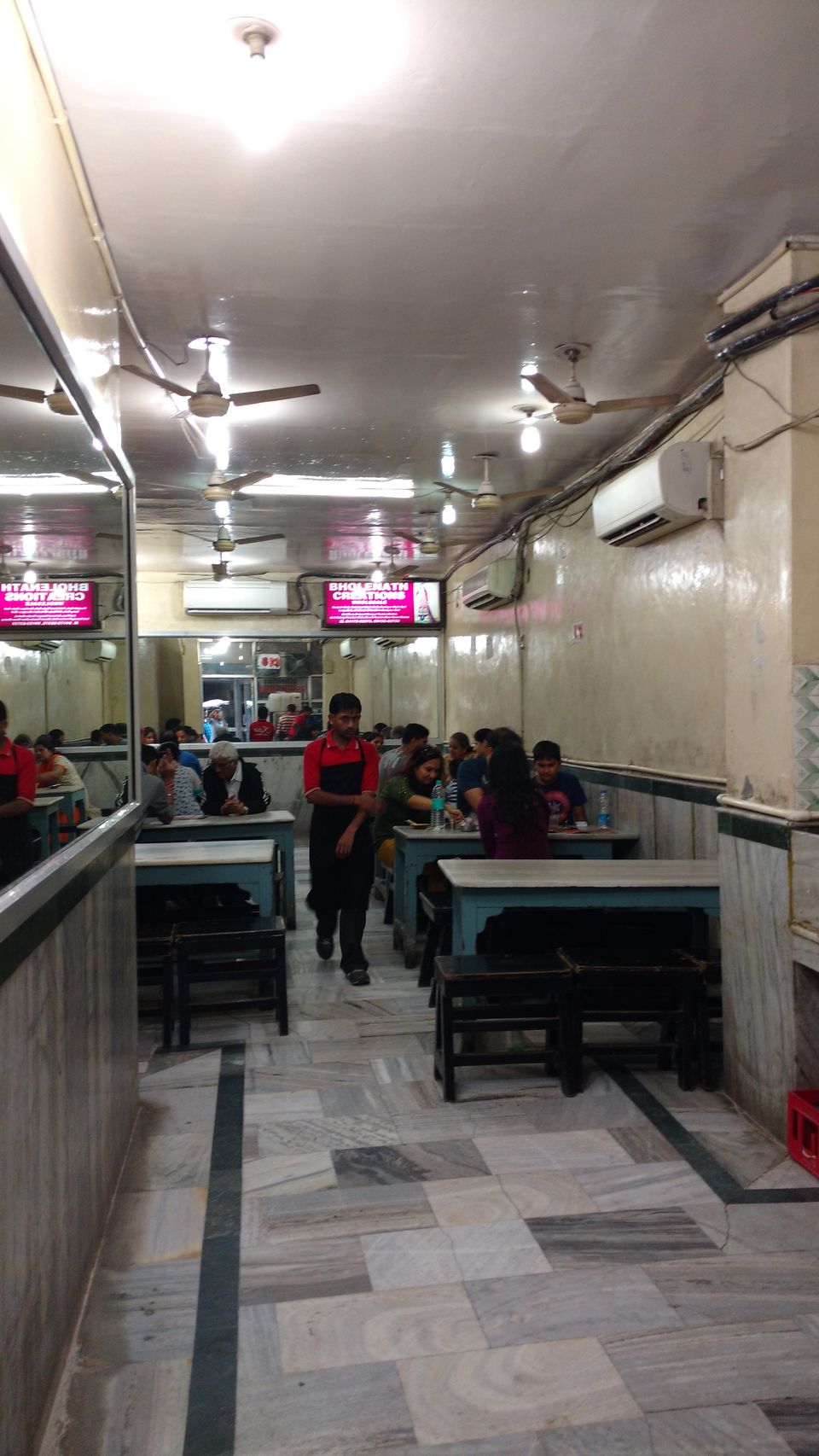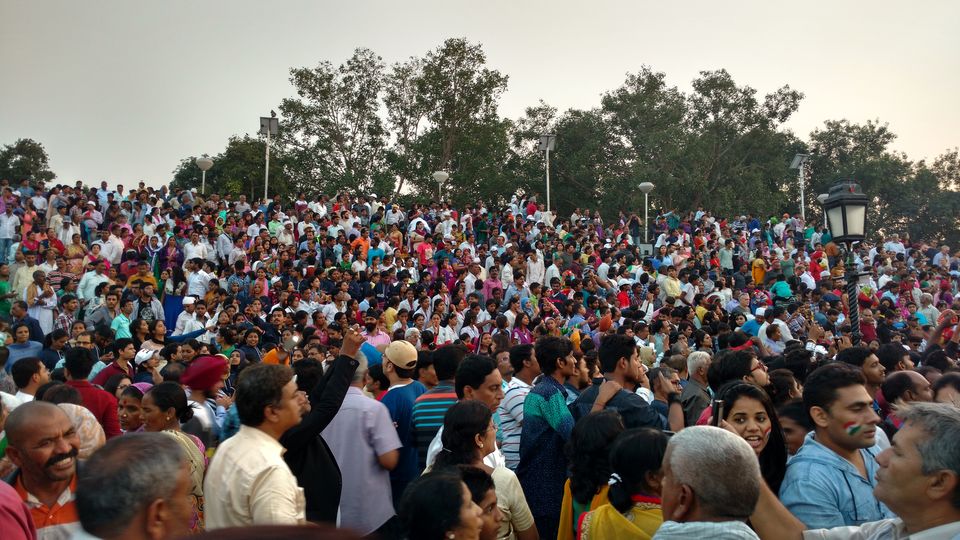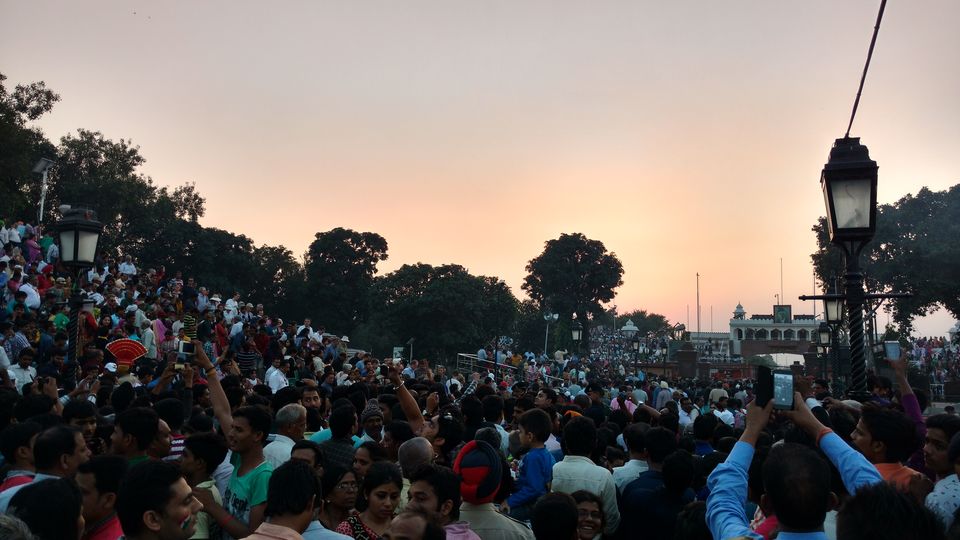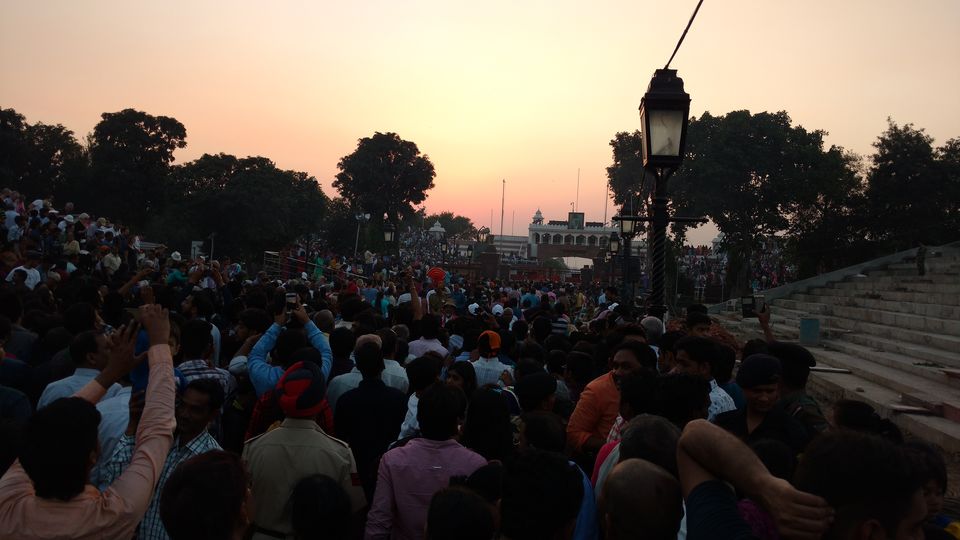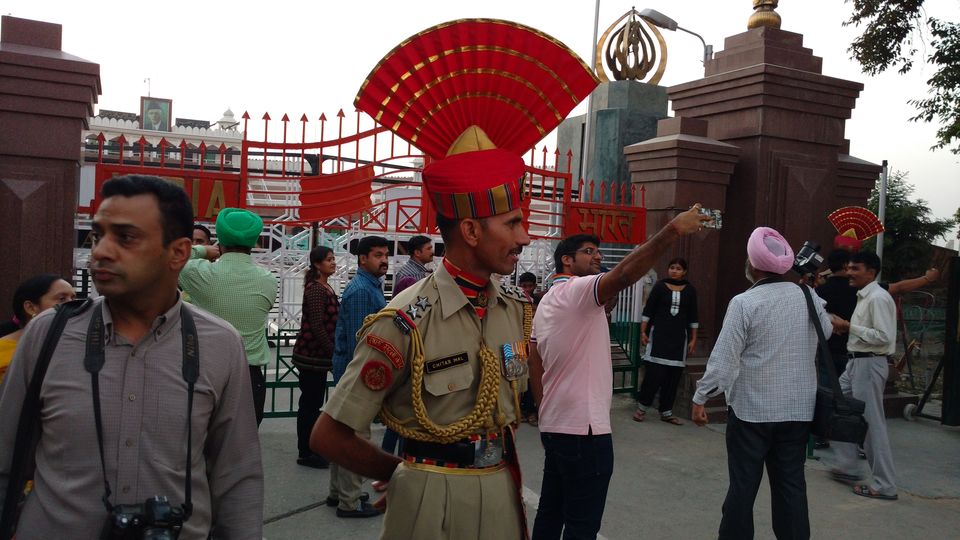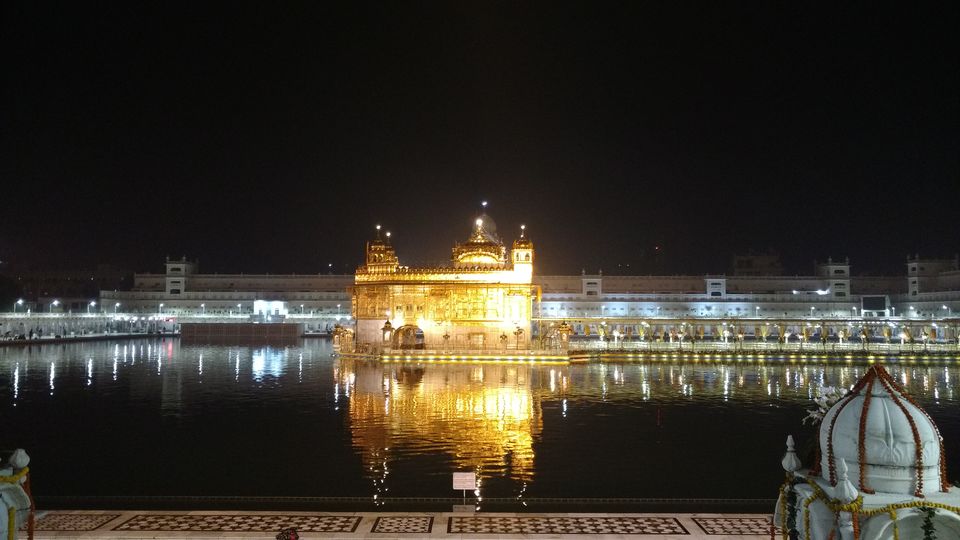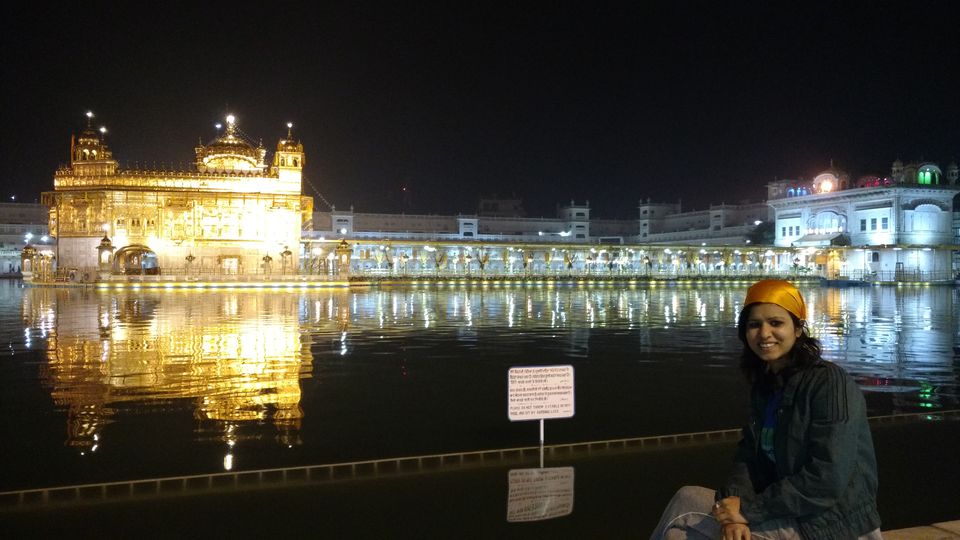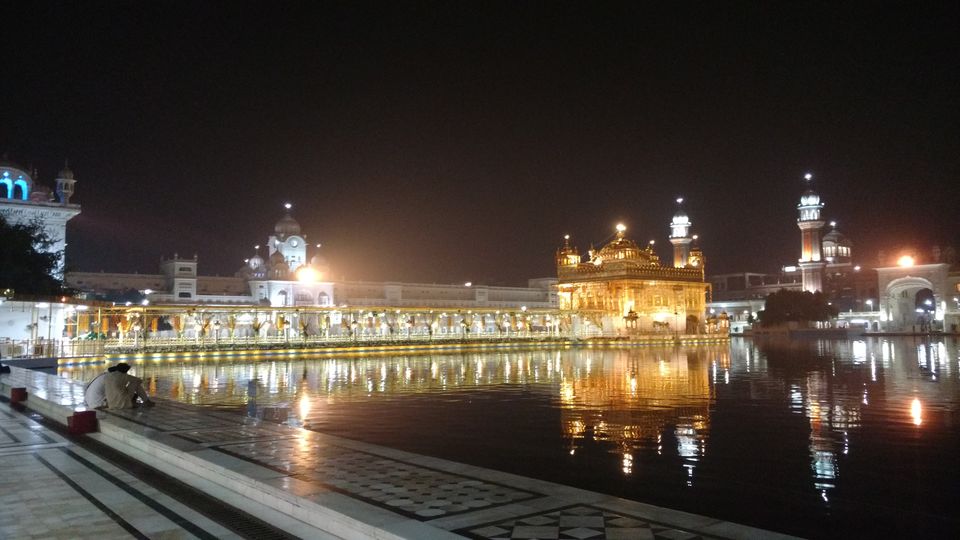 I am not a religious person but I have always enjoyed going to Gurudwaras, may be that has something to do with the fact that I studied in a Sikh school or may be its just the peace that one gets within the premises of a Gurudwara (and of course one reason is Kadah prasad).
Last winter, I planned to do a weekend trip to Amritsar since I have always wanted to see "The Golden Temple". We took a train from Delhi on a Saturday afternoon and reached Amritsar by late night, we had booked a hotel very close to The Golden Temple as we wanted to visit it the same night.
We had a quick dinner at a nearby dhaba and reached the temple by 1ish, first thing I noticed was the magnificent façade which is absolutely mesmerizing, and the sarovar (lake) which makes it an even more beautiful sight. May be it's the belief with which people come here or the Shraddha(selfless feeling) with which people are doing Seva (volunteer service) but one feels content when here.  This place brings out a spiritual side which one might not be even aware of.
Just sitting near the sarovar and seeing all devotees taking bath in the holy lake and paying their respect will make one feel at peace, and of course the shabad (holy songs) playing in the background has a magical effect even if one doesn't understand the meaning of them.
Before going to the main shrine, people go around and pay their respect to various small shrines around Harminder Sahib - we did the same. Then we went for the darshan of Akal Takht but but it wasn't open as it shuts down for 2-3 hours at night. 
So we stayed at the Gurudwara for 45 minutes  and decided to come back around 4 so that we could go inside for a proper darshan. Took a 2.5 hour nap and were back at Gurudwara, it took us some 20-25 minutes in the queue to enter the main dome. After Darshan and having finger licking  kadah prashad, we sat there waiting for Sunrise - it was a visual treat and is the best time to click pictures of the Golden Temple . I call it the Golden Hour at the Golden Temple as crowd is less and light is perfect.
(So the best time to visit Golden Temple is late night/early morning as the queue is short and sangat(crowd) is comparatively less)
We reached back hotel around 6:30-07:00 and slept till 11, then we left to enjoy some local delicacies of Amritsar as the place is famous for it's food. We Went to Kesar da Dhaba for lunch as a lot of my friends had suggested this place. By the looks of it, you will think its an ordinary Dhaba but the food is out of the world - everything we tried was just perfect (Try chana daal, phirni, palak panner, lachcha parantha). As we finished our Brunch and came out, right opposite this Dhaba was a hawker who was selling various kinds of Amritsar special aam papad. I have grown up eating imli gola, khatta aam papad, churan etc so it just brought back a whole lot of memories - I quickly tried 4-5 varieties and packed a few for my sisters back home.
Jallianwala Bagh was our next destination, it is very close to The Golden Temple. Though it has become more like a touristy garden but one still can't visit this place without feeling pain for those innocent people who died or got wounded on that dreadful day. Marks of bullets can be seen on the walls, one can see the well in which hundreds of people jumped into, to save themselves from the bullets. While I was there, all i could think was - How could a man give orders to kill so many innocent people so barbarically, it actually gave me goosebumps.
After spending around 45 mins in Jallianwala Bagh, we went to explore local market of Amritsar, we went to Kapda market which is famous for its suits and clothes. I wanted to buy some stoles, suits for my mom and granny and managed to get really good stuff here.
Had the most amazing chaat at Brijvaasi ki Chaat, another must try. Our last destination to complete this lovely trip was Wagah Border , we hired an auto who was ready to drop us there, wait till ceremony gets over and then get us back. It was super crowded and it is advised to get Passes or reach an hour before the ceremony else one cannot witness this experience.
This ceremony takes place every evening before sunset, and it starts with a blustering parade by the soldiers from both the sides, and ends up in the perfectly coordinated lowering of the two nations' flags.
It is full of pomp and show and it triggers feelings of national pride in all who witness it. It was more like a carnival where buses and cars were coming loaded with hundreds of people. Stirring desh-bhakti songs from Hindi films were playing on loud speakers and crowd was singing and cheering along with those songs.  The parade itself was wonderful, it was all very theatrical and terrifically enjoyable. The passion with which the soldiers on both the sides fulfill this duty is incredible. Shouting, singing, the thumping of the feet, drums, dancing and trying to out do the other side makes for a surreal experience. 
So all and all it was a very good experience but it was way too crowded, and also if one doesn't have passes one won't get space to breathe also and neither be able to witness the ceremony.
We had our train the same night but still had few hours in hand and could not think of going anywhere else than going to the Golden Temple again.
This time, we decided to go to guru ka langar area and do some Seva and I was bewildered when I saw the number of chappatis that were getting made . There were not hundreds or thousands but lakhs of rotis getting made right in front of us and I decided to take up seva of putting ghee on chappatis; and in half an hour I applied ghee on thousands of them. We could just feel the devotion in the air. 
The entire kitchen is run by volunteers who work in shifts and anyone can be a part of this team. The food is healthy and nutritious and more importantly filled with love!
As the sun sets, the Golden Temple is bathed in beautiful yellow and blue lights; continuous chants, the stillness of the water, the thousands of people providing service for nothing in return, and the ornate beauty of the Temple itself all adds up to make a visit here really and truly special.
We had a sumptuous last meal in the city which is a paradise for foodies (especially vegetarians) and promised ourselves to come back to this beautiful city soon enough!