The Prelude
Phuktal Monastery (also called Phugtal Monastery) had been on my mind for a while. But something or the other kept me away from it since 2014. No wonder, inspite of having planned for Valley of Flowers, Hemkund Sahib and nearby areas for my upcoming trip, one night, a monk, no older than 8 years, smiled at me in my dreams. I woke up, and knew, that my travel plans are going to change. This was not the first time that my dreams have led me to places and experiences that I'll remember for more than a lifetime. For me, it was a sign to visit the place I had been longing for. And not only this, but to spread smiles there as well.
Spreading Smiles is an initiative where I travel to remote places of the country, mostly Himalayas, and do things to bring about a smile on the faces of people.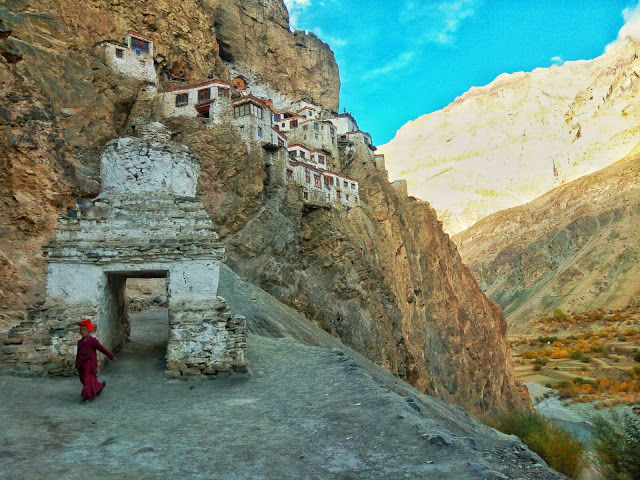 The Drive
We started in the last week of September, to miss the touristy crowd that frequents Kashmir and Ladakh. After driving through Jammu, Srinagar, Sonmarg, Drass, UmbaLa, Sankoo, Panikhar and Rangdum, we did not halt at Padum and drove straight to Anmu Village, which is roughly 45-48 kms from Padum, as we wanted to save time when we start our walk towards Phuktal Monastery in the morning.
Our visit to Umbala has a very interesting story too. You can read about it here.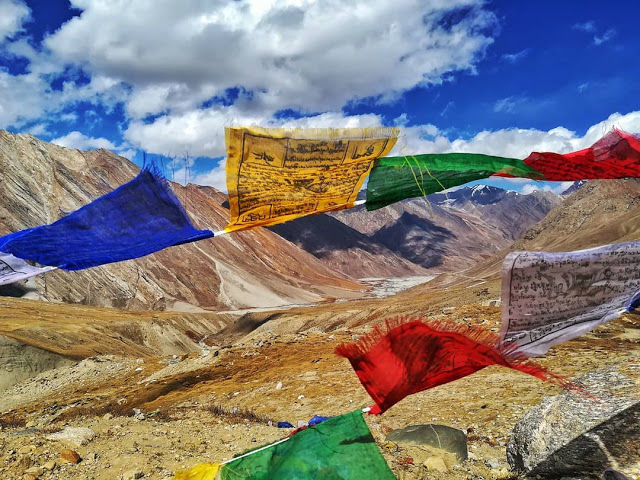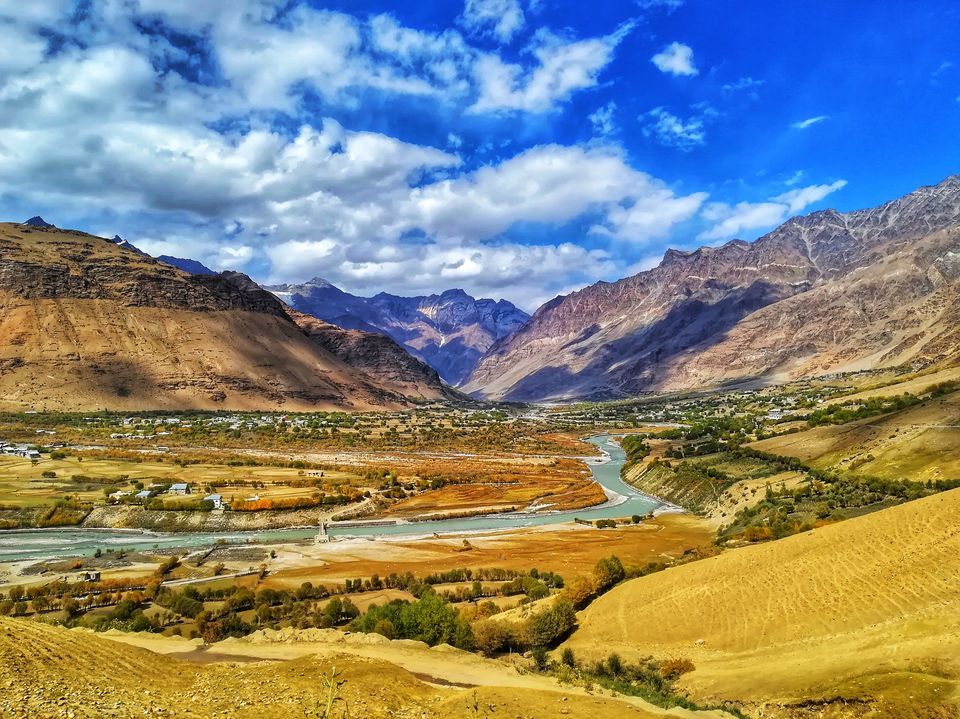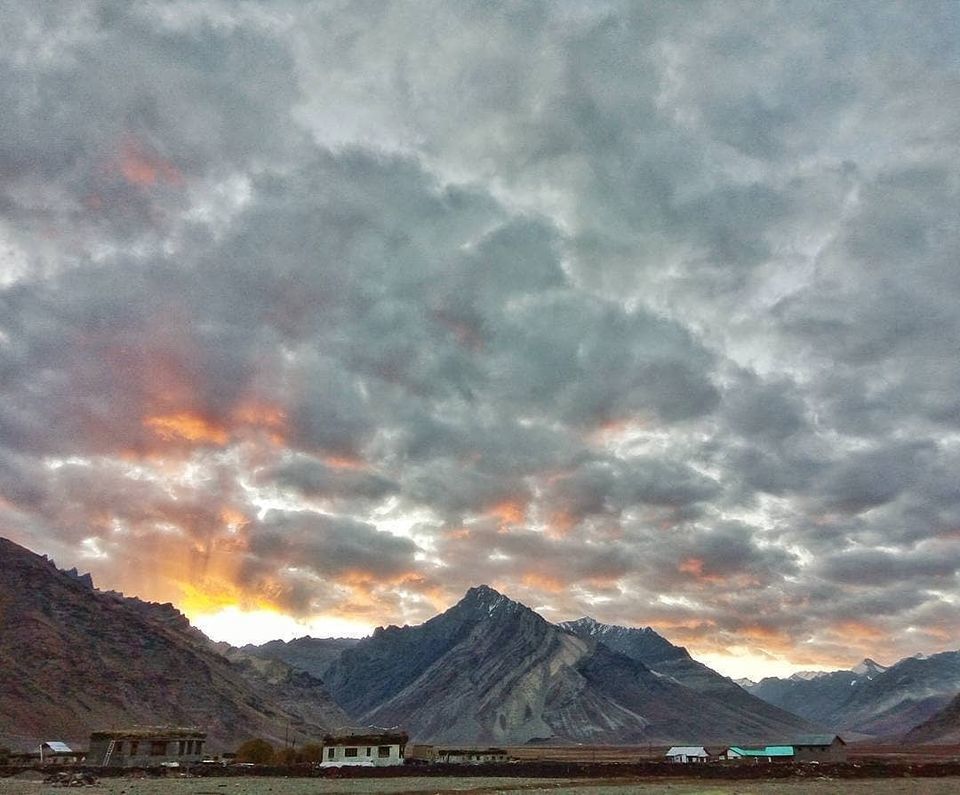 The Walk
We stayed at Angmo Guest House at Anmu, where we were not only greeted well, but welcomed with a delicious cup of tea as well. A short conversation with the BRO engineer from Maharashtra was followed by a sumptuous dinner and a sound sleep.
We left Anmu at around 8:30 AM the following morning. A lot of blogs and people on internet claimed that Phuktal is a long walk and should ideally be completed in 2 days, but our host told us it's just a 3-hour walk for the locals, and I assumed it to be 5-6 hours for our group that included non-trekkers, and people are not used to such heights.
Though we thought of going to Phuktal via Purne Village but our host suggested us to take the Cha Village route as it is shorter and saves around 2 hours of time. We drove for around 2 kilometers, till the last point of the motorable road, beyond which the BRO was working on road construction, which they plan to complete till Cha Village shortly.
By 9:10 AM we started our walk towards Phuktal Monastery. The road was dusty because of the ongoing construction. We saw a Nunnery a little ahead and exchanged greetings with a nun. A good start to the trek perhaps. After taking a few breaks for resting and photography enroute, we reached Cha Village by 10:15 AM. Cha Village is the mid-point to Phuktal and we made it there in good time.
We went to a local's home and requested for tea. People open-heartedly welcome visitors in this part of the world, and the lady of the house not only served us tea but biscuits as well. After a longish 50-minute break we started our walk towards Phuktal again.
After Cha Village, the trek gets a little steep which made a couple of people in the group tired, but we kept marching ahead at a steady pace. We saw Purne Village on the other side of the river, and it looked beautiful enough to lure us to come back via that way. The entire stretch is raw in nature and encapsulates the true beauty of nature, untouched by the regular touristy crowd. The Tsarap river flows like a snake between the valley and the makes your walk as beautiful as it is exciting.
The route becomes a little narrow enroute and there were several rough and slippery patches that needed a lot of caution as one careless step can take one to the river flowing a few hundred feet below.
After over an hour's walk from Cha Village, one can see some greenery in the form of green trees ahead, barely visible through the mountains. That's where one has to reach to reach Phuktal Gompa. We kept on eyeing that little green patch, hoping for it to arrive soon. But it wasn't as close as it appeared to be. We walked through one curve after the other, climbed and walked down the mountain several times before reaching the Phuktal Bridge that one needs to cross while coming from Purne Village. Everyone seemed tired at this point, and rested before walking the last 1 kilometer till Phuktal.
A few monks and a lot of construction workers greeted us enroute. The last kilometer got a little tiring, but huffing and puffing, we took the last curve and as if miraculously Phuktal Gompa appeared in front of us. I had a look at the watch and it was just 1:40 PM. Completed the walk in 4:30 hours with a longish break at Cha Village. Someone in the group also suggested walking back the same day, but that was never an option, we were yet to soak in the beauty that Phuktal has to offer. So, we decided to stay at the Monastery Guest House, which is some 400 meters before the monastery.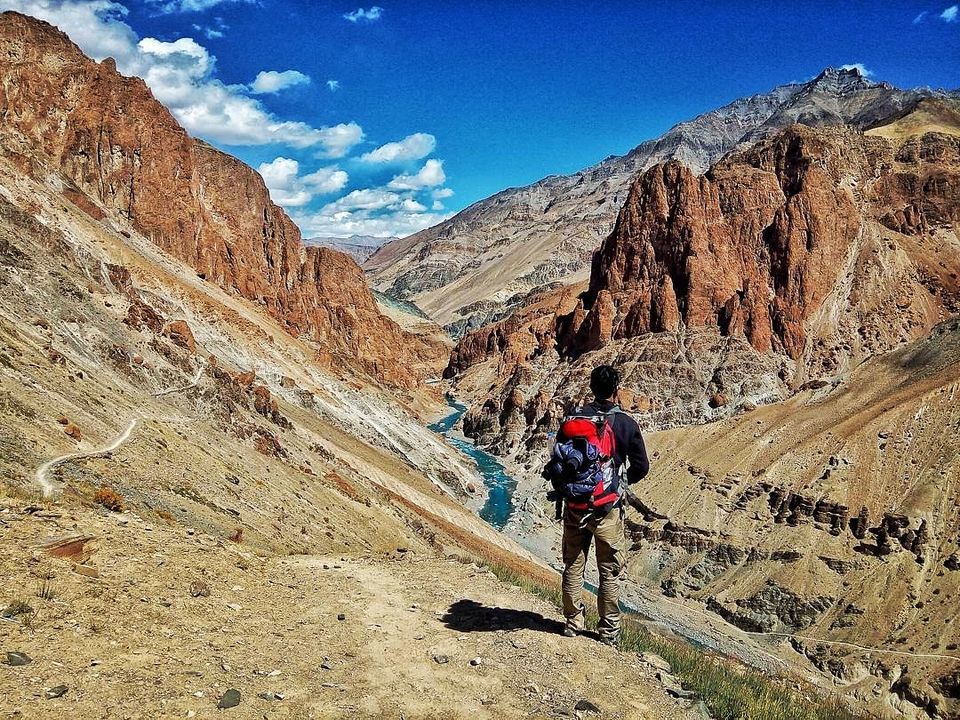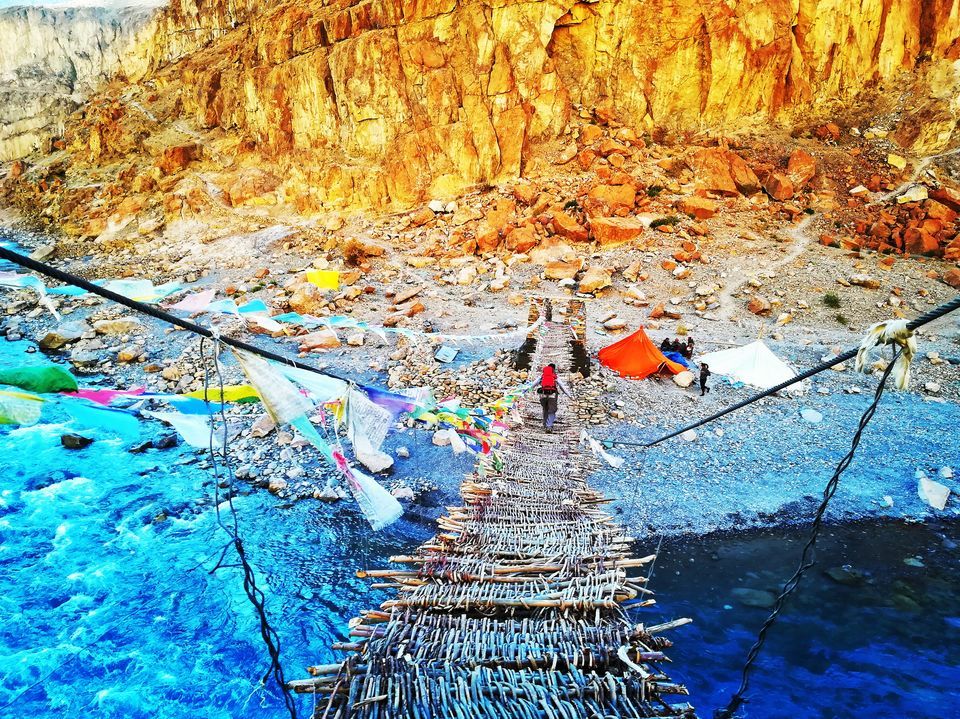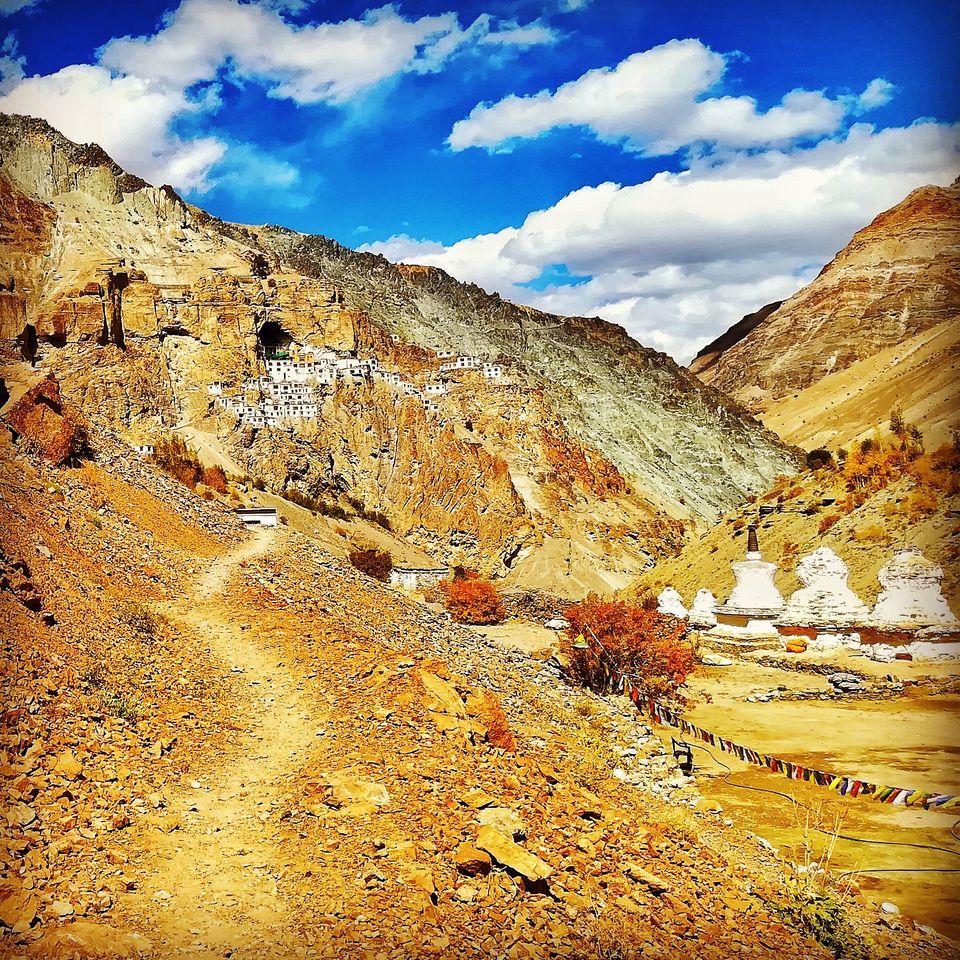 The Return
After a good night's sleep, we left the monastery guest house by about 8:15 AM. We had planned on taking the Purne Village route on our return journey. While coming, the route looked longer, but also looked much simpler than the route we had taken earlier – in terms of steepness and slippery patches.
We reached the Phuktal bridge in no time and couldn't resist the thrill of crossing it. It swayed left and right while we crossed it and that added to the thrill.
On talking to the workers on the other side of the river, we were informed that Purne Village route will be at least 2 hours longer than the Cha one. It would also greet us, with a not-so-maintained and a dangerous bridge we would need to cross to get to Anmu. This made us think again about the road to choose, as we were short on time and wanted to reach Padum before it got dark. And they say, everything happens for a good reason, and we did have a good enough reason to take that path on our return journey as well.
After clicking a few pictures and taking a few videos, we started at 9:00 AM from the bridge. The return journey towards Cha Village is tougher due to the steep climb. We took a lot of breaks to rest on our return journey but kept marching ahead. A little ahead we saw a herd of Himalayan Sheeps / Bharal, around 20-30 meters away, curiously looking at us. And well, we returned the favour. After crossing them we marched towards Cha Village.
The Wolf's Warning
Cha Village was still roughly 2-2.5 kilometers away. The group had split into two. Deepti and Roopam were walking ahead, and Pooja and I were trailing some 100 meters behind.
And while walking, I heard a sound. I paused for a moment. It was no ordinary sound.
Pooja immediately turned around and asked me, "Did you hear that sound?"
I nodded.
She asked, "Is that a……."
I cut her in between and said, "Yup" while nodding again.
I hadn't finished nodding and we heard the same sound again.
It was a howl. A wolf's howl. A wolf howls to communicate to others that it's their territory. They howl to tell others to stay away.
Read all about a one on one encounter with the wolf here
Now, though am back, a part of me is still there at Phuktal Gompa.
If you have any questions about Zanskar or Phuktal Monastery, feel free to connect with me on my social media.