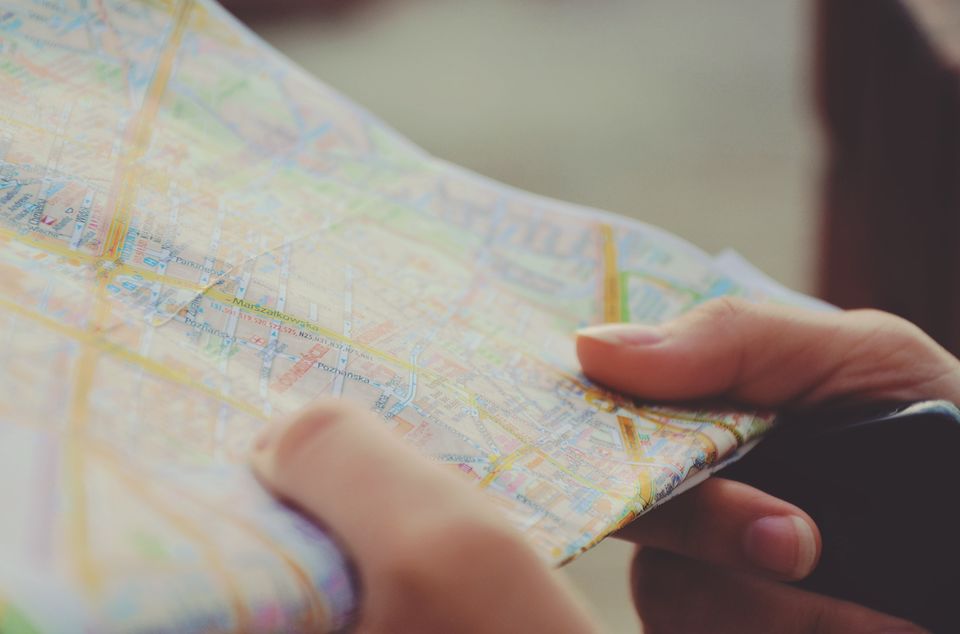 No time to travel but in desperate need for a getaway? A staycation is the answer to that.
A staycation is defined as " a holiday spent in one's home country rather than abroad, or one spent at home and involving day trips to local attractions". I believe staying at home does not fulfill the purpose of a staycation to it's maximum. I'd rather have a change of place as well when I'm pretending to be a tourist around my own city!
So, here's a list of beautiful Airbnb properties you could consider for your Staycation stint. We have carefully curated a set of 2 staycation worthy properties from 5 prominent cities in India. Always remember, choose a place that's close to the areas you would like to explore. Think like a tourist, be a tourist. For more tips on how to Staycation read this article.
Mumbai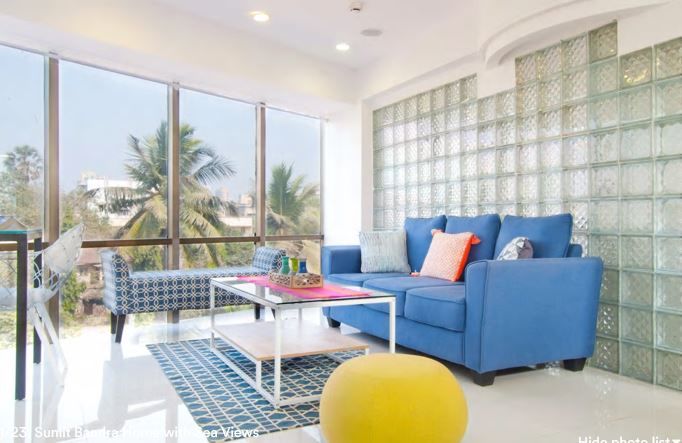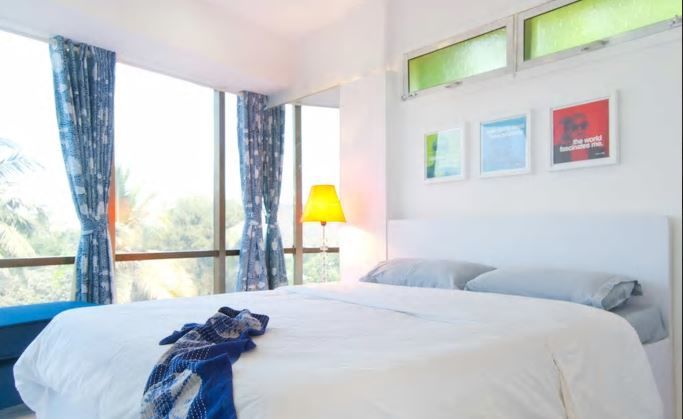 Why it's perfect? :
Located in the heart of all the happenings, this sea facing apartment in Bandra with uninterrupted views of the Arabian Sea is likely to be your cure from the congestion of Mumbai. The blue and white decor with splashes of bright colours is soothing enough to compel you not to move out of this space during your staycation. If you do plan to step out, it is close to the sea link and is well connected to the lifeline of Mumbai ( local trains) , an array of uptown and street eateries as well as Bandra shopping hub.
Apartment style :
Entire apartment
Ideal for :
A single occupant or couple.
Be warned :
The building is run down and not the least bit posh. The lift can barely accommodate 3 people and the common areas of the building are not the least bit beautiful. However, do not be deceived by the exteriors as the interiors compensate for it.
Price :
Rs 3516 per night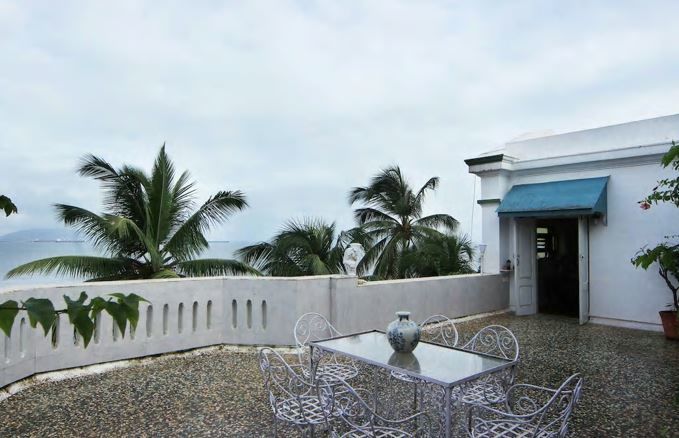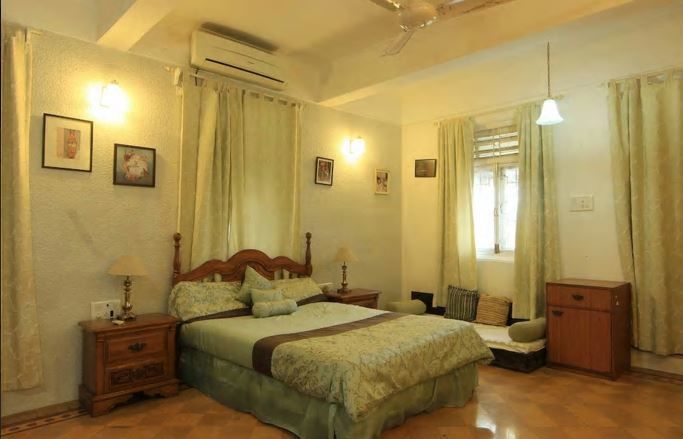 Why it's perfect?
This beautifully done up spacious 2 bedroom penthouse is a rarity in Mumbai. If you're a person who stays in Mumbai, you are likely to know the space crunch in apartments. Hence, this airy, breezy apartment with an open terrace facing the iconic Gateway of India and Taj Mahal Palace Hotel is going to be a refreshing change for your Staycation. Tour around South Mumbai, take the ferry to Alibaug, hop onto a double decker bus and drive on aimlessly, walk around the colonial streets of Colaba, dine in eateries that over a 100 years old and just casually lounge at Marine Drive. I assure you, you are going to have a fantastic time!
Apartment style -
Entire apartment
Ideal for -
Families, group of friends, couples
Be warned -
Only the bedrooms have air conditioning. The kitchen and living room do not have air conditioning.
Price -
Rs 9442 per night
Click here to book now
Bengaluru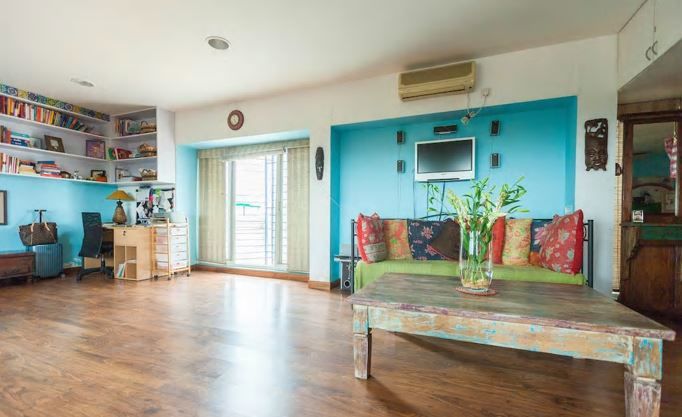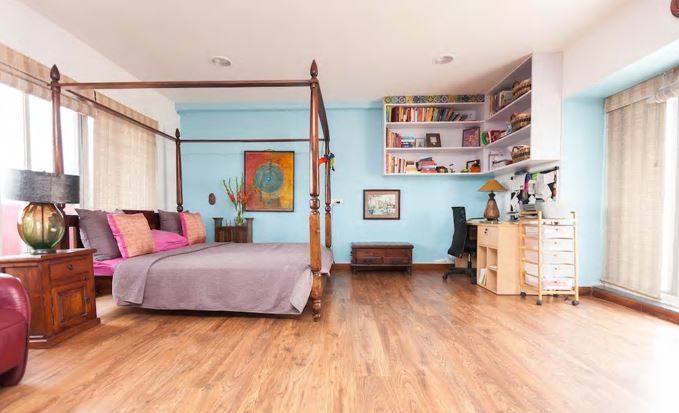 Why it's perfect? -
Located in Jayamahal, this studio apartment is quite the cosy nook you have been looking for all your life. It's got a terrace, spacious rooms, artsy decor and lots and lots of sunlight oozing in. Brownie points for the great collection of books and powder blue walls. If this doesn't steal your heart, I don't know what will!
Apartment style -
Entire apartment
Ideal for -
Families, group of friends, couples
Be warned -
The house owner lives in Hawaii, hence while communicating with him on Airbnb, do that the time difference into consideration.
Price -
Rs 3451 per night
Why it's perfect?
With Bangalore increasingly becoming a concrete jungle, this property is a refreshing change. Nestled in an island of green hidden between Lal Bagh Botanical Gardens & Forum Mall it is hard to believe that a rustic space like this exists in today's day and age. I'd like to believe Bangalore hasn't lost its reputation of being the garden city after seeing the Bose Cottage.
The cottage has a cosy garden and a rooftop space for yoga, dance, meditation or whatever you'd like. All in all, this one's a peaceful getaway from the hustle and bustle of Bangalore city and is bound to rejuvenate you for the months ahead.
Apartment style -
Entire apartment
Ideal for -
Open to couples, solo adventurers, business folk, families, & furry friends ( in their very words)
Be warned -
Sometimes the Rooftop at Bose Compound space might be occupied with workshops or music performances or dance classes. Do check out the schedule on its Facebook page if you do not want any disturbances during your stay. If not, you can join the sessions and add on to the fun.
Price -
Rs 1428 per night
Delhi
Heritage Apt 1@Hauz Khas Village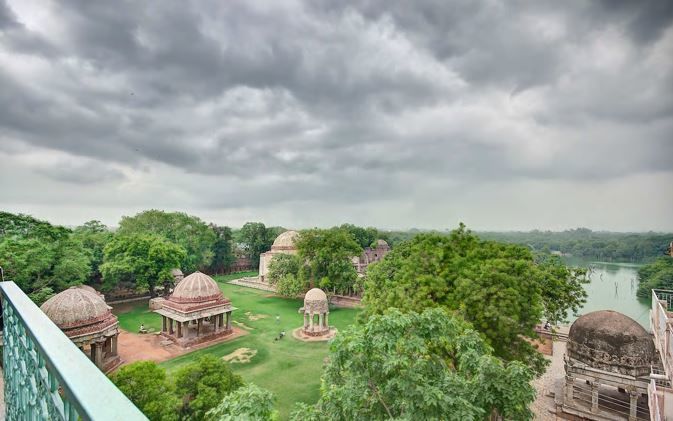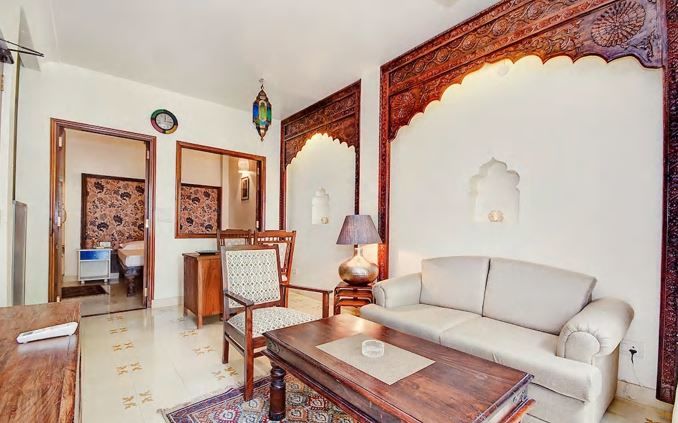 Why it's perfect?
An independent studio apartment in the happening neighbourhood of HauzKhaz for a Staycation is a dream come true. You can explore Delhi to your heart's fill, eat all sorts of cuisines and party till wee hours of the morning. Sounds perfect right? The interiors are done in Indian Rajasthani style and gives a almost royal touch to your stay. The best part is yet to come; the apartment has a lake view and is right outside the oldest 12th century monument in Delhi! Also, this apartment has been featured on Airbnb's Hospitality homepage. So rest assured, your stay is bound to be beyond exceptional.
Apartment style -
Entire apartment
Ideal for -
Couples, Solo travelers
Be warned -
Be prepared to climb a flight of stairs as this building does not have a lift. Worth the effort though!
Price -
Rs 4232 per night
3BD WOW!so quiet yet so convenient. 3 min to metro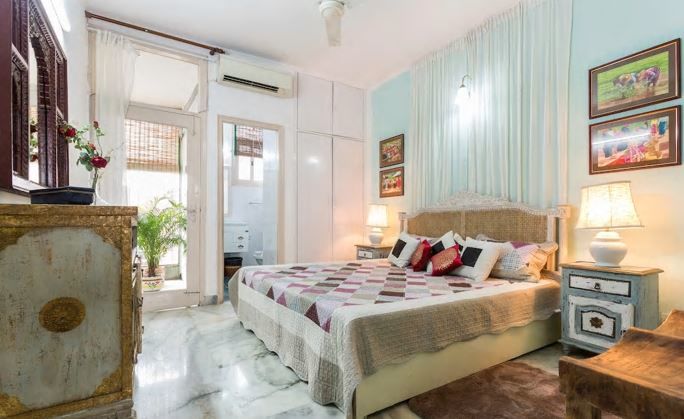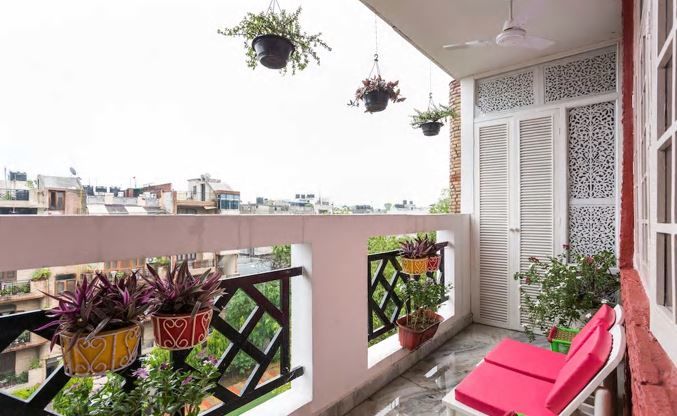 Why it's perfect?
A mint clean apartment with mint walls, this cosy apartment is centrally located in Lajput Nagar and has a whole lot of eateries, touristy attractions and lots and lots of shopping options around. Be it Khan Market, Lodhi garden, Connaught Place, the Lotus Temple, Hauz Khas or the Iscon Temple. Most people who stay in Delhi miss out on seeing monuments around their own city, so this stay might be a good option to tick a few off your list. The apartment is beautifully furnished and has 3 bedrooms with 3 attached bathrooms! Steal deal for the price right?They also have a snug little balcony which is perfect to sip a cuppa and catch up on your reading.
Brownie points for the Olympic sized swimming pool just a short jaunt away from this apartment. Definitely needed to beat the heat during Delhi's summers.
Apartment style
Entire apartment
Ideal for
Families, Large families
Be warned
Be prepared to climb a flight of stairs as this building does not have a lift. Worth the effort though!
Price
Rs 4363 per night
Chennai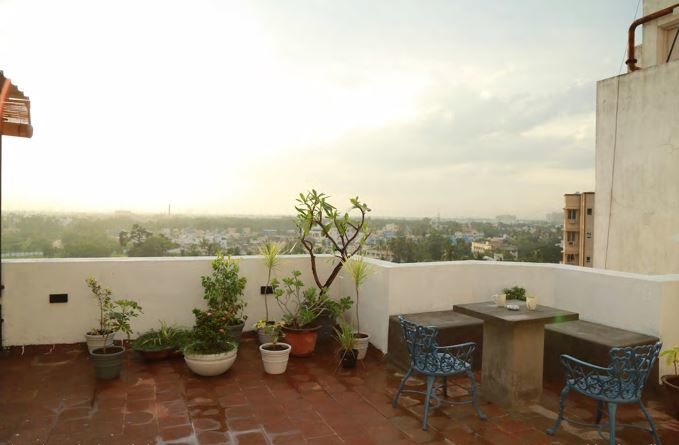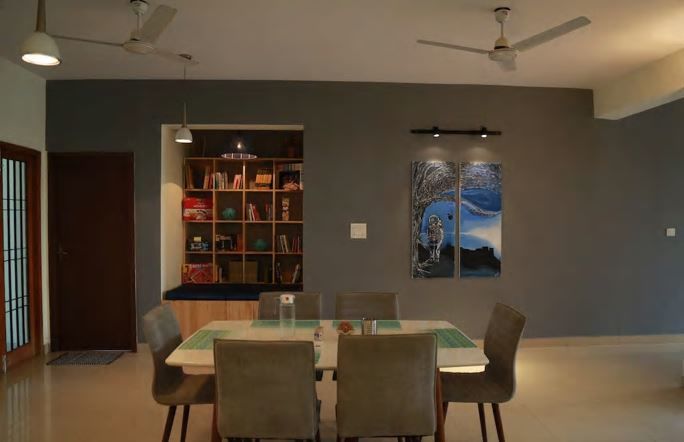 Why it's perfect?
Located on the 8th floor of a quiet residential building in Kilpauk, this property is a sprawling 2800 sq ft penthouse. With 3 spacious bedrooms, 3 attached washrooms, living cum dining space, a library, kitchen and a 800 sq ft private balcony, this house is beyond perfect for a staycation.
If you are in the mood to stay home and spend some quality time with your loved ones, you have the options of a TV with over 500 channels, a library for the ones who want to read, plenty a game boards and a fully equipped kitchen in case you want to whip something up. There is also a private terrace nestled in the back of the building with a scenic view of the sparse lush greenery in Chennai. Don't miss the sunset from up here. A part of the terrace is shaded as well so as to enjoy the view on a sunny/ rainy day.
Apartment style
Entire apartment
Ideal for
Couples, solo travelers and family
Be warned
In case of damaged anything within the premises of the property, they will charge you an extra fee of Rs. 2000 minimum.
Price
Rs 3777 per night
-----------------------------------------------------------------------------------------------------------------------------------------------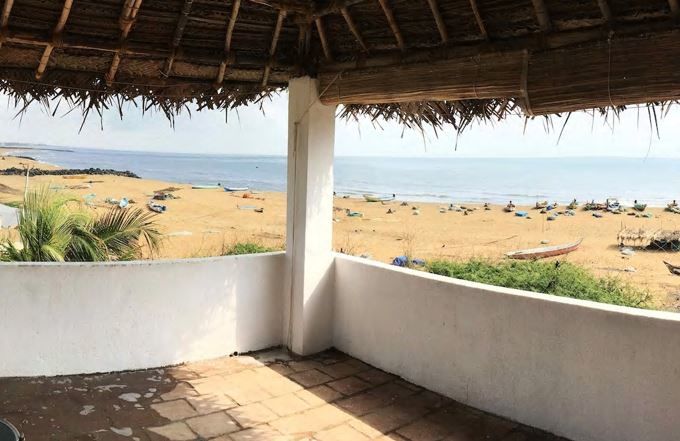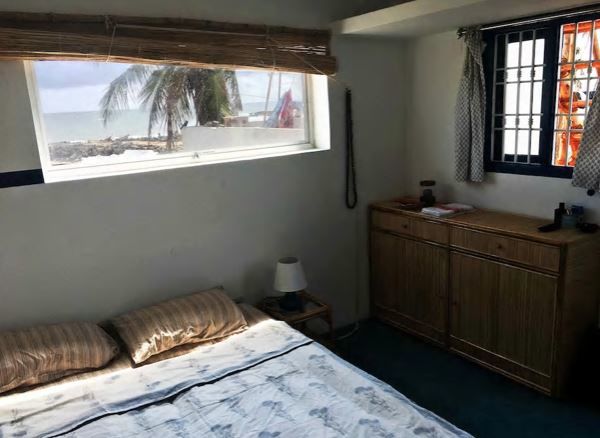 Why it's perfect?
What's the point of a staycation in a coastal city if you can't see the beach when you open your eyes. Tucked away in a local fishing community in Kovalam ( ECR in chennai, not Kerala), DoGood Casa is a warm and homely house set in the backdrop of the Bay of Bengal. It's nothing fancy, but if your idea of an ideal vacation involves surfing, gorging on seafood, an outdoor kitchen,beach facing rooftops for practicing yoga or catching up on some reading and most importantly, meeting a new set of people, then this property is your ideal go-to.
The beach is right outside , so step out and lounge on the clean stretches of Kovalam while you are here. You can even enroll yourself at the Covelong Point surfing school and learn to catch a few waves. By the night you can hear the waters roar away and sleep to its rhythm. Sounds surreal right? Well, it's not.
Apartment style
Entire apartment
Ideal for
Couples, solo travelers
Be warned
This property is subject to power cuts
Price
Rs 1493 per night
-----------------------------------------------------------------------------------------------------------------------------------------------
Kolkata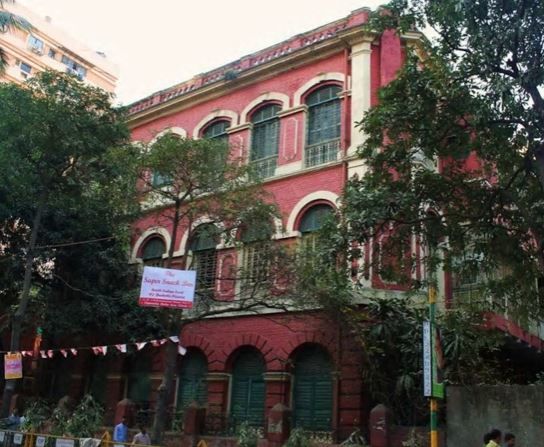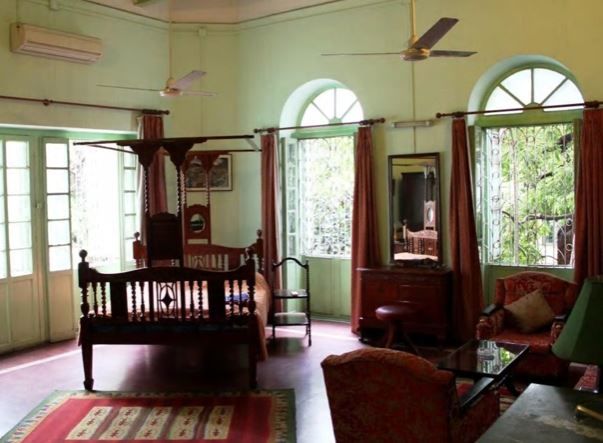 Why it's perfect?

Ever fancied staying in a 100 year old colonial building? Well, here it is. A bungalow built in 1908, decked up with period furniture, this house in Shakespeare Sarani is your heritage calling. Though this house is soaked in antique flavors, it is equipped with all the modern amenities we have grown to live without. There's a TV, AC, Wifi, Microwave, Fridge and even an Oven! It is a studio apartment with a double bed that comfortably accommodates 2 and an extra bed can be put out in the living room as well.
Being a part of Downtown Kolkata the area around you is bustling with restaurants,pubs and shopping options. If you are in the mood to explore your city, you have touristy spots like the Victoria Memorial, St. Paul's Cathedral, Park Street, Indian Museum and the Maidan a short jaunt away. An oasis of calm amongst the chaos of Kolkata, you immerse yourself in your copy of Amitav Ghosh or maybe step down and relish the yummy puchkas and rasgullas.
Apartment style
Entire apartment
Ideal for
Couples, solo travelers
Be warned
None at all
Price
Rs 2995 per night
-----------------------------------------------------------------------------------------------------------------------------------------------
LalBari - The Heritage Red Brick House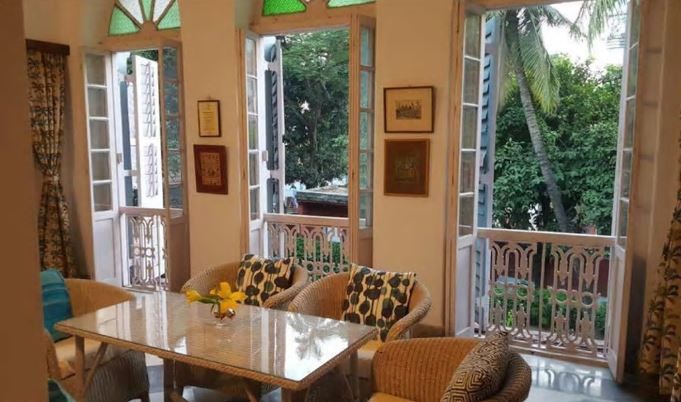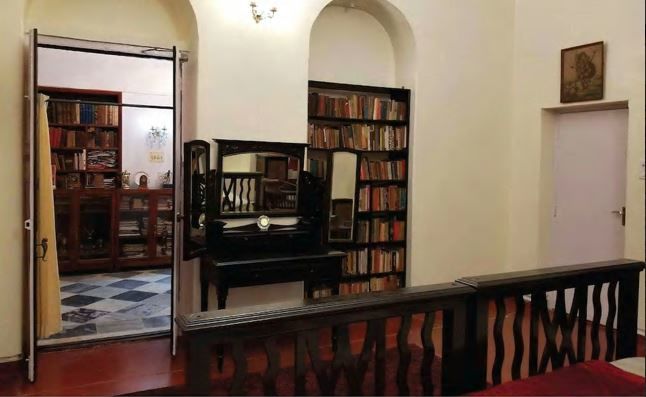 Why it's perfect?
Stuck in a time capsule, this 100 year old mansion is an oasis of antique artefacts, heritage furniture, family mementos and books you have never seen or heard of. The owner describes her as an "adonis lost in sepia prints". What a beautiful way of putting it right? Just hearing that makes me want to pack my bags and get there. Also, you'd be delighted to know about their famous repertoire of guests - Ravi Shankar, Indira Gandhi and Mahatma Gandhi himself! So, if you're up to feeling legendary footprints, you know where to head. This masterpiece is decked up in Burma Teak furniture adding to its old world charm ( brownie points for the vintage dressing mirror and writing desk, both in burma teak). The beautiful blue and white mosaic bathroom stole my heart btw.
They welcome you with a customized 'LalBari' postcard and bookmark which can be staycation souvenir because why not?! All the common spaces are accessible at all times including the verandah, drawing room and the massive garden right outside. Being a homestay, they provide authentic Bengali thalis for meals. You can choose from a sumptuous selection of fish, chicken, mutton, prawn and vegetable thali. They are said to be delectable and leave you licking your plate clean.
As for the staycation, you are experiencing the heritage of your city, staying where legends have stepped foot, eating out of the world food without having to step out or move your hands and you are living in a space beyond beautiful. Isn't that the whole point of a getaway?!
Apartment style
Private room in bed and breakfast
Ideal for
Couples, solo travelers
Be warned
If you want the thalis, you are required to give the order a day prior.
Price
Rs 2995 per night