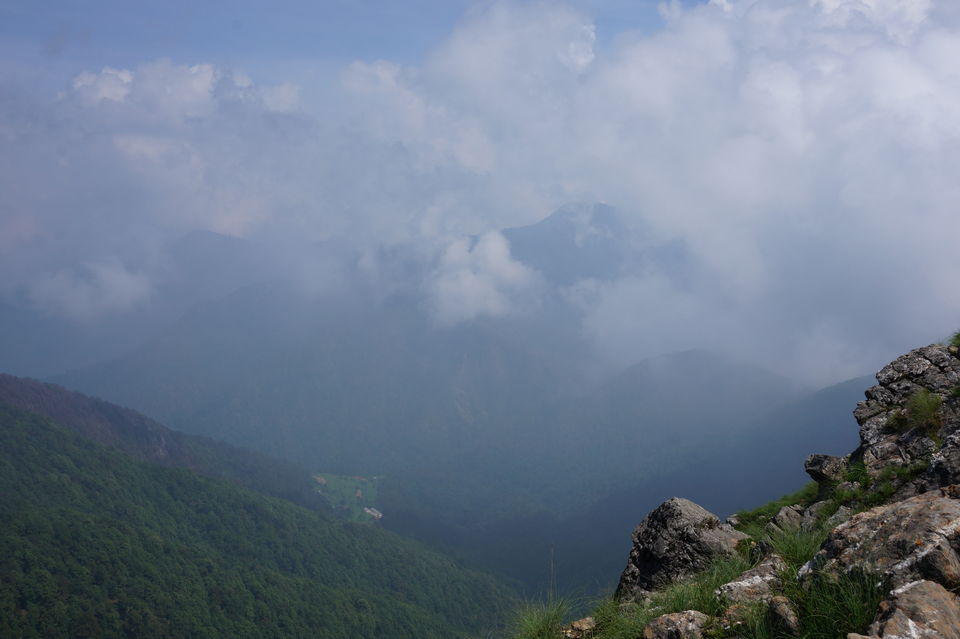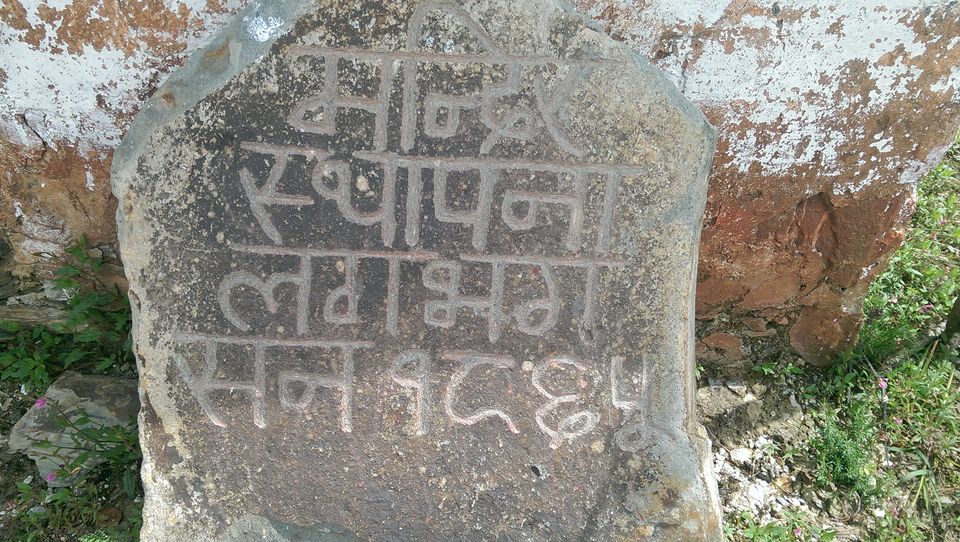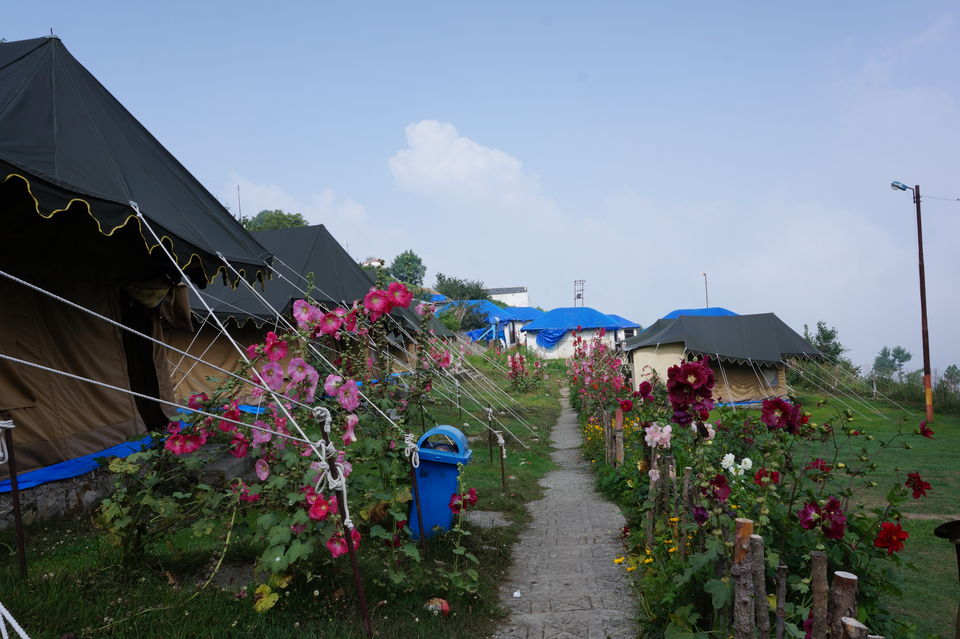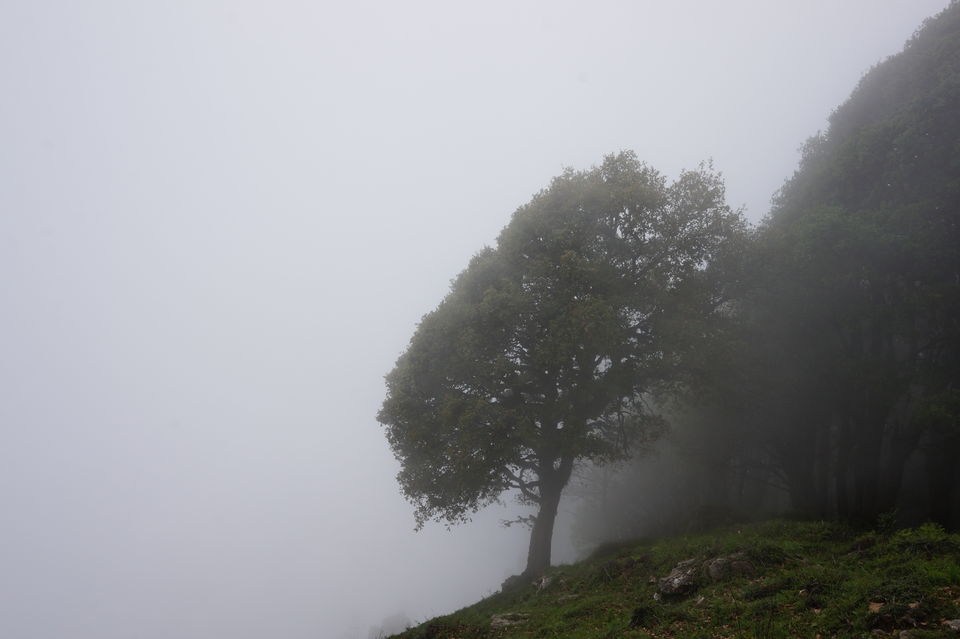 Lying in the lap of high altitude mountains, 16-18 Km away from Nainital, Sigri possesses a unique aura. By the time I reached Sigri, I was exhausted, on completing the formalities I headed towards one of the camps I had been allotted. The campsite was a treat to eyes, as I walked along the 'Pagdandi' the vibrant flora and the mountains were a marvel to behold. It drizzled euphoria from the skies. The birds sang me welcome songs as a visitor had come to their land.
Cerise, blue, amethyst, roseate, lavender, golden what not! The environment inhabited rich flora. Some of the plants being Apple, Deodar, Pine, Silver oak, Rhododendron (Buransh in Kumauni), Arisaema (cobra lily) various kinds of mushrooms bright yellow to dull grey. Little ladybirds did create a great contrast with the lush green coloured leaves.
On my way to the temple situated at hill top I caught hold of innumerable amazing life forms. As the temple approached, scotch mist drizzled and a herd of goats with the shepherd appeared from the mist from the other side of the mountain. Was I dreaming? No? But it did seem like a dream. The mountains, the mist, the scenic valleys. Well, I had to poke my dream bubble to keep moving. On the back side of the temple was a rock like structure which local people believed was Lord Shiva's idol.The trek took almost 2-2.30 hours for completion and I finally reached the temple. The temple was ancient, no fancy carvings or fancy idols like the modern ones just the little bells of faith hanging at the top of the cliff. The view couldn't have been any better. Mesmerizing! Magical! I fell short of adjectives. At last I thought to myself "There are no words which can describe the creation of Almighty, it can only be felt". The air so pure, I could smell leaves, the clouds played hide and seek with the mountains and me? I just sat there admiring the canvas both vivid and warm.
This was about the scenic beauty which I just couldn't resist describing. How to reach Sigri?
Take a bus to Haldwani (Uttarakhand) Frequent bus service(roadways/semideluze/deluxe) from ISBT Anand Vihar, Delhi till 10.30pm. (Uttarakhand Transport Corporation)Or else...
Take a train to Haldwani. Ranikhet express, Uttar Sampark Kranti or Shatabdi whatever suits you. I travel from Ranikhet, it departs at 10.30pm from Old Delhi railway station. Or else...
Book a cab from Delhi to Sigri with 5-10 friends or like-minded people.
Both the means of transportation take almost equal time. 
On reaching Haldwani, take a cab to Nainital. It is almost 32-35km which should not charge you more than 100 Rupees if you go on a sharing basis.
On reaching Nainital, take a cab to Sigri camp (Killbury forest, Pangot village). This will charge you a greater amount since Sigri is not frequently visited by tourists.
On reaching Sigri, ENJOY!
A few things to be taken care of before leaving for Sigri:
1. There is no network area coverage except for BSNL and Vodafone.
2. Equip yourself with binoculars to get a better view of Avians (Birds).
3. Do not forget to take your basics, you won't find anything there.
4. Leave before sunset. Stay safe, its a forest.
5. Keep the environment clean, DO NOT LITTER.