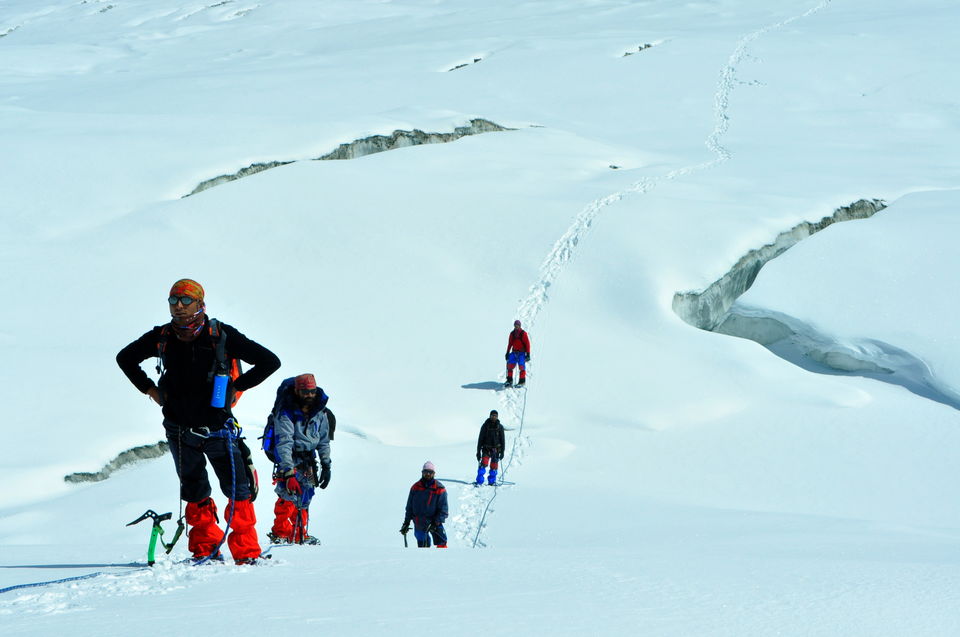 White Peaks Adventures' Five Best Trekking Peaks of India
Ever wanted to add summiting a peak to your repertoire, but your mountaineering skills don't quite make the grade? Well, White Peaks Adventures have chosen our five best trekkable peaks of India, allowing the beginner trekker to do just that. Each of these peaks has an accessible route, which can be traversed with little to any mountaineering skills. They provide a taste of what climbing peaks entails, from glaciers to crevasses, steep slopes, and plenty of snow. And much, much, more. And what's your reward we here you ask? Feeling like you're on top of the world, of course. So gear up, show up, and never ever give up.
Popular with beginner trekkers looking to challenge themselves, Friendship Peak provides a challenging pursuit with epic views of Himachal Pradesh's Dhauladhar and Pir Punjal Ranges, plus Mt Hanuman Tibba, Mt Deo Tibba, Mt Shitidahr, and Mt Indrasan, beyond.
Ideal for: Those looking to enter the world of mountaineering.
Best time to visit: June to September
Standing tall at an altitude of over 20,000 feet, Stok Kangri is famed as India's highest trekkable peak. But luckily for the novice, despite its altitude, it requires little technical knowledge. Not only good for physically challenging yourself, Ladakh will continue to be a popular destination, for domestic and foreign travelers, for its lunar landscapes and out-of-this-world vistas of the Ladakh and Karakoram Himalayan Ranges.
Ideal for: The photography buff Best time to visit: Between June and August
A rare and highly prized non-technical peak, Yunam Peak is a great choice for those with a bit of high altitude trekking experience looking to push beyond 20,000 feet. You'll witness Baralacha Pass, the highest motorable road in the region, Chandra Bhanga range, and the cold deserts of Lahaul valley. One of India's most most unexplored summits, Yunam Peak is perfect for those wanting to experience something different.
Ideal for: The modern day explorer, and those looking to travel off-the- beaten- track
Best time to visit: June to September
The sacred mountain, Kanamo Peak is located above Kibber and Ki gompas. 'Ka' meaning "white" or "auspicious" and 'Namo' meaning "hostess" or "lady", the peak is famously referred to as the "white hostess". Spiti valley is known for its pristine beauty and abundance of wildlife: you might just spot a Tibetan wolf or even the elusive snow leopard. That said, you'll still require a good level of fitness too!
Ideal for: Wildlife enthusiasts and those interested in local culture and religion.
Best time to visit: June to September
At13,845 feet, Patalsu Peak is the smallest of White Peaks Adventures best trekking peaks. Located at the head of the Kullu valley, beauty abounds, and it is a great trek for beginners looking to further their repertoire.
Ideal for: The novice, or those looking for a shorter itinerary
Best time to visit: April to October
Whilst these five treks require little technical knowledge, White Peaks Adventures recommended all participants complete an entry level climbing peak, such as Ladakhi Peak or Hanuman Tibba.
All itineraries are available on White Peaks Adventure website.
Happy trekking!