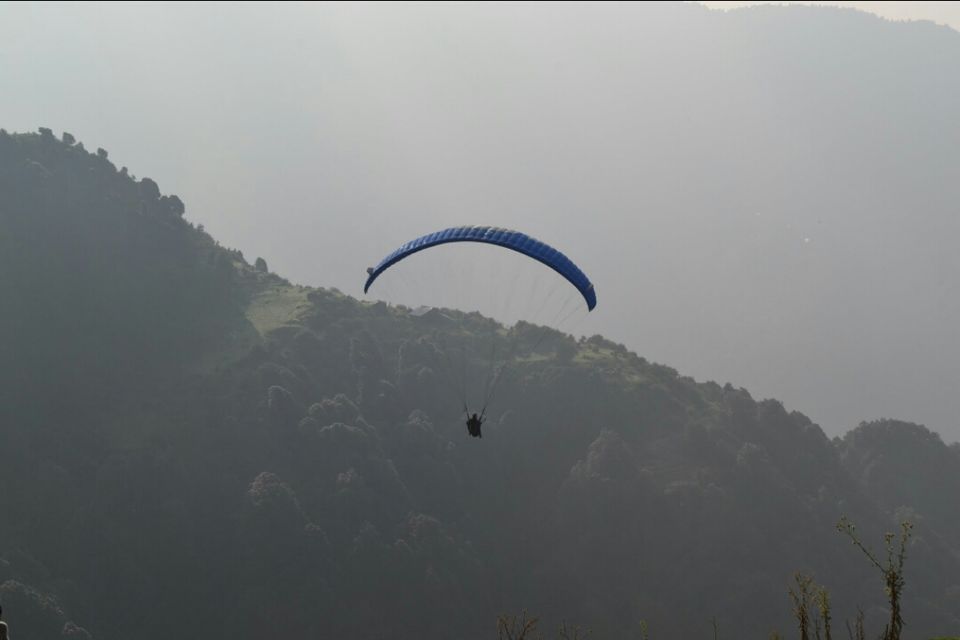 Ever thought how it would feel to fly? To give the birds an open challenge? To just stay amongst those clouds? If yes then bir is the ultimate answer to your questions. Not known by a lot of our countrymen the place remains untouched from the typical touristy feels. So be there before all those tourists damage its untouched charm and serenity.
Bir can be reached via delhi and chandigarh. Chandigarh being a little close. So we hopped on a flight from Mumbai to Chandigarh. You need to go to Sec 43 tarkari bus stand in chandigarh. The volvo buses are usually at night but other hrtc buses ply throughout the day. So make sure you reach this place by 10pm max. Take a bus to baijnath which is 276 kms from Chandigarh. We took a bus at 11pm for baijnath. There is a direct bus to bir which comes from delhi. It reaches chandigarh at around 12am and will take you directly to bir by 8am.An hrtc bus is the fastest mode of transport to this place but be ready for a uncomfortable sleepless and window shattering noisy ride. The journey is approximately 8 hrs but you will be there in anything less than 7 hrs. So we reached baijnath at around 5am and took a bus to bir which was 10kms away. You need to get down at chougan chowk as this is the place from where you wil be taken to billing(the take off site). There was only one hotel at the place where the bus dropped us. Amar guest house. And it let 6 of us stay in a room with 2 extra mattresses for 800 bucks per day. And the best part about this place is that there is a liquor shop right behind it (yay). We decided to rest a little but none of the lazy asses thought of keeping an alarm. So we woke up at 4pm and rushed for paragliding. The place where we did it from was called PVA paul adventures. We were told that the weather was bad and it was all foggy up there so the takeoffs have been stopped for sometime. The costs for paragliding is INR 2000 per person and if you want a go pro then its 500 extra. But its not really required if you have a phone with a good camera. Both your hands are free the entire time so you can click pictures and make videos from your phone itself. But if you have butter fingers then you might as well take a go pro as no one will take responsibility for your phone. Take offs are done from a place called billing which is 14km on top and it takes around 45mins to 1hr to reach there. So we were told that we can go up and if by that time the weather clears then we can take off otherwise we would have to come down and pay 800 bucks as the rent for the cab. After using a lot of our Mumbaiya bargaining skills they let us go on top for free and pay only if we could take off. So all of us like studs sat in the vehicle and left. It was only after a few kms that we started to feel the chill. Not getting our jackets was a horrible idea. The journey on top was beautiful. After we reached on top it was all foggy and we could hardly see anything. After a little while the fog began to clear out and the view was breathtakingly beautiful. You stand silently in awe of the valley below. The weather was still no good for a take off. So after an hour they bought us back down and told us to come early the next morning. There are no proper hotels only small dhabas which serve only momos,chowmein,thukpa and omlette. There was this small chai ka tapri besides our hotel and we asked him if we could get dinner so he said he doesn't have it ready and makes it only if somebody gives a prior order. He made us a delicious simple dinner of dal rice sabzi and chapattis for Rs 60 each. All we had to do was buy some potatoes and tomatoes and give him. He will make chicken or meat as well but you need to inform him in the afternoon for it. And dont make him wait for too long, usually he shuts his shop at 8pm but will wait till 9. His kids back home dont have dinmer without him so be nice and have your dinner early. So after a heartfelt meal we retired for the night. Setting our alarms to 7am the next morning.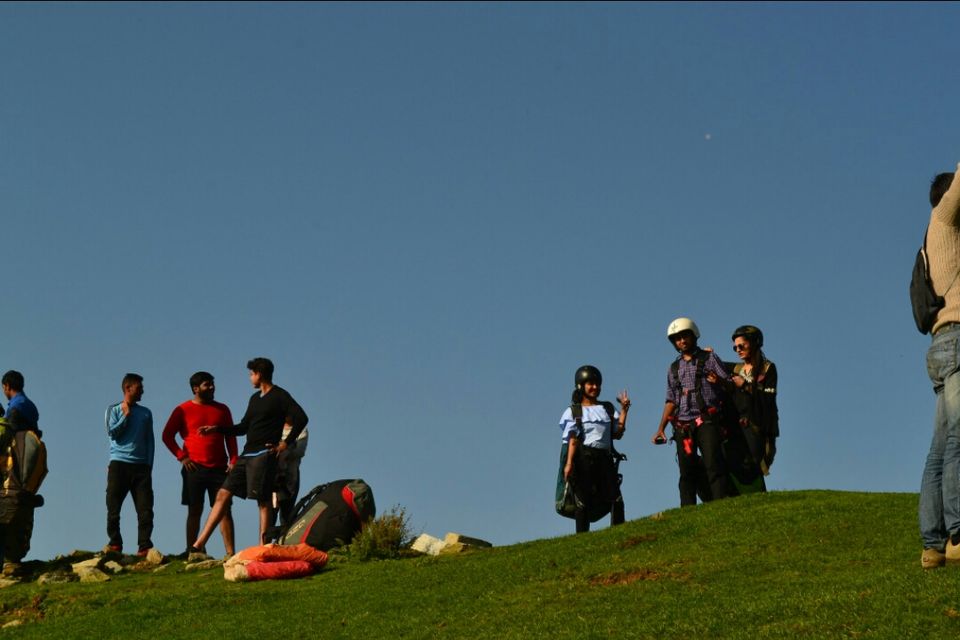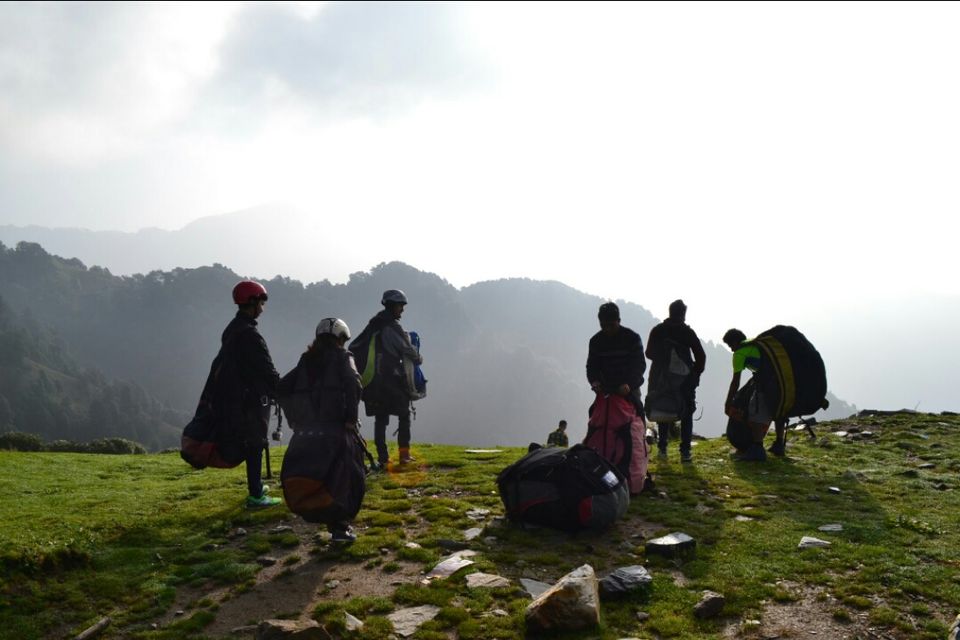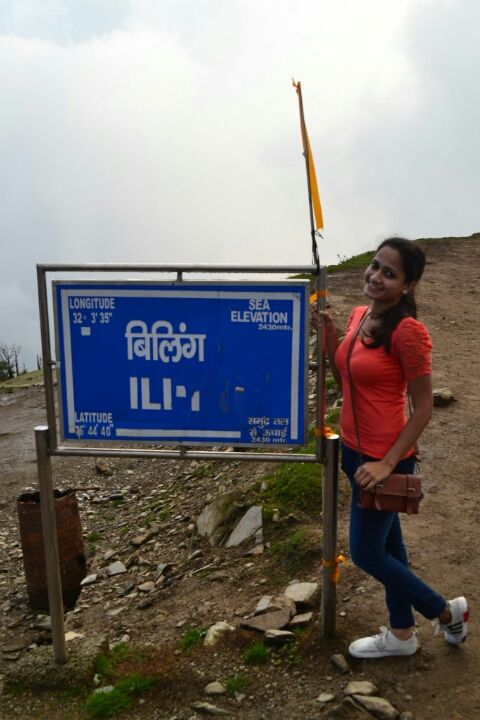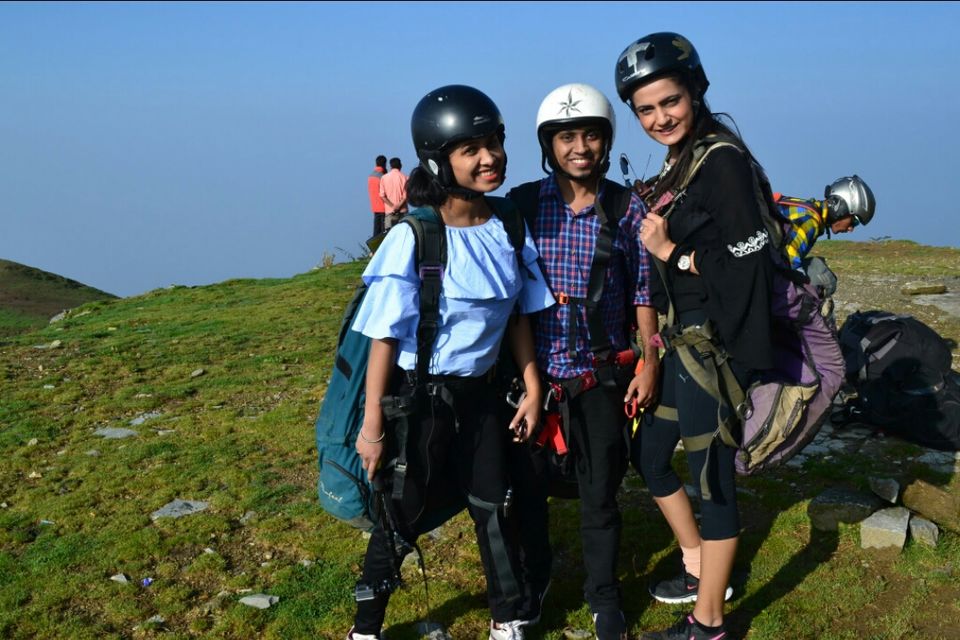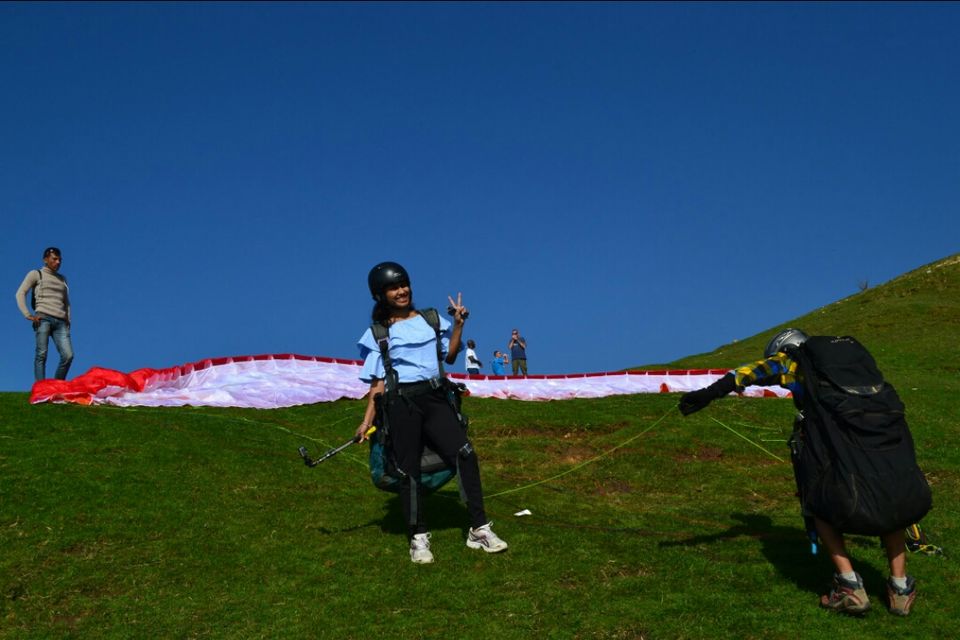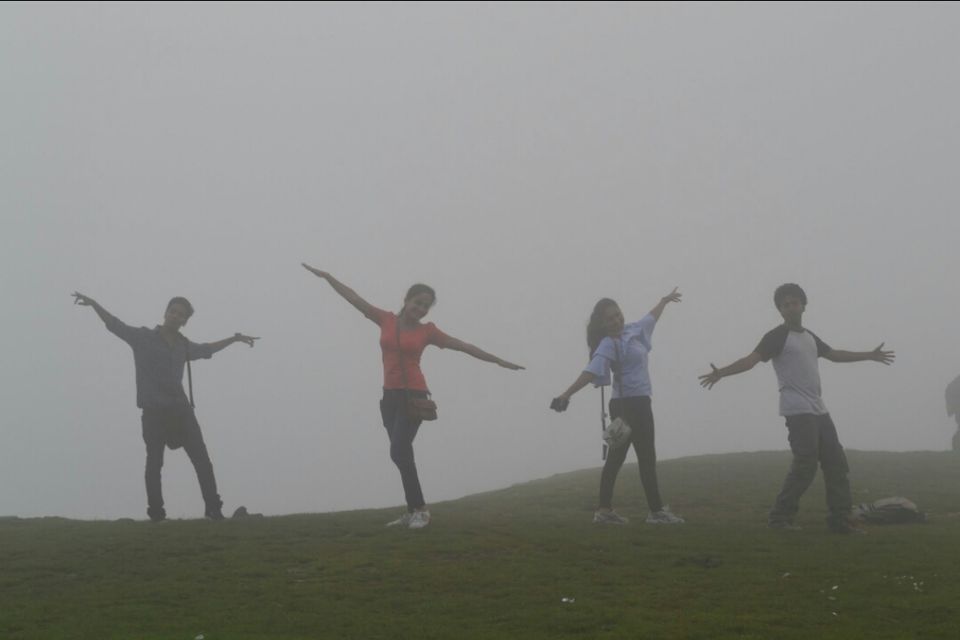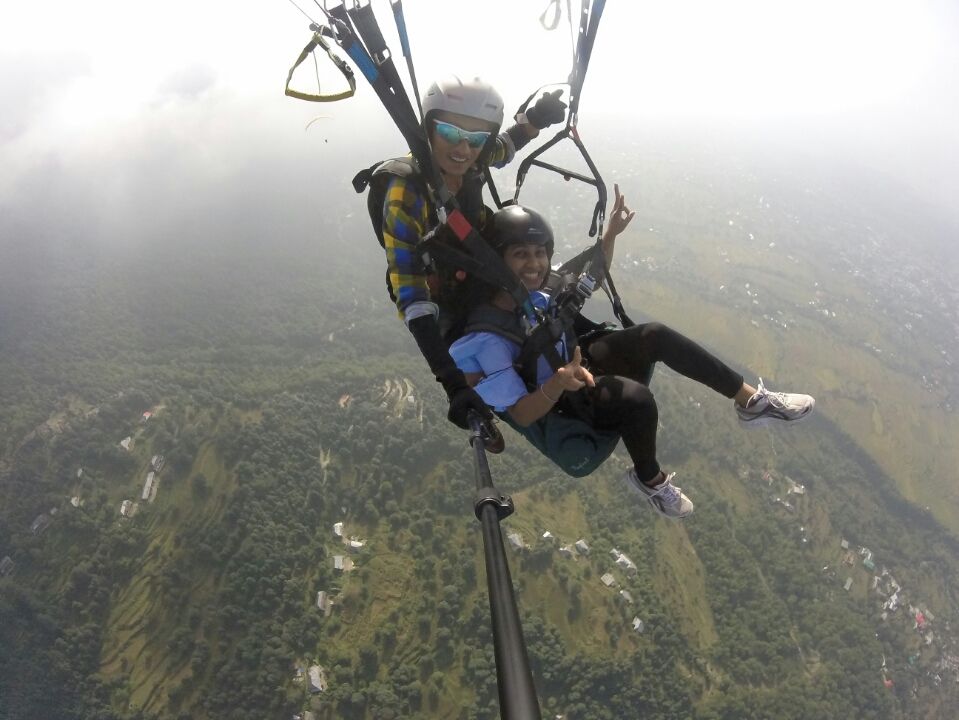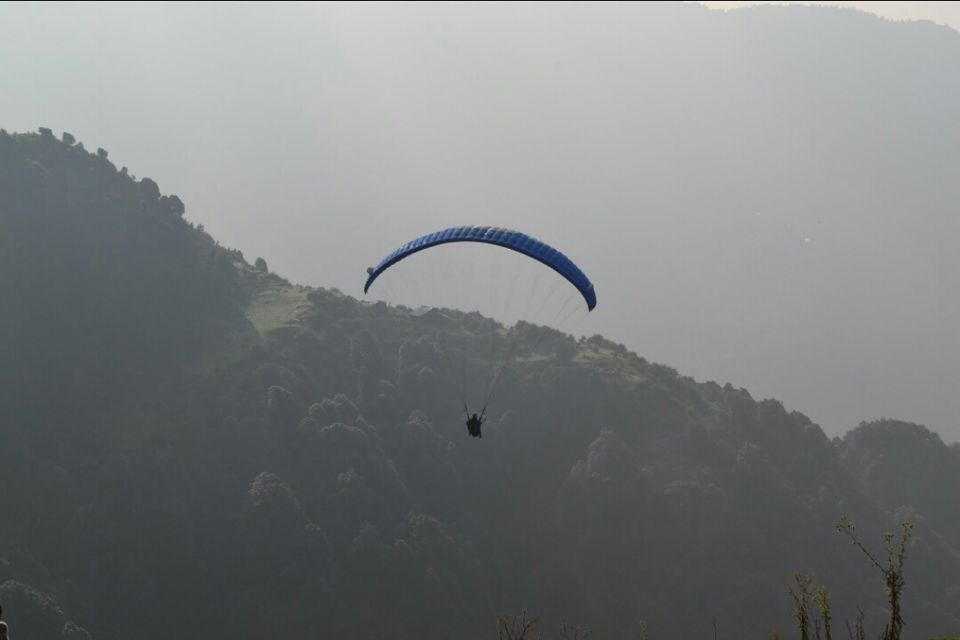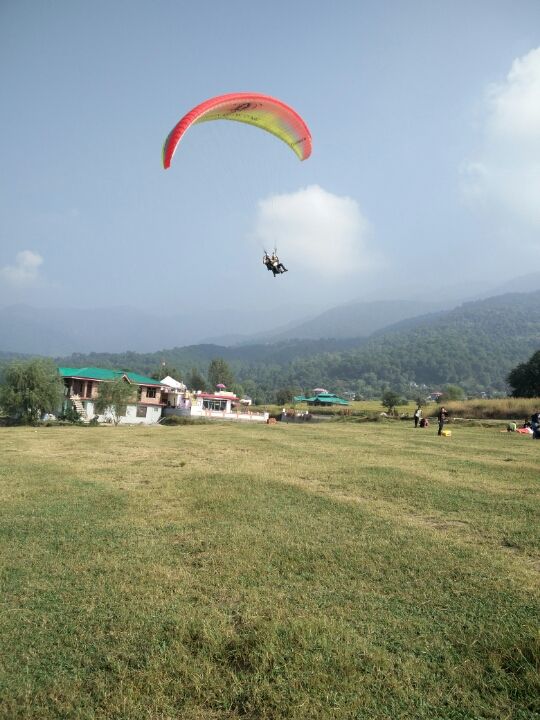 We got up to a bright sunny day. These guys open their shops by 6:30am so and its best advised to finish off paragliding when the sun has just come up and is a little easy on us earthlings. So we picked up chits to decide who will go first and then started gearing up. There are 2 spots for take off which are just 3-4 mins walking distance away from each other and depending on the winds they decide from which spot to take off. So after 3 of our friends took off, the wind changed direction and the remaining of us had to go to another spot to take off but by the time we reached there with all our stuff the wind changed directions again. It was all soo funny, taking all those gears and parachutes and moving from one spot to another. Finally when we got the right wind our pilots were quick enough to get us all ready and before the winds changed their mind again we decided to take off. It is a short run and then you take the leap. The first few seconds will be adrenaline pumping where you will scream your lungs out as soon as you take off. Later as you settle down and see all those beautiful landscapes you feel at peace knowing that the mountains have your back. The gushing sounds of wind, eagles trying to race you and all that greenary around literally takes you to another universe. Seeing your legs hang down in the open skies makes you believe you can fly. After taking numerous videos and pictures i finally realise that i can watch these videos and pictures on the internet as well. So i shut off the go pro and sit there admiring mother nature like a love stuck teenager. After some time i get a little bored just sitting and ask my pilot to show me some stunts about which i read on the internet (which turns out to be a bad idea). He says ok and before i know it we go in fast circles, all i can hear is the whoosh whoosh sounds of wind and my own screaming. We go straight down, then right, then sudden left, then circle circle circle. All the food i ate last night comes up to my throat. And i am almost ready to puke but just then the stunts stop. My head makes me feel dizzy and nauseated. And i am ready to throw up. Then slowly we descend towards the landing site. And then we land, as smoothly as it can be. And i just sit there thinking what just happened. The entire ride lasts for about 15-20 mins sometimes more sometimes less depending on the weather conditions. Mine lasted for around 23 mins. There is a small cafe called landing site which serves maggi,momos,chai,coffee and their best seller for first time paragliders-nimbu paani. After resting for sometime and having nimbu paani i feel good and then we sit in the same vehicle and leave. We stop in between at a cyber cafe who converts the data from the go pro and hands it to us. They then drop us off at the same place from where they picked us from. We make the payment and leave taking a basket full of memories and stories to boast about in front of our city dwelling colleagues ,jealous neighbours and nose poking relatives. So stop giving those no leaves, no money, no time kinda excuses and head to bir right now for a life changing experience.