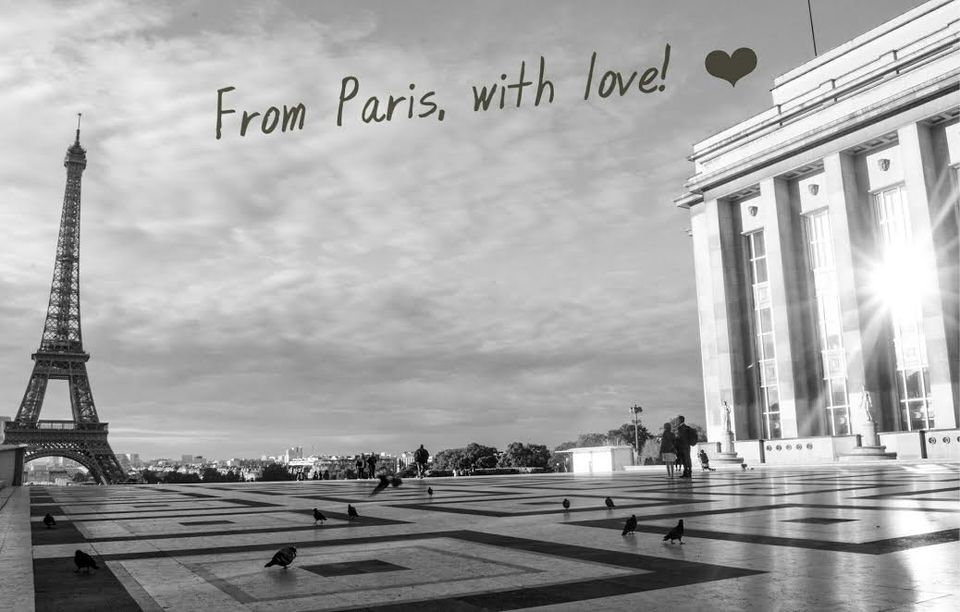 Paris, probably the most famous European capital that everybody wants to visit! Alas, it is too expensive. "Lets wait and save up? *umm.. nevermind* " If that's something you have faced every time you want to plan a trip to Europe, then here's a one day itinerary to the best of Paris. Follow these tips and to gift yourself that one perfect day in the French capital, without having to blow all your budget in just one European country!
Also, Paris is a little shady. After all, you are traveling to the world's most visited attractions! But that also means it is the one dreamy opportunity for every girl to get dressed and go off on a 'Let's take a selfie' spree in the fashion capital of the world ;D So why not? Wouldn't it be ideal to visit all these best spots during the day, have a great time and finally make your way out of the city before it is too late?! :)
Let me tell you about my day out in Paris! So I caught a night bus out of London at 9 pm on a Thursday night and arrived in Paris at 6 am on a warm May morning, just perfect to catch the sun rising over this glorious city! I got dropped off at the Porte Maillot bus station and that's where my tour of Paris began. ON FOOT! ( Be prepared for an entire day of walking and carry some fruits and water handy!).
1. Follow google maps to lead you to the Place du Trocadero from Porte Maillot, and SURPRISEE, you'll pass the Arc De-Triomphe on the way. The Trocadero steps give you a most beautiful perspective of the Eiffel. From here you can either proceed closer to the tower, towards the gardens or simply continue your walk to the Seine.
2. From the Eiffel tower, walk towards river Siene and follow the same to Pont Alexandre III bridge. Here you can spend as long as you like, strolling by the river side, gazing at the distant views of the Eiffel and the golden dome of Napolean's Tomb or just admiring the ornate lamps that symmetrically flank the bridge.
There are plenty of lawns by the river side to give your tired legs a rest and your curious eyes a treat, so you can rejuvenate yourself to see more of this beautiful city!
3. Make your way towards Palais Royal and Musee de Louvre, a little before noon (say around 11 am), so you can catch a sumptuous lunch before heading out to Montmartre in the afternoon!
Unfortunately both Louvre and Palais Royal are always full of tourists and will be really crowded at any hour of the day. Unless you want to skip visiting the Eiffel and come here, first thing in the morning (which is certainly not worth it, because later in the day, the Eiffel too, gets very crowded).
4. After spending some time walking around the Louvre square and Palais Royal, you can choose your place to dine! There are plenty to choose from. Tip: Try the yummy French Macarons for dessert at the Amorino ice cream shop. While the city melts your heart, these are sure to melt in your mouth!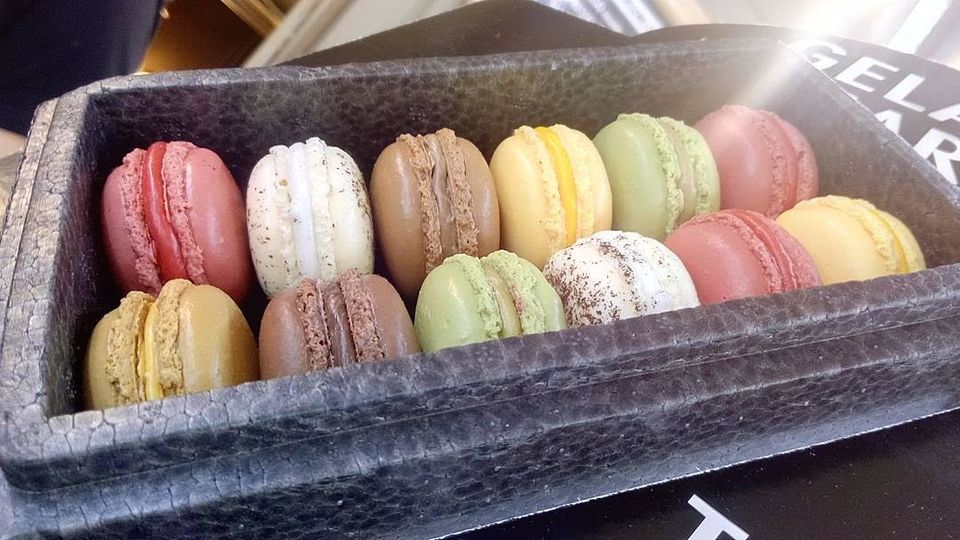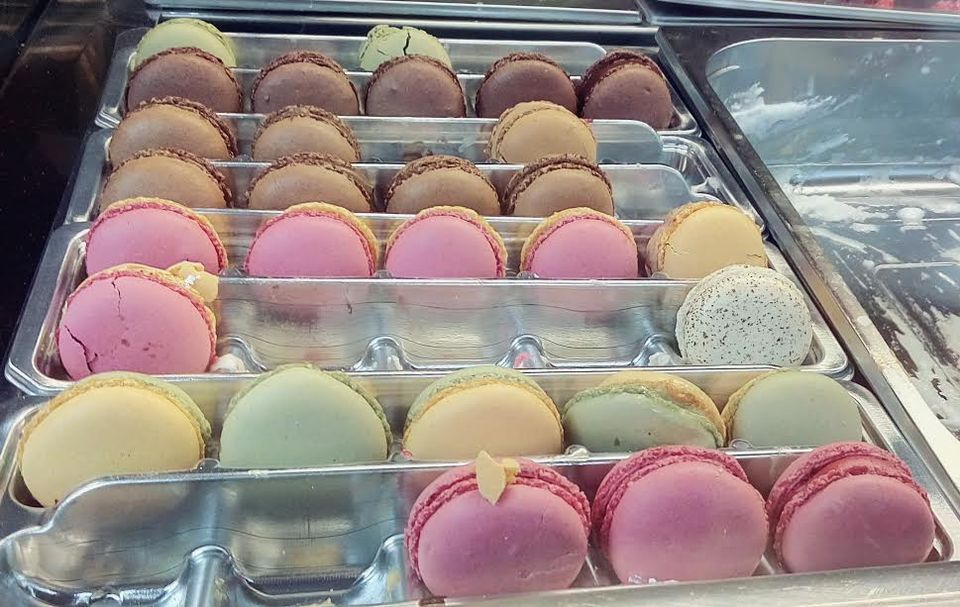 5. From here, its a long uphill walk to Montmartre, but certainly worth it! One thing I totally admire about Paris is the way the city retains an atmosphere of old charm. However urbanized it may seem, fashionistas in their trendiest outfits still tread the oldest of lanes, street food is still sold in shops where the four walls must have stood for ages and the city still draws air from trees that must have been young, very long ago.
The streets that lead upto Montmartre preserve this authentic experience, right in the heart of the city! Although Montmartre is bustling with life, street entertainment and lively little cafes, it is totally worth it to walk up to the slightly hushed streets, near 'La Maison Rose'. To wander around the cobbled streets flanked by old faded pastel coloured houses with lush climbers infesting their walls, you are sure feel like you time-traveled for a while!
6. Finally, your last stop can be the Sacre Couer church. From here, you can catch excellent panoramic views of the city.
7. My day in Paris ended with watching the Champs-Elysees street light up for the evening. If you are visiting Paris on a day tour from September to March, it is also possible to catch the iron lady glowing bright at night!
If you do take the metro, it may be possible to squeeze in a visit to the Notre Dame and Moulin Rouge before a late night bus out of the city.
To promptly catch my bus back to London at 9 pm, I had no other choice but to convince myself to stop going into a trance that the exuberance of the city kept sending me into, with every stop.
BONUS: At the end of the day, there will be nothing to beat that feeling of being content about having made it through a new city, all by yourself with pictures to celebrate all those perfect 'BIG EUROPEAN TRIP' moments for a lifetime! :)
When I say Paris is a little shady, it doesn't mean you can't trust strangers. Traveling solo is always a great opportunity to make new friends. I bumped into Mala from Malaysia, Linto from Vienna and Maryam from BANGALORE (*happy co incidence*). It was such a pleasant experience. Just trust your instincts and be slightly aware. For instance, while at the Eiffel, the souvenir sellers will always follow you everywhere and try to convince you to buy their goods. How about flashing a warm smile and buying a souvenir to take back with you? You can even bargain with these guys instead of buying them in an expensive shop in the market areas. You will realize that they are just about as genuine as most people you meet. Don't you think it is worth it to spend two euros on something for yourself, that will also benefit a person who hangs around all day long to buy himself his meals? :)
It is these little joys that completed my day out in the city of love. I wasn't lonely at all, on this solo trip. In fact, I felt loved all along, by strangers, by the city and most of all, by MYSELF :)
EXPENSES:
41 pounds for a return ticket by bus! (INR 3500 appx.) . Neighbouring European countries like Germany, Brussels, Luxembourg etc., all have buses running into the city at similar prices! Isn't that awesome news for your European expedition?
+ you get to spend lavishly on street food. You obviously didn't expect Paris to be that cheap, did you?! ;)
BUS SERVICES TO CHOOSE FROM:
FLIXBUS (duh!)