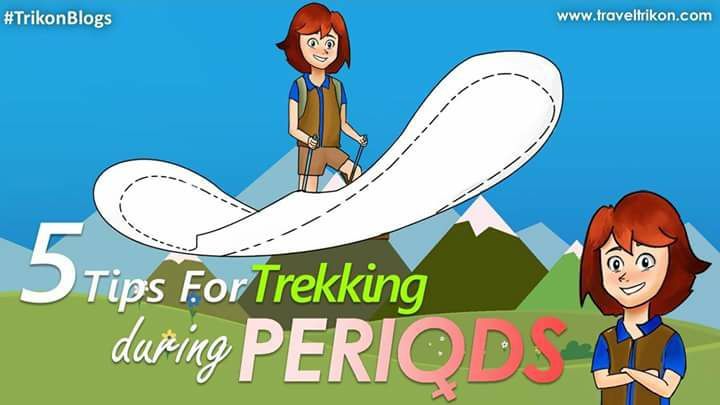 Planned for the perfect trek, excited and all set to hit the mountains! But, wait! Your trekking dates clash with your periods? What a nightmare! Is it safe to trek during periods? How to avoid messing up clothes? How to dispose off used sanitary napkins? Here are the answers to all your questions. Read till the end to find out how to deal with such situations and head to the mountains instead of staying back.
Periods are part of routine. But trust me those five days mean stress, cramps, mood swings, bleeding and what not! All those claims of "staying fresh and dry" in ads don't keep you from checking every now and then. It's high time we speak about this openly and discuss how to deal with it. Especially for trekkers, who would love to be in mountains at any day of the month, it's a serious concern and never fails to interfere with our decisions to sign up for a trek. After all, when mountains call, you must go!
Before you cancel the much awaited plan, think if you're actually unfit for the trek? Is it safe to trek during periods? If yes, what precautions need to be followed?
Pads or Tampons?
Although both seem good for trekkers, you can choose the one that makes you feel comfortable. Pad is always easy to carry and dispose, whereas tampons need to be handled a bit more carefully. You also need to keep a check on how much duration you've been wearing them. For monsoon and waterfall fun, tampons are highly recommended. Carry an extra plastic bag and always wrap your pads in paper and put it inside the bag in a separate section. Whenever you come across a bin, just dispose it and get rid of it.
Hygiene matters
You've got to be extra careful when it comes to hygiene. Carry a bunch of tissue papers, sanitizer, sanitary pads and extra clothes for effortless changing and keeping the germs at bay. You can also check out disposable panties that are easily available these days.
How to deal with the cramps?
Though you are a regular trekker, but when it comes to trekking during periods it gets a little dicey and you end up questioning your own decision. Experts say, the more you exercise the more you feel better. Yoga, trekking, cycling or any form of physical exertion is bound to relieve cramps. It you feel your cramps are unbearable and it would make things worse, only then consult a gynecologist for prescriptions. Otherwise, fresh air and greenery all around are sure to enlighten your mood and keep the cramps and mood swings away. Stay hydrated at all times and learn some yoga poses for stretching.
Dispose Responsibly
Usually, trekking routes are quite far from the animal habitats but be mindful of it anyway. If you throw your pad on the trail or bury it underground then maybe they'll end up confusing it with food and might try to chew or consume, which is hazardous. So just dispose it safely.
Keep your leader informed
A leader needs to know everything about the group. Keep him/her informed so that they can help and guide you while you're trekking or taking breaks in between.
There been a drastic hike in the number of female trekkers/backpackers and solo travelers. With the advancement in medical science there are a number of ways to deal with menstrual cycles and reduce the pain. Just don't let this hamper your determination. Do step out for seeking the adventure you've been planning for so long. Be optimistic and prepare well. Let periods not be a hurdle…Be there…Shout out aloud…Answer when the mountain's call!
Team Travel Trikon