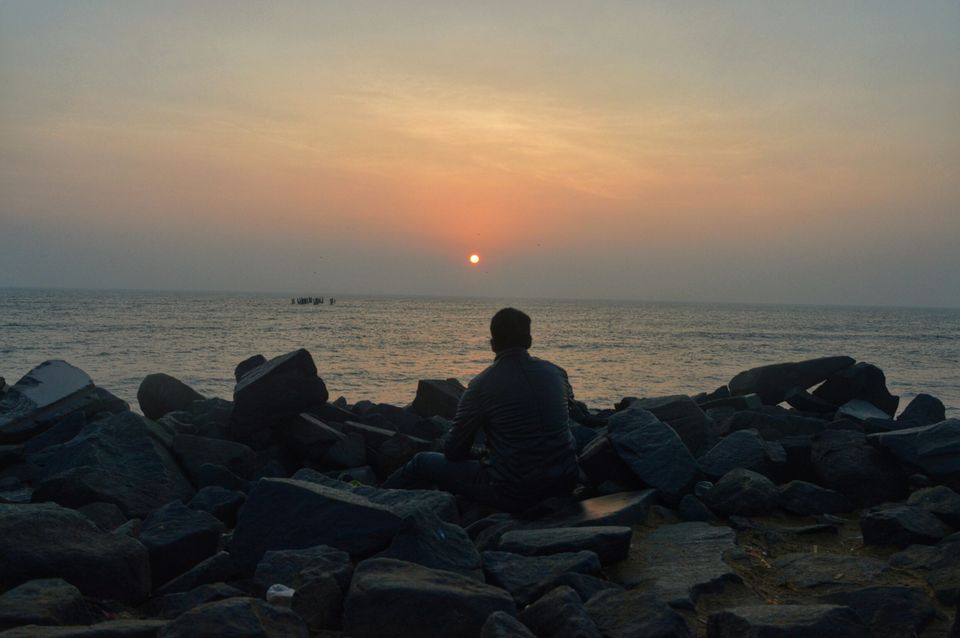 Yeah! You heard it right. Relaxaway. A Getaway for relaxing. To put all that's happening in your life behind and live a few days being you.
When I was in the hunt for a destination where I could lay off my exam stress, a friend of mine suggested Pondicherry. When I started my enquiry about the place, of which Tripoto was a huge part, I was pleased to find all that I hoped for.
Pristine beaches, gastronomic adventures, and pleasing architecture all around the town.
And when I really reached the place (physically), the first thought that crossed my mind was it was a cute little town by the seaside. But it turned out to be more than that. An Ultimate Relaxaway!
And I'll place before you all the reasons why you should totally visit it if you're looking to RELAX.
1. Beaches.
There are 3 prominent beaches in Pondicherry. Rock/Promenade Beach
Serenity Beach.
And the best of all - Paradise Beach.
All these stand true to their names. And none of these disappointed me in anyway.
2. White Town.
Rent a bicycle or ,if your are trustworthy, walk around the beautiful White Town. A well preserved Mediterranean style of architecture both in the residences and churches greet your eyes blissfully. Find a yellow building and get clicked with it the background.
3. Food.
Yeah. Just Food. Ask the locals or Google, do whatever, but do find a great restaurant or café to fill your soul and body with the best cuisine. The variety Pondy offers for the palate is indeed unmatchable. Not only the food is great, even the places serving it are worth a visit. Indulge yourself in food and enjoy the ambience they offer.
4. Friends.
What else would be better than to talk to a friend you just made. For solo travellers out there, here's a place where you'd find the best company to have a quiet dinner or an engaging story exchange session.
5. Explore.
Pondicherry isn't just beaches and food. Its a mixed pot of cultures varying a world apart. Wander the streets starting perpendicular the beach and find the difference within a few streets. Appreciate it because it's hard to find it elsewhere.
6. Spiritual Destination.
Aurobindo Ashram, Churches, Temples and finally Auroville. Some places where there's peace enough to find peace within you. Each of these places just give the vibe. There's an instant sense of calm that invades you and won't leave you soon.
7. Travel.
It's got nothing to with Pondicherry. But places like it are the ones we indulge in travel. When I said RELAX, I meant nothing but travel. Cause when you, it may tire your body but never your soul.
That's it from Pondy.
P.S - Don't miss out on Aurobindo Hand Made Paper Museum. They have an amazing collection of stationary and paper. It's on Sardar Vallabhai Salai.
Find pictures of the same by me here -
https://www.tripoto.com/trip/must-see-pondy-in-pictures-5c5e4d35575cd?ref=mobwapp&source=awp
Happy Travels.