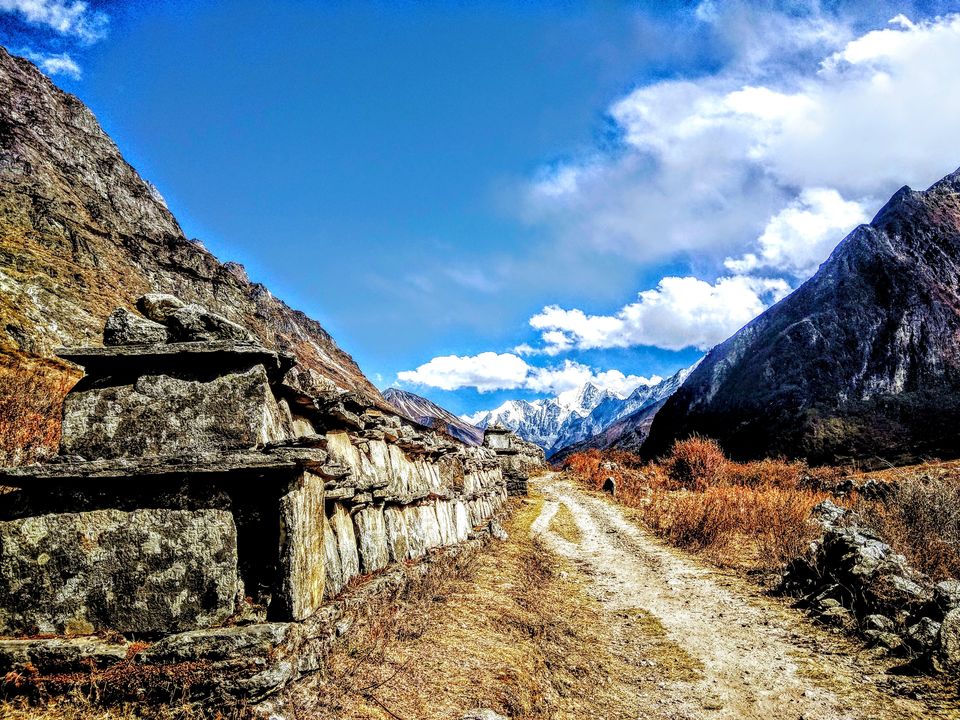 The Langtang Valley Himalayas trek is one of the best treks that takes you on the off beaten path in the valley that opens up to peaks to height of 7k+ meters. While the Annapurna Base camp and the annapurna circuit are heavily crowded, Langtang sees much less trekkers every year. But not to mistake that it is in any way less beautiful than the other treks. The earthquake had majorly destroyed the region but it has recovered extremely well to welcome trekkers throughout the year. Stay at Kyanjin Gompa is a highlight of this trek.
Day 1: Kathmandu to Syabrubesi (1420 m)
Syabrubesi which is about 180 kms from Kathmandu by road is the best known starting point of the Langtang Valley trek. Buses to Syabrubesi leave early in the morning from Kathmandu's Machhapokhare bus stand which is about 2 kms from Thamel. There are several operators plying on this route but you may have to book in advance in the peak season of Sep-Nov. Bus fare is around 660 NPR and the ride to Syabrubesi is a rickety one. If starting before 7 am, one can only expect to reach Syabrubesi around 3:30 pm. The bus stops at Dhunche before Syabru for the national park permit. You need to have your TIMS card ready and pay for the permit here. Syabrubensi has a lot of staying options and some trekking gear shops in case you forget something before the trek. I was able to get a sharing room for 200 NPR for a night.
The village has a nice feel to it with the Bhote koshi river flowing along and a hot water spring along the banks of the river. There is electricity available but not too reliable.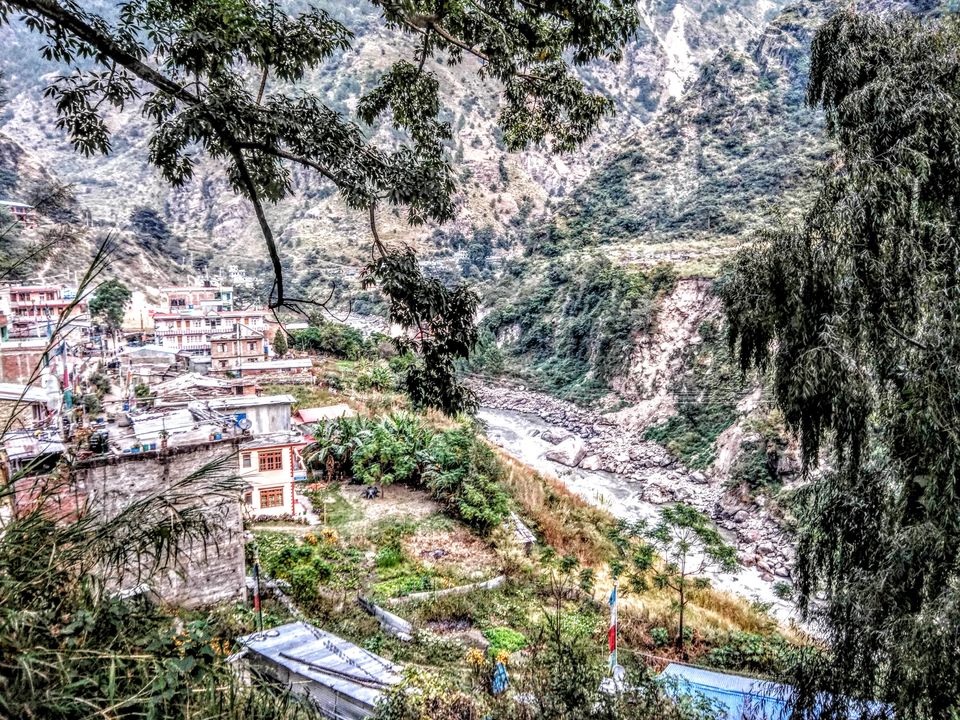 Day 2: Sybrubesi (1420 m) to Bamboo (1975 m) to Gumnachowk (2700 m)
The actual trek starts today with one having to cross the bridge and go to old Syabrubensi and then further towards Langtang. The route from Syabrubensi is well marked with direction at forks to help. The initial route is all along the Langtang Khola river and a beautiful leisurely walk through the national park with a chance to spot many birds and some animals. Some also start the trek from Briddhim which is further ahead of Syabrubensi to Sherpagaon and to Rimche from there. I started around 7 am from Syabrubensi and reached Bamboo at 11 am. Bamboo is a good place to stop for lunch before camping for the day at Lama hotel or going further upto Gumnachowk. The trail before and after Bamboo is a steep one and one should be aware of altitude sickness if covering more than a km in altitude on the same day. Gumnachowk is a serene riverside place with limited accommodation but breathtaking views. You can start seeing the Langtang Ri peak from here at Sunset and also during sunrise.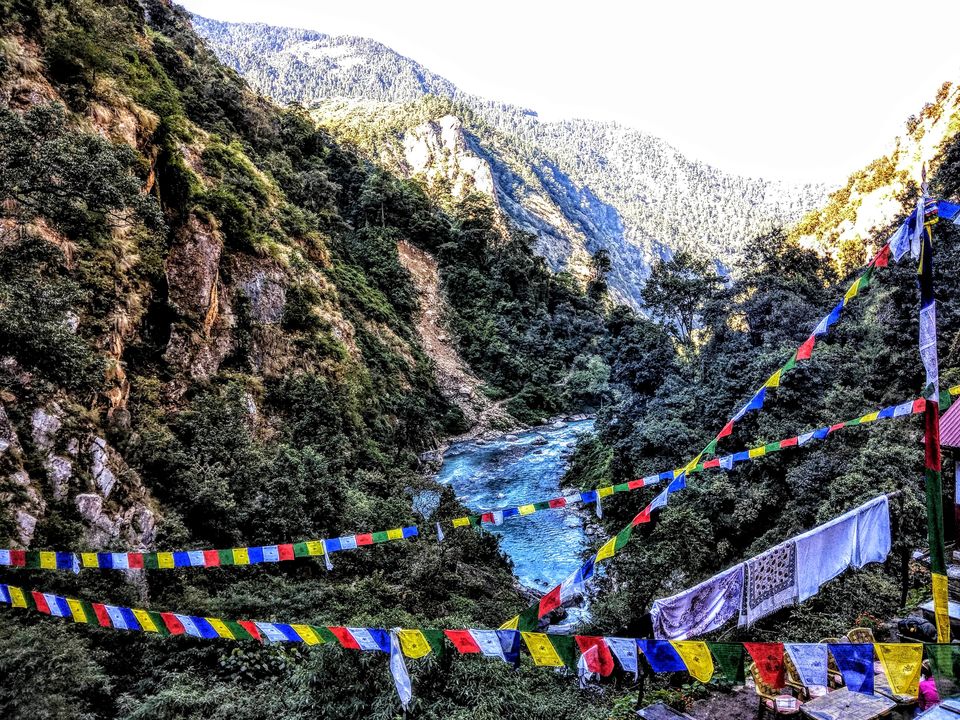 Day 3: Gumnachowk (2700 m) to Kyanjin Gompa (3850 m)
Walking along the valley besides the Langtang Khola in the morning towards Lantang is a pleasure with so many birds to be sighted along the way. There are major landslides along this way and gives one the perspective of the kind of destruction the earthquake caused here. Watch any loose stone falling as you cross the landslide area. The route upto Ghoda tabela (3000 m) is a steep climb after which the valley suddenly opens up and the tree cover starts diminishing with every step towards Kyanjin Gompa. As the name suggests, one can see a lot of horses and yak and other cattle in the valley from here to Kyanjin. The peaks of Tseko Ri start showing up. Couple of hours after Ghoda Tabela, one can reach the Langtang Village. This is a good place to halt for lunch.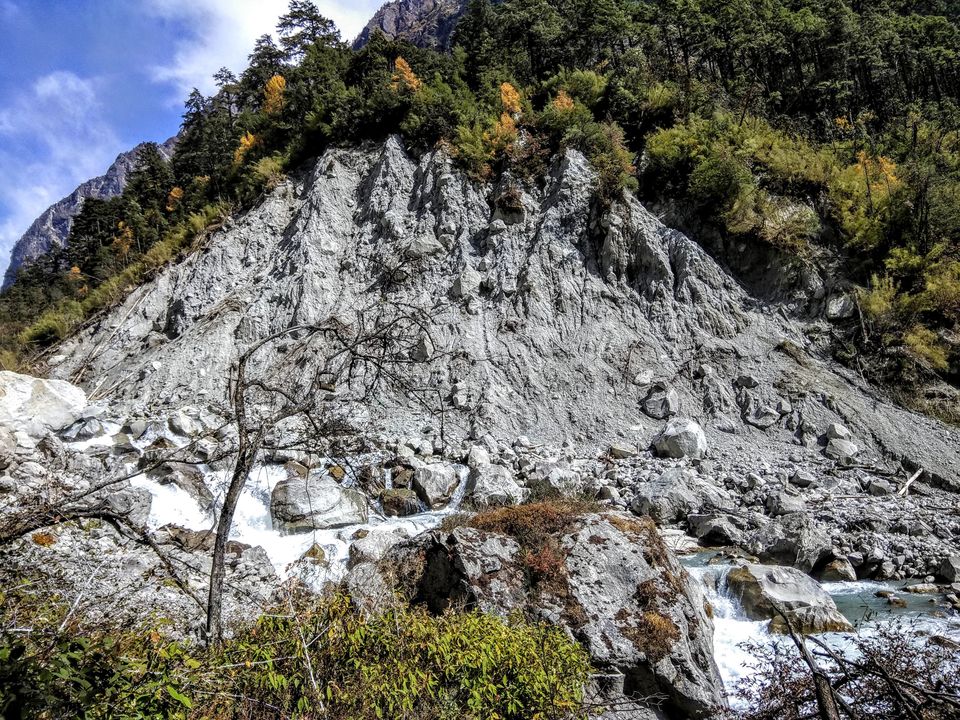 The entire village of Langtang was destroyed in the earthquake of 2015. One can see many memorials of those who died in the earthquake there. The village was mostly rebuilt a little distance away while many shifted to Kyanjin to stay there after the earthquake. The walk from Langtang village to Kyanjin is an easy stroll without much ascent and can be covered in 2 hours.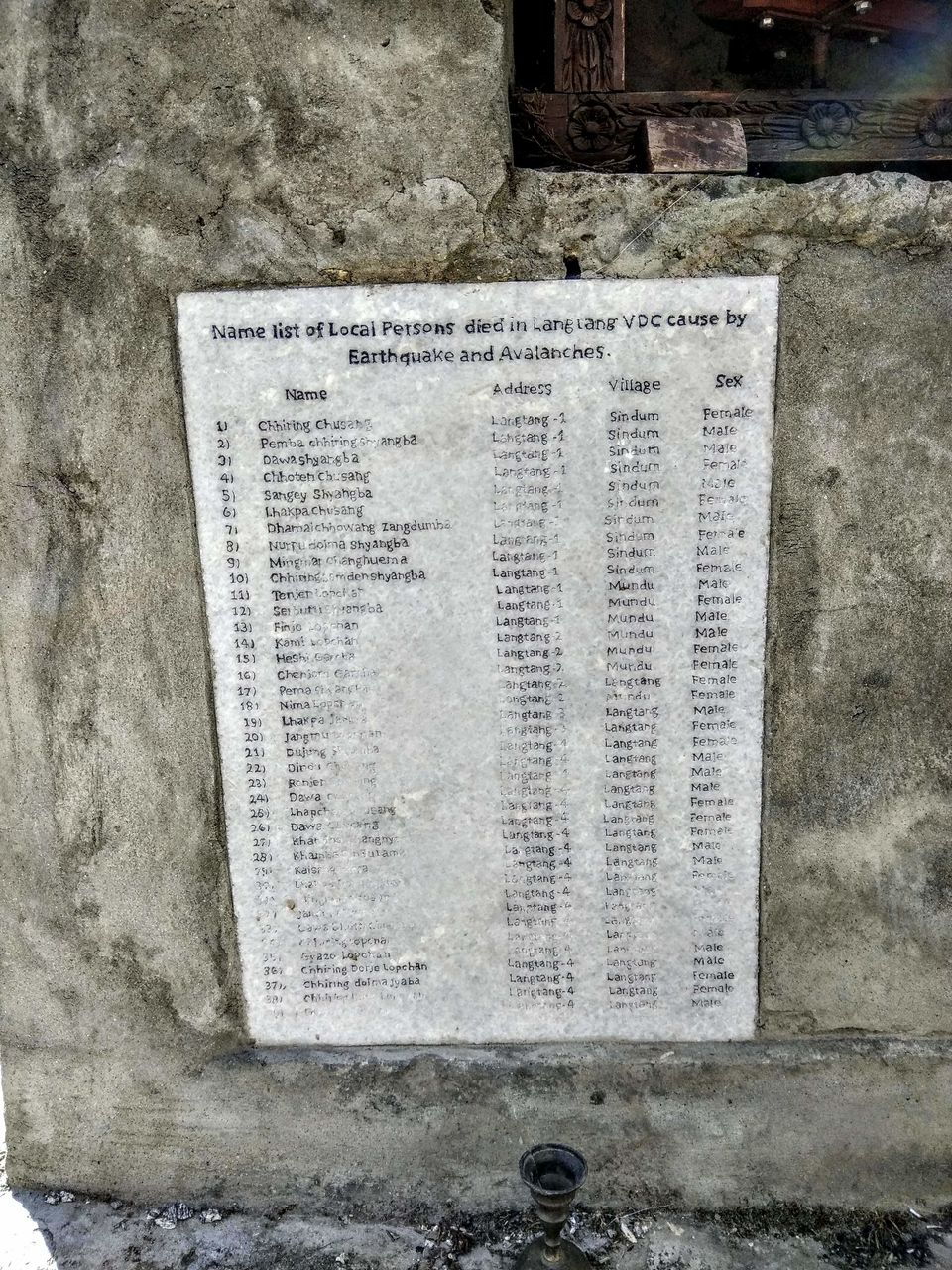 Kyanjin Gompa, is a real gem of a place in the valley and surrounded by mountains from all the sides. There is plenty of accomodation available here and the hydroelectricity power plant ensures there is uninterrupted electricity here and in Langtang Village. So no issues with charging phones and cameras. It's free of charge here. So is the stay in most guesthouses provided you eat there throughout your stay. After a couple of hard days of ascend, Kyanjin is just the kind of place to relax and soak in the atmosphere.
Day 4: Kyanjin Gompa (3850 m) to Tseko Ri (4980 m) to Kyanjin Gompa
Kyanjin Ri and Tseko Ri are the two peaks close to Kyanjin that can be scaled without any technical help. Kyanjin Ri (4770 m) is a hill next to Kyanjin Gompa and can be completed in half a day. I decided to do the Tseko Ri (4980 m) which is higher and more demanding and needs one to start before sunrise to reach the top before 10 am and spend some time and come back before the weather worsens and strong winds start. The Tseko Ri climb is a steep and daunting one especially if you have not included a rest day at Kyanjin Gompa. But the views from the top are simply breathtaking and totally worth the effort. It is very much possible to feel dizzy and have some altitude sickness kick in but going slow and constantly hydrating oneself will make life easier. One must take dry snacks and/or packed lunch from the guest house in the morning with sufficient water as there is no shop on the way to Tseko Ri. The 360 degree view of the peaks surrounding Kyanjin can be seen from the peak and it looks absolutely magnificent in clear sunny weather.
Going to the Langtang Lirung basecamp, the Langtang Khola starting point, the Langtang glacier are other day trips possible from Kyanjin Gompa.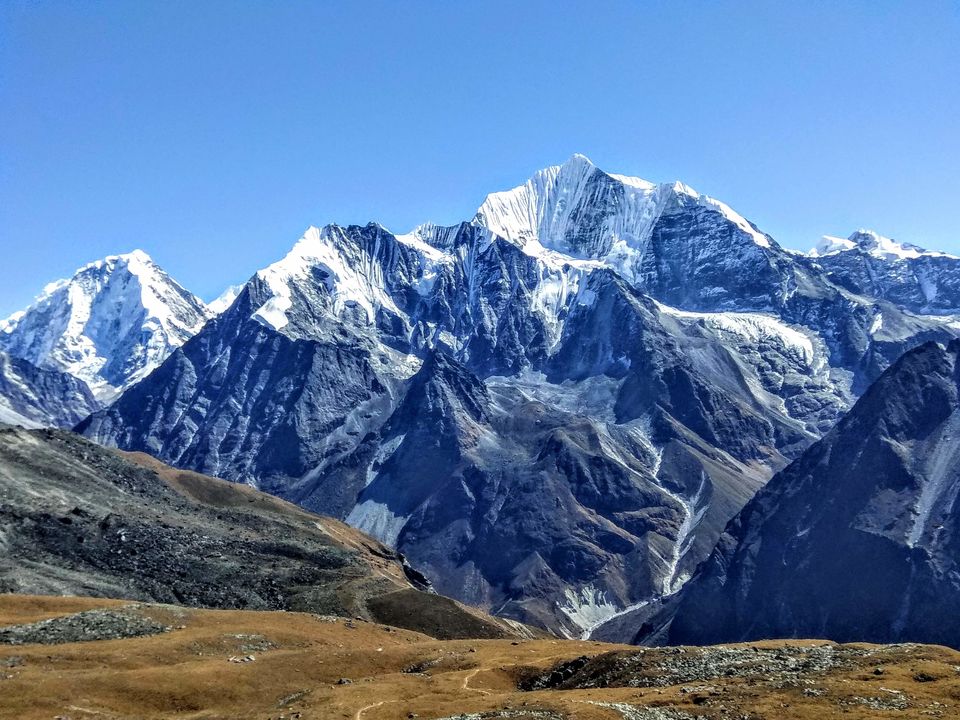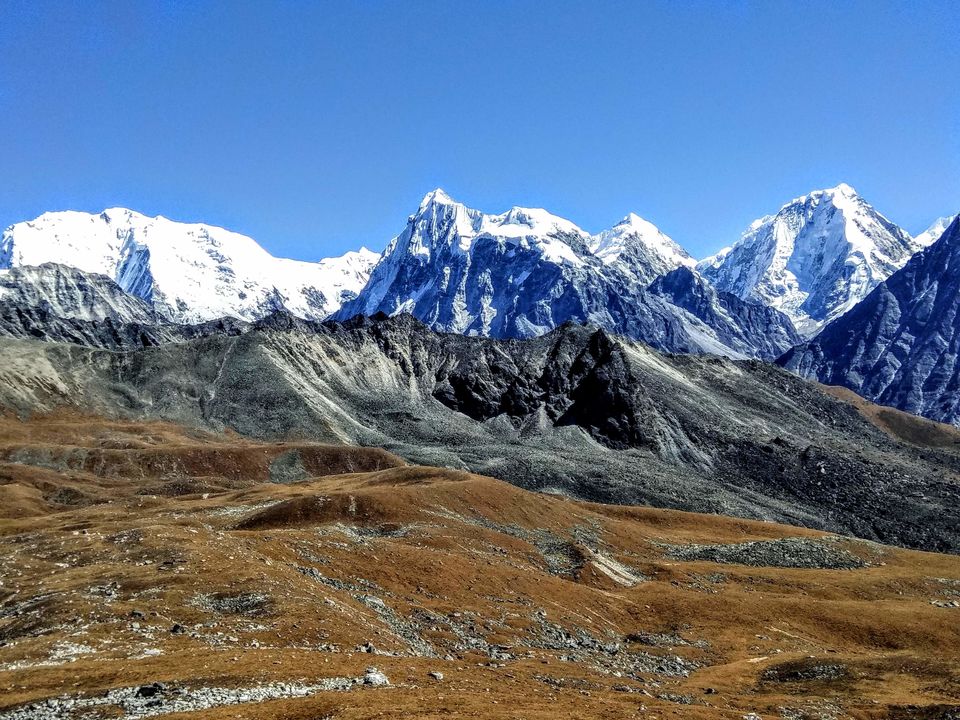 Day 5: Kyanjin Gompa (3850 m) to Rimche (2500 m)
The village of Kyanjin has such peaceful and good vibes that it is recommended to spend a day doing nothing here just sipping tea and reading a book in the garden of the guest house. Walk to the Gompa and the cheese factory is a good thing to do in the morning. The walk back towards Syabrubensi can be done in a day but its too much of descend to do. Splitting it up in 2 days is ideal with a break on first day around Lama Hotel either in Rimche or Bambo is recommended. I personally decided to stay at Rimche as the the guesthouses at Lama Hotel are often packed and it feels too stuffy in there. Also, there is not much bargaining power to exercise there.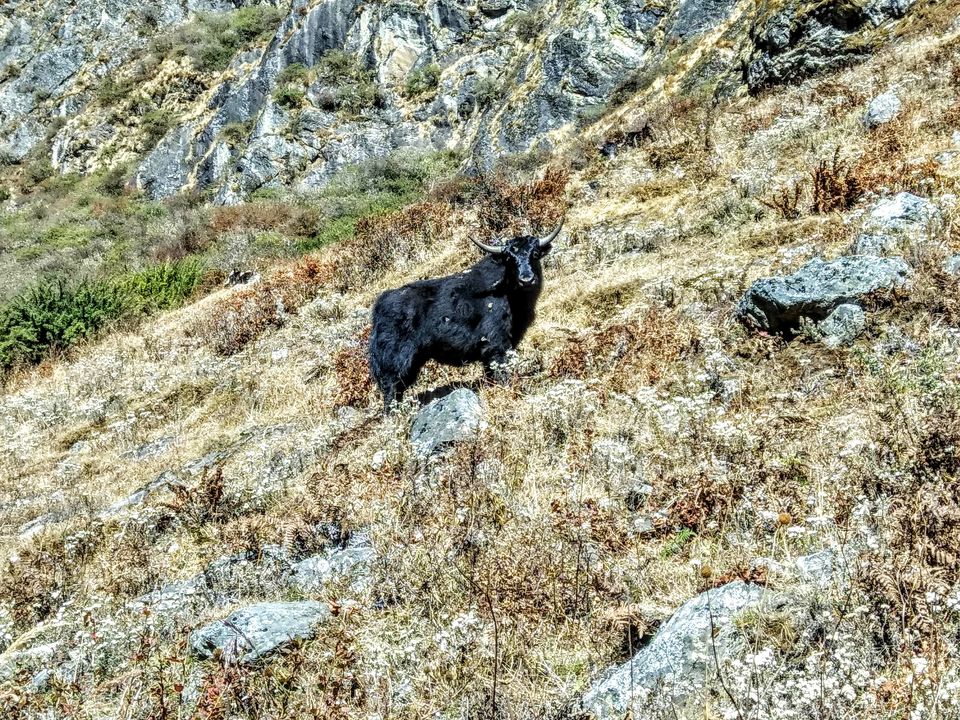 Day 6: Rimche to Syabrubesi/Thulosyafru
If you are returning back to Syabrubensi on this day from your camping place last night, its an easy day for you. Reaching Syabrubensi by afternoon is very much possible but you cannot head back to Kathmandu on the same day. It will be another additional day to take the morning bus back to Kathmandu from Syabrubensi. The other option is to head towards Gosaikunda trek from Langtang Valley and then either towards Kathmandu by trail or back to Dhunche and to Kathmandu by bus. Since I had the time and the energy to go on further, I started towards the Gosaikunda trek after staying back in Rimche and walked towards Kathmandu from there. The detailed itinerary of the Gosaikunda trek part can be in a separate post.
Accommodation
There is enough accommodation available all throughout on the trek and all of it is restored after the earthquake. The typical charges for a single room can be around 300 NPR and for a single person sharing it should not exceed 200 NPR. It helps to bargain on the room charges if you are going to spend on food at the guesthouse.There is electricity in Langtang ang Kyanjin Gompa but only solar power in between.
Food
It's best to stick to Dal bhat at least once a day while in the mountains. Not only does it give enough energy to keep walking but it is also relatively lighter on the stomach. The price of Dal bhat goes upto 700 NPR from 350 NPR at the base of the trek. Do try the Sherpa stew which is speciality of the region during supper at night. Its soupy, hot and filling and makes for an ideal dinner after dal bhat in the morning. Also try the Yak curd, cheese and tibetan bread which is local of the region.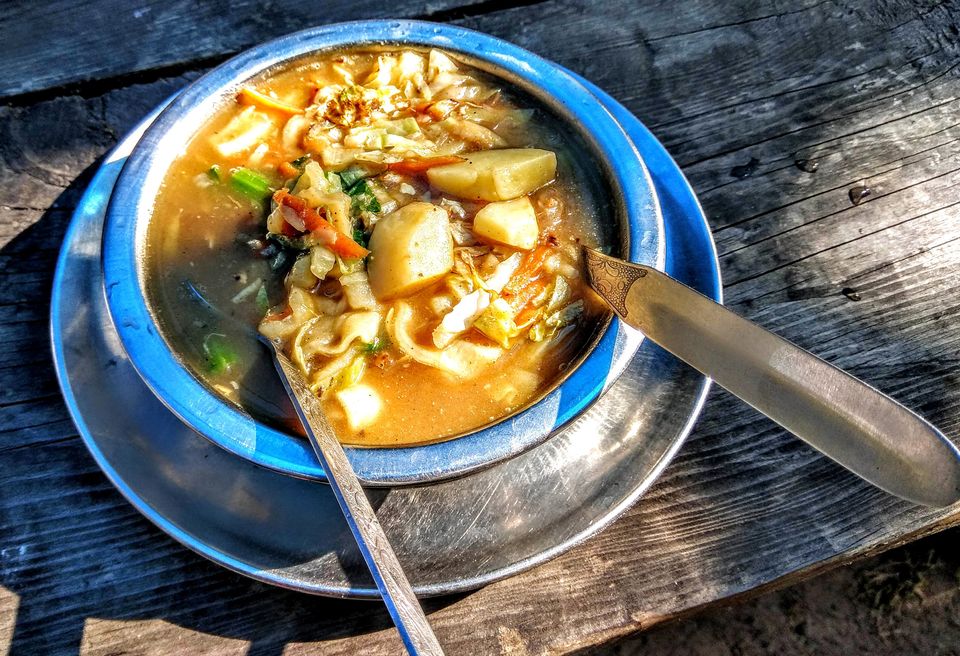 Things to note
You need a TIMS (Trekkers Information Management System) card and permit to the national park. Both can be done at Kathmandu at the Tourist office
- TIMS card (NPR 2000 for foreign nationals; NPR 600 for SAARC nationals)
- Permit (NPR 3000 for foreign nationals; NPR 1500 for SAARC nationals)
As said earlier, there is electricity at Syabrubensi, Langtang and Kyanjin. The rest of the places run on solar power. Mobile charging is mostly free on this trail. So are showers.