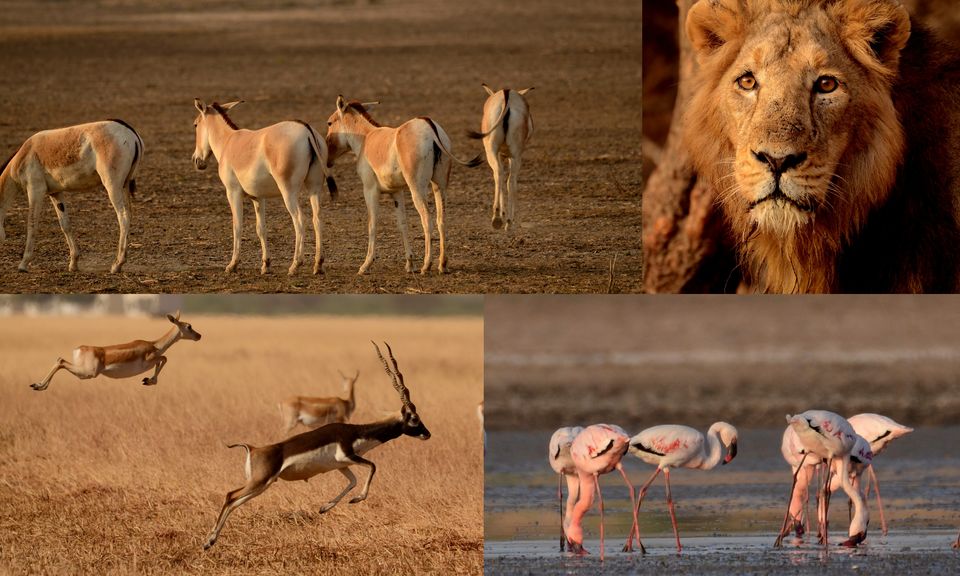 Having traveled across Gujarat for a week in quest of its wildlife, with new found love for wildlife photography, I realized how much this place has to offer
About two hours from the city of Ahmedabad is the Salt marsh of little Rann of Kutch. Please note little Rann of Kutch and great Rann are two different but close by places. Marshy land of little Rann attracts migratory birds every year while the wild ass and blue bulls are here to stay. It is the only home to Asiatic wild ass. I arrived here from Ahmedabad with a friend ( my Airbnb host in Ahmedabad, it dint take long to get acquainted and next thing I know, we were taking a trip together ! Great things happen when u travel solo ) in our own vehicle as the public transport to the town of Dasada (little Rann) is not very convenient. There are couple of stay options in Dasada, Rannriders being the popular one. The other one an eco-camp run by Mr.Devjibhai. We stayed in the traditional yet luxurious Kooba hut at Rannriders. Jeep safari into the desert during sunrise and sunset is something to experience. Migratory birds especially the greater flamingos are a visual treat. It is also home to other birds like cranes, sand grouse etc and a hunting ground for raptors like eagle, falcons. Blue bulls are in fact very shy creatures that are found in large numbers here. Asiatic wild asses were once close to extinction. These chestnut colored creatures are fast and you got to see with your own eyes to believe they can be cute too :) Flat and barren land of the salt desert stretches miles together to meet the the setting sun at the horizon.
Home to Asiatic lions, Gir forests of Gujarat has shown great deal of commitment towards conservation and protection of the inhabiting lions whose numbers had once dwindled to mere 20. Entering the park from Sasan Gir we were extremely fortunate to witness the parade of an entire pride in the last few mins of our first safari. An incredible moment that left me with goose bumps. Should I let my eyes enjoy the show and store it away in my mind or capture the moment on a memory device? It was a dilemma and I must say it was overwhelming. Remaining of the safari tours were dry except for a lion sighted near an artificial water hole. It is indeed a magnificent being.

Thanks to the efforts of forest officials and wildlife activists the population of the lions is currently over 500. As impressive as it sounds it was edgy to watch the officials walk close to the pride at times, sometimes as though they were babysitting the big cats.
Originally posted on my blog space - Travel on my mind

I saved the best for the last. I was completely charmed by the black bucks at Velavadar. Black buck national park, a flat grassland spread across 35 sq km, is an open canopy like the Savannah and its golden grass dotted with herds of Black bucks is a visual treat.Bus journey from Junagad to Bhavnagar was tiring as the March sun was fuming through the day. Surprisingly, in spite of the hot summers, finding an air conditioned bus was impossible. City of Bhavnagar where I stayed for the night in a heritage home, is about 45 kms from Velavadar and has many options for accommodation while Velavadar itself has a limited few – The Black buck resort right beside the national park offers luxury accommodation and a guest house run by forest department also close to the park with basic facilities.

As we drove towards the park area early next morning we were greeted by a herd of black bucks crossing the road. Sun had already risen, grassland shone reflecting golden light from the morning sun and herds of black bucks appeared strewn across the park.Few times a day, particularly morning and evening, herds of black bucks moves from one part of the grassland to other. It is the best time to watch and photograph the antelopes jump high in the air as they sprint across. Being a flat land sunset and sunrise are best seen here providing an incredible opportunity for photography which we unfortunately missed having entered the park after sunrise and in summers sun sets later than 6 pm when the park is closed.