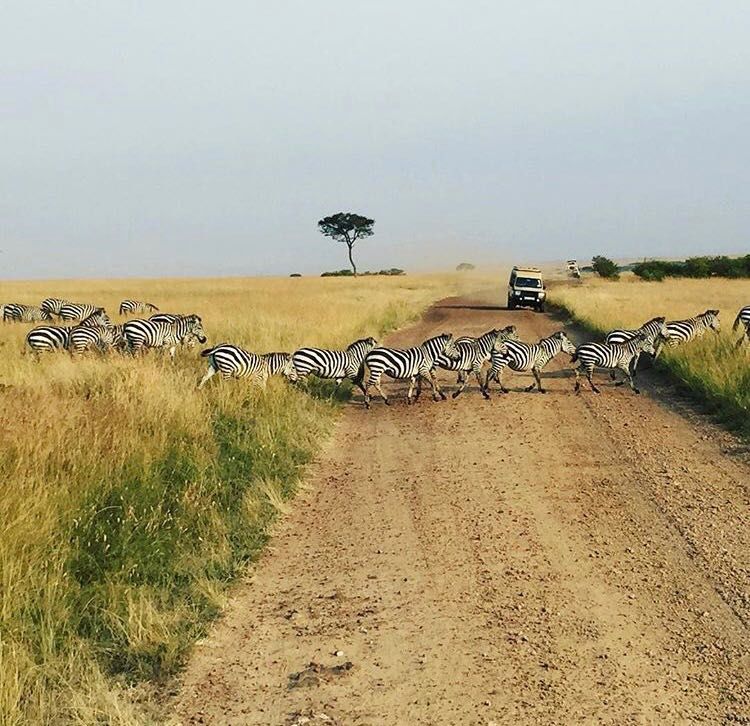 A wildlife safari though the jungles of Africa was never on top of my travel list. After some pursuance from few wildlife enthusiasts and relatively cheaper airfare from DXB to Nairobi, I decided to visit Masaai Mara National Reserve in Kenya, Africa. Though I booked my tickets, I was very much worried about the safety precautions such as yellow fever vaccinations and anti-malaria pills.
We decided on spending a day at Lake Nakuru and 2 days at Masaai Mara. It is recommended to book an all-inclusive package which includes airport transfers, stay, meals and game viewing. We landed in Nairobi late night and our driver for the trip came to pick us up. We didn't start our journey before 6 am as regulated by government laws.
Early morning we started for Lake Nakuru National Park - famous for the pink flamingos. I immensely enjoyed the scenic drive through Nairobi where one can see open grasslands on both sides of the road and animals such as Giraffes and Zebras freely roaming around. At this point I knew I had made the right decision of visiting Africa :)
Later that afternoon, we finally made it to Lake Nakuru and checked-in to the hotel booked for us. After an hour of rest and lunch we started for our first real wildlife experience in Africa on our pop-top roof van. Lake Nakuru national park has small lanes lined by tall trees and bushes on each side where one can observe the animals in their true-habitat real up-close. The weather was cloudy which made the experience even better. Apart from animals such as some very rare species of giraffes, we could view rhinoceros. The lake with pink flamingos is a beautiful sight though not a lot of flamingos can be seen these days. After few hours of game viewing we exited the national park after sunset. This was a good sneak-peak into what was to be expected from Masaai Mara park.
This was a long day as we had to start early morning for Masaai Mara. The drive is long and also very inconvenient as the road (at least for 2 hours out of 6 hours journey) is full of pebbles. We were tired as hell but all exhaustion went away when we saw our lodge right in the middle of the jungle. (I insisted for an electric fenced lodge over tents :D) It is interesting that Masaai Mara National Reserve is an open reserve with no real gates or boundaries which can keep the animals inside. The reserve is so huge with open green grasslands to be seen in all directions. I had never seen anything like this before. After lunch, we started for our first game viewing in the reserve.
It was the season of the Great Migration - where thousands of Wildebeests and Zebras cross the river to reach adjacent Serengeti National Reserve in Tanzania in search of greener grass and water. Wildebeest and zebras were to be seen everywhere and it was a truly memorable sight. We ended our game around sunset and spent the evening at the lodge.
Next day we started early morning to have a full day of game viewing in the park. This was the day to witness the Great Migration. I have no words to explain what I saw. The animals were forming lines under the leadership of one Wildebeest, ready to cross the river when the time comes (when no crocodile or hippo is seen in vicinity in the water). First, one zebra crossed the river to ensure the climb was possible and no crocodile followed and then the entire herd followed for hours. It is a bittersweet moment as not every wildebeest or zebra could make it to the other end.
I remember the great sights with a deep sigh such as witnessing tens of lions up-close from our pop-top roof, our van getting stuck in one of the puddle where few lions were sleeping and we became too ambitious to see them up-close with no other van in vicinity, a cheetah hunting a jackal, thousands of zebras running around....
We also got down from our van to have lunch in the open jungle. We were lucky that we could watch all the big 5 - african elephant, black rhino, buffalo, lion and leopard :)
We ended our evening sipping tea on a terrace overlooking a buffalo pool in the reserve. I remember this trip so fondly that I plan to be back for another wildlife adventure through the jungles of Africa and also recommend a wildlife safari in Africa to everyone.