Tiger (King of the Jungle) and national animal of India is a violent animal that looks majestic with its enchanting beauty and frightful appearance. That is why people get attracted to the beast and want to see it roaring and roaming in its natural habitats. There are five types of areas used for wildlife protection (animals and plants) in India, as per the Wildlife Protection Act 1972. It is also concerned with the protection of the listed endangered flora and fauna and ecologically important protected areas: National Parks (103), Wildlife Sanctuaries (531), Community Reserves (26), Conservation Reserves (47), and Tiger Reserves (50).
International Tiger Day: A pledge to protect tigers globally
Every year, International Tiger Day falls on July 29 and it is celebrated to raise awareness for tiger conservation. It is also concerned with the protection of the natural habitats of tigers. There were 3891 tigers in India in 2016 and Assam boasts of the highest density of tigers in India. Now the number of tigers in India is increasing at a sharp rate and India is also the top country with royal tigers. This special day is also concerned with the increasing of public awareness and support for tiger conservation issues. Interestingly, India has about 70% tiger population in the world. If you want to spot tigers, you should have a wildlife tour package that ensures you tiger spotting, tiger safari, and entry into tiger reserve, if possible. With a right wildlife tour package from leading travel agents, all nature lovers and wildlife enthusiasts can know more about the best time of year to see tigers in India.
If you are interested in finding a wildlife holiday destination with a national park where you not only find tigers in their natural habitats but also capture its images in cameras, then following are top tiger reserves out of total 50 tiger reserves in India can stun and excite you at the same time.
Top 20 wildlife destinations to find tigers in India
ACHANAKMAR Tiger Reserve, Mungeli district, Chhattisgarh
It is simply a less-explored tourist destination but this unique wildlife sanctuary has as many as 26 tigers. This green 557 sq km belt forms the Central Indian tiger heartland. Great rivers like, Narmada, Sone, and Johila are a part of this wildlife sanctuary. Owing to thick forest density, it is hard to spot animals in the jungle. This sanctuary got Tiger Reserve project Tiger in 2009 in the month of February.
ANNAMALAI Tiger Reserve, Tamilnadu
Anamalai Tiger Reserve (Indira Gandhi Wildlife Sanctuary and National Park) is located at 176, Meenkarai Road, Pollachi, Tamil Nadu 642001. This reserve is a hot spot of biodiversity and a unique ecological tract. Being a part of the picturesque Annamalai Hills, this national park is dotted with the Shola Forest and a natural boundless grace. This offbeat wildlife location for nature and tiger lovers gives all visitors a chance to enjoy wildlife tours and photography of outstanding flora and fauna.
BANDHAVGARH tiger reserve, Madhya Pradesh
Known for the highest density of the population of Royal Bengal Tigers, Bandhavgarh National Park is a great tourist destination for wildlife lovers with a topography that consists of steep ridges, undulating forest, and open meadows. It is simply one of the best wildlife safaris in India that are famous for arranging the best forest tours in India for spotting the wild cat. The national park that used to a hunting ground of the Maharaja of Rewa has now transformed into a popular natural hub for White Tigers. There, you can also enjoy tiger photography tour. It is the 3 rd best national park in India visited by frequent wildlife lovers to see total 22 tigers in this park.
Likelihood of seeing tigers: Mild Tiger reserve status year: 1993-94 Other fauna than Tiger: Asiatic Jackal, Striped Hyena, Jungle Cat, Leopard, Tiger, Spotted Deer, Sambar, Chausingha, Dhole, Palm Squirrel, Bengal Fox, Sloth Bear, Gray Mongoose, and Rhesus Macaque. Best way to see tigers: Jeep safari; elephant safari Best time to visit: Oct-April How to reach: Khajuraho airport; Umaria railway station Concerned travel package: Bandhavgarh Wildlife tour packages; Tiger safari tour in India; tiger tour package in India
BANDIPUR Tiger Reserve, Karnataka
The sole refuge of endangered Asiatic wild elephants, Bandipur national park was established as a tiger reserve in 1974. Being a part of Nilgiri forest range and a popular rainforest, this national park is the best ground for animal enthusiasts, shutterbugs, and nature lovers all who want to spot the 120 tigers in their natural habitats. Enjoying the natural beauty of the jungle mounting on the safari jeep is a truly wild experience. Proudly existed on the Mysore - Ooty road, this national park allows you to go deep into the jungle to explore the wild world around you.
Likelihood of seeing tigers: Good Tiger reserve status year: 1973-74 Other fauna than Tiger: Elephants, hornbills, deer, pythons, sloth bears, pythons, Panthers Best way to see tigers: Bandipur Wildlife Safari in Chamarajanagar Best time to visit: Oct-May How to reach: Bangalore international airport (215 km); Mysore City railway station (80 km) Concerned travel package: Bandipur wildlife tour packages; Tiger safari tour in India; tiger tour package in India
DUDHWA Tiger Reserve, Uttar Pradesh
Dudhwa National Park is great paradise with excellent natural forests and greenery and it is also a fine paradigm of diverse and productive Tarai eco-system. Marshes, grasslands and dense forests are the prime attraction of the national park. This park is simply a perfect getaway for nature buffs, shutterbugs, and wildlife lovers. There are around 125 tigers in Dudhwa national park that make this park a tiger land with their utmost presence.
JIM CORBETT national park, Uttarakhand
It is simply one of the most popular wildlife destinations in India for spotting royal Bengal tiger roaming freely in its natural habitat. If you are looking for the best wildlife safari in India, come to this place and make a big difference with a luxury wildlife expedition. With six different tourist zones, the oldest national park in India started the first tiger project. Interestingly, the national park vehemently promotes eco-tourism and also offers accommodation inside the forest area. With the highest number of 215 tigers in India, it is the 2 nd best national park in India visited by frequent wildlife lovers.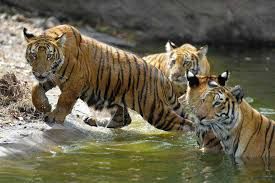 Likelihood of seeing tigers: Good Tiger reserve status year: 1973-74 Other fauna than Tiger: Elephants, Indian pangolin, gharial, tigers, king Kobra, flying fox, and muntjac pangolin Best way to see tigers: Jeep safari, elephant safari Best time to visit: November-June How to reach: Ramnagar railway station; Pant Nagar airport; regular bus services from Ramnagar and Delhi Concerned travel package: Jim Corbett tour packages, Tiger safari tour in India; tiger tour package in India
KANHA Tiger Reserve, Madhya Pradesh
A wonderland of wildness that reminds you of Rudyard Kipling's fiction 'The Jungle Book' and its characters Mowgli, Baloo, Bagheera and Sher Khan is Kanha national park in the Mandla district of Madhya Pradesh. A perfect mix of natural surprises, maximum forest area, Helon and Banjar rivers, and the most popular tiger reserve in India, this park has everything that entices wildlife lovers. With Mandla Fort, Phen Wildlife Sanctuary, and Ramnagar Fort, the national park runs various wildlife conservations schemes to protect endangered species in Kanha zone, Kisli Zone, Sarhi Zone, and mukki Zone. It is the 7th best national park in India visited by frequent wildlife lovers to spot 66 tigers in India.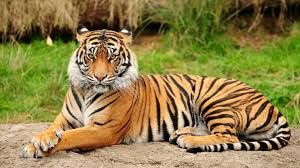 Likelihood of seeing tigers: High Tiger reserve status year: 1973-74 Other fauna than Tiger: Gaur, Sambhar, Chital, Python, Leopard, Porcupine Best way to see tigers: Morning jeep safari; afternoon jeep safari Best time to visit: Nov-March How to reach: Nagpur airport (266 km); Jabalpur Railway Station (169 km); by road Raipur (219 km), Jabalpur (169) and Mukki (25 km) Concerned travel package: Kanha wildlife tours; Tiger safari tour in India; tiger tour package in India
KAWAL Tiger Reserve, Telangana
Declared as a tiger reserve in 2012, Kawal tiger reserve in Adilabad district of Telangana is a great destination with potential for increasing the population of tigers. Filled with adventure and thrill, this wildlife sanctuary is dotted with beautiful vegetation around. Wildlife lovers looking for a small jungle trip in Telangana can have a sojourn in this ball of the jungle where one can see the mighty tigers roaming and roaring in its natural habitat. With a beautiful ambiance around Kuntala Waterfalls, Pochera waterfalls, and Kadem Reservoir, the tiger reserve cajoles wildlife lovers not only from India but also from the rest of the world.
KAZIRANGA National Park, Assam
Most of the people know Kaziranga national park as a home to one-horned rhinoceros, but this great national park is the 5th best national park in India and one among top ten most visited national parks in India. Existed in the Golaghat and Nagaon district, this national park is a world heritage site, a tiger reserve sport, and one of the oldest parks in India. This park is supposed to give shelter to two-thirds of endangered species. Here, all tourists can witness 55 mammalian species; 500 bird species; 60 reptiles, and 440 plant species in a natural and undisturbed ambiance. With 118 Tigers, this national park beacons all nature lovers.
MANAS tiger reserve, Assam
With a tiger reserve, an elephant reserve, and a biosphere reserve, Manas national park enjoys the status of a world heritage site. It is the 10 th most popular national park in India that wildlife lovers prefer to visit. Settled on the bank of Manas River, the national park boasts of picturesque beauty, and exceptional wildlife in vast deciduous forests and wet grasslands which are the home of rhino, water buffalo, elephant, and tiger. With 55 mammalian, 3 amphibian, and 36 reptilian species, this national park is one of the most visited tourist destinations in India. This tiger reserve has about 30 tigers.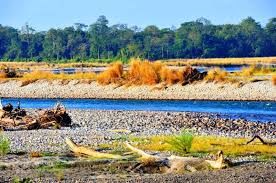 NAGARJUNA SAGAR-SRISAILAM tiger reserve, Andhra Pradesh
Nagarjunsagar-Srisailam Tiger Reserve in India has been renamed as the Rajiv Gandhi Wildlife Sanctuary in the year 1992. Interestingly, it is the largest tiger reserve in terms of size and area that covers a land area of the following districts: Guntur District, Kurnool District, Mahbubnagar district, Nalgonda District, and Prakasam District. Surging terrain, sharp cliffs, and bottomless valleys are the prime attractions of this tiger reserve that catch all eyes. Come to this place as a wildlife lover and get lost in its deciduous forests, rivers, valleys, breathtaking scenic beauty, and charismatic wild cats.
NAGARHOLE Tiger Reserve, Karnataka
Nagarhole or Rajiv Gandhi National Park exists on the foothills of the Western Ghats and is known for its affluent biodiversity, flagship species, and 'Critically endangered' Oriental white-backed vulture, along with a tiger reserve. With 101 Tigers, this park boasts of natural beauty and wild life. That is why a large number of tourists like to flock to this national park from India and different parts of the world. All visitors to the national park can enjoy the excitement of tiger spotting using vehicle safari and other flora and fauna with boat safari.
PAKHUI Tiger Reserve, Arunachal Pradesh
From Pakke Reserve Forest in July 1966 to Camo Sanctuary in 1977 to Pakhui Wildlife Sanctuary or Pakke Tiger Reserve has changed its names many times. Under the project tiger initiative, this reserve is managed to protect and preserve Royal Bengal Tigers. For all wildlife lovers, shutterbugs, and tiger spotters, this place is simply a great destination for celebrating the adventurous holiday and experiencing the real calmness of watching wildlife in their natural habitats. Come to this unique place for enjoying the presence of 36 reptiles, 500 butterflies, and 30 amphibian species.
PENCH National Park, Madhya Pradesh
With at least 40 tigers in the national park, the tiger reserve is divided into 3 forest ranges, 9 forest circles, 42 forest beats, and Seoni District and Chhindwara District of Madhya Pradesh. This national park has been a part of the famous writer Rudyard Kipling's "The Jungle Books" where "Sher Khan" the tiger rules. There are facilities of jeep and elephant safaris that visitors can use in order to roam into the Pench national park and explore everything around. For wildlife viewing, tourists can also try nature walks on foot with the help of a nature guide. And the same is possible only from raiyakasa to karmajhiri.
PERIYAR Tiger Reserve, Kerala
Periyar tiger reserve in the god's own country is one of the finest examples of wildlife national parks and sanctuaries where wildlife aficionados can easily spot 35 royal tigers roaming in its natural habitat with 100% protection. Thekkady forests are one of the finest wildlife reserves in India known for their great picturesque charm, lush bio diversity, and genuine visitor satisfaction. It is the 4 th best national park in India visited by wildlife enthusiasts from India and abroad. Come to this place for having a date with the king of the jungle and try jeep safari, elephant safari, and boat ride to explore the wildlife around.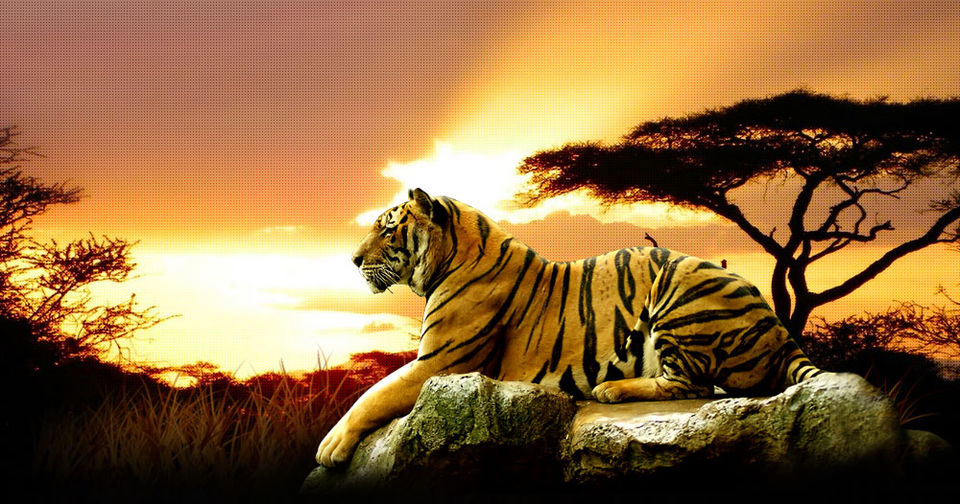 RAJAJI National Park, Uttarakhand
Existed in Dehradun, Haridwar and Pauri Garhwal districts of Uttrakhand, Rajaji national park is famous for elephants and its tiger reserve. Moreover, the mighty Ganges passes through this park and covers around 24 km. With beautiful landscapes and wildlife, this destination cajoles all shutterbugs, nature lovers, and travelers to its widespread natural beauty and flora and fauna. It is the 2 nd tiger reserve in Uttarakhand after Jim Corbett. This national park is a great tourist destination with the presence of 500 Elephants, 12 Tigers, 250 Panthers and 400 bird species.
RANTHAMBORE National Park, Rajasthan
When it comes to finding the top destination for seeing a tiger in the wild at the global level, it is Ranthambore National Park, one of the most accepted national parks in India. The national park is also associated with Machli (T-16) alias "Lady of the Lake" tigress and the Sundari (T-17) tigress. The national park has 10 zones for tiger territory. There are more than 65 tigers in the national park and tiger reserve and this increases the possibility of watching a tiger roaming in its own habitat. It is the topmost national park of India visited by a large number of wildlife lovers to see 62 tigers. Ranthambore jungle safari is the USP of this tourist haven.
SARISKA Tiger Reserve, Rajasthan
Nestled in the Aravali Hills in Rajasthan, Sariska national park has lush grasslands, dry deciduous forests, steep cliffs, and rocky surfaces with a great number of animal and plant species. When you think of camel safaris, visiting medieval palaces or watching tigers and other wildlife watching, come to Sariska Wildlife Sanctuary. As per the last census of tigers, there are 7 tigresses, 2 tigers, and 4 cubs. So, the likelihood of watching a tiger is very low. But there are several incidents where tourists witnessed tiger spotting events. It is also the famous place that was used to be the hunting grounds of the Kings of Alwar.
SATKOSIA Tiger Reserve, Odisha
Satkosia is extended along gorges over the Mahanadi River in Odisha. Came into the existence in 1976, this wildlife sanctuary is a heaven of massive scenic charm with the best ecosystems comprising of floral and faunal variety. Satkosia Tiger Reserve also has two other sanctuaries, including Satkosia Gorge Sanctuary and Baisipalli Sanctuary. The prime part of the tiger reserve is off-limits to tourists in order to protect the wildlife. Moreover, travelers are not allowed to go on boat rides in this most unusual and unexplored wildlife area for the royal Bengal tiger.
Likelihood of seeing tigers: Low Tiger reserve status year: 2007 Other fauna than Tiger: Leopard, Striped Hyena, Sambar, Wild Dog , Chital, Barking Deer Best time to visit: Sept-March How to reach: Bhubaneshwar airport (210 km); Angul railway station (60 km) Concerned travel package: Tiger safari tour in India; tiger tour package in India; Wildlife tour packages for Satkosia
SUNDARBANS Tiger Reserve, West Bengal
Sunderbans national park got its name from mangrove plants known as Sundari (Heritiera Minor). The national park with a tiger reserve is encased by 885 sq km buffer zone and its main attraction is the Tiger. Surprisingly, Leopard, Indian Rhinoceros, Javan Rhinoceros, Swamp Deer, Hog Deer and Water Buffalo have all have vanished from the delta in recent decades. Sunderbans in West Bengal has the largest number of 103 Tigers and it is also the 6 th best national park in India preferred by wildlife lovers from India and the rest of the world. Come to the home of Bengal tiger in its own den and have a date with the wild cat in a never before way. This place is ideal for all wildlife conservationists and shutterbugs.
TADOBA-ANDHARI Tiger Reserve, Maharashtra
In Chandrapur district of Maharashtra state, Tadoba-Andhari Tiger Reserve is the 2 nd Tiger Reserve in the state that has a unique ecosystem with a variety of flora and fauna and natural scenic beauty. It is one the popular tourist destinations in India promising a huge tourist's inflow. Being one of the finest tiger reserves in India, this tiger reserve is dominated by teak forests, bamboos, cliffs, caves, marshes, lakes, streambeds, and biodiversity. There all visitors will be able to spot various endangered species. With a viable tiger population (+ 40), this reserve offers wildlife lovers a chance to have a date with the mighty king of the jungle.
Get ready for a distinct wildlife experience this international tiger day with the best and affordable wildlife tour packages in India and spot the royal Bengal tiger roaming freely and proudly in its natural hunting ground.