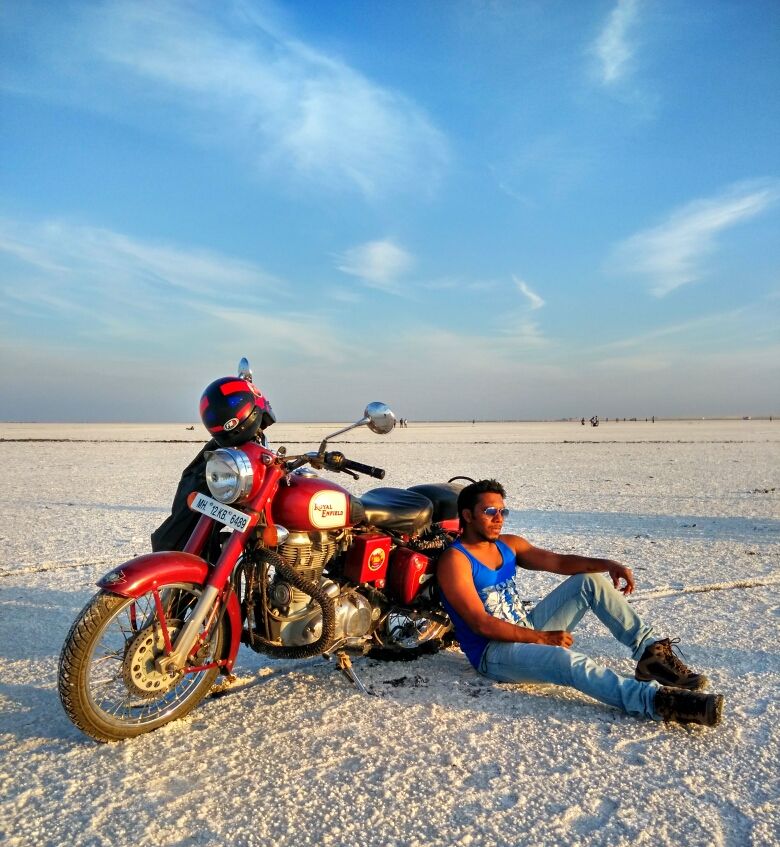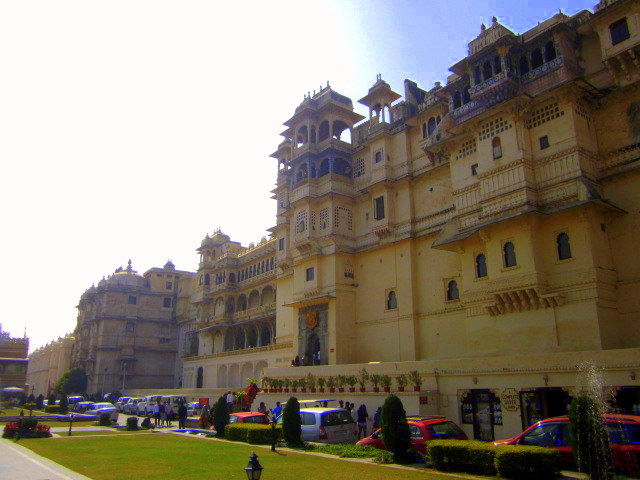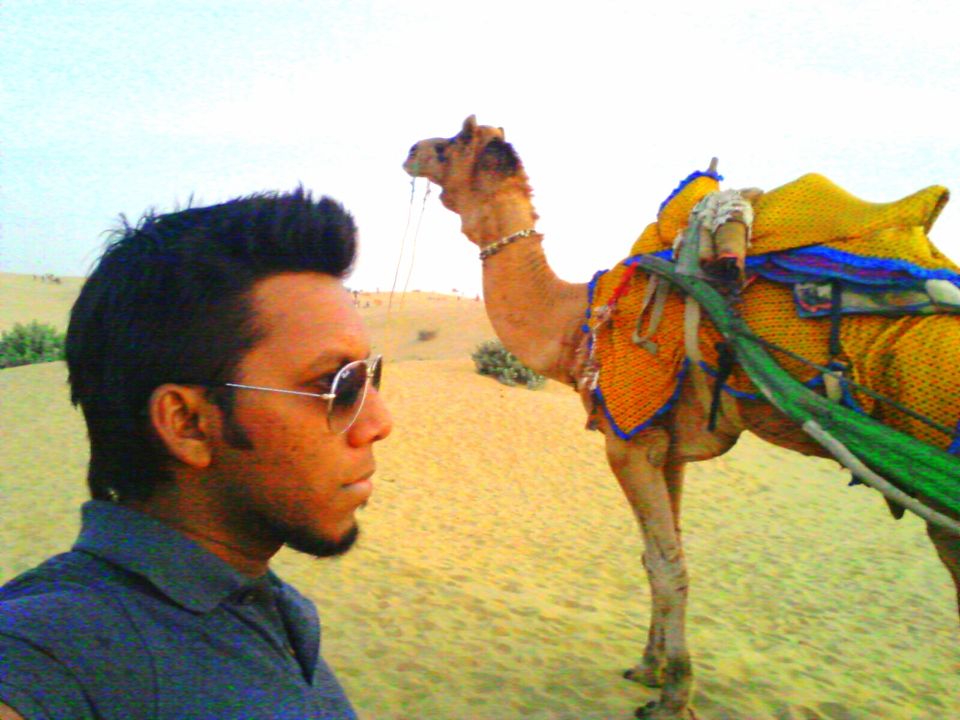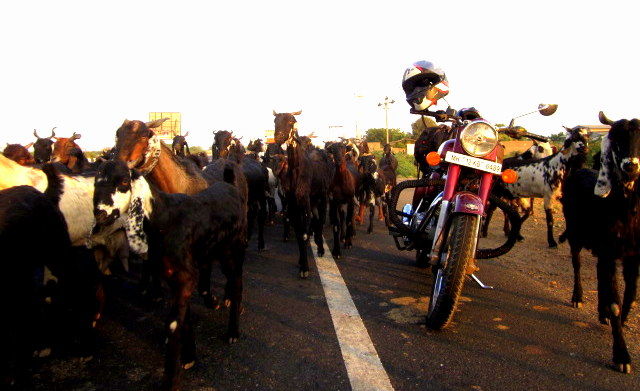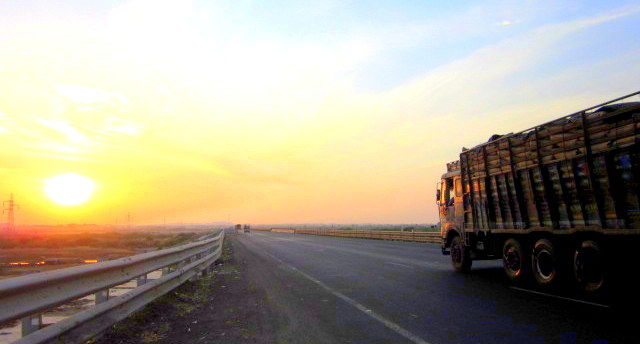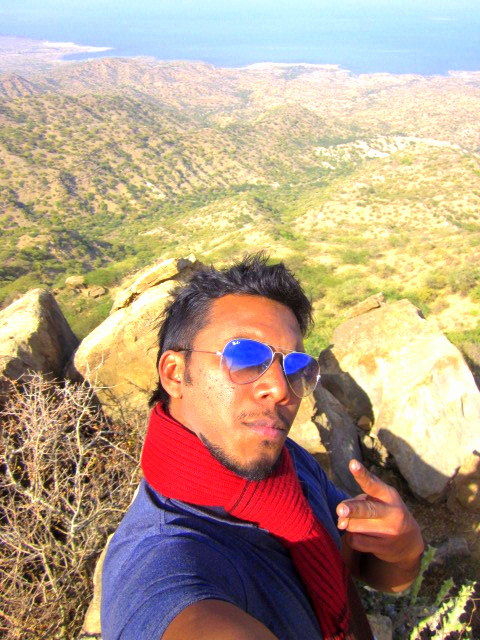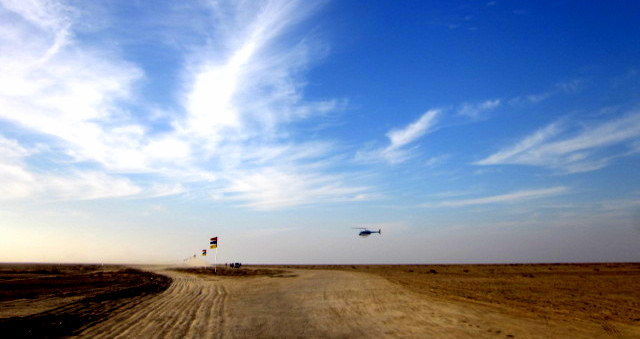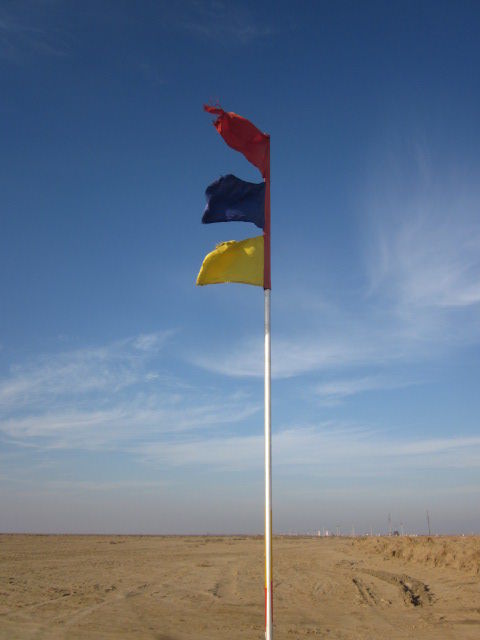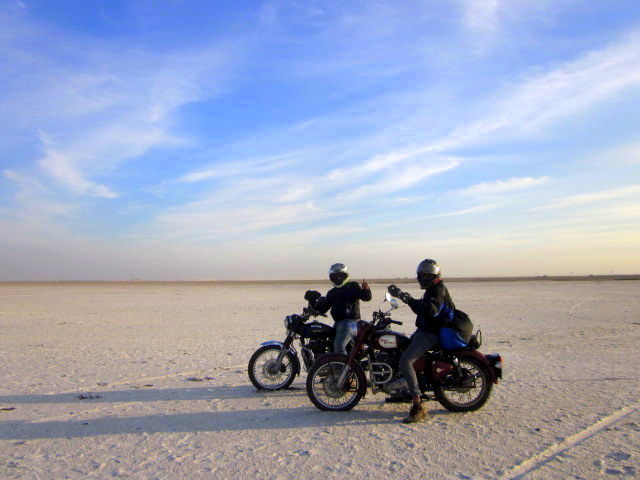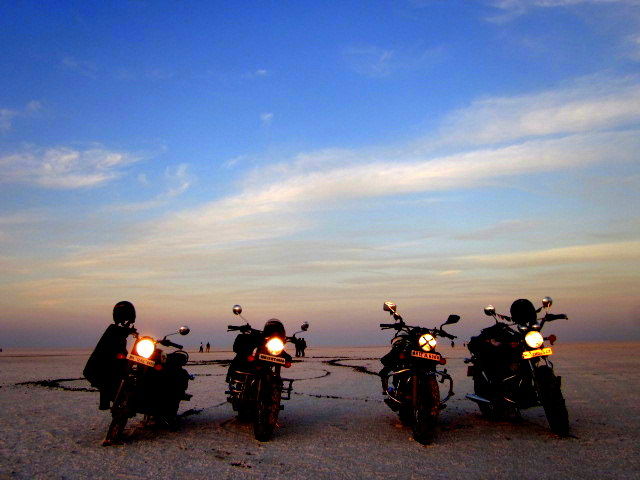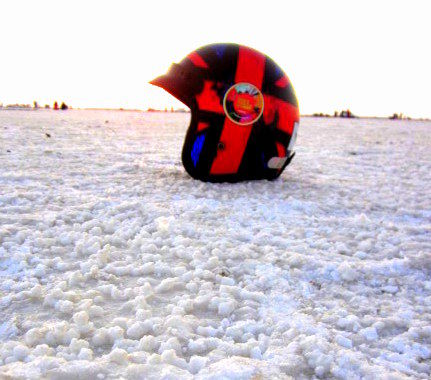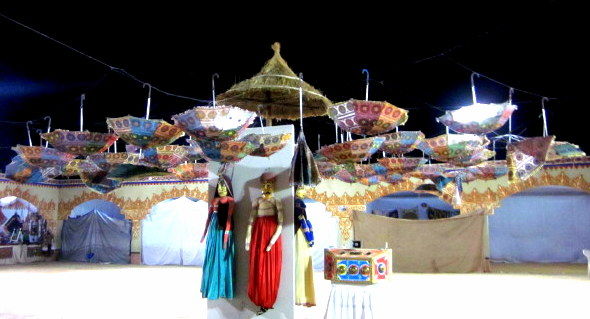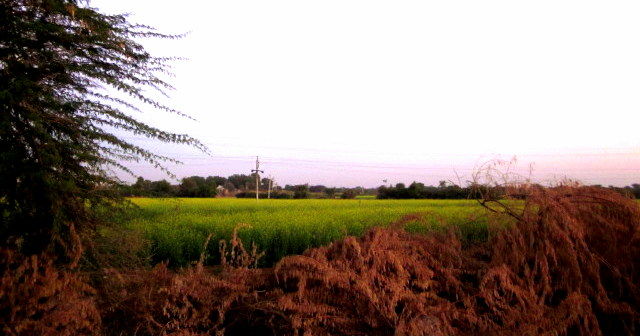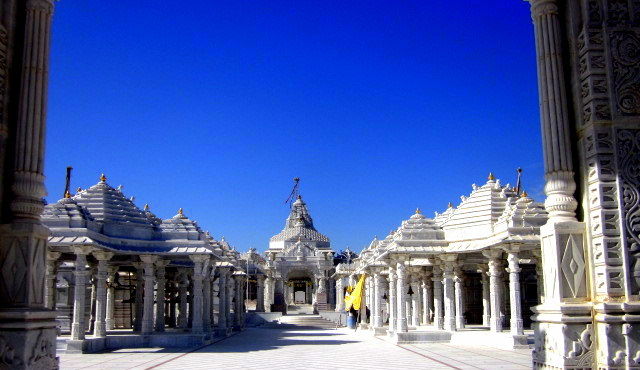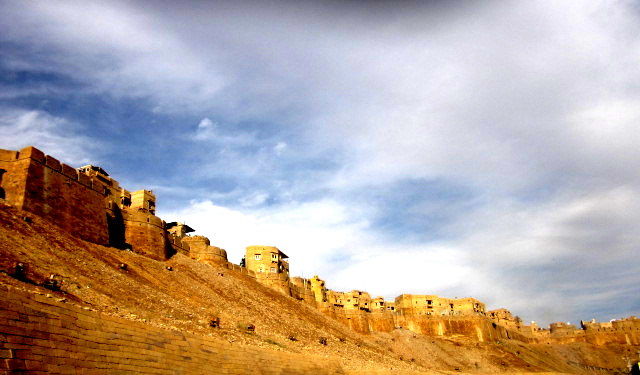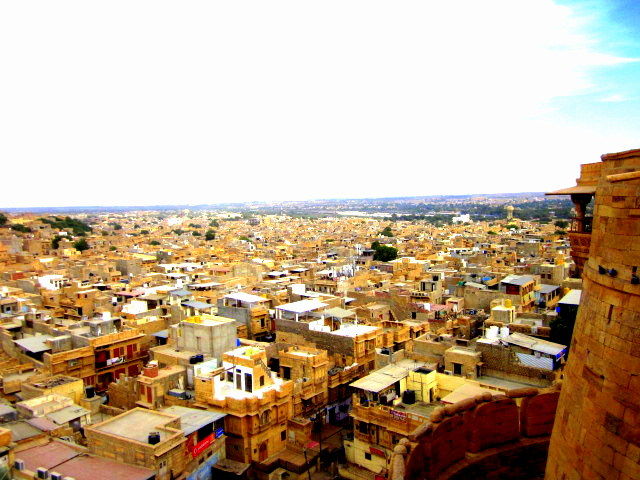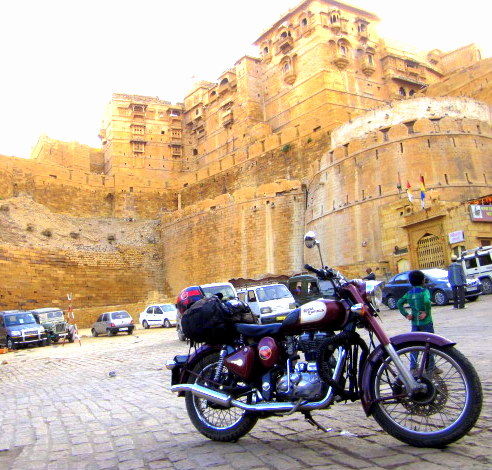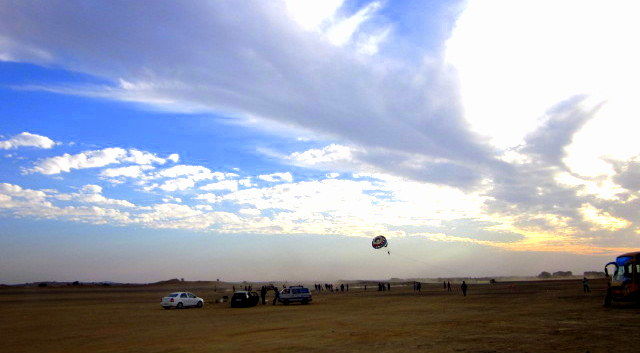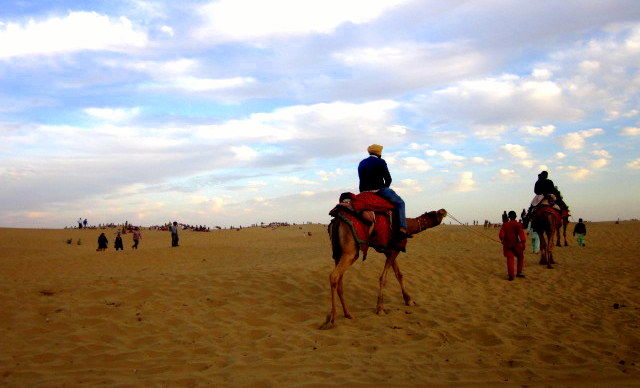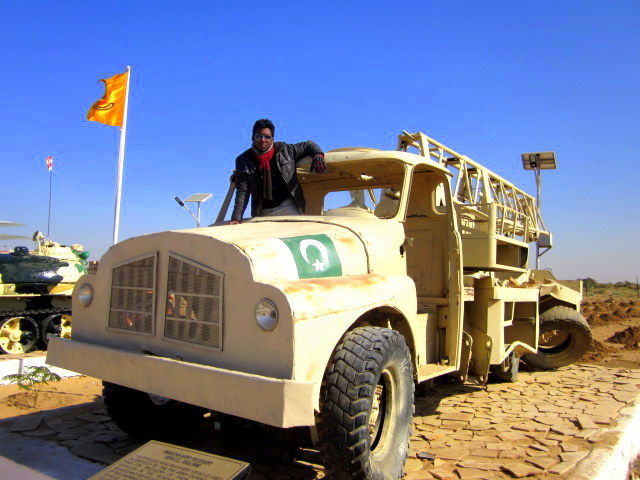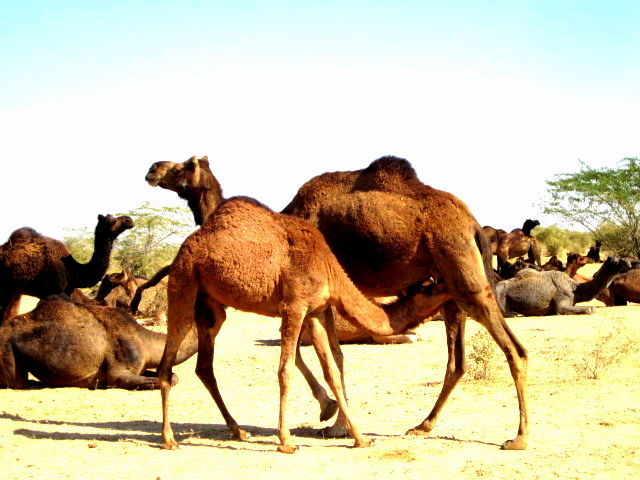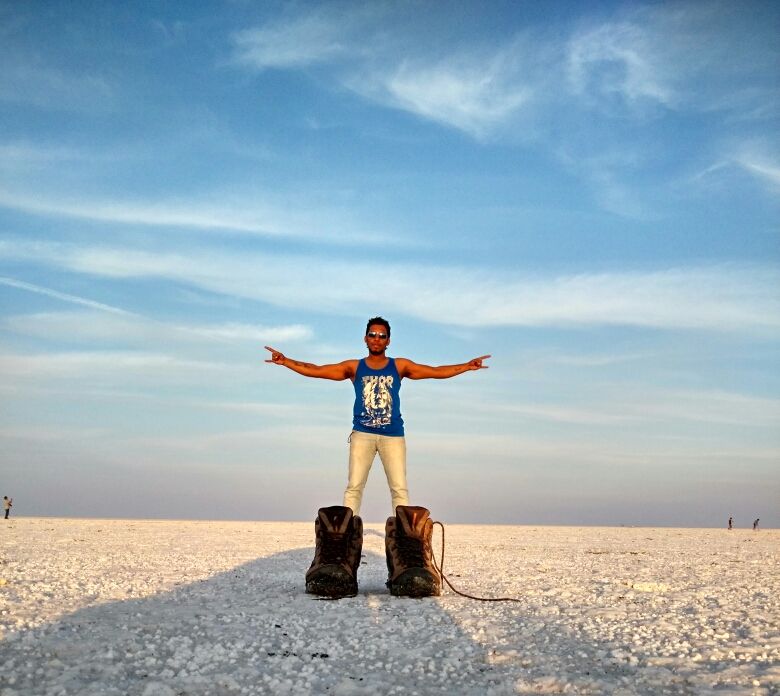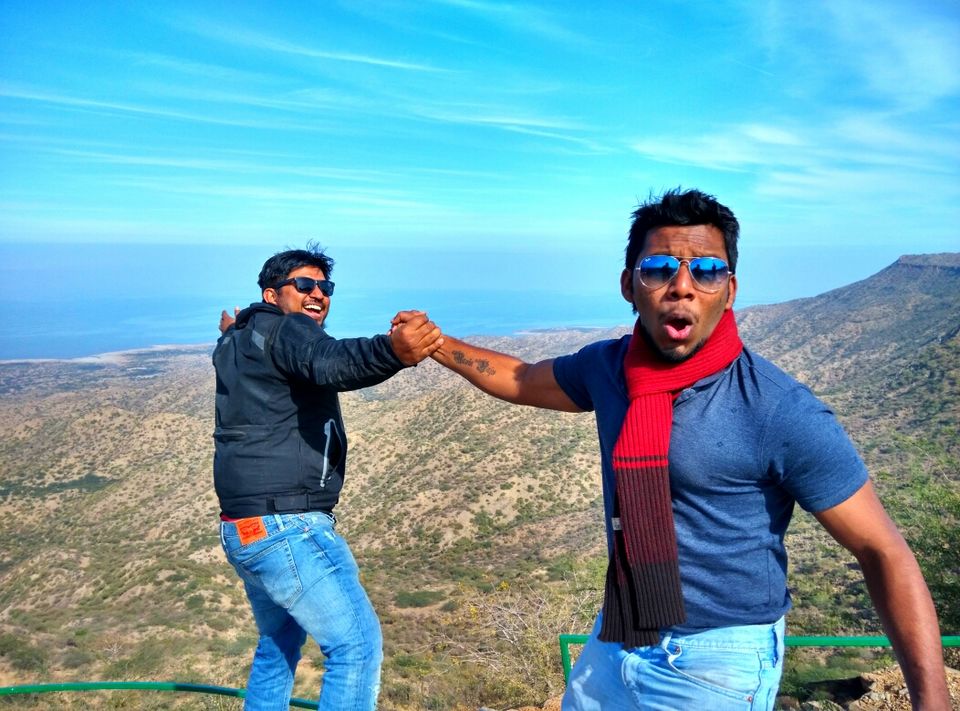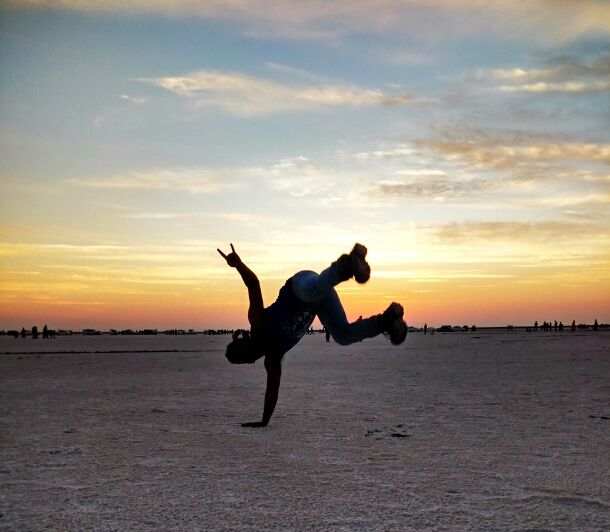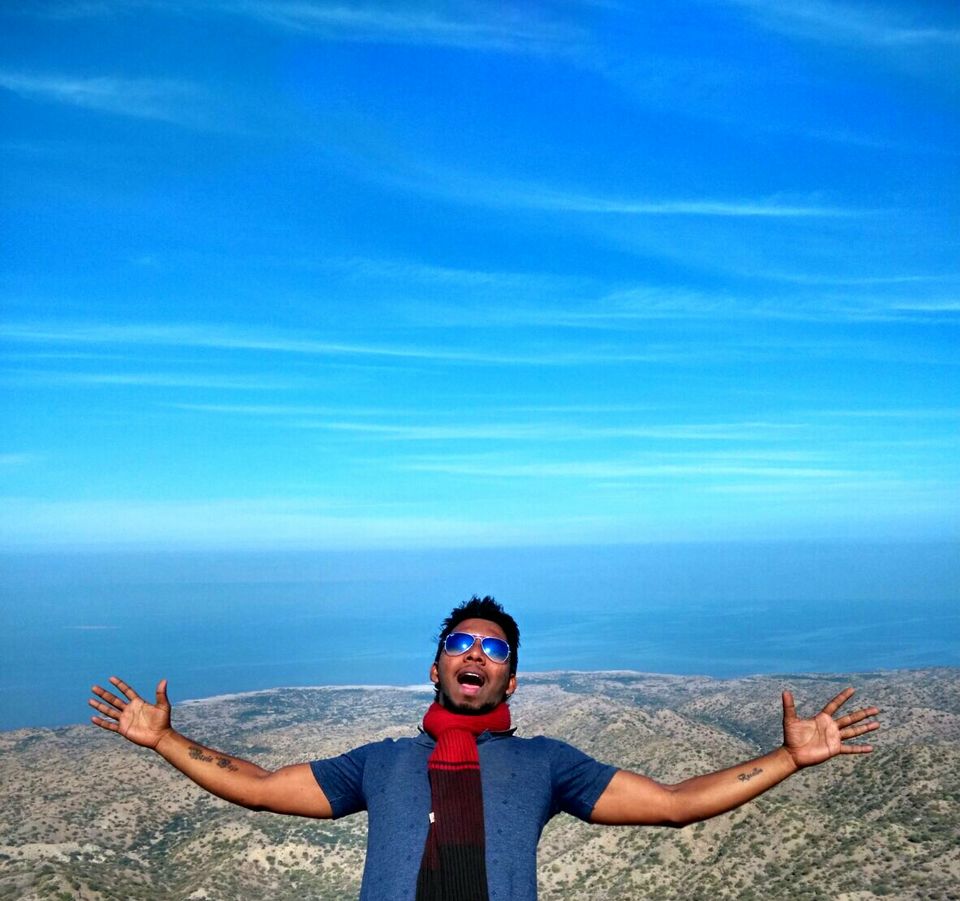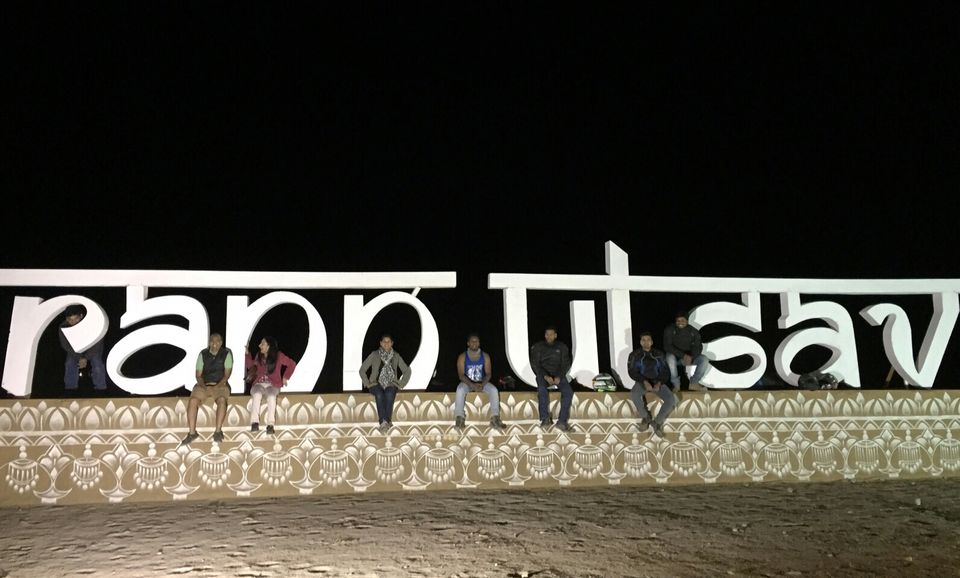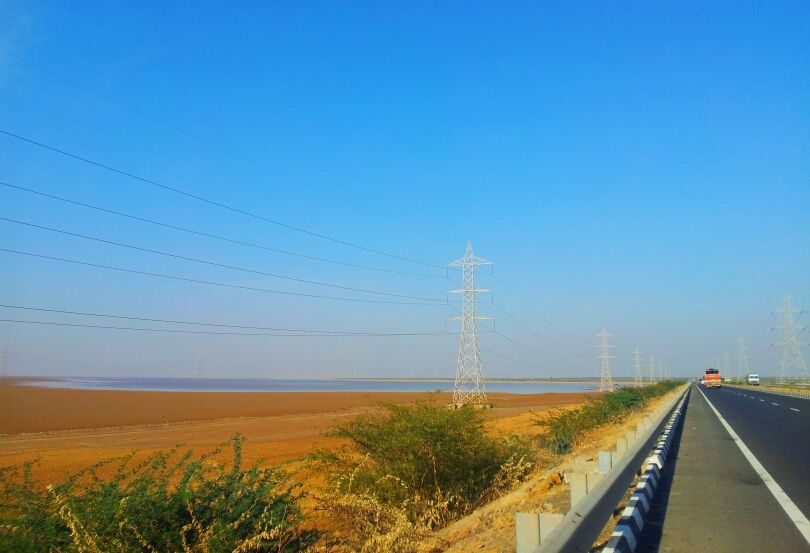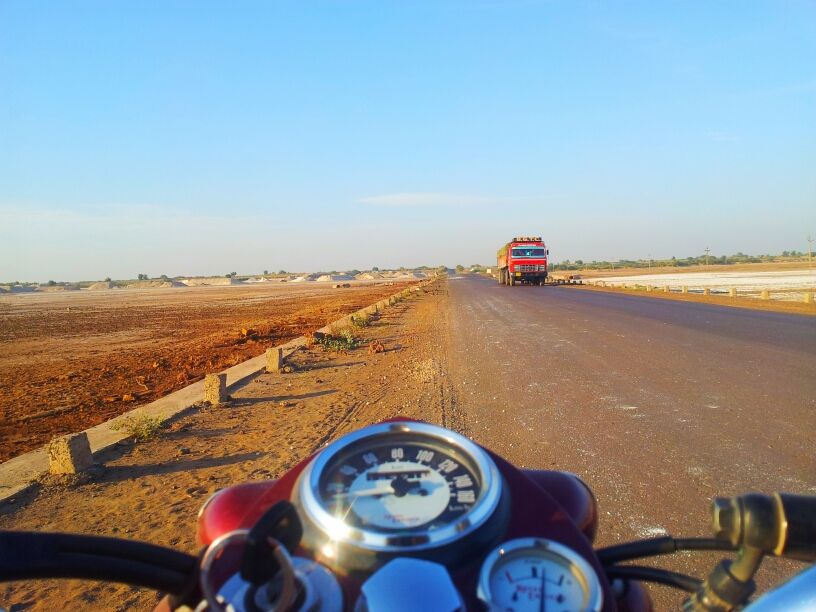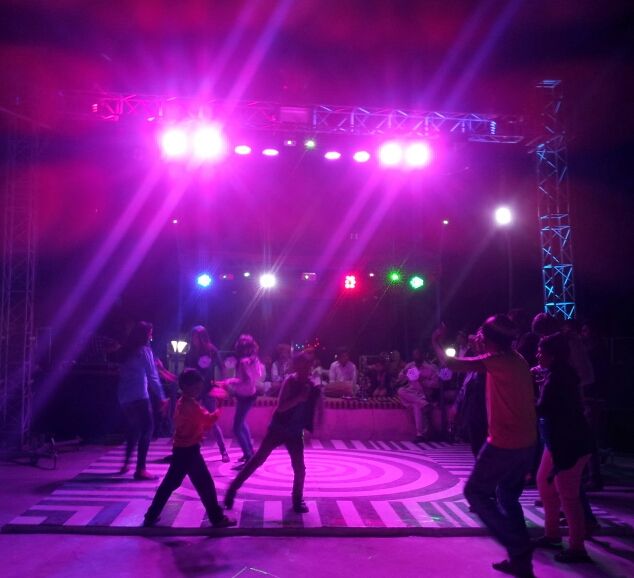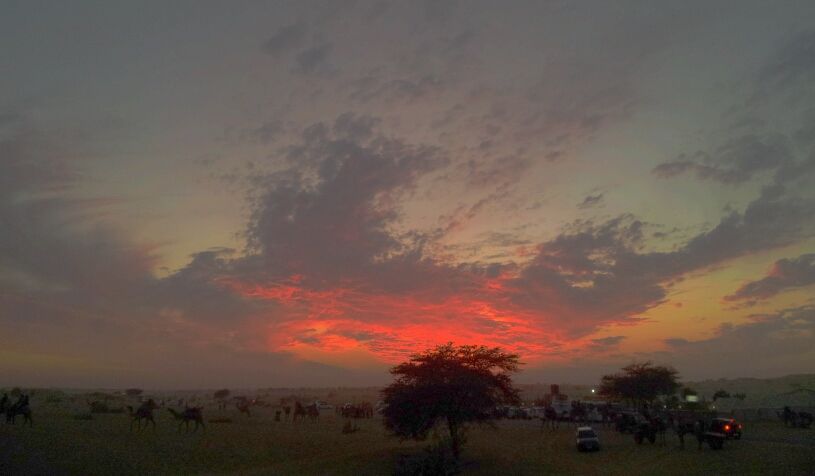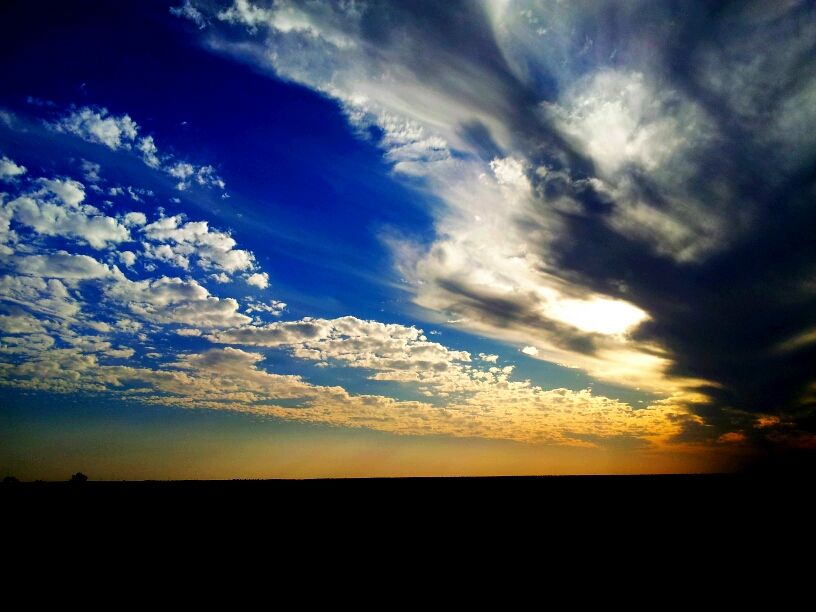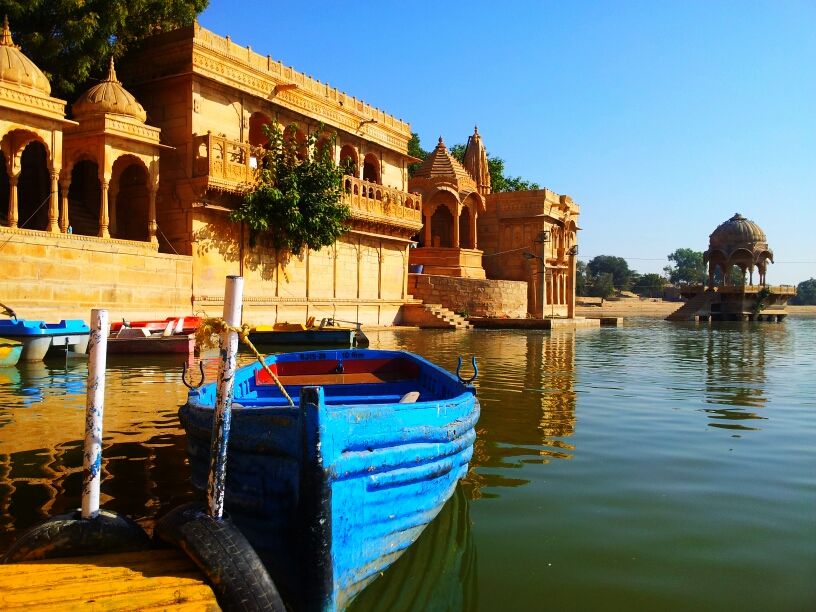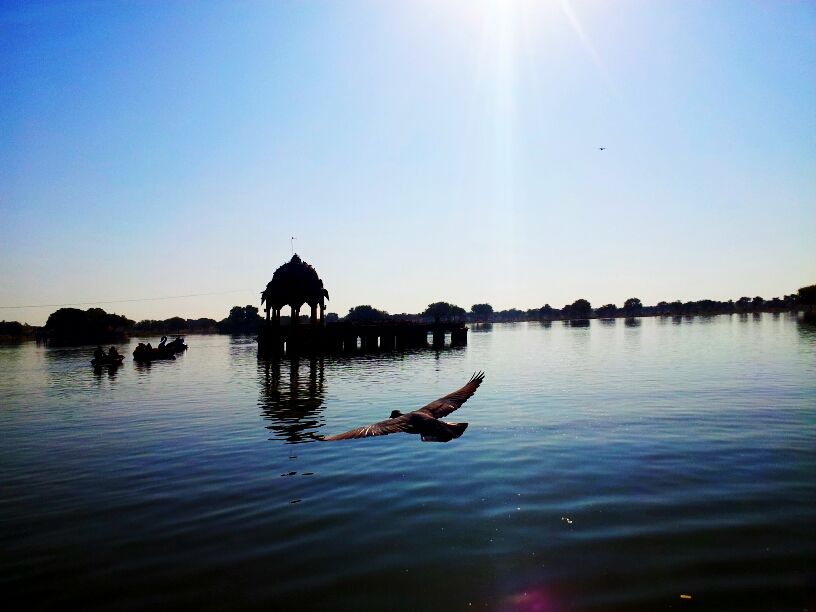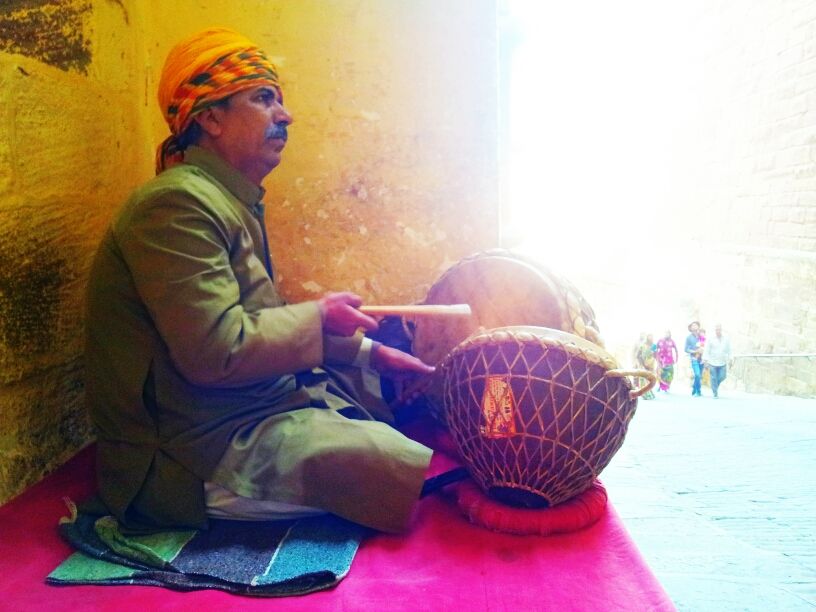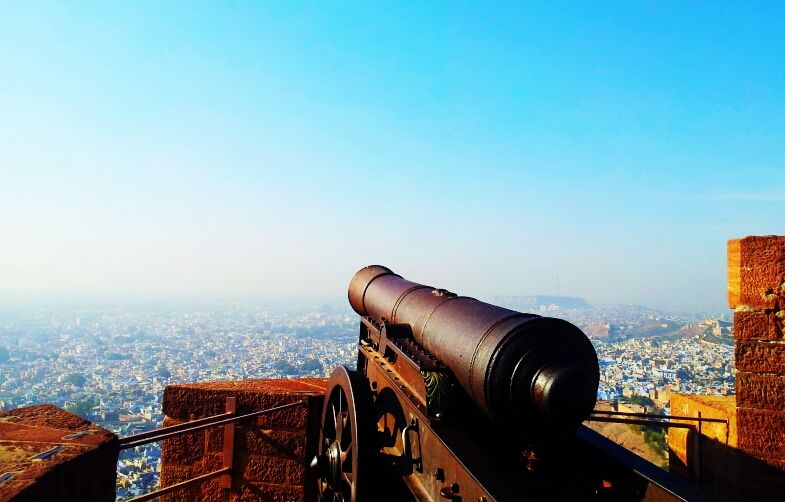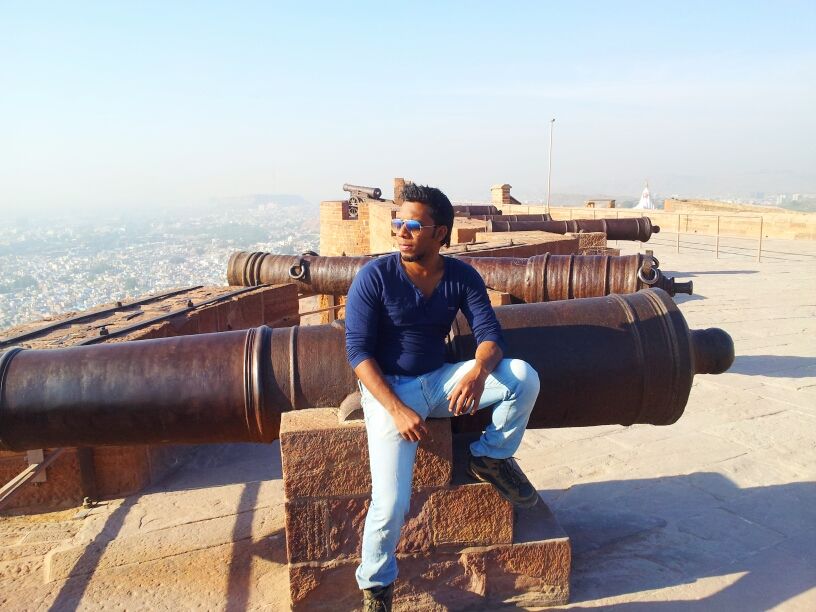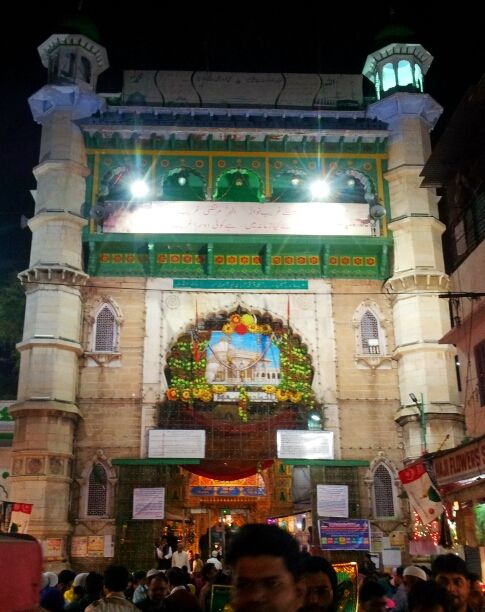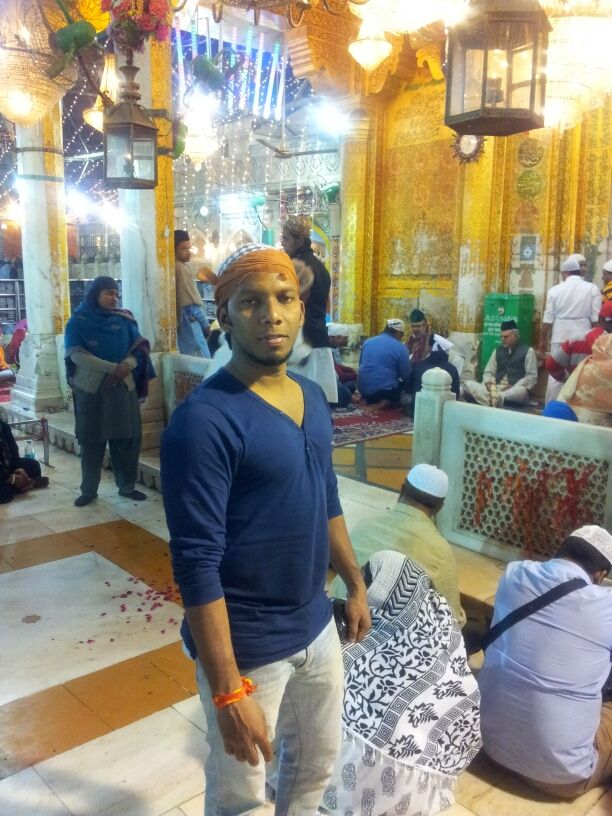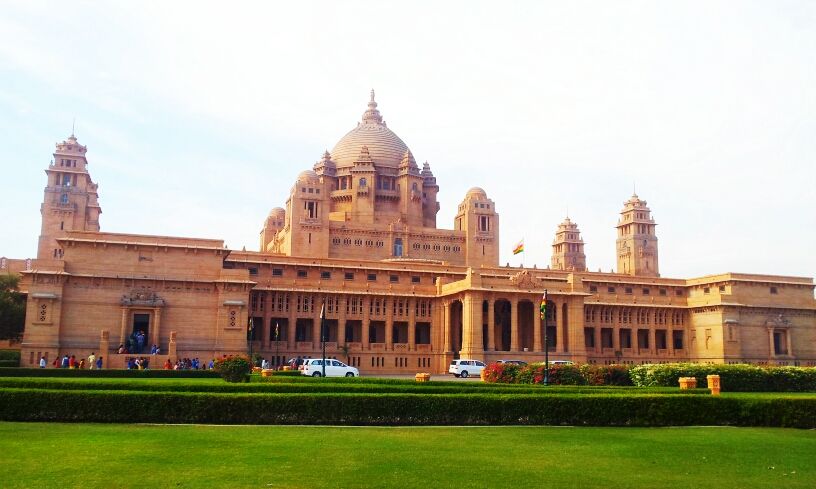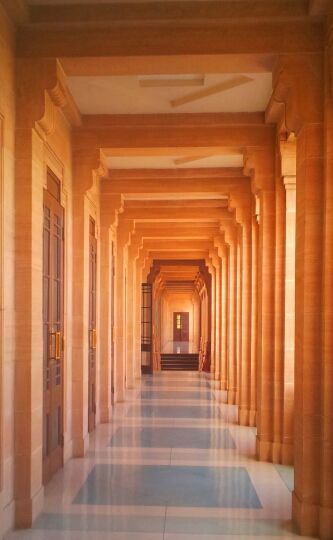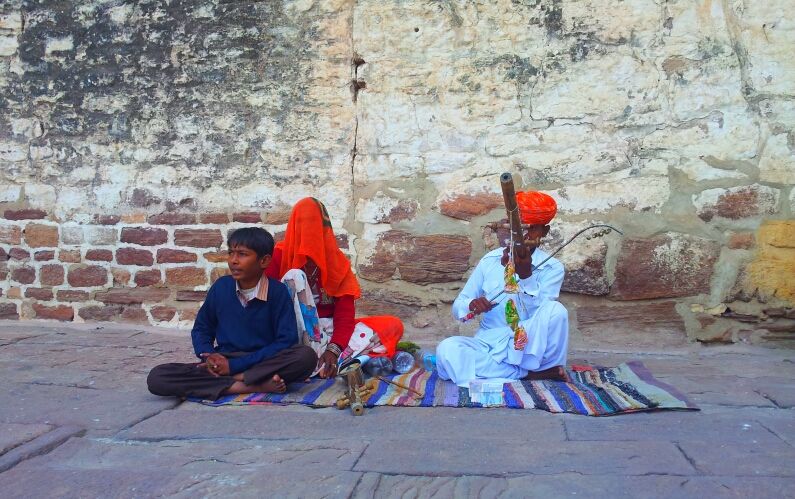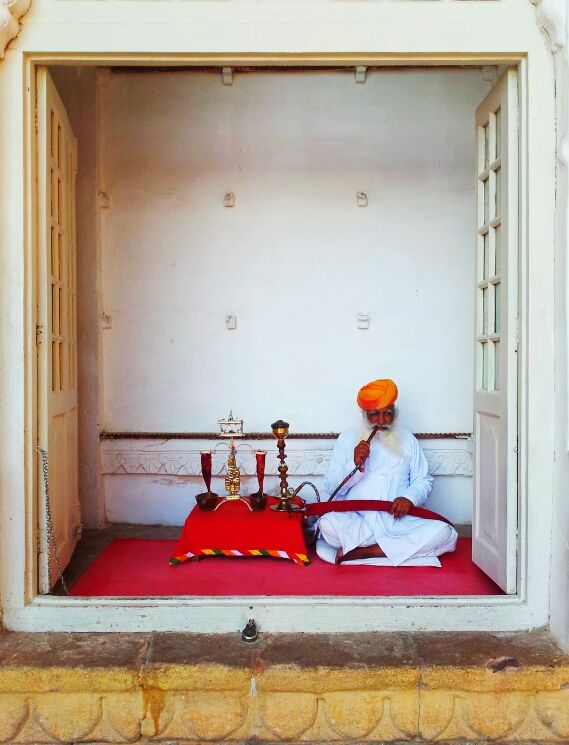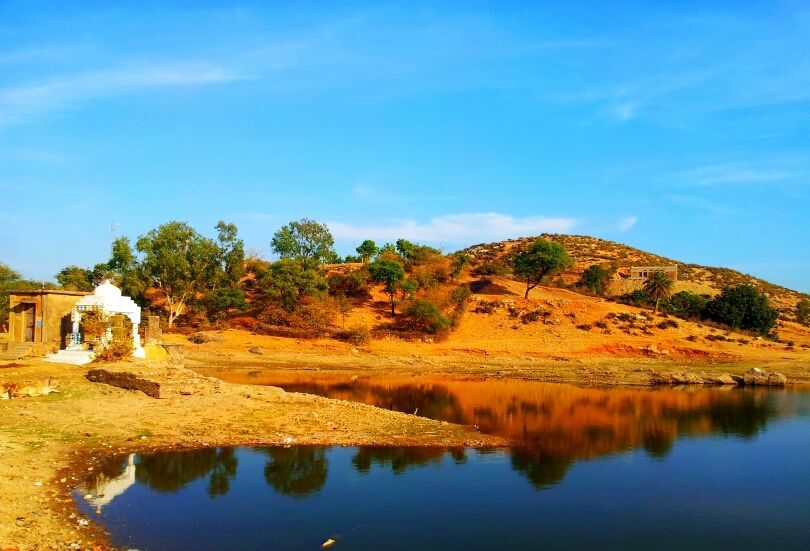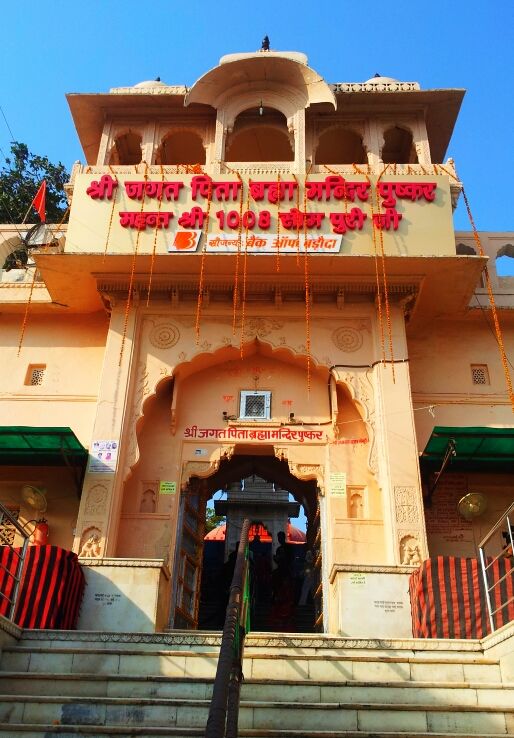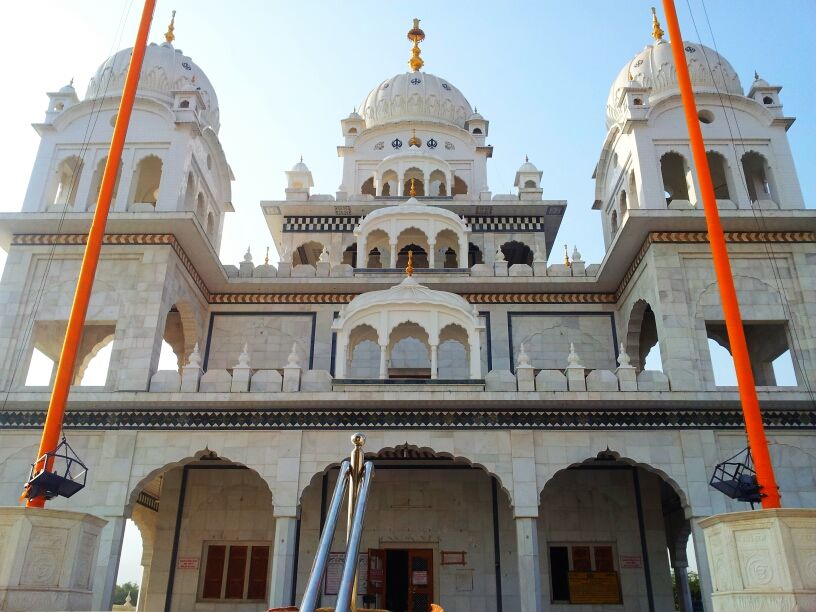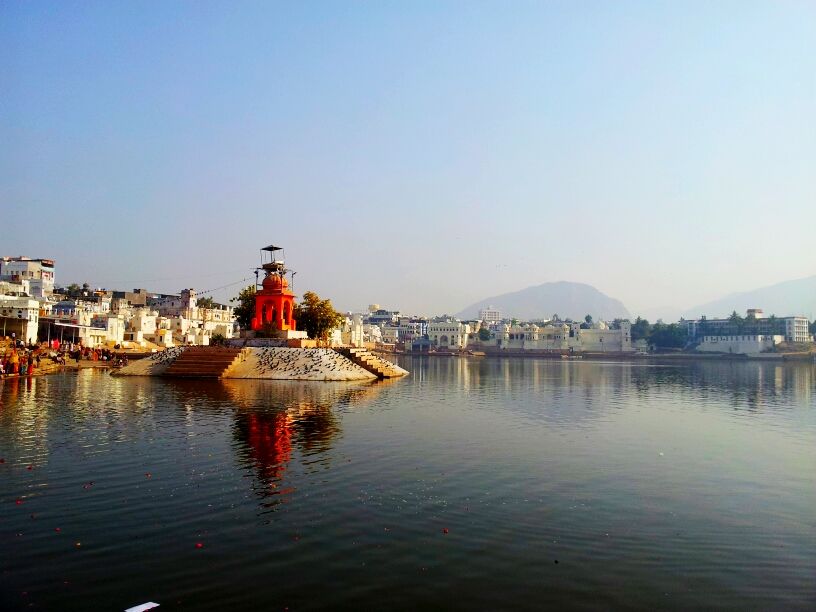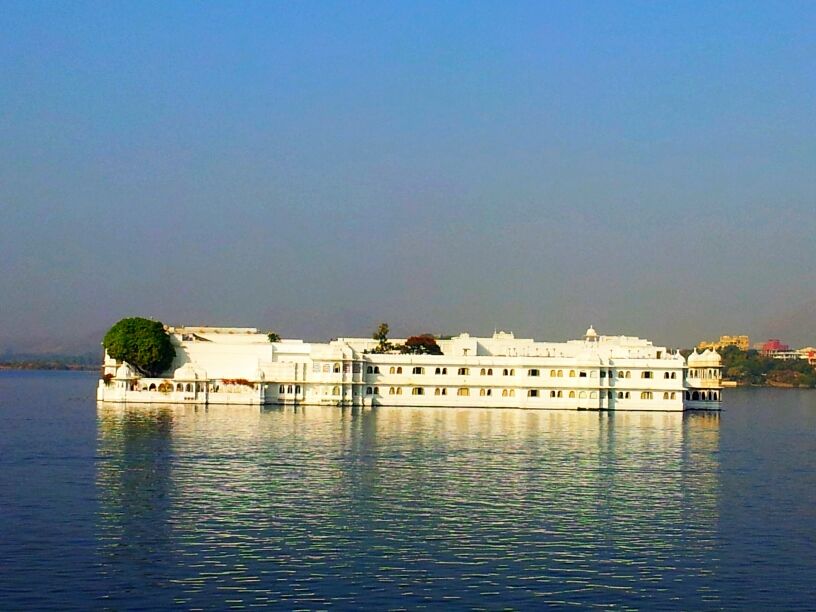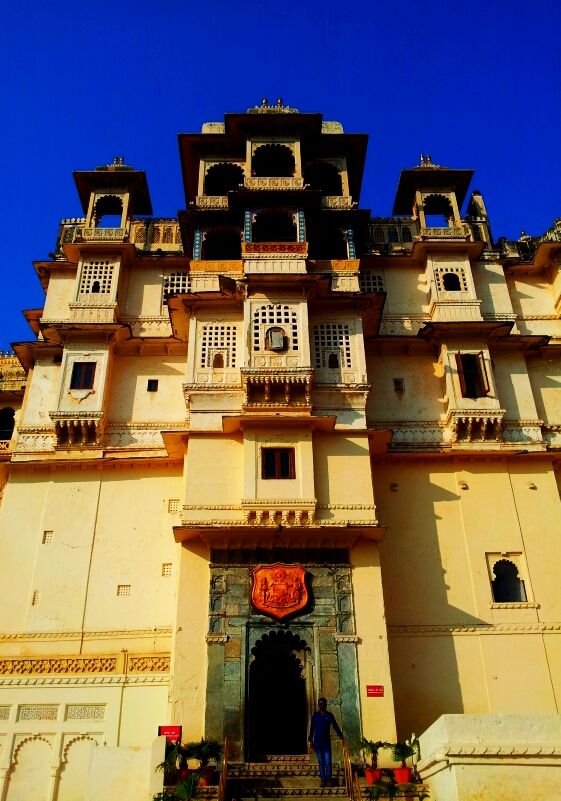 10 Days of Awesomeness
10 Days, 3 friends, 3 days of group ride through Gujarat, 7 days of solo ride through Rajasthan, around 4800 kms, 3 states, through ice cold breeze to hotness, from salty white sands to deserts, from Forts to Palaces to Lakes to Temples to Dargah to Gurudwara through never ending roads, from Dhaba to Dhaba, stay at hotels, hostel, hut and tent, from sunrises to sunsets, 400 odd mobile camera clicks, super tasty Gujrati and Rajastani food, Through Anand,White Rann Of Kutch, Jaisalmer, Jodhpur, Rajasthan, Ajmer, Pushkar, Udaipur, Vadodara, whole lot of experience, great feeling of awesomeness, a lot of memories and feeling 'Like is Rocking :-)'
How it started
After the two week long Pune to Kerala ride and RiderMania ride to Goa, I decided to make it big. Had some leaves in hand and was thinking of where to go next and when. December is always a wonderful month, the cold climate, Christmas days, new year night are all exciting. My usual Christmas and New Year vacation was in Goa for last 3 years. Beings a music and dance lover, I celebrated New Year time at Goa Sun Burn festival, beaches, Tito's lounge etc.. For a change I decided not to go to Goa this time and instead try some other place. That's when I met my Friend Karan who told me about RoK (Rann of Kutch) and it was his long awaited wish to visit that place. After some googling and seeing wonderful pictures of RoK I decided to make it my ride destination. Later I realized I have a lot of leaves available and could go on a 10 days long vacation, if needed. So I added Rajasthan also into my ride destinations as it was near to Gujarat. The forts, palaces and lakes in Rajasthan created interest in me to visit cities like Jaisalmer, Jodhpur, Ajmer, Pushkar and Udaipur. I always loved unplanned trips as it brings excitements and risks and always gonna be a new experience. So decided to make it a solo ride but all of a sudden Karan decide to ride to RoK and Rohit and Siddharth joined him. We met at Regent Plaza at Baner Link road and discussed about riding together and finalized our ride date as 25th Dec, the Christmas day. 
When I looked at the ride route, it looked like a kite. So named this ride as 'Kite Ride'.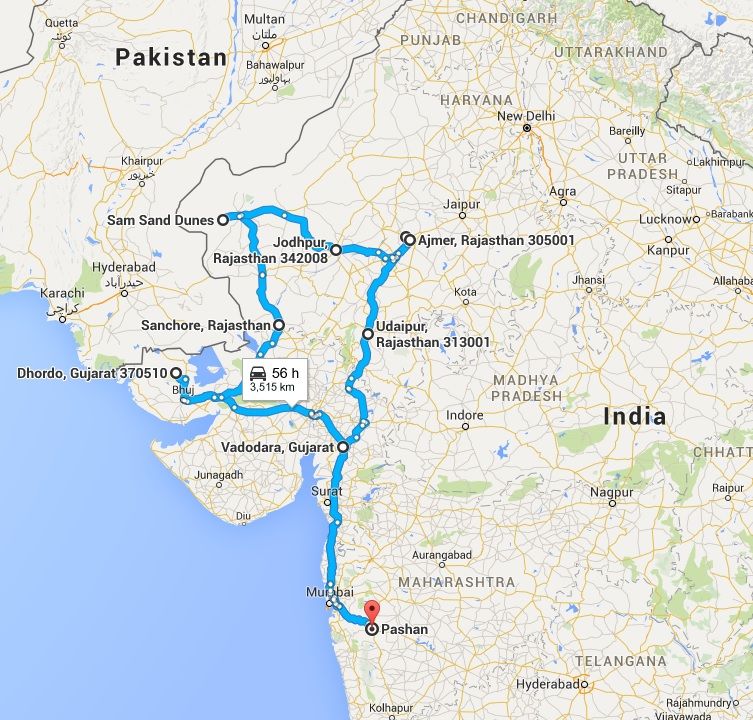 Pre-ride Days
Pre-ride days were super exciting with a lot of activities at the personal front. Being actively involved in Church activities, I was fully occupied with Christmas preparation and Church activities. Built a Christmas crib at home, went for Christmas carol to our Church families with unit members, participated in Crib competition. So I was left with absolutely no time to plan and execute anything other than simply backpack and ride. Karan, Rohit, Sid and I used to meet at Regent regularly and discussed and shared our excitements with each other.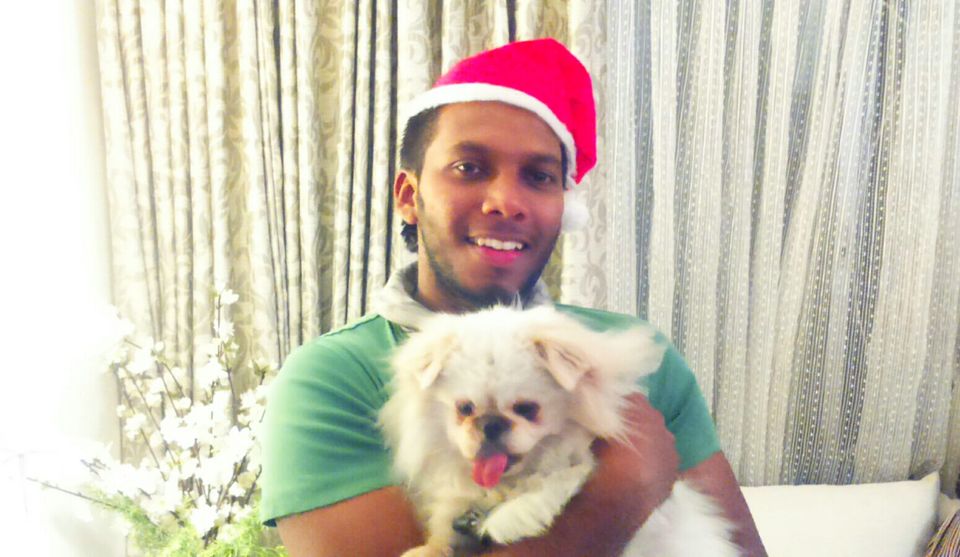 Christmas Day
My mom was sad that I was going to be away from her during Christmas and New Year and moreover she was afraid of bike rides. But since I was riding with my friends, I somehow was able to convince her. Christmas night turned out to be an advice night as she gave me lot of advice on speed, carefulness and other good etiquettes while riding. I listened to her like a child. We cut the Christmas cake at midnight and shared happiness and joy. Then I packed my stuffs and was all set to ride at 07:00 AM.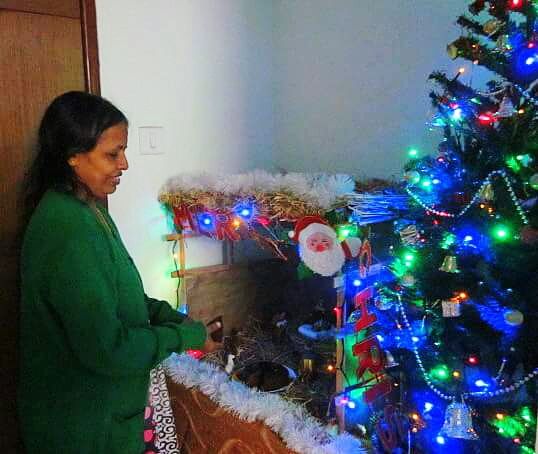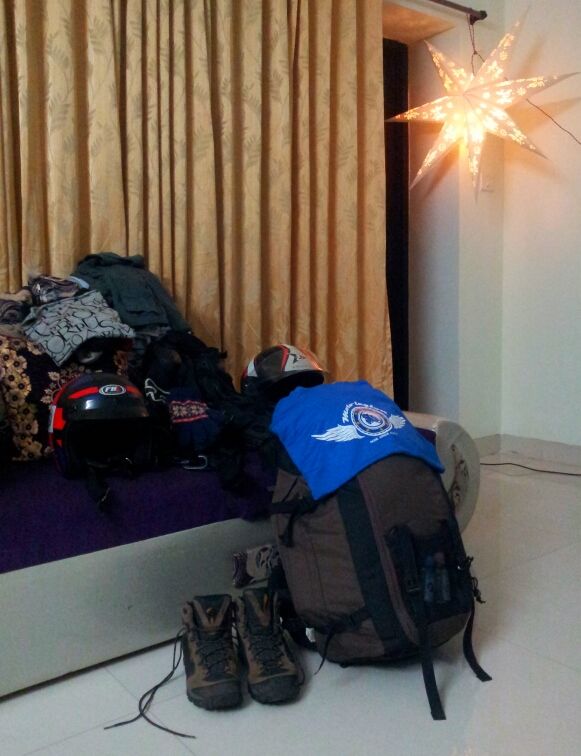 Day 1 (Pune to Anand)
Started our ride on a Christmas morning at 07:30 AM. Rode through foggy Khandala, Thane, Surat, Vadodara and reached Anand. Rohit Rangari was the navigator, Siddhaarth Sharma was super cool sweaper, Karan ROx was road rash player riding between the trucks. He was super excited about firing his bullet at 120 km/hr with stability. 'Limited stopovers and cover more distance' was our motto on day 1 as we want to reach a place closer to RoK so that day 2 ride could be short. So had to ride till 09:00 PM to reach Anand. Super good roads in Gujrat, tasty butter milk from dhabas, long traffic jam at Baruch were some highlights of day 1 ride. 
A recent study revealed that men above 25 yrs need 8 hrs sleep. So we put our plans under the pillows and went for a nice sleep.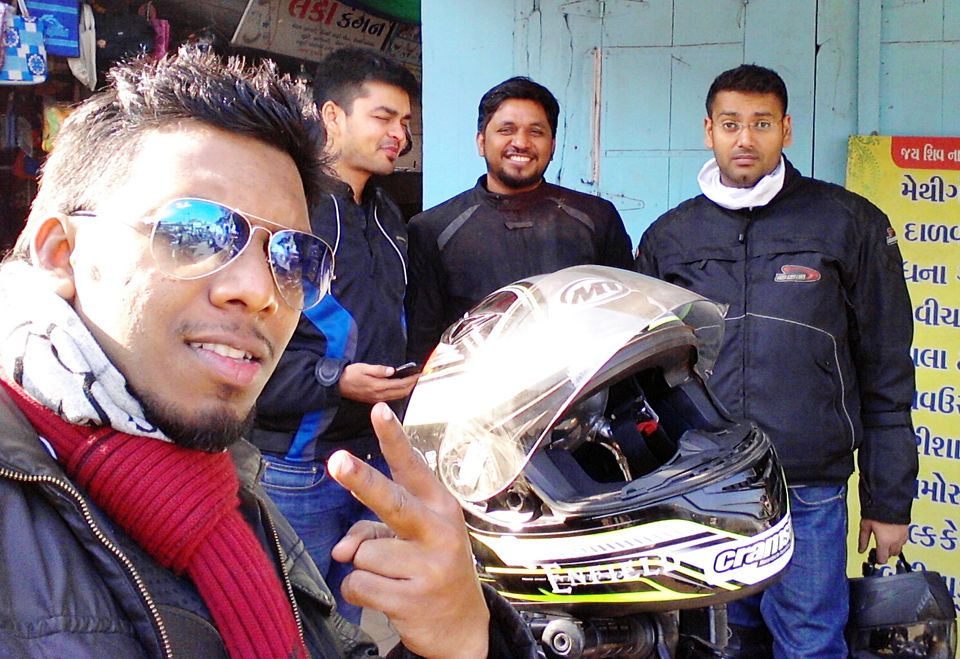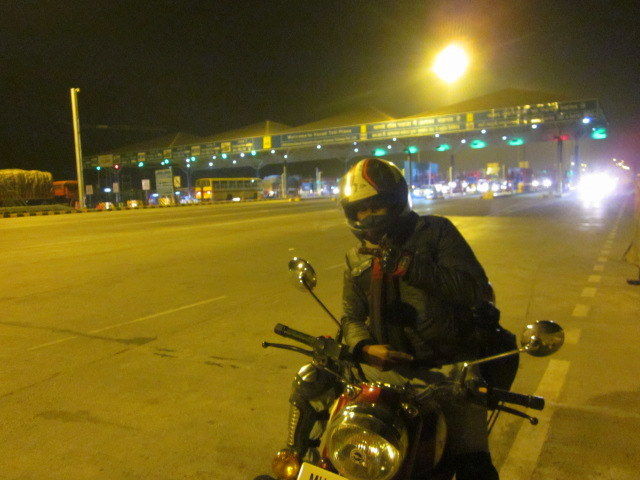 Day 2 (Anand to Kutch)
Started our ride at 10:00 AM after having yummy 'Lal Gotta' and 'Sev Khamani' from Sri Shiv Caterers at Anand. Rode through good condition roads at 80 to 100 kms/hr. To our surprise, a lot of undisciplined riders came from left and right, cutting lanes. Luckily cars and bikes don't fly otherwise they would have come from top also. Ride from Ahmedabad to Bhuj during evening was an awesome experience. A visual treat to eyes watching sunset and nature's art work on the sky. Ride through ice cold breeze during night from Bhuj to Rann (White sand desert) reminded us of Ladakh rides. We finally reached our destination, a nice ethnic village hut at Dhordo and was lucky to have authentic Gujrati food. If you ever come to Gujarat try authentic food from villages, it tastes simply awesome.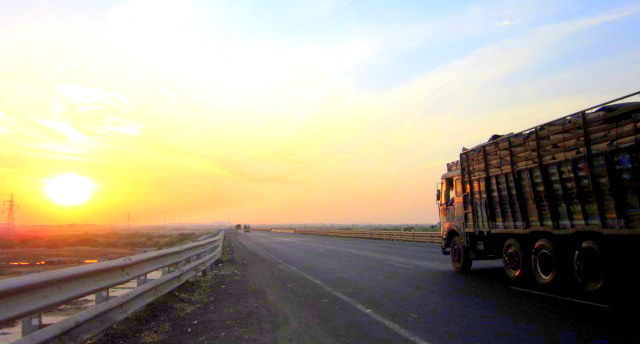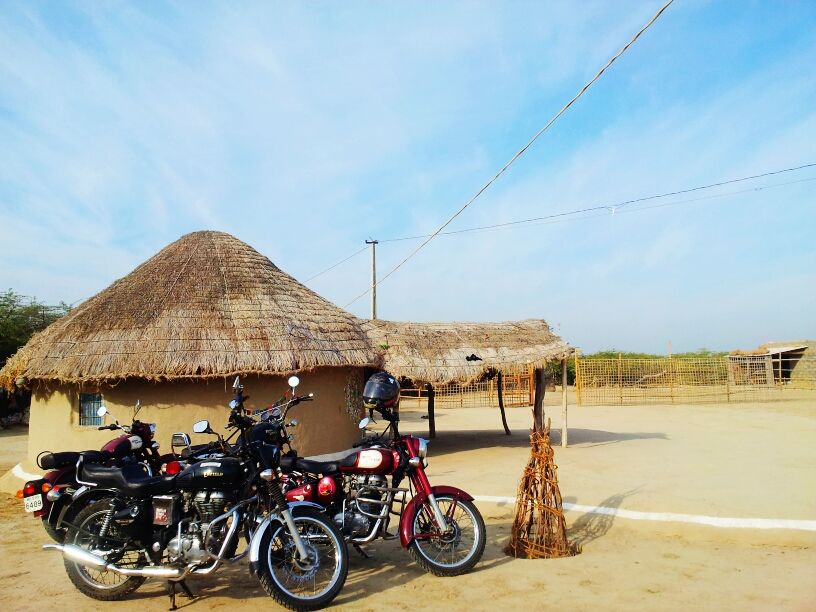 Day 3 (Rann of Kutch)
We decided to visit near by places in Kutch. After our break fast we started our ride to Kala Dungar, highest point in Kutch to experience bird's eye view of Kutch. On our way collected passes for White Sands, met 3 army men and offered lift to their base near to Kala Dungar. It was selfie time at the top. From there we returned to White Sands for Rann Festival. Entered White Sands on our bikes and riding on white sands was a different riding experience. Our bikes became centre of attraction and we as riders received a lot of appreciation and respect from other visitors for our passion towards ride. Our bikes acted as co-models to a lot of visitors who wanted to take a photo with it on white sands. It was crazy time for us on white sands. Took lot of photos, had lot of fun and ride. On our return met my boss and his friends at Tent City, who helped us visit the place. Tent city is an awesome place for family to spend some days peacefully. We returned from Tent City saying 'next year we will be here...'.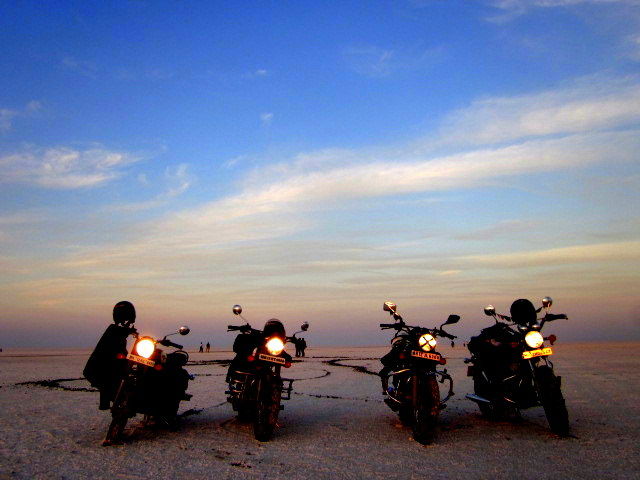 Day 4 ( Kutch to Sanchor)
It was solo ride for me from Kutch onwards as Karan, Rohit and Siddhaarth had another destination and had to reach Pune early. For me it was a ride from salt to sand, group to solo, distance to distance...

At the last moment Siddharth changed his mind and decided to accompany me till Bhachau, Gujarath. We started our ride at 09:30 AM while Karan and Rohit were all set to visit Gandhidharm on their return. From Bhachau, Sid rode towards Ahmedabad and I towards the long awaited Rajasthan. I had a big Gujrati thali from a Dhaba and continued my ride. Ride to Rajasthan was an emotional one for me. My papa's early 20's were spend there. When I was child he used to tell me his Rajasthan stories. The long fields, deserts, cycling through the sand, army camps were all characters in his stories. So I had this dream to visit this place. I decided to take shortest route to Jaisalmer through Dharad border and Vav. Took a halt at army camp near the border and the army men offered me water seeing my condition. Army men rocks !. Ride was awesome on long roads and between trucks. Reached Sanchor at 09:00 PM and settled in a hotel. Another 280 kms to Jaisalmer and ride continues through desert land...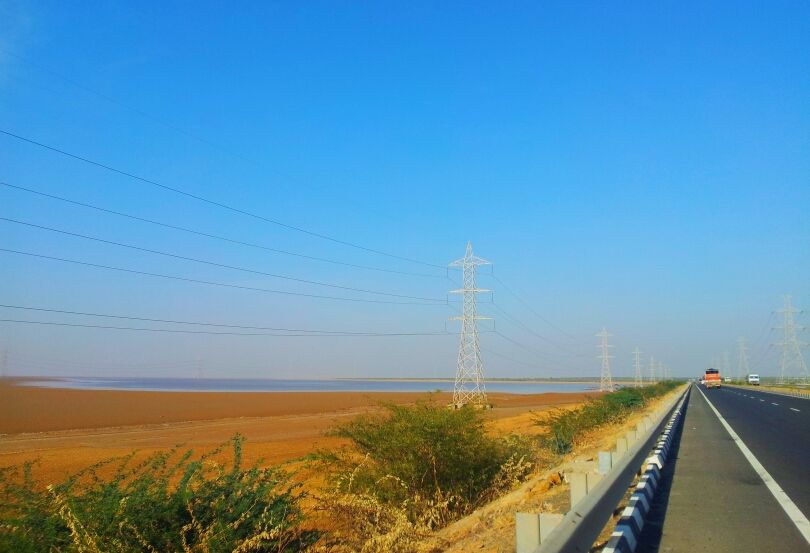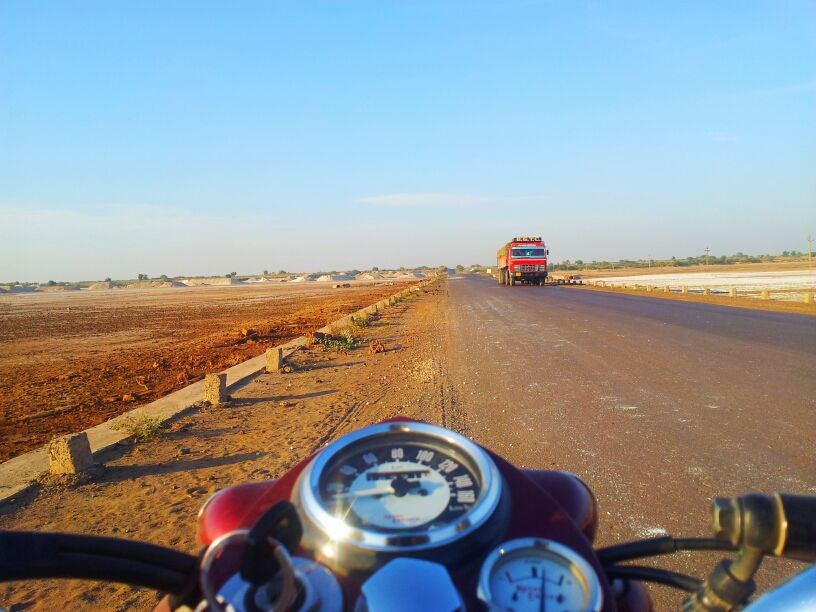 Day 5 (Sanchor to Jaisalmer)
Heard about Jaisalmer a lot. I could have rode to Udaipur and went back to Pune with my friends but I decided to explore most of Rajasthan. Started my ride at 09:00 AM through ice cold breeze. There was nothing much exciting other than the roads till Balmer. I had my doubt on whether I chose the right destination to ride to. The first surprise was Kushalvatika temple near Balmer, a temple completely made of white marbles. From Balmer I headed towards Jaisalmer. Then there came the next surprise, the roads itself. It's up-down roads till Jaisalmer. Riding up makes you feel like riding into the blue sky. A 180 degree panorama view of sky meeting earth is a nice view. Started seeing glimpses of sands on roads as I reached closer to Jaisalmer. Reached Jaisalmer at 03:00 PM and visited fort which is at the centre of the city. A lot of families still lives inside the fort. A resident in the fort directed me towards a view point next to her room. View from top of the fort was awesome. I came out of the fort in search of desert but somehow I couldn't find sand desert near the city. I enquired a local guy about it. He told me about Sams sand dunes, 45 kms from the city. After fort visit I headed towards dunes. On my way I had the finest of the visual treats. Art work on sky, sand deserts, camels, tents for night stay. Got checked in to a tent and then did a camel safari. There came the next surprise. They arranged rajastani folk dance and trance/dj at the tents. After the dinner danced to some crazy bollywood numbers 'dj babu meri gana chalado', 'aunty saree me nachegi' :-) 
Tomorrow my ride will continue from Golden city to Jodhpur...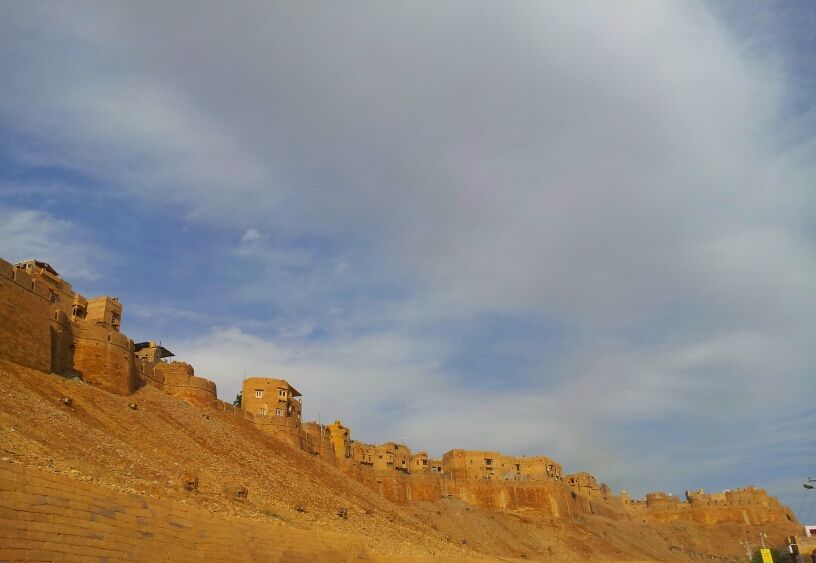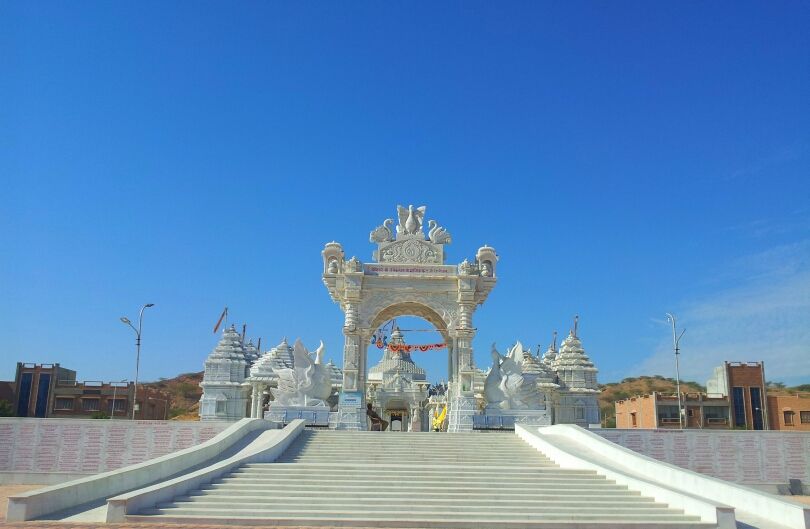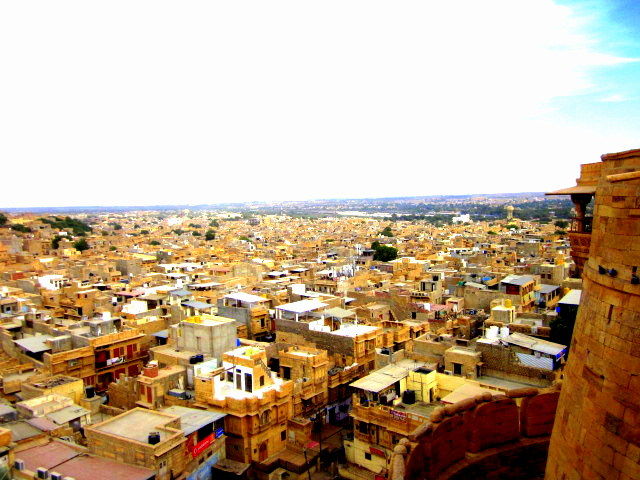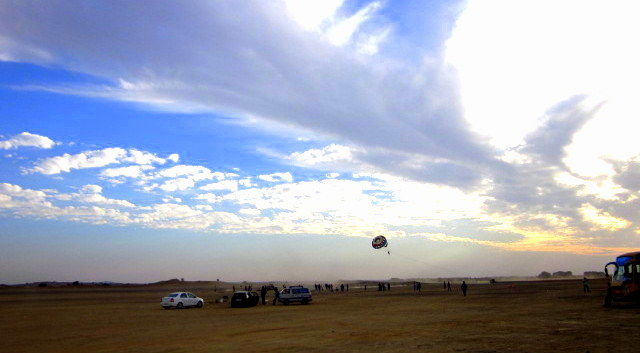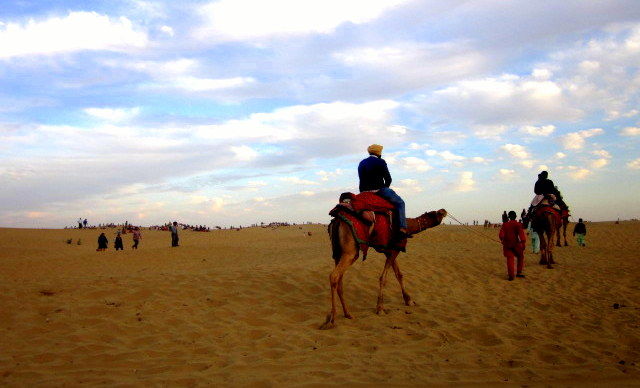 Day 6 (Jaisalmer to Jodhpur)
Waking up at 07:30 AM listening to Jagjit Singh's gazal at the tents was a refreshing experience. I was ready to ride to Jodhpur at 08:30 AM but my bike was not. Standing outside the tent in ice cold breeze made him angry and he decided to disobey me. Finally with the help of a local bulletier, I fixed the problem with fuse and battery, a new learning. From Sams Sand dunes I visited Jaisalmer lake and taken some photos. Jaisalmer is also a land of army camps. On my way to Jodhpur I got a chance to visit Jaisalmer war memorial. I watched video on Indo-Pak war. I continued my ride through almost empty roads. More than humans, animals use roads in Rajasthan. So be careful when riding through Rajasthan. You don't know when a dog, cow, sheep or mule will come from no where and cross the roads. Reached Jodhpur at 05:30 PM but by then Jodhpur fort was closed for the day. So made a visit to lake, sunset point and then settled in a hotel. A local guy helped me find a Dal Batti (a delicious Rajasthani dish) special restaurant and I had very tasty Dal Batti from there. Burrrppp!!!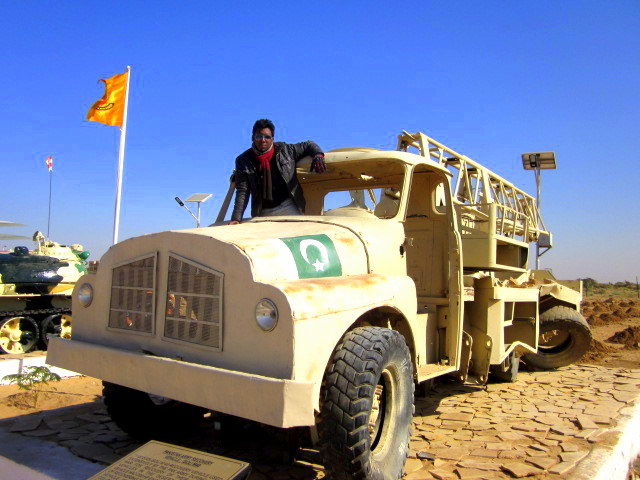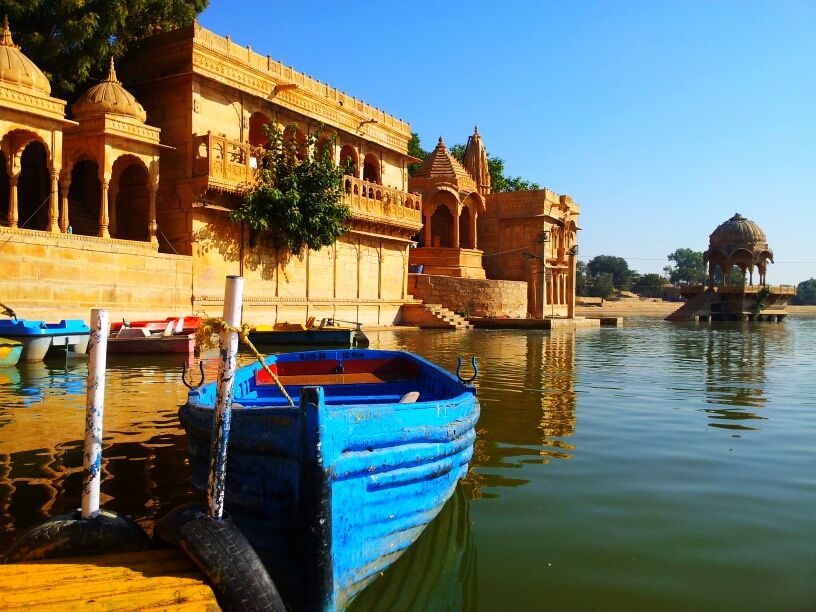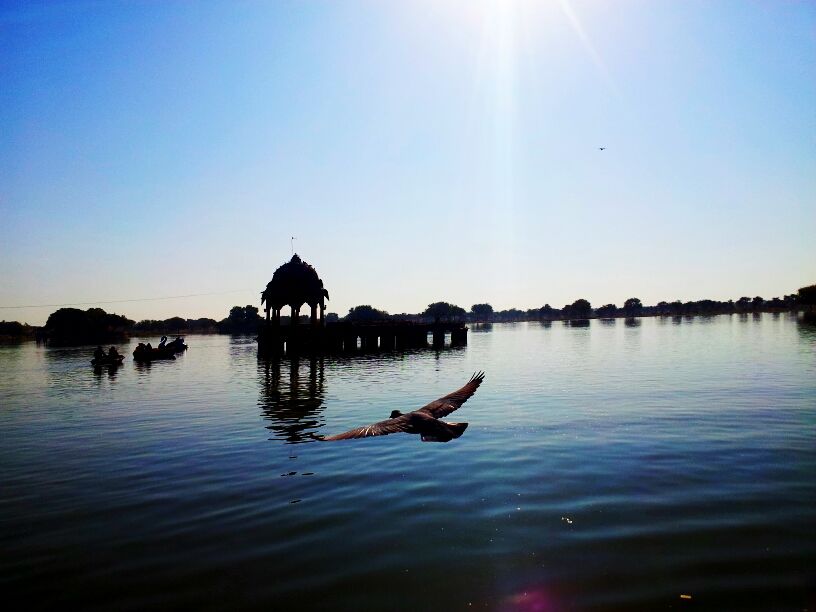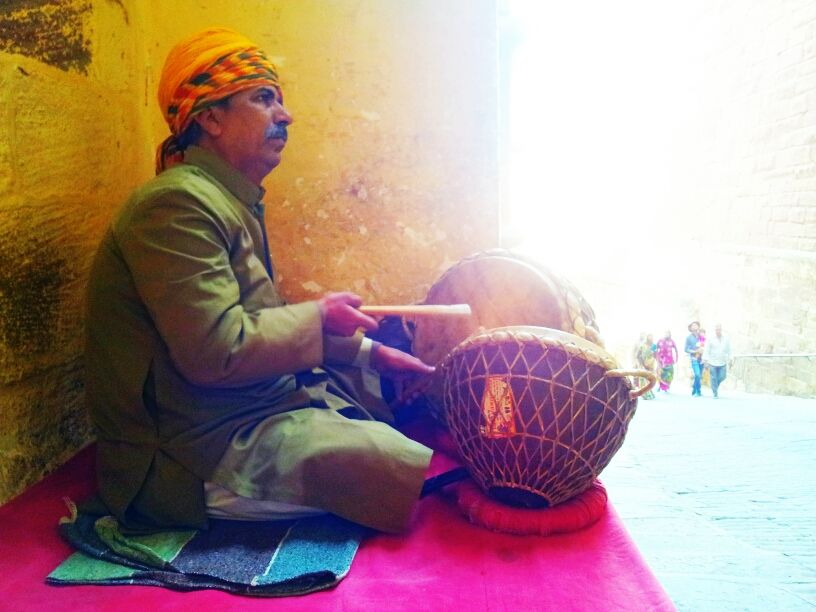 Day 7 (Jodhpur to Ajmer)
My initial plan was to return to Pune from Jodhpur through Udaipur. But after hearing about Ajmer from Sid I decided to visit there. I had heard about Ajmer Sharif Dargah and considered it as a chance to visit the Dargah. I started my ride at 08:30 AM and headed towards Jodhpur fort. It's an amazing fort beautifully constructed on rock hill. Forts ramparts are lined with antique artilleries and panoramic view of 'blue city' is awesome. At the fort i met Amjed Khan, a rajastani folk singer. It was a splendid experience to listen to 'Kesariya Baalam Aavo' sung by him. From there I headed towards Jaswant Thada, a white marble tomb built in honour of Maharaja Jaswant Sing ll and then towards Umaid Bhavan palace, worlds one of the biggest private residence. This is where Jodhpur royal family resides. By then it was 12:00 PM and I had 240 kms to cover to reach Ajmer. I headed towards Ajmer after palace visit. As I entered the city I couldn't find anything exciting there other than the crowd and that's when a local guy directed me towards Ajmer Sharif Durga, Khwaja Moinudeen Chisti's Khabar. It's considered as second holy place after Mecca by Muslims. Another local guy helped me understand the history behind the Dargah. I made a visit to Dargah and spend my new year there. It was a divine feeling to be at a holy place. Life was always rocking and I believed it will be more rocking in coming new year. Welcome 2016!!!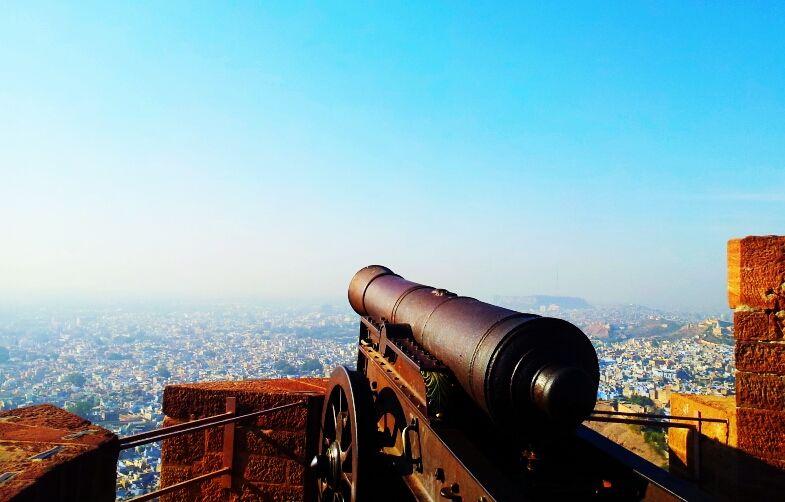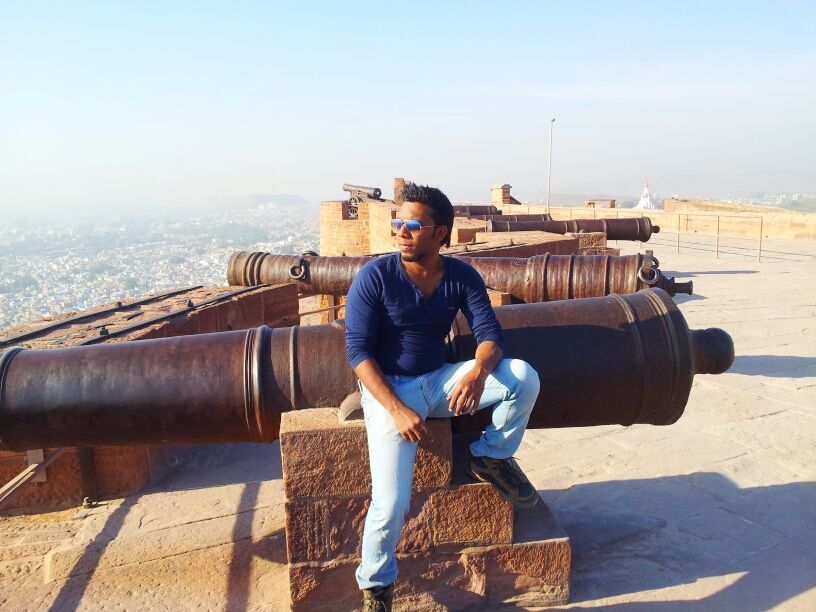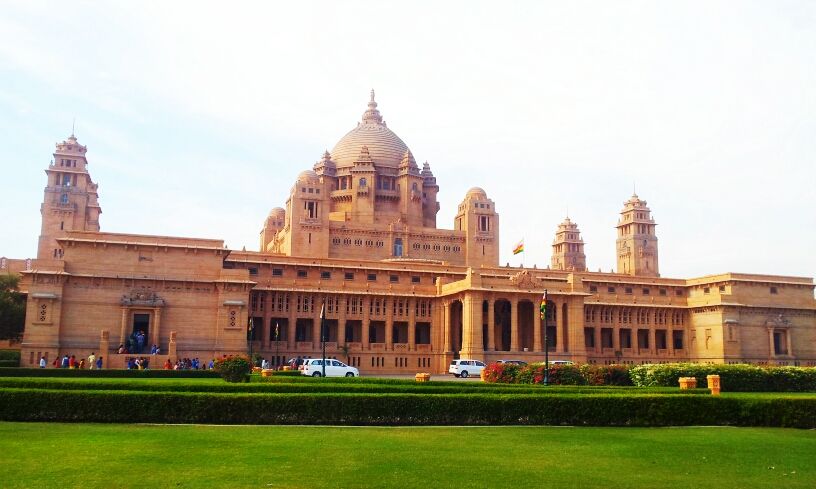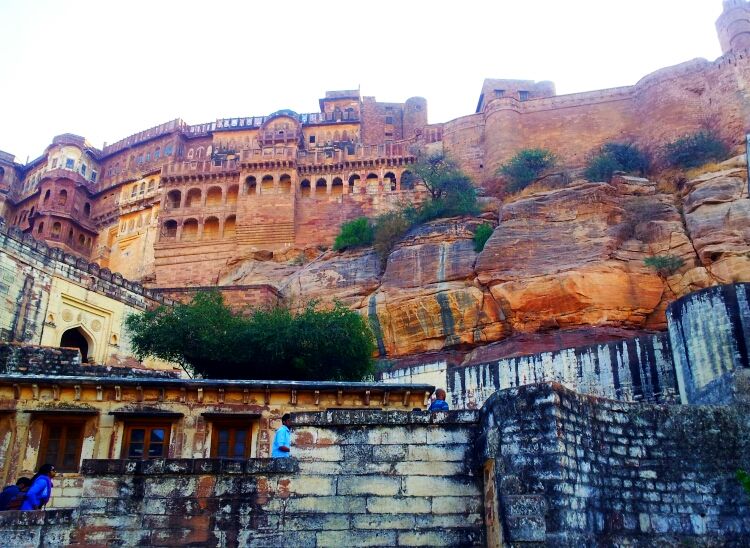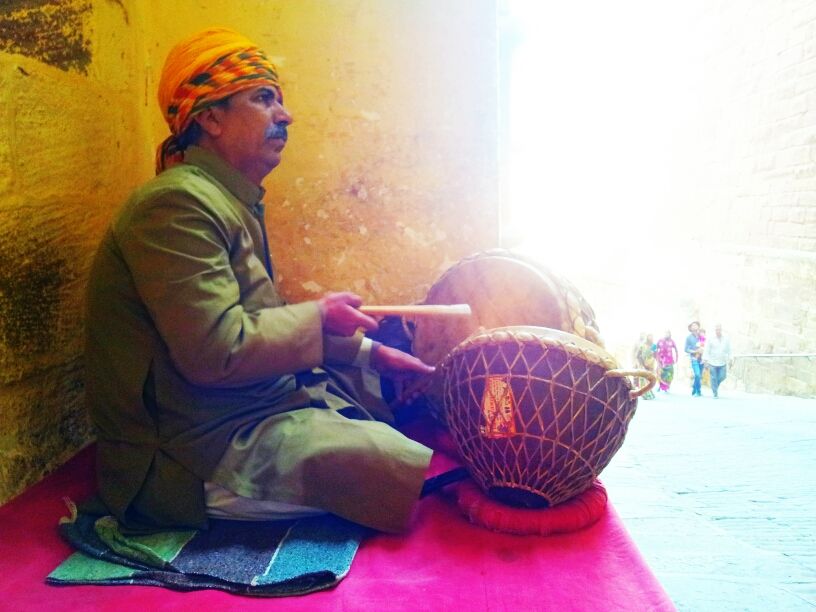 Day 8 (Ajmer - Pushkar - Udaipur) 
New year started with great spiritual motivation from Ajmer Sharif. I heard about Pushkar and one of the local guy advised me to visit Pushkar which is 12 kms from Ajmer. Ride to pushkar started at 08:30 AM through ghats and reached at 09:00 AM. I visited a Sikh Gurudwara and from there I headed towards Brahmaji mandir, the one and only temple for lord Brahma in this world. From there I headed towards Pushkar lake and did some shopping at the market. Pushkar is a spiritual place and a hub for foreigners who comes in search of spiritual wisdom. My next destination was Udaipur and had to travel 320 kms to reach there. The road to Udaipur is in good conditions and I rode 2.5 hrs non-stop and covered 180 kms. Reached Udaipur at 05:45 PM. Ride through the crowded narrow roads in the city was hectic. So decided to settle first at a hotel. For a change, I went to Ashoka Cinema near the hotel and watched 'Bajirao Mastani'. Had a good sleep after a nice movie.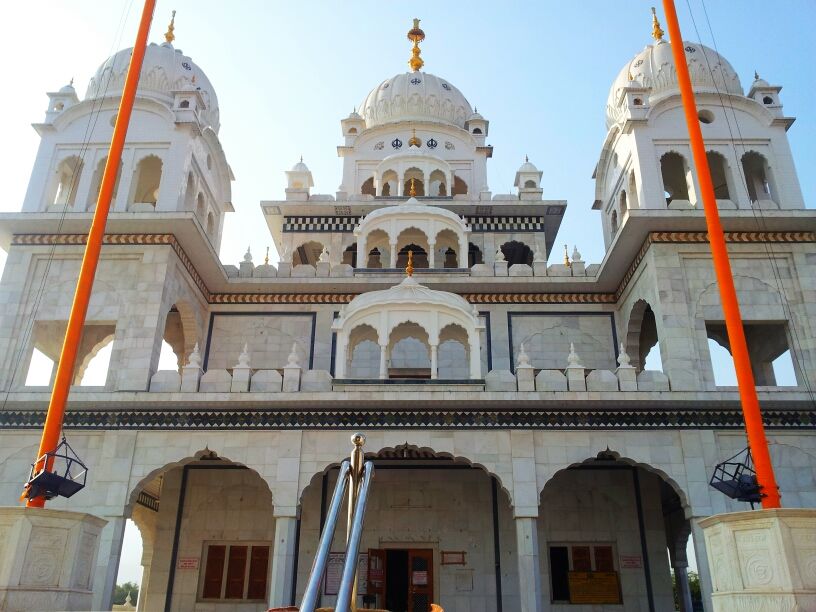 Day 9 (Udaipur to Vadodara)
I never thought Udaipur is such a big and beautiful city. Wake up at 07:30 AM and was all set to visit City Palace at 08:30 am but my bike had a battery problem. So I decided to visit the Palace, Lake Pichola and Monsoon Palace in an auto rickshaw. City palace is one of the biggest and beautiful palaces in the world. It takes 2 hrs to visit the palace completely. Udaipur is also a major shopping place with lot of shops across the city. After the visit I came back and got my bike's battery replaced by a local mechanic and headed towards Vadodara, my return destination. Reached Vadodara at 08:30 PM and made visit to city mall. Now another 590 kms to cover to reach Pune.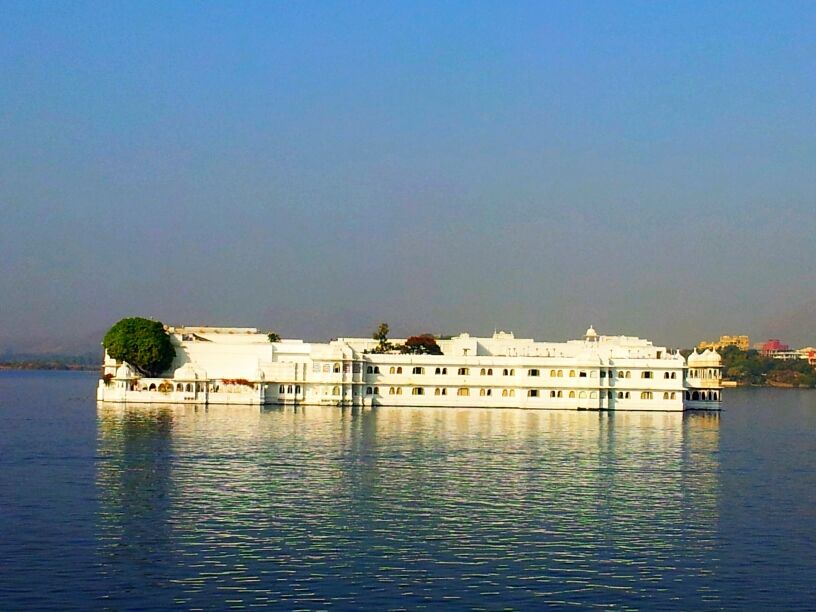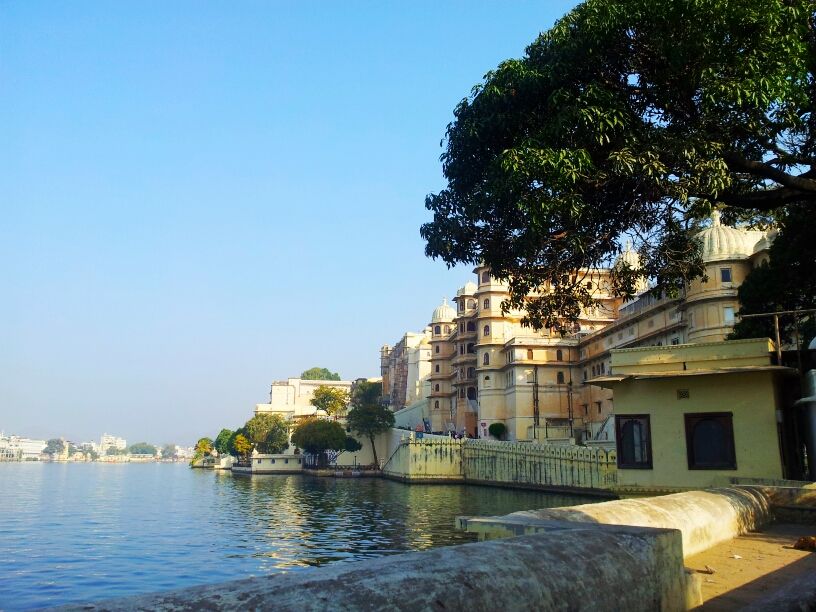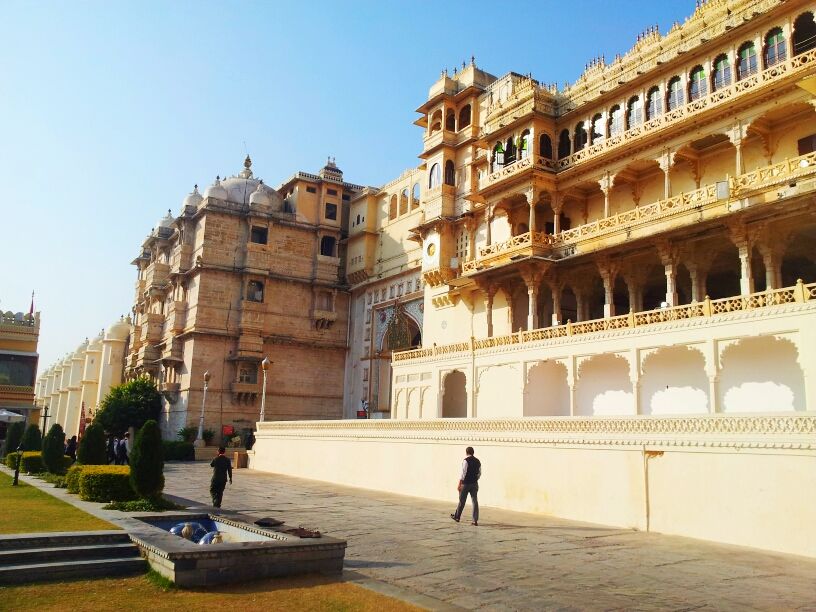 Day 10 (Vadodara - Pune) - Home Coming

Distance doesn't matter when you have to reach your home. Missed my mom a lot during those 10 days. Now I carry a lot of experience, stories and memories with me and soon I need a break from ride and so decided to cover remaining 590 kms on day 10. Started my journey at 09:00 AM and rode through Surat, Thane and reached my home at 09:30 PM. It was happy moments for my mom to see her son after 10 days. It was all smile and happiness everywhere at home.
Every ride is an experience. Now after a ride full of excitement, awesomeness and experiences, I need a break to prepare myself for NEXT...