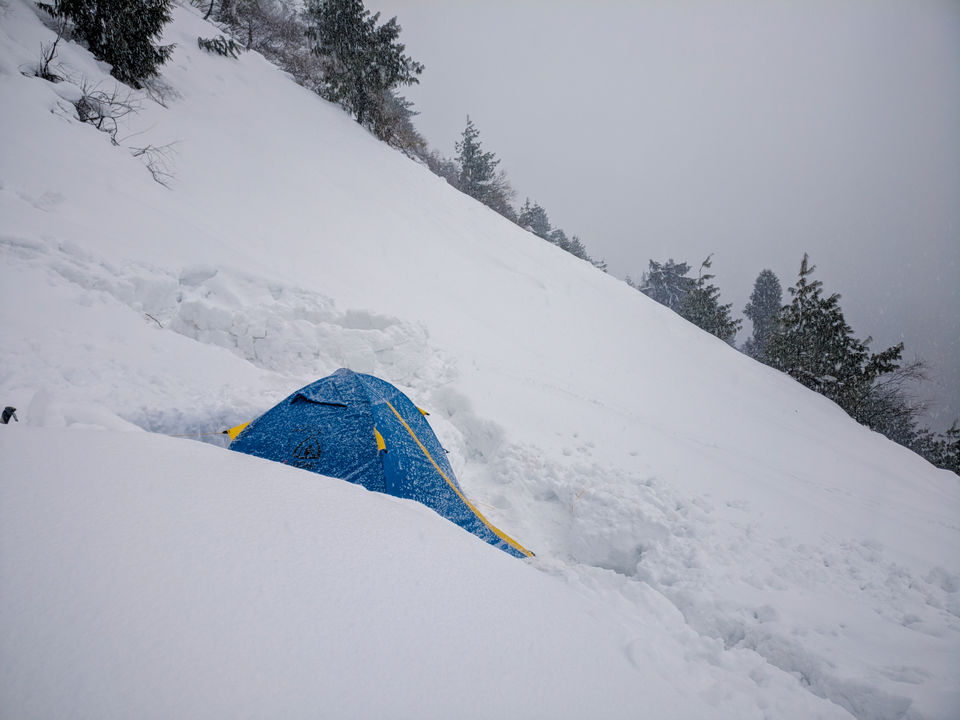 This video depicts the very first successful attempt to reach Bhrigu lake (14,000 feet/4225 meters) situated near Manali in Himachal Pradesh.
We were a team of two individuals (Manav and izhaar) and we started our hike from Dhungri village in Manali. We started walking towards Vashisht temple (Starting point of the trek) at 06:40 am on 11th April 2019 and reached there by 07:20 am.
We were carrying two backpacks (Wildcraft Karakoram 60L and Forclaz 20L) for the trek. The things we carried are as follows;
01) Sleeping gear
- 2M tent
- Sleeping bags (0 degree rated)
- Sleeping mats (1 sleeping mat, 1 yoga mat)
02) Food
- Roasted peanuts (1kg)
- Oats (400 gms)
- Jaggery (500 gms)
- Dry fruits (one fist)
- Sugar (50 gms)
- Tea leaves
- One biscuit packet
- 3 Maggi packets (Did not use, bought them back)
03) Gear and Equipment
- Ice axe (two)
- Gaiters (two)
- Butane gas (450 gm cylinder)
- Koveat burner (1 unit)
- Knife
- Sunglasses (2)
- Compass, Thermameter, Whistle
- Trekking poles (2)
- Water bottle
04) Clothing
- Thermals
- 1 Quick dry tshirt
- Hudon (Local made snowproof trackpants)
- 2 pair socks
- Quechua Forclaz 500 shoes
- Gloves
- Cap and balaclava
05) Camera gear
- GoPro Hero 5 Black
- GoPro Hero 7 Black
- Rode Mic vlog setup for GoPro
- Syska 20,000 mAh power bricks (3 units)
- SD cards (128GB, 64GB, 32GB)
- Monopods (2)
- USB c-type cable
- head mount
- bite mount
06) Backpacks
- Wildcraft 60L
- Forclaz 20L
I will soon come up with a full-length video talking about 'Things to carry' and 'Total expenditure' of the Bhrigu lake trek.
.
With everything sorted we started hiking up and witnessed small snow patches in the jungle at an altitude of 7500 feet. We moved swiftly through them and took our first break just before the snowfield. As we were hiking up we came across patches of dry grass, small waterfalls, footprints of bear and thus we started whistling every 10 mins so as to maintain a healthy distance from the wildlife.
The weather was very clear and the sun was not very harsh. Soon we wore the gaiters and starting walking in the humongous meadows of the trail (which were covered by a thick blanket of snow). After walking till 12:30 pm we finally reached Panduropa (a big plateau which acts as the first campsite for the Bhrigu lake trek from Vashisht side). We saw a huge ridge in front of us and we hiked for another hour and decided to camp on top of the ridge.
Since we had enough time with us we even slept on the exposed rocks for sometime.
As the sun set we had our dinner and feel asleep camping at 3550 meters watching the whole of Kullu district. The temperatures inside the tent were really high and we had a sound sleep.
Day 02 - 12th April
After having a heavy breakfast (oats, jaggery and dry fruits) we packed our tent and started hiking at 08:00 am. We left the rucksack (60L) at one point in the trail as there was no one except the two of us in the whole region. We kept peanuts, dry fruits, jaggery, water bottle, gloves and power bricks in the small backpack and started running towards Bhrigu lake with trek poles and Ice axes in hand.
After crossing vast landscapes of snow and two short breaks we reached the long awaited lake at 12 noon. To our utter surprise there was nothing. Since the region received huge amount of snowfall this year, the lake was completely covered with snow and one can barely see the boundary of the lake. We took the help of Maps.ME to confirm that we are at the right coordinates. After sitting there for 10 minutes we turned back and reached near our rucksack in 2 hours.
We quickly picked the rucksack and then after a series of Glissade touched down the forest section by 02:40 pm.
After that it was a joyride remembering the experience we had and we reached Vashisht temple at 05:00 pm thus marking the end of another beautiful trek.
#bhrigu #bhrigulaketrek #snowtrek
Instagram:
https://www.instagram.com/creedazoffi...
Facebook:
https://www.facebook.com/Creedaz.mnv