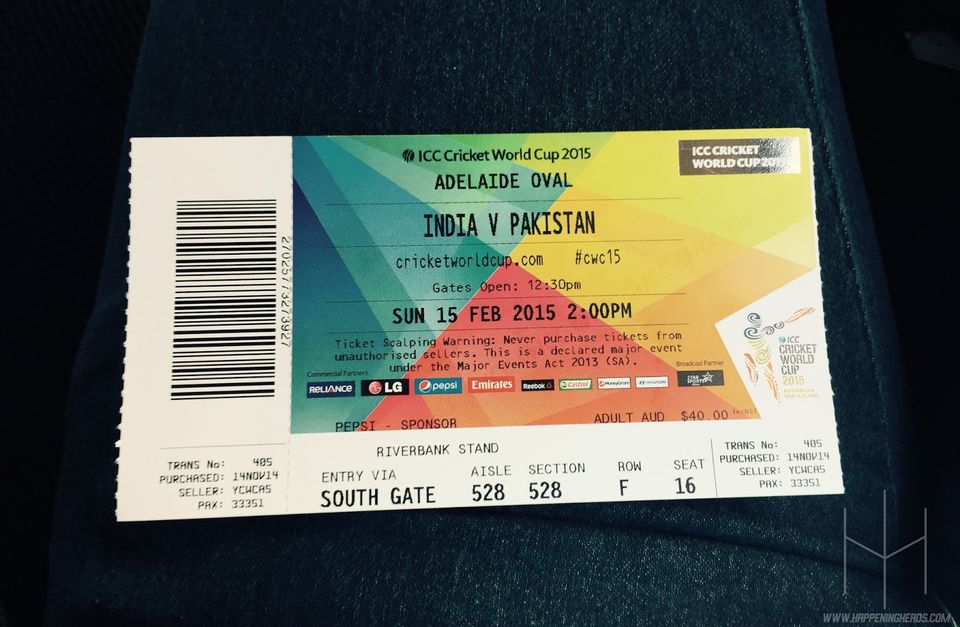 As majority of Indians, even I'm fond of Cricket and prefer traveling to places in order to back our Men in Blue brigade with my loud cheers. God granted me a divine opportunity which any Cricket fan would take it with open hands - Yes! Witnessing an Indo-Pak World Cup match and too at the neutral venue in Australia.
In between the hustle and bustle of ticket rush in which all the tickets were sold in not more than 15 minutes, luck favored me and I managed to get our hands on couple of those. It is one of those precious memorabilia, which we will treasure forever as Cricket fans.
The big day had finally arrived and I could feel the cricket connect right away as we stepped into the Adelaide Oval, which is located in the park-lands between North Adelaide and city center. I was fortunate enough to see the final product of the modification, which were going on for months in the stadium.
I was soaking in the electrifying atmosphere before one of the biggest cricket match begins. DJ playing loud music, flags of all Cricket playing nations hoisted high and last minute rush among the fans was clearly visible. Whole world is well-aware of the on-field rivalry between the arch-rivals India and Pakistan, but we were surprised to see fans of both the sides dancing together and supporting the spirit of cricket before the big game. All of this was nothing less than a visual treat for us to be honest!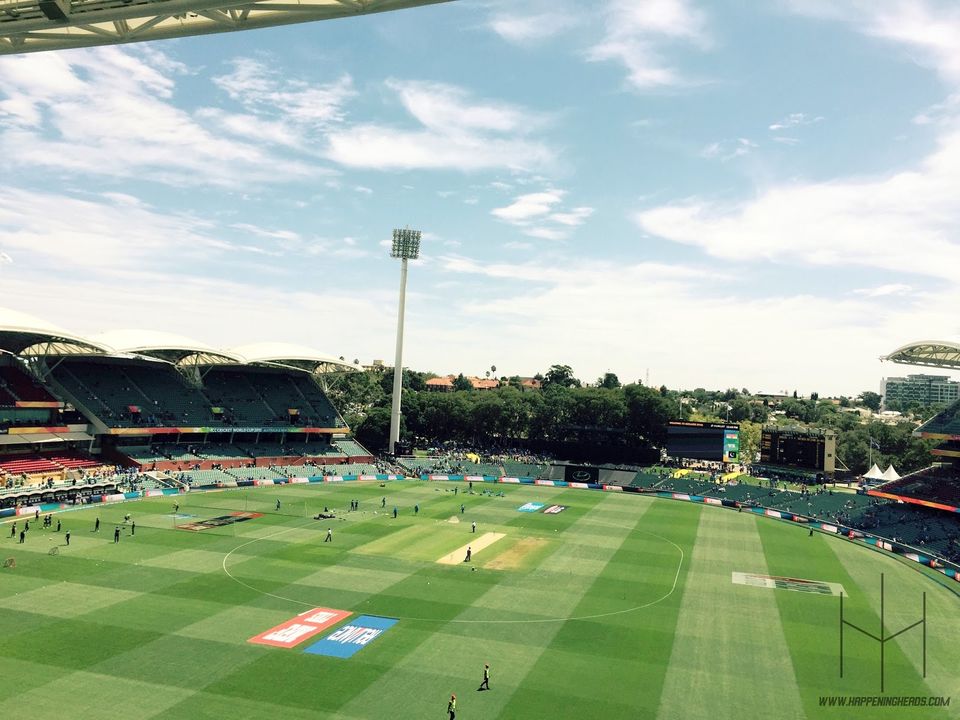 Watching a cricket match live in the stadium isn't a new thing for me but it was my first time witnessing it at a stadium outside my home country so our excitement has already reached its sky high. I couldn't believe that I was the chosen ones who has got a golden opportunity to experience the thing every Cricket fan wishes for at least once in life.
Though Team India didn't started off so well and lost an early wicket, we were cheering our heart out for the man I love and adore the most - Mr. Virat Kohli and he didn't let me down at all. Trust me, I had lost our voices literally and crying in joy when he raised his bat to celebrate his 22nd One-Day International Century and we just couldn't stop applauding for this living legend who also became the first Indian batsman to score a century against Pakistan in a World Cup match!
Though it was quite an one-sided encounter and Team India never let the Pakistan get an upper hand over them, but it was awesome watching the action accompanied with a jam-packed crowd in the stadium. I'm super proud of our Men in Blue as they registered an impressive win to kick-off the ICC Cricket World Cup 2015 campaign in style.
This is one of those experiences which will be secured inside my heart. Traveling all the way to Adelaide, witnessing an epic ton from Man of the Match - Virat Kohli and happy faces of Team India after they convincingly won the match was nothing less than a fairy-tale of me!
ALSO READ: 5 MUST-VISIT MAHARASHTRA TOURISM PLACES IN SUMMER
Follow me on Twitter, Facebook, Instagram, subscribe to my YouTube channel and visit my Blog for more such happening travel stories!