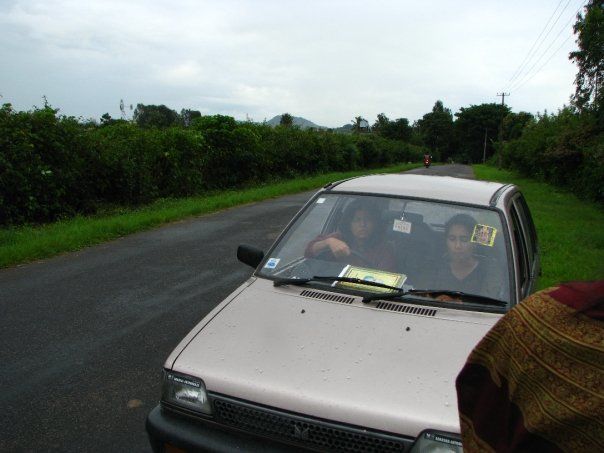 Ye Olde' Faithful,
Do you remember when AB and I lost track of time, and he missed his bus home? "Why don't I drop you?" I asked him. "That was the last bus tonight," he said. "No. To Kerala."
We left immediately, stopping to take a toothbrush and fresh underwear from home. "I'm dropping AB to Palakkad," I told mom. I had expected her to throw a fit, but she just said, "Go to Kalpathi."
She had talked about it for years; a quaint village, that was still the way she remembered it. "The homes were built on either side of the singular street," she would say. "And the temple was at one end. Every evening, they'd light a hundred lamps, and we would all stand out on the road, watching the temple elephant make its way up to it. You know, it was a very scholarly place." It was some sort of a hot bed for Vedic activity.
We drove all night, through Salem, and Coimbatore. It was the first week of the monsoons, and the rain lashed the windscreen. We had to go looking for an ATM in a village, because we didn't know there are a dozen toll booths on the way. 450 kms to Palakkad. You had never done that much at a stretch, in all your 12 years.
When we got to Palakkad, I checked into a hotel, and AB carried on homewards. The last time I was there was when grandpa died, and we had the best summer of our lives. The whole family descended, and stayed a month; eight kids together in the bungalow with mango trees in the yard.
It was drizzling in the afternoon. I saw you from the balcony, parked under the canopy of quicksilver green leaves. The dome of the church across the street was neon white against the dark clouds. "I need to get to Kalpathi".
We found it, just how mom had described it, sans elephant. The brightly coloured facades of the old homes haven't been changed. The tiled roofing, the heavy wooden doors, and the balcaos are a hundred years old, as are the people lounging around in them. I met a lady who reminded me of grandmother; steel grey hair, crisp saree, bent spine, the ashes of a smile that indicated she was once less cranky. She spoke grandma's Tamil too. A vadyaar lit the temple lamps as dusk settled in, casting an amber glow through the rain. The whole place smelt like my house does every morning, when grandma brews decoction. And I stood drinking a cup of filter coffee, thawing my bones, watching old men amble along with the black umbrellas that every self-respecting Malayali must own.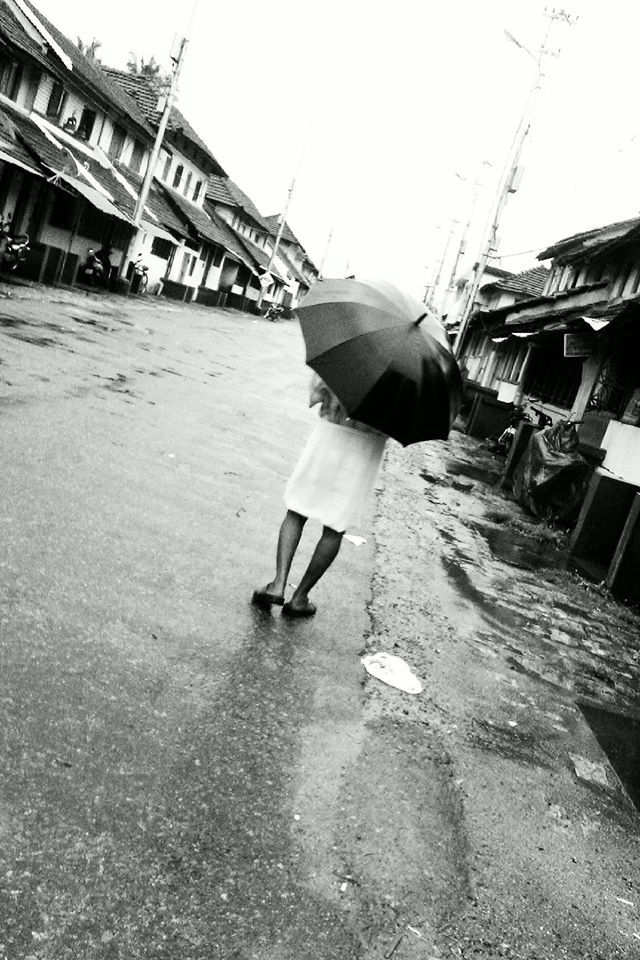 On the drive back to Bangalore, we spent 9 hours straight in silence. I had turned the music off, because when you drive through Kerala, you can hear the constant rustle of coconut trees. It may have been just the wind, but I like to think it was coconut trees. And I apologised to you, because you deserved better.
I haven't cared for you the way I should have. I haven't always got you serviced, or washed and waxed. And I have never taken you out on the open road. Every day, I have made you stagger through godforsaken city streets. Clutch, break, clutch, break, clutch, break; never going beyond 30. Oh and the potholes! Every time we fall into one, I cringe. I feel like I am being made to watch a video of a man being ripped apart by a lion, when we go over speed breakers that scrape your metal belly. You deserved to have run free.  
I couldn't always keep that promise. But we've had some good times. Remember when the Two Mayas and I decided to drive to Mysore to go to Sandesh, The Prince. "Dude, all the seating in the bar is refurbished antique car, da!" Maya had said. On the way, we took a detour to Manchinbele Dam, which is the most beautiful lake I've seen around Bangalore. We saw those giant satellite dishes at the ISRO station close to it. They launch rockets from there! We stopped to take pictures, and then we played cheesy Hindi songs, and danced on the road. And big, burly security guys came running at us while we filmed them. Maya yelled, "They've got guns!" and dove into the backseat. They turned out to be huge walkie-talkies, but we ran from them anyway. Then we started fighting, and somehow took a turn into a granite quarry. It was so funny, when we were at this 70 degree incline, and I was doing everything I could to stop you from rolling back, while also crying for my mommy.
Sandesh, The Prince was a total bust by the way. They had two vintage cars, just randomly parked in the middle of a restaurant. And when we came back, 350 kms later, at 4 in the morning, mom was livid, because I had to take grand ma to the railway station by 5. Mom took her in, while I parked. She was so relieved, because the train was just about to leave. But she managed to shove the old one in on time. So we had some tea, laughed and bonded, while the train grand ma was actually supposed to be on, pulled into the platform. Mom got a call from the TTE, who said, "Madam, why you put your mother on wrong train? Kindly collect back." So we drove for another 100 odd kms, to fetch her from the Tumkur railway station. We drank coffee every chance we got, because I hadn't slept in two days. Grandma was yelling at the railway sweeping lady for missing a spot when we found her on the platform. She was pissed. Fun times.
We've come a long way. Now, you are 15, and the government says you need to get a fitness certificate. I am 30, and my doctor says I need to get a mammogram. Yesterday, I found rust under the engine, and a grey eyebrow on my face. I don't want to become Mrs. Claus. I want to go back to the night when Shesh and I stole the fire extinguisher, and filled you up with dry leaves, looking for a place to set them ablaze, so he could show me how it works. And all the nights when the girls and I drove around, raucously singing along to Singh in King, looking for food. I wish I had money to get you over-hauled; new engine, fresh paint, maybe a sunroof. And I won't let any idiot who has watched Ship of Theseus say anything about it. You have been my haven, Olde' Faithful; my sanctuary, my bed, my cloak of invisibility, and my most constant companion. So, let's make that drive down to the RTO tomorrow, and whatever they say, you'll come back home, and we'll grow old together, and we'll just keep going on, till they start calling you a classic.
Forever yours.
Driver.