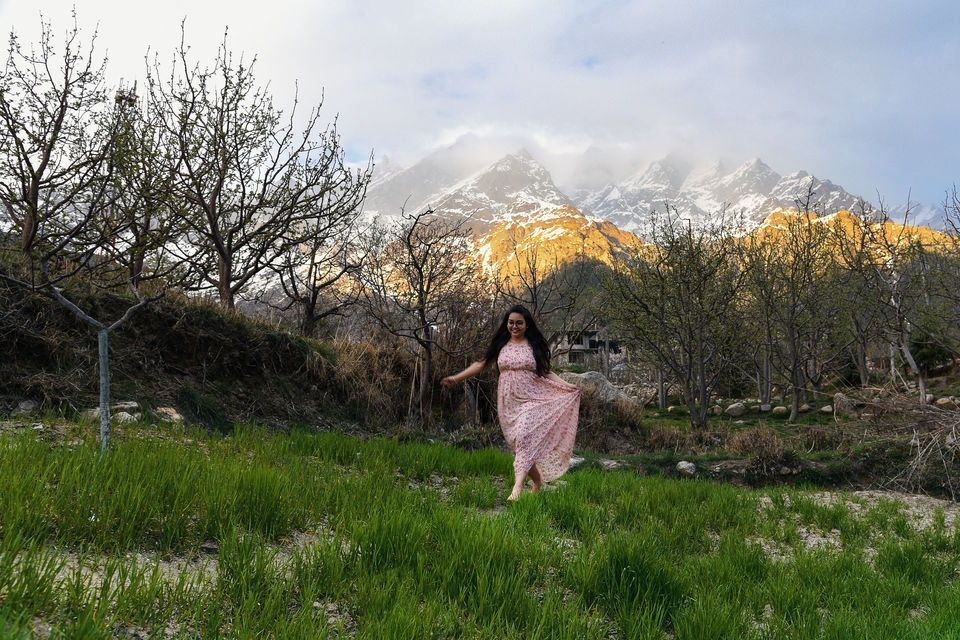 Kinnaur has been one of the most beautiful destinations I have had the pleasure to visit. Like every avid traveler on a schedule, I had a list of places on my phone ready to be tackled. After visiting these places, I think I can help you make an informed decision if it is worth your time and if not, what else can you do.
Chitkul, Sangla
The last inhabited Indian Village before Tibet border had to sit on the top of the list since this place is other-worldly. On the banks of river Baspa, situated at the height of 3450 meters, Chitkul is a delight for nature lovers. Yaks domesticated by the locals can be found grazing amidst the tall pines, under the blue, blue sky. It is a paradise for adventure seekers and quiet thinkers likewise.
Verdict: Must Visit!!!
Things to do: Walk by river Baspa, eat and have tea at the Hindustan ka Akhiri Dhaba, stop at Rakkcham before reaching Chitkul and connect with the locals.
Word of Caution: The roads are in bad condition and self-driving is not recommended for beginners. HRTC buses are consistently running to and from Chitkul. The roads can get snowed in and landslides are common in cold weather and monsoons respectively. Advised to check weather reports and engage with locals before heading out for this journey.
Rolli Cliff Point (aka Suicide Point) – Roghi Village
The non-existent, single lane, mountain hugging road to Roghi is considered one of the most dangerous roads and is definitely not a destination for anyone faint of the heart. The village sits at an elevation of over 9000 ft and is not an easy destination to reach. The road leading from Kalpa to Roghi has shocked many tourists into turning back or simply choosing not to go at all. The cliff point is at a distance of 11 kms from Kalpa and you'll know it when you see it.
Verdict: Must visit for daredevils and people who enjoy thrilling adventures. Can be skipped by some, refer word of caution below.
Things to do: Get that perfect insta-worthy moment and enjoy a drive to Roghi.
Word of Caution: NOT RECOMMENDED for novice drivers. I request everyone considering to visit to not take risks by driving in bad weather, night time or visiting with passengers who don't do well at heights. Vertigo is a common issue near the cliff, so while you should get dope pictures taken, please do not do foolish things and risk your lives for likes on social media. Self-driving recommended for highly skilled drivers only. Walking is the best option. Definitely not recommended for family visits.
Chandika Devi Temple and Fort, Kothi Village, Kalpa
A hidden gem of Kalpa, the temple and fort are brimming with culture one has to experience when in Kinnaur. The alleyways are a little confusing to a first time visitor – the temple is straight up ahead on the path and the fort is the path up next to the school (you're welcome!). Photography is not permitted in the temple, however you can walk up to the fort where you'll be greeted by an eyeful of the Kinner Kailash range and will get to experience the stunning architecture of the place.
Verdict: Must Visit!!
Things to do: Experience the religious ceremonies in the temple, talk to locals, visit eateries and soak in the culture! A big MUST visit to architecture enthusiasts.
Word of Caution: Ask locals for directions in case of confusion, one should park their car in the parking or open areas and walk rest of the way as the streets are very narrow.
Reckong Peo, Kalpa
Peo is the district headquarters and aptly so. The city is well maintained with a market full of shops and eateries of all sorts, various facility buildings and a common parking lot. The place bustles with energy and activity, yet there is a serenity to it which makes the mundane so extraordinary to experience. There are lanes laden with apple trees as you move from Peo to Kalpa/Kothi, which makes the place look like something described only in books.
Verdict: Should be visited at least once. As it is the city hub, people often use it as a mid-way place to stay on their journey further into Kinnaur or Spiti…but so many places to explore if you have the time!
Things to do: Experience the culture, architecture and enjoy food at local shops.
Rampur Bushahr , Kinnaur
This exquisitely beautiful town situated on the banks of Sutlej is the gateway to Kinnaur. Historically as well, this place has been a melting pot of various cultures of its neighboring states and countries it shares its borders with. It is noteworthy that Rampur is one of the most important business and economic centers of the Kinnaur district. It houses a palace reminiscent of the former empire of Bushair and various religiously significant temples.
Verdict: Visit at least once or use as a mid-way stop to Kinnaur. Can be used as a place to stay and explore if one can not go all the way to Sangla/Kalpa.
Things to do: Experience the culture and natural beauty of Rampur.
A few other recommendations:
I might have skipped a few places and activities due to weather conditions and the fact that I traveled on a schedule to Kinnaur, however, that should not stop us from counting the below places as visit-worthy! If anyone of you have been to these places or have something wonderful to add below, do let me know in the comments section.
Kamru Fort
Nako Lake
Sarahan
Bhaba Valley Trek
Kinner Kailash Trek
Hope this piece helps you to plan your Kinnaur trip better! You can also visit my Instagram to find out where I am traveling to next!! Don't forget to check out my latest Travel Video below.