'Janjaatiya Sanghralaya' or Tribal Museum located in Bhopal, Madhya Pradesh is a rich repository of traditional aesthetics and artworks which depicts the world of indigenous tribes or Adivasis with much authentic skill and finesse. It is sculpted and styled by over 1500 artists and craftsmen, hailing from remote corners of Madhya Pradesh!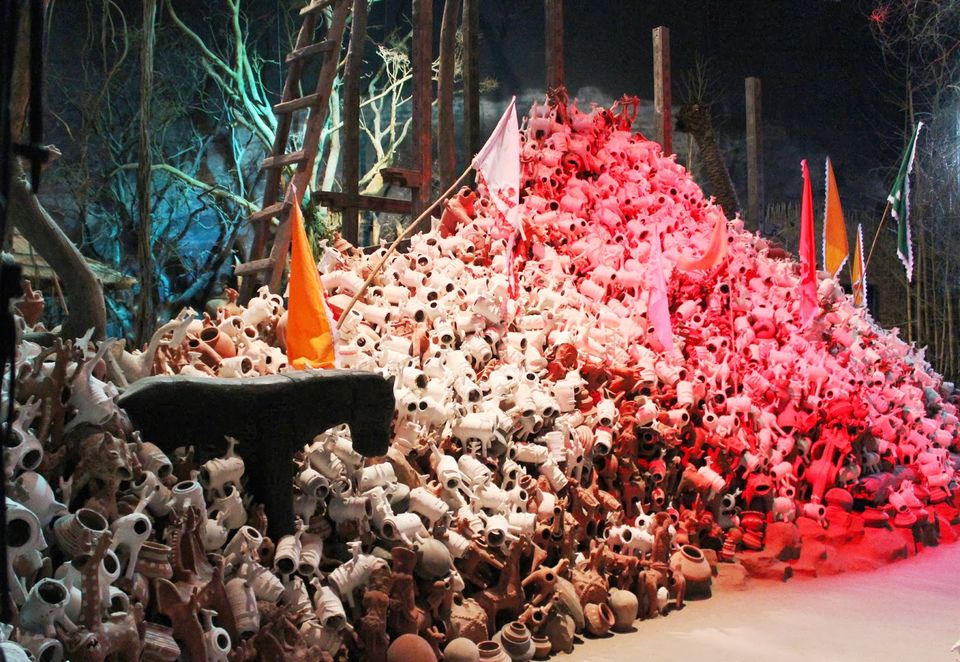 Adivasis of the state, themselves, have exhibited their historical and mythological narratives, beliefs, colorful wedding customs, farming practices, and rituals while preserving and depicting the rich cultural capital of Central India! You will witness an amalgamation of different cultures, customs and rituals of various Tribes- Gonds, Bharias, Korku, Sahariya, Bhil, Baiga and Kol. We can simply say that the museum is a 'communication tool' disseminating beliefs and traditions of the indigenous people.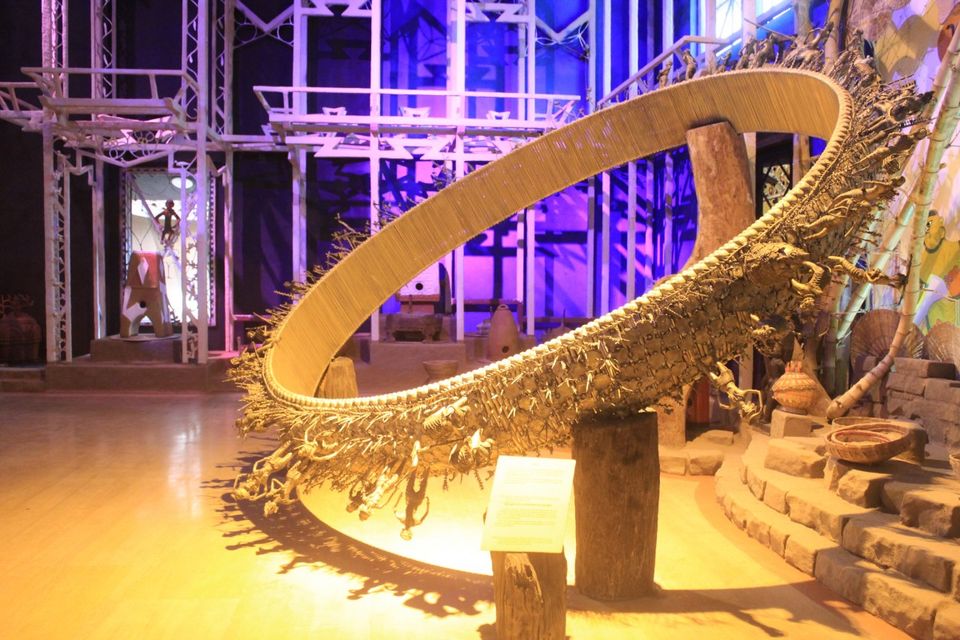 The homes of the Tribes have been showcased beautifully, also highlighting their dependence on natural resources. At the outset, houses have been made of mud, dung, hay, dry foliage, bamboo, and other grasses with a portrayal of essential supplements such as earthenware, charpoys, and agricultural tools used by tribal farmers.
Red and white wall paintings – essential patterns of communication painted with chuna, red earth and color is one of the many recreational methods of décor, during festivals and other auspicious occasions. The same methodology to communicate adivasi's ethnic narratives and cultural stories has been utilized, thereby preserving the authentic designs, and richness of natural aesthetics emanating from different corners of the state.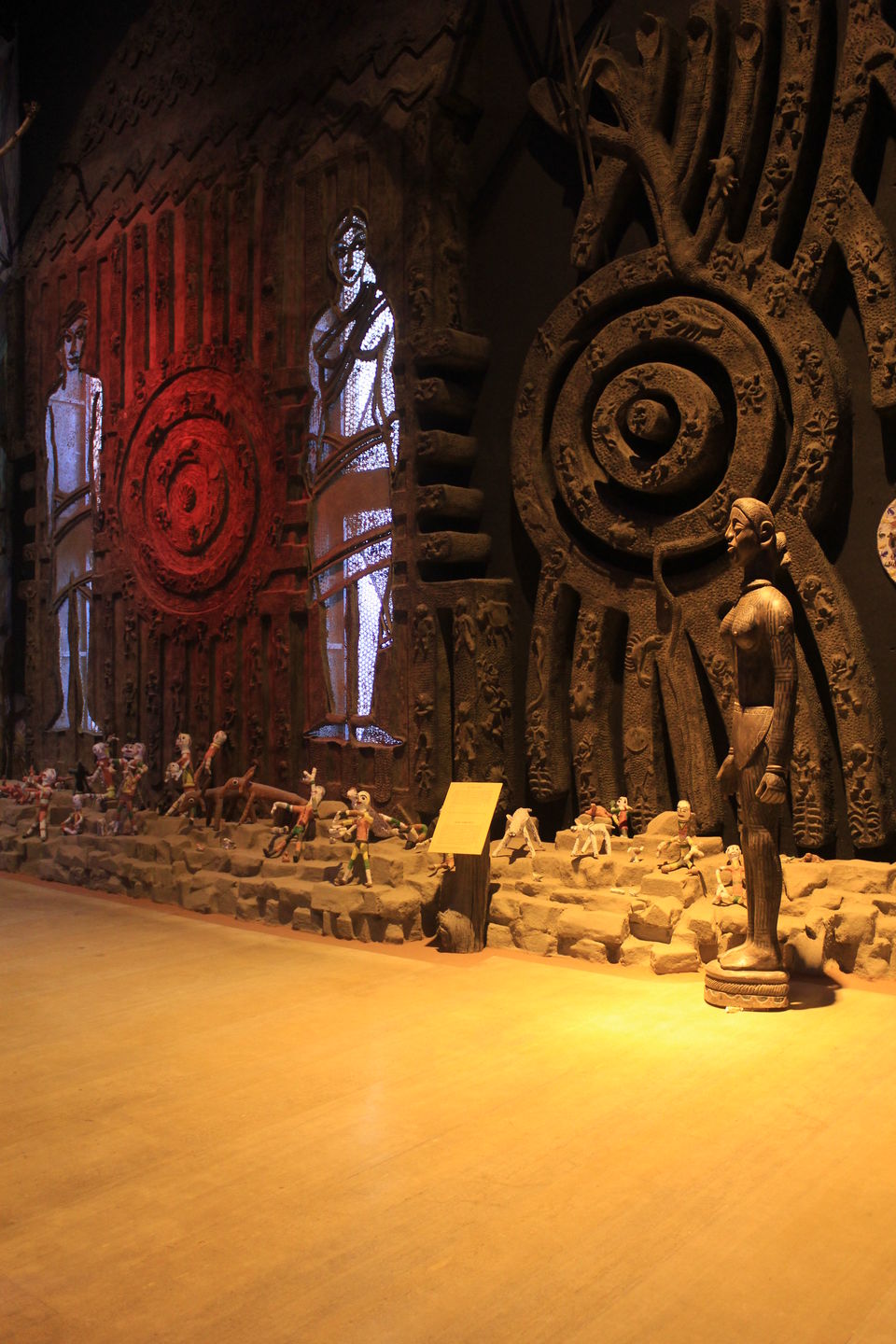 There is also a section that celebrates the different traditions associated with weddings, and festivals of these communities. The sanctity and sacredness attached to natural resources – forests, flowers, leaves and farms with sculptures of men and women have been brought to life by artists. Significance of a 'vivah mandap' at the centre, musical instruments like Dholak and Damru hanging from the revered banyan, and relevance of other rituals, have been told colourfully.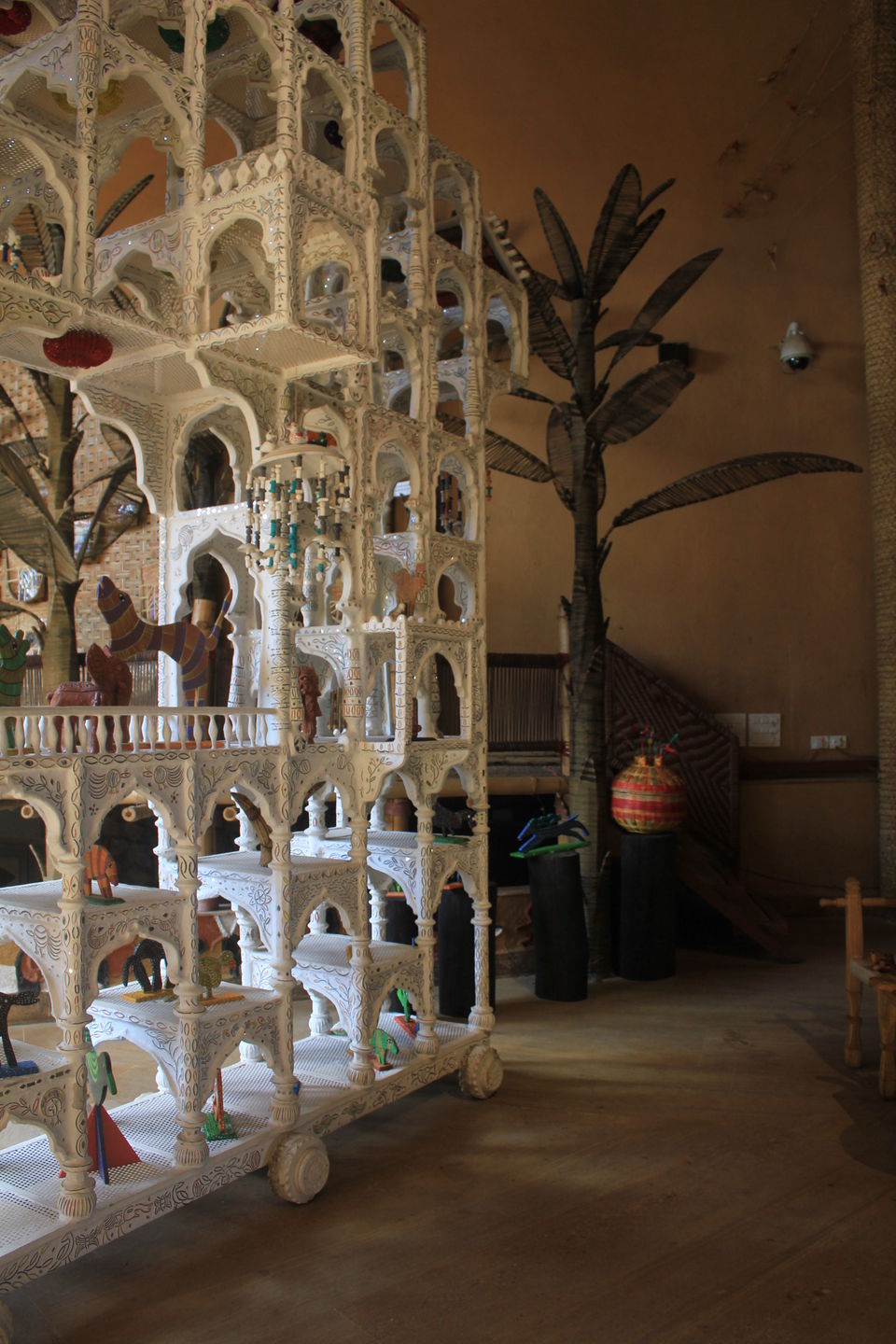 'Devlok' or the house of gods is one of the most fascinating portions of the gallery. The entire spectrum of different myths and beliefs associated with customs of worshipping mother earth, mountains, rivers, etc. have been recreated. A huge banyan tree at one corner, different kinds of terracotta artefacts painted with white and red are realistic creations, here at the Devlok.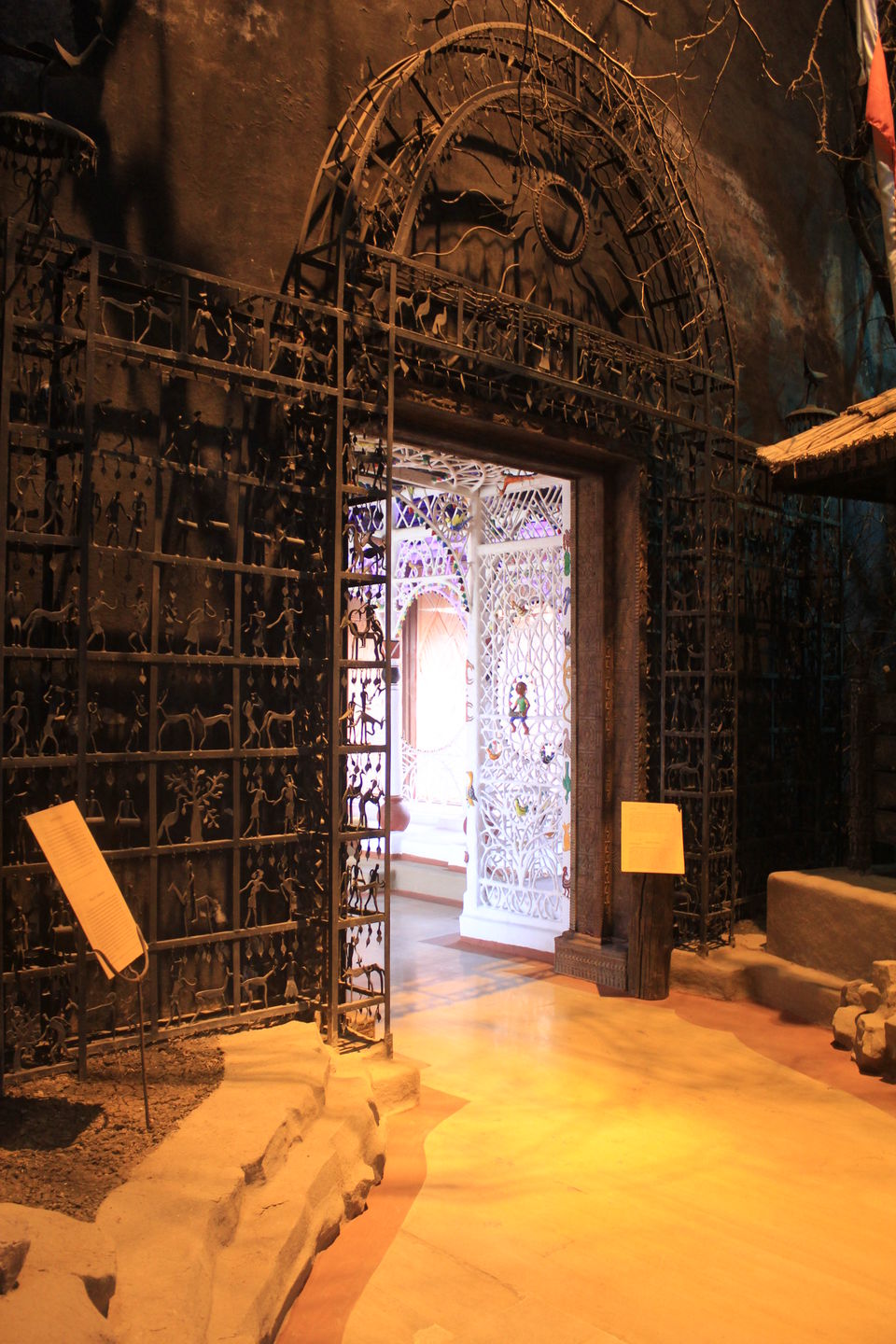 Different methods of recreation with games like Ghoda Badam Shahi, traditional 'Tug of War' have been showcased here in the 'Rakku Games' gallery with little sculptures of men, women and children. The section underscores the usage of natural materials for fun and leisurely pursuits. Portrayal of 'Chaupat' with stones and pebbles, 'Poshampa' with abundant Palash, Mahua or Gulmohur trees, 'Ghar Ghar' with the use of mud, and scenes from other day to day recreational activities have been depicted meticulously by using the art of sculpting and painting.
'Chinhari' is a retail outlet for handicraft connoisseurs, exhibits a collection of exquisite artefacts from Annuppur, Dindori and other districts of the state. Traditional works by artisans like authentic bastar handicrafts and metal art, bamboo furnishings, miniature paintings and colorful papier mache artworks, made by tribal artists from Madhya Pradesh and Chattisgarh are available for sale at this unique shop!