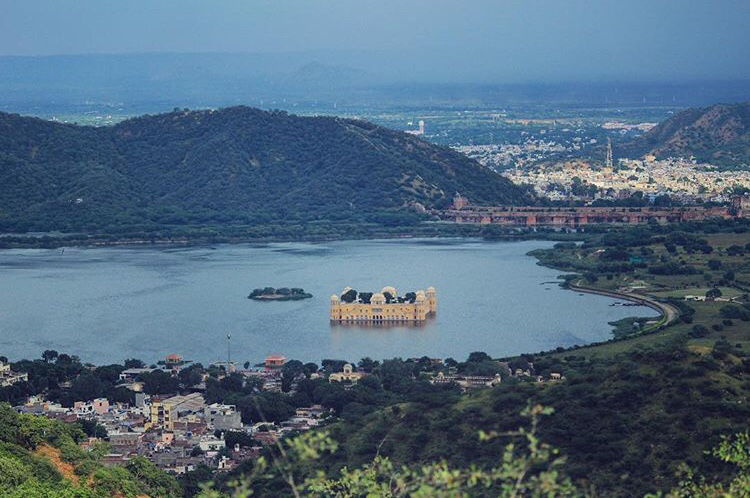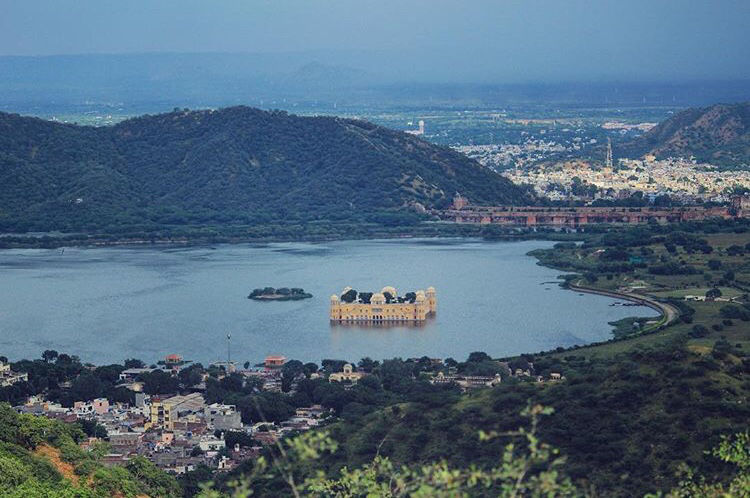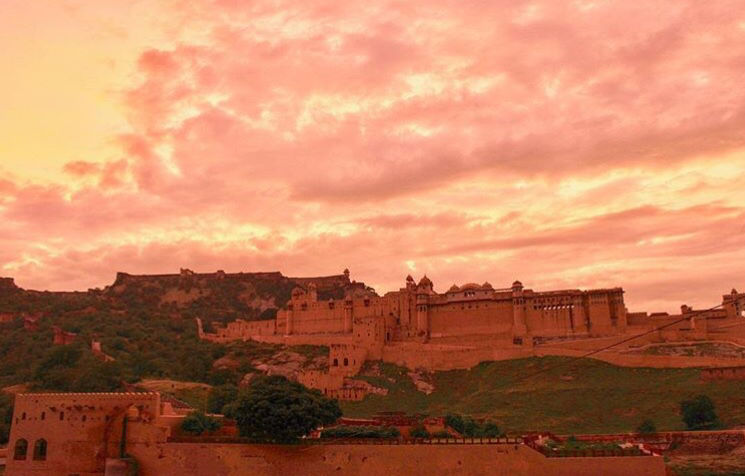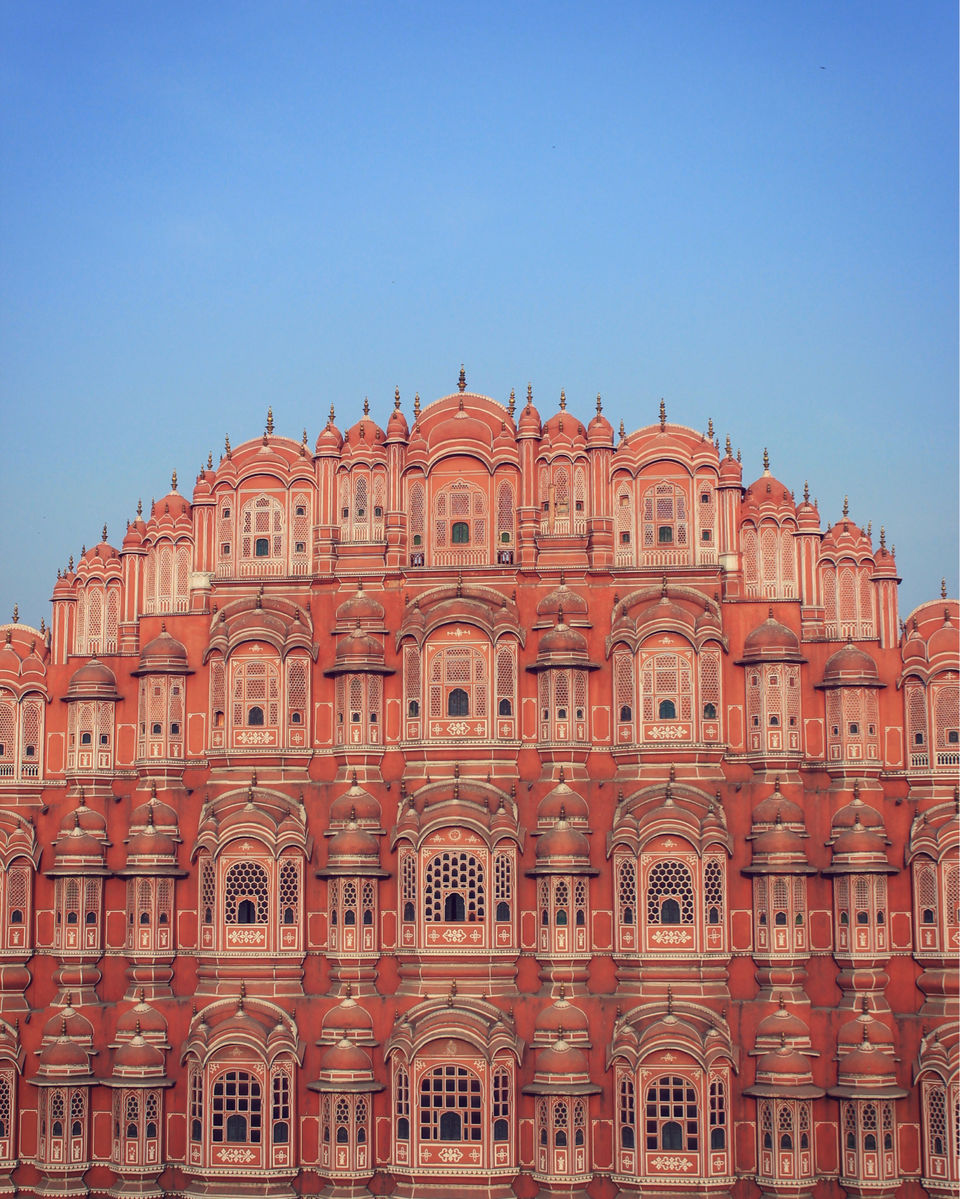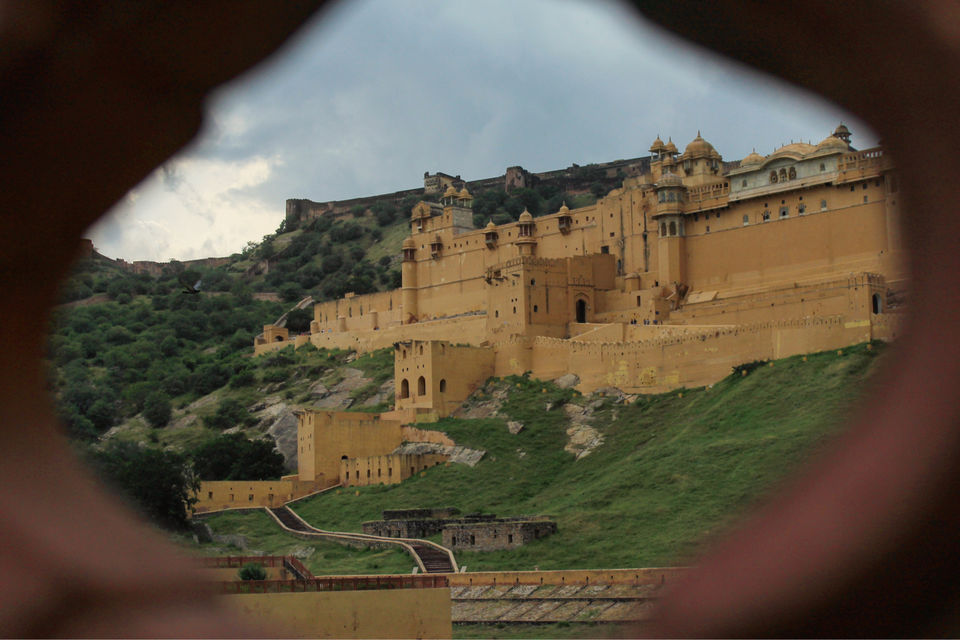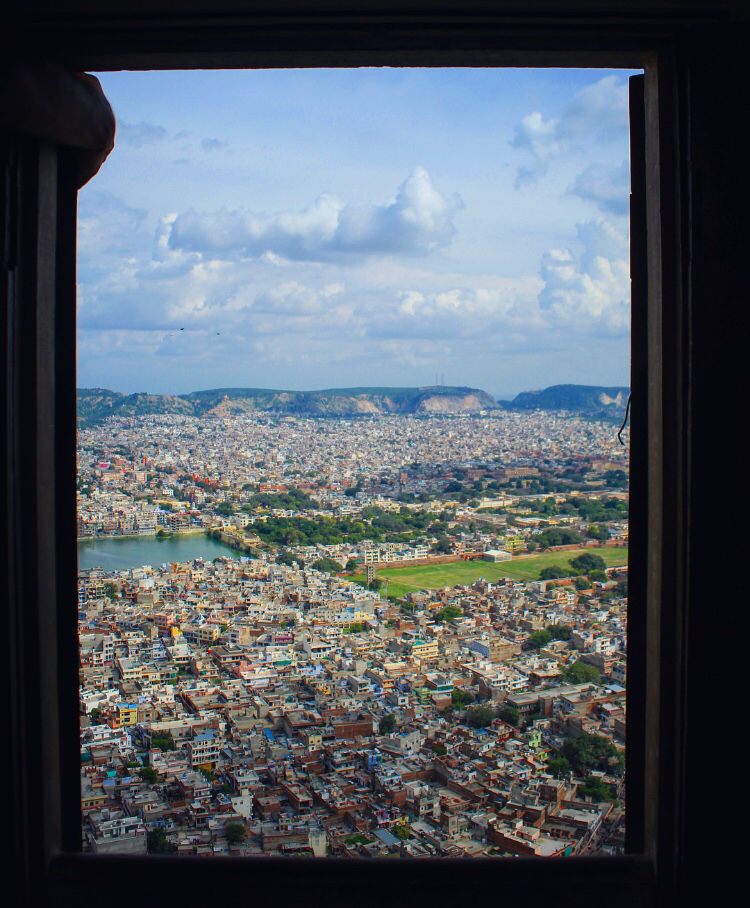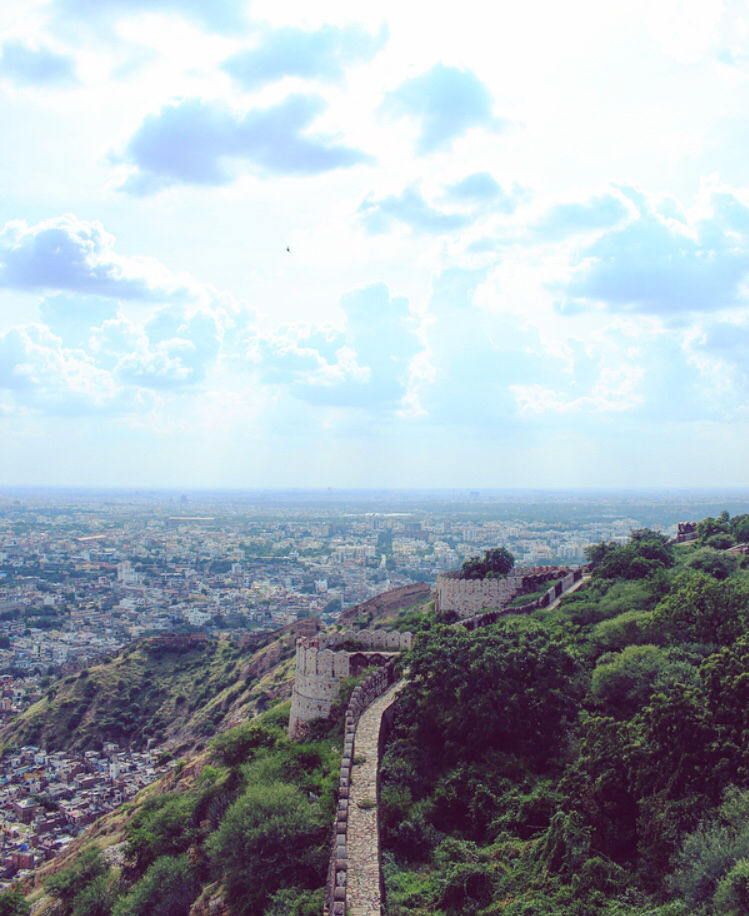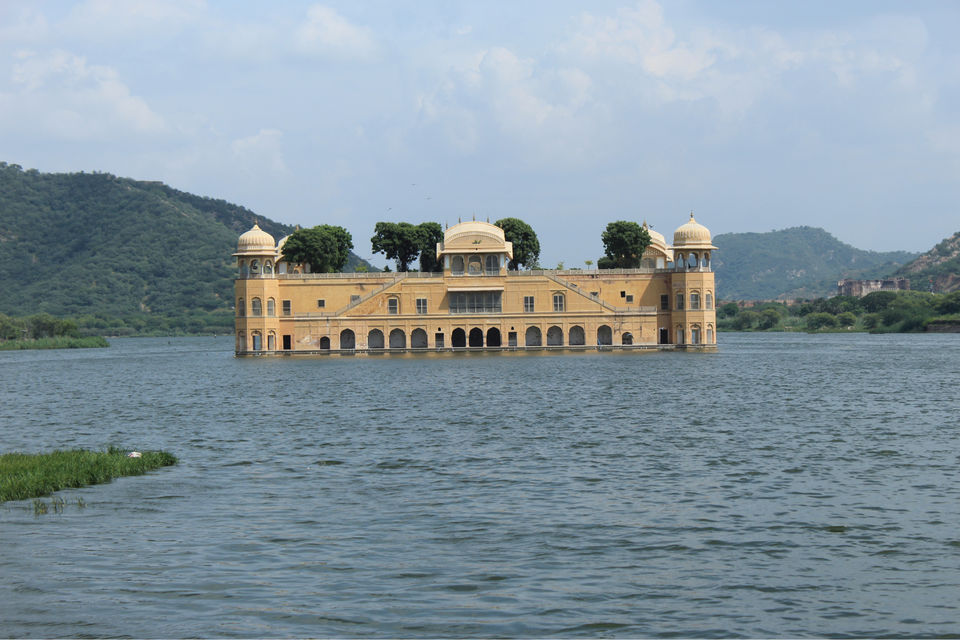 An overnight bus journey from Delhi drops you Jaipur at a time when the city glows in the light of sunrise. Having reached Jaipur at 6 am and a lot of time left for hotel check in, I decided to surprise my senses with the sunrise view of Hawa Mahal. There are multiple angles to view this structure :
1.)Walk along the road and see how the dimension of Hawa Mahal changes.
2.)You can get a holistic view of Hawa Mahal from 'Cafe wind view' on the opposite side of road. Go on the top storey and absorb the beauty.
3.)Hawa Mahal from inside(9am-5pm). Having 953 windows(even you can peep through some of them!), this 5 storeyed building from inside gives a 'WOW!' feeling.
Note: Don't forget to see the puppet show inside Hawa Mahal.
Visiting this point with a stomach full of Rajasthani breakfast, our next point of interest was Jal Mahal.
Jal Mahal is well connected by public transport from Hawa Mahal. This is a mesmerising place built in between the Man Sagar Lake. I bet you can gaze at it for minutes(also it is a great point for photo session!). A night view of Jal Mahal is highly recommended as the lighting here is out of the world.
Now comes the 'TRIO OF FORTS', that is Nahargarh, Jaigarh and Amer.
There are three options to reach Nahargarh/Jaigarh fort:
1.) Book a taxi from your hotel or from some other place.
2.)Book an auto/tempo(which you usually get near Jal Mahal)
3.)Drive your own vehicle(owned/rented)
We chose the second option and reserved an auto for INR 400/-, a return journey to Nahargarh Fort(we were 3 people and we skipped Jaigarh fort).
The route to Nahargarh fort takes you through dense forest and sometimes it's hard to believe that you are in Jaipur! On your way to the fort you'll see surprising views of the Jal Mahal, I would recommend you to stop your vehicle and spend some time at any such point(see my pictures above).
The Nahargarh fort is one of its kind! From antiques to complete view of city, from spectacular rooftop to a beautiful ground floor.
Next in line, the Amer fort is well connected by public transport, you can board a bus from Railway station/Jal Mahal/Hawa Mahal. This majestic fort with green waters outside and stairway that seems to be unending gives you best of the views. Go get an entry ticket and reach out every look and corner of the fort, everything here is photogenic(you can get great background for your pictures here!)
Note: There is a light and sound show in Amer fort(timings vary according to season), which takes you back in time and trace the events till date. The ticket price for light and sound show is INR 250/-.
After the light and sound show and night view of Jal Mahal, our day ended full of memories and photos.
Points to REMEMBER:
1.)If you're a student don't forget to carry your I-card because it will ensure a 90% discount on every entry ticket.
2.)I would recommend you to use public transport as much as possible and walk in the city, it will bring you closer to the local culture.
3.)Though I did not do this, I would suggest you to go Jantar Mantar(near by Hawa mahal) on your very first day and get a combo ticket which will cover everything(total 8 in number) from forts to museums at a far cheaper price.
4.)You get a bike/scooty on rent only in INR 300/- for a day, I would suggest get one and cover the far away places like the 3 forts with it(it will save a lot of money).
Our second day tour began with entry into the famous 'City Palace'. This palace has wonderful galleries, museums, armoury and sabha niwas. A place full of colors, you should plan to spend a good amount of time here to experience it all!
The Jantar Mantar in Jaipur which is one of the five observatory built by Sawai Jai Singh II, is a massive astronomical observatory. You'll have a great fun if you understand their working!
Note:
1.)You should ensure that you visit Jantar Mantar on a sunny day because these instruments require sunlight and its shadow for working.
2.)You may either have a guide or go to the 'INTERPRETATION CENTRE' which is inside Jantar mantar and see a documentary regarding the working of observatory (it's free! You can watch this to understand things there.)
'ISARLAT' or victory tower, a 140 feet high tower was our next point to cover. This is a 7 storeyed tower and you have to climb to reach the top, from the TOP the air flow which turns out to be comparatively cooler than the surrounding gives you a sense of refreshment. Also you can have a far sighted view of the city, Hawa Mahal and forts.
When in Jaipur, dont forget to visit the Albert Hall museum. At walking distance of around 15 minutes from Isarlat, this is the oldest museum in Rajasthan and also the state museum. You'll go round and round inside to cover different aspects related to history in this museum(it even has a mummy inside, in the Egyptian section!).
Time your visit to Albert Hall in such a manner that you complete it by 5:00 pm(its closing time), and then visit the Jawahar market nearby, return back to Albert Hall once again to see the night lightings from 7 pm-10 pm.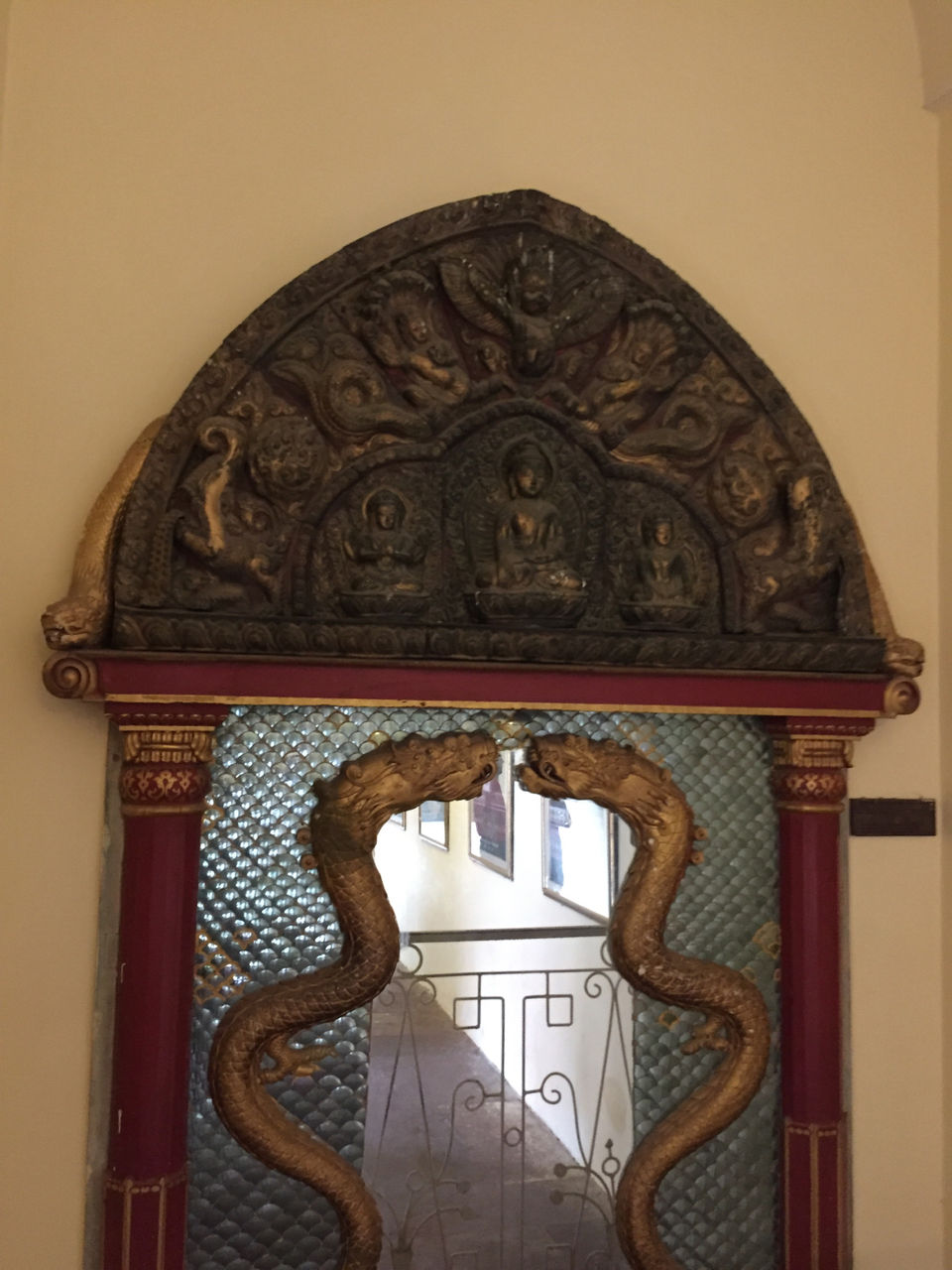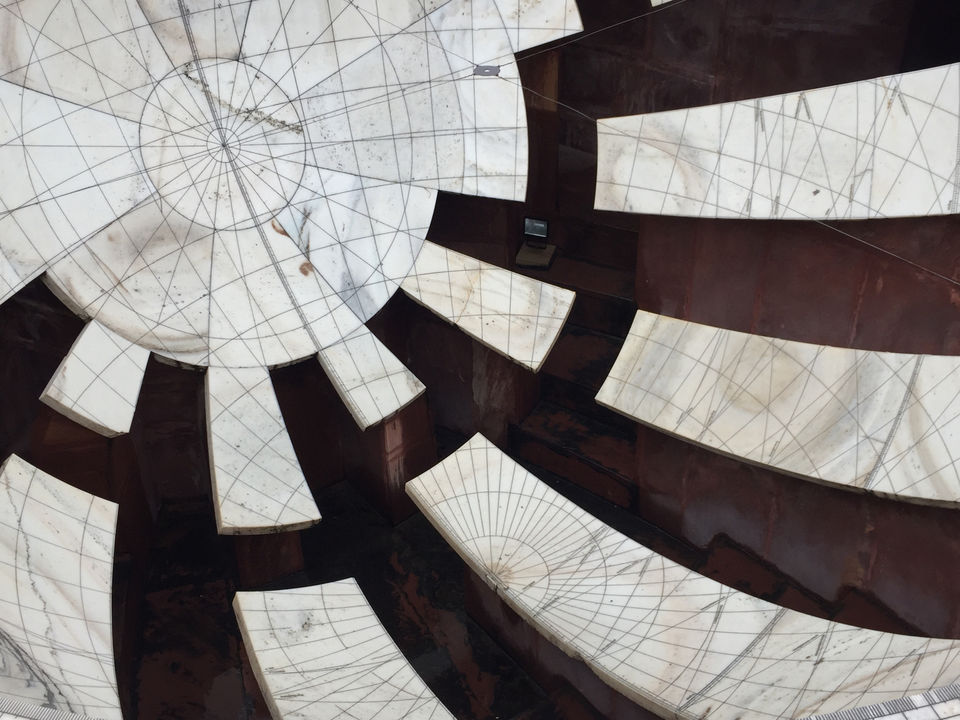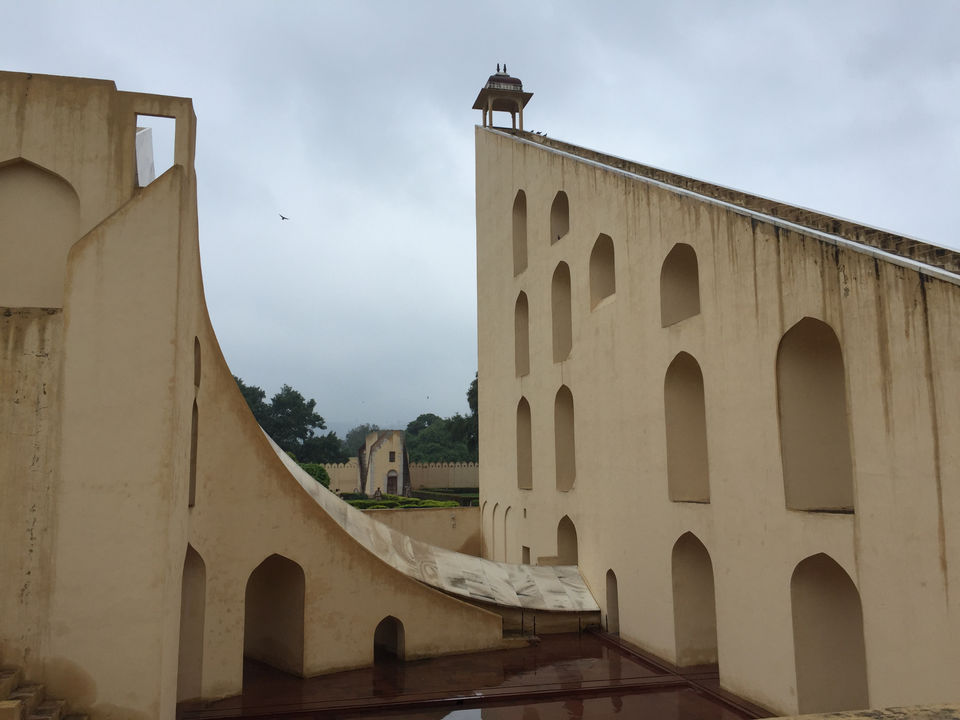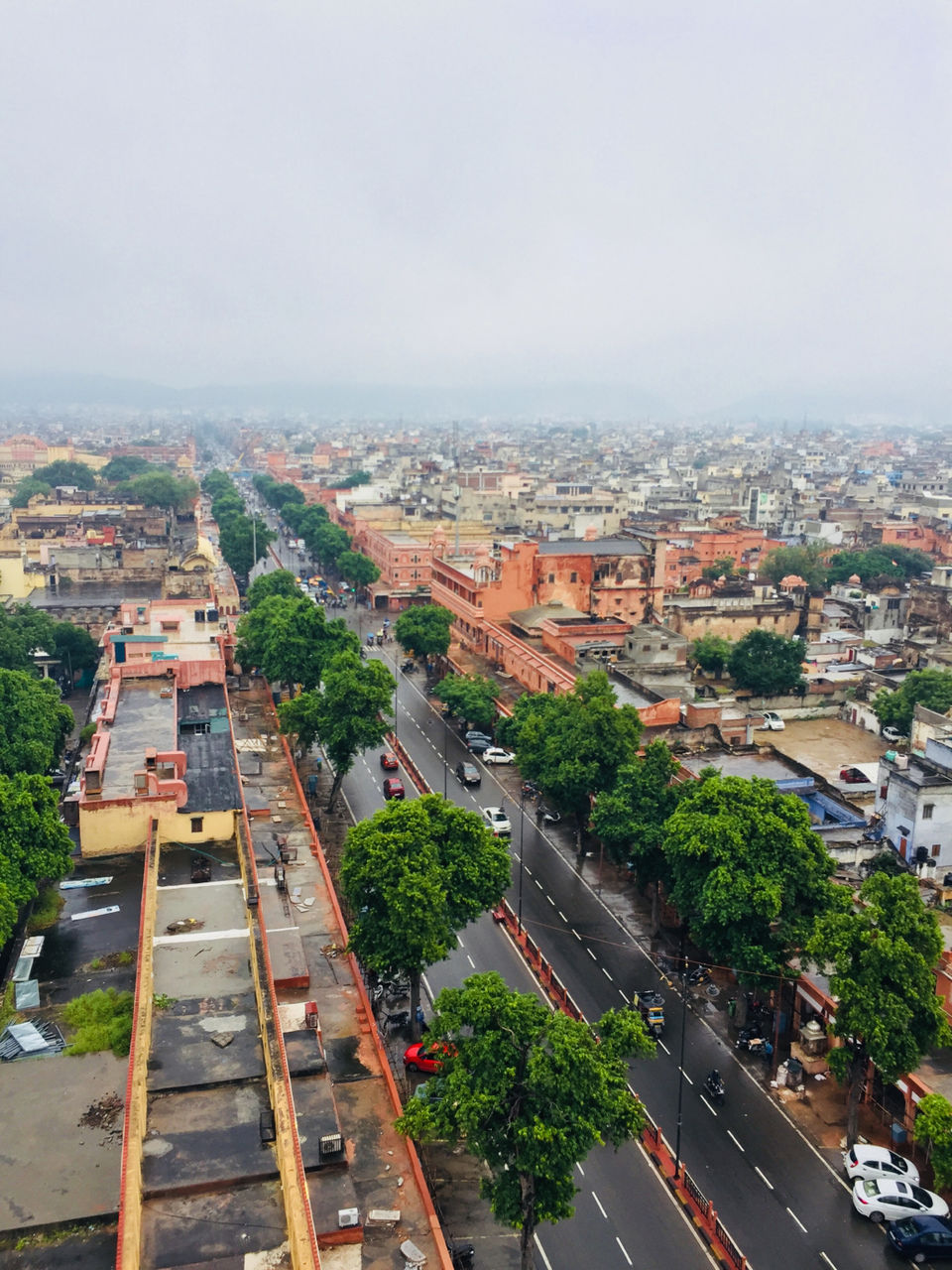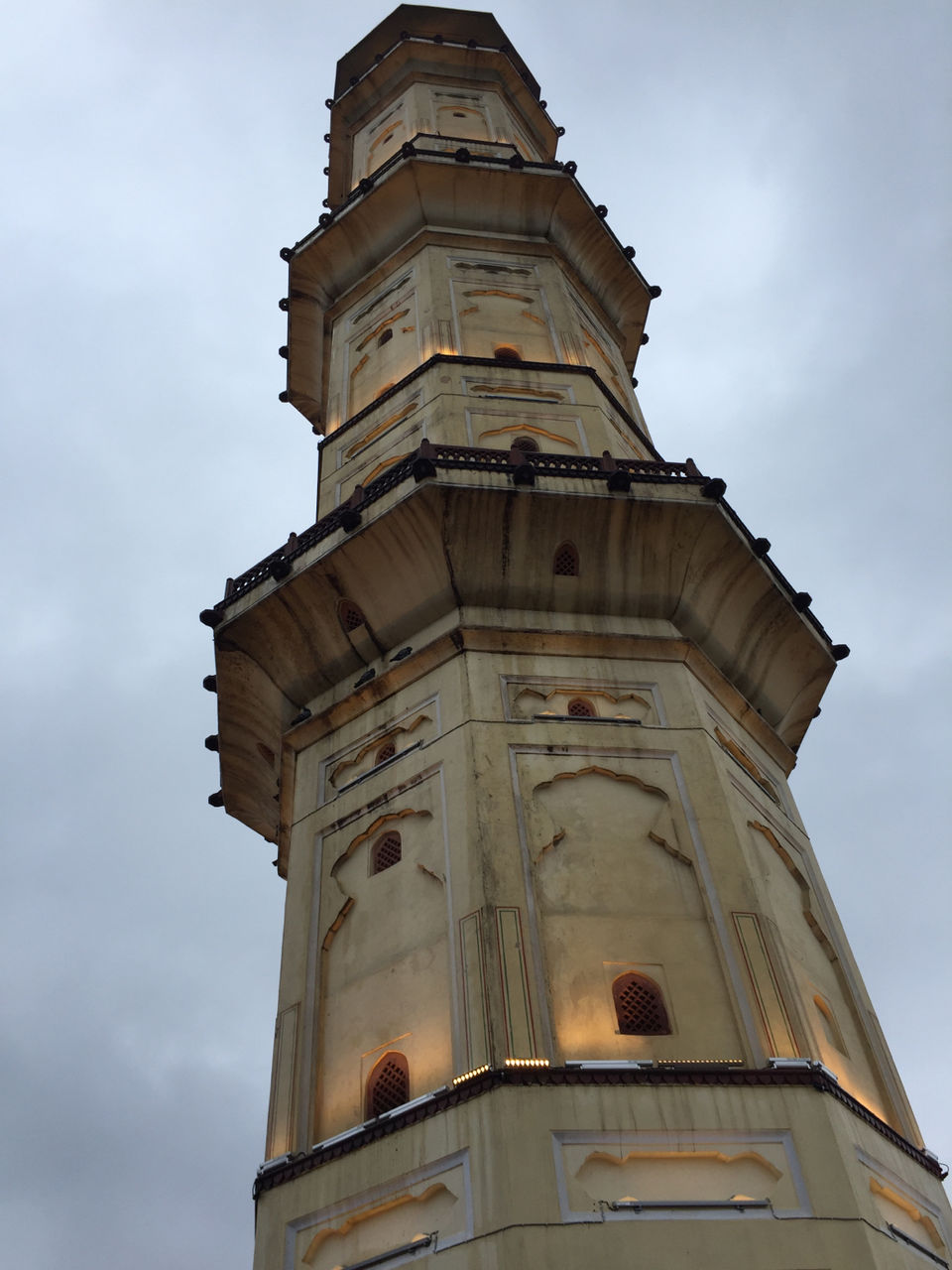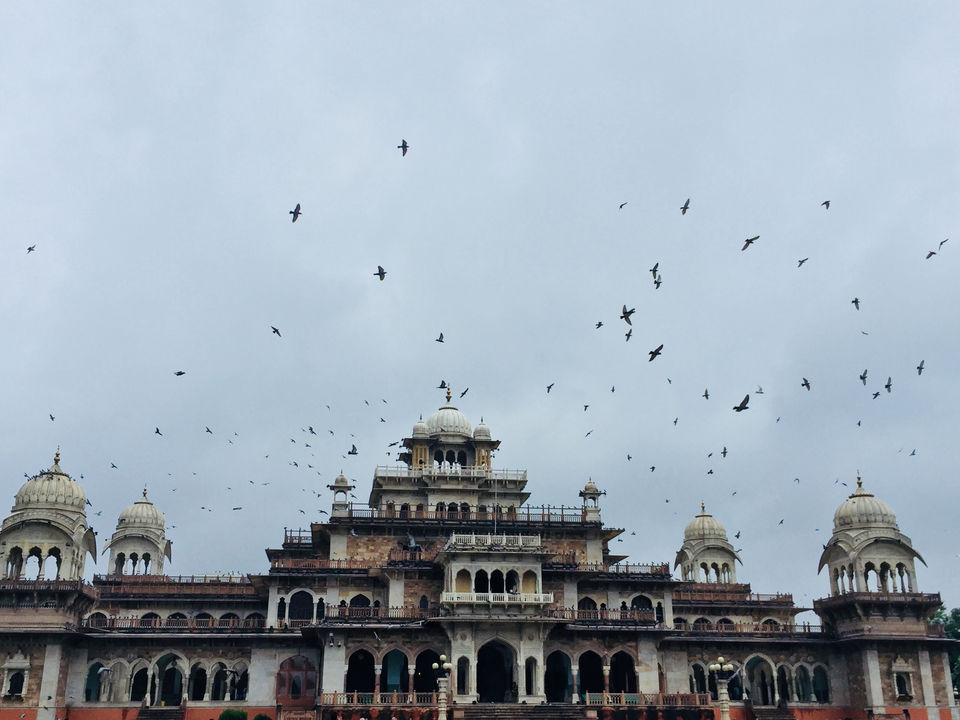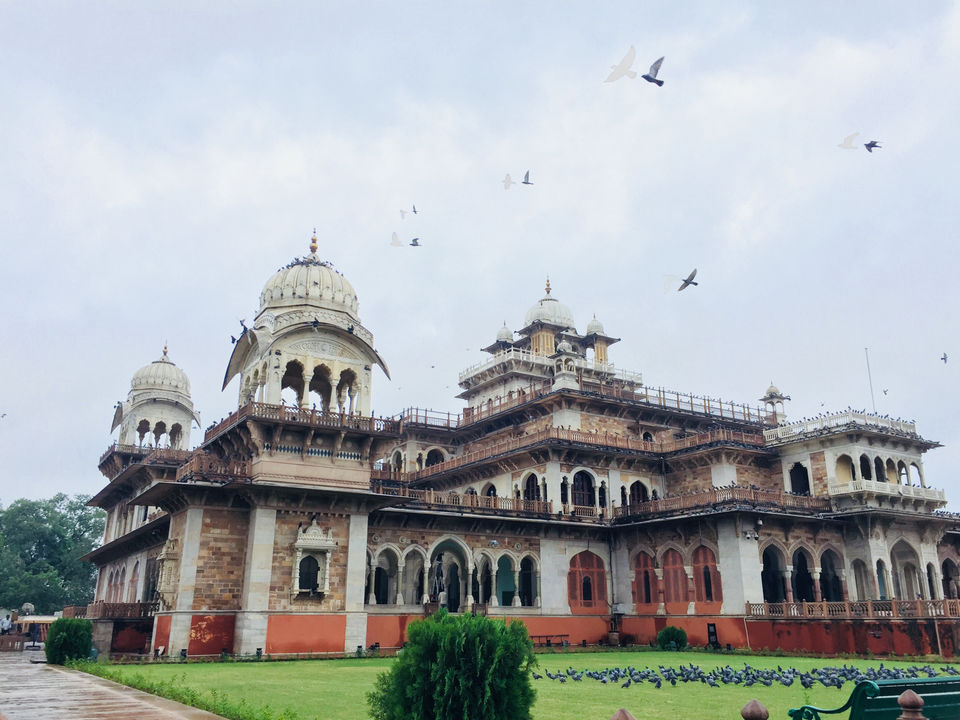 There are many cities/towns very close to Jaipur(2-3 hours driving) like Alwar, Bhangarh, Ajmer, Pushkar, etc. We decided to visit two of them on our 3rd day, that is Pushkar and Ajmer.
Ajmer is around 140 km from Jaipur. You can either drive or board a bus or the fastest mode, a train. We got our unreserved tickets for train in INR 80/- and the train dropped us Ajmer in just 2 hours.
Reaching Ajmer we again boarded a bus to Pushkar(ticket cost INR 20/-). The road from Ajmer to Pushkar will leave you speechless and you will constantly have your phone/camera in your hand for clicking pictures of the way through the mountains!
Reaching Pushkar, head to the Pushkar lake which is considered sacred by Hindus. This lake is surrounded by innumerable ghats, temples, 180 degrees mountain view and chanters by the side. Sit by the lake and enjoy the peaceful environment.
Visit the famous Brahma temple adjacent to the lake. Go to Savitri Mata temple by ropeway and you'll have bird eye view of Lake and mountain valleys. Pushkar can also be a good shopping point and the market surrounding lake has wonderful items.
Eat 'MAAVA' in Pushkar(as it is locally called), it can easily be spotted at every sweet shop. It is made up of Milk Rabri dipped into sugar syrup and the very first bite will ignite your taste buds.
We then boarded a return bus and we were back to Ajmer. Our main point of concern in Ajmer was Dargah Sharif(though it has 2 forts, we skipped them running short of time). Ajmer Dargah is visited by multitude of followers all over the year. The environment inside the Dargah was of complete peace, you can sit there and get blessings.
Note: When you come out of Dargah, taste and buy some 'SOHAN HALWA', the very famous sweet of Ajmer with a great taste(I even have it till date and frequently eat it).
Packing a bag full of sweets we returned to Jaipur in the night and boarding a bus for Delhi we were back the next morning.
>If you visit only Jaipur, plan your trip minimum for 2 days. For people heading Jaipur from outside Delhi, take your travel time into consideration too.
>Do see Hawa Mahal, Jal Mahal and Albert Hall at night.
>'DAL BATI CHURMA' is a famous Rajasthani dish, we had it in Dal Bati Churma Restaurant in Bani park, Jaipur. There are innumerable options for restaurant, the main thing is you should try this super delicious dish.
**Thank you for reading.