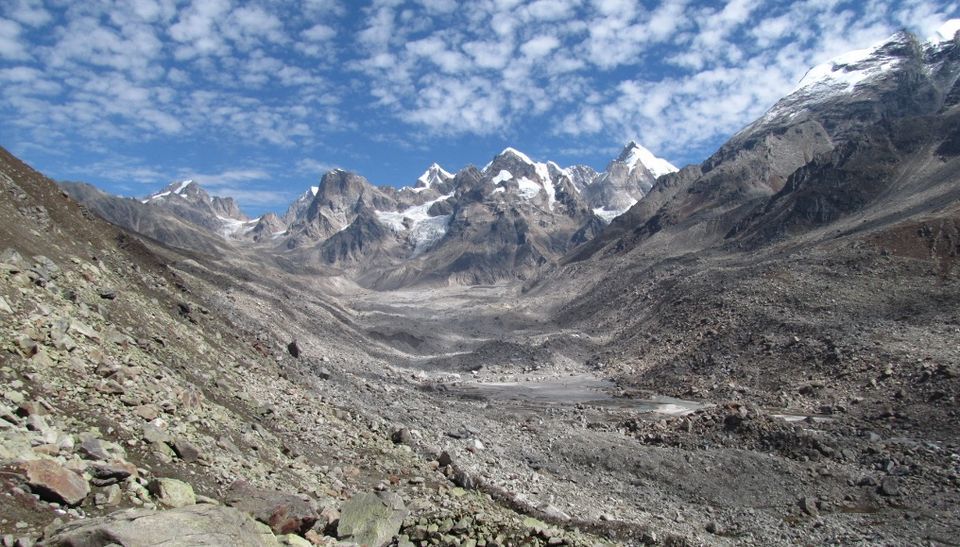 Parvati valley is the most sought after destination for short trips for people staying in the northern parts of India, but with the huge list of places to visit and the confusion of where to stay, I have put together a list of what to do, and where to stay for your FIRST trip to Parvati Valley.
DAY 1
Bhuntar Map
Day 1 - Reach Bhuntar
Bhuntar is the main bus stop, since most of the buses head to Manali, this is as far as you can go in your Volvo buses.
Get off at Bhuntar, ask for directions to the local bus stop and catch a bus headed towards Kasol. Tickets to Kasol are usually around 30 rupees per person.
If you are not comfortable with the bus, you can take a taxi - but they are expensive. I heard a taxi driver say 1800 rupees to take me to Kasol from Bhuntar, and I started walking towards the bus stop.
Take the bus to Kasol. The buses are slow. The roads are narrow, the bridges are narrower. There are stops to let the traffic of the other side pass, and then your side is allowed.
Takes around 1h to 1h30m to reach Kasol depending on the traffic.
PRO TIP - Rush in the bus and find a seat for yourself, don't wait. If you don't, you will be standing till Kasol.
Get down at Kasol bus stop.
I suggest that there is no point staying the night in Kasol. It would be around 12 - 2 p.m. by the time you reach Kasol (if you reached Bhuntar by bus).
Relax in Kasol for a few hours, fuel up your body with some good food.
Really small but amazing food at Sonam Tibetan Dish restaurant on the right side just after you cross the bridge.
Also good food at Sasi restaurant, walk straight from the bridge and take the first right.
Since this is your first time in the valley, you should explore Tosh, though it has become more commercial over the years.
Take a taxi to Tosh, or take a bus to Barshiani.
Taxi prices are fixed by the union. There is one standard price.
If you decide to take the bus, the bus will drop you at Barshiani, from where you need to walk 3kms uphill to reach the entrance to the village of Tosh.
Night 1 - Tosh
Keep walking and climbing up in Tosh. Don't stop and settle for rooms there. Keep walking till you reach the last hotels. The best view is from the top.
There are 3 hotels where you can get the best view from - Pink Floyd, Shiva Mountain and Hill Top.
Prices are negotiable at all 3 and would usually cost around 150-300 per person in a room (depends on season time).
Food is great at all 3 hotels.
Relax in Tosh and spend the night looking at the snow covered mountains in front of you.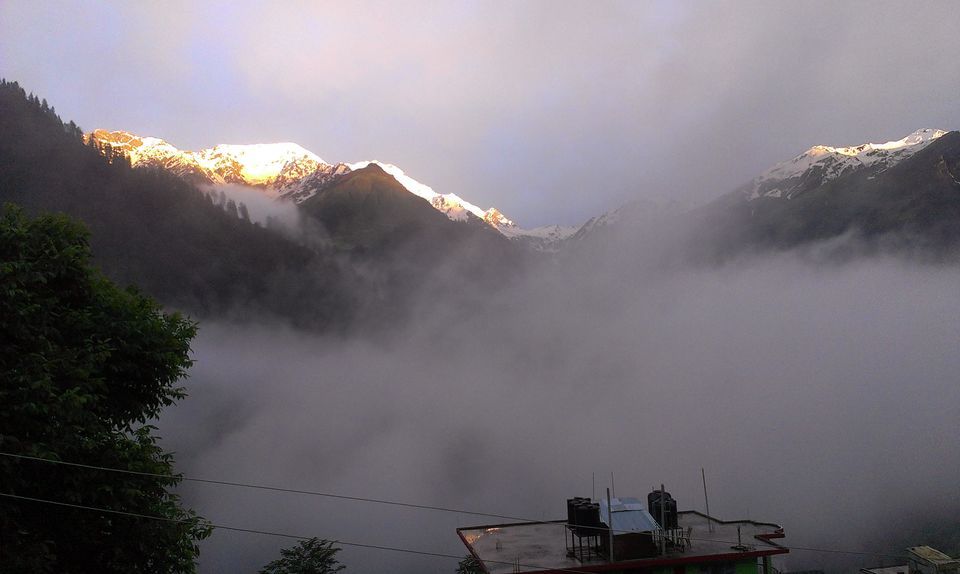 Photos of Tosh, Himachal Pradesh, India 1/1 by Vaibhav Gangrade
There are many cafes if you walk down in the village of Tosh, you can explore these. One cafe that I recommend is the Energy cafe, most secluded but has a great view of the Parvati river and the dam.
We spent the night at Shiva mountain, where we met with people from France, Israel and Canada. It is always a great feeling to meet people from different parts of the world!
Day 2 - Tosh Glacier Trek
Not a lot of people know about this because it is rarely mentioned on travel sites. There is a path that leads to a glacier (cross Hill Top hotel and keep walking towards the top) this trek actually crosses over the Sara Umga pass trek.
You can see the glacier from a distance.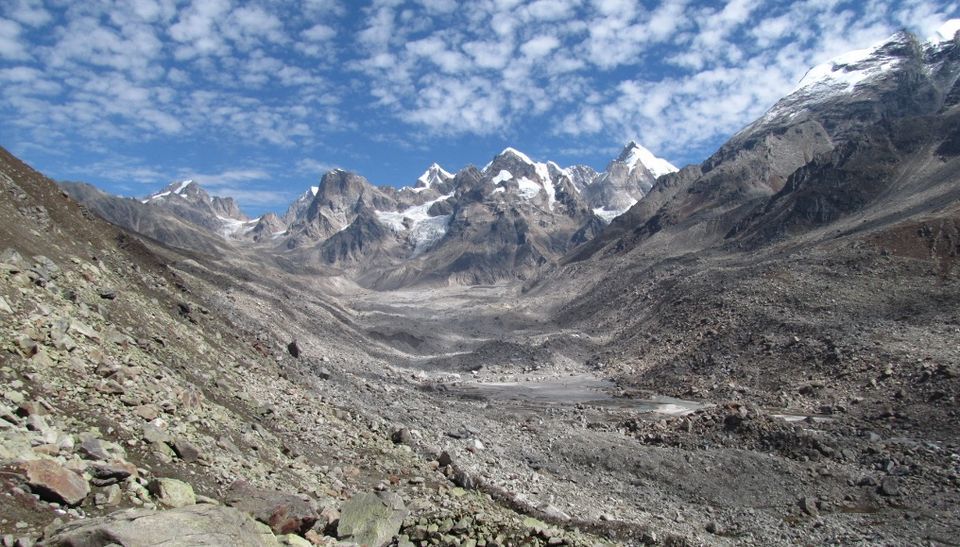 Walk back to your hotel and spend the night, and prepare yourself for a great trek tomorrow, because we are headed to Kheerganga.
Day 3 - Tosh to Kheerganga
Walk down to Barshiani, and start the trek to Kheerganga.
PRO TIP - Leave your big bags in the hotel for 20 bucks per day per bag and carry a small bag with you with supplies for 1-2 days.
Kheerganga is around 15 kms from Barshiani.
Start walking up the mountain. This trek is not a walk in the park.
When I did it, it took me 8 hours to complete it - mostly because it was pouring rain all the time.
If the weather is good, you should be able to do it in 4.
As you walk the first 4 kms, you will come across a small village and this is the last place where you will get food and water till you reach Kheerganga. Stock up here.
As you walk 4 kms further, you will come across the holy Rudranag waterfall. Don't touch this water, it is holy water
Keep walking on the trail. You will continue to walk along the Parvati river. One slip and you're in the river (lol)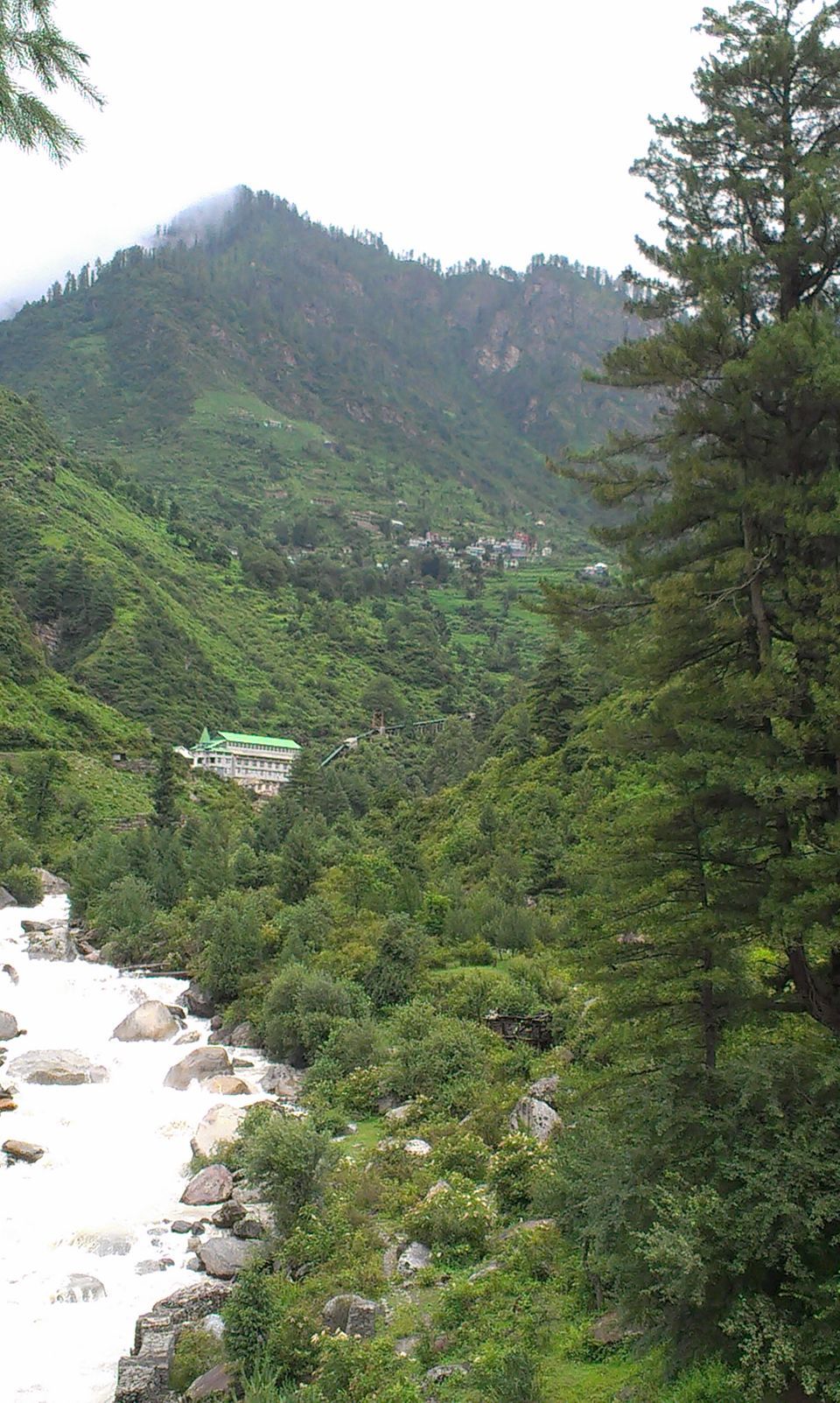 The last 5-7 kms were the hardest. The mountain becomes steep and you start getting tired.
But we made it to the top, we were drenched from toe to bottom, but we made it.
Stay at the Lonely Planet guesthouse, it is the most secluded and has the best cafe and the best food. Rates are again same as Tosh, 150-300 per person depending on the season.
Spend the night here. The night sky has more stars than you can ever see. Since it had rained all day long, the sky was clear as a crystal in the night. I literally had to find the sky in between the stars. It was nothing like I've ever seen before.
Day 4 - Kheerganga
Wake up early and find that the sun is shining bright and Kheerganga is one of the most beautiful places on the planet.
Sun is shining in Kheerganga
Head up to the hot water springs. Take a dip in the holy water.
There are different kunds for both men and women - the one for women is enclosed. The water is SUPER hot, and your body will take time to adjust to the heat, but make sure you get all of yourself in the water.
This water is said to purify your soul (it says so on the boards) and when you get out of the water, your body will start vibrating (not shaking, not shivering) and you will actually feel that there is some cleansing.
The power and the vibe of the place is unmatched. Head to the small Shiva temple and spend some time with your eyes closed with one thought in your mind.
This place transcends you. I closed my eyes and when I opened them I realised it had been 15 minutes. Did not realise where the time went.
There are some caves if you walk further up from the temple, and it is said that Lord Kartikey (son on Shiva) prayed in these caves - but these caves have been closed on the inside.
Spend the day relaxing in Kheerganga, and exploring the vast wilderness on the right side of Lonely planet guesthouse.
We met a few guys from Sweden who had made their own make-shift huts and were growing their own food, we spent the day with them learning about how they are living a sustainable life with almost no expenses.
Crashed for the night, to go back to Kasol the next day.
Day 5 - Kheerganga to Kasol
Bid farewell to the people we met in Kheerganga, and walked back to Barshiani.
PRO TIP - Walking down is easier and less energy consuming, but it is dangerous because it is unpredictable. Walk with your knees slightly bent, with you body tilted a little backwards. This helps you recenter your body's center of gravity and takes less effort, and is more safe.
Reach Barshiani, and take a cab/bus back to Kasol.
REMINDER - Don't forget to take your bags from Tosh! (the heavy ones you left behind)
Reach Kasol. If your bus back home is on the same day, I would suggest you make a quick run to Manikaran to visit the famous Manikaran Sahib gurudwara. It is beautiful.
Take a dip in the hot water springs of Manikaran, eat the langar and make your way back to Kasol.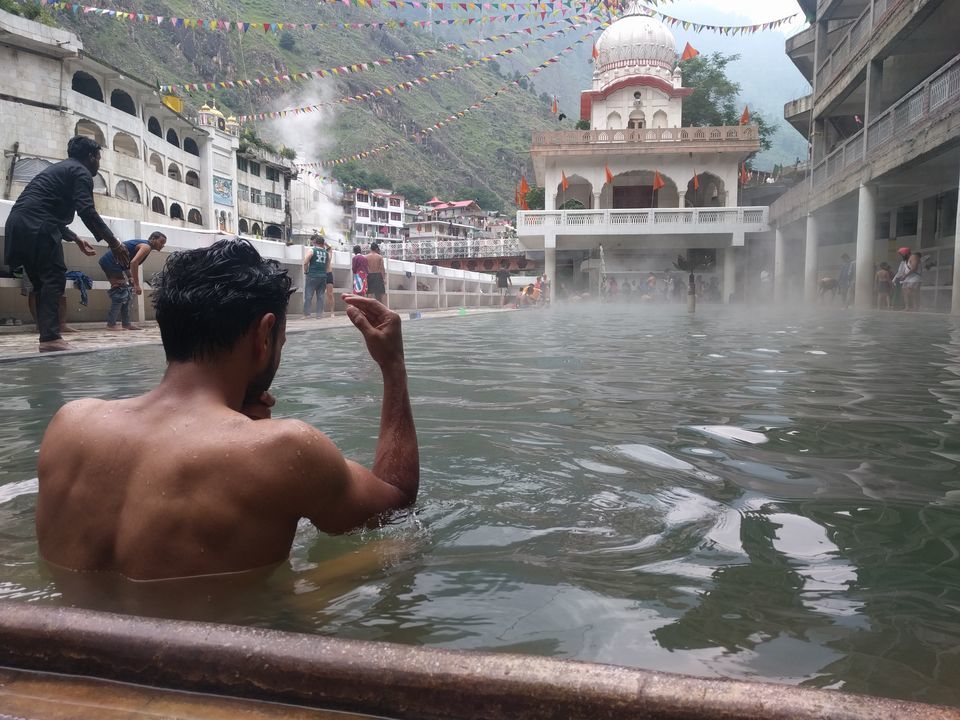 Manikaran Sahib
If you want to stay the night in Kasol, Art Cafe is the perfect place. 150 rupees per person, you can get decent rooms.
Food is great at Bhoj Cafe, and do not miss the German bakery.
Kasol has good shopping, you can buy some cool things here (clothing, accessories etc.)
Reach Bhuntar and take your bus. If you want to eat at Bhuntar, there is a dhaba - called Mama Dhaba - on the main street (not in the main market) with good food.
Day 6 - Delhi
Hope this itinerary helps!