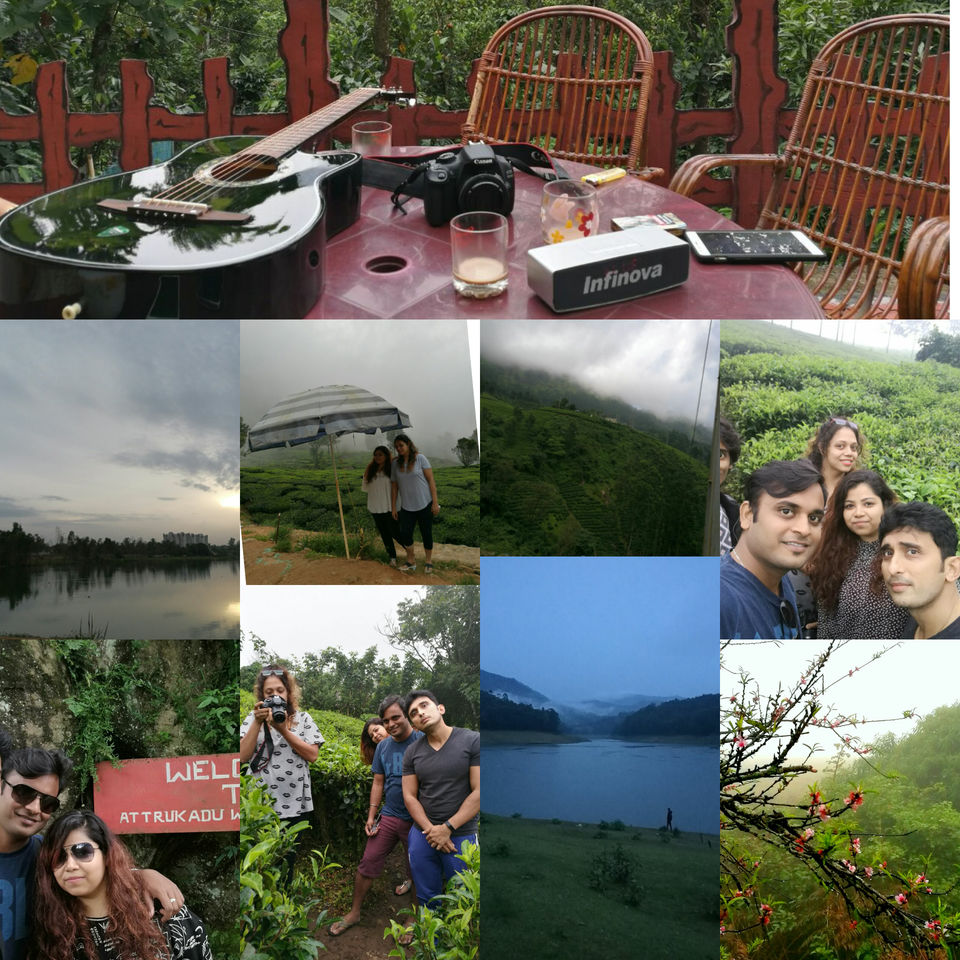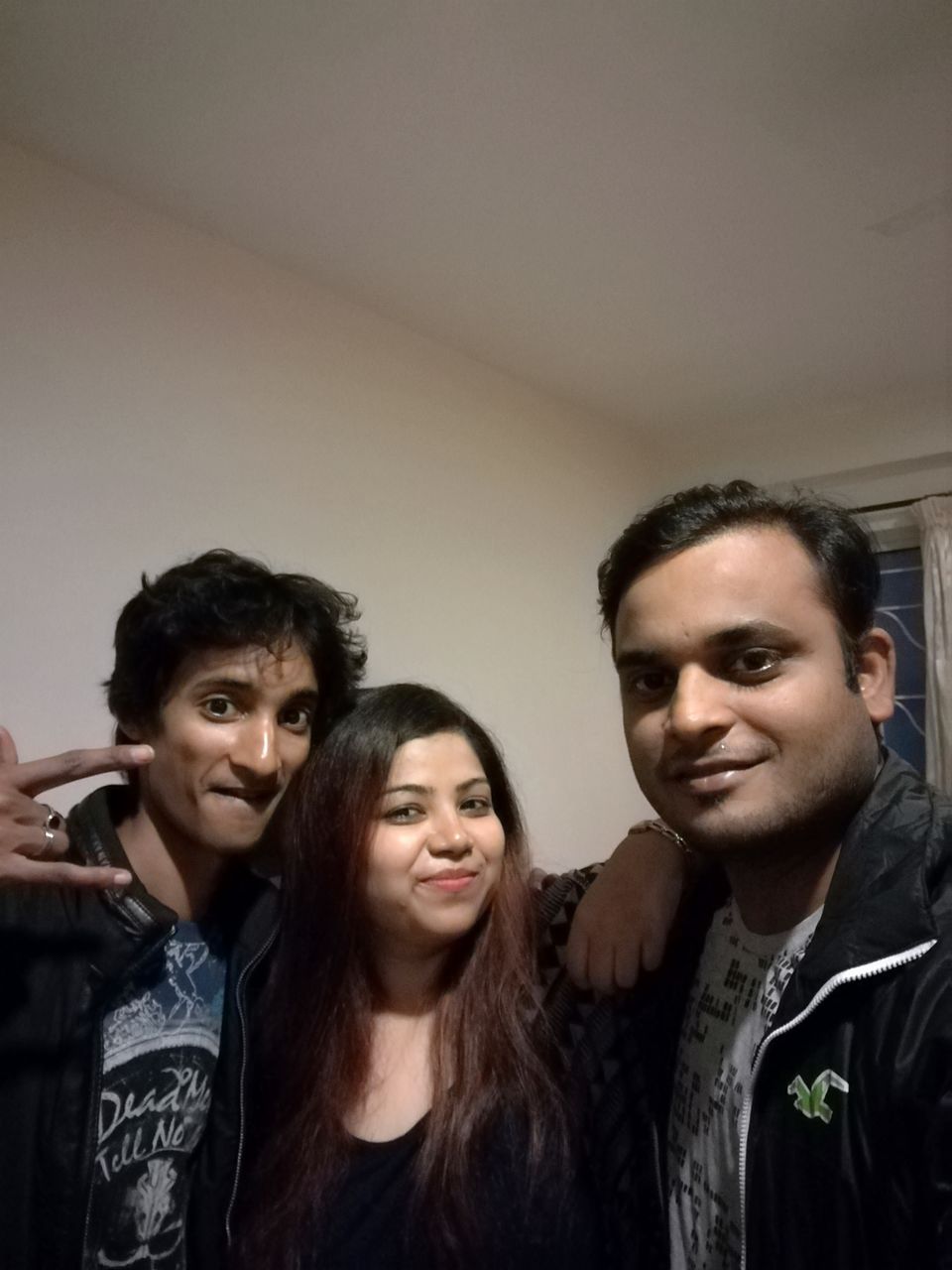 I am a true blue Punjabi. Born and brought up in Delhi with dher saara love and ghee, 2 things without which Punjabi families are not complete. A family where khana, shaunk farmana te muskana sab dil khol ke hota hai.
Now being located in delhi, I too had my fair share of travel to Himachal Pradesh and Uttrakhand. Manali to ji bs ghar ke pass hi samjho aap. Aise hi ghoomte phirte I met 2 guys who live in Bangalore. We were on a 10 day trip to Leh Ladakh(another story) and got to be friends. So my new friends Ravi and Charles discovered my love for travel in the Ladakh trip, what to say now as I boasted about it A LOT(Punjabi trait in full flow here).
Jump ahead a month and I got a message "road trip from bangalore to munnar planned, google the place before you dare to say NO". That was how Charles told me about the trip to Munnar which he has planned with few of his friends. I, being the most sensible person in the world, put a great deal of thought into giving my answer. So within a few hours the flight was booked and I was jumping up and down in excitement. Didn't even knew where Munnar is but who cares, right. After all you just live once and you should live it fully.
The D Day Arrived, I was packed and out of my house, reached airport in plenty of time to spare. There is one thing which is certain about me and that is things just happen with me. So I was at the airport wandering aimlessly, chatting on my phone and laughing at the person who was about to miss the flight. Little did I imagined that the person was none other than your's truly. Only I have the power to reach before the time and be late. Well it had one advantage as I got the attention of few smart looking airline employees, doesn't matter they must be ready to kill me but sir attention to attention hota hai.
The journey was uneventful. I was dreaming about sitting next to someone charming and I got to sit with someone very charming and above 50. 3 hours flight and I was in Bangalore baby. Made it there in one piece and without much disaster. It was a beautiful airport and I was standing there totally lost and clueless. Well when all you can hear is a language which you don't understand or see signs which we Punjabis will describe as JALEBI, you ought to be overwhelmed. To make the things even better, I got to know that the airport is located conveniently. It will take me around 3 hours to reach my hotel. Who cares about it, I mean you are already feeling lost so it doesn't harm you to see the entire city while dragging your bags around.
Got into an airport to city special bus and settled down to watch the evening traffic in full flow. After 2 hours, various calls to Ravi, atleast 50 messages to Charles and a nap I mustered the courage to ask the strict looking conductor about the ETA. Despite the look, he was very helpful and assured me that my salvation is near.
Oh my legs thanked me when I de boarded the bus at a strange looking bus stand. There was no way I could have described where I was but then the Punjabi in me did what we do best in the situation. I put a big smile on my face and with all the sweetness asked our favorite auto wale bhaiya where exactly am I standing. Called up Charles and after giving him the directions told him to pick me up real soon else someone's gonna die. I was about to explode, felt like new monkey in the zoo as the guys there do have the habit of staring up (Please keep this in mind girls and guys please practice some discretion).
Finally Charles showed up and I felt so happy. Was meeting my friend who has become so close to me in such short time span. We reached the hotel and in few moments Ravi walked in. Oh what a bliss to be with these guys. Sometimes you just meet people and you know they are the friends for life and these 2 fall in that category. It was my lucky day when we first met 
It was around 10 at night and I had my dinner. Was in the mood to sleep and yes that bed was calling me when Ravi dragged me out for a night time stroll. Pta nahi how the guys are so energetic after such long day. Bed se pyar nahi hai kisi ko mere alawa yahan. I was out again and it was drizzling. Saw the beautiful city all lighted up from the top of a flyover and made plans about the days to come.
Finally mujh pe daya aa hi gayi Ravi thakur ko and he dropped me at the hotel. It was time to sleep with the hope of having a wonderful new day.
GOODNIGHT….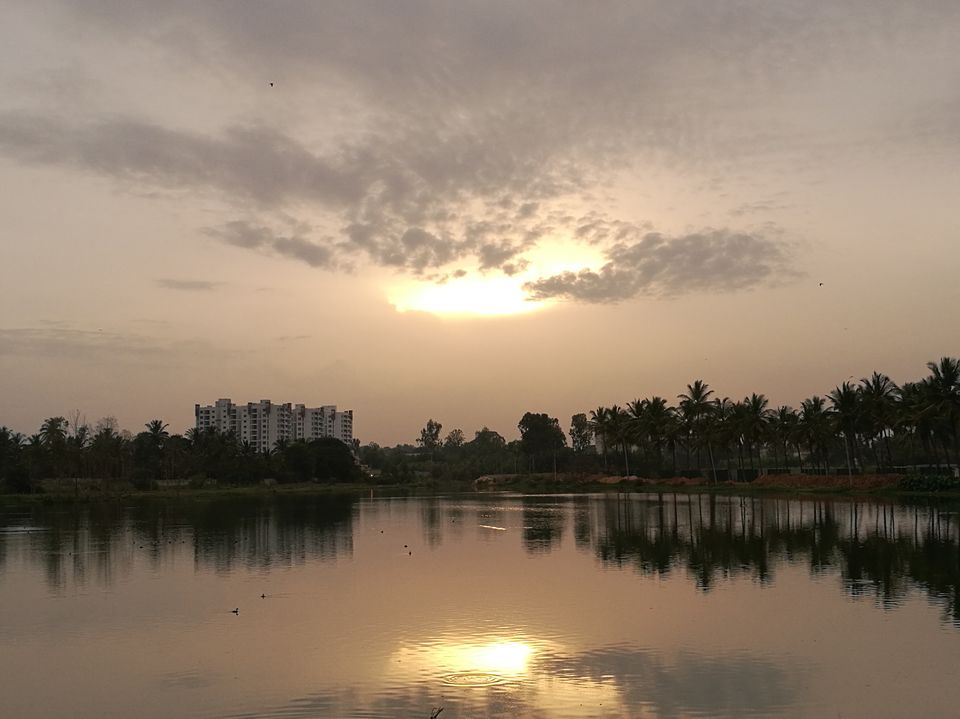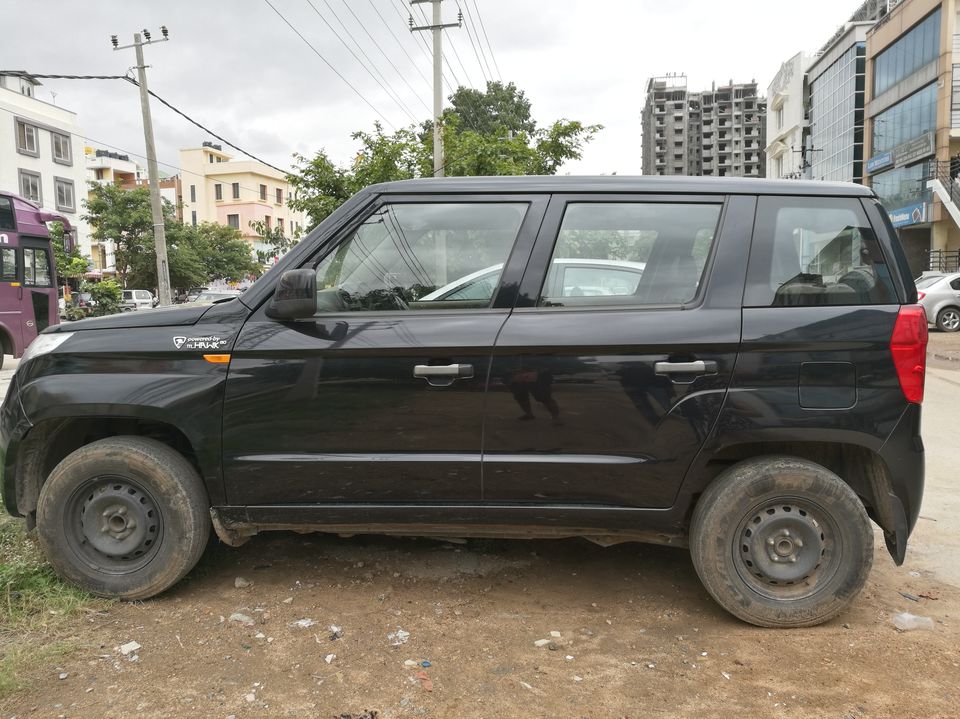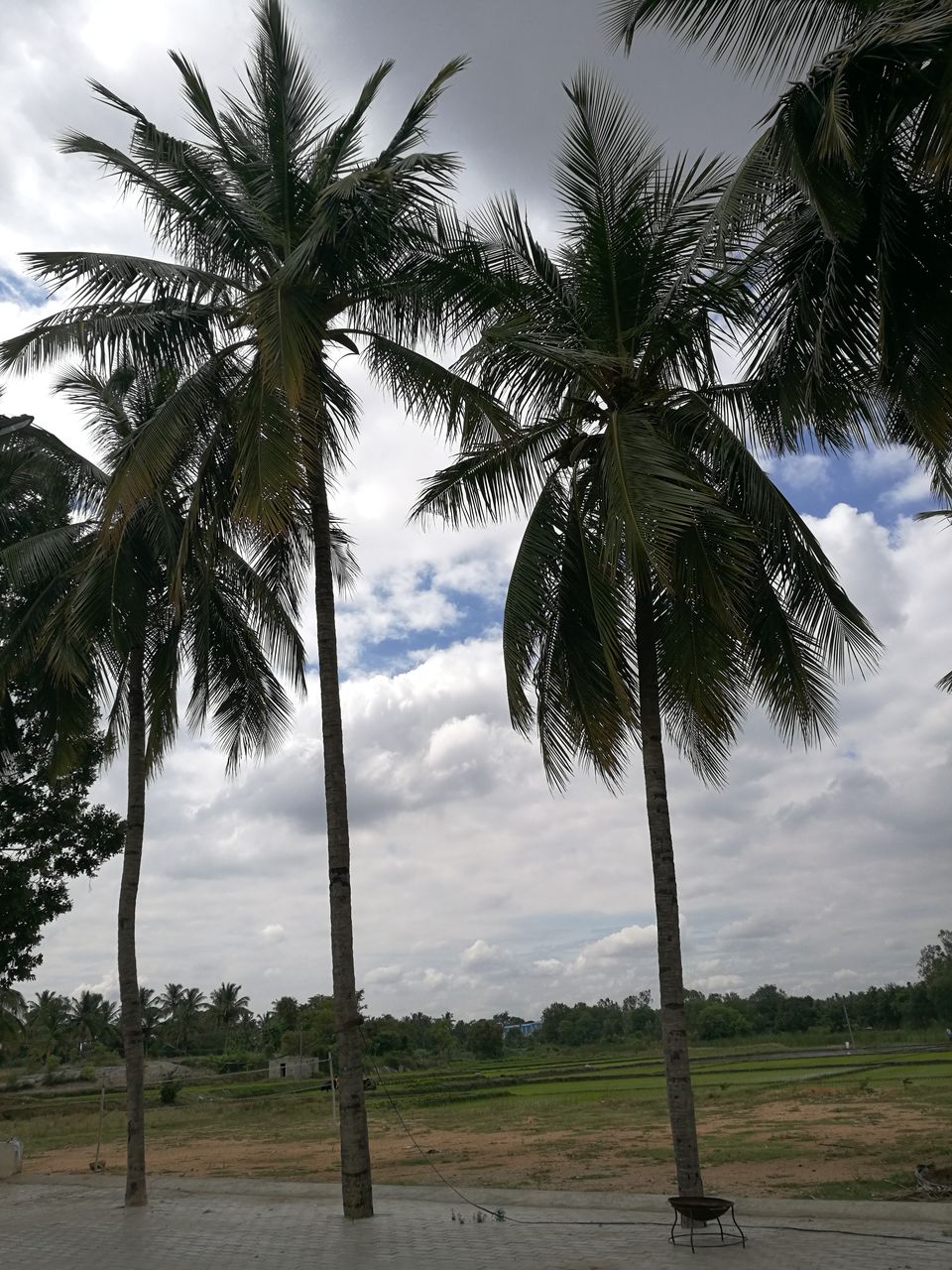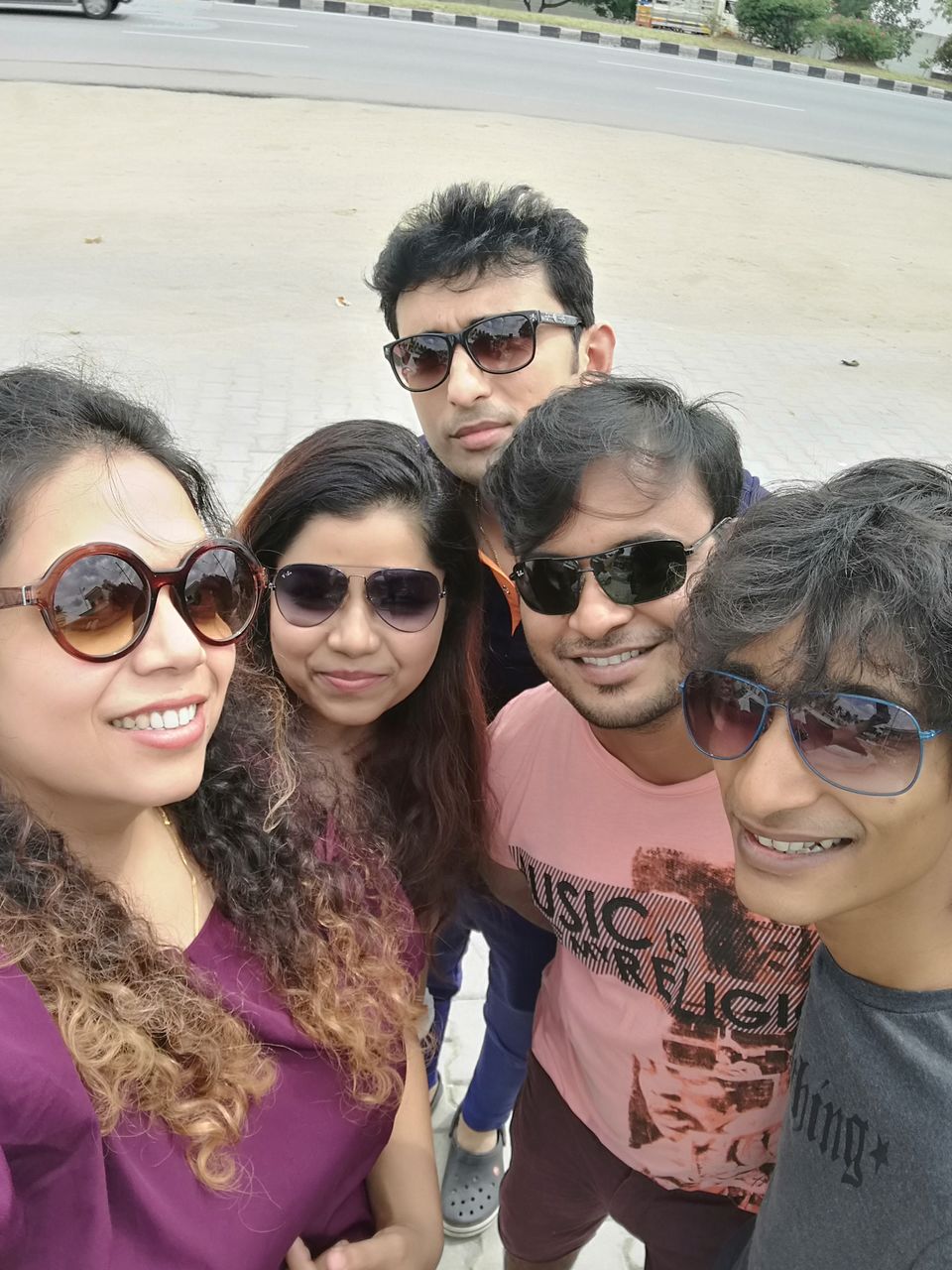 DAY 1 : Good Morning & Goodbye Bangalore
Wakey Wakey. It was time to get up and how do I know it, well my stomach was up and growling. New Day in a new city and something was smelling divine…mmmmmmm…yups it was the breakfast time. The best part of staying at a hotel is that you can have your pick (make it plural) from the menu and enjoy it without your mom standing behind you reminding 10 things you are supposed to do. As soon as I can manage, I reached at the breakfast table and ordered a very light meal. Just an omelett, a Dosa, Idli and upma with a cup of tea and a glass of juice. Don't you judge me, first meal in south india and you want me to skip food. Mummy ne sikhaya hai khane ka respect karna and I am a mumma's girl. So after paying my due respect to south Indian cuisine I was told to get going
Imagine me standing with my bags outside the hotel all dressed up and ready to go. Waiting for a suave car with a sunroof to stop in front of me. Behold, here comes my pickup and it was,wait, WTF an SUV. It will be more comfortable yaar, guys told me and I can see the khadoos hritik roshan of zindagi na milegi dobara. These guys do not understand the beauty of the machines. Ufff….
Apna saara luggage rakhne and khud ko suv mei phekne ke baad we went to pick the surprise guests and friends of Charles. Introducing the mast mast couple, lovely and all good things Anindita Chakraborty (POM) and the annoying Kaushik. I mean how can anyone be so agggggghhhhh…his off coloured jokes, ability to sleep and his singing talent makes a potent mixture.
Hum pa pa paanch finally settled in and hit the road to MUNNAR baby.
Bangalore is a nice city but get on that highway and the scene changes drastically. A well maintained highway, tall trees on both sides of the road and hills (after the Himalayan range can't call those mountains) makes a beautiful picture. The way to munnar was long and we never complained. Haste gaate we were making good progress. But I do need something extra to keep me happy and that is a never ending supply of gems and chocolates. Made Ravi get a big bag full of these and we named the bag as Jhanvi's energy bag. Now that is what I call money well spent.
Knowing Charles, the car never went below the speed of 100. He would have tested 120 and above but then it is not allowed. I was genuinely thankful to the lawmakers that time. Till now the sun was going down and sky was a riot of colours, red and yellow and orange and blue. Window was down on my side now and the wind was caressing my face. I was happy with the wind in my hair, songs playing in the background and the strangers who are now a part of my life.
Ae hey chalo na dhoonde sheher naya, jahan muskurahatein hain bikhrin jahan se gum ka mausam gaya Kab tak gine hum dhadkane dil jaise dhadke dhadkne do…. Anthem of our generation and I was living it totally.
Chalte chalte yu hi koi mil gaya tha..hume koi mila to nahi but we got tired and hungry. Saw a nice fancy looking restaurant and parked the car. We were in such a hurry that we ran and just attacked the LOO. Well what else you expect after 5-6 hours of continuous drive. The restaurant had a pretty lawn where we sat down to enjoy the evening and relax. Got our cameras out and clicked a few candids. A word of caution to all, never ever get your pic clicked after some long journey. You will be laughed upon for the rest of your life and trust me you won't be able to resist joining in.
A small session of juices and ice cream gave us the energy to start again. It was dark now and we were nowhere near our destination. Highway ended and we were now passing through villages and small towns. The towns and villages were totally different from what we see in north side of india and I was impressed with the cleanliness. They might be lacking in facilities but were charming. Passed a windmill farm too but it was late and we could not stop there.
It was almost 10 in the night and most of the shops we found were closed but when you are really hungry to saari kayanat tumhe dhabe tak pahuchane mei lag jati hai. We found a small roadside dhaba where anna(south Indian word hai, don't start imagining we found a pretty English girl named Anna) was ready to make some dosas for us. We ordered our food and when it came we were licking our fingers. It was tasty yes but we actually practically licked the fingers as there was no spoon yaar. Sharmane wali koi baat ni hai isme after all ek gyani insaan ne kaha hai "When you are in South India, Do as South Indians do". Aur haath se khane mei jo mazza aaya wo describe karna mushkil hi nahi namumkin hai.
After the hunger pangs subsided and thirst for coffee satiated, we bid goodbye to anna and started onwards. "Khali hai jo tere bina mei wo ghar hu tera" was playing in the background now(mera and pom ka current favourite gaana ) and two totally lazy people ravi and kaushik were snoring which got me thinking. I day dreamed about the fun times I had before and then imagined the time to come. How things will be, what will we do etc etc. Hum Punjabi na bade romantic types hote hain ji. Can imagine badal, hills, greenery, fog and usme naachte hue hum. Full SRK wala feel le lete hain sapne mei hi and I am no exception to this rule.
Screeechhhhh….hamari gaddi stopped abruptly and I came back to reality. We were crossing a wildlife sanctuary and as luck would have it an elephant was standing bang in the middle of the road. Ghanna jungle, Samne Haathi, idhar hamari gaadi, raat ka sannatta aur phir uss sannatte ko cheerti hui ek awaaz……Abey photo lo jaldi. Hamara cameraman, DSLR lover Ravi was up and alert. Bag mei se camera was out and he was ready to take the picture of the century. But tabhi haathi ko realize hua that he need to move on and he vanished in the trees. With a clear road and a heartbroken ravi, we ventured deep into the forest. It was mentioned at 5, yes you read it right 5, checkposts that there is a good chance of tiger sightings and we were ready for the same. All we saw that night was another elephant and a swamp deer. Guess it was not our night.
Midnight and we finally made it out of the sanctuary. A smile came on the faces when we entered Munnar, land of lush green tea estates and our home for 3 beautiful days to come. Pom and Charles have rented a small cottage some 18 kms ahead of the city centre. Kya kahun, we all are nature lovers. It took us some time to find the place as it was off the road hidden from the sight. I was now exhausted and in mood to just doze off. As soon as the car was parked and the door was unlocked, I somehow got myself out and into the house. Saw the first room which was incidentally next to the main door and found the BED with pillows. Oh God how blessed I was to have found it. Nothing mattered now as I was in deep sleep by the time my entourage even set the foot inside the house.
Sweet Dreams to me..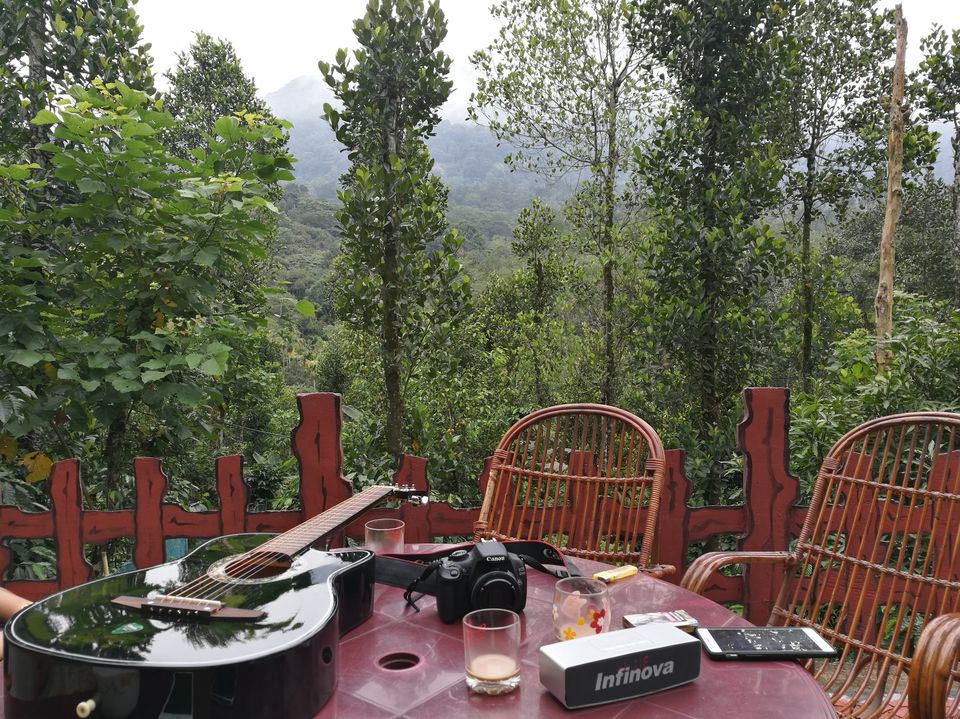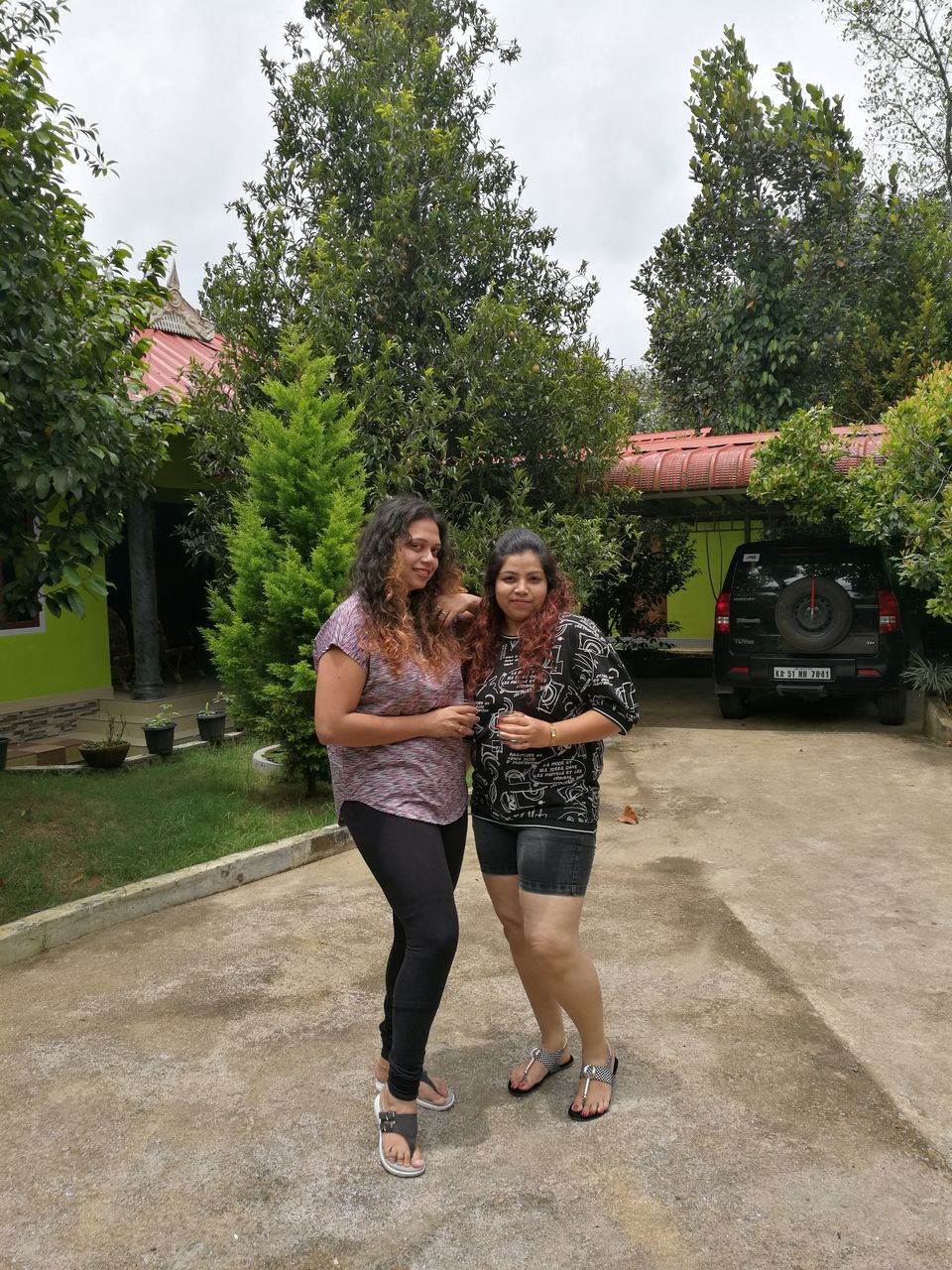 DAY 2 : RISE AND SHINE..IT'S MUNNAR BABY
Have you ever opened your eyes to see a bird sitting outside your window chirping, beautiful flower laden trees as far as the eyes can see and aroma of ginger tea wafting in. I did and in that moment I found myself to be contented. For those few minutes nothing mattered and I knew what it was like to live in the moment itself.
It was a dreamy lazy morning and Pom being the super caring and considerate one had made tea for all. I am still not sure how to thank her for saving my day, chai ke bina mei uth jaun aisa to kabhi ho nahi sakta Thakur sahib. Talking of thakur, where are the guys Ravi, Charles and one of a kind Kaushik. So I got out from the bed and had a first look of the place we were staying at. ANNA MARIA COTTAGE, that's the name if I remember correctly written right outside the main door in Bold.
It was a charming place to stay. A cottage with 3 rooms to accommodate us all, a small living room(we used it to throw the stuff around), a dining room which was used even less. A huge garden in the front with trees laden with a fruit that resembled fig(it was revealed to be a spice later)and plants full of blossoms. As I reached the backyard my knees gave away. It was breathtakingly beautiful. The kind of beauty that cannot be captured by any camera and can never be described in words. The beauty that can only be seen by eyes and saved in the hearts to be cherished.
There were plants bearing black pepper and green chilies, coffee beans and bananas. We were staying in a banana plantation. In the backdrop was a beautiful Hill which was partially lost to the vision due to Fog and a clear blue sky. It was all picture perfect.
Till now guys got few chairs out. With tea mug in hand I was enjoying a bit of chill in the air. Suddenly Charles went inside the house and came out with a guitar. I was told that pom sings well. So pom, after tuning the guitar, started with one of my favorite song
"Maana ki hum yaar nahi lo tai hai ki pyar nahi, phir bhi nazrein na tum milana dil ka aitbaar nahi"
Never thought Charles could lie about her singing ability. Sings well, my foot. The girl mesmerizes you with her voice and leave you asking for more. We hummed along her and stayed there for long. But Punjabi to Punjabi hote hain. Nature, music sab mil gaya to ab bhookh bhi to lagni hi thi. So once again the 4 of us good for nothing people looked at pom with puppy eyes and expected a miracle. Miracle she can whip up. Got to know that she had already ordered for the food while we were sitting there idle. Amazing women and lucky kaushik 
Breakfast mei aaya phir wahi non spicy IDLI and chutney. Ab humara national breakfast to hai parantha with Achaar and Sunday ko to ji bs chole bhature ki farmaish hoti hai. Kahan mil ra tha ye steamed good for health wala khana but chalo aaj tak koi Punjabi bhookha nahi raha so I also had my fill.
It was now time to get ready to explore the quaint little town called munnar. As everyone else was getting ready, me and ravi were eying the narrow path winding down the plantation. Chalein kya, I said once and magically the DSLR appeared. Samjh ni aata ki kaun sa fevicol use kiya tha ravi ne jo dslr se chipak hi gya hai. More importantly kaun hai ye jise mere sath hote hue bhi camera yaad raha hai (remember Poo from K3G).
After going through the K3G dialogue in my head and julfein jhatakne ke baad we started down the path. It was a very small walk as the path ended abruptly and we then have to traverse the muddy jungle floor. It was bananas all around us with a few cocoa trees here and there. Ravi got busy in capturing the beauty of it all when we heard something. A familiar sound of water rushing past. We came out in the clearing while looking for the source of the noise and what we saw next was unexpected. A river flowing right next to our backyard. What else was left. I was in the paradise. Hallelujah…I could have shouted out in elation, could have danced then and there but all I did was to stare at it all. The memory is itched in my heart and is as fresh as it happened a few moments before.
We stood there speechless and after a long silence started back up to the cottage. Got ready as pom was already out in the car and waiting and you never keep a beautiful lady waiting like that. In a rush we got ready and in the car. Our itinerary for the day was hmmmmmmmmmm hmmmmmm, well we are not the planning karne wale log. Every road must lead to a beautiful spot and so we started driving. Saw a sign on the road, Attarukudu waterfalls few kms ahead and that became our destination of the day.
It was a bright sunny day and the sky was clear. The road to the waterfall passes through the beautiful tea gardens. We reached the designated parking area and by the look of it, place was brimming with tourists. It took us around 20 minutes to park the car. The parking area is not far from the waterfall entrance. The waterfall is charming and the current seems to be strong. So no one is allowed to go near the water. Keeping in mind the safety of people, entire area is fenced. We found a small home run café right next to the fall and took our seats. The lady who owns it was a friendly person and as she tried to cater the unique food request of health conscious couple, we got the camera out. Ravi settled the tripod and started clicking. Well we are all professionals you see. Our cameraman ravi got to work under the supervision of none other than the great director, Mr Kaushik who was also bossing the 2 assistants around(pom and charles) while I was told " thoda cooperate kijiye" and left out to enjoy the drama. The guy although pisses you off more than you would like but you never have a dull moment when he is around. His role play was hilarious. So much for the laughs that he actually got the entire cup of tea empty in a second. He didn't drank it at all, just got it all over his clothes. The director was red faced in embarrassment and we were red faced because we were laughing uncontrollably.
After all of us calmed down and had another round of tea with a much sober kaushik, it was time for few more clicks. Ravi even gave me a lesson in photography and I did him proud with the one's that I clicked. Now was the time to leave the place and go in search of other beauties. We came to the car and found that one of the tyres was punctured and needs replacement. Couldn't have happened on another day. Why us…always? The guys started working on it and with the help of people there got it done in few minutes.
We now headed towards the town. Wanted to check out the market and as we had a fully functional kitchen at our disposal it was decided that we will cook our own food. First things first, a restaurant was decided upon and food was ordered. It is really hard to for a vegetarian person to get much options but I was doing fairly well. After a quick lunch me and pom left the guys to go some grocery shopping. Got veggies and spices and other essentials. On the other hand guys were on a spree of their own and looking for somras. Well they didn't have any success as after 2 hours we had our hands full of bags and all they had to show for their struggle was an address.
Ittne udas faces kabhi nahi dekhne ko milte but when liquor is not available in entire town, guys do feel sad. The address they had was 20-25 kms away from where we were but then something's are much important in life and you go to a great length for them. We settled down in the car and started our journey in search of the sacred drink. It was almost dark when we reached a place named Devikullam. There was just one liquor shop in the entire area so I guess it must be crowded. Ravi and kaushik left to get the bottles while Charles, pom and I started a chit chat session. It was nice to share things with pom. She listens and never judge. We waited for half an hour and then for 15 more minutes and finally our patience gave away. Sent Charles to look out for the guys in case they have decided to open a bottle a bit early. After 15 more minutes we saw Charles coming towards us, alone and grinning. He showed us a pic he had in his phone. Looked to me like one of the election rallies pic as people were practically on each other. His explanation was "This is how the liquor shop is looking right now and guys are apparently part of that bheed". I pitied the guys then and when they came, the looks on their faces said it all. Aapan jung jit ke aa gaye aa…balle balle
It was dark by now and we started back for the home. Ab hum sab saath ho and kuch ghatna na ghatit ho aisa to kabhi ho nahi sakta. Charles was driving(as always, the guy is nuts for driving) and suddenly he yelped. Car was parked on the road side and we guessed that some bee stung on his hand. Took him to the nearest chemist and got something to help ease his pain. It was really bad as I can see how much pain he was in. After 20 mins or so his pain subsided as kaushik took over the wheel and we crossed the market of munnar again. We were hungry by the time we reached the cottage and pom just rushed to the kitchen to make something for us with help of Babu. Oh I forgot to introduce our cook, Babu. A malayali guy living on the plantation who couldn't speak hindi or English. How we got him to understand us was a stroke of genius. Half the time we used google translator and the other half it was the dumb charades. We got really good at understanding each other by the end of the journey though.
Anyways babu was not aware of what we people eat and how to make a roti, well that was difficult to explain to him. Pom took the easy way out and cooked it all by herself. Meanwhile guys were out in the backyard again with the bottles and some munchies. I tried helping pom but felt like I was more of a nuisance so I also settled down outside with the guys. Pom also joined us soon and what ensued was a heart to heart session. Peene ke baad jo baatein hoti hain unka to apna hi swaad hai aur jab aap itni shant jagah mei ho ki aapke dil ki dhadkane bhi sunai dein to every emotion just flows out.
Don't know till when we sat over there. Saw pom leaving as she was tired and then kaushik and me. Ravi and Charles don't know the meaning of night though so they sat there till wee hours I guess. It was the night of the nights. Starry sky and a cool breeze which brought the fragrance of all the flowers around was more intoxicating than any drink would ever be. Throw in the company of good people and you will be drunk on it all. Never to be sober again.
Sleep Tight 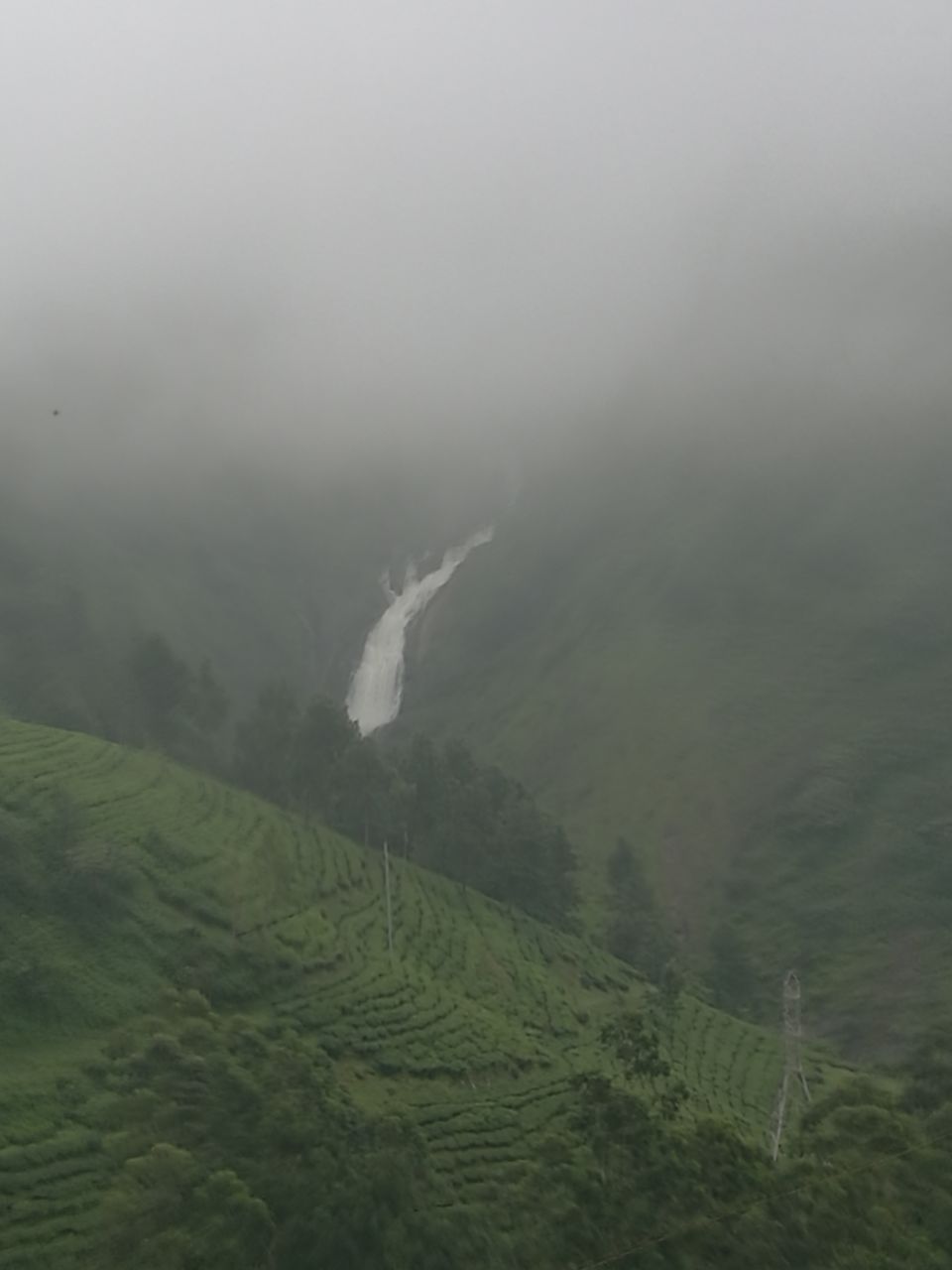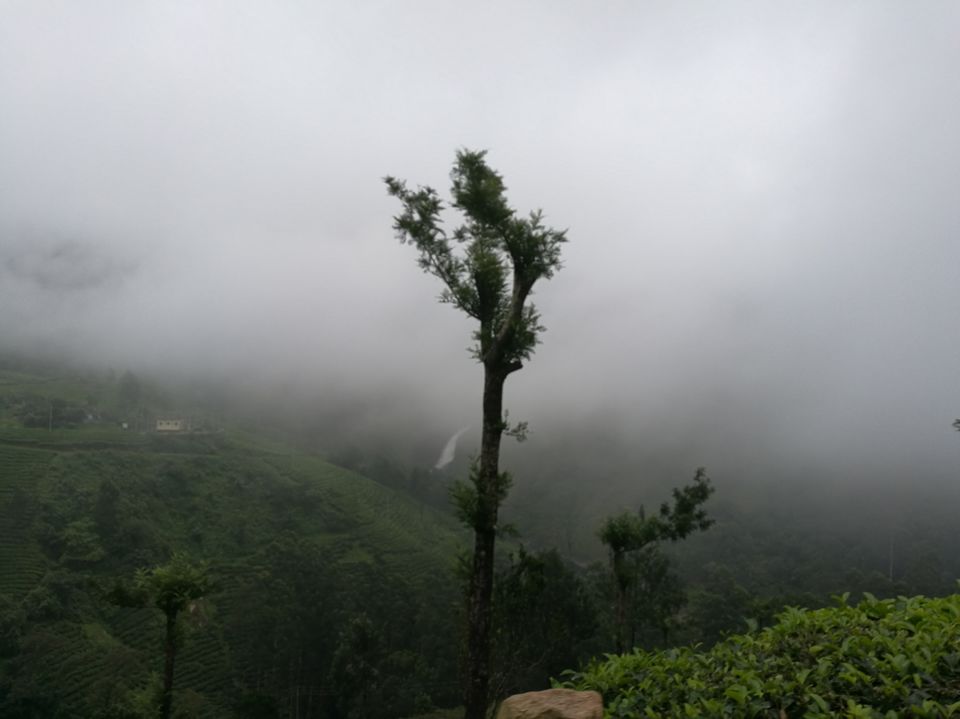 DAY 3: GOTTA FIND THE DAM
Good Morning Sweethearts.
The mornings never saw me this happy and chirpy. Iss hawa mei alag sa hi jaadu hai. It will fill your heart with that unexplainable khushi jo mehsoos to ki ja sakti hai par lafzon mei bayaan nahi. Ya phir shayad ye mei hi thi jo uss surror mei itna doobi thi ki hosh hi nahi raha kab din doobta jata hai aur dheere dheere THE END ka time kareeb aata ja raha tha. Still another day to live with my buddies in this heaven called MUNNAR.
Aaj jab aaram se baith kar sochti hu uss subah ke bare mei to chehre pe ek smile aa jati hai. Subah uthte hi masti chalu. Ek doosre ki leg pulling mei to sab ustaad hain but pyar bhi usi tarah unlimited milta hai yahan. I was a bit feverish and uski tension baaki sabke faces pe dikh rahi thi. Pta nahi kab, kaise and kyu aisi dosti ho gayi jo jai aur veeru jaisi na sahi par usse kam bhi nahi lagi. Anyways morning routine started, babu ka aana, Pom ka dumb charades khelna and pareshan hoke khud hi saara kaam kar lena, wo badiya chai and nashta bina mehnat kiye hum aalsi logon ko mil jana and lastly hum sabka ready hone ke liye bhagna.
Today we are out to see a Dam and an adjoining lake. See thoda galat hoga cause pehle we need to search for it. Naam nahi pta, raasta nahi pta but we had full faith on our navigator Charles. Ghar se nikalte hi kuch dur chalte hi ek khoobsurat sa spot aata hai. Filmon mei dekha tha maine aisa, aamir khan chai ke bagaan mei fog mei naachta hua. Charles ne aisi hi jagah laake wo saaro filmy baatein yaad dila di. Waise hi khoobsurat bagaan and fog. Pyar ho gya tha mujhe uss jagah se. Aisa kuch nahi tha jiski complaint kar sakte. We clicked a number of pics there but mera favorite moment tha kaushik or Pom ko sath dekhna. Unki masti, ek doosre ke liye pyar and care uss jagah ki asli feeling describe kar raha tha. Sorry sorry, I got carried away but kya karun yaar Punjabi kaise bhi ho dil apna full of love hota hi hai.
Itna acha feel karte karte mujhe to bhookh lag gayi and baki sabko bhi. Jyada kuch to available nahi tha wahan but wo roadside stall se bhutta khana…waah kya swad tha. Our journey was resumed aur hum nikalpade manzil ki talaash mei. Kayi baar u turn liye, 10 logon se direction samjhe and dhoondte dhoondte finally hume raasta mil hi gya. You know I feel ki hum log hamesha baki countries ki natural beauty ki tariff karte hain but we forget that we do live in a country jahan aapko har manzar milega, Har raah alag hogi aur har mod pe kudrat ka lutaya pyar dikhega. South India ka ek chota sa town apne aap mei ittni khoobsurti samete hoga ye maine kabhi sapne mei bhi nahi socha tha. Those winding roads, green everywhere you can see, cool yet gentle breeze and serenity. Shahar ki tez raftaar se dur ek shaant jagah. Tarif pe tarif kar sakti hu but shayad words kam pad jayenge.
Raat dhalne lagi thi aur usi doobte suraj mei hume hamari manzil dikhi. Ek khoobsurat lake, surrounded by hills on 3 sides. Car park ki and we ran downhill to touch the glittering diamonds we can see on the surface. Hum paanch haathon mei haath daale bs wahin khade rahe. Words were not required and time came to stand still. We captured a few pics to remember the time we spent there before starting our journey back home. I realized that it was never about the destination but the journey. We were not looking for places, we were all trying to find the answers or some peace which eludes us regularly.
Din bhar ke ghoomte log wo bhi hum jaise bhookad, aise mei khane ki baat na ho to kuch adhura sa lagega. So pehla stall dikhte hi hum sab bs milkha ban gaye. Baarish start ho gayi thi aur thandi hawa chal rahi thi. Uss choti si dukan ke shade mei khade hum chai pe rahe the. Kisi filmy scene ke jaisa hi lagta hai aaj ye sab. There the guys introduced me to a delicacy of Southern India, egg pakodas. Well I was a bit apprehensive pehle to but after that first bite, wallah…it was really tasty and something that was much needed in the romantic mausam. Bs mujhe mera shahrukh khan nahi mila uss moment mei else life would have been perfect. Chalo Shahrukh na sahi mere sexy friends to the hi and we had a blast.
On the way back to the cottage, for the first time in my life, nothing happened. That was a surprise to me as well. Mei sath hu and koi siyapa na ho strange ho gya ye to. Reached our place and settled down in our favorite chairs. Uss raat yaad nahi humne kya baatein ki bs yaad hai ki hum sath the, khush the and we were at peace.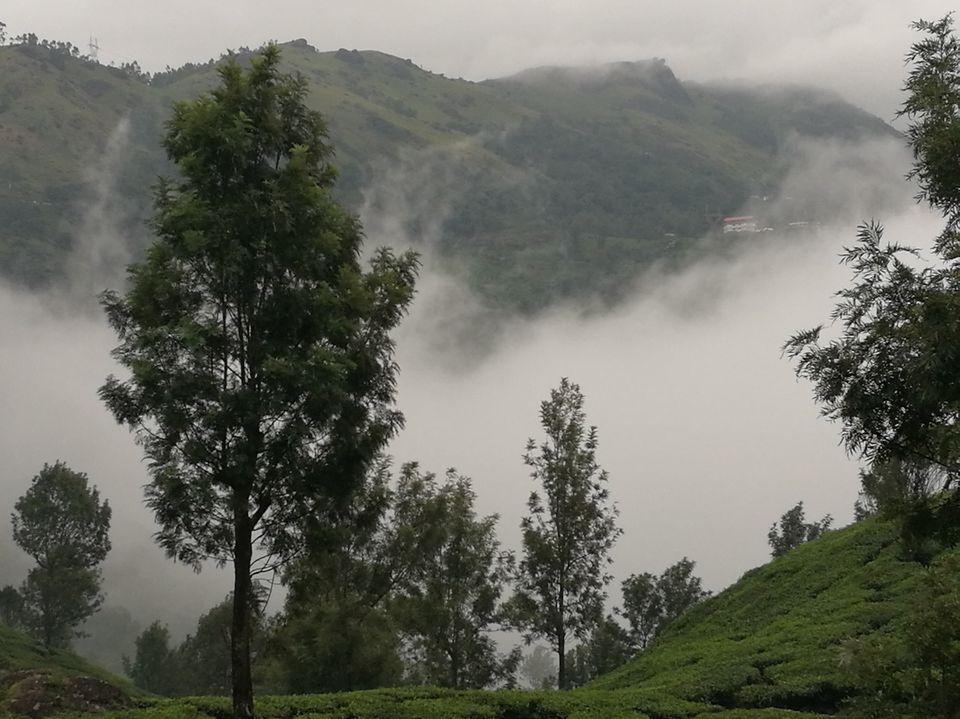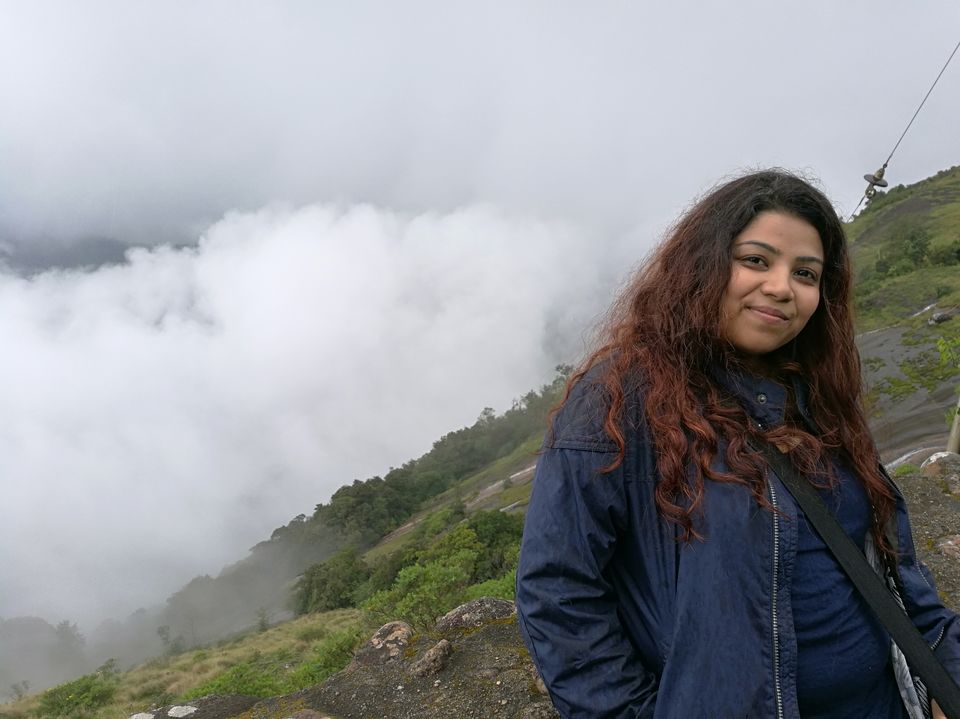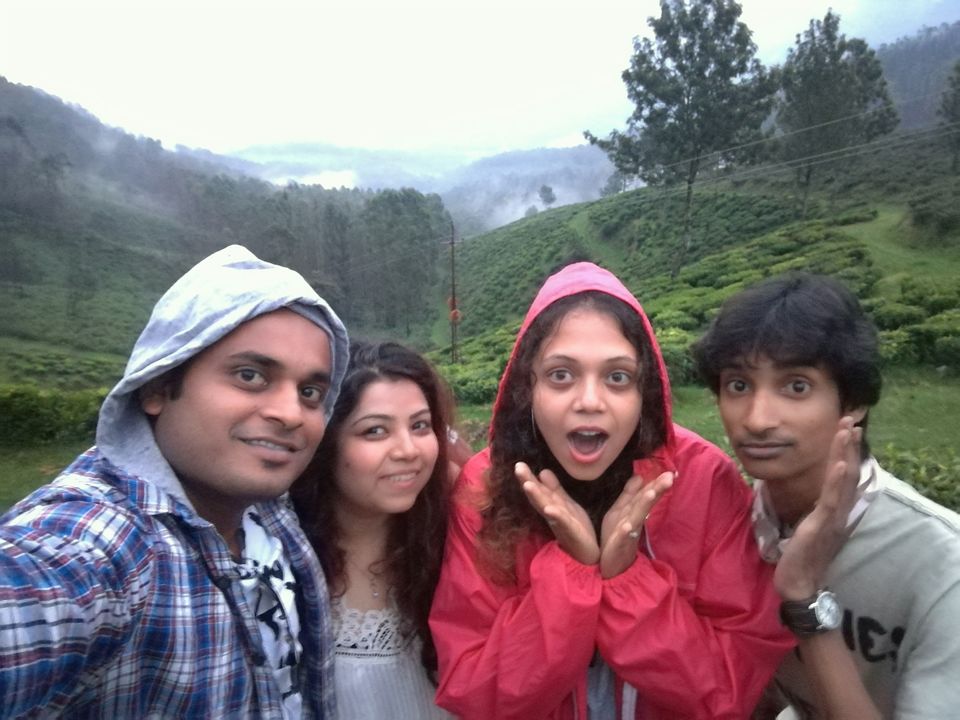 DAY 4 : THAT MOUNTAIN IS SO HIGH
Aaj ki subah mei thodi si shaant uthi. Ye jagah mujhe apne rang mei dhalne ko mazboor kar rahi hai aakhir. Ghar bhi shaant tha probably because everyone was asleep till then. I made tea for all and went outside. I was feeling jealous of the residents, aisi pyari subah har roz jeete hain wo log. Kash iss jagah mei bhi reh sakti but then I know ki kuch yaadein jeene ka sahara banti hain par aap unhe har roz jee sako aisa possible nahi hai. Uss pal ek hi gaana chal raha hai mere dil or dimag mei.
Kuch khusbuyein yaadonn ke jungle se beh chalein, kuch khidkiyan lamhoon ki dastak se khul gayi Kuch geet purane..rakhe the sirahne kuch sur kahin khoye the mazil mil gayi.. Jeene ke ishare mil gaye, bichde the kinare mil gaye….bichde the kinare mil gaye…hmmmmmm
Finally people were up and out. Chai pite hue sab apne apne khayallon mei magan the. Pichle 3 din se ittna shaant nahi dekha maine sabko. Ittni shaanti mujhse to jheli nahi jati and I went to bed again. After a refreshing nap I woke up to the sound of music. It was not your nature love wala music, finally I was hearing masti and shor gul wala dhai dhai music. I got out of my bed though it took me all my will power but iss raaz ki tehkikat karna was of utmost important. I came out and can't believe what I saw. Everyone was in there trackpants and ready to do workout. Who does that at 12 in the noon yaar but the zumba session was about to start and I was given the temporary role of photographer as ravi was playing DJ. Our lead dancer POM was in the front and kaushik with Charles were ready to follow her steps.
1..2..3 and it started. I was rolling on the floor laughing from the second it started. Our Machoman Kaushik trying to be flexible and dance got me thinking of sunny deol and Charles, ittna flexible ki rubber bhi Sharma jaye. They made the most terrible but also most amusing pair to dance ever. After a while even pom was unable to continue dancing and she just kept on laughing. Our duo had given up on the zumba by now and performing the best ever naagin dance. All in all the best workout session I attended till date. It was late in the noon now and we were again reminded by pom to get ready (itne dheeth log ki roz hi daant khate the for nahana and we used to wait for that ). So washroom ke liye line mei lagne ke baad I got my number and came out prim and proper.
At around 3 we left from our place and decided to try and reach the peak of the "misty mountain". We were eyeing it from the day 1 and now can't control our urge to explore the place. So again we played the dumb charades with locals this time and tried to know the way up to the mountain . Aise to koi unexplored trail nahi mili but we came to know about a national park. Apparently the mountain we were eying was the part of Ravikullam national park. So apni gaadi bhi wahi chal padi. Raaste mei khaate peete aur mast gaane gaate hue we reached the park. It was evening now and park was supposed to get closed for the visitors in few minutes. Lucky us, we entered 10 minutes before the closing time. Everything was well planned here as in rest of south India and people do follow the regulations.
Me and pom got some pics clicked while the guys arranged for the tickets. Then started the wait for a bus which was supposed to take us up on the mountain. I was waiting in the line to board and thought that I have already seen the best munnar has to offer and there is no way some stupid national park would be attractive. Kya hoga, mountain and jungle and people gawking out of bus trying to see glimpse of some animal they can boast about later. Right, i mean what else can happen yaar.
I was damn wrong dude. One look out of the window and I lost myself. Where was I? Things were not supposed to be so breathtakingly beautiful. This was definitely not earth. Have I died and gone to heaven?? The mountains whose peaks were hidden in the clouds and waterfalls which looked like they were paving their way from those fluffy white cotton candies. Look down and the lush green tea plants freshly washed in the ongoing drizzle present you with a fabulous view. I am short of the words now.
We deboarded around 1 km before the last point accessible and needed to cover that on foot. Waise bhi it was heartening to walk on the mountain path there. A light drizzle made the walk all the more interesting. Though we never sighted any animal but then the view made up for more than that. After reaching the peak our photographer got into action and took some stunning pictures of everything and everyone. It was started to pour now so we decided to get drenched. Me and Charles sang and danced all the way down while rest of the party laughed at our stupidity and set a slightly slow pace. After reaching the bus stop we had a bit of time on our hands and were damn cold so we looked for a cup of tea. Didn't found it as the place was closing down but the wonderful ladies behind the counter do provided us with muffin and cake. As wet as we were, we gobbled down the sweets and boarded the bus to take us back towards the exit.
We took our leave from the beautiful park and went straight down to the first tea stall we can find. While everyone else was having tea and maggi, I was eyeing the raw mangos which were on sale. Couldn't resist that tangy delicacy anymore and bought some. Although I was not expecting everyone to join in but then I guess all people do love to have some spicy tangy mango now and then. All rushed to the car thereafter as we were in dire need of warmth. We were shivering and the hot air did a wonderful job as we started on our way back.
Raaste mei sab bhookhad jag gaye and all the guys wanted to become chef that night. Chef jinki speciality is mutton. Ab raat ko 10 baje ek chote se town mei only we crazies can drive around looking for a meat shop. Not only did we covered the entire area of 25 kms till our cottage but crossed it altogether to visit next town where as per some random person we will be able to find the shop opened at that point of time. After another 10 Kms the realization hit hard that we were not going to find the shop and got to go back and survive on potatoes. I am thankful to the almighty that the guys decided not to cook me in the place of the goat and settled instead on the veggies although that was half heartedly.
Reached home and the dinner was cooked. We all sat together that night over a session of drinks and few starters which we have already got from the market while coming back. It's all a blur now. We would have discussed things which I do not remember but I do remember one poem which is close to my heart as Charles recited it.
"Use eyeliner pasand tha, mujhe kajal, wo French toast aur coffee pe marti thi aur mei adrak ki chai pe. Use night club pasand the, mujhe raat ki shaant sadkein. Shaant log mare hue lagte the use, mujhe shaant reh kar use sunna pasand tha.. Chup rehna boring lagta tha use par minton dekha karti thi mujhe jab mei chup rehta tha Wo NewYork ke Times Square, Las Vegas ke Grand Casino mei shopping ke sapne dekhti thi, Mei Munnar ke Chai ke bagaano mei khona chahta tha.. Hampi ke lal tille pe baith kar suraj doobta dekhna chahta tha. Uski baaton mei mehnge shehar the or mera to poora shehar hi wo Na maine use badalna chaha na usne mujhe…Ek arsa hua dono ko rishtey se aage bade Kuch din pehle uske sath rehne wali uski ek dost se pta chla, Wo ab shaant rehne lagi hai, likhne lagi hai, hampi bhi ghoom aayi aur tille par andhere tak baithi rahi…aadhi raat ko achanak se uska mann ab chai pine ko karta hai.. AUR MEI…mei bhi ab aksar coffee pi leta hu kisi mehngi jagah baithkar.."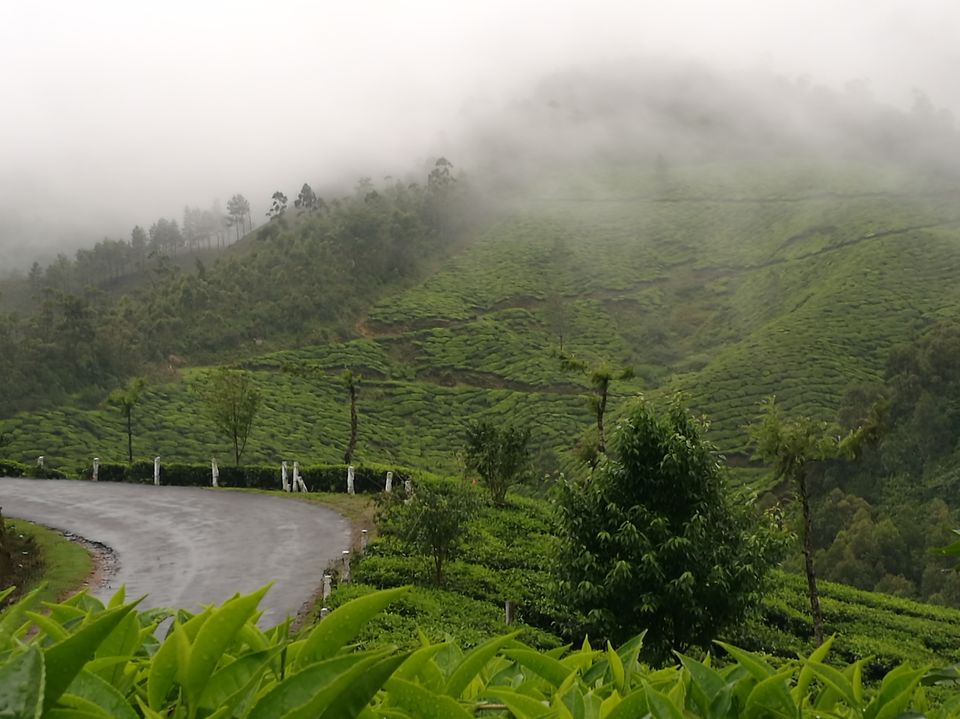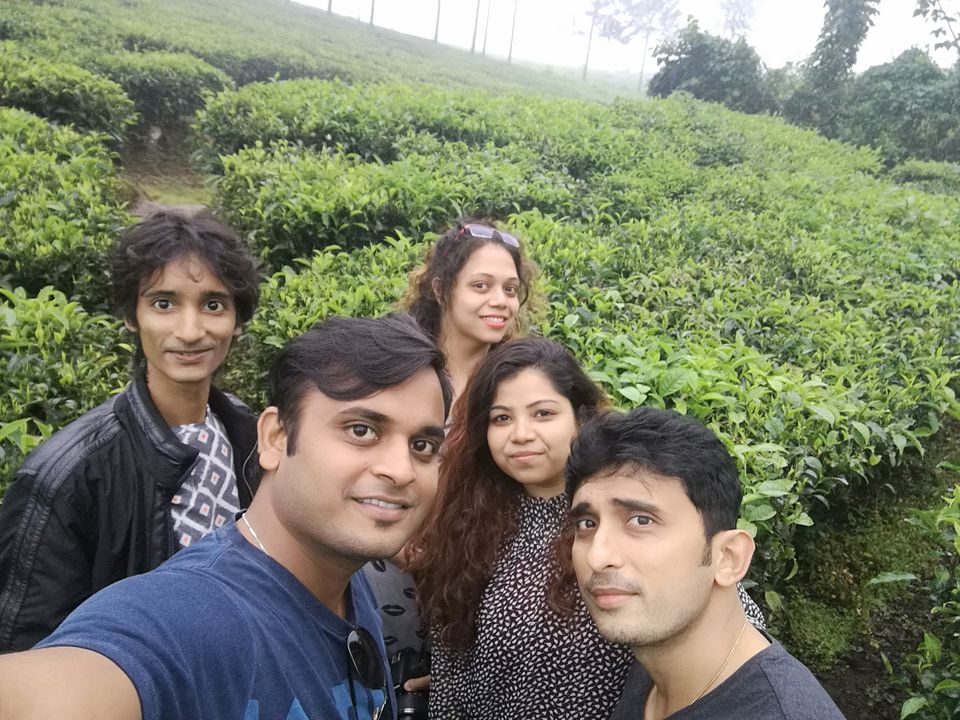 DAY 5: IN THE END
It was our last morning in this home we have made for us. I was not sure if I was sad that it was all coming to an end or happy that I got to spent such a good time with my sweethearts. A mixture of both maybe, which always sends me in a state of panic. Not good in dealing with goodbye's at all. Aaj kahin ghoomne ka plan nahi tha, kuch dekhne ko baki nahi tha. So we were sitting out there chilling and having a gala time. Pom thankfully took a break and sent guys in the kitchen to do cooking for us that day. Kaushik took over the kitchen and gosh this man can cook. It took him over 2 hours but the end result saw everyone licking their fingers. Praise karne ka time nahi mil raha tha we were so busy in stuffing our mouths.
Wo subah kab dopahar mei badal gayi aur dopahar kab khatam hone ko aayi kuch pta hi nahi chla. Waqt shayad uss din kuch jyada hi speed se chal raha tha. Waise bhi kehte hai na ki acha waqt niklte kuch pta nahi lagta. AIsa hi hamare sath hua. 2 din pehle hi to aaye the yahan, har kamre ko ghoom ghoom kar dekha tha. Garden dekh ke khush huye the. Apna apna luggage bhi bs idhar udhar phek diya tha. Excited the, khush the aur energy itni ki bs paidal hi har jagah explore kar sakte the. Aur aaj wahi samaan wapis pack kar rahe the, chehron par thakaan dikhne lagi thi aur baaton mei kuch kam mithas thi. Aaj koi shor nahi tha, koi crazy harkatein nahi thi…the to bs 5 log jinhe wapis jana tha apne apne shehar..usi tez raftaar zindagi mei kho jane jahan insaan khud ko hi bhool jata hai, kahin kho jata hai.
Par jaane se pehle ek aakhri khwahish thi meri jise poora karna zaruri tha. Pta nahi ki iss jannat mei phir aane ka mauka mile ya nahi. I wanted to dance and sing in the tea gardens just like we have seen in movies. My friends didn't laughed at the notion and stopped the car in a beautiful spot. Now you must be thinking ki ladki kitni weird lag ri hogi dancing alone. Itni bhi crazy nahi hu mei so I didn't danced but haan I hummed a song while walking in that garden and got a lot of pics clicked as this was the last time, DSLR was put to use. I even clicked some good ones and smiled the brightest smile while waving my goodbye to this beautiful place named Munnar.
Nothing more to tell you now as we reached Bangalore safe and secure after driving the whole night. We had our flights the very day. Spend our time in beds till noon. In the evening me, pom and kaushik bid sayonara to our Bangalore buddies and started towards airport. The husband and wifey parted ways with me and caught their flight to pune. I on the other hand went to board my flight to delhi. Happy Ending 
Wait up…u thought things are going to end that easy my friend. It's me and with me anything can happen. So I stood there at the airport and watched my flight leave without me. It was not planned but someone up there do not wanted me to leave the city yet. I have still not explored Bangalore and was just not ready to say goodbye. Well what happened next is a story for another time maybe. I was happy as I rang a doorbell after travelling 3 hours back to the city and said "SURPRISE SURPRISE..Look who is back so soon".