Jasper is a beautiful town in Canada which is around 500 km away from Vancouver. This distance may seem a lot to you because you are possibly an Indian. However, travelling 500 km is not a lot in a day when the car travels at an average speed of 120 km/hr on the highway. In almost 4.5 hours, you would have reached Jasper from Vancouver. It's funny that I have taken this long to cover a distance of 30km in Mumbai during traffic hours and festive seasons. But Canada is a completely different story!
Jasper is a small town with a lot of places to see. It has a huge candy shop in the middle of the city which is extremely popular for children's sour candy. It is like the Willy Wonka shops that all children dream of. The candy shop has a wide variety of chocolates. It is popular throughout the city. It is simply called 'candy shop'. There is a pizzeria right near the Candy shop and It claims to have the best pizza in all of Alberta. Try for yourself and tell us about what you think!
The Fairmont in Jasper is an amazing hotel. It is a huge property which has literally everything that one can imagine. There is a great view of the mountains and the property has its own private lake on which you can peddle boat, speed boat or Kayak. It is a holiday destination within itself. There are also cycles on hire and there are many cycling trails around the hotel. They also plan a barbeque under the stars every evening. If you are an avid trekker, the trekking route goes around the entire property and the view of the lake from the trekking route is great.

Despite these already interesting activities, there are various others like swimming, indoor games. The chalets are generally for 4 people and they are really huge and grand. The hotel is well built and the rooms are also great. It also has a huge golf playing area and various horses to ride. The experience is thrilling.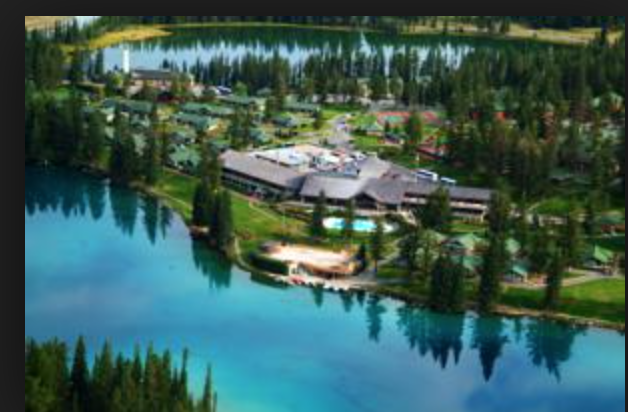 How expensive is this place?
You have to book a room here. It costs around INR 1,20,000. If you are a couple or a family of four, the price remains the same. However, it is totally worth it.
How to get here?
You can rent a car from Vancouver in Canada and get here. It's just 500 km away. Not a lot when it comes to Canada.