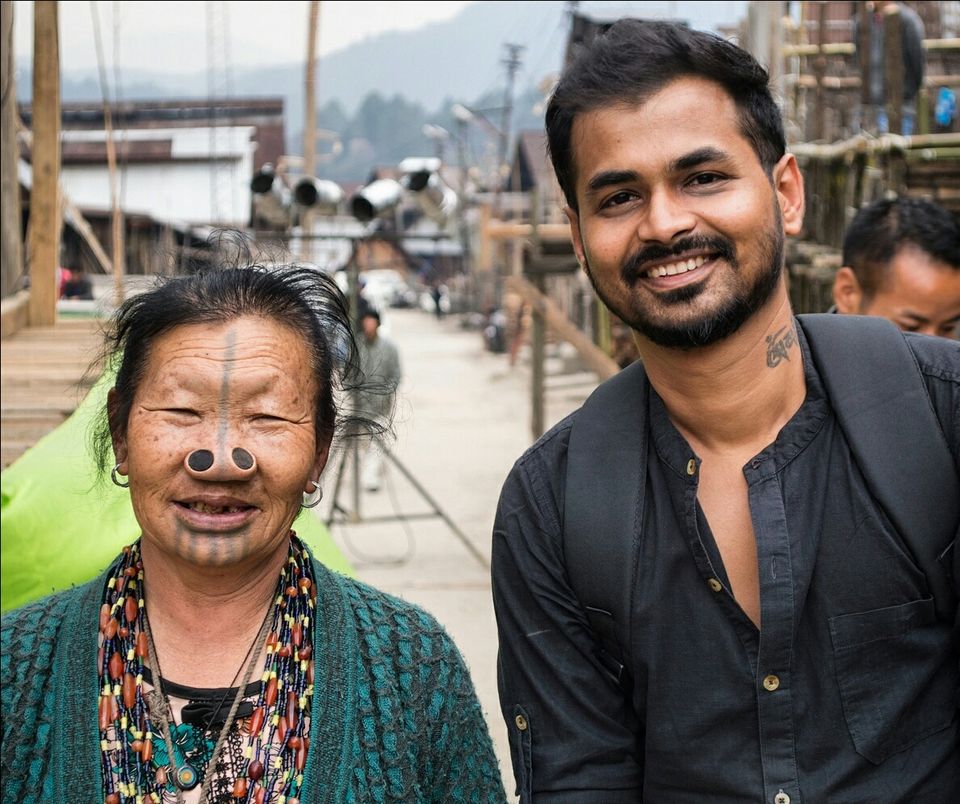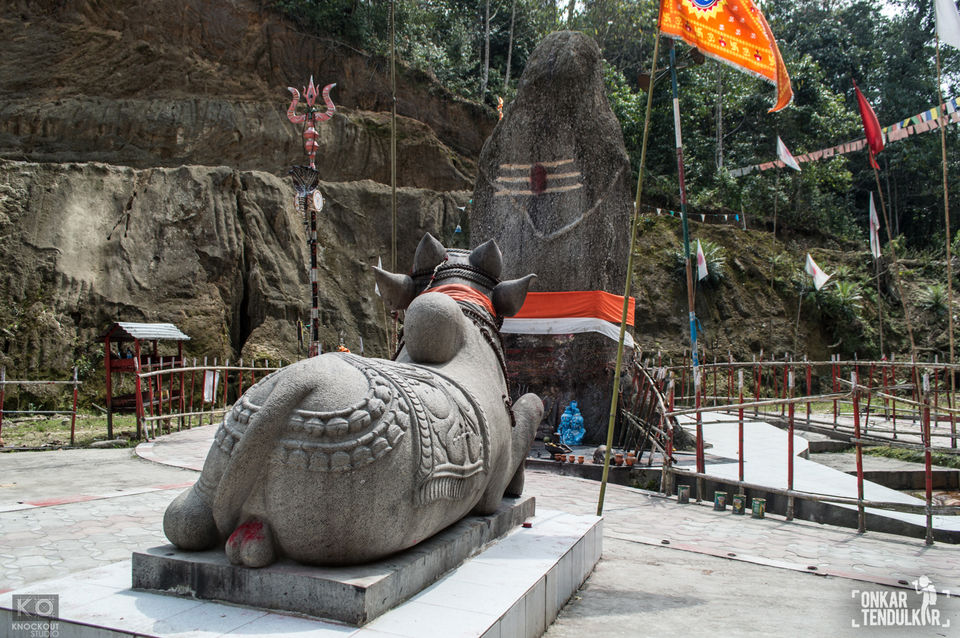 Visiting Central Arunachal Pradesh had always been a dream for me. Although I travel pretty often throughout India, no other place has been able to quench the thirst I have had for travelling to the North-eastern part of the country. I was always fascinated by the culture, people, flora- fauna, variety of climatic conditions & diversity of landscape of Arunachal. Thinking of it, to me it always felt like mini India. Just like how India has people belonging to various religions and linguistic groups, same way Arunachal has 16 major tribes and 40 plus sub tribes; all totally different from each other. Some tribes like Monpa, Memba follow Tibetan Buddhism, while some like Apatanis, Galos, Tagins largely follow Donyi- Poloism, some of the Nocte & most of the Mishings are Vaishnav Hindus while large chunk of all the above tribes follows Christianity. Ditto when it comes to the landscape & climate. From the snow clad peaks & freezing temperature of Tawang & Mayodia to the humid plains of Brahmaputra near Pasighat, from the incessant rains of Ziro to the summer heat of Aalo- the state has it all!
Having already visited the western Arunachal i.e. Tawang, Bomdila, Dirang during my earlier trip to the state, I finally decided to visit the central Arunachal Pradesh this time. Soon I prepared and finalized the itinerary along with my friend who was super excited to travel with me to Northeast for the first time. Shortly we booked our tickets, got the inner-line permits ready through a friend in Delhi, fixed places to stay and (not so) patiently waited for 5th March 2017.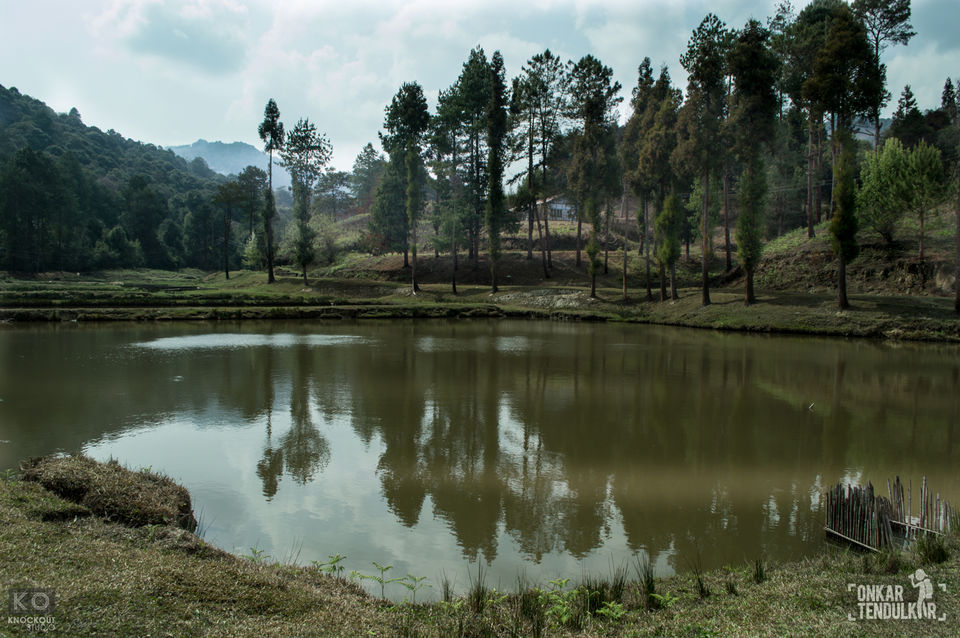 Day 1:
We boarded the early morning Vistara flight for Guwahati which was gonna take us there in 5.5 hrs via Delhi & Bagdogra. The last leg of the journey; from Bagdogra to Guwahati lasted barely for half an hour or so. As we entered Assam's aerial space, I looked down from the window. That shimmering serpentine silhouette had grown familiar over the time; after all I was travelling here for the fourth time. Seeing Brahmaputra- the so called lone 'male' river in India; from flight is always a sight to behold. The sheer vastness of its width and the grandeur with which it flows is unmatched anywhere else in India.
Finally around 2 pm, we arrived at the 'Lokapriya Gopinath Bordoloi International Airport' at Guwahati. We had pre decided to keep it a low budget trip as even a budget trip to NorthEast often ends up costing a bomb due to limited transport options, dearth of good hotels and extremely high cost of vehicle renting; we almost have to be ready for anything! Accordingly, we collected our bags and instead of a cab, booked ourselves two bus tickets to the city centre known as Paltan Bazaar- the area around Guwahati Railway station.
As we got off at Paltan Bazaar, seeing bags in our hands, various travel company guys approached us themselves rather than us having to search for them. We told them our intension to travel to Ziro. As I was already aware & now the same confirmed from the travel company guy, Guwahati- Ziro direct buses had stopped plying a month ago due to bad roads and the only way to reach Ziro was via Itanagar. Accordingly we booked ourselves two semi- sleeper seats for the 6:30 pm bus by Deep Travels, which would reach Itanagar around 5:30/6 in the morning. (Deep travels & Network Travels are two reliable private road transport services for various destinations in NorthEast. Deep travels currently has an advantage of online ticket booking facility on redbus.com over its rival, however the kind of road connectivity that Network travels has in nooks and corners of NE is unmatched. Network travels: 0361- 2605335 & Deep Travels: 09435118527)
Having quite some time in hand before boarding the bus, we kept our luggage in the cloak room at Deep travels and headed to Guwahati zoo. Introduction of private taxi services in Guwahati saved a lot of our time and energy in bargaining while doing these small intra-city trips.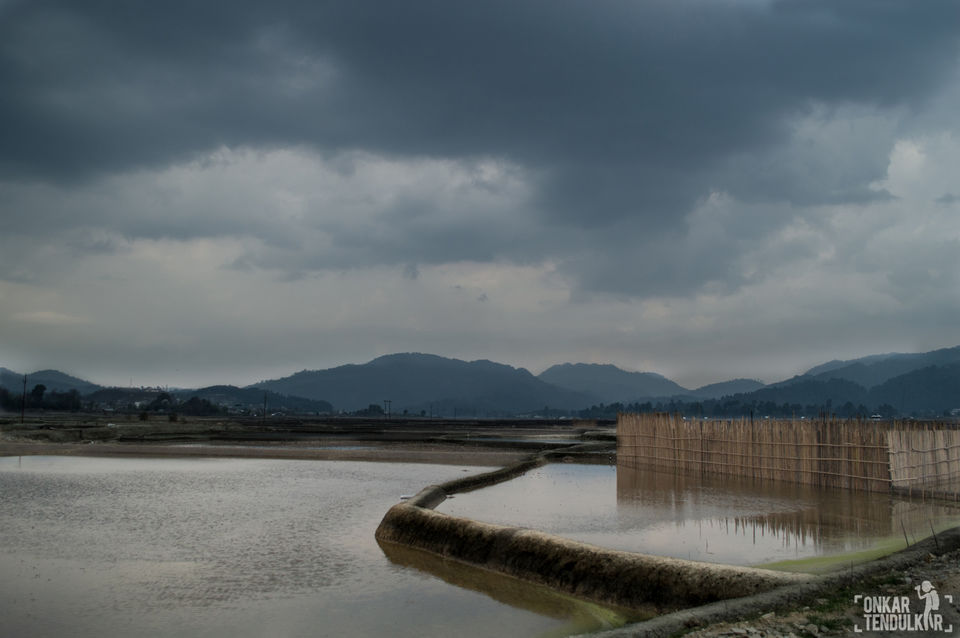 Coming back to Paltan bazar in time, a mini bus was arranged to take us till Guwahati Inter State Bus terminal (ISBT) on the outskirts of the city. Another 35 minutes and we reached the ISBT and boarded our Itanagar bound Volvo bus. The bus that was supposed to leave from Guwahati at 6:30, finally left at 8. The reclining seats were pretty comfortable if not luxurious- good enough for the night journey. With all the day long travelling through various means, it didn't take us too long to fall asleep. (Guwahati- Itanagar 2017 Rates: Semi sleeper Rs.490, Sleeper Rs.590)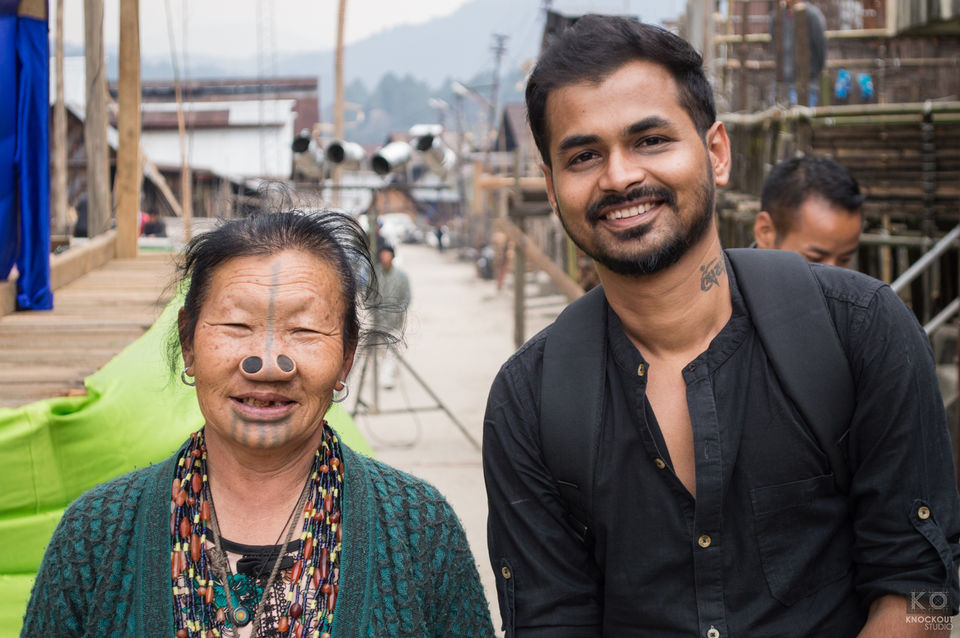 Day 2:
Our eyes opened directly in the morning around 5. The scenery outside was almost unbelievable! Having travelled from the scorching heat of Guwahati, we were surrounded by misty plains near Arunachal border. Soon we reached Bandardewa check post- the first town in Arunachal Pradesh. As the formality goes, all the passengers in the bus were asked to get down and cross the border on feet after showing the inner line permits to the security guards. In the meanwhile our bus was thoroughly checked and we were finally allowed to enter Arunachal Pradesh.
After another 45 minutes or so we reached the town of Naharlagun- often called as twin city of the capital Itanagar. Our bus dropped us at the Naharlagun bus stand. Just outside the bus stand, there were a lot of sumo counters running shared sumo service to various towns in Arunachal like Ziro, Daporijo etc. We booked two front seats in the sumo for Rs.350 each and headed towards Ziro.
The road from Naharlagun to Ziro was very scenic. Winding roads, greenery, water streams… everything was perfect…. Other than the pathetic condition of road. The road distance although just 100km, takes 3.5 to 4 hours to cross.
After about 3 hours we reached a place called Yachuli from where Ziro was about 12km away. We thought we were about to reach Ziro, hence gave a call to our hostess in Ziro to let her know that we would be reaching in about 15 to 20 minutes so she could leave in sometime from home to pick us up at the Hapoli (New Ziro) sumo stand. She replied saying the road from Yachuli to Ziro was worse than what we experienced till now and would take us another long hour to reach Hapoli!
Finally from the hills, we descended down to the valley and entered Ziro. Hapoli town is the first place we approached while entering Ziro valley. The never ending sumo ride was over! Our hostess Amu had come to pick us up in her car.
Seemed like our tryst with bad roads was far from over, as the roads in Ziro valley seemed almost inexistent. Most of the times the car was going up and down struggling to move ahead and find its way through the massive 'craters' that had formed on the roads! For once I thought that Mumbai's roads after all are not that bad!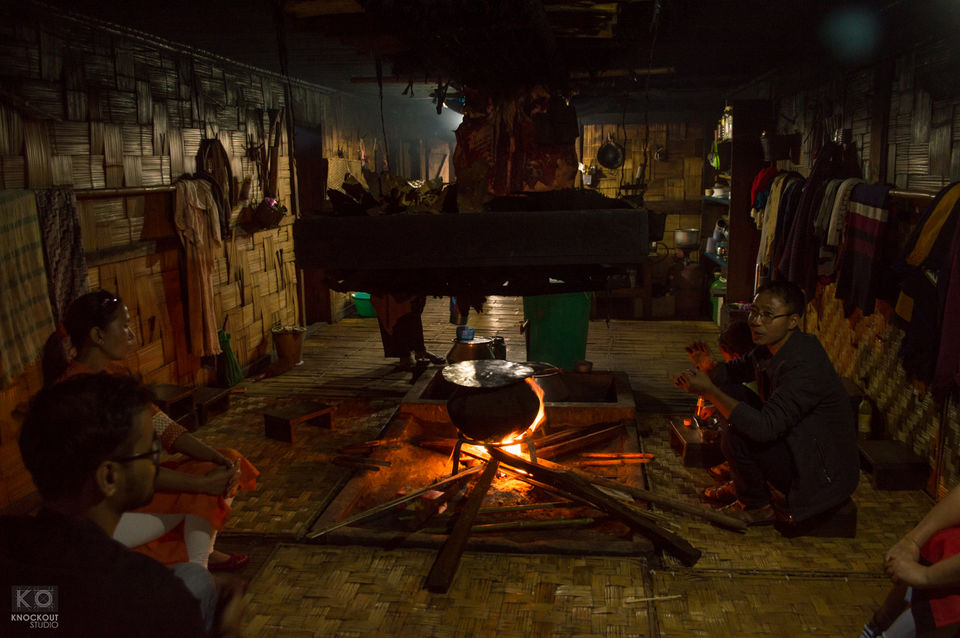 In about 15 minutes we reached the house of Amung family in Old Ziro- our hosts here for next two days. Amu showed us our room so we could settle down and freshen up and she went to prepare breakfast for us. (Home stays in Ziro are a great way to experience the local culture and flavour which would not be possible in hotels or resorts. Homestays here typically cost about 1000 rupees per head per day inclusive of breakfast & dinner as of 2017.) Homestay of Amung family is located just next to the Ziro military airstrip. Their house mainly comprised of a traditional kitchen cum dining & family room built in traditional Apatani way and a modern house with bedrooms just next to it. Their backyard had a small kitchen garden and a well for themselves. Further ahead, they had a small bamboo garden and endless paddy fields just after the bamboo garden.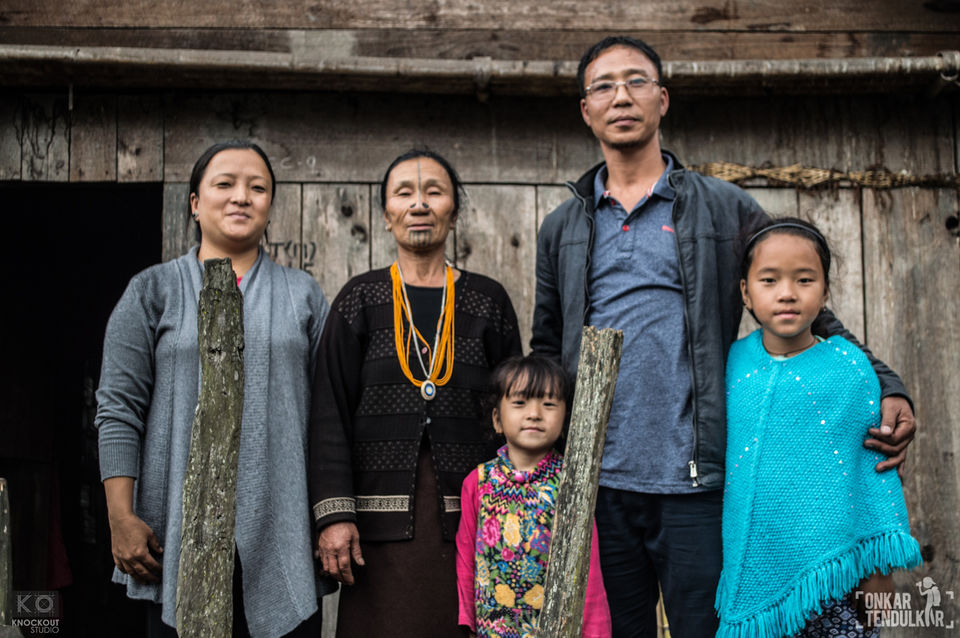 After freshening up & having breakfast, Amu took us out in her car to show around. First we headed to Kardo forest where a 25' stone was discovered in 2004- shaped like a Shivalinga. Kardo despite being just 7km away from Old Ziro, winding and mostly kaccha road took us half an hour to reach the 'Sidhheshwar Nath Temple'. Needless to say, it has now become a frequently visited place by Hindus who have shifted to Ziro from outside states for work and tourists alike. What startled me was that the Shivlinga is surrounded by White-red Donyi-Polo religious flags along with the saffron flags of Hinduism. When asked Amu about it, she said that even the Donyi-Polo believers in Ziro valley come here to pray to the Shivlinga. Another stone of lesser height just next to the Shivlinga is believed to symbolize Goddess Parvati while a comparatively much smaller rock at the base of the Shivlinga naturally looks like face of Lord Ganesha.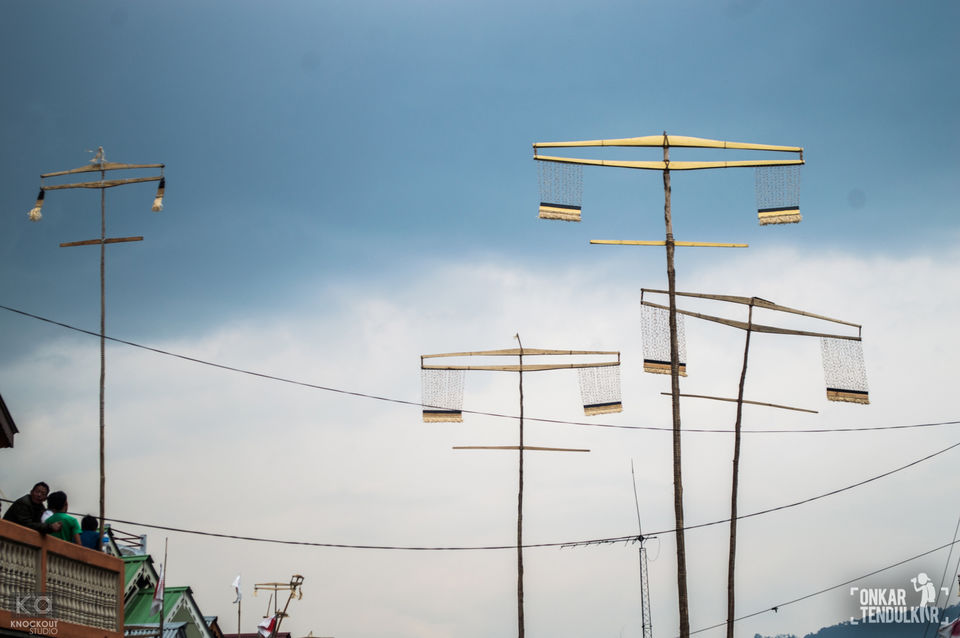 Moving from Kardo, we drove back to Hapoli and took another road leading outside the town to go to Tarin high altitude fish farm owned by the government. These are basically 6-7 numbers of large terraced ponds where fish seeds are sold. Apatanis follow an efficient practice of rearing fishes in the same field that of the paddy, which helps them earn money after paddy is harvested.
Driving back towards Hapoli, we halted at one of Amu's friend's newly built resort called 'Holiday Time' for some coffee. Amu mentioned that her friend is very creative and most of the resort was built by himself with very little help from labours. The resort basically had a dining area and small cottages- barely enough for two people constructed on water in a mid-sized pond. The pond also has fishing and boating facility.
Next she picked up a friend in and we drove to Hari Basti. The road leading to Hari Basti seemed very beautiful. It gave look of a narrow causeway with the paddy fields filled with water appearing like endless waterbodies on both the sides. We parked the car in village and roamed around the village on foot observing the village. Babo- the tall wooden T-shaped towers instantly attract one's attention. Babos are erected during Myoko festival in front of Apatani homes (only that of Donyi-Polo followers- as a large number of Apatanis follow Christianity and have completely abandoned their old practices) as well as one for the entire clan near Lapang (an open air wooden stage prepared for meetings and gatherings during festivities). Nago- small makeshift hut like structures are prepared in the village open areas for the departed souls to come and stay with the villagers and enjoy festivities. Bamboo skeleton topped with egg shells and decorated with chicken feathers are also seen outside most houses. We even saw a Nyibu (Apatani Shaman cum priest) tying a cock to the bamboo structure and sacrifice it later. Nearby there was a Donyi Polo temple known as Medar Nello. Sadly it was shut. We were then told that these temples are opened only on Sunday when weekly prayers are held.
From Hari village, our hostess took us to one of her friend's home in Bulla village in the traditional manner. The host of the house, his wife, mother and two cute daughters were gracious enough to welcome us inside. The host seemed more than happy to show us all the essentials of an Apatani home. From daos (Apatani daggers) & cane backpacks to dried meat &utensils made out of dried bottle gourd, he showed us everything. He was happy to show us a special dao he had; the handle of which was adorned with the teeth of tiger and boar and the belt of which was made of cowry, its cost being somewhere around 15,000 Rupees. This house, just like all the Apatani houses was scattered with different body parts of the pig sacrificed during Myoko festival rituals. Legs and some other unrecognisable parts of the pig were hanged from the hearth; entire skin was cut open and was being dried just next to them. Intestines and liver which looked still fresh were hanged in the open in Sun for quicker drying. Despite all this their house didn't stink at all! While we were talking, the hostess served us with glasses of warm Apong- the rice/ millet beer. After savouring some more, it was time to leave. Before that, I asked them if I could take their family picture and they happily agreed.
We then headed home and rested for a bit. Amu informed us that due to the ongoing Myoko festival going on, there was a cultural program happening in Hari village in late evening that day and that she was planning to go with her husband and we could join them if interested.
After an early dinner, the four of us headed to Hari village. A lot of crowd had assembled. It was quite a chilly night. The dancing and singing performances had started. Straight away, we went to one of their family friend's house from where there was a direct view of the stage where the performances were going on. As we experienced, during Myoko, every Apatani opens up his heart as well as the doors of his home to anyone and everyone, to come, drink as much Apong/ Chai, eat pork or whatever is there on the menu; everything for free. There is no stopping! And if you are a traveller like us, then just be ready to be subjected to the unbelievable level of hospitality and warmth you'll experience. I won't lie, I had totally fallen in love with the concept and taste of Apong and I didn't leave any opportunity to have some more of it here as well.
From one home to another! We went to one more family friend of our hosts in Bulla village. Just as we entered in, we saw an entire gang of friends sitting and joking around amidst all the alcohol flowing and all sorts of delicacies served on the table in front of them. We were warmly asked to join them in. As I said earlier, us being the only non-locals there out of approx. crowd of 20 people, we were subjected to a lot of curious questions and glances. Soon came more glasses of Apong- this time home brewed Kiwi flavoured variety! Don't even get me started on how tasty it was! I couldn't resist another two refills of the same which was anyway forced poured into my glass without giving me any option! But hey I wasn't complaining… A lot of food just kept piling up in the plates with more speed than what we were eating with. Eggs, dry fruits, salads and what not! We literally had to show them the shape of our inflated tummies so that they stop serving more. A bit tipsy, I was wondering if it had been our festival time, back in Mumbai or Delhi, would we have been so welcoming to strangers and showering them with so much love; especially when it's our own private time to enjoy it with our families…? In most probabilities not! The owner of the house then gave us small gifts- a small golden silhouette of Babo towers and a small container of homemade 'Tapyo'- the local Apatani herbal salt made from various grasses. (Apparently the process of preparing Tapyo is painstakingly long and very time consuming. Also the ratio of amount of raw material used to that of the quantity of final product is miniscule due to which the salt is sold at almost Rs.400/KG.)
After all the attention that we received, it was time to leave. It was almost 10 in the night- a lot late compared to the local standard time. After all the customary goodbyes and thanking the family for all the amazing time we had there, four of us left for Amung family's home.
Day 3:
While planning for the trip, I had contacted Mr. Christopher Michi Tajo- who is the owner of Ziro based Northeast Tours and Travels. He had been very helpful and patient throughout all the calls or messages I sent him while planning for the trip. In fact I was supposed to be staying in his homestay in Michi village in Ziro valley. But his family had to head to their native place at the end moment and there was going to be no one at his home; even he was away touring entire Northeast with his loyal European clients who visit NorthEast every year. Within no time, Christopher arranged for homestay for us- with the Amung family.
As was discussed earlier, Christopher sent his cousin Bentu to drive us around. Bentu was a young enthusiastic boy. He gladly agreed to show us around. We quickly had the aloo paranthas Amu had made for us and left with Bentu for sightseeing around 8:30 am.
Bentu took us through various Bastis. First Hari then to Hong then Hija, Bulla etc etc. In every village, we parked our car and walked around clicking portraits of old Apatani ladies. It was still pretty early, the village streets still looked empty. Old ladies and men seemed to be in rush to reach the paddy fields.
Later he drove us to the beautiful hillocks some 10 minutes driving distance away from Hong to the venue of annual Ziro Music Festival that's is held in September. It was quite a sight! Since the festival ground is at a considerable height, we could see a 360 degrees view of all the bastis and the seamless paddy fields between them. This ground is surrounded by a lot of Kiwi fields; sadly it wasn't the season and we couldn't spot any kiwis in the farms.
Next we headed back to Hapoli to see the District Museum. We were the first ones to enter in as the caretaker Aane opened the locks of various rooms for us. The museum has an extensive collection of Apatani utensils, bamboo crafts, hunting equipment, fish traps, traditional weather protection shields, traditional handloom, jewellery etc. divided in various galleries. What surprised me was that there were no entry fees taken from us to see the museum.
Not very far from the museum is Hapoli market. Although we couldn't spot any in the farms, the market very much had a lot of kiwis being sold. Maybe they had learnt the technology to cultivate kiwis even in off- season. We walked ahead and we saw the stall owners selling dead rats and beef steak. Rats are apparently eaten on occasions and are not part of their daily food. Another stall had the vendor selling fiddleheaded fern- a local fern plant used as vegetable- which if not eaten grows into a massive tree resembling palm! She also had dried squirrels stuffed with wooden rods. Out of curiosity, we asked if even this was eaten, Bentu said that the squirrels aren't eaten but are used as essentials in Apatani rituals. Bamboo shoots- another widely used food item in all of North-East was the only food item common at all the stalls!
Then we went to the Government handicrafts and handloom emporium. There they have live demonstration areas for various arts such as shawl knitting, carpet making, bell metal arts, cane & bamboo workshop etc. We were successful in catching glimpse of an old Apatani artist making smoking pipe by moulding bell metal. I couldn't resist picking it up from the emporium just next door!
Driving through the narrow streets surrounded by lush green bamboo groves on both the sides, we reached Tai Lampii- a shallow cave formed by huge rocks piling on each other. Tai Lampii cave is associated with seclusion one would have to go through when one caught a particular epidemic disease called 'Tai Sliime' so that everyone doesn't get affected by the disease. Tai Lampii is known as an important landmark in Ziro valley as there is no other place in Ziro valley which has a natural cave and the unique formation of similar massive rocks around it.
While driving back, alongside the road we noticed peculiar formation of bamboos topped with skull of Mithun (local breed of cattle). Bentu quickly told us that this was a graveyard of the people following Donyi-Polo faith and the families who didn't have their own piece of land beside their homes, come and bury the deceased in this open land, while those who have their own land, they often bury their relatives just next to the house or in the bamboo grove owned by the family in the backyard.
Bentu then took us to a smaller basti known as Nani village. Due to ongoing Myoko festival, we caught a Nyibu (Apatani Shaman cum priest) performing rituals and chicken sacrifice. The red white Donyi-Polo flags seemed furling outside almost every house here which meant very few in the village had converted to Christianity and were sticking to their indigenous faith. From Nani basti, we went to the circuit house which is situated at one of the topmost points within the city. Cold breeze and the beautiful view of Old Ziro and Nenchalya basti in the background provided us with quite a few opportunities to pose for the camera!
It was our lunch time by now. We quickly ate some puri sabzi and omelette in one of the North Indian eateries on the main road and moved ahead. There are no restaurants in Ziro. Maximum you will find are either these small North Indian eateries or the dining service provided by various hotels and resorts.
From here, we went to a place called Kelya where a number of underground bunkers were made by the Indian army during wars. Quite a few of these army bunkers are present in the area which are no more in use and are surrounded by lush green forests and wild grown of fiddleheaded ferns.
We then went to the oldest Hindu temple in the town. The Shiv Mandir here is constructed around a small stone shaped like Shivlinga. Just next to it is a Gayatri Mandir. A five minutes' walk away is the Assamese place of worship- known as Namghar.
Driving through Mani Polyang hillocks- locally famous as picnic spot, we went to Michi village. A lot of old Apatani ladies had gathered there for a traditional dance. Sadly it was over by the time we reached, nevertheless I got to click a few amazing candid pictures of the ladies in their traditional clothes, jewellery and cane baskets on their back.
We then drove to Mudang Tage basti. Bentu promised us to show an interesting place. We parked our car near a small lane in the village and asked us to follow him. He got us to this small metallic spade hung on a tree enclosed within bamboo fencing. An information board by Department of cultural Affairs, Govt of AP read that- this metallic spade known as 'Turu Dipe' is locally worshipped and was first found in this very location and has been an object of worship since time immemorial. Bentu added that the spade often goes missing from its place but comes back to its location on its own, something which i had to unwillingly digest in front of him.
Then he took us to another ritual site known as 'Dora Kullu'. Dora Kullu is basically a unique case where a small area within the basti has grown Banana trees- something that is not found anywhere within the Apatani valley. The site is revered as the divine intervention of the environmental deity- Su Myoro.
Bentu satirically told us that this was all that's there to see in the Apatani valley and that he would drop us back to our homestay. We shared a cup of tea with him in our homestay, paid him Rs.1500 as was decided previously and said goodbye to him.
Tired with all the wandering around, we rested in our room for a bit.
It was getting pretty cold again as the Sun had already set. We went to the kitchen to sit around the hearth to warm up ourselves. Amu with her elder son was cooking bamboo stuffed chicken and egg- a local speciality. After cooking it in the fire for about half an hour or more, she split the bamboos with daos and scooped out the chicken that was cooked inside. She also made the fern sabzi which we had seen earlier today in the market. I couldn't wait to try it all! Not to mention, both the items were so yummy that I had to repeatedly help myself to refill the plate!
Day 4:
….. and then it was time to leave from Ziro. Throughout these two very happening days we spent in Ziro, we had created a special bond with the Amung family- especially Amu who had now become like an elder sister. Although it was just two days, the every bit of time that we spent here was making it difficult for us to leave. Amu too looked visibly a bit sad.
She then served us the sticky rice porridge and chicken along with the fern veggie for breakfast. She even packed a bottle full of Apong for us to drink later and good 2 kilos of their homegrown rice.
Since mister Amung was busy that morning, Bentu on his own came to pick us up and drop till the sumo stand which was approx 7km away. We then took goodbye pictures with Amu & family and left with Bentu for sumo stand.
We reached the sumo stand around 9 45 am. Bentu refused to take any money for coming all the way to pick us up and drop so far. People here were being so kind to us at every step that it all started feeling very unreal- especially for someone like me who has grown in a metro city where nobody has time for one another leave alone taking so much pain for someone who you met only a day ago!
Bentu said that 2 sumos were waiting to go to Daporijo and thankfully 2 seats at the back in one of them were empty- assuring that our journey would be at least a little more comfortable.
Bidding goodbye to the beautiful Ziro valley, we started out journey to Daporijo...