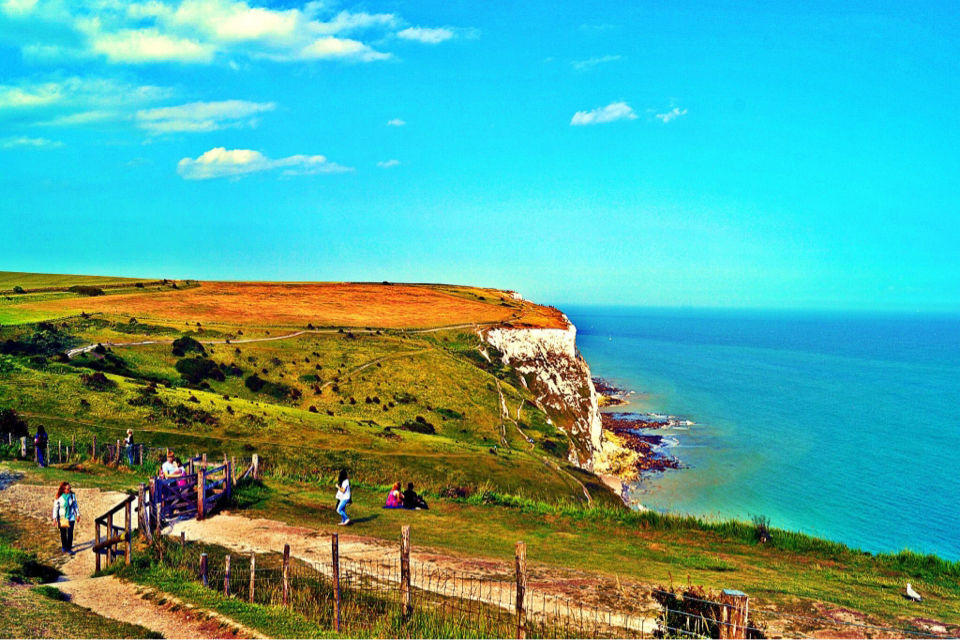 So, I was visiting London on work and though I was busy on weekdays, I had my weekends free. I was looking for some offbeat-not-so-touristy places in an around London that could be explored on a day's trip or so. One of my friend who had stayed in London for a long time, recommended going to the White Cliffs of Dover. And so I took his advice and decided to check it out and I must admit that I wasn't disappointed at all :) Though it involved a lot of walking to get to the White Cliffs of Dover since I had decided against taking a taxi from Dover Priory Station and I also ended up getting lost on my way up (Google maps had decided to stop working). But once I reached the top, the view was breathtaking and I forgot all my tiredness from the long walk. If I did not have a train to catch to get back to London, I could have sat down there for days! I so did not want to leave that place :) Till date, it is one of the most calming and relaxing trips that I have taken. On the top of the White Cliffs, it was like a riot of colors - blue from the sky, green from the ground and turquoise from the sea. The pictures that I have shared are not even close to justifying the beauty and serenity of this place!
Dover is a town and a major ferry port in Kent, UK. Since it is not very popular among tourists so not much information is available online on how to get to the places of interest here. I have tried listing out such details here to make it convenient for people who are interest in visiting Dover.
Places to see in Dover: the White Cliffs of Dover (not to be missed), Port of Dover (on the way to the White Cliffs) and there are few Castles that can be checked out if you have more time at hand (I only saw them from outside as I did not have much time at hand).
Getting to the Dover Priory from London: Get to Victoria Station, which is one of the most busiest train stations in London, and you can buy the tickets to Dover Priory over the counter. The cost for the return tickets is around £40. It's recommended you buy the same day return tickets from London it self. Also, make sure you find out at what time does the last train leave from Dover Priory to London.
Getting to the White Cliffs of Dover from the Dover Priory station:
Walk (I chose to walk): If you have some time in hand and if your health permits, then walking around is highly recommended as that's where the real pleasure of exploring Dover lies. Once you get down at Dover Priory Station, head towards the seafront. The seafront is only a few steps away! In case you have difficulty finding it, you can always ask somebody for directions. Once you get to the seafront, you can see the White Cliffs and the Port of Dover on your left. Continue walking in the directions of the White Cliffs/ the Port of Dover. As you approach The Port of Dover - Dover Eastern Docks, you need to be on the left-hand-side. Pass by the houses at the bottom of the cliff, and you will see a footpath going uphill - this leads you up on to the cliffs. Follow the signs. The walk from station to the White Cliffs takes around 25-30 minutes - very much dependent on your level of fitness ;)
Taxi: Another faster and more convenient option is to take a taxi to the White Cliffs. It costs around £5 -one way.