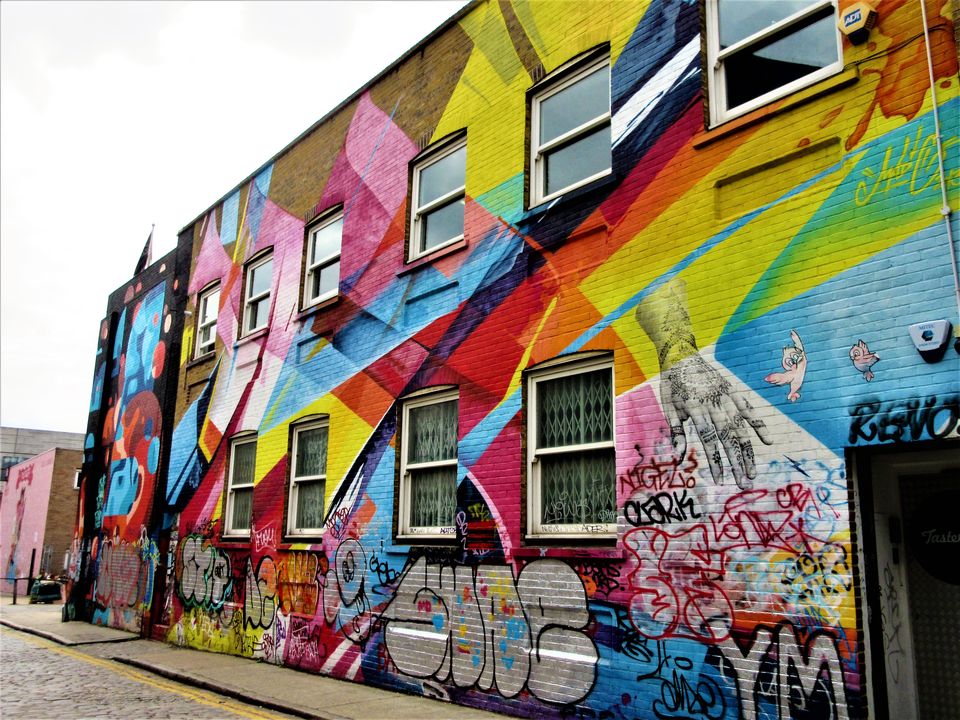 If you are heading to London, by all means, visit Buckingham Palace and The Tower of London. However, don't forget to escape from central London and check out the many colourful neighbourhoods of the metropolis. Once you get off the beaten track, you will discover real London - the city that lies beyond the monuments and museums. Shoreditch is one of these such captivating neighbourhoods. Once upon a time it was Jack the Ripper's stomping ground. These days it's a multicultural hotchpotch brimming with vibrant street art, cool indie shops and delicious global street food. Here are a few of the best things to do in Shoreditch, one of London's hippest hoods.
Take in a Movie at an Indie Cinema
Sadly, the Electric Cinema, one of the stalwarts of the Shoreditch indie cinema scene, recently closed its doors. Luckily, there are several other independent cinema/performance spaces which will hopefully bounce back post COVID-19.
Not only is TT Liquor a cocktail bar, but it also has a private 52-seater cinema and a hidden rooftop bar. Whether its an indie gem or a cult classic, a movie-inspired cocktail is served with each show.
Rich Mix is a multi-faceted venue. Not only doe it have a three-screen cinema, but also three performance spaces. Live music, dance, theatre and visual arts all featured. Spread out across three floors, there's also a café and bar where you can stock up on refreshments to enjoy with the entertainment.
The Cinema at the Courthouse Hotel shows a cult movie every Sunday. The luxurious leather seats each have their own armrests and fold-out tables. Additionally, the walls are plush suede, adding a resplendent retro ambience to an evening out at the movies.
Take in London's Most Vibrant Street Art Scene
If you have an interest in street art, Shoreditch is the best area in London to make tracks to. The street art is, in fact, abundant in the area. Street art tours are available for those who want to find out more about the background of the art and the artists. If you are heading out on your own, allow plenty of time as there is much to discover. Focus in and around the streets of Brick Lane, Shoreditch High Street, Fashion Street, Princelet Street and Great Eastern Street. Furthermore, check out the nooks, crannies, alleyways and courtyards - striking street art is hidden in every crevice of Shoreditch.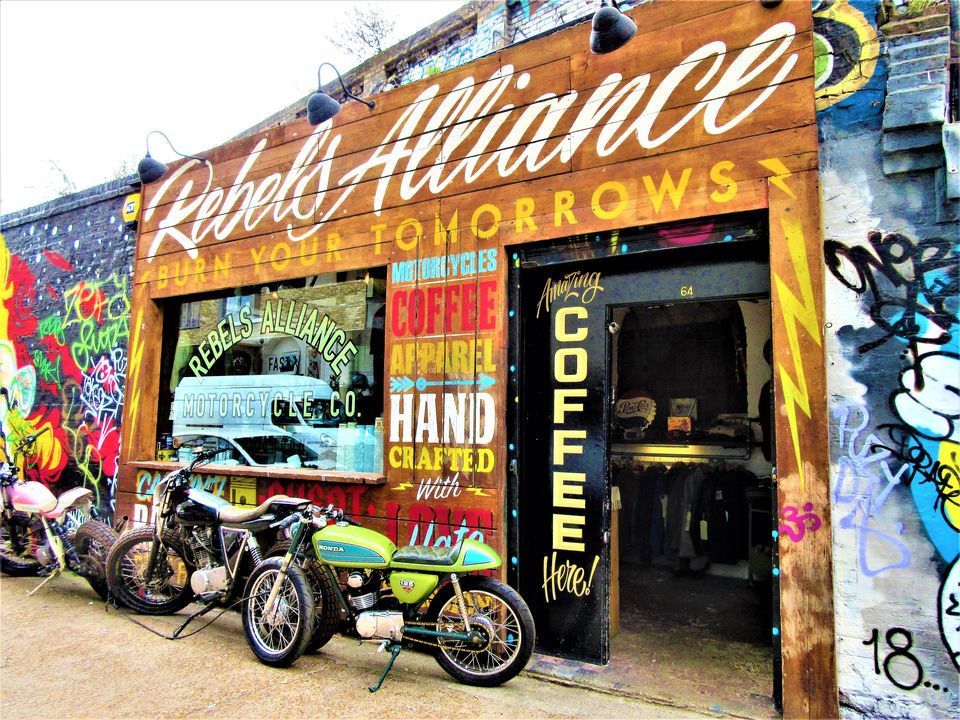 Have a Night on the Town
Shoreditch is one of the coolest neighbourhoods of London to party in. There's a wide choice of bars, pubs and clubs open every night of the week, but Friday and Saturday nights is when things really heat up. Punters spill out into the streets and the atmosphere is buzzing. From grungy basement bars to traditional boozers, not to mention cutting-edge clubs, there's something for everyone.
The quirky Trapeze is one of the most recent additions to the Shoreditch scene, a circus inspired bar with a super-value happy hour. Old Street Bar is a bar/club/restaurant and live music venue all rolled into one and it's a perfect venue to party into the early hours. A visit to retro cocktail bar, Tonight Josephine, is akin to being transported back into the eighties. Its décor is a combination of chrome, neon and mirrors. The colour Pink dominates as far as the eye can see.
Shop till you Drop
The shops of Shoreditch are a world away from the chain stores of the West End. Markets and independent stores are the name of the game here. The famous Brick Lane Market sells pretty much everything under the sun from retro clothing to home accessories and is open every Sunday. Also, on a Sunday, Columbia Road hosts a fragrant flower market. Flower stalls are set up amongst the arty indie shops which line the road and side streets.
BoxPark is a shopping mall with a difference - it's built from shipping containers, The unique complex is a combination of street food market and pop-up shops. Innovative independent stores can be found throughout Shoreditch.
Feast on Tasty Global Cuisine
One thing is for sure - you won't go hungry in Shoreditch. In fact, you will be spoilt for choice. Tempting aromas fill the air from the Indian Tandooris of Brick Lane to What the Pitta? the only vegan kebab shop in the country. Indeed, Shoreditch is something of a mecca for veggies and vegans. Just for starters there's Biff's Jack Snacks for vegan junk food, Bombay inspired Dishoom and funky Genesis.
Other popular eateries include Andina, a Peruvian restaurant serving ceviche and trendy Thai, Smoking Goat. The Bike Shed Motorcycle Club is a Shoreditch institution - a café/barbers/boutique where you can feast on huevos rancheros or a healthy super salad. Pick up a salt beef bagel at the Beigel Shop, or try one of their famous rainbow bagels with some honey or peanut butter.
At Brick Lane Market on a Sunday, you can sample snacks from all over the world. Try an Ethiopian wrap or maybe Venezuelan crumpets, known as cachapas. That's just the tip of the iceberg - this East End district of the metropolis is home to a thriving food scene. Whether you are seeking an upscale dining experience or some cheap and cheerful street food, you will find it in Shoreditch.
Explore the Grisly History of Jack the Ripper
On 9 th November 1988, Mary Kelly, who was to become Jack the Ripper's final victim, had a drink at the Ten Bells Pub in Shoreditch. The following day her body was found in Dorset Street, opposite the pub. The Ten Bells can be found on the corner of Fournier Street and Commercial Street. For a while the pub was called 'The Jack the Ripper', but reverted to its original name. These days it's been modernised a little, but is nevertheless still a little rough around the edge and retains a few of its original Victorian features.
In addition to enjoying a pint in the pub so intrinsically tied to the serial killer, it's also possible to take a Jack the Ripper Tour. The compelling tour offers an in-depth insight into the world of Victorian London and the notorious murders. The expert guides use hand-held state-of-the-art projectors to recreate the atmosphere of 19th century London. Jack the Ripper's reign of terror lasted for three months in 1888 when he murdered at least five women.