If a trip to the U.K. is on your bucket list, now might be a good time to start planning.
In the wake of the United Kingdom's vote to leave the European Union, economic concerns have pummeled the British pound. Earlier this week, the pound hit its lowest level against the dollar since 1985.
Wednesday, the pound bought $1.30, down 13 percent from June 23, the date of the Brexit referendum. That's 16 percent less than last year, and 24 percent less than two years ago.
Yet the Brexit drop isn't necessarily a reason to travel by itself.
"Would you buy something because it's 10 percent off?" said George Hobica, publisher of travel site AirfareWatchdog.com. But combined with competitive airfare and hotel rates from cheaper oil and softening demand, travelers can cobble together a much cheaper trip.
"If you've been putting off a trip because of expense, not only are airfares eminently reasonable…theater, meals, [attraction] admissions, everything is going to cost less than it did two years ago," he said.
There's no need to book a last-minute summer vacation, either. Experts say London's future as a travel hub is uncertain amid a European Union exit, which could lessen demand for flights and hotels. A weaker pound may also reduce the number of Brits booking vacations, freeing up still more airline seats.
"If predictions are right about the economy, it's only going to get worse," Hobica said. "Wait until the other shoe drops."
Here's how to make the most of current bargains:
Airfare
Although travelers won't benefit from the stronger dollar on this expense, fares to the U.K. are already favorable thanks to cheaper oil and softer demand off tourist fears after recent terror attacks. Monitor fares and use smart booking strategies, and it won't be tough to score a deal.
Some of the best round-trip fares between New York and most major European cities have been roughly $500, said Patrick Surry, chief data scientist for Hopper.com – "Which are crazy prices," he said. Last summer, prices were roughly double.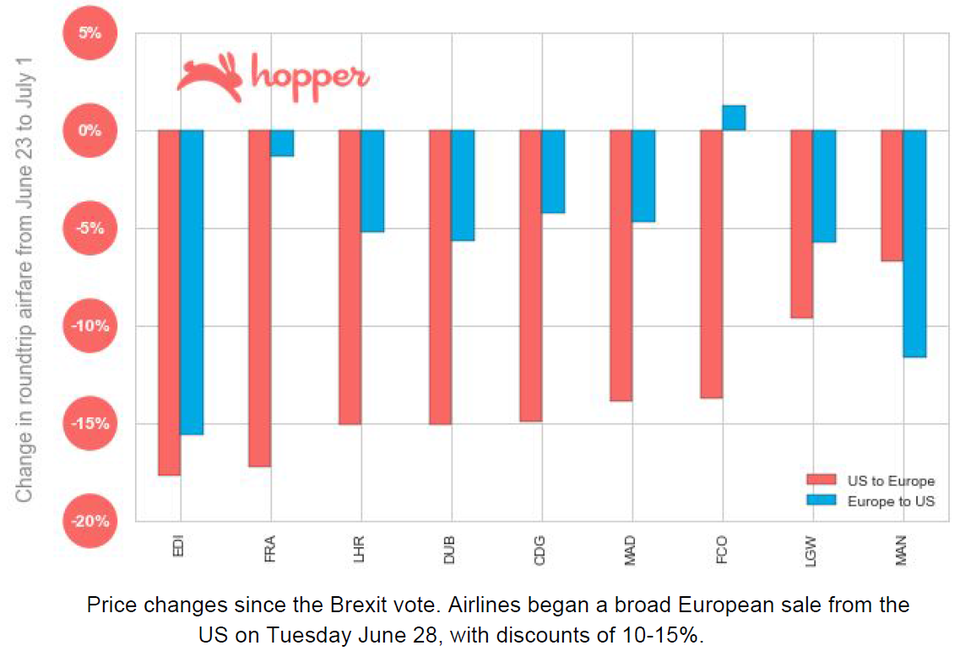 Several airlines have run fare sales to London since the referendum – notably, British Airways offered a "Brexit sale" with round-trip fares starting at $639.
"The [more recent] price changes that we've seen could be coincidental, but for the airlines maybe it's the last straw on their side and they're worried about levels of booking," Surry said.
Hotels
It's too early yet to see any Brexit impact on hotel demand or rates, said Thomas Emanuel, director of business development for market research firm STR. Even if corporate travel drops off, tourism from international visitors may increase.
"Weakening of the pound is going to make it a more attractive destination," he said.
Travelers are seeing slightly higher prices this year, even as occupancy rates have dropped slightly. "That's purely a result of supply growing faster than demand," Emanuel said – year to date, U.K. room supply is up 2.2 percent compared with last year, while demand is up 1 percent. In May, the average daily rate for London hotels was £144, up 0.4 percent from the previous year, according to STR data.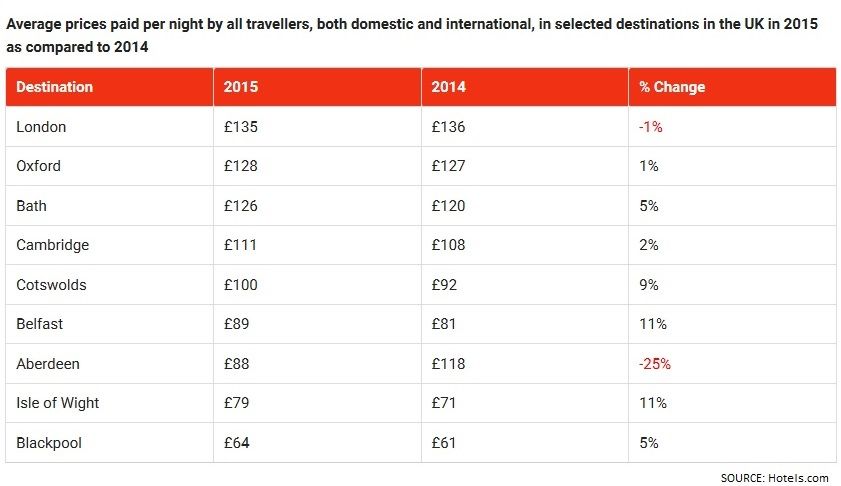 Of course, travelers will still see the impact of the stronger dollar on their bottom-line cost. Plus, there are plenty of sales to be had. Travelzoo lists several London properties with half-priced deals for select summer and fall dates.
The right booking strategies depend on whether you think the pound will drop further. Consider booking a nonrefundable rate (and have your credit card charged now) if you want to lock in that strong dollar now; make a cancelable reservation and monitor the market if you think there's room for the pound (or listed hotel rates) to drop further and want to benefit from that by being charged on site.
On-the-ground expenses
Consider in advance how you'll pay for meals, attraction tickets, souvenirs and other expenses. Pre-paying for attraction tickets and tours could lock in currency savings.
Less of a sure bet: Buying foreign currency in advance from your bank
"You may be costing yourself more money," said Odysseas Papadimitriou, founder of comparison site WalletHub.com.
It's not just the risk that the dollar will get even stronger. Factoring in exchange rates and fees, using a debit or credit card is 6.41 percent cheaper than getting cash from a bank or credit union, according to a WalletHub analysis of dollar-Euro conversions from earlier this year.
Arriving with enough cash to pay for your whole vacation carries more mundane risks, too – of pickpocketing and hotel theft. "It's never a good idea to carry a lot of cash on your person," said Pauline Frommer, editorial director of Frommer's.
A better bet is to select the best credit card in advance of your trip to use for most purchases while you're there, said Papadimitriou. Look for one with both a favorable exchange rate and no foreign transaction fees, which can add up to 4 percent to each transaction. Some that fit the bill include the HSBC Platinum and the Capital One Quicksilver Cash Rewards, neither of which carries an annual fee.
It's also worth thinking about whether it's in the budget to use the strong dollar to your advantage on a standout souvenir, like a bespoke suit or rare bottle of Scotch, Frommer said.