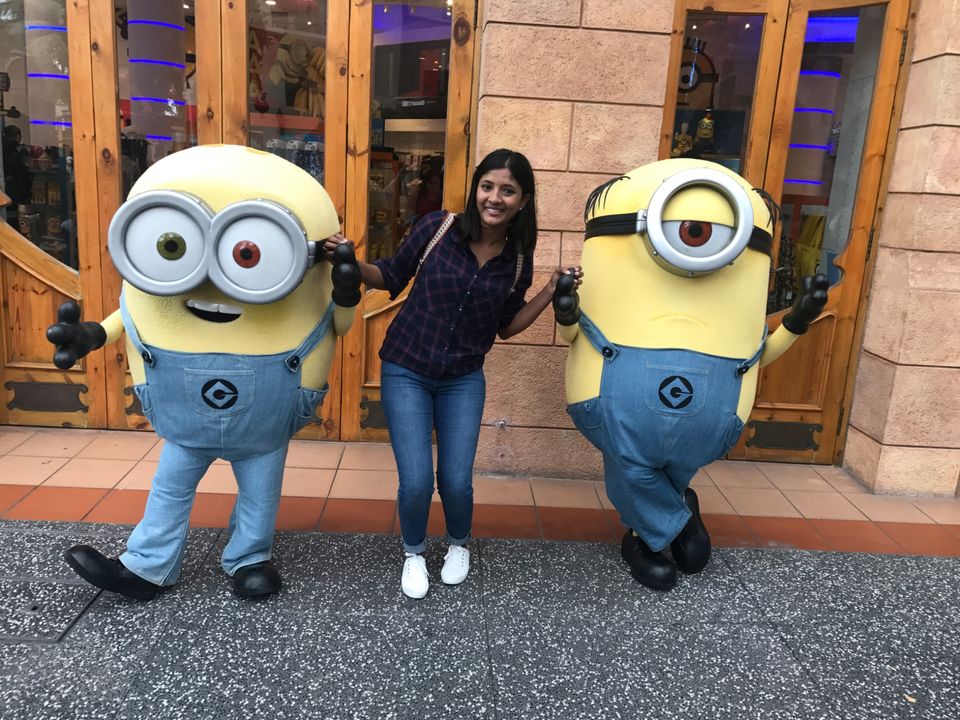 A day to explore is always less for a person with a thirst for travel. Well, I never loose such an opportunity. Before starting our few months of sailing life, I happened to visit Singapore for two nights. Beign lazy is always my first choice but when I have no time in a foreign land, I do not take risk of missing such a wonderful chance of taking a look around.
Singapore is physically very small. Everything is withing 1/2 hour reach from any place you check in at. In this place one wouldn't need a car. Public transport is awesome and walking is like the best option to explore the city.
My day wasn't planned as always but I had a pretty good gist about the places I wanted to visit. So I started my day by taking a walk from my hotel. After twenty minutes view walk of gorgeous lanes and spectacular skyscrapers I reached Singapore Flyer. It was one breathtaking experience with a view of Marina Bay in one side & Gardens by the bay on the other (It's advisable to call & check for the bookings).
On the other side of flyer there was a cruise booking office that took me for mini cruise ride across the river. This sail allows you to explore the history of every place you cross. It was an hour long beautiful sail and then I got down on the other side of the river at Marina Bay.
After some shopping & lunch at Marina bay I headed to the SEA Aquarium at Sentosa Island which is again 20 mins away from the bay.i had never been to an aquarium before. To my surprise, this one was colossal and there were innumerable species of marine life. Too fascinating. It was like a water zoo in there. The beginning of it was a short underwater world and then it looks like more of a sea zoo with different species everywhere around. It's like everywhere you go there is lot of water. And fish !!!
There was a touch pool, where they allowed to touch star fish. Towards the end there was another world with baby shards with a nice sight.
Everything here turned out surprisingly normal and mundane. After experiencing the aquarium, I had enough time to visit Universal Studios.
Luckily both being close by, I could visit the famous theme park. Surprised by the crowd, I decided to go for the express ticket which helped me skip the queue and again that my best decision.
This place featured movie themed rollercoasters, rides and attractions and also gave chance to meet some of my favourite cartoon movie characters.
There was seven zones to explore - Hollywood, Madagascar, Far Far Aware, The Lost world, Ancient Egypt, Sci FI City and New York. Visiting this, my day blasted with joy.
Stating with Madagascar, it's not essential that one must have seen the movie before. There were two rides. One a raft ride that takes to & through Madagascar with the characters from the movie in form of a story telling and the other one was a big carousel.
Far Far Away was mostly about a live show with a donkey and a 4D adventure. Everytime the donkey sneezes in the live show, water would splash on everyone for the effects. Plus a Ferris wheel and a great roller coaster ride for the kids
Next I visited The Lost World. They had timings for the water world show. Unfortunately due to times up I couldn't get to experience that. On the other hand I took a river raft ride and it was surprisingly awesome. It was nice to cool down a bit in that hot climate. They also had a suspended roller coaster which was nice.
Next to the lost world was The Ancient Egypt. The architecture and the builds were amazing and massive. It couldn't fit in my selfie camera. They were too huge. This zone had a revenge of the mummy ride. Throughout the ride there was characters if mummy in every zone of the ride. Because of the sudden move and stop function of the ride, I couldn't feel my heartbeat for few seconds. It was one scary ride. The queue in here was too long and luckily the express ticket helped me to skip all of these and save my time.
Next was the Sci Fi City, there were two roller coasters. One, The transformers ride. In which I happened to sit beside a small girl who seemed to be very excited & happy and I was freaking shivering. This one was deadly. I could see myself upside down in the air with a feeling of am I going to fall down?? Second one was the Ultimate 3D battle-this wasn't so scary but there was a feeling of flying in air. It was like a suspended one.
The Sci Fi City rides were the hit amongst all the rides in here.
The new york zone was a fab and there was street dancing too. Plus there was a special effects show experiencing hurricane and sesame Street ride.
After all of this fun, when I was on my way out, I happened to get the picture clicked time with Jerry & Mel - The Despicable Minions. What more could have I asked for ??
Throught my experience at Universal studios, I was scared about few rides but in the end I was so glad to have pushed these fears aside and make my day a big hit.
After some shopping at the themed shops, I visited Clarke quay for a nice candle light river side Thai dinner. There are numerous options. Early bird dinner is always the best option here as it becomes difficult to get a place or table after seven.
After a scrumptious & exquisite dinner we headed off to our hotel.
The day out was worth the money & time for me.