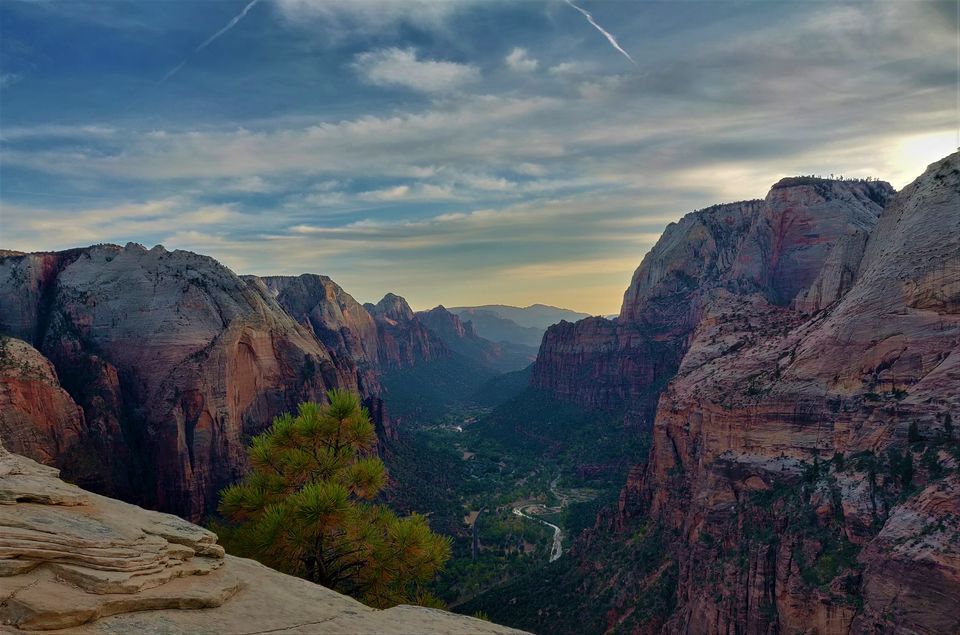 Some things in life come to you in a big fat surprise package. And a good-kind of surprise. The one that gives you happy memories whenever you remember them. Angel's Landing was one such hike for us.
Tarun and I were in the US in October 2019 when we planned the West Coast road trip that covers the famous national parks in the US. Zion National Park was our first stop. We rented a car from Las Vegas and headed straight for Utah.
The best part about the roads in the US is the driving experience. Although it was Tarun's first time with left side driving, he was comparatively at ease because there was no traffic, no honking, and no overtaking cars and trucks. He had put the car on cruise mode and the only thing he had to do was take control of the steering wheel, stay awake and enjoy the mesmerizing views.
We reached Zion by 1.30 PM and immediately realized why so many blogs insisted on arriving early in the morning. There was no parking space and we roamed in circles for I don't remember how many minutes before finally someone took off and we parked in their place. We packed our carry-on bag and headed straight to the Visitor center which is usually the must-visit place of every national park in the US (especially if you're not from the States and you haven't done your internet-research).
The truth is, unlike many of our trips, we were unprepared. Planning an international trip is a mind-boggling task. So before leaving India, we had decided that we'll do the major bookings (flight tickets, car rental, insurance etc.) and will take things as they come. Zion National Park was our first experience of what-to-do-when-you've-no-idea-about-what-to-do.
So clueless, as we were, we went straight to the bearded old man wearing a cowboy hat and asked him for recommendations on what we can do at Zion National Park. He asked us if it's our first time here and suggested we take the shuttle to ' roam ' around (because we were late), have fun and return safely using the last shuttle bus.
We looked at him and then at each other. And then we asked him- "Is there a good hike that we can do now? How's Angel's landing? Can we complete it in time if we start right away?" (we had figured out that Angel's landing is a good hike from the visitor brochure)
"Umm..well! Certainly, Angel's landing is a tough one. For a certain portion, you have to walk with the help of a chain. Not to forget that it's very crowded, littered with garbage and human waste. I would suggest you skip it this time."
I don't know whether it was fear or fatigue from last night's air travel (to save hotel money, we had slept on the uneasy airport benches the whole night), we believed him. Otherwise, who would be worried about human traffic and stinky trail, especially if you're from India. We experience it all the time!
So, we quietly took the brochure and walked towards the bus stop while discussing what all things we can cover. After nearly 1.5 hours of clicking selfies, walking, and passing time, we realized that something was amiss. We hadn't come this far for touristy things and we were missing onto something great.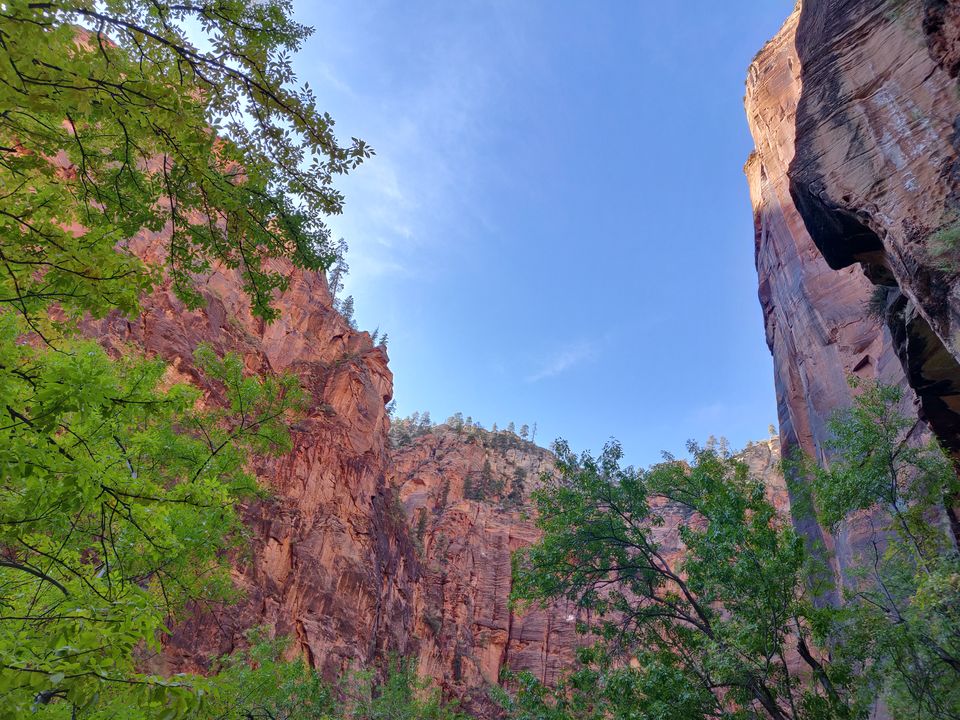 That's when Tarun asked me if I too was thinking about hiking Angel's landing. I thought for a moment and said "Yes. Let's do it. If we feel it's too risky, we can always take a U-turn."
And so began our hike to Angel's landing.
The first thing you notice when you enter the trail is a board which tells you that Angel's landing is a difficult trail and 9 people have died here. People-dying stats was new information for me and I think I made up my mind to abandon this hike then and there! But I carried on because I didn't want to be seen as a nincompoop.
We started at nearly 4.40 PM, when most people were hiking down. We moved with big steps and covered the not-so-steep portion of the trail fairly fast. We met a lot of climbers on our way and that gave us a hint of what the old man meant by "human traffic". However, a good thing happened on our way up.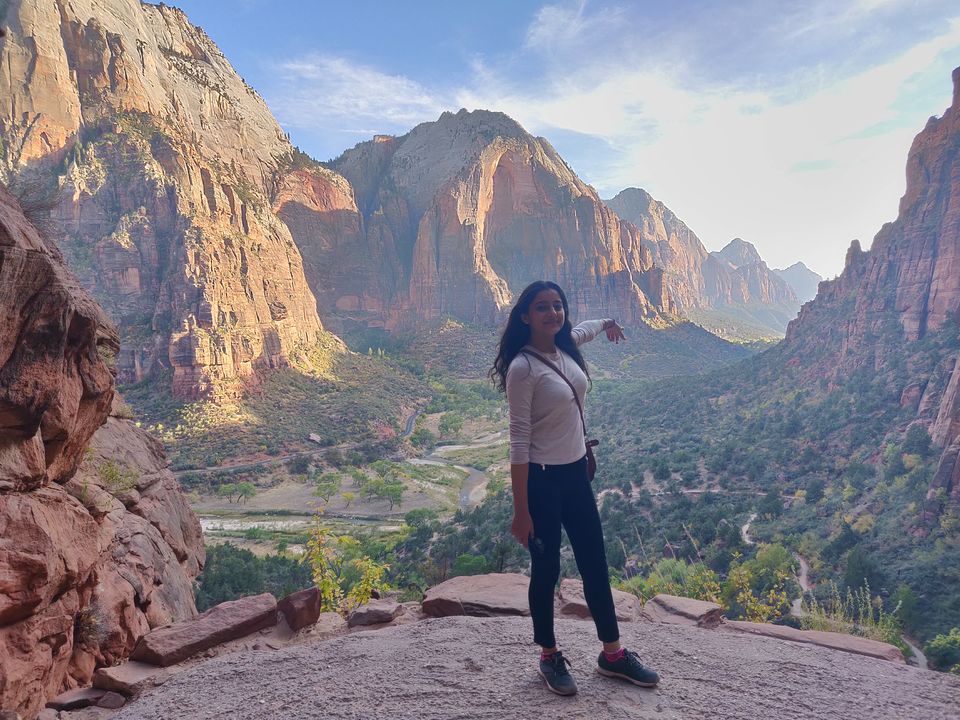 I was climbing up and I couldn't stop because we were running out of time. My throat was bad because of swollen tonsils and it looked like I would soon catch a fever. Moreover, I knew I had to fast the next day (for Karva Chauth - an Indian festival for married women!). I was sleepless from last night and knew I wouldn't get to rest before 9 PM. All those things were running in my mind and it felt like my body was giving up on me. Just about then, we crossed paths with two young hikers, and I couldn't help overhearing their conversation. One of them said-
"You know, hiking is a conversation between your body and mind. If you tell your mind that you can do this, then your mind will tell your body to comply. And it's really a two-way street. If you give; you'll receive."
I don't think I even looked up to see the faces of these two young men. I was too busy climbing up, they were too busy climbing down. And what's magical is, I heard their voices just when I needed to hear them. I heard it at a time when (I thought) my body was going to give up. I heard it like a soft whisper, their voices trailing off as we drifted apart from each other. I thanked the universe for those voices and reminded myself that I need to talk to my mind. Not sure of how I would do it!
We reached the Scout's Lookout soon after that and took our first official halt. The place smelled of piss because there's a toilet there and I imagined people relieving themselves just before the final climb. By the way, we didn't see even a single plastic wrapper or waste on our way up. So I have no idea what that old man meant by 'garbage'.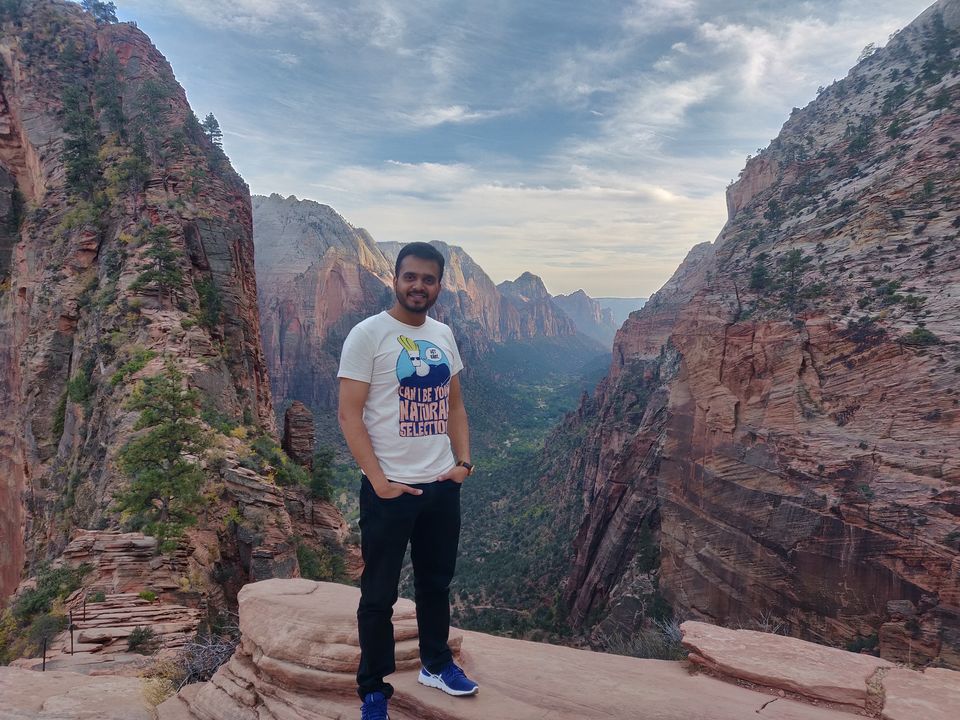 We stopped and ate energy bars to treat ourselves with the accomplishment. The treacherous Angel's landing was just in front of us, looking majestic and menacing at the same time. We immediately realized why it's called America's most dangerous hiking trail. It was 5.45 PM by then and we still had 500 feet of climbing left.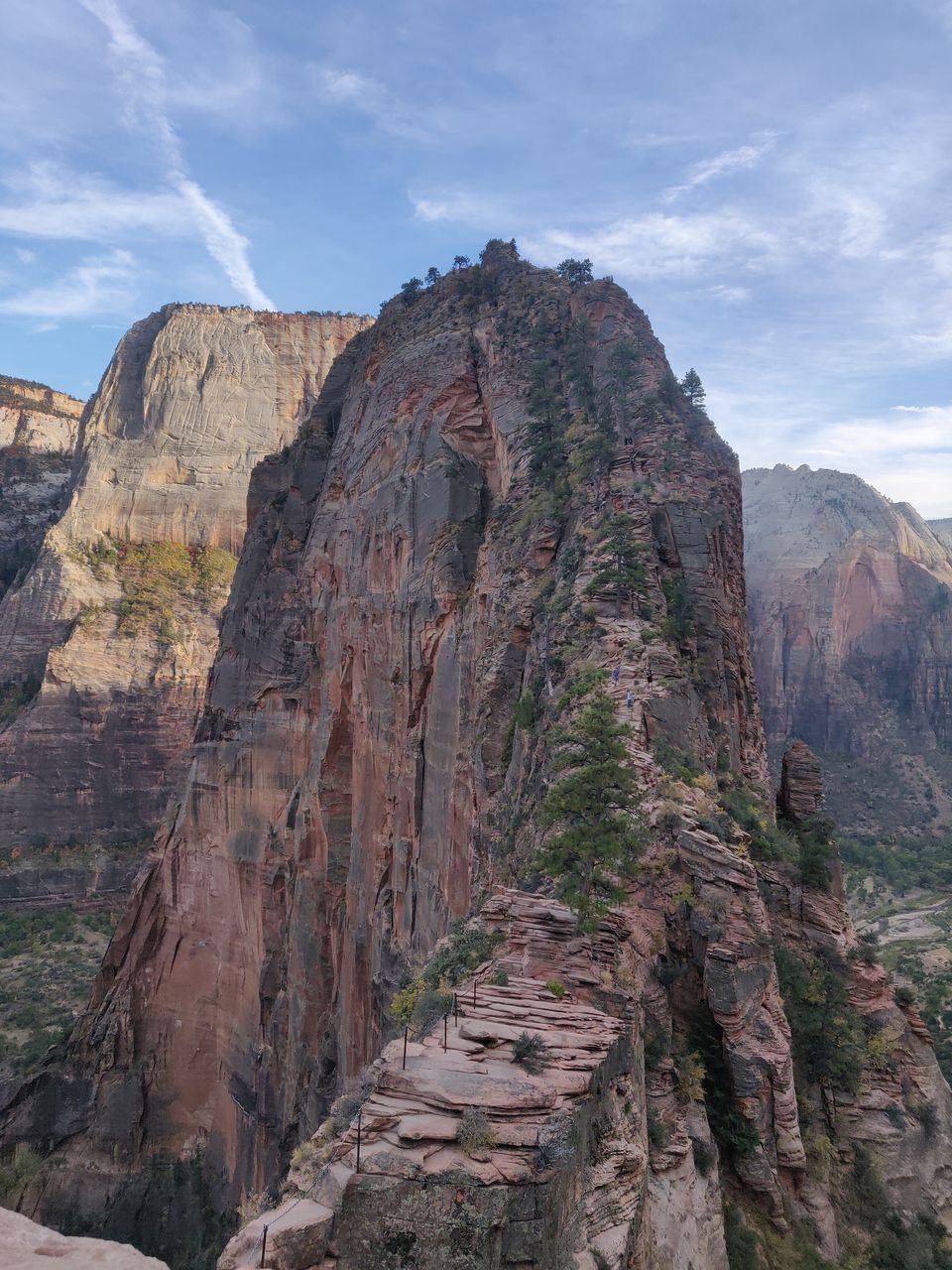 The more we looked at the summit, the scarier it seemed. We could see a few hikers climbing down and it looked precarious- just one minor slip, and one would fall from Angel's to Demon's landing. It took us a lot more courage than we had anticipated to finally decide that we ought to finish what we started.
So, we began climbing up with careful steps. We kept a two arm's distance and held the chain railing with all our strength. The peculiar thing about this climb is that it's not strenuous. You wouldn't be gasping or panting out of breathlessness; rather you would be worrying more about where to put your next step and try not to die.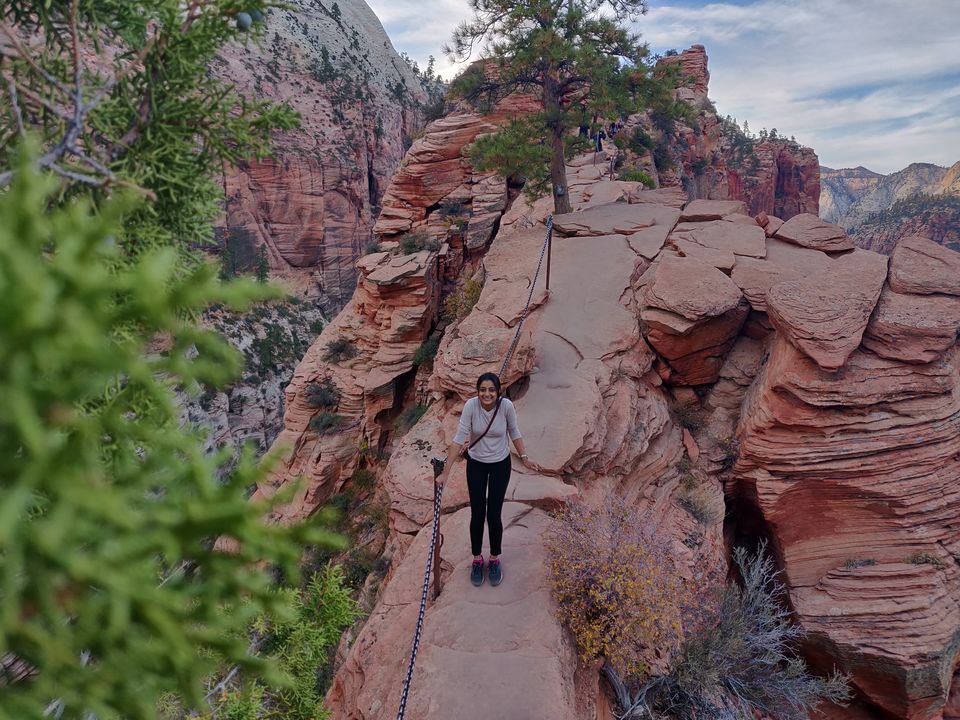 This particular section of the hike is more about the presence of mind than it's about body's strength or fitness. There was one particular place where it really was just a strip with passage for only one human (two feet at a time) and even a minor inattention can cause a major fall into the abyss. We walked slowly and steadily without talking, with all our attention on maintaining the ground below our feet. And in nearly half an hour we were on the top.
I wish people who made dictionaries made more words that can define what we saw and felt. It really felt like the place where Angels from heaven would land and spend time devouring the earthly beauty.
There were two hikers who were getting ready to climb down just when we arrived. So we took the advantage and asked them to click our picture. They obliged us with this beautiful memorable picture which I am going to get framed soon.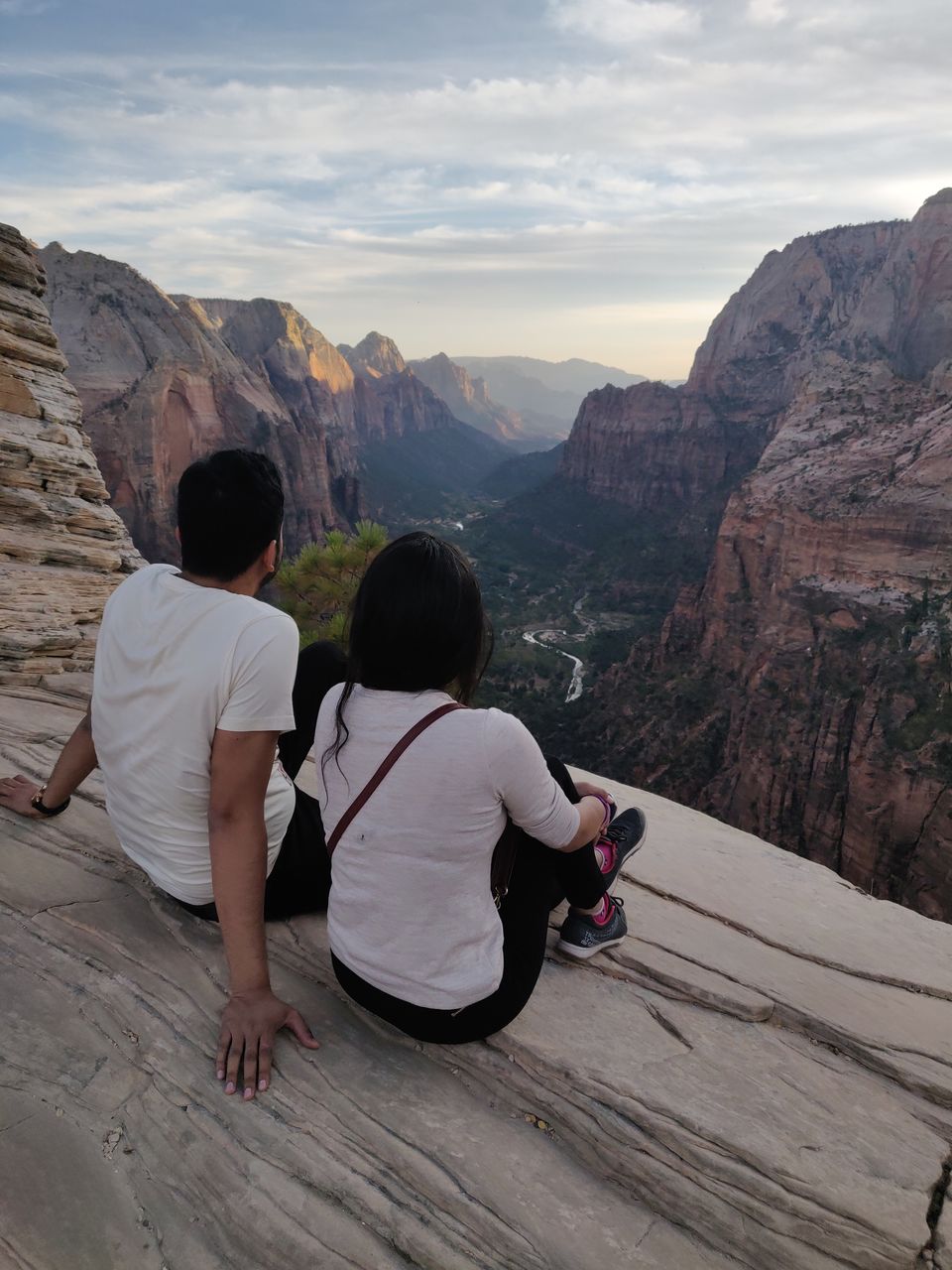 We sat there for a while and enjoyed the stunning sunset colors in the sky. It was one heck of a day from Las Vegas to Zion, from irresoluteness to new-gained confidence, from mediocre to extraordinary. And hands-down, this was the best hike of my life.
11/10.
Do this hike if you are in Zion national park. And if you live to tell the tale, share it with the world!
Happy hiking!