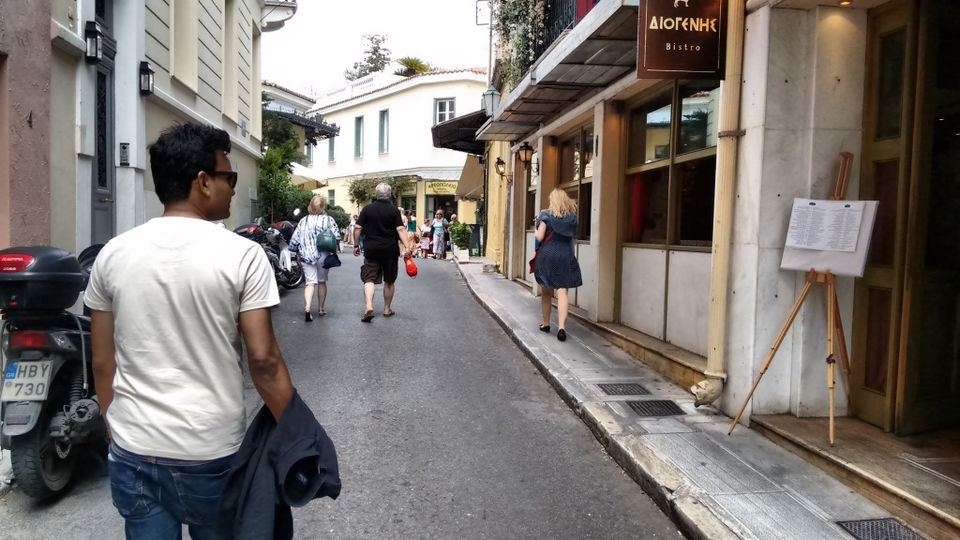 Athens is about ancient sites, museums, restaurants, cafes and shopping. If you walk the streets, you can actually validate the fact that many businesses in Greece support the tourism industry. Shops selling souvenirs across the city, hundreds of restaurants offering local food and free WiFi, rental cars and taxis on every square, amazing train and bus network, ferries to Greece Islands etc are some of the examples. Most of the retail shops here are local and there is hardly any presence of retail biggies like Walmart or Carrefour. You will also find Graffiti everywhere in Athens city. These were some of my observations while walking down from one tourist place to other in Central Athens.
This travel guide is for those who like to plan their own trip and who prefer walking the road or using public transport to explore the place.
.
Suggested Itinerary
Day 1
Panathenaic Stadium → National Gardens → Temple of Olympian Zeus → Acropolis Museum → Parthenon → Acropolis of Athens → Theatre of Dionysus → Plaka Market (Dinner and Shopping)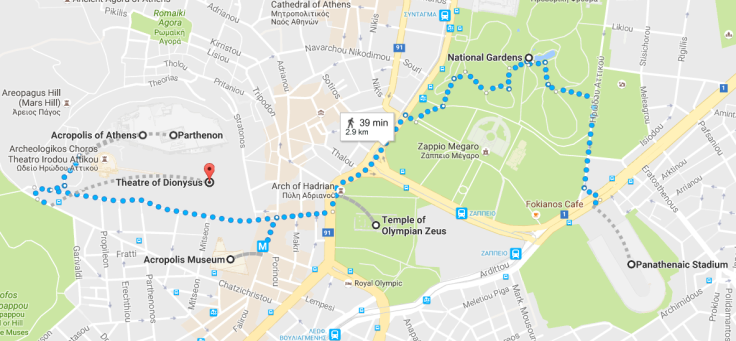 Day 2
Syntagama Square (You will find many local shops and restaurants at Syntagama Square.) → Stoa of Attalos → Ancient Agora of Athens → Monastiraki Market → Mount Lycabettus (You will have to hike or take a taxi to go to Mount Lycabettus. You get a beautiful view of Athens from the top of Mount Lycabettus.)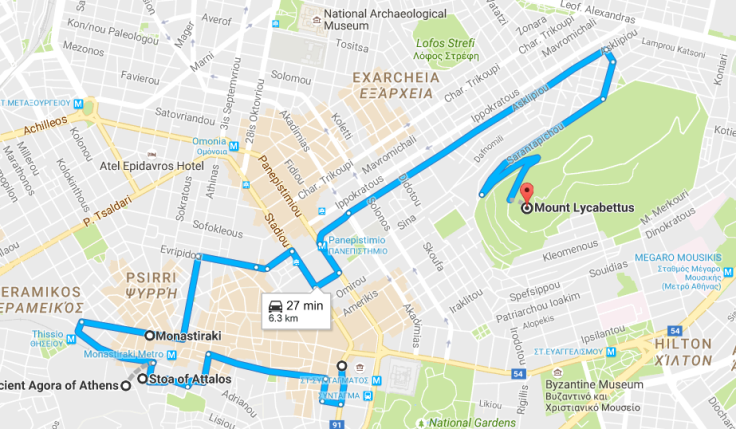 Day 3, Day 4, Day 5
I planned just a 2 day trip to Athens as I was not interested in visiting museums. If you are planning to stay few more days in Athens then you can explore some of these options:
The Temple of Poseidon at Sounion - It is a half day trip from central Athens
The Mall Athens - It is one of the largest shopping centers in Southeastern Europe.
Athens Museums - National Archaeological Museum, The Acropolis Museum, Herakleidon Museum of Art, The Benaki Museum, The Hellenic Motor Museum, The Goulandris Museum of Cycladic Art, Museum of Greek Folk Art, Jewish Museum, National Historical Museum, The Gastronomy Museum, Battleship Averof Museum, The Vorres Museum, Kerameikos Museum and the Municipal Gallery of Athens
Beaches - The beaches on European Island are more beautiful compared to Athens beaches.
.
Accommodation suggestions
Search for clean, friendly and centrally located hotels. I searched on www.booking.com and booked the hotel taking into consideration my budget, customer reviews, location and proximity to metro station.
.
How to get around in Athens?
Yellow trolleys, blue buses, taxis and metro trains are available in Athens. The easiest and the budget friendly way to travel within Athens is the metro. Almost every hotel in Athens will provide you Athens guide and metro map. Use this map to commute within the city. Even though metros are not very high-tech streamlined ones but they are clean, fast and fully automated. A voice tells you which are the next stops so that you are prepared to get down at your destination even before it arrives.
.
Must try local dishes in Athens
I am a foodie so I try to have local dishes whenever possible. Here is my list of the must try dishes in Athens
The Greek Tsoureki-It is sweet yeast bread made of milk, eggs and butter
Pastitsio - This is similar to lasagna
Keftedes - Deep-fried meatballs
Patsa - It is a soup prepared from the intestines of a pig
Pizza from local shops- The cheese here tastes different compared to India. The mouthwatering taste of Greek cheese and the toppings make the pizza delicious.
Greek Salad - I like the Greek Salad. It is crispier and tastier than the normal Salad I have.
Some of the popular restaurants that you can try are Psarras in Plaka, Trapezaria near National Garden and Melilotos near Syntagma Square.
.
Shopping in Athens
What to buy? - You can buy figures of Greek gods, pottery, Greek jewelry, traditional hats, fridge magnets, sandals, traditional clothing, Greek spices, feta, Greek olives and olive oil, olive oil soaps.
Shopping Area
Monastiraki Square - Souvenirs, clothing, shoes
Plaka Market - Souvenirs, clothing, shoes
Ermou street - Expensive clothes and shoes
Varvakeios Agora - Greek herbs like basil, cinnamon, oregano, lavender, paprika and Greek herb tea.
Sunday markets at Thission - People can buy almost anything from this Thission open-air market. Some of the popular shopping items include clothes, shoes, jewelries, watches, leather goods and porcelains.
.
Average Cost for a couple
Hotels - The average price per day for a decent hotel room would be €60 - €80. Book a hotel where you will get complimentary breakfast.
Food - The average price for a meal for 2 people is €25 (without drinks). Pizzas and Gyros are cheaper food options.
Transportation - The daily metro pass costs around €8 to €10.
Shopping - Fridge magnets and olive oil soaps are the cheapest souvenirs. Fridge magnets start from €1. Greek dresses are very popular. I bought a traditional maxi dress for €40.
.
Best time to visit
May to September is the whole period of spring- summer and it is the best time to visit Athens. November to March can be cold and rainy.
.
Some pictures from my Athens tour