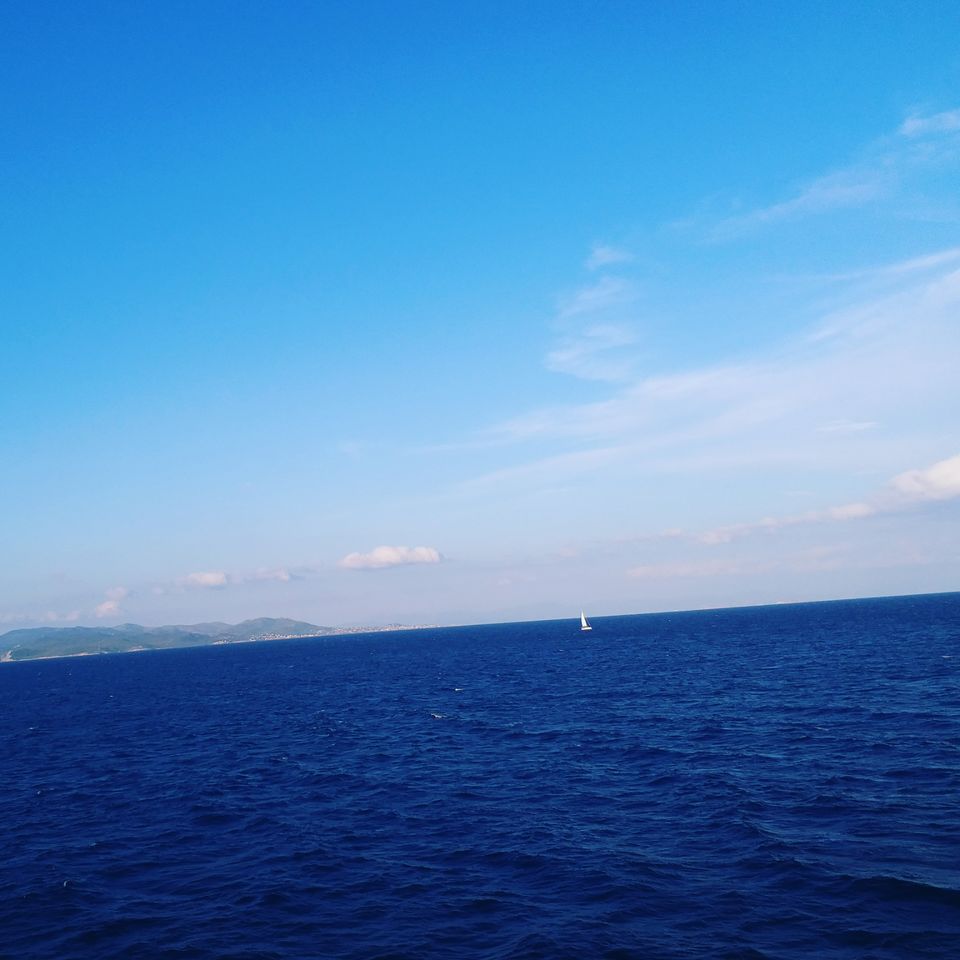 We had a booking in Blue Star Ferry, and set for the port in early morning.  The first glimpse of the blue Aegean sea took my breath away and I knew my trip was worth and gave me much more than I expected. 
Mykonos was a lovely little island and our hotel was all white as was all of the town ( they paint once a  year as I enquired from our hotel attendant. We wandered through the lanes of Little Venice , watched the sunset.. though was a bit disappointed with the hazy colour of sea... well that's not what we watched in movies and that's not why we came from India.
In full breezy mood we wandered through the lovely lanes of little Venice and... got lost! No way we were able to reach the main road, we tried the bus stand which did not seem to be the one we were looking for! We started walking though we were warned by our handsome hotel manager not to walk while returning as the road was uphill! Well we did just that, got lost and with GPS we stumbled and limped with our tired limbs at around ten at night which I believe I would never do in Gurgaon! It was a bit eerie, walking through almost deserted streets, some whistles from racing bikes but somehow we knew this is not our country and hence safer! The handsome manager ( quite close to Greek God) was full of sympathy as we almost slumped on his hotel culvert, fumbling for keys , his sympathy lifted our spirits up somewhat!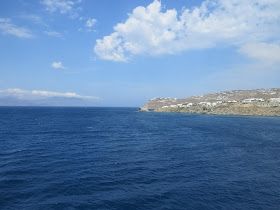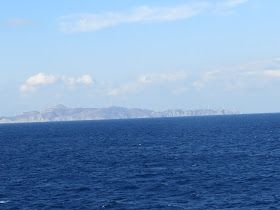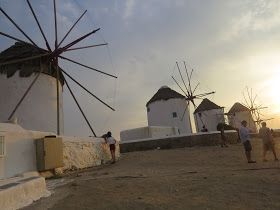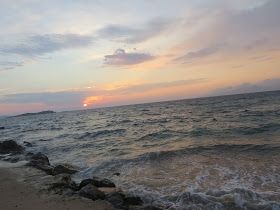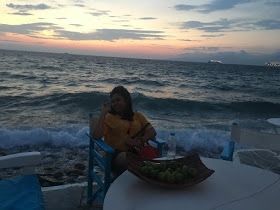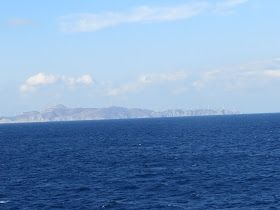 We welcomed a bright sunny morning with clear sky and a nice breakfast.  Still not decided what to do exactly with the day, we walked up to the city, trying to keep track of the road. 
Some wild chase for a pic with bougainvillea , as the pic posted by a travel blogger with white buildings and bougainvillea was a real motivation for me for reasons unknown and hardly left any bougainvillea plant without a pic!
With the clear sky,  there was the blue sea.
Visit to the Paradise Beach was what we had next in line and well ...being in a nude beach did take  words off us for sometimes!! The shock wore off and we sat there and stared all around silly, we weren't swimmers and we didn't know what we were doing there! Being charged 10 Euros for sitting there did not help either and after that we two brave hearts did not have courage left for Super Paradise beach! 'Well if this was Paradise', my hubby had said later looking at the pics ' I will go and visit only the Super Paradise!'
Rice stuffed inside tomato , typical Greek dish I had in lunch and must say it was spicy and tangy, though oil was dripping along.
Next was Delos Island , spectacular view, historical remains and the most amazing colours of sky I ever saw during sun set.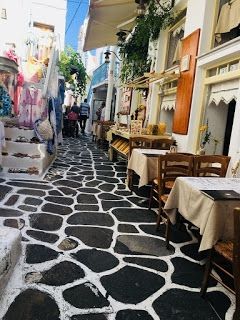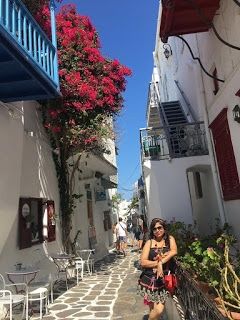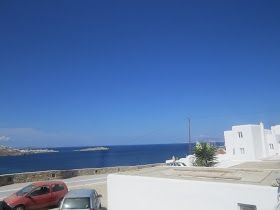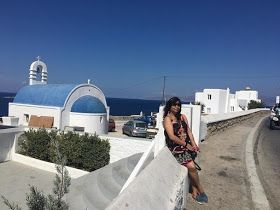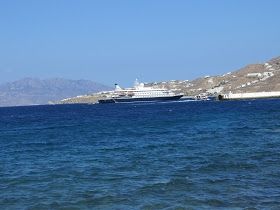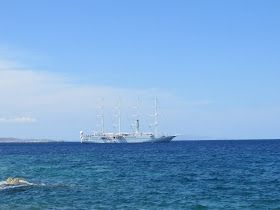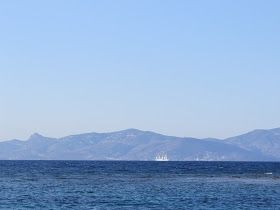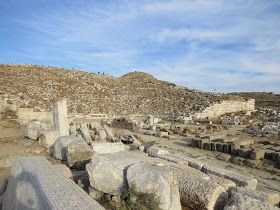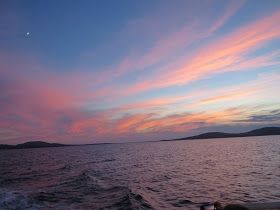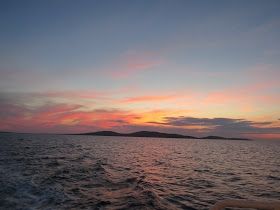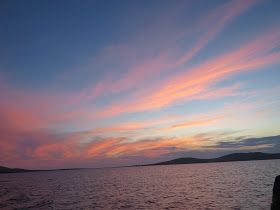 Fast ferry carried us to Santorini , after waiting for around two hours in the sun. Ferries were well behind their schedule and faced huge waiting before deboarding as well, might be because no bay was available and then another traffic snarl in the narrow hilly roads, almost felt like it was our country. The worst part we dragged our luggage from the bus stop in Fira to the hotel nearby and thereafter to first floor. We slumped on the bed after that, ordered some pastas on phone and dozed off. 
A long walk to an Indian restaurant cheered my vegetarian friend up and after a long calculation and some morale boosting from husband over phone I ordered a cup of tea, most expensive I ever had of course!  And yes there was some brawl over Dal Makhni in the restaurant where the owner was screaming to explain ' There is nothing available here, my groceries come from Pakistan, no chilies available , I have planted trees! Nobody opened an Indian restaurant in fifty years!' 
I will admit I enjoyed the desi meal as well, much I would like to believe I didn't.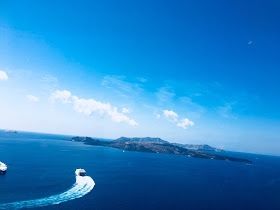 Next day we got tickets for a day trip to Volcano Island, and walked terrible stairs to the old port where the mules would block half of the road! Sea was beautiful and so was the town of Fira from the port. The road to the port was ancient, I guess added to the charm of the place as I fondly recall now and rightly called the mule track.
All the blue domes and white churches in Oia were what drew me to Greece, the Bollywood songs I watched, the travel blogs I read.
Sunset in Oia was not as amazing as I heard , but beautiful none the less.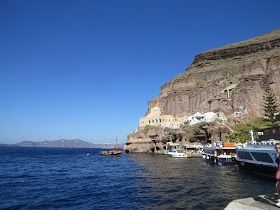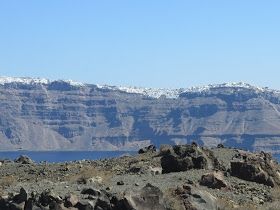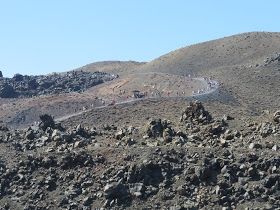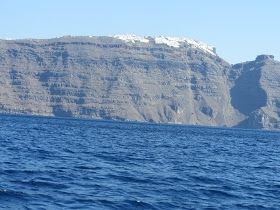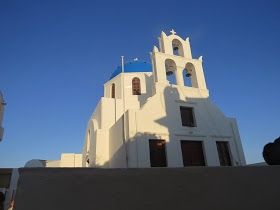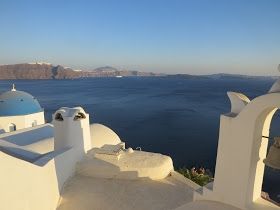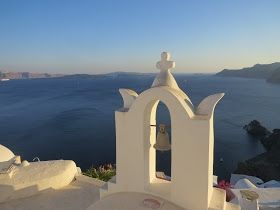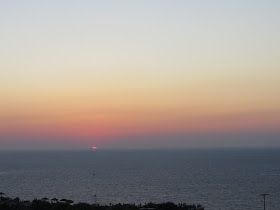 Thanks to my travel freak friend , last day I had the most magnificent views of the trip. The little   Red , Black and White beaches were hidden gems out of the world and people lazing over in the little stretch of land with nothing in the horizon apart from occasional boats... ah straight out of fantasy.
We flew from Santorini to Athens , then Delhi via Dubai.  As I relive the trip again, somehow I see a twenty five year old gazing with curiosity in the world full of mischief and fun and not the forty year woman I know! But then this twenty five year old is inside my forty year  frame only and she leaped with joy at the little wonders she felt in another part of the world!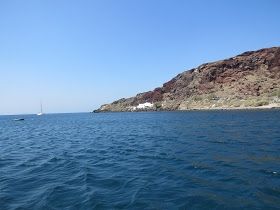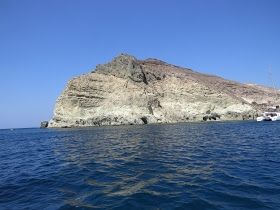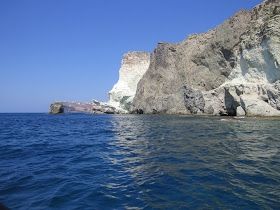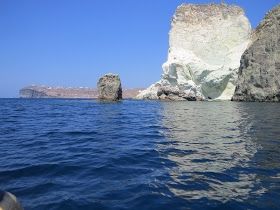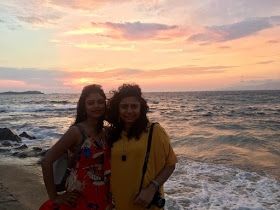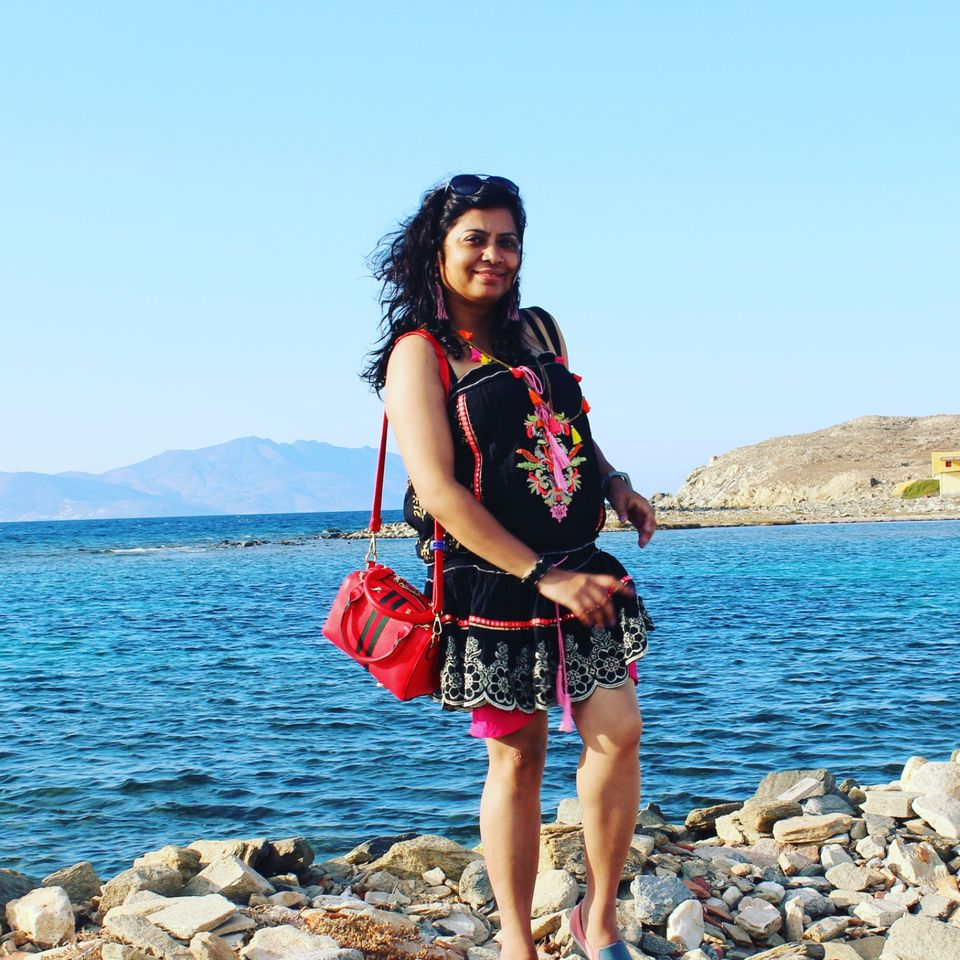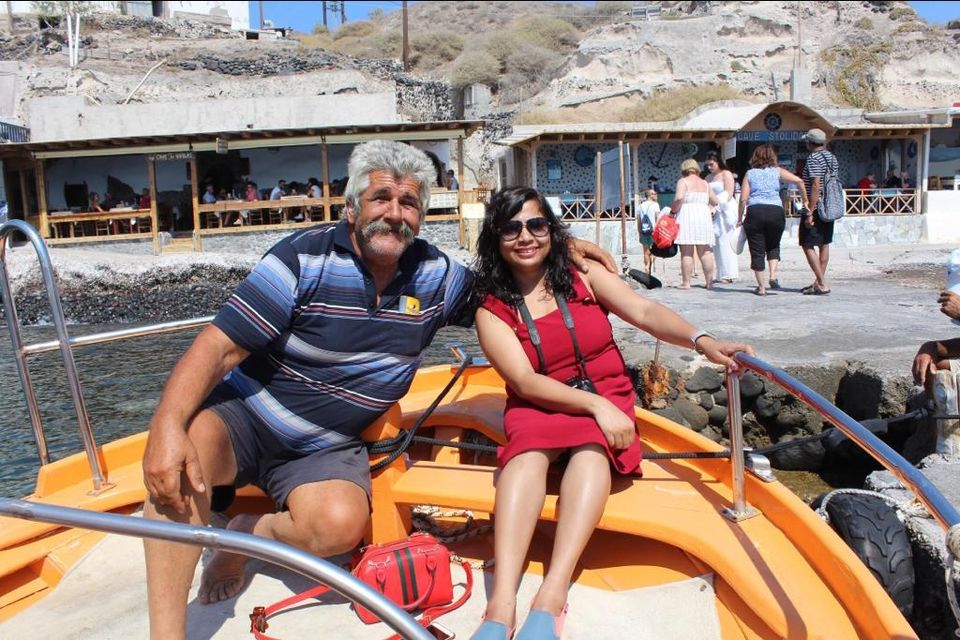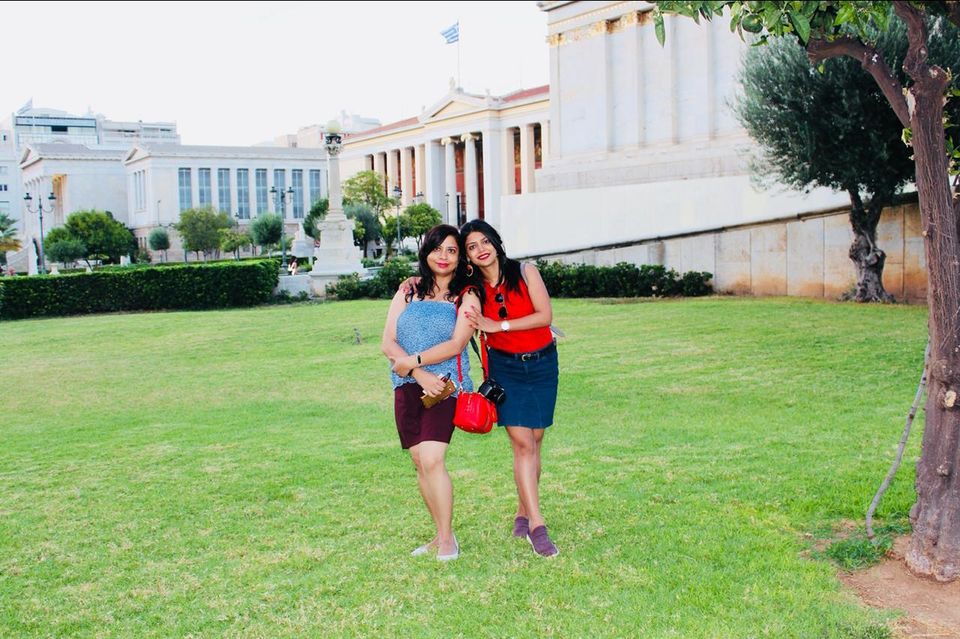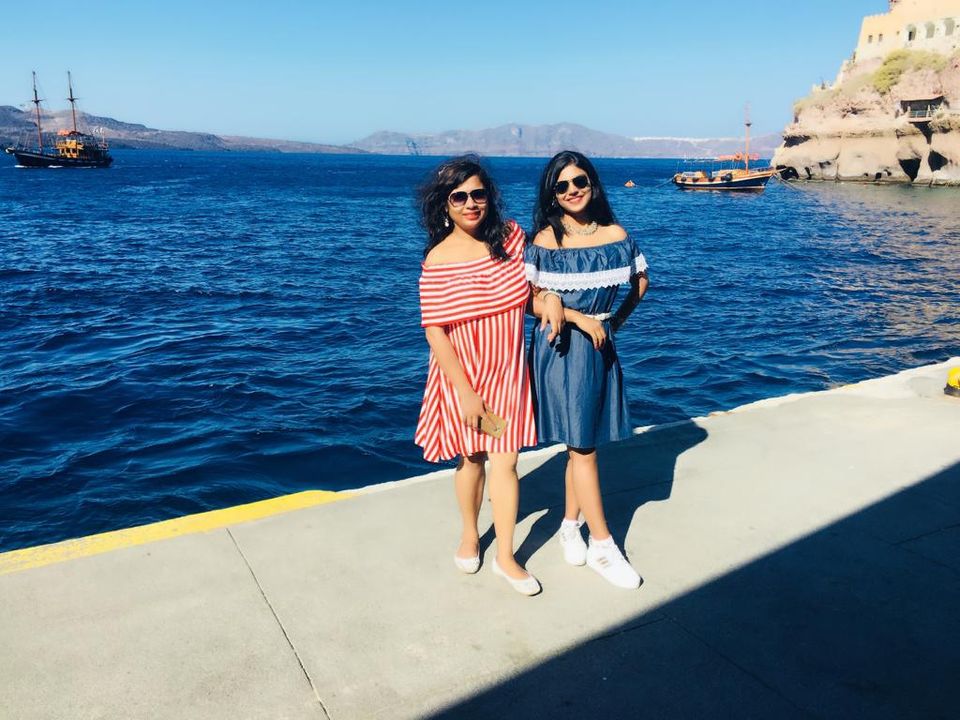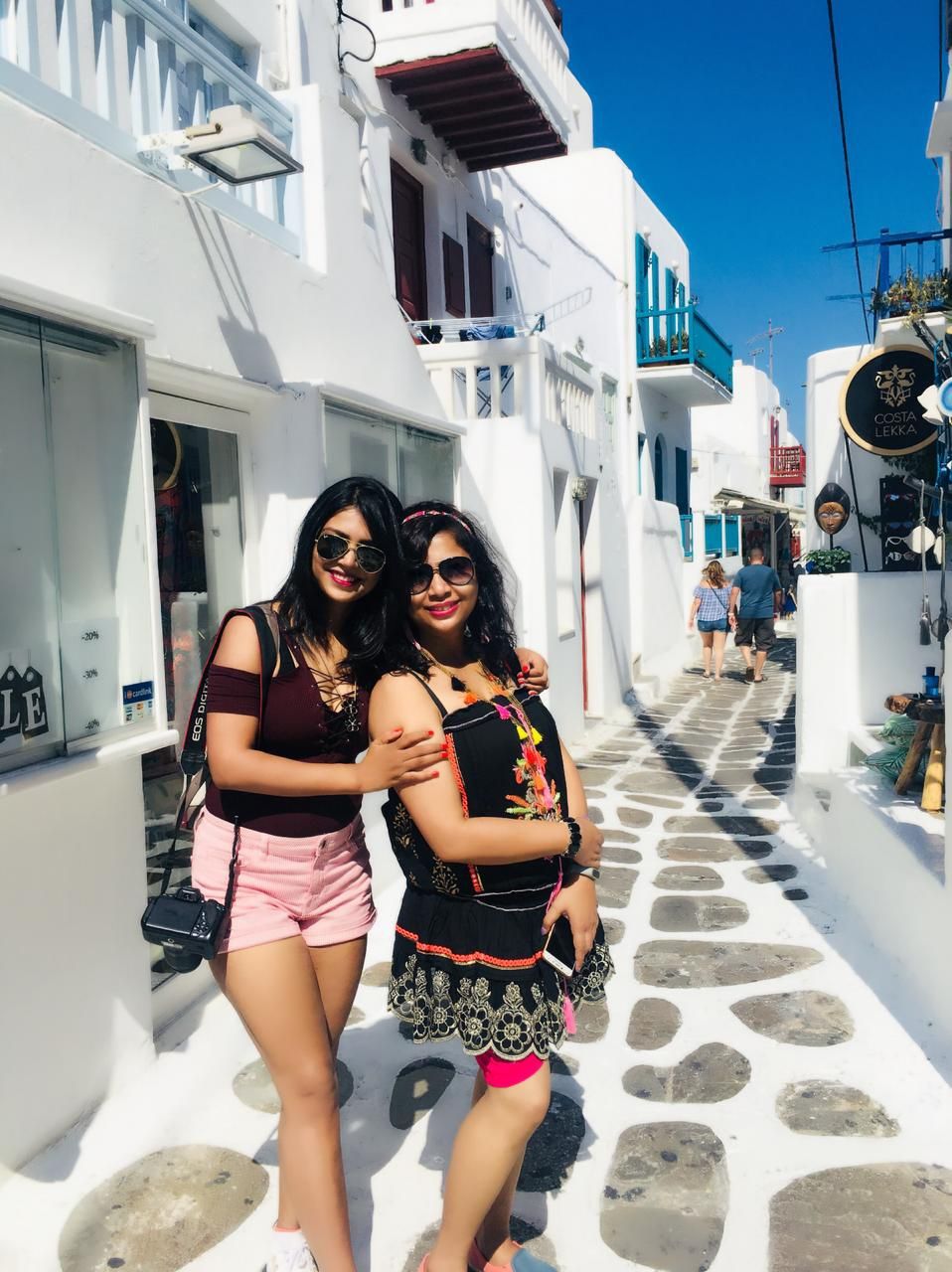 Our second trip together! Sometimes people get together when they have a strong common passion..travelling in our case. Me being the lazy one and my friend the hyper active one , she did all the research and I sailed along.
Why Greece! For me basically the pictures shared by a travel blogger... the bougainvillea, white buildings and the blue sea.
My first tryst with Europe when we landed in Athens! The BnB in the heart of the city was just warm enough for us as we stepped outside the next day after a huge sandwich ( which we saved for the later part of the day) and nice hot coffee. We roamed and wandered and looked out for Greek Gods! Well they appeared in the form of uniformed guards , so close to our hotel where crowd had gathered to watch some march past.
' Let's ask them, what's going on!' I was at my flirtatious best.
' Guard of honour!'  came the stern reply.
' Oh ok, and what is that building!'
' Parliament'
 Oh really, two novices in the middle of Santigma Square looking  for Greek Gods and stumbling  upon Parliament.
Acropolis was our next stop, as we racked our brains about how many Euros to spare for a bus ride and once we were on the bus had no such intention of getting down in the sun. Finally Acropolis it was, after almost one round in the bus.
The queues could be taxing if one does not select the right time to enter.
Post lunch we took a peak in ancient Olympic stadium.
Then some pics in the classical buildings we loved the look1 of, and finally we parted from the bus , I guess did full justice to the Euros we spent! Oh yes pick pockets do roam  about near the parliament area and we were not spared as well, we did not lose anything luckily as alarm was raised by a local tourist guide.
The National Library, University and Museum... I remembered Shahrukh Khan  Rani Mukherjee dancing around those buildings!!