It's been a year and I have been postponing to write about our first together trip abroad. How procrastinating a person can be! Well, thanks to my plan for a month, at least I am able to complete my pending posts.:)
So, before memories fade away and I lose my notes made while planning and during trip, here's a photo blog of a 5N6D vacation to one of the popular places in travel wish list!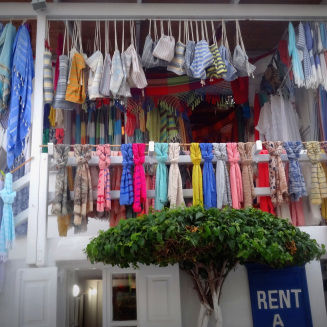 The first thing we learnt while planning was that Greece is known for island hopping. You won't believe but the country has somewhere around 1,200 to 6,000 islands. Of course, some are really tiny but yes they get counted. The number of inhabited islands is variously cited as between 166 and 227. (wiki info)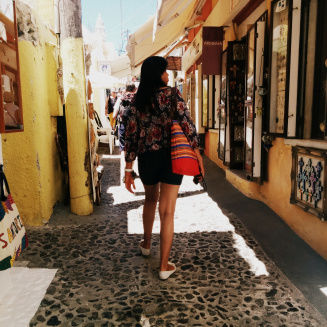 We did our part of a research and finalized on going to Santorini and Mykonos. We thought that spending 5 days in Santorini could be boring and exploring one more island seemed better idea. The another reason was Mykonos and Santorini was around 3 hours away,if traveled by high-speed boats. So, we were saving travel time too.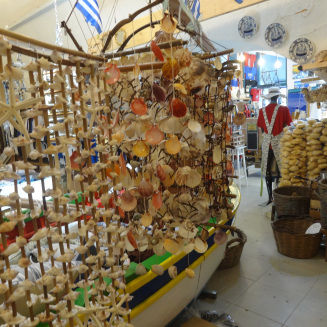 People fly to Athens , spend a day or two there and then take a flight/boat to another island. We on the other hand decided to stay near port and take the morning ferry next day. We do regret spending a day in Athens now.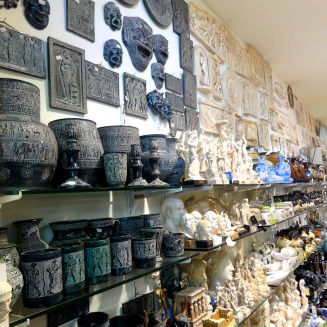 Athens to Santorini is a 8 hours ferry and let me tell you, was one of the best experiences so far. If it's your first time on sea ferry, you are going to remember it for the lifetime. Trust me, you won't feel tired or bored at ALL.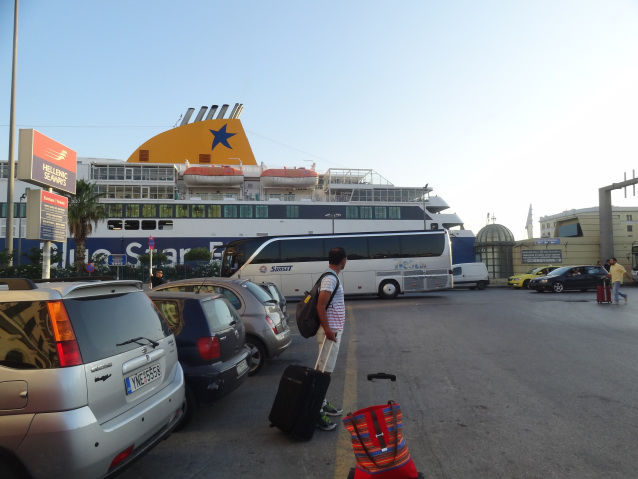 I owe a big time to the web help we got from Santorini Dave. This guy has mentioned every detail a newbie would want to know, right from the island to choose to how to reach to what to do there. A heartfelt thank you:)
I will save your time to go through the site and share some pointers about the ferry ride. We opted for Blue ferry which was the first to leave from Athens at around 07:30 am. Check schedule here:
Book your tickets before you reach Athens.
It is advised to reserve a seat (economy class) in ferry, even if you have to spend few bucks more. . Ferry, during peak season gets crowded. Therefore,it's recommended to have your own seat to relax and keep luggage
Ak1 , Ak2 and Ak3 are best view decks.
Charge your cameras , you can't miss to capture the scenic views.
You will get a lot of stuff to eat on ferry so nothing to worry about.
The ferry starts from Piraeus( Athens port) , E6 gate.
That's half of the ferry
None of the pics below are edited :) We got a glimpse of Naxos and Paros on the way. Not sure which one below was.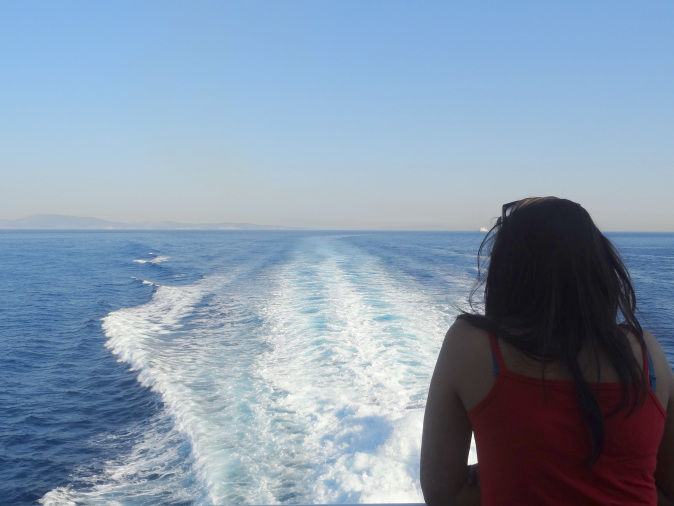 Once you reach Santorini, there are many local buses which takes you to every town of the island.Let's understand the map: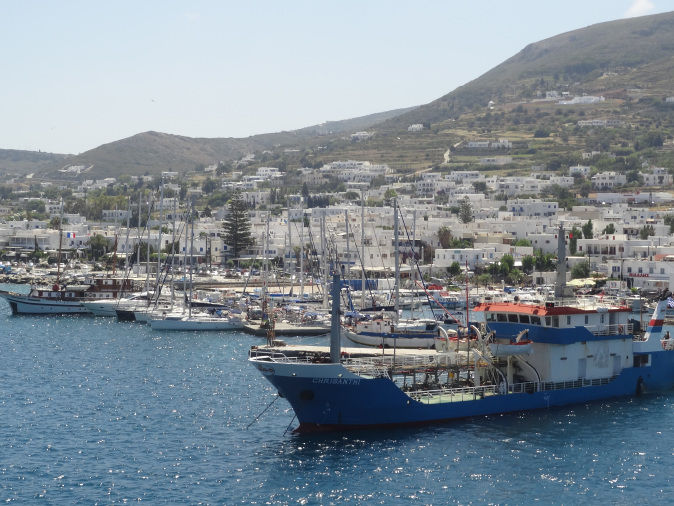 Three major towns of island are Oia (pronounced as Ee-ya), Imerovigli and Fira. Oia is very popular and mostly recommended for honeymoon couples. The place is too romantic and has great views. So with all this, its costly too. Fira is definitely the place to stay for party lovers. It has awesome nightlife , restaurants, shops, in short most lively area on the island. We preferred staying in Imerovigli as it's midway between Oia and Fira. It's away from hustle bustle of Fira and a little cheaper than Oia. Plus it has best views and known for wonderful restaurants with ocean and caldera view. We will get to it later in the post.
Let's get back to where we left.Ferry leaves you at Athinios port and the buses starts right from the port to every town of Thira, that's Santorini in Greek.:)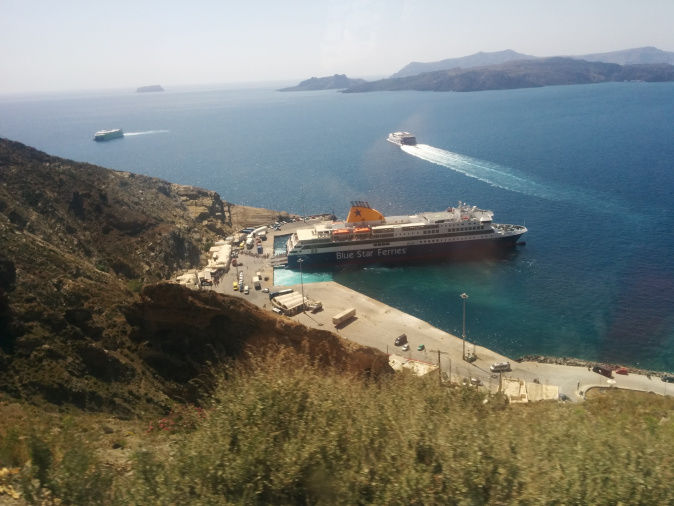 That's Athinios port and Blue Star ferry
We took local bus till our hotel but I would say, better go for hotel pick up even it costs you more. It's okay if you don't have much luggage and just backpacking., then bus is advisable. We had a tough time finding our hotel with huge luggage.
That's the caldera view and as you can see, we were gonna get the sea view as well. The irritation due to getting lost plus the sun, it all faded away in a moment when we saw this!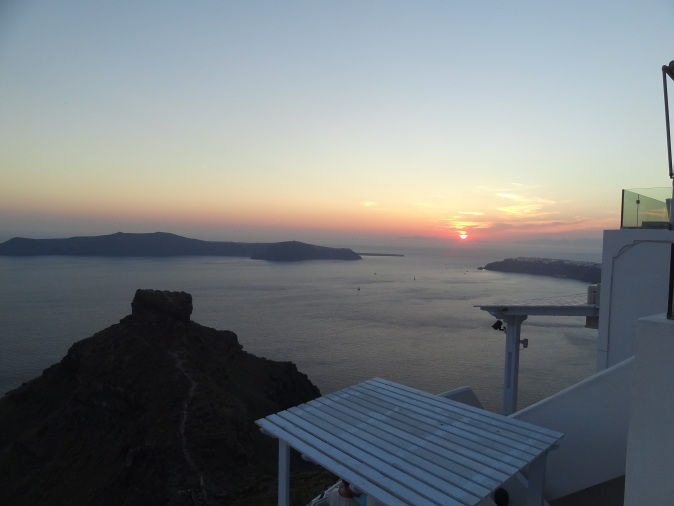 What we saw in movies or websites , or read in magazines was right in front of us. Well, worth the 8 hours ferry ride, 1 hour ride from port and almost a day& 1/2 journey from India.????
We were ready with the 'must-visit' places but then by seeing the hotel room and the view , we just decided to sit back and relax. Instead of going after every part to visit and explore as much as possible, we thought of taking a pause and sink in the beauty. I can't tell you how much proud we were of ourselves for choosing the right hotel and location. Yes, we spent fortune but then it was our honeymoon. It was meant to be like that.
Half of the day was gone. We didn't feel like going very far but then a quick walk to Fira seemed exciting. Fira is shopaholic paradise. Beautiful ,colorful souvenir, jewelry, clothes , scarves adorn shops plus there is a variety of  cafe, restaurants, ice cream parlors. Gelato (ice cream) is a must try.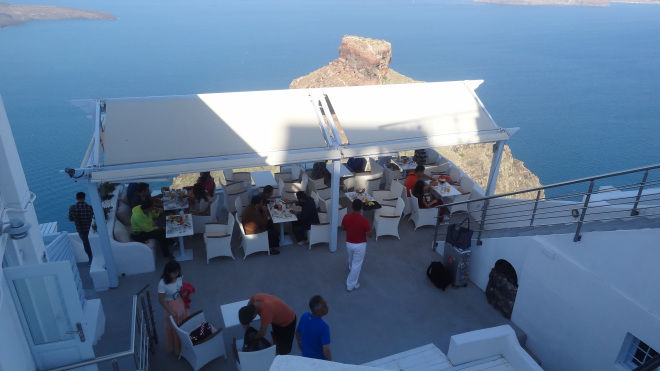 Sun sets late in the evening and that gives you additional time to roam around. Imerovigli is a place which also gives amazing sunset view. We just had to be on our room's deck for the sunset.
This was a much-needed vacation after the hectic, tiring wedding week. We were not in mood of hurry burry and wanted to do things on our pace. We made impromptu plans and lived on the spur of moment.
So while having breakfast, we decided to go on a hike to the hill in the picture. Somehow , both of us didn't feel like leaving the hotel. May be at that moment we thought that there will not be more beautiful view than this. We could see Oia to the right, Fira to the left, never-ending sea in front of us and  was very much content with what we had. Well, till we went to the other side of the hill. It was not the usual route. People go right on the top of the hill but we decided to go around to the other side.
If we try to go to every place in Santorini, it will take at least a week.  Take your pick and make most of it. One thing is for sure, whatever you do here or go anywhere, it is going to be one of a kind and will stay with you forever. Santorini is certainly a place to make memories
Here is a list of things to do in Santorini. Again, thanks to Santorini Dave website.
We planned a trip to  White beach and Red Beach. A friendly staff at our hotel , Spiliotica on the cliff gave us the required details. We took a bus from Imerovigli to Fira then changed the bus to go to Akrotiri. From Akrotiri , boats go to white beach and Red beach. It's like a shuttle service. You can choose to go to any of the beach then spend some time there. Then, catch a boat once you are done to go to another beach.  We went to white beach first. Let pictures do the talking now.
It was fun act of  crossing the sea with all the balancing  on slippery pebbles and bag on the head.There were hardly 10 people when we went. You can rent chair and lay back there as long as you want. Although, it was sea water, it was the most calm water I have seen.   I swam in water after almost a decade and that too in sea. One heck of an experience
We spent a lot of time on white beach and thought of having lunch than going to Red beach.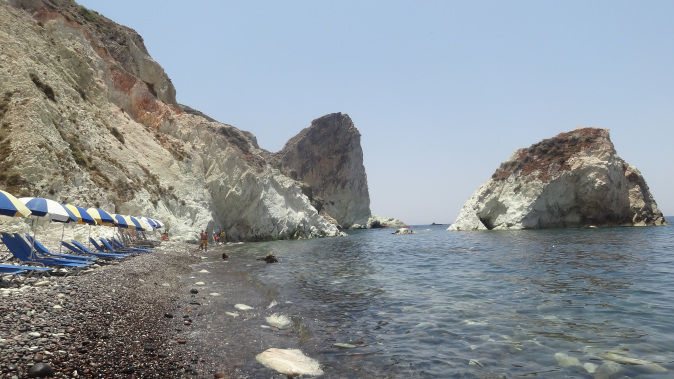 Some do's and dont's :
Carry as much as less stuff as possible.You have to get down from boat in the middle of the sea and then walk.
Do carry gadgets and money in waterproof pouches
Have heavy breakfast as it gets really tiring after swimming else carry some snacks with you.
Leave the hotel wearing your swim wears and just carry cover ups/sarongs/shorts.
Melina's is fine place to have lunch. It's where bus drops you.An eggplant dish was yum but I forgot the name.
We explored white paths,alleys, blue tombs, swam in sea, sun bathed, had the best gyros, shopped souvenirs, went to a small hike in caldera, had romantic dinners with caldera view so going to Oia for sunset was I guess the best bet to bid farewell to Santorini.
There's a direct bus from Imerovigli to Ia and has good frequency. It takes 20-30 minutes to reach. The road is really winding so try to grab a seat in bus.
I was little surprised to see bookstore in place like Oia. Later, we came to know , it's a famous classic store and has been featured in NY times.
That's all about Oia and  Santorini!
I ended up writing more than I expected. Let's save Mykonos for next post.
This post was originally published on 'Mon Odysseys'.