Praslin is the second largest island of Seychelles with a population of approx 7000. The island has three major settlements/areas - Baie St Anne, Grand Anse, and Anse Volbert. Between these three settlements, the island is sparsely inhabited thereby making it an absolute delight. Praslin is far less developed than Mahe but has so much more to explore. The beaches around the island are ethereal, picture postcards of greenish-blue seas and white sand. The pleasing island boasts of Anse Lazio and Anse Geogette, which are amongst the top ten list of most beautiful beaches in the world.
For Flight Recommendations, Best time to visit Seychelles Foreign Exchange, Visa, Itinerary, Mobile Network, Language Barrier, Culture in Seychelles, Food in Seychelles, Driving in Seychelles, Important tips please refer http://bulbulonthewing.com/2019/06/14/mahe-island-the-busiest-yet-laid-back/
Accommodation
I highly recommend booking through Airbnb. You can get a lovely sea view apartment for approx 60-70 Euros per night. Usually, the apartment will have amenities like washing machine, refrigerator, dishwasher, toaster, etc. Just contact your host in case of any doubts.
I stayed in Villa Kass, Baie Ste Anne. If you are a couple, request for the ocean view apartment at the top. The apartment is spacious with all the amenities (recheck with the host once though)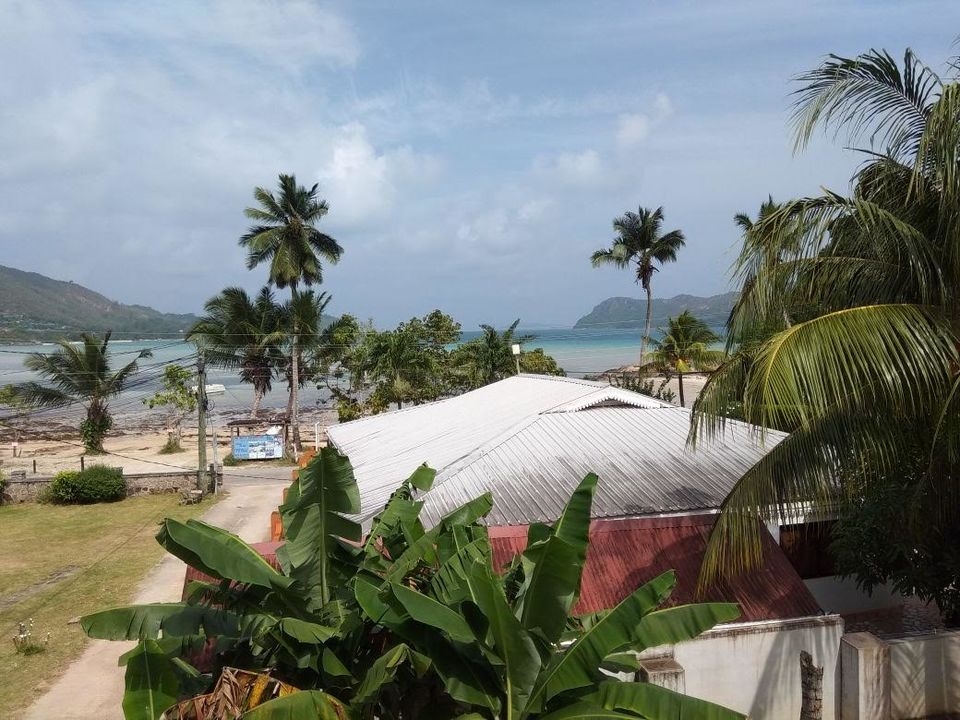 Reaching Praslin
There is only one international airport in Seychelles which is in Mahe. Thus, you can either take a flight or ferry to Praslin.
It is advisable to book your ferry tickets in advance although I could see the tickets being sold on the spot as well. Nevertheless, it is better to buy in advance rather than disturbing the itinerary at the end moment. I booked my ferry tickets through Cat Cocos.
One tip
Put the valuable and important things in your carry bags. You will be asked to check in your big suitcases and handbags. You will be allowed to carry only a small light bag.
Conveyance from Praslin Jetty/ Praslin Airport
As mentioned in my earlier blog on Mahe, driving is the way to travel around in Seychelles. You will find a number of car rental agencies at the airport and jetty. The average rate is 40 Euros per day.
One tip
Book your car in advance if you are reaching the jetty on a Sunday. I reached on a Sunday and did not find a single car rental agency representative. I got a car in an hour, after requesting an official there.
Exploring Praslin - Top things to do
1) Vallee de Mai nature reserve
This UNESCO world heritage site is often referred to as "Garden of Eden" due to its mystical nature.
The reserve is synonymous with the tree of the Coco de mer, a rare species of palm tree native to Seychelles. Coco de mer is endemic to Seychelles islands of Praslin and Curieuse. The oldest specimen of the tree is around 300 years old. You will get to see gigantic trees of more than 100 feet towering over the smaller plants. Want to know more about the sea coconut of Seychelles, check https://www.holidify.com/pages/coco-de-mer-826.html
The reserve is much more than a nature trail. It is recommended to take a private guide for 2 hours guided walk through the forest.
The entrance fee for the reserve is 20 Euros.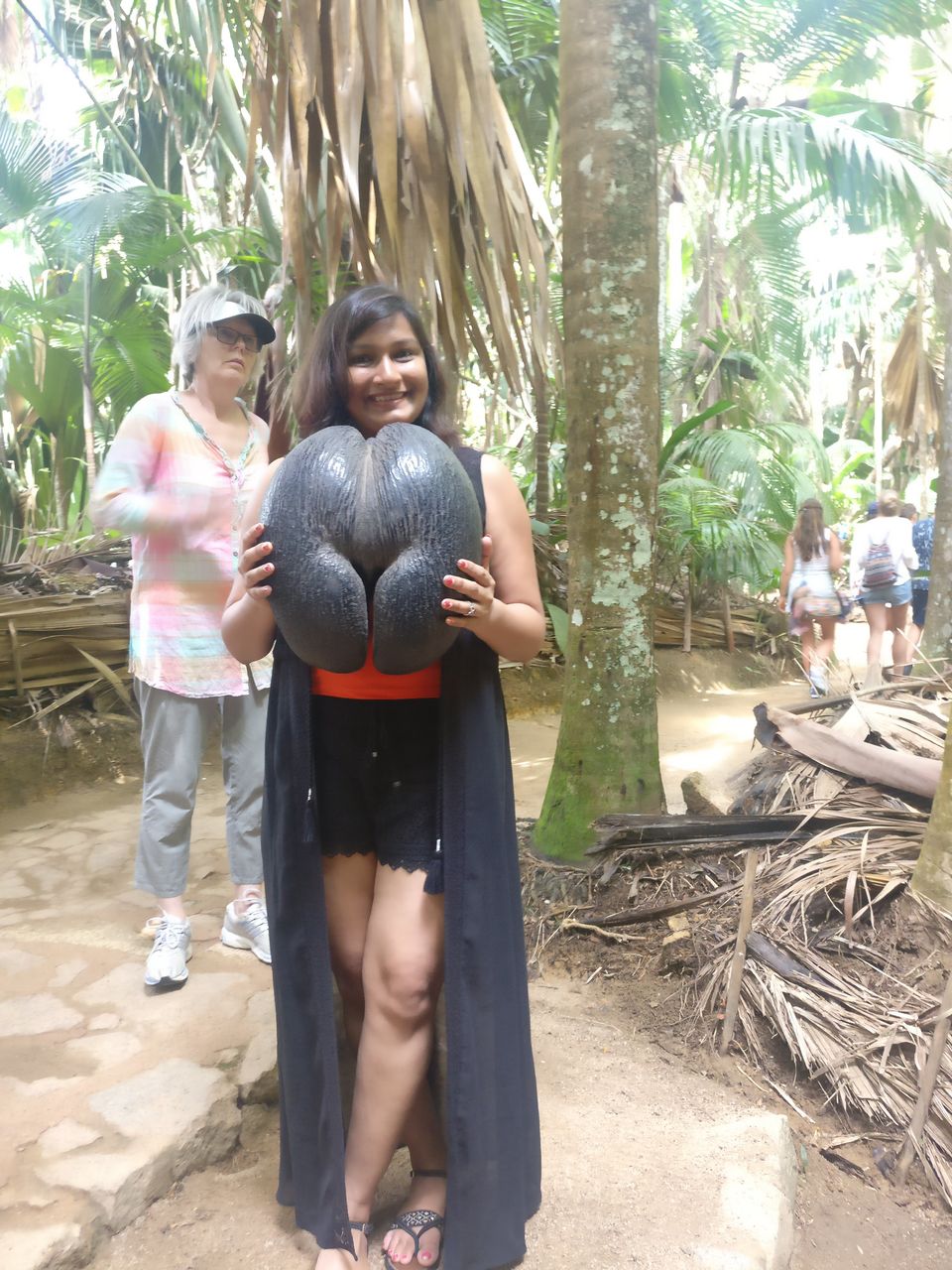 Guidelines for the reserve
a) There are free guided tours as well between 9 am to 2 pm.
b) Do take the brochures from the ticket counter. It will help you to keep your eyes and ears open to the flora and fauna which can all be found in the park.
c) Do look out for the species endemic to the island - geckos, seychelles bulbul, frogs, snails etc.
4) Valle de mai is also home to the rare Black Parrot, of which there are 3 species in the Seychelles and one more sub-species in Madgascar. The birds are very shy. You might only be able to hear them. You got to be really lucky to see one.
5) Visit the reserve in the morning hours. It will not be crowded thereby giving a perfect chance for the nature photographers.
6) There are more than 50 other plants and trees endemic to the island, all of them are indicated through signs.
7) You will reach the top while following the trail. There is a small sitting are there. Do sit there for some time, just to hear the sound of the birds. It is probably the most peaceful part of the peaceful reserve.
It is said that there are 5000 plus palm trees in the reserve, along with some other varieties. Coco de mer is precious as a souvenir. The price ranges from 200-500 Euros.
To know about tips for buying Coco de mer in Seychelles, read https://theblondeabroad.com/tips-for-buying-a-coco-de-mer-in-the-seychelles/
2) Anse Lazio
Popular as one of the best beaches in the world, it is a must visit in Praslin. The beach has the finest of sands. There are these gigantic takamaka trees and granite boulders at each edge. The beach never feels crowded in spite of its popularity. And this is the best part.
General tips -Anse Lazio
a) Carry your snorkeling kit here. You could be lucky to find sea turtles feeding in the small bays on the left side of the main beach.
b) Be careful while going deep into the water as the water here is not too shallow.
c) Do capture the sunset. It is colorful.
3) Driving in Praslin
This is indeed one of the attractions in Praslin. Driving here is a pleasure. Unlike Mahe, there are hardly any vehicles on the road. Therefore, do drive a lot and take random stopovers. You might explore something offbeat.
4) Plane landing and taking off signal (Traffic signal)
This was the most amusing thing about my trip. There are two 'traffic signals' right near the airport. You cannot cross the signal until the red light turns green. Guess what this turning to green light depends on? on a flight taking off and landing. Yes, you read that right. The signal lights turn red when the time of flight taking off or landing flight is near. Once the plane lands or takes off, the green light will be displayed signaling the cars to cross the signals on both sides.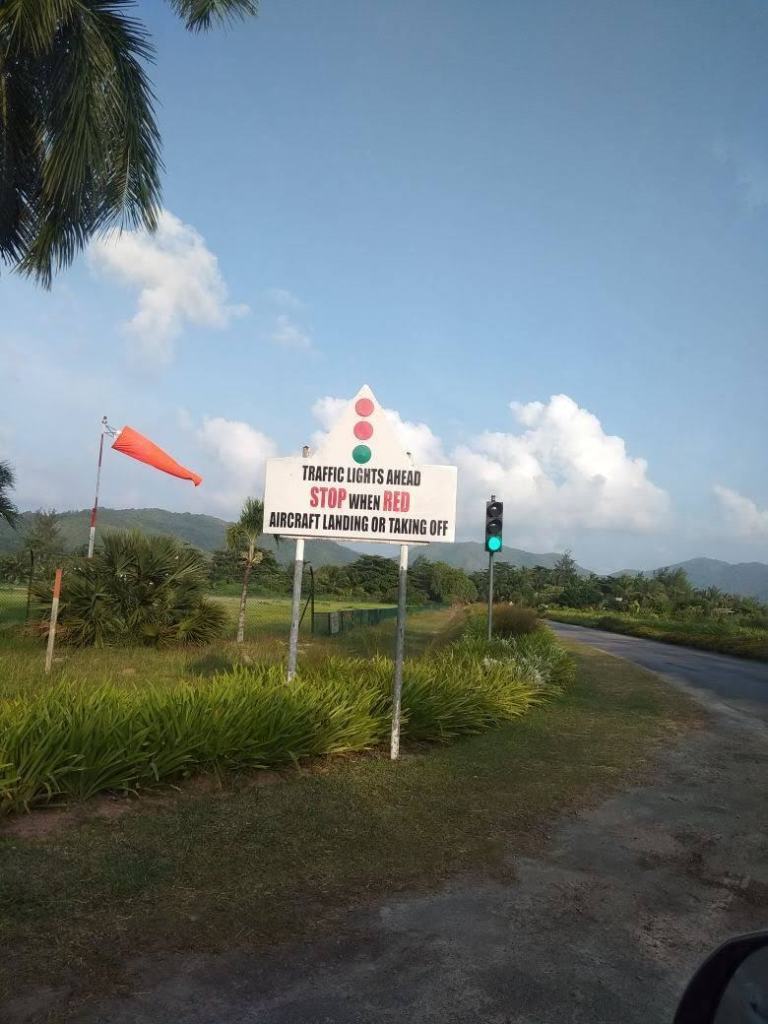 5) Miscellaneous activities
There are various activities that are organized by hotels and private properties. Our host had evening package for a barbeque by the bay for around 30 Euros per person. You can check with your host about the activities that they organize or coordinate.
6) Water Activities
Octopus diving center is one of the best for scuba diving and snorkeling.
Please note that you should not do scuba 12-24 hours before flying. Read https://www.leisurepro.com/blog/scuba-guides/flying-after-diving-how-long-should-you-wait/ for details. I had to miss skip scuba as my flight was in a gap of 14 hours only.
Food in Praslin
Apart from seafood, Pizzas, and Pasta, there is a cheap option for takeaways as well. The good news for vegetarians is that you can get delicious fried rice from a few of these takeaways. You can also stock bread, chips, etc. from supermarkets which are in plenty in Seychelles and most are owned by south Indians. Do try the fruits. They are so fresh and juicy.
Also, there is Arun ice cream available in the supermarkets. The flavors were quite new to me - Gulab Jamun, Raj Bhog, Gajar ka Halwa, etc.