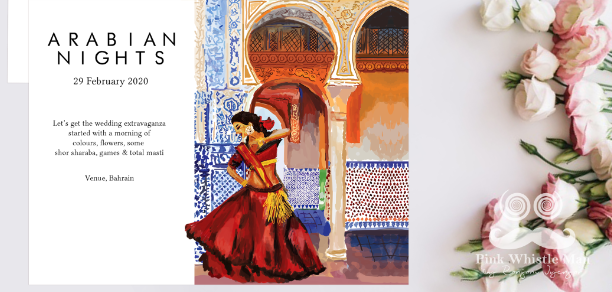 Perhaps you were on vacation and your stars aligned, or more realistically your flight schedules did, with a lovely stranger. Fast forward to a few years (or a few weeks later) in true Eat Pray Love style, you've decided to embark on a lifelong adventure with them. You can't wait to knock off all those coveted items on your bucket list together. Starting with wedding vows by a beach or with a local tradition in the country you both met in.
This might sound like a fairy tale but statistics suggest it's quite plausible. One study found that one in 50 travellers meet their significant other while on a flight. This comprehensive survey involved 5000 travellers from 141 countries to arrive at this number.
If you are one of those travellers who found love on a getaway, wedding invitations can serve as the perfect travel-memoir!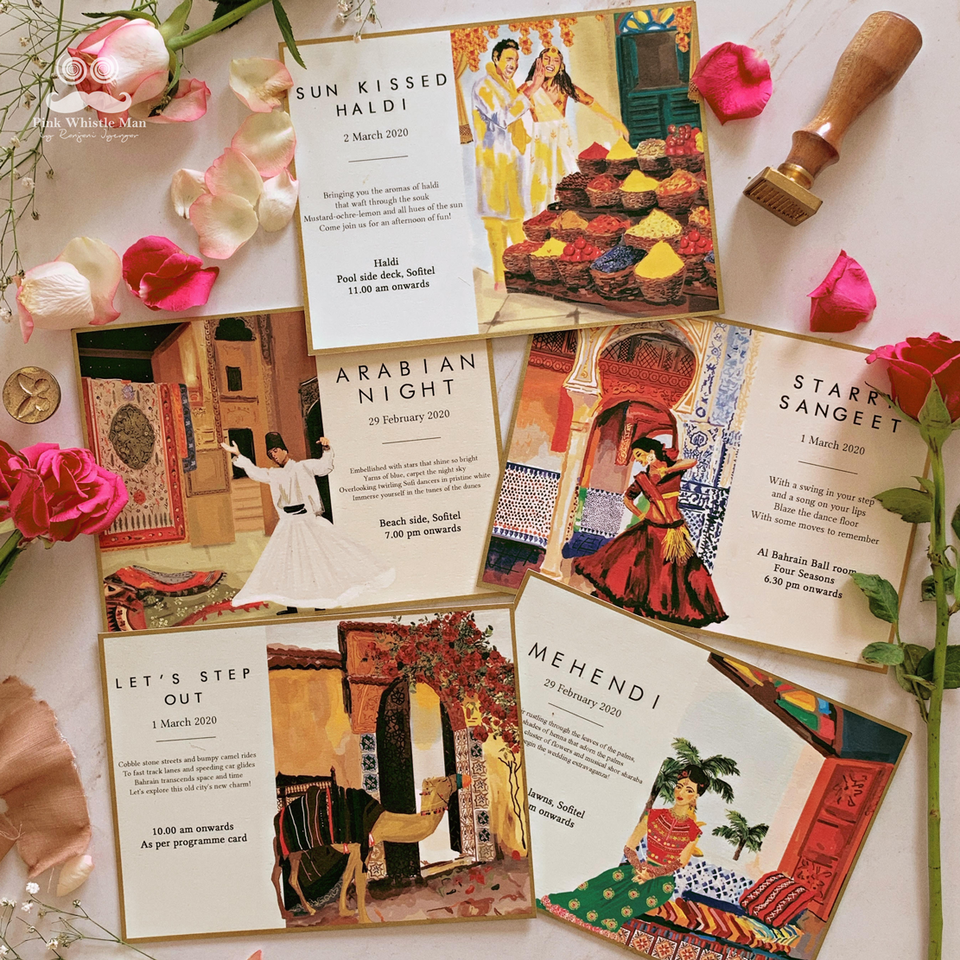 Meet Ranjani Iyengar, Founder of Pink Whistle Man - an award winning boutique wedding design studio based out of Mumbai, India. Ranjani has been helping couples who share their love for travel, showcase their stories through customised wedding invites. Every couple's story is a unique one. Ranjani's charming yet beautifully curated work is a true representation of each couple's story that unfolds to wedding guests through the art of storytelling.
So how does Ranjani manage to capture a couple's wedding story so accurately and yet aesthetically? The secret is the process she applies to truly get to know each of her clients. "I try to understand the couple's style, aesthetic preferences, tradition and cultural background. Their hobbies, life experiences, careers, passion, places they like to travel, food and clothing choices." says Ranjani
Ranjani takes out the time to get to know each of the couples. This research-oriented route to creating the perfect wedding invite comes from the experience of her designing many customised wedding invitations, including her own - "There is no fixed process because every couple is so unique." expresses Ranjani while she passionately explains her creative process.
The wedding invites are created with care, as Ranjani gets into the minute details which she often gauges through the telephone calls and video meetings with her clients. Ranjani has not met 90% of the couples and manages to intuitively learn of what the client truly wants and translate them into the wedding invite of their dreams.
This invite (below) captures the essence of a wedding with a mix of different cultures - Pallavi, a Bengali bride and Raghu, her Telugu groom. The elements also showcase their story across many cities. The streets of New York, doors of Kolkata and finer details such as a window that resembles the Vaikuntadwaram, a Seattle skyline, with the Space needle tower and the spheres of Amazon, where Raghu works. The couple's long distance travels are also reflected within airplane danglers.
Ranjani's talent is boundless. She quickly takes me through another invite which to me is really a love story across countries :
Neil and Priya's wedding invitation has three cities highlighted. This is based on their journey as a couple - Singapore where Neil proposed to Priya at the Silver Tree Gardens in the evening, after taking her on a red eye flight to Singapore that very morning! Philadelphia's Magic Gardens where the couple had their first date. "Except Priya didn't realize they were on a date!" giggles Ranjani as she describes this love story. "Neil and Priya spontaneously decided to have their wedding in Mexico City after watching the first episode of Taco Chronicles on Netflix!" shares Ranjani. As I hear her narration of the couple's travel-filled route to a destination wedding, the vivid colours of the illustrated wedding invite become still more clear.
The artistic nature of each of the invites varies as per the couple's style. These travel-coasters for instance took wedding guests on a tour of different cities while ensuring their Christmas drinks don't leave stains on furniture.
Ranjani is an artist at heart. She draws, sketches, conceptualizes and designs every element including the materials used. Some invites even include cookies and other fun elements which make the wedding invites experiential while engaging with all the senses, ensuring your guests RSVP immediately!
While I ask her about whether clients need to set aside a large amount for the wedding invites, Ranjani explains that is a myth. The personalized nature of her wedding invites ensures that she creates invitations keeping every preference of the couple in mind - including their budget. The quality of wedding invitations is not compromised and every detail is carefully considered. Before beginning production, she works with the clients to ensure that every element is to their liking and therefore includes them in this exclusive creative process.
The Pink Whistle Man website also allows couples to create semi-personalised wedding invitations with a host of stationery and other design elements available online. This lets couple make their wedding invites stand out without too much effort. Welcome notes, baggage tags, favours and more that can easily be personalised are available online. The products suit every style and even extends to special occasions - vintage, chic, quirky, simple and even sustainable!
An engineer who worked in technology firms and then moved on to marketing roles, Ranjani is a box of talent with a diverse range of experiences that add to the characteristic style of her work. She uncovered her superpowers of crafting stories through wedding invites while she experimented with design techniques before dedicating her time to her passion, full-time.
Her brilliant use of colours, versatile formats and uncanny ability to capture just what the bride and groom love about each other makes Pink Whistle Man a success, not only to the couples she works with but also to the wedding industry that has recognized her work through the numerous awards she's won across the globe.
"I've won nine awards, including an international one in the last four years. These include the WoW Middle East Award for the Most Creative Wedding Invite Designer. The Wedding Influencer award by Wedding Sutra. The Great Indian Wedding awards (GIWA) by the International Convention of the Wedding Fraternity (ICWF) four times, a few of which were sponsored by Swarovski. Two Wow India Awards (Organised by Wizcraft) - the highest honour for weddings in India. They were all awarded in the category of most creative Wedding Invitation Idea/ Designer." explains Ranjani
The pandemic may have set limitations on how you can celebrate your wedding day, but Ranjani's creativity extends to formats including digital. So whether it's a Zoom wedding you're hosting or you're waiting to meet your loved ones in person on your wedding day, Ranjani's ideas will make your wedding an even more memorable one!
Pink Whistle Man is a concept that can truly create a long lasting impression and give your wedding guests much to talk about, aside from your love story or the beautiful destinations you plan on honeymooning in. Head to the website or Instagram page to connect with Ranjani Iyengar and plan your special day with an artist with superpowers!
And if you're like me and you still haven't found that lifelong travel companion, wishlist this article for when you do! Because chances are your next flight might just lead to an adventure of a lifetime!