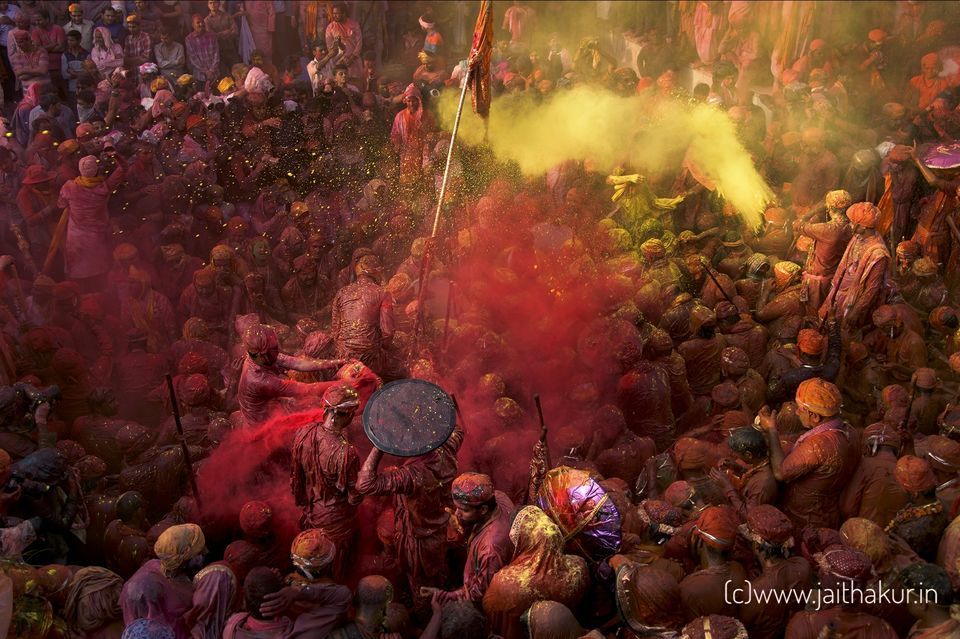 Do you like colors or the festival of colors? If you just answered 'obviously, who doesn't like' then let me inform you I am the person who doesn't like either of these. Yes, since childhood unlike other kids, I never liked playing Holi. One of the reasons, I am recollect, is the fear of annual exams which eventually used to fall in the same month (thanks to Army School's tight schedules). The only thing I still love about Holi is the homemade sumptuous food specially mutton curry and 'pakodas'. Today, after so many years I still feel the same for the festival. The only difference now is, I attend this festival of colors to make beautiful memories. In last five years, this greed of visual storytelling landed me in Nandgaon.
Merely 150kms from Delhi lies small village Nandgaon which comes under the district of Mathura, Uttar Pradesh. This place is popularly known as the birthplace of Lord Krishna and its world famous celebration of Lathmar Holi. Lathmar Holi is a centuries old practice that gives a free hand to women to beat up their men for a day amidst colorful and wild celebrations. Every year villagers of Barsana and Nandgaon celebrate Holi for a week beforehand. As per locals, the story of Lathmar Holi started when Krishna visited his beloved Radha on this day and teased her and her friends. Women got a little offended and decided to teach Krishna a lesson and chased him away by beating him with sticks. In order to recreate that event, every year men from Krishna's village, Nandgaon, visit Radha's hometown Barsana where they are greeted with abuses and sticks (lath). Hence this tradition came into picture. Same rituals gets repeated when men from Barsana visits Nandgaon.
During the Samaaj at Radha Rani temple will make you feel as if you are breathing in the ancient time of Krishna & Radha. Just to let you know, people gathered & singing ballads on Krishna & Radha are called Samaaj. To reach Radha Rani temple, one has to cross through narrow lanes of the village. Journey of reaching the temple during Holi is difficult for non-residents of Nandgaon especially for females. In the name of ritual, local boys specifically target female private parts with 'Pichkari' full of colors. This makes females very uncomfortable.
I do not understand why in the name of culture, females are molested! If you are about to question my thoughts, please don't bother. Here is one such incident which I witnessed happening to my wife during Holi in 2015. She was literally targeted by 6-7 local boys and they continuously poured water and color on her private parts and not letting her move towards the temple till the time one of our elderly friend intervened. Also, I had a verbal fight with one of them in front of the policeman who surprisingly asked me to back off and be silent as you this is his village not yours, "better you forget and leave."
So, those questioning my story should better ask themselves – had your mother/wife/daughter/sister or any female friend been through this, how would have you reacted? My wife strongly feels that she had been insulted in front of the protector of law and is unable to speak up about the incident easily.
To conclude, I just want to say that Lathmar Holi is a celebration of love so let's celebrate it that way. I have no intentions to hurt anyone's sentiments with this write-up. It's just a bitter self-experience yet a wonderful opportunity for photographers and others to indulge themselves in the rich culture and heritage of India.
Happy Holi
©www.jaithakur.in. All rights reserved.
~~~~~~~~~~~~~~~~~~~~~~~~~~~~~~~