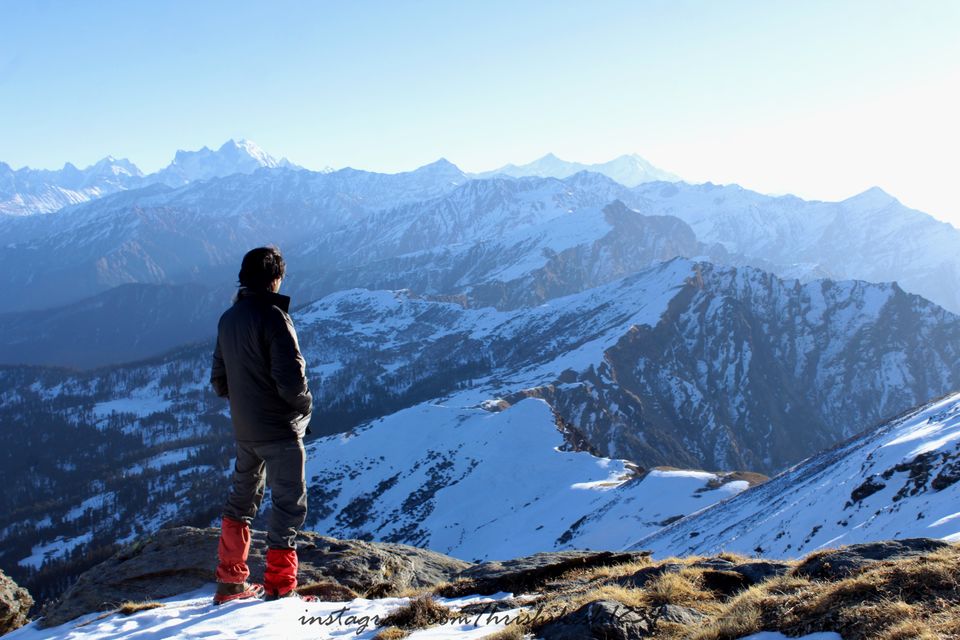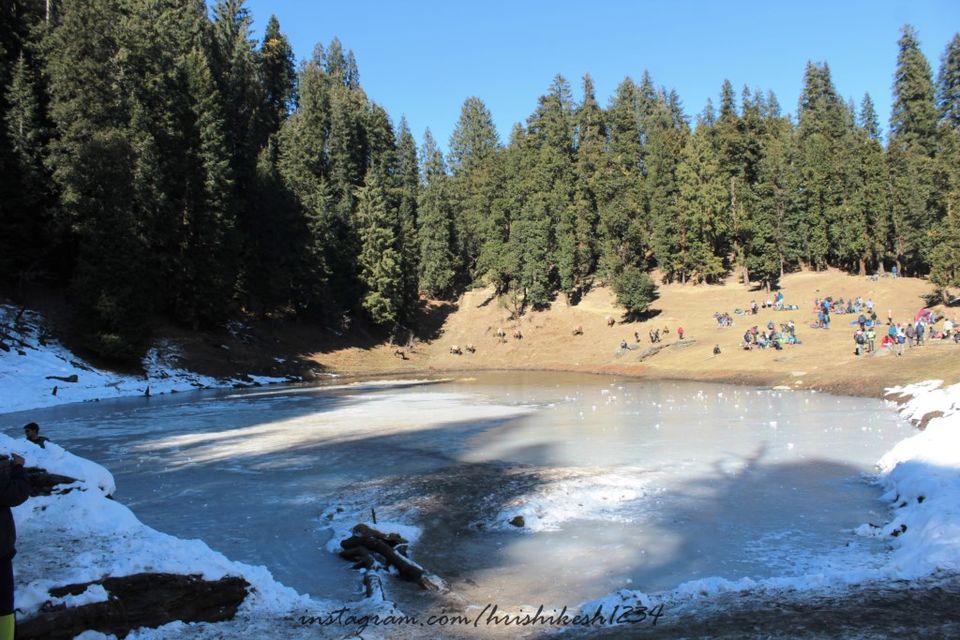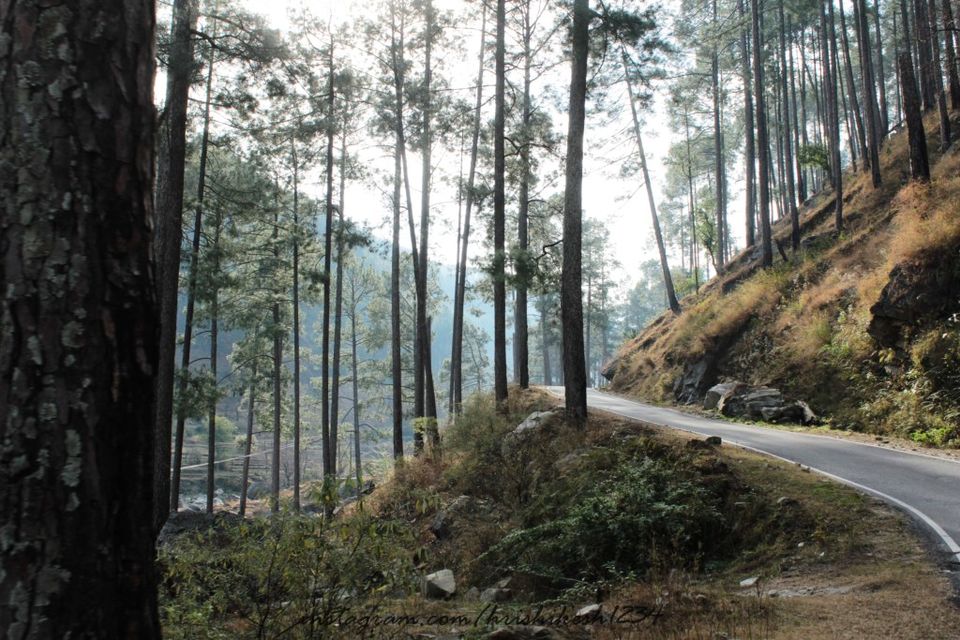 Day 1: Some Familiar Sights and Memoirs: Dehradun to Sankri
Its 5 am, I too a peek out of my hotel room window & it feels like midnight; perfect to continue your sleep on a cold Dehradun dawn. But our room is buzzing; we have to reach the railway station to rendezvous with the other fellow trekkers who will assemble there. For my mate Shiva it will be his first tryst in the snowy slopes of the Himalayas.
Me, Shiva, Venky and Ashwin reached the station by around 7 am to be welcomed by fellow trekkers who were already waiting. Some chai and exchange of pleasantries off we go to Sankri.
I've been on this road before. Why of course, during my trek to Rupin Pass! The narrow, winding roads of Mussorie, the dense tree line all along the hills, the gently flowing Yamuna river all along, and the beautiful villages and their terrace farming all across; all the good memories associated with this hilly ride 2 years back brought a smile of a kid on my lips...
Here we are, standing on a peak of 12,500 ft. to be precise, on a icy-cold, windy top. The conditions are absolutely unbearable; the cold wind brushing against your ears prompting to cover them up immediately, the near numb finger tips if you even dare to remove your gloves. A harsh reminder to the reality of nature.
The altitude must be a modest one, but the 360 degree views are worth every buck, sweat, and pain taken to reach here. No pictures, cameras, or words can do justice to the feeling of standing atop a peak so revered and soaked in mythology that the sweet taste of being there makes it even more sweeter. At the summit of Kedarkantha this is exactly how I felt...
The Joy of a Himalayan Trek, in Winter
I've just reached Dehradun, back from an exciting trek to Tungnath-Chandrashila, and tomorrow I leave to Sankri for my next adventure to Kedarkantha. December is truly the finest month to be in Uttarakhand; so many trekkers from across the country descend for winter treks. All excited, pumped up, and ready to go and meet new people on the trail. The morning couldn't come sooner!
Kedarkantha is an ideal trek for anyone wanting to their first Himalayan or Winter trek. Its one of the most beautiful winter trek in the Himalayas, which also makes it equally popular for trekkers of all categories. I had opted for the trusted services of Indiahikes for this particular adventure.
From a Circuit to a Crossover Trek: The New Route of Kedarkantha
Come this winter and all was about to change on the Kedarkantha trail. Indiahikes, being the pioneer they are, decided to take a risk by going through a different trail altogether from Dec 2017, completely discarding the more familiar, laid out, circuit trail everyone follows (including Indiahikes, until now).
I wasn't very sure to be honest. And this I realized when I reached the base camp of the trek (Yep, guilty of not going through their website properly).
So this blog is more on my adventures and experience on the new route that only we romped on. Of course, you'll find numerous write-ups on Google, falling short of words how stunning the Kedarkantha trek is, especially during winters.
We have a teacher, consultants, software engineers, marketing professionals, entrepreneur, financial analysts, supply chain labor (me) in our group, all taking a step back out of their busy-bee careers to spend some time in the mountains, to redeem self. Talking of one diverse group! We played antakshari, dozed off for a while, clicked pics out of our moving cab, again played antakshari in our croaking voices before reaching Purola for lunch.
Lunch stop couldn't have come earlier, as the twisty roads and our singing performances now demand some much needed food. And just as I thought we went to the same hotel at which I had lunch 2 years back; heck even their "Today's special" on the blackboard hasn't changed!
From Purola the journey passes through some dense pine forests. The fragrance of the forest, the tranquility can be easily felt now. Once Mori is crossed you will have the Tons river all by you till you enter Sankri.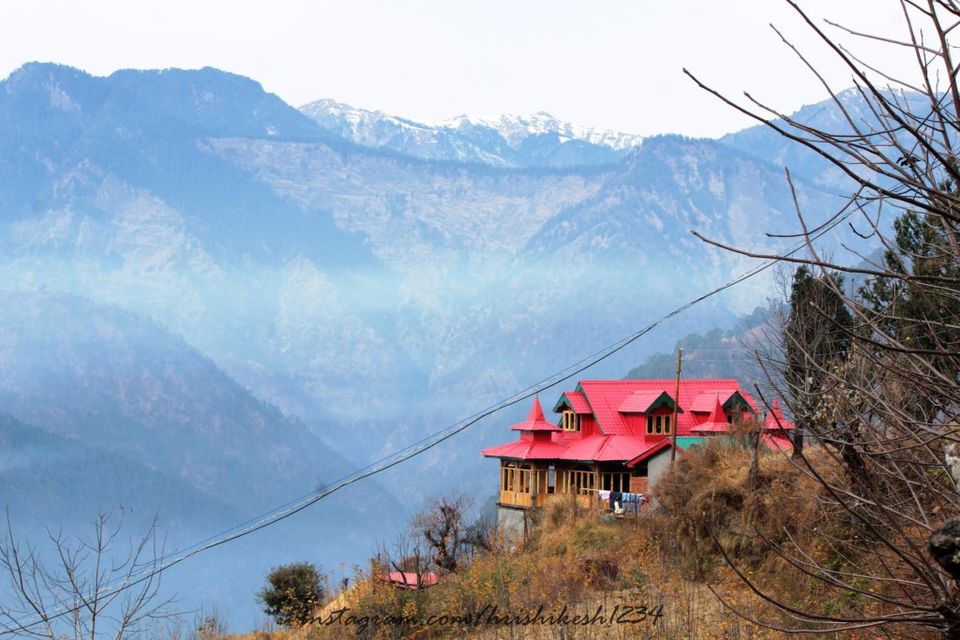 Now ideally Sankri is from where the trek to Kedarkantha would start, and is the basecamp. BUT, we ain't stopping here; we proceed further, taking a deviation to Gaichawan Gaon. Now this is where things start to get different for us from the rest of the trekking groups. It was almost dusk when we reached homestay.
We reached right on time to witness a beautiful sunset. Plus our homestay was a wooden, luxurious, warm dormitory. Standing at 5,500 ft may not be very high in terms of a Himalayan altitude, but the cold air and biting-cold water surely gives a taste of things to come ahead.
All huddled up in a warm big hall this is where we met Dev and Santosh bhai, our local trek guides, and Shivam our trek leader. All introduced, oxygen and pulse readings recorded, and all the safety and health instructions relayed to all, everyone decided for a game of Mafia. Little did I realize all 22 of us would blend in so fast!
Day 2: A bit of Hike Up, Little More, and Then a Lot More: From Gaichawan Gaon to Jalouta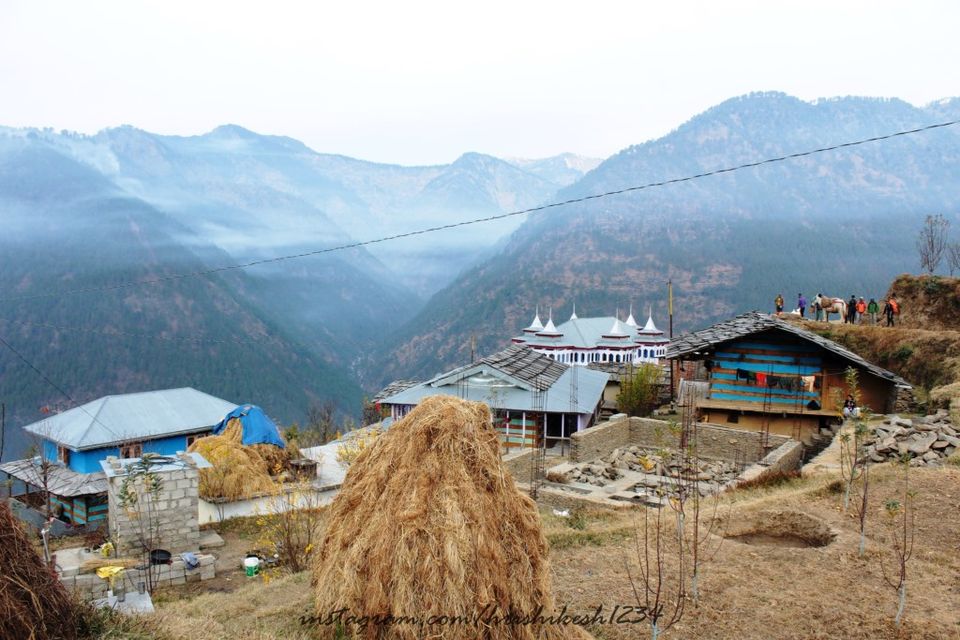 I have to admit last night was my most comfortable ever if I consider all my Himalayan treks till date. Anyways, breakfast was ready by 8 am. It was a glorious morning, and the view from our homestay was something that one can wish for the rest of his/her life everyday. After some basic instructions on how to walk and use your hiking pole we marched out.
Now the 1st day on a trek is relatively tricky, considering the body is just trying to adapt to the new environment and incline. And considering with a backpack of 9-12 Kg it may not be that simple. And that's exactly most of us were feeling; getting tired quickly, stopping more frequently, and trying to take some rest wherever possible.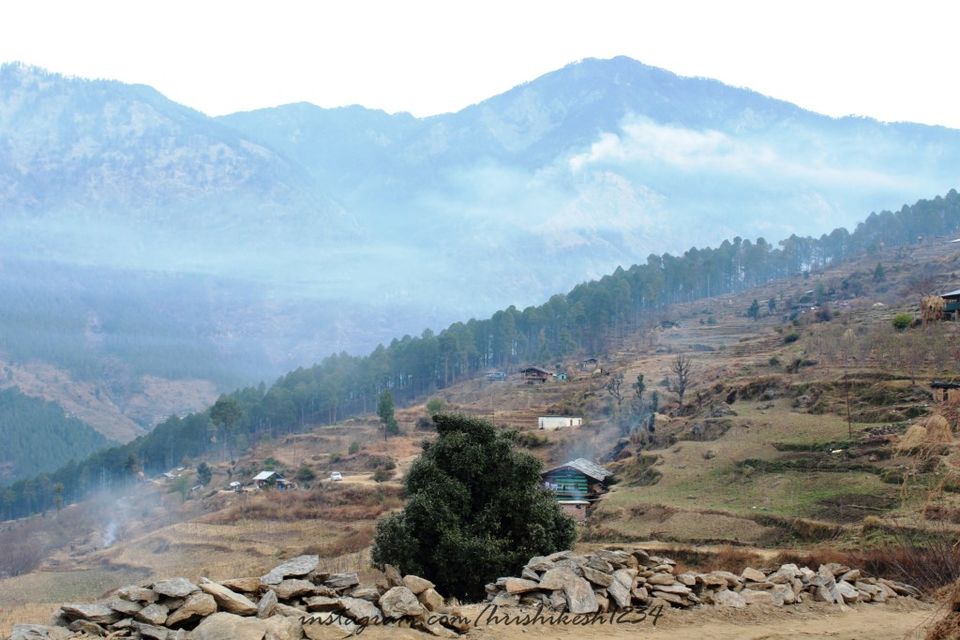 Today's day involves almost 3300 ft gain, not simple affair on the very first day itself. Since its a new trail we pass through a lot of villages and silver oak trees. Locals stare at us passing through at much amusement and awe, this is what happens when city dwellers meet simple village folks; smiles and exchange of greetings are bound to happen.

We have been almost hiking up for the last 3 hours now. We had stopped for a maggi and chai break in the middle of a forest, climbed a tree for a picture and finally we reached a village named Haltwar to get some much needed break to our legs and shoulders. While some relaxed and mingled with the local kids, others were in for a game of cricket. Now who wouldn't mind a bout of cricket, no matter how tired you are!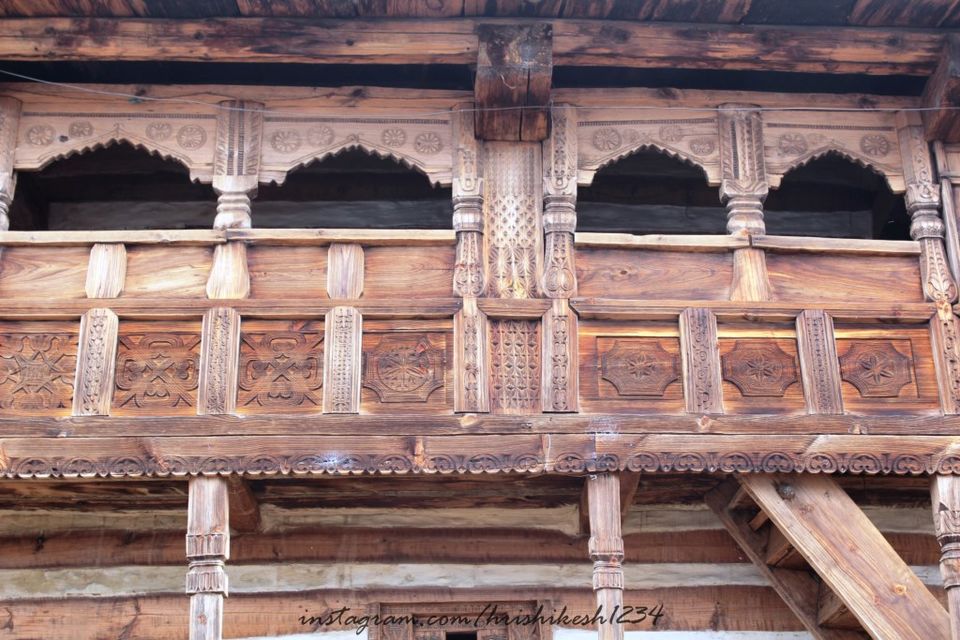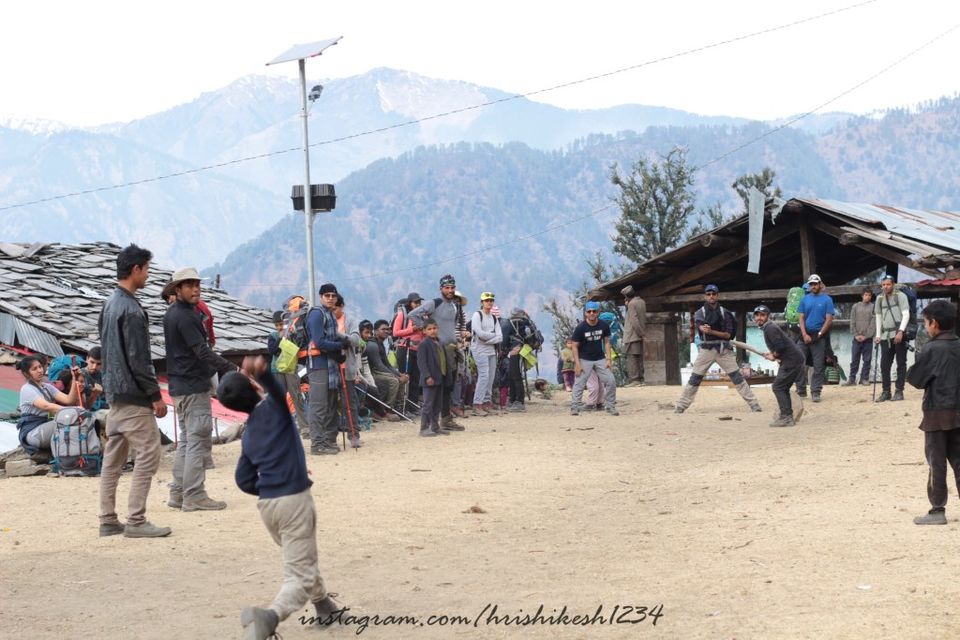 Mind you we haven't had our first encounter with snow. Shivam had assured to all who are eager to see their first snow (including me) that we will see and will be in so much of snow that we will get irritated! After abandoning our game of cricket and bidding adieu to Haltwar we moved on, only to climb more.
The last part of today's trek involves some steep ascent through oak forests. The silence of the forest was pleasing, but the noise of our hungry stomach was more important to attend to. We finally reached our Jalouta campsite at around 3 pm, all exhausted.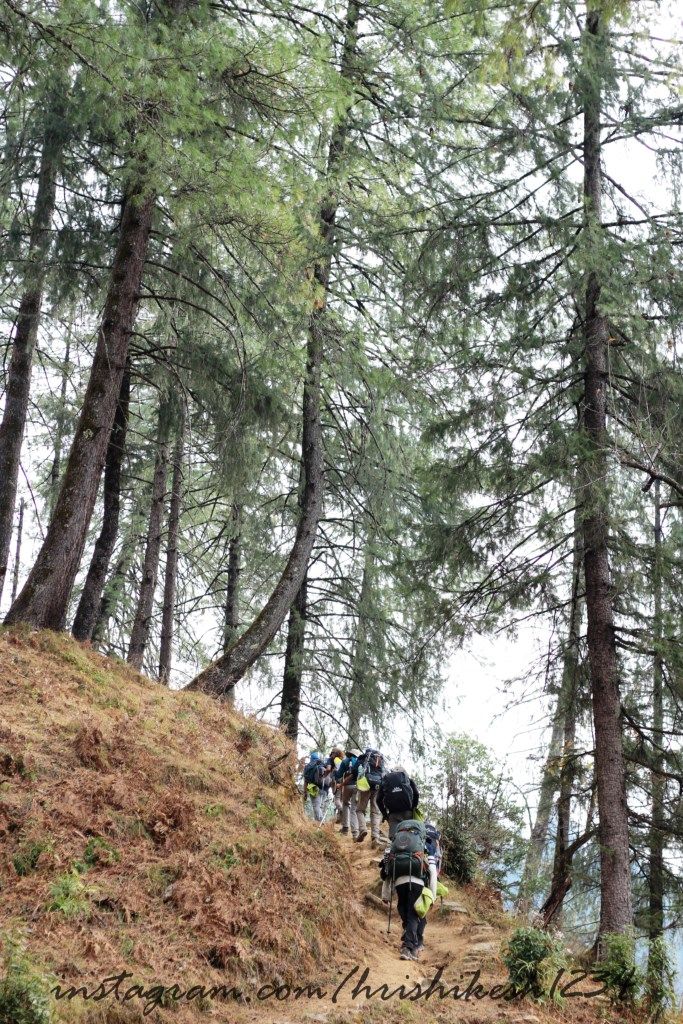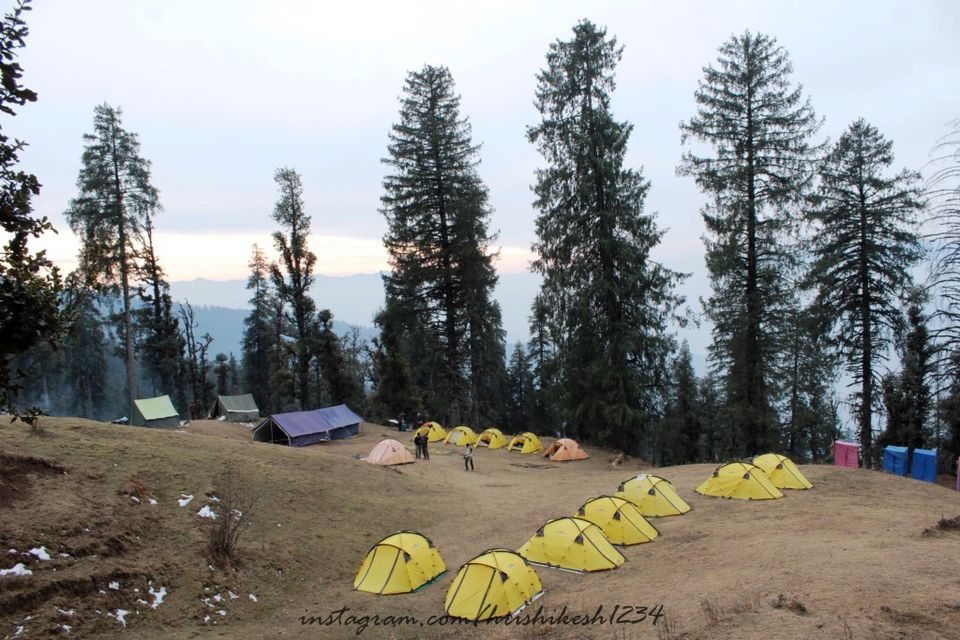 Lunch was ready by the time we reached. Eating late on a Himalayan trek is not the most favorable thing for the body, but since we reached really late there was least that we could do. And boy-oh-boy, rajma chawal!
A forest clearing, a setting sun with a pinkish hue in the horizon, and no one else but us; perfect setting! Jalouta is a perfect campsite in the middle of a forest, with no other trekking group around to vie for camping ground, and idyllic to relax and enjoy some panoramic sunsets.
Ashwin was carrying a Frisbee, and we had a gala time throwing it around. In fact, I'm sure Koushik, Venky, and Rahul had even more fun running down the slope to fetch it and hiking up to the campsite again!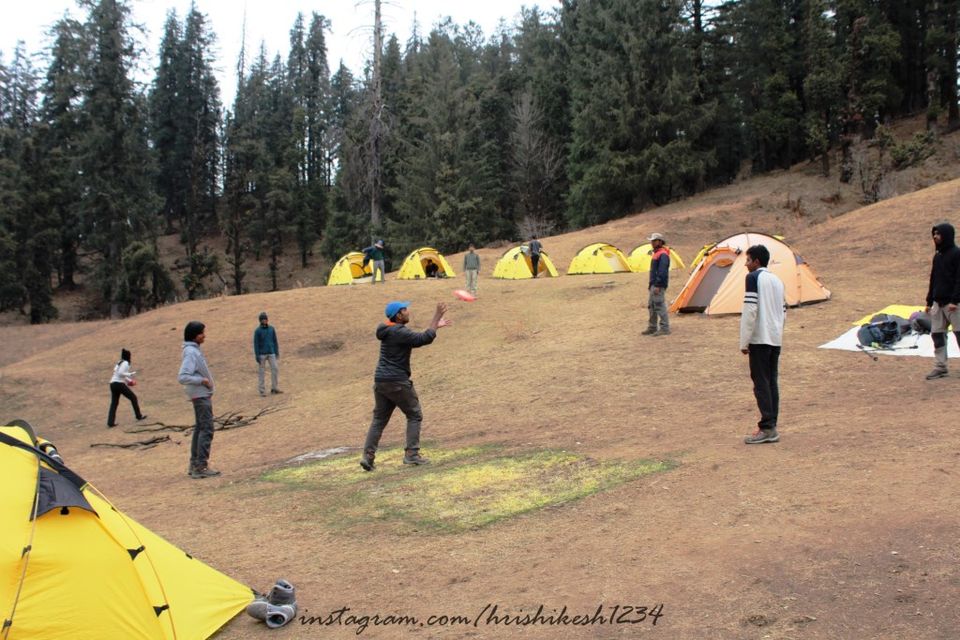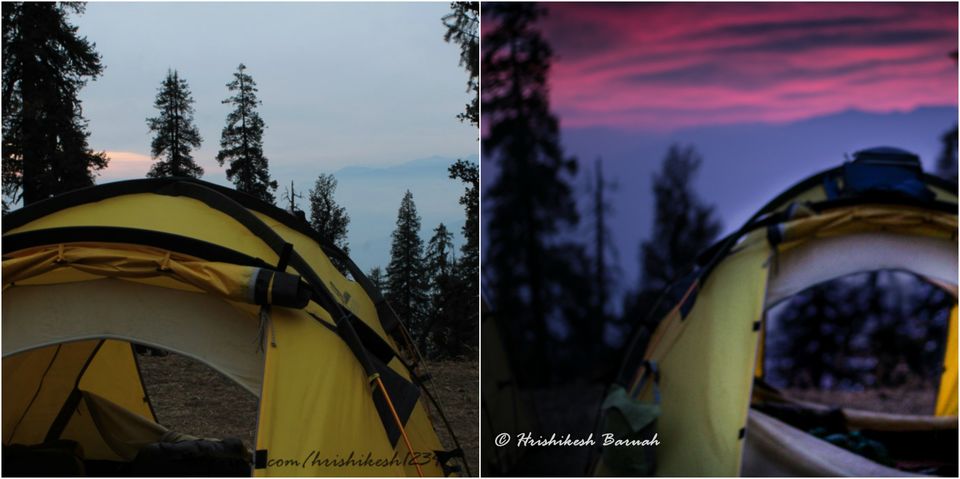 Day 3: Snow, Finally. And Lots and Lots of It! Jalouta to Pukhrola
It was a kind of a gloomy start to the day. Divya decided that she'll not be continuing the remaining part of the trek, and will now head back to Gaichawan gaon with a porter. As much as she was sad and teary eyed, she also ensured to pass on all the energy, smiles, and wishes to all of us. In fact, her accomplice Noni also promised to scream her name out once she reaches the summit.
The forest shade engulfing our entire campsite made for a chilly start to the morning. Everyone wanted some sunshine to kiss their faces. And some snow, maybe. Around 20 mins into our today's trek and we encounter our first snow. And folks just went ballistic! Its always a fascinating and memorable moment to cherish later, the first feels of snow.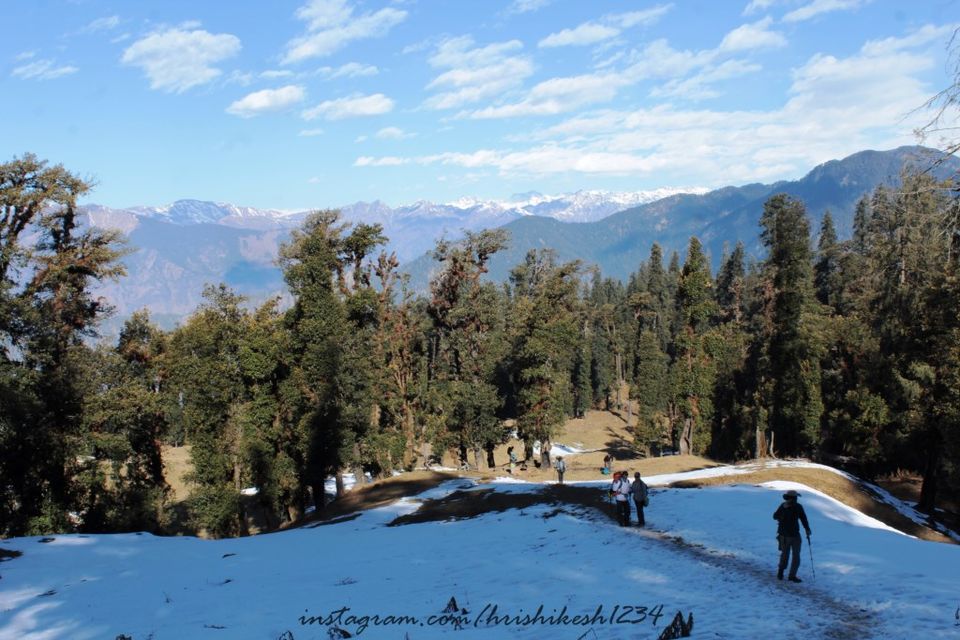 After a quick play and photo session we moved on, only to re-enter the forest section. The best part about the whole trek is the fact that we are the only bunch walking on the trail, till we go across the Kedarkantha summit. This means we can listen to the trees talking to each other, birds chirping here and there, and of course being the only ones on this gorgeous, less visited trail gives us the benefit of going at our own pace and enjoying the wonders of nature.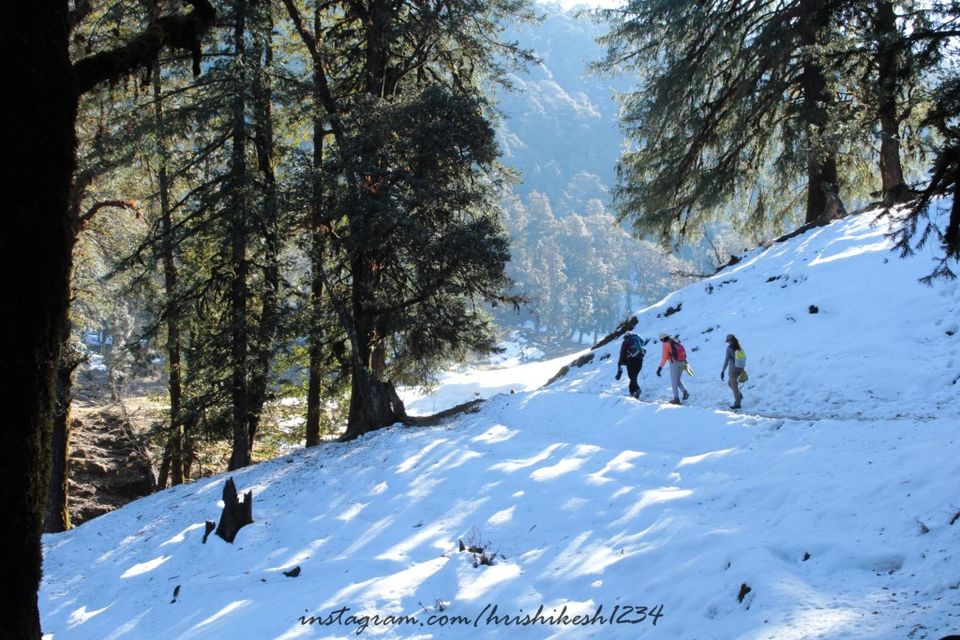 Full of snow, and slippery rocks, coupled with verglas and ice (thanks to hardening of snow from the walking on it by previous batches) the hike through the forest was turning out to be a tricky one. This entire section comprises of twisting trail and a dark canopy that even doesn't let sunlight to pass through. Few of us, including me, did have a fall on those slippery trails, thus demanding for more careful treading on them. This part of the trek requires patience and humble pace.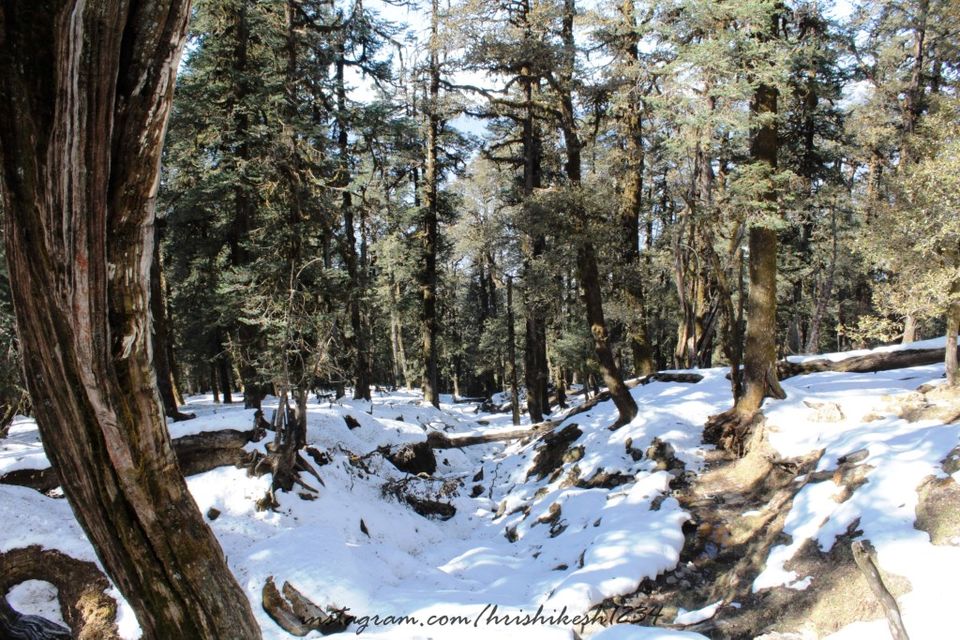 Once we exited the forest section and entered a sprawling clearing there was endless snowfield right in front of us. When you see so much of snow there's only one outcome to this: SNOW-FIGHT! Yep, people kept their bags aside, gulped a sip of water and started bombing the other person with endless bombs of snowballs! What started off as harmless fun, ended up being a full blown war! People had to scamper for cover and to dodge that killer attack. All this while I steer clear, standing in a far (and safer) corner, witnessing the mayhem! Check out the pics below of the blood-thirsty trekkers ;)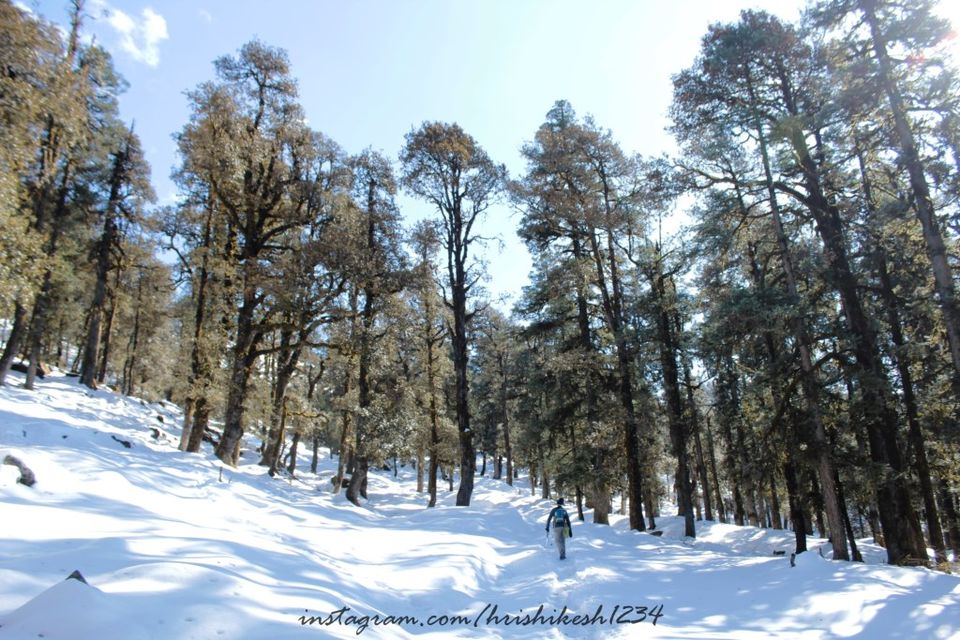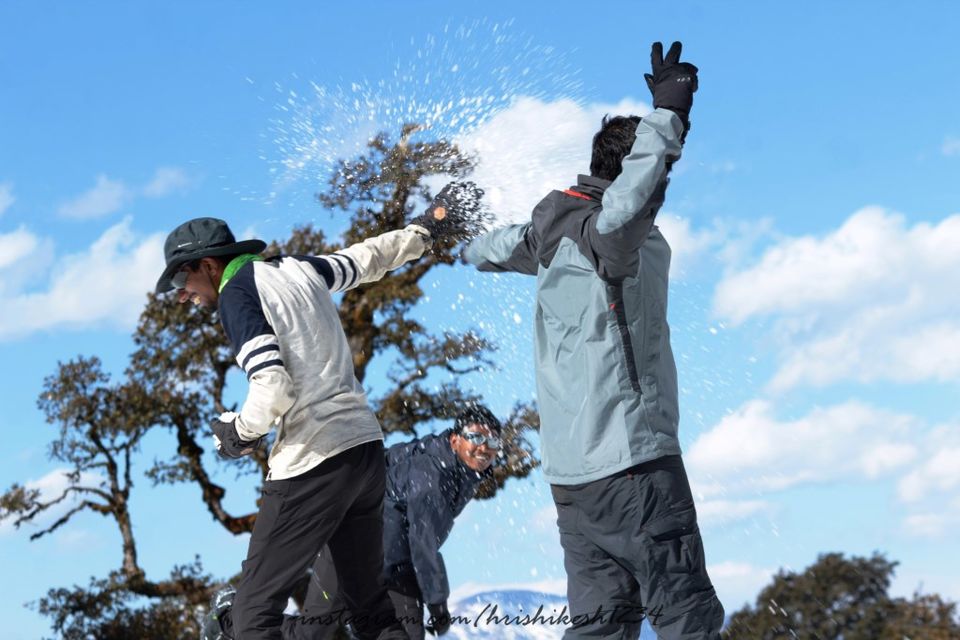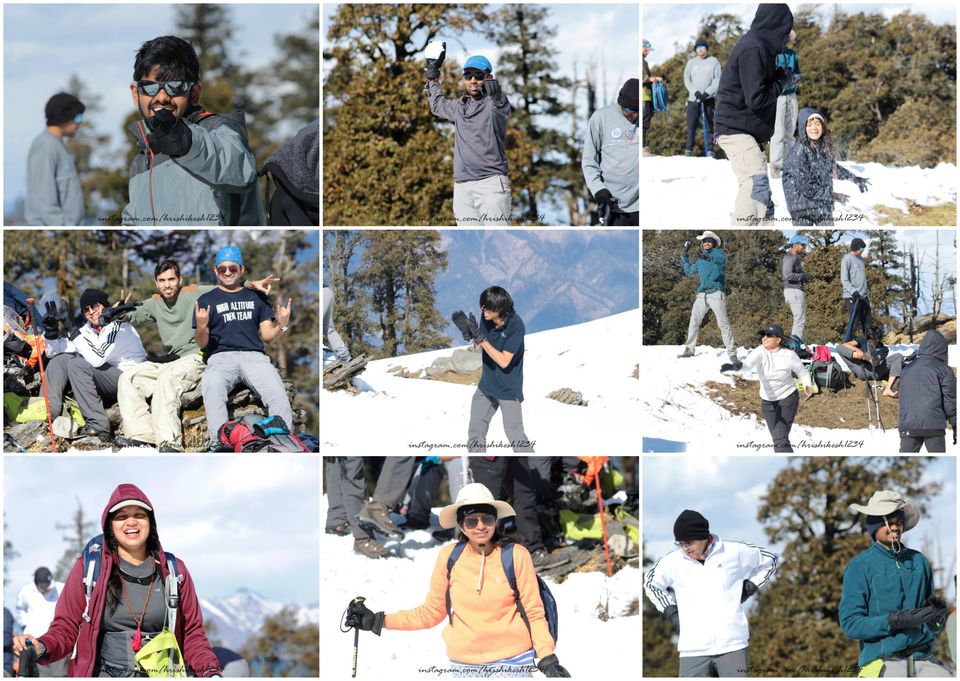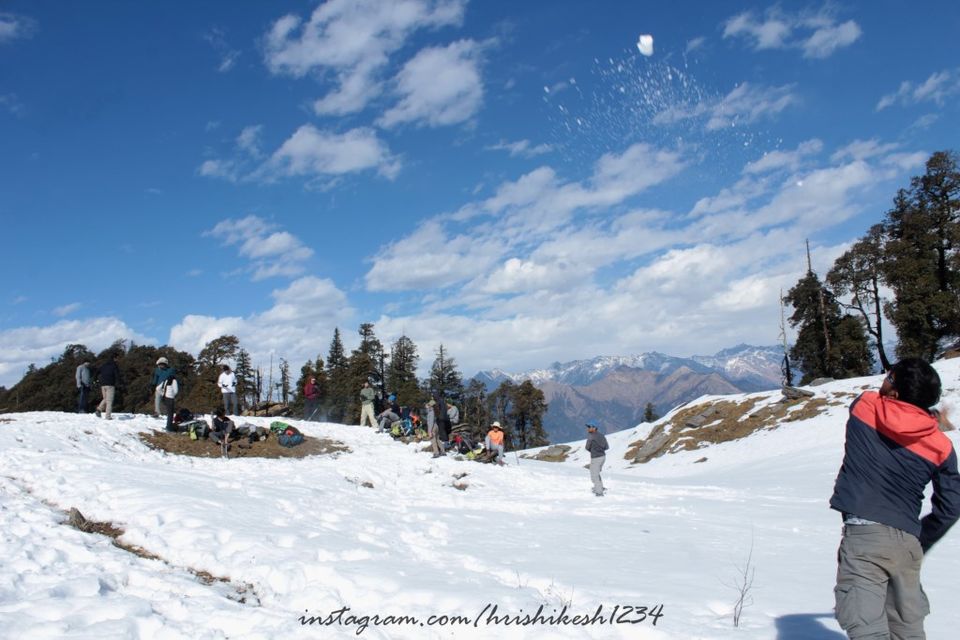 It was kind of a nice feeling going through my mind. We were not rushing at all, slowly pacing up and yet enjoying the true colors that run riot all around. For no reasons I was smiling, clicking as much as possible, and trying to etch all the glory in my memoirs, for we will not see this again for a while (lest we decide to come again next month, and on!). We are indeed fortunate :)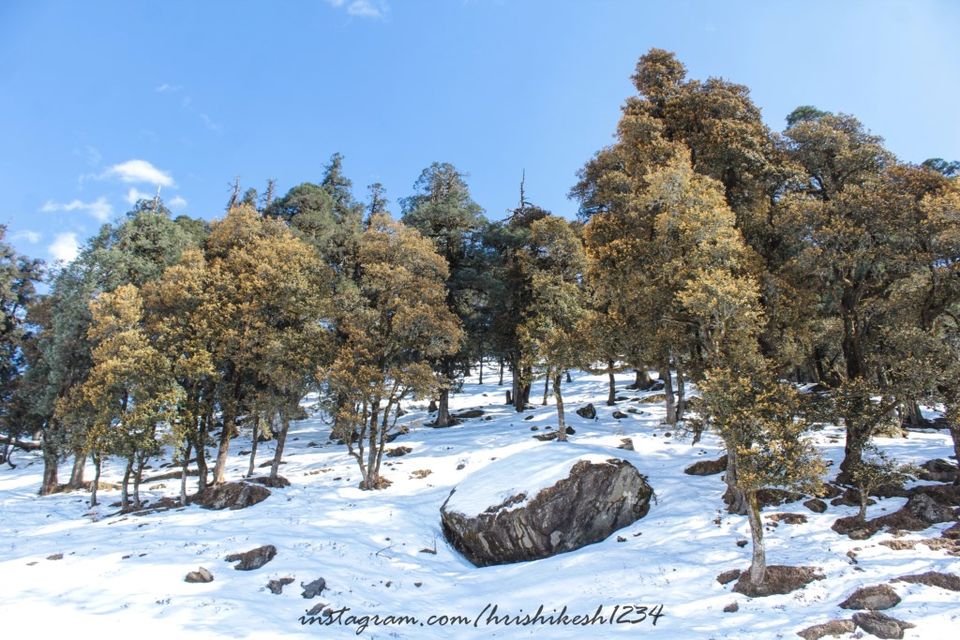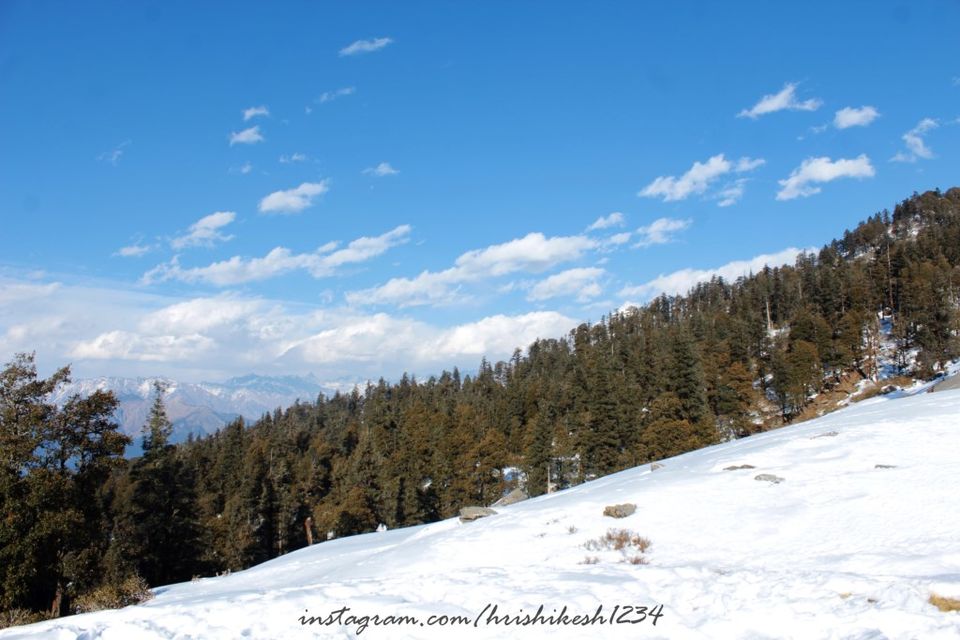 The day's trek was nearing an end. We were passing through a tranquil forest, at an undulating pace, with soft, fresh snow engulfing the land till eyes can see. The snow is fresh, soft and sugary, and the dark canopy ensured sunlight didn't pass through enough for the snow to not melt for days to come.
Our Pukhrola campsite was setup right on the base of the Kedarkantha summit. The summit was basking clearly under a clear blue sky. We reached by around 3 pm, and were immediately summoned for lunch. Although it was quite clear and sunny but we immediately realized how cold it will be night. Our campsite was the only one around, and was literally on a bed of snow.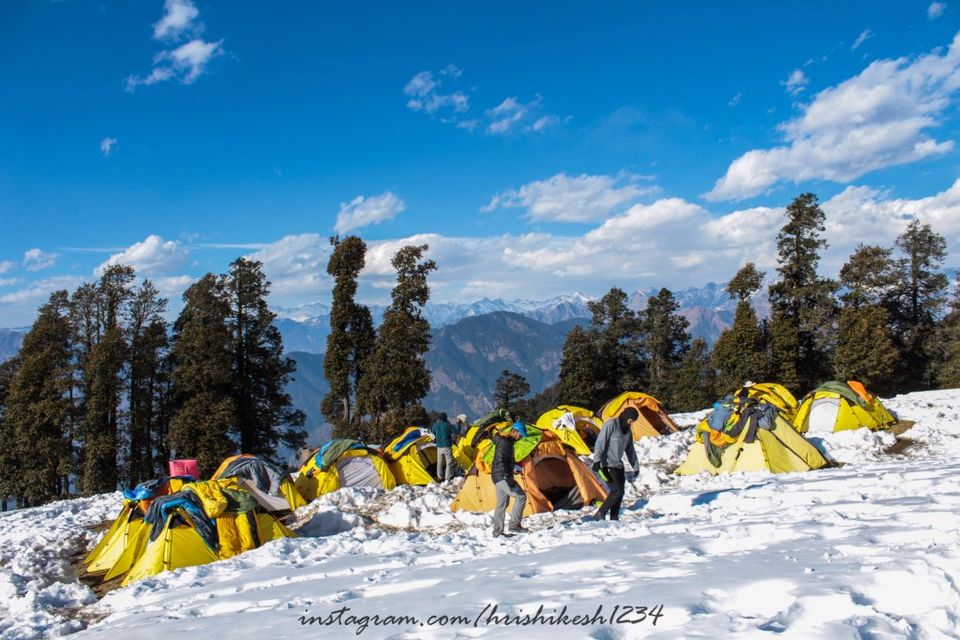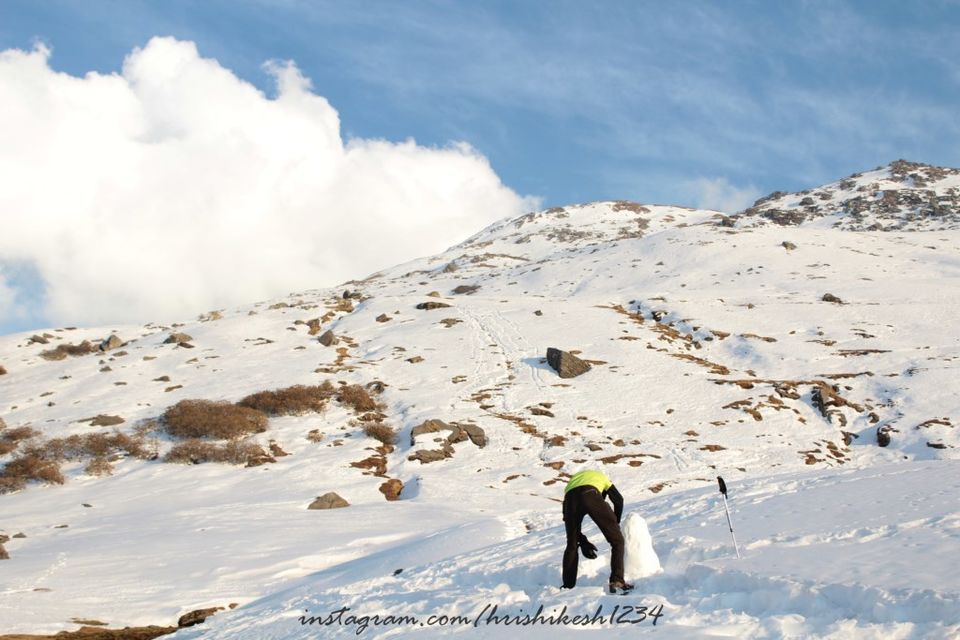 Post lunch we just lazed around. While me and Ashwin took up the challenge of making a snow man, others decided to explore the area and play in snow. This camp was perfect for landscape photography, with the Kedarkantha peak adorning on one side to the endless view of snowy mountains on the other side, coupled with a 3 ft of sugar-fine snow till you can see.
The Kedarkantha summit seemed like just a stretch of a hand away. So much to our naivety that me and Ashwin actually went to Shivam to see if we can go all the way up and come down quickly; to which he definitely chuckled! Yep, it may look like a stone's throw away, but its a good 2 hours away that too at a good pace.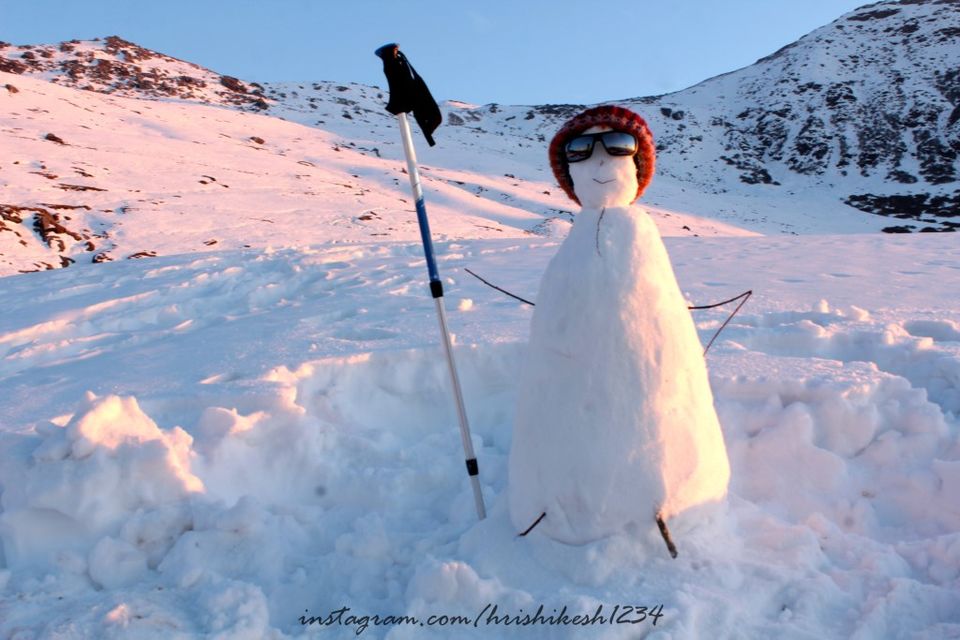 Popcorn and hot tea, and along came with a session on tomorrow's early morning summit climb. The technical guide of Indiahikes explained to us the proper way to push for the summit climb, do's and dont's, and micro-spikes for a better grip on snow and wet ice.
It was freezing here. Like the kind where your hands hurt when you touch water. And the temperature was only dipping with every passing bit of sunset.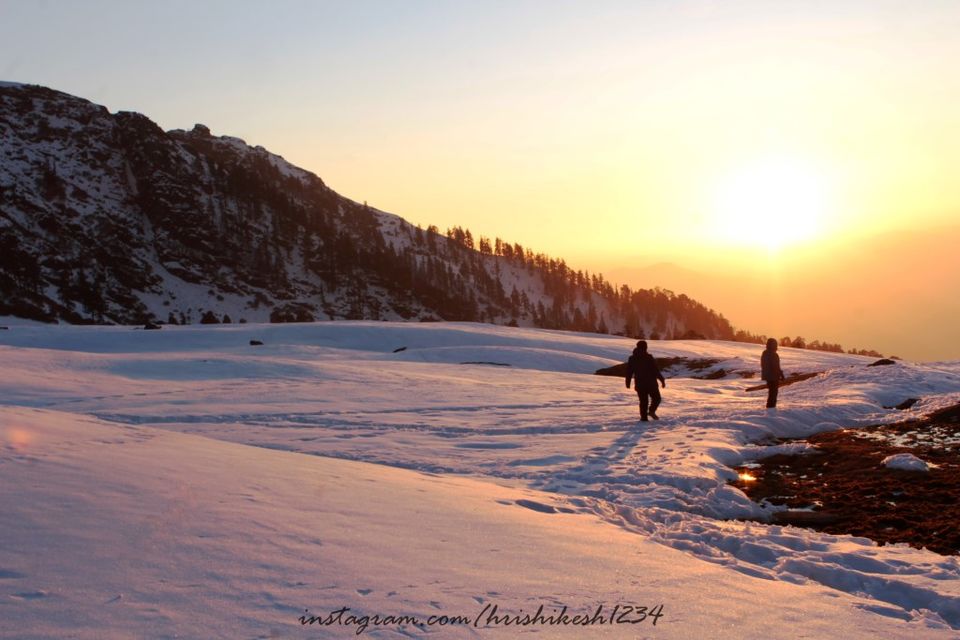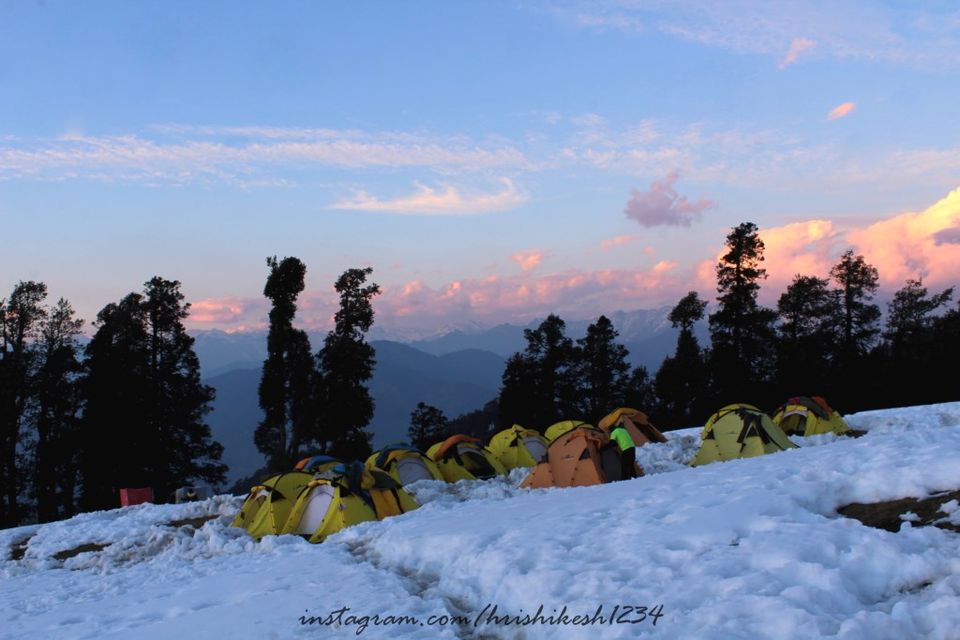 As the sun slowly sets in it also reminds us all of the dropping temperature, and importance of layering up. Tomorrow is a big day. We all decided to attempt summit so as to get to witness some magical sunrise from the top. But for that we need to start by 4:30, to which we all nodded. The instructions were simple, but important to follow; go in a group, no shortcuts, and to move in a line.
While me and Ashwin took some courage to step out on a treacherous cold night for some night shots, rest of them dozed off so as to gain some much needed energy for tomorrow's big push.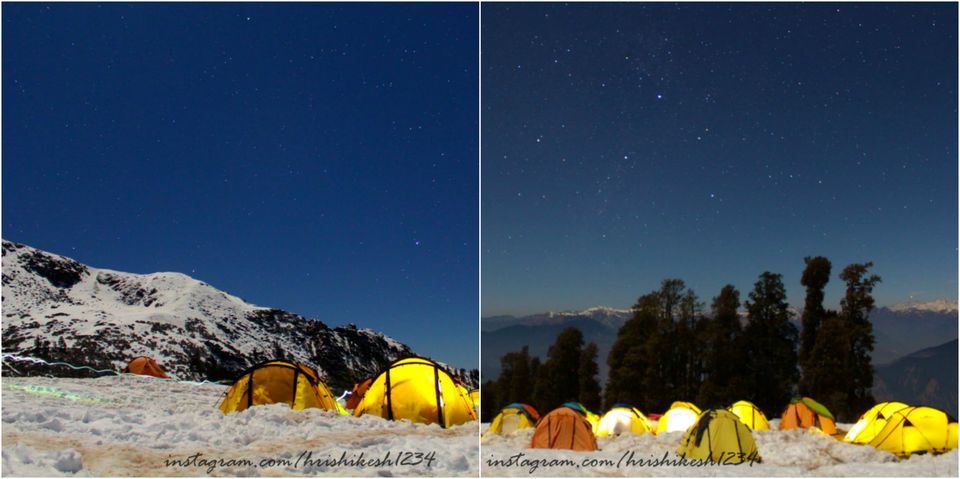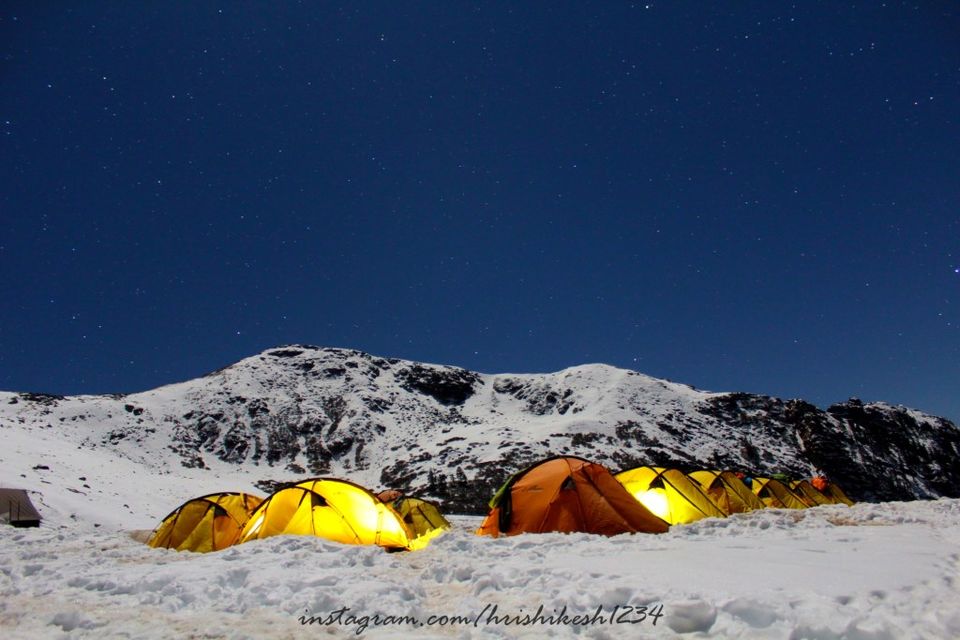 Day 4: The Race to the Summit, and then Slide Down: Pukhrola-KK Summit-Munaila
We are late now. Quite late in fact. The biting cold coupled with sleeping cozily inside 2 sleeping bags ensured we woke up a bit late and got off to a slow start. While breakfast was served most of us just hurried, stuffed our mouths with whatever we can find, for it was already 5 am. To avoid missing out on the sunrise Shivam asked Ashwin, Vishal, Chandrika, Rahul, Venky, me, and couple others to go on to the summit, while the rest of them come with the guides. This was to be one of the most memorable ascent I'm sure we will ever have...
Walking on a slope of 70 degree with a backpack of 9-12 Kg, and head-torch dangling from your head is not easy. We realized that the only way to reach the top on time for sunrise was to just walk, FAST! It was pitch dark, snow was 2-3 ft. deep at some places, and we just marched on. Such was our pace that when we took momentary break we would inhale like never done before. As much adventurous it was it was exhausting, but we didn't have a choice. The race to the top was one mad rush for the few of us. By the time we reached the shoulder darkness slowly fades way for the snowy peaks to glow up in an orange hue. We reached the summit in a record time of 1.5 hours, which otherwise will take anywhere between 2.5-3 hours.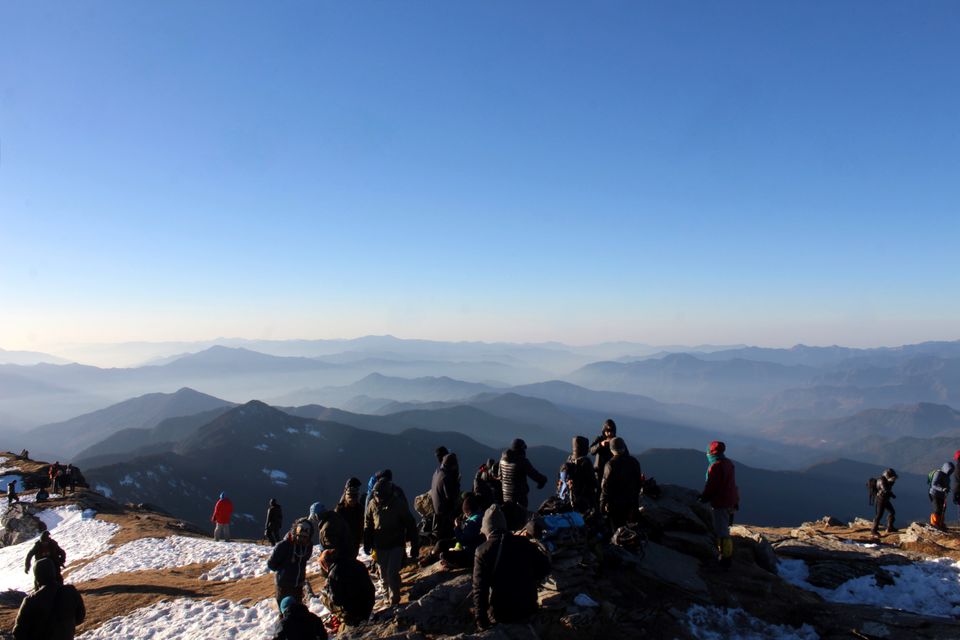 The breathlessness after that mad rush quickly whizzed away once we realized the vast and dazzling 360 degree view that lie in front. The top was crowded to say the least, but it didn't take away the sense of achievement.
Some of the most notable peaks of Uttarakhand were prominently visible from here; Swargarohini (4 peaks), Dhauladhar range, Kinnaur Kailash, Rupin pass, Bandarpoonch, Kalanag, the Har ki Dun valley, along with Gangotri in the far backdrop. We had enough time to us for we had an early start.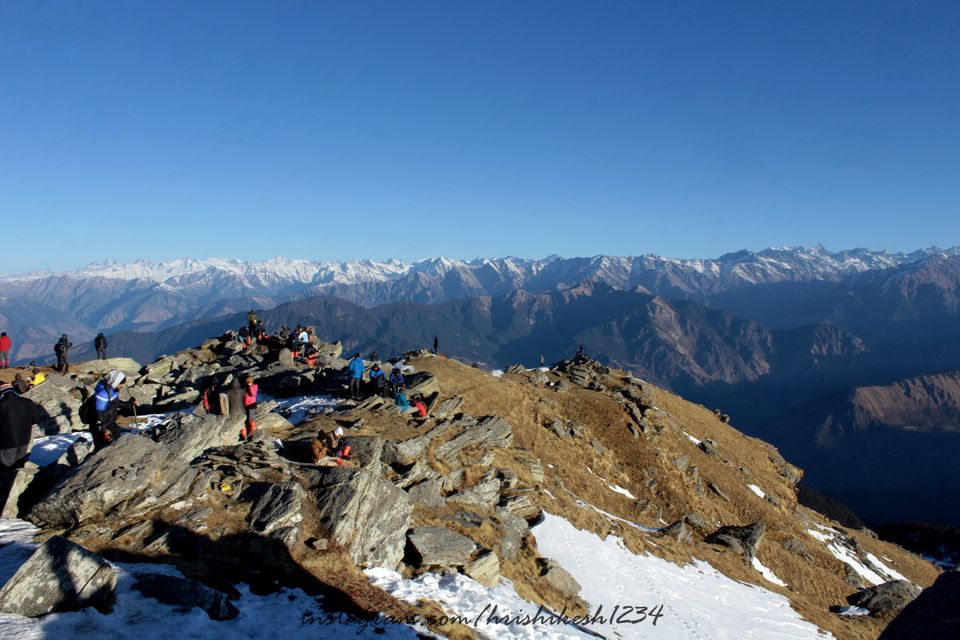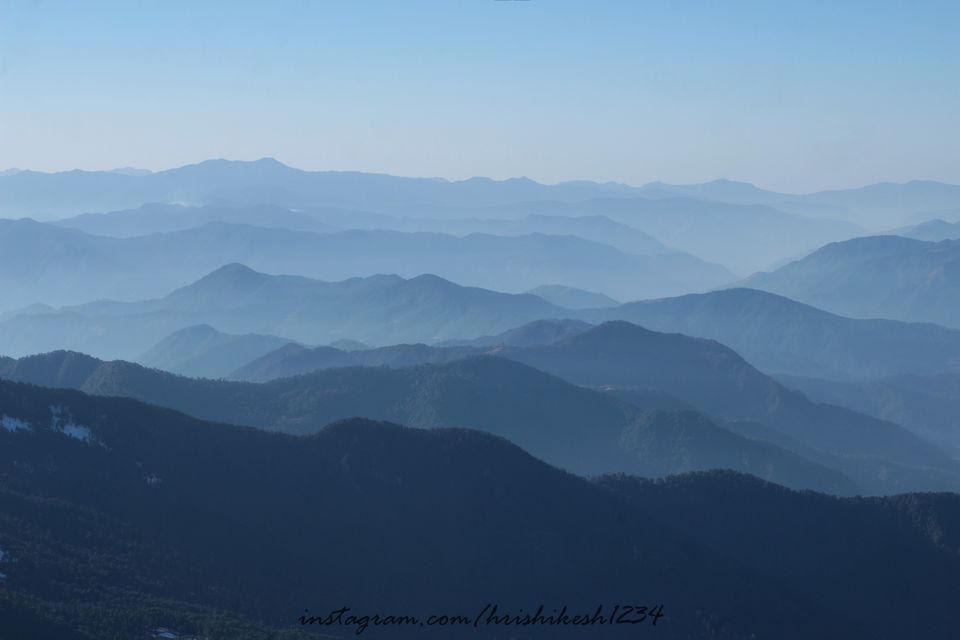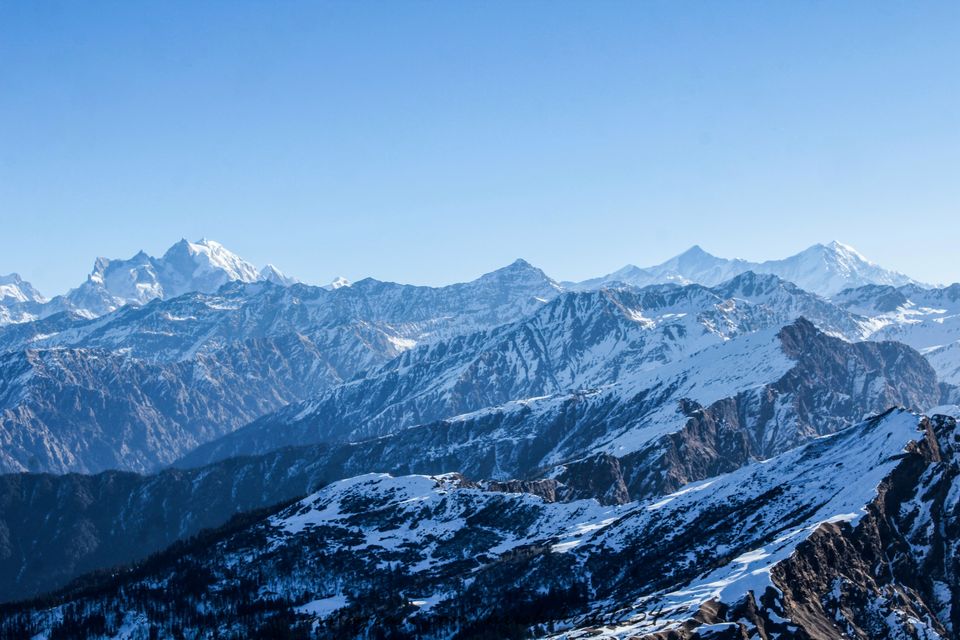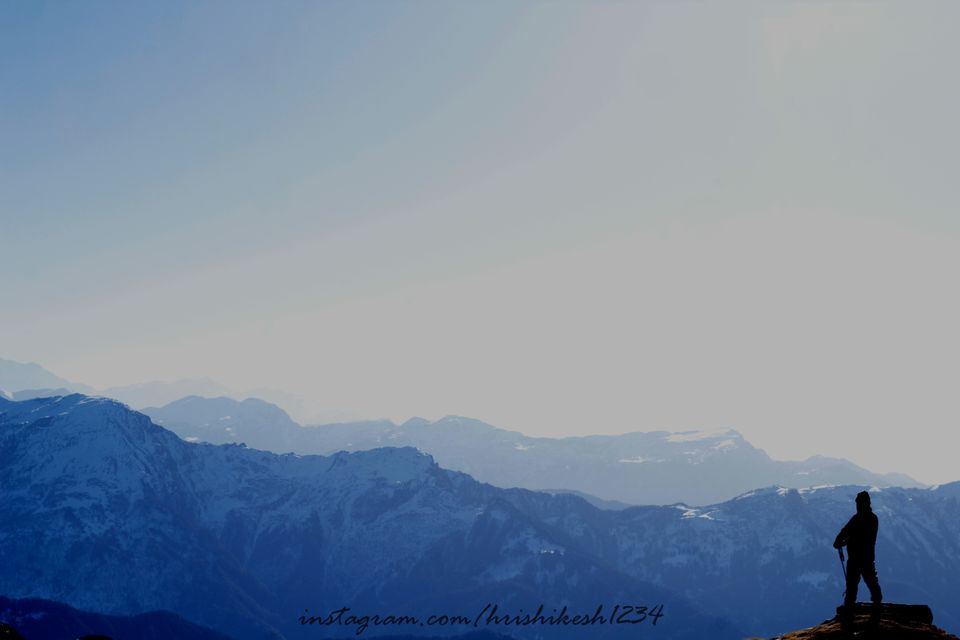 Legends Associated with the temple on top of Kedarkantha
Kedarkantha translates to the throat of Lord Shiva. Back on the summit our guide Dev bhai told us 2 interesting stories weaved in mythology. Once you reach the summit you'll see a pile of rocks stacked somewhat in an incomplete fashion. This is the incomplete Kedarkantha temple. There are 2 legends associated with it:
1. The demon Bhasmasura was meditating for his wishes to be granted by Lord Shiva. Lord Shiva, happy with his worship decided to grant Bhasmasura whatever he wished for. The demon wished to have powers wherein whosoever's head he touched with his hand turns into ashes. Lord Shiva, unaware of his evils granted him his wish. Bhasmasura wanted to turn Shiva into ashes so as to possess Parvati, the beautiful of Shiva. Realizing the same Shiva starts to run away from Bhasmasura fearing for his life, and hide. Trying to flee from the demon Shiva reaches Kedarkantha to hide, where he starts making a temple. He was soon chased down and was forced to flee again, while the temple remained incomplete. Shiva fled on a horse. It is said that the first step of the horse was on a village named Devjani, where it is said the steps of the horses are still there. The 2nd step of the horse was at Badrinath where Shiva requested for help from Lord Vishnu. Lord Vishnu took the form of Mohini, a gorgeous lady that mesmerized Bhasmasura. Mohini convinced Bhasmasura for a dance competition, in which Bhasmasura had to imitate the steps of Mohini to win her, and went on for days. Finally, Mohini was able to put a step in which Bhasmasura imitated her to put his own hand on top his own head, resulting in his own death.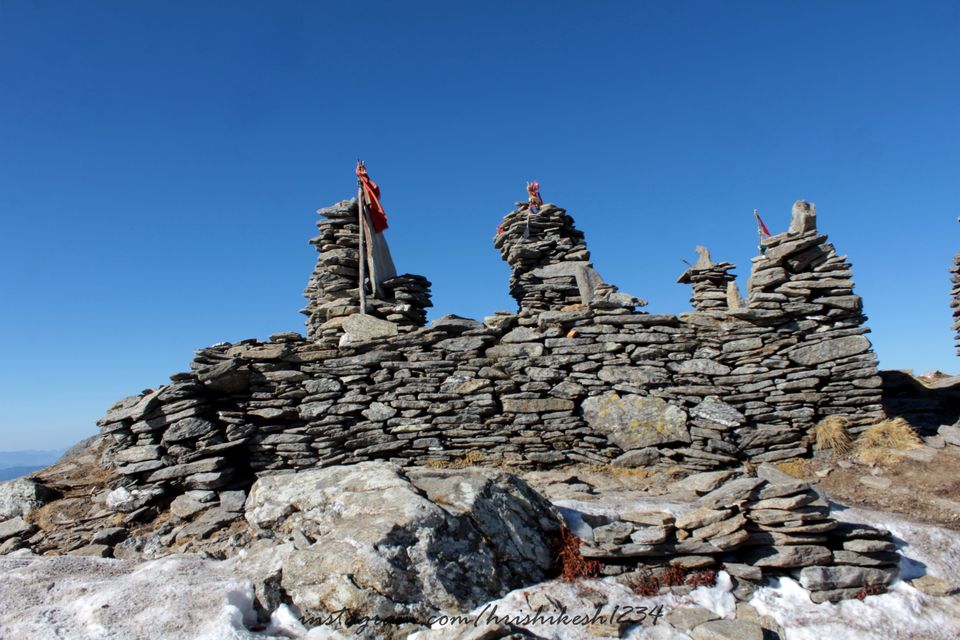 2. But another more popular background to the temple comes from Mahabharata. After the war of Mahabharata the Pandavas were seeking for Lord Shiva to seek forgiveness for their sins and involvement in the war. But Shiva was convinced about their roles and was avoiding them. Shiva took the form of a bull and tried to misguide the Pandavas. Bhim somehow recognized Shiva, and forced all the bulls to pass through his legs while he stood on 2 rocks. Shiva refused, and Bhim tried to grab Shiva. During the tussle Shiva's body part fell in different parts of Uttarakhand; the throat of Shiva is said to have fell on the summit of Kedarkantha. Pandavas made temples wherever his body parts fell.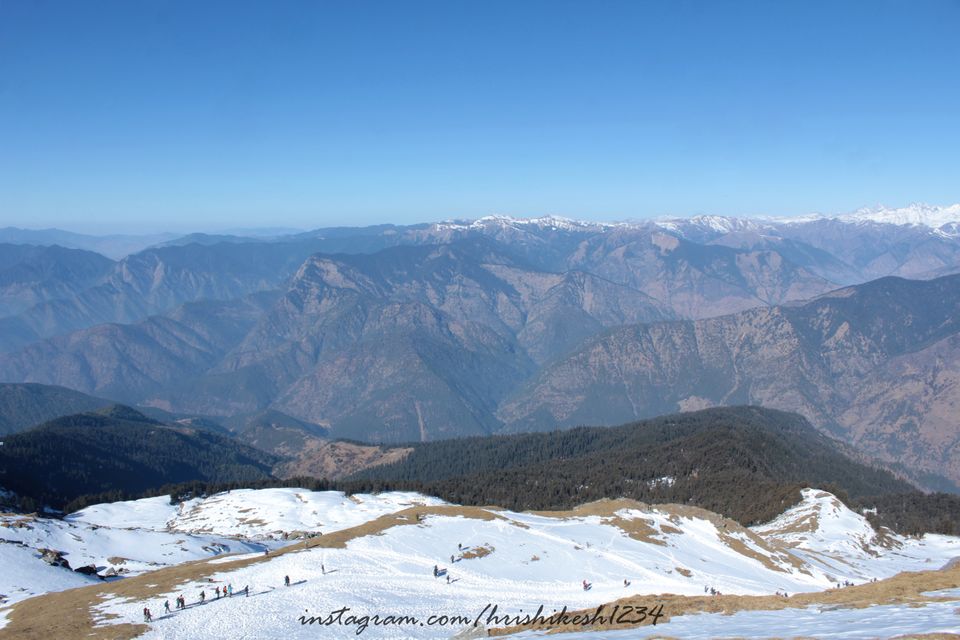 I think we spent almost 2-3 hours on the top. But no matter how much time you spend there it just feels less. We took a group pic together, before deciding to head down. It was getting more and more crowded now. The descent is as tricky as our ascent was. Every step had to be carefully put before the next.
Almost all of us wanted to slide down on snow. There was plenty of it around, and no reason why not to go for it. Sliding on snow is tremendous amount of fun. I had a near-death moment when I was unable to "brake" effectively and crashed on Shivam, almost taking him off the cliff! Everyone skipped a heart-beat there, but thanks to Shivam I'm still alive ;)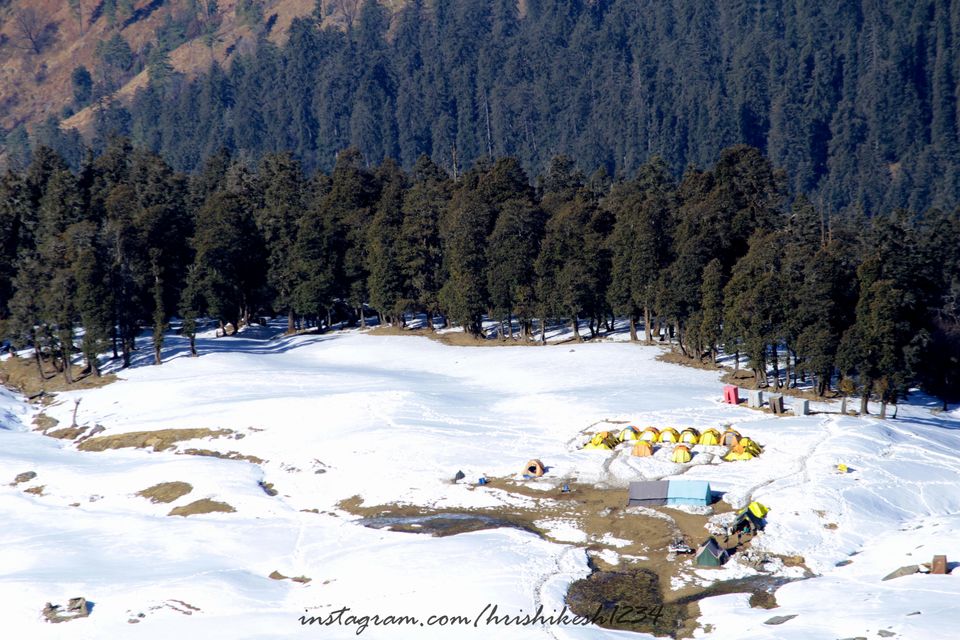 Today there are lot of people on the trail. More so in the lower altitude, for a lot of people are still making their way up via the conventional route as its new year. This is where I felt IH did a marvelous job of discovering a new route, ensuring that we see the best of both sides while the rest go and come back the same route.
In most of the places there was snow of 3 ft depth. Socks are wet, shoes are damp, and walking with the micro-spikes on feels terrible. Halfway through we reached a tea point for a much needed break.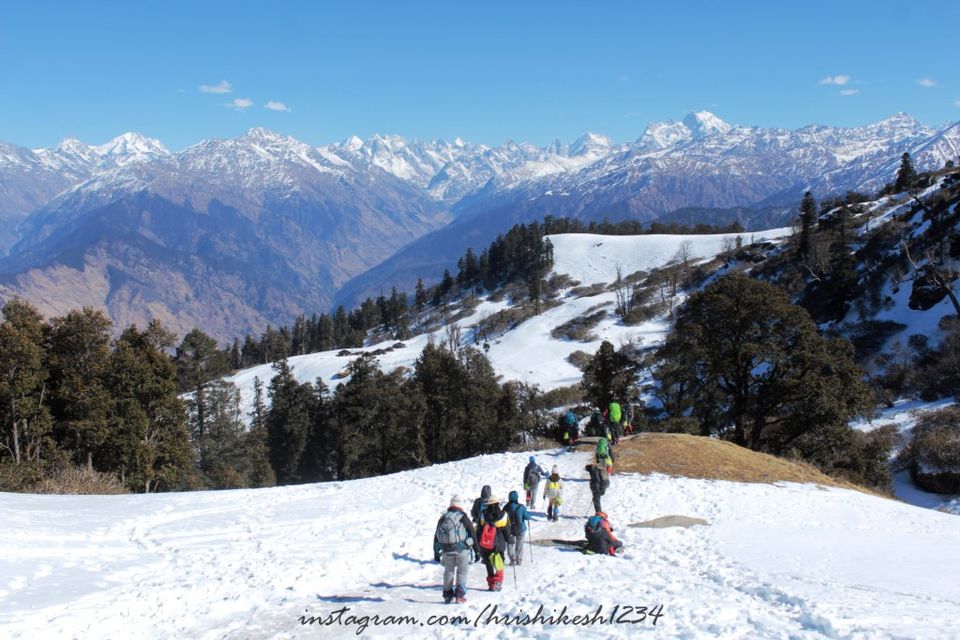 Technically the trek is over, well, almost. The grueling part of the trek is over, and its just plain descent from here onward. All of us are gleefully romping on this wonderful day. Post our chai break we continued our search for our next campsite.
The entire vista has been blanketed by a thick layer of snow. It's a snow paradiso!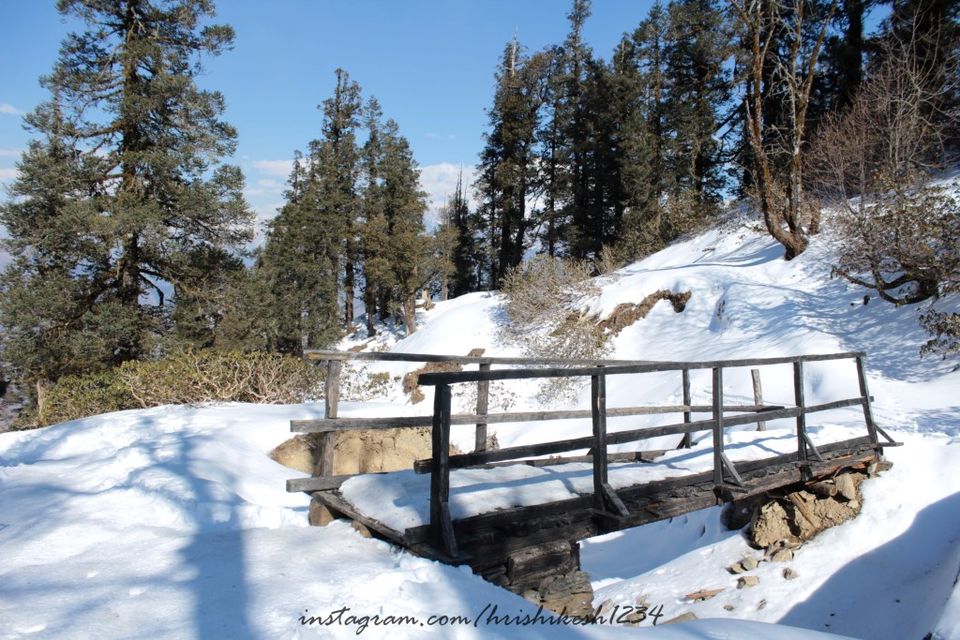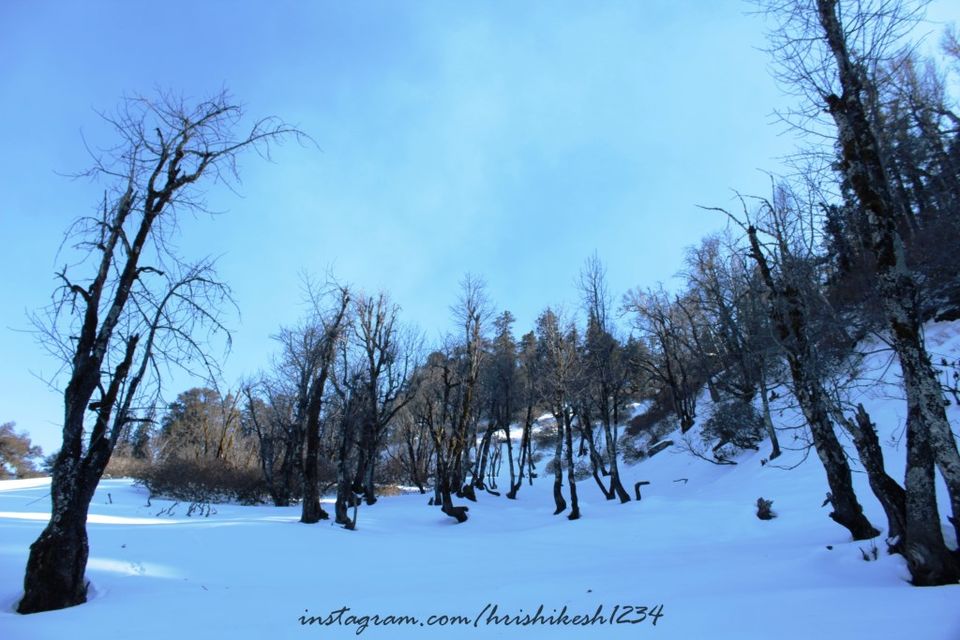 No sooner though we did reach our Munaila campsite by afternoon. Here you can spot all the other organisations like TTH, YHAI having their permanent campsites.
One unique thing across all our campsites was the fact that food will be ready and would be immediately served once we reach. This is only possible due to all the efficient and hard working IH stationed in all campsites. Hats off to their work because its truly not easy to survive and stay in such harsh, inhospitable conditions.
The day was spent with lazying around, and playing mafia inside the kitchen tent. As was happening our mafia sessions would stretch for hours, till late night, ensuring we go on with a particular tag on our heads even after the trek was over!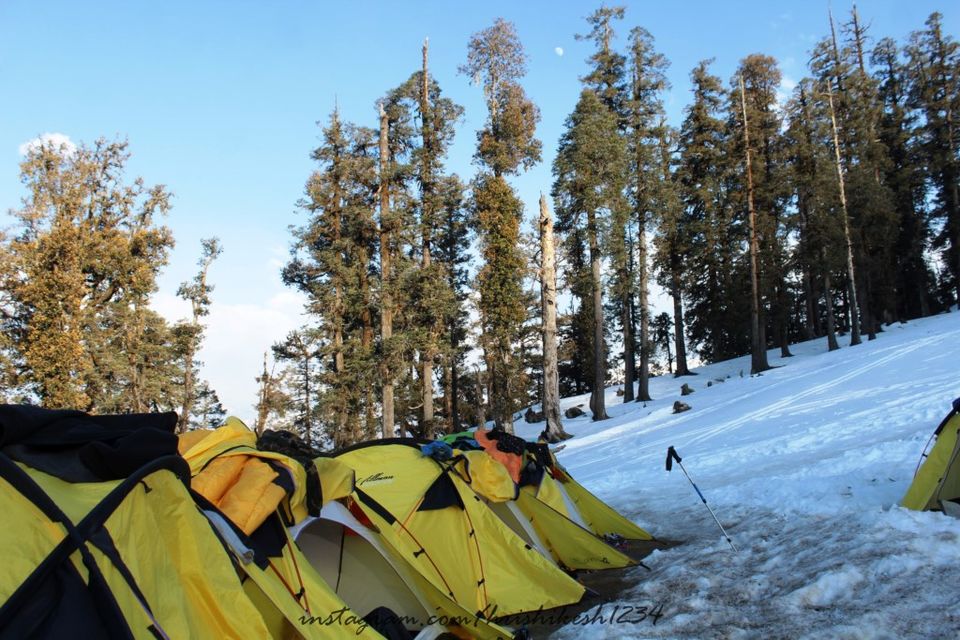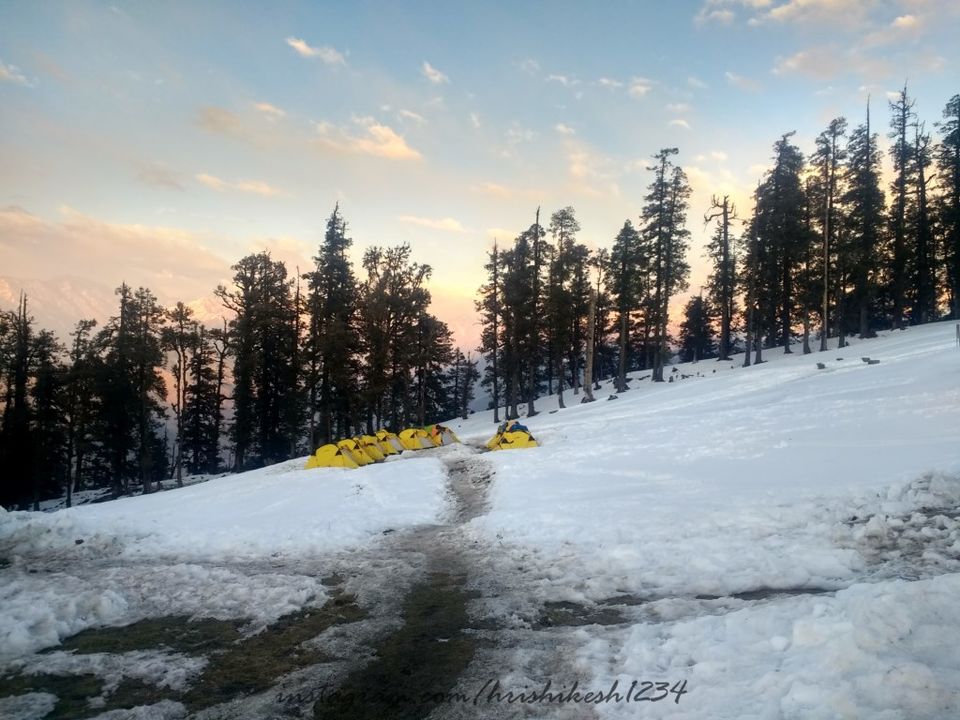 Day 5: Back to Civilization: Munaila to Sankri
As usual all of us got up late! Not surprising though we started off only at around 9 today. Reluctantly we lifted our bags one more time, this time to finish off the trek in Sankri.
Its a sunny day outside, although quite chillyperfect day for a trek. Alas, we trek down to our final destination while others joyfully hike up. We cross some more forests down on our trail, reach the Juda-ka-Talab, and then further across more forests before reaching Sankri.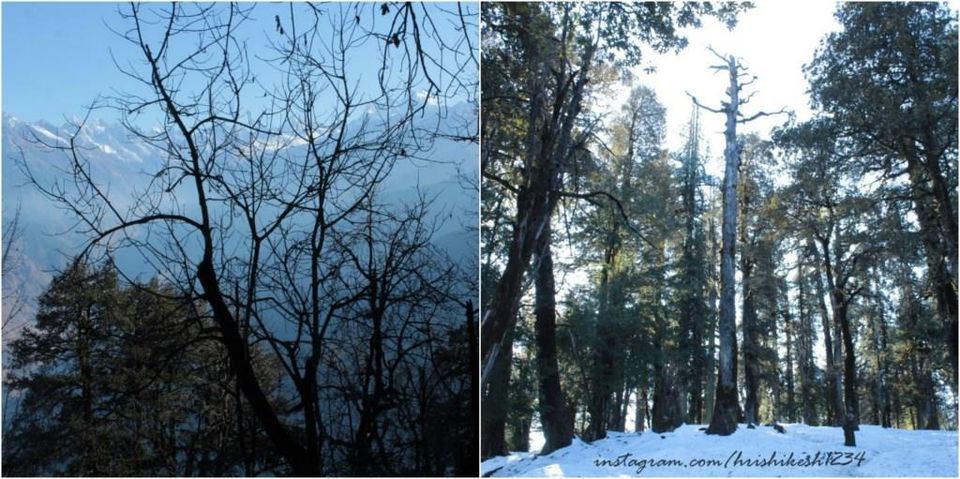 We have been walking and sliding down for the last 2 hours so. Not that the trail is tough, but more of tricky; with all the hardened ice and a down-slope making the path more sloppy.
We had reached Juda-ka-Talab, our 1st major stop for the day. Quite an iconic (I must say) spot this one is on the KK trail, there are hordes of permanent camps being set up here, all so that everyone can get the sweet spot next to the pond. Another good reason for Indiahikes to avoid this crowded trail. Anyways, the pond was frozen (well, mostly) and everyone were on the pond.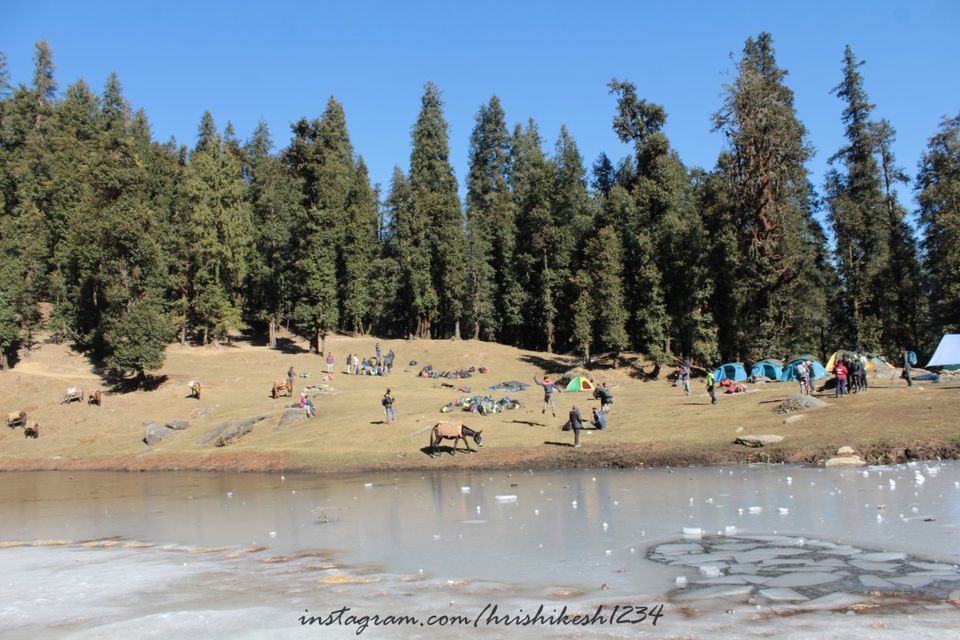 We did spend quite some time here, jumping, sliding, and falling around. In most cases one will be camping here while trekking to KK from Sankri via the conventional route. The snowline was slowly starting to recede now. Soon after making our way ahead of Juda ka Talab we saw our last share of snow before entering a dense jungle again and surrounded by green and brown foliage. Horses and mules were making their way up and down ferrying rations, and us waving & smiling to panting trekkers making their way up.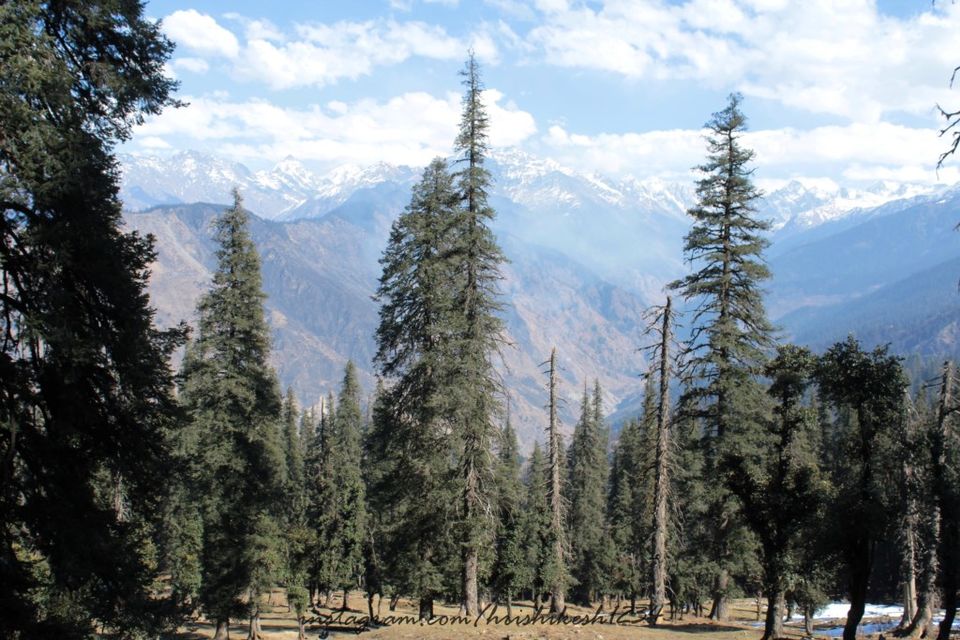 An easy trail that it is we took our own sweet time, realizing the fact sooner or later rustic monotony will dawn on us the moment we reach Sankri. With all the tranquil and soothing greenery we soon reached our 2nd main stop for the day. This place had 2-3 big huts which served tea, maggi, and other refreshments. Unsurprisingly, this place was literally thronged by trekkers from all sides. We had unloaded our bags from our sore shoulders. Some played Frisbee, others just soaked in the warmth of the day sitting on soft grass.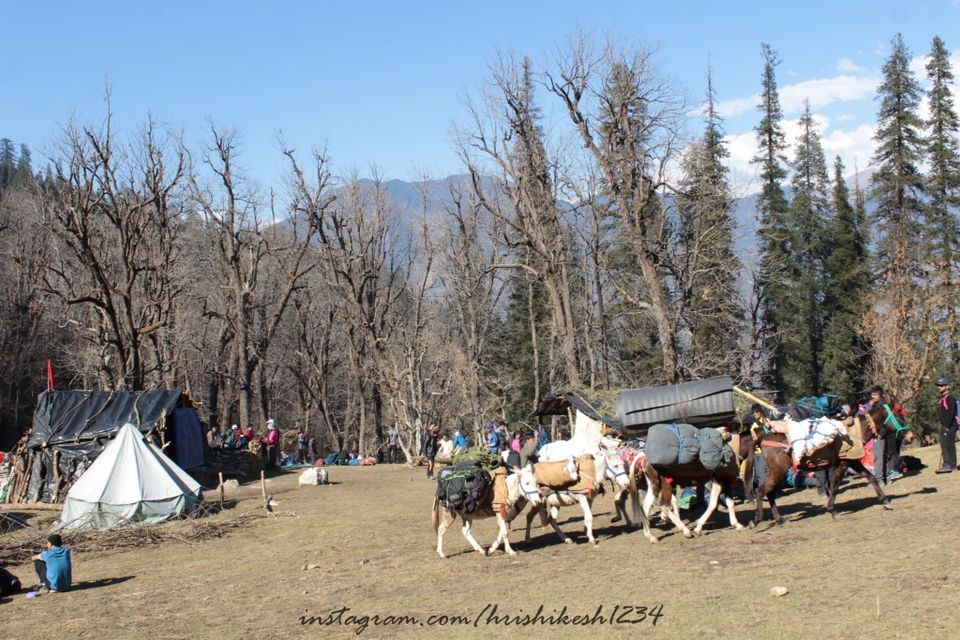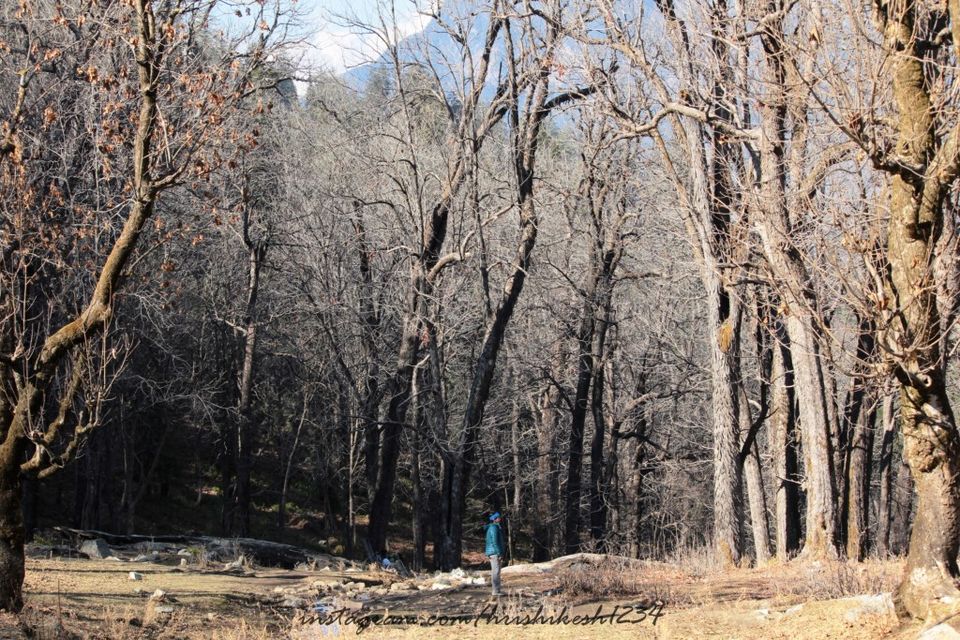 Moving on and you can see more number of trekkers making their push up. Today the mountains are seeing a heavy rush of traffic! Walking on some rusty leaves and matching our steps with the group, the trail starts to get a bit more painful on the knees. I don't know about others but for me descent is more difficult than ascent as it takes quite a bit of toll on the knees and toes, not to mention the grumpiness of the fact it takes you further away from your mountains and solitude with every forward step.
We finally see the first sight of Sankri village, thoughts finally sinking in about trek is finally over. Happy about making it safely out, sad about not being in the thick of the snow capped mountains maybe for a little more.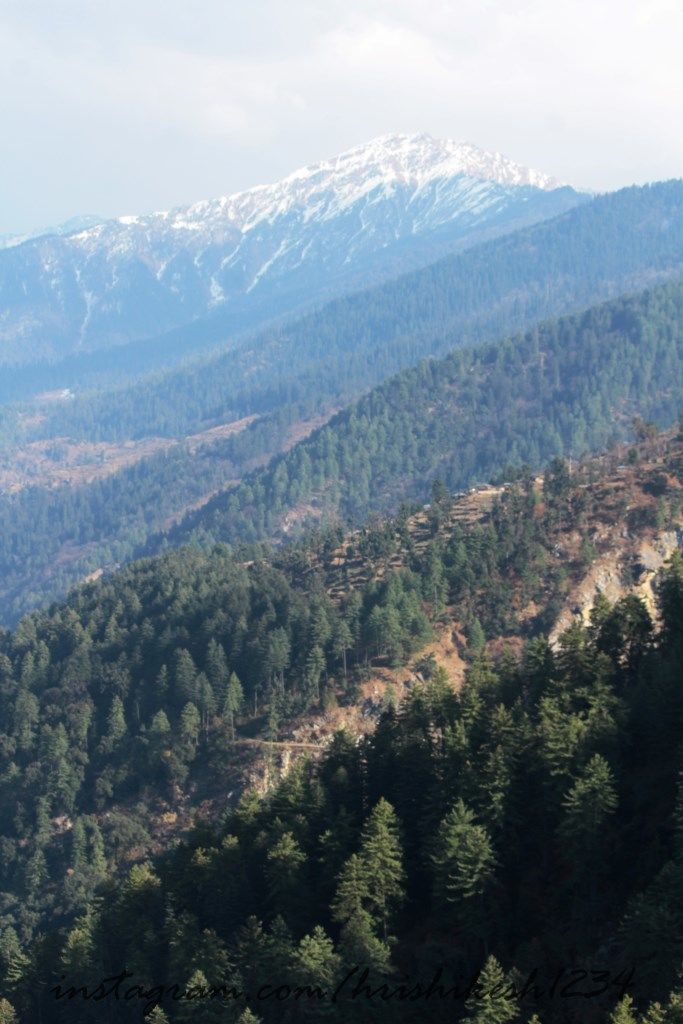 We finally walked into Sankri with much signs of tiredness, with a sense of accomplishment. Divya welcomed us all with big smiles and warm hugs in our lodge. Our stay was arranged in this beautiful lodge named Gypsy Child with dorm beds. The feeling of a cozy bed and a quilt for tonight's sleep already made me feel drowsy.
The lodge was very cozy, and with piping hot lunch there's nothing else in this world I could've asked for. With all tanned and soiled up, without any form of shower for last 5 days, you couldn't have asked for a better moment to see and compare yourself before and after the trek.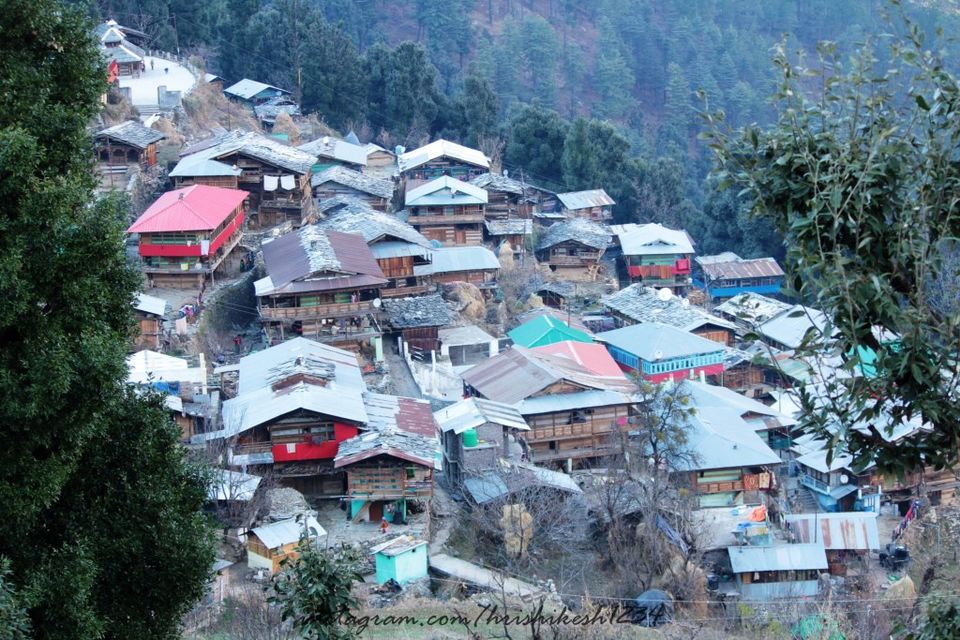 It was our last night together before heading out to different directions tomorrow on the stroke of morning. With certificate of accomplishments shared with all and after some light laughter few of us decided to roam around and explore the quaint town of Sankri, while others played Mafia for one last time. Sankri is starting to grow incredibly on a trekkers map by serving as the basecamp for the likes of Har ki Dun, Rupin pass, Kedarkantha, Bali pass.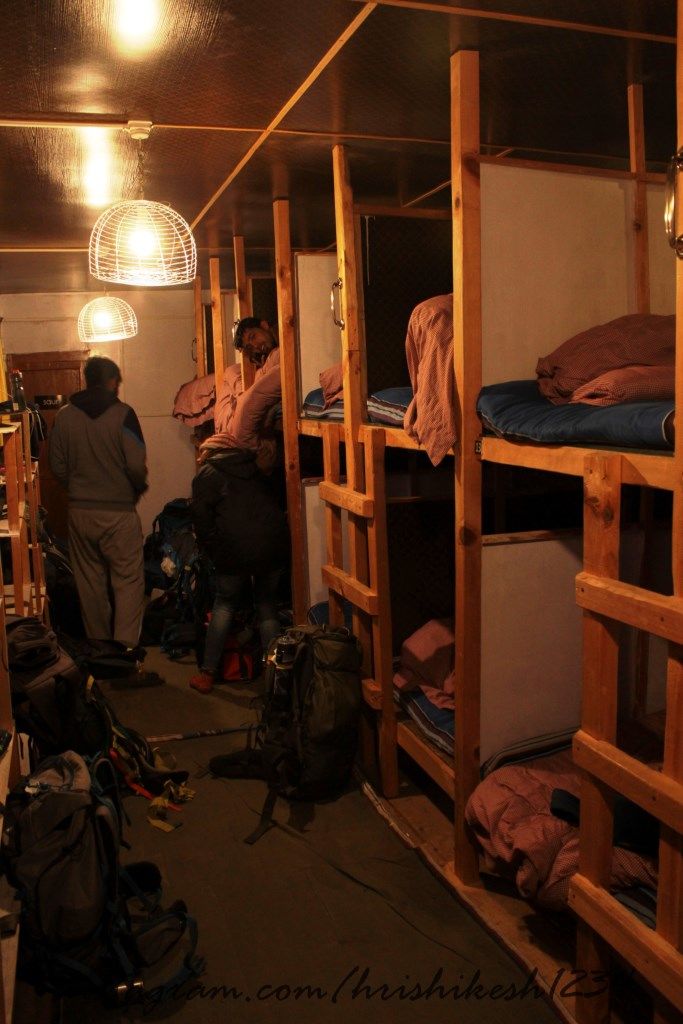 Day 6: Back to Dehradun...
So with onset of the morning light we all head out to Dehradun. Our bags are packed, pick-up vehicles lined up outside, and all freshened and ready for the onward journey. But somehow after spending 5 beautiful days in those snowy wonderland you just feel if only I could've spent few moments more here. That feeling is beautiful yet dreadful.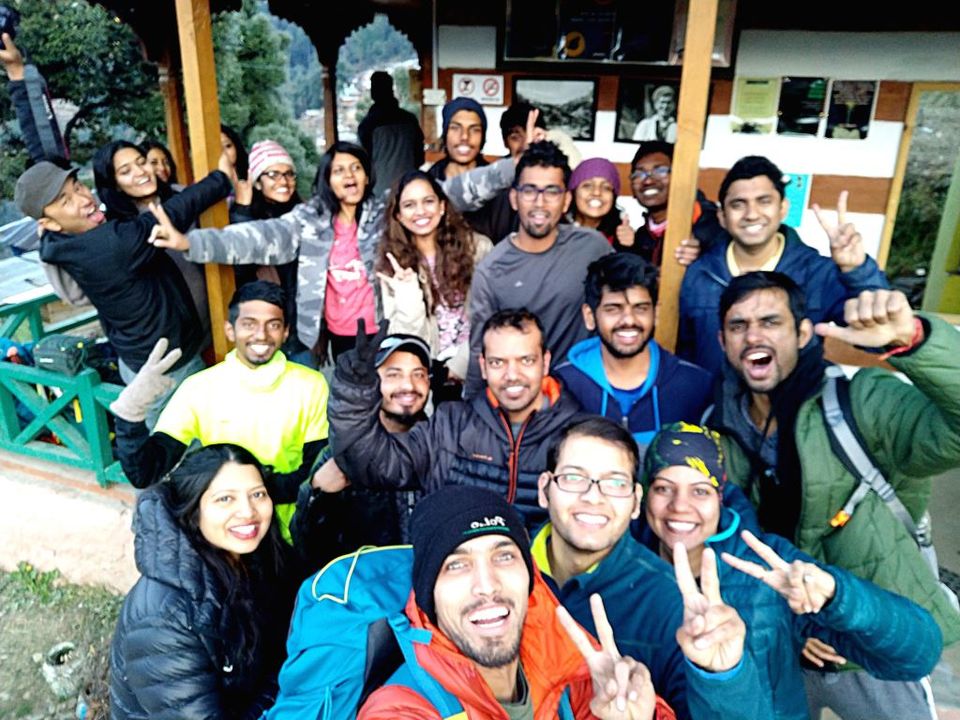 I came on this trek to experience 12,500 ft of sheer adventure but going back with lot of fond memoirs, trekkers that transformed into friends forever, and landscapes that are unparalleled. KK was sure an experience worth every moment spent there. It is for a reason it is the most sought after winter trekking destination. More so with the different trail approached by Indiahikes. And a set of pictures and a blog-post may not be enough to substantiate the joy.
So, where to next?
Frequent searches leading to this page:-
places to hangout in dehradun, dehradun ghumne wale place, dehradun sightseeing itinerary, dehradun ki famous jagah, hangout places in dehradun