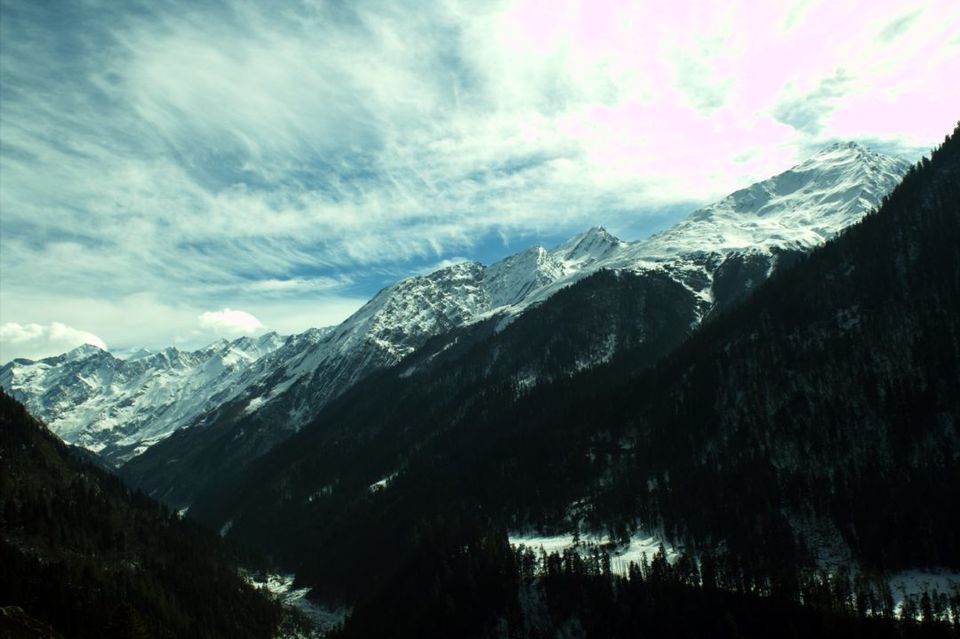 "Life is Either a Daring Adventure, Or Nothing"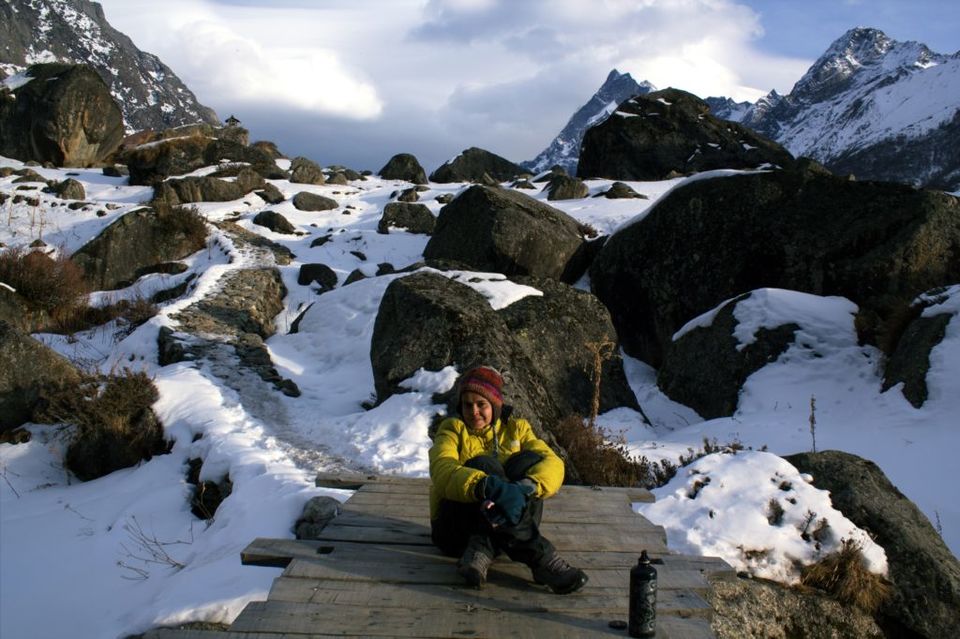 For some odd reason, I cannot get over the quote I mentioned above. It is hard to practice it, very very hard as we always feel insecure, about so many things in life. But letting go, is a really good space to be in.
It was the end of 2015, Har-ki-Dun had been on my list since long. Since it is a tea house trek, I could think of doing it unsupported, without a guide, so I did. But what was the challenge here? There was two actually - One I had to carry all my stuff myself, and second it was December end and that was the scary, challenging and exciting part.
I was working full time, and had a very hard time to get my leaves approved. I realised that a boss probably doesn't deserve to know the truth when an employee asks for a leave, my friend, a lie always gets you through better. I did manage to get away, as the Himalayas were calling me, and nothing comes in between me and the Himalayas ????
Left on the eve of Christmas for Dehradun, arrived there early morning and I cannot describe the cold I felt. Changed 4 local transports and finally made it to Sankri, the hot-spot for several treks in Uttarakhand. Taluka is from where the trek to Har Ki Dun begins, and I had also booked accommodation with dorms of Garwal Mandal Vikas Nigam at Taluka, these accommodations were cheap but questionable on hygiene. I knew I wasn't going to bathe for the next 5 days so it didn't bother me. Taluka, a very quite village with limited population. I decided I will not eat anything that is packaged, I only ate eggs and freshly cooked local food. I also was carrying nuts and dry fruits. Not to mention I was carrying my own water bottle and filling natural water.
Day 1: Taluka to Seema: Next day early morning, I began walking towards Seema- 16kms from Taluka, I had my rucksack on and as I kept walking the view kept getting better, the first half I survived happily, but the second half, the weight started to get to my back, I had to go on. As I kept walking I finally sight Osla on the other side, a sigh of relief, I knew Seema was almost there and made it to Seema after walking for 9-10 hours. By then it was evening and was getting cold. Snow was prevalent and I had crossed patches of frozen ice without crampons. As I reach there I met a few professors and a student from IIT Roorkee, they had decided not to go further and warned me too, I did get shaken for a while, I thought I'll take a call next morning, again crashed in the GMVN post a locally cooked dinner by the local Chowkidar.
Day 2: Seema to Har-Ki-Dun:
Woke up next morning, and yes I decided to move ahead, had fresh aloo paranthas and took off. I started with great energy and speed, and was lucky to meet a good friend and Founder - Himalayan Shelter - Mr. Bachan Rana. Bachan is a true delight, full of positive energy, he had a group of few people and honestly what amazed me the most about him is the way he was handling first time trekker. There was a girl in his group who had a sprained leg, Bachan did not let her give up, he walked the whole trail with her at her speed ensuring she completes the trek and goes back with a feeling of accomplishment. Looking at that I thought I am not a first time trekker, hence I should certainly not even think of quitting. I moved on, and once I started gaining altitude I started feeling uneasy, there was something in my head that was not letting me breathe, I didn't know what it was. I kept walking slower, took breaks and had a break down too. Yes! I did. I want to tell people that even strong people break down emotionally, but what makes them strong is that they face their fears and emotions, they break down, they cry but they get up again, and I did exactly that.
In no time, I had reached Har-ki-Dun and I cannot explain the beauty that was in front of my eyes. I kept looking and looking the white mountains so close to me. I felt like I was in the arms of my lover which I didn't wish to leave, ever! I had made it there, completely Eco-Friendly and unsupported. The temperatures at night went to negative 6-7, it was freezing cold.
Day 3 Har-Ki-Dun to Osla: Woke up next morning to a mesmerizing sunrise, I swear I didnt want to leave, but it was too cold! Started walking towards Osla, this was the easiest 15 kms of the trek, made it there before time and decided to stay in a villagers house. Olsa has no electricity and most people there are poverty struck. I thought this will be an excellent Eco-tourism project and I wish someday I can change the course of life for people in Osla.
Day 4: Osla to Taluka: And so, with that thought of doing something for Osla, I slept and when I woke up I found my Iphone missing, someone had stolen it, and people there were getting offended for me blaming them. Thats when I felt that for some strange reason I am way more comfortable traveling in Himachal, I had never had any sort of strange experiences there. I was sad, upset on not finding my phone and I left Osla, this was the last leg too. This is when I came back to thinking what was bothering me, I broke down my emotions to myself and I realised that being tied was bothering me, professionally and personally. It was time I quit and start working towards my dream, I had decided I wont let anything tie me anymore, my freedom was my most priced possession, I wanted professional freedom and personal freedom. Professional freedom was a clear, struggle-sum and no looking back path, which I have taken on now and every day is a new day! personal freedom was to stop expecting and stopping attaching to people, no matter how close they are to you, and this is the harder part of life, to detach. We can never detach ourselves from fellow humans, but we can always do our bit, give them love and move on.
Today, 5 months post the trek, I am on the path that I decided to take while hiking Har-Ki-Dun. I urge who ever reads this blog, to if not anything decide on what path you want to be on and stick to it, life is not waiting, life is happening, right now! as long as you are alive, live it with all your heart and give as much love you can, and trust me the Universe will always love you back, even if fellow humans don't ????
Not to forget, this was an Eco-Trek, I left no plastic footprint, and gave all the money I had along with an Iphone to the locals ????