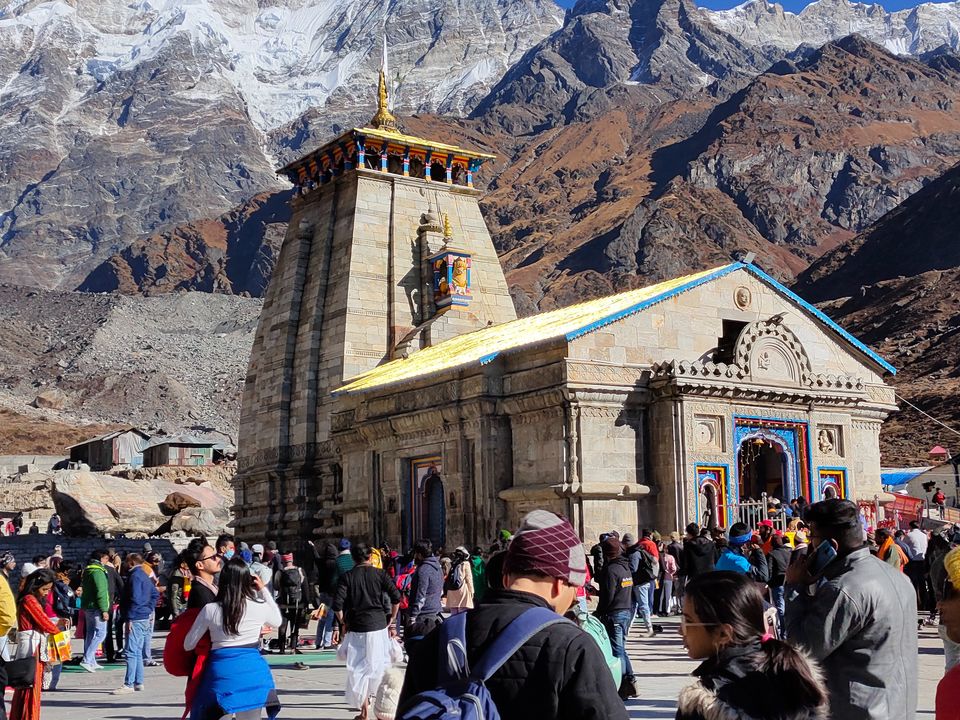 Uttarakhand, or Devbhoomi, is well-known for its numerous Hindu pilgrimage sites. One of these spots, according to legend, may only be reached if Bholebaba (Lord Shiva) actually calls you. Yes, you are correct. I am talking about the Kedarnath temple. The Kedarnath temple, dedicated to Lord Shiva, is one of the most well-known pilgrimage sites in Uttarakhand, India, particularly among the Hindus. It is located at an altitude of 3580 meters above sea level on the bank of the Mandakini River. Kedarnath temple is a part of Char Dhams and Panch Kedar in Uttarakhand. Witnessing the mesmerising sceneries around the Kedarnath temple is also a once-in-a-lifetime experience.
History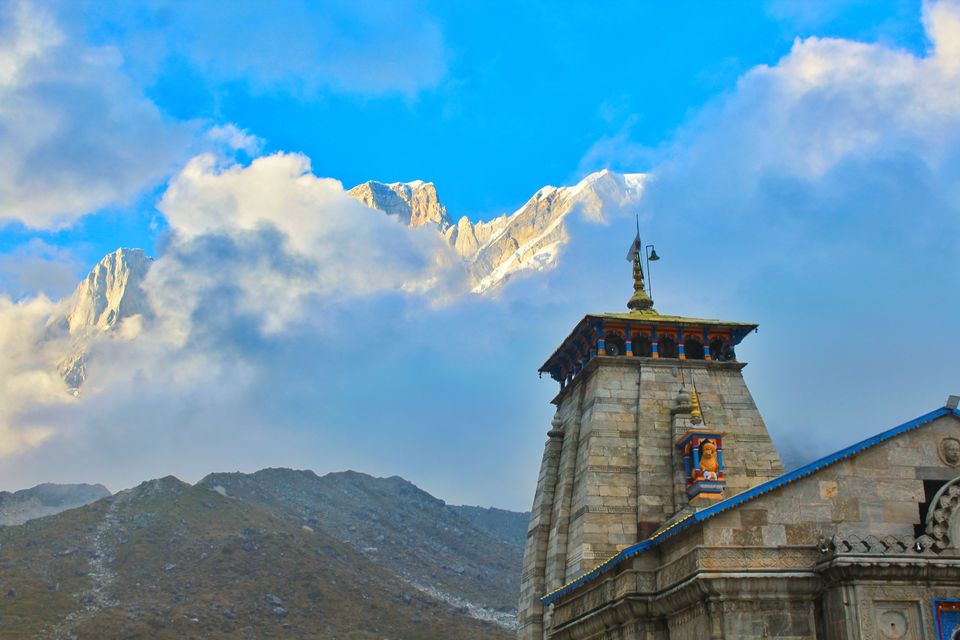 Kedarnath temple is said to be constructed by the Pandavas of Mahabharata in order to ask forgiveness from Lord Shiva for their previous sins. Lord Shiva, disguised as Nandi, was spotted at Guptakashi. Bheema caught him through his tail, but the remainder of his body vanished through a sacred cave underneath the ground. At five different locations, Lord Shiva reappeared in five different avatars. One amongst them is as hump at Kedarnath.
Adi Shankaracharya, who restored the glory of the shrine in the 8th century A.D., built the present temple at Kedarnath. The temple is said to be more than 1200 years old and one of the 12 jyotirlingas in India.
To know more about the history of Kedarnath temple, this article will help you a lot.
About the temple
Kedarnath temple is made from gray hunk of stones. A small hall in front of the Kedarnath temple beams with images of Parvati and the five Pandavas. The grand statue of Nandi greets you outside the temple door. There is a conical rock structure inside the Kedarnath temple that is worshiped as the Sadashiva form of Lord Shiva. There is also a "Garba Griha" to worship and a Mandap for pilgrims inside the temple. The temple's architecture style is said to be the same as most ancient temples of its period - the ashlar style of construction - wherein stone slabs are interlocked into each other without the use of mortar or cement.
Best time to visit
Kedarnath temple remains open to tourists for six months due to its elevation and geographical position. The temple opens at the end of April or the beginning of May, and it closes after Diwali. For the next six months, the deity from the Kedarnath temple is brought back to Ukhimath. Therefore the best time to visit the Kedarnath temple is between April and November with the months of April to mid-June and October to mid-November being the most ideal.
If you are a biker, you will surely love Dushyant's journey to Kedarnath Temple.
Kedarnath Temple Opening and Closing Timings
Kedarnath Temple darshan timings is scheduled as Rawal and other committee members decides. Temple is closed from 3 pm to 5 pm so plan to be at temple before 3 pm. Before 3 pm visitors can touch idle and do Abhishek with Ghee. After 5 PM no one can touch idle but can get Darshan with a distance. At this time idle is in Emperor costume.
Aarti Timings in Kedarnath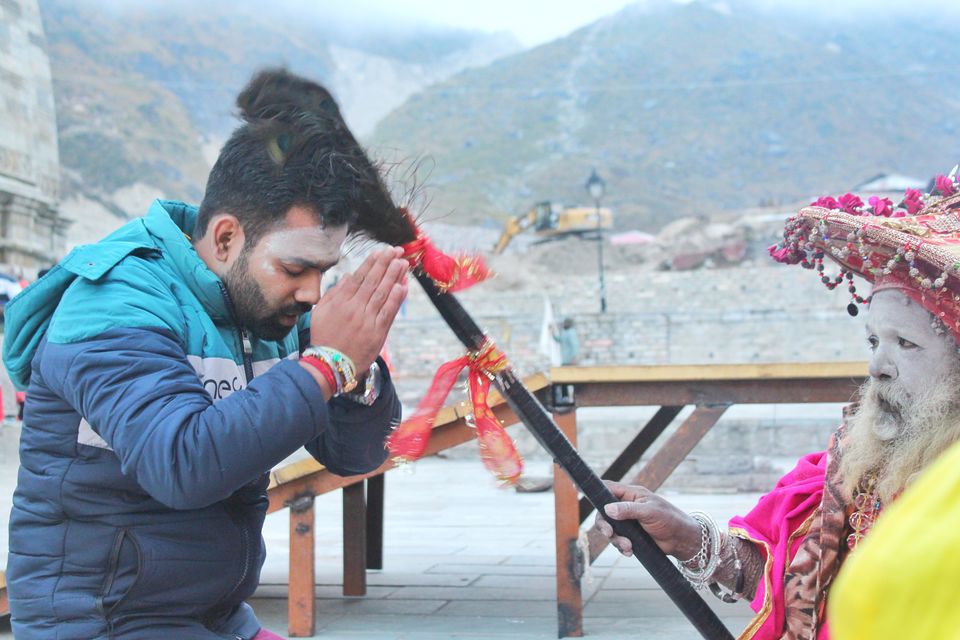 The daily pooja rituals at the Kedarnath temple start early morning, around 4.00 am with Maha Abhishek and end at around 7.00 pm with the Shyan aarti. The temple opens for darshan for the general public around 6 am and there is an afternoon recess between 3-5 pm. The public timing for darshan at Kedarnath temple ends at 7.00 pm.
Now Pilgrims can book Online Puja / Path / Archna /Arti / Bhog for Shri Kedarnath Ji for the Yatra Year 2022. Here is the link to do it.
How to reach:
While getting to Kedarnath Temple is not difficult, the trek leading to the main temple can be exhausting and challenging. However, if you are an adventure seeker, you will adore it.
By Air: Kedarnath does not have an airport of its own which makes Jolly Grant Airport in Dehradun the nearest civil airhead. Located around 250 km from Kedarnath, Jolly Grant Airport is connected to the major cities of India including New Delhi, Mumbai, Kolkata, and Chennai.
By Rail: The nearest railway station to Kedarnath is Rishikesh Railway Station. Rishikesh Railway Station, around 210 kilometres from Gaurikund, is well connected to practically all of India's main cities, with trains running on a regular basis.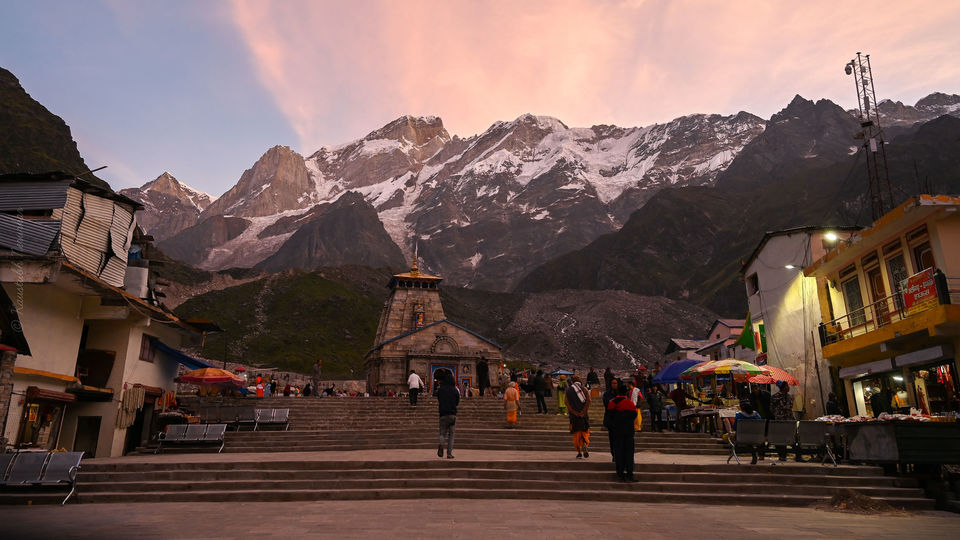 Gaurikund is the last motorable road from Kedarnath. From there, it's a 16-18-kilometer trek across the Himalayas.
The most common route to Kedarnath temple is from Haridwar. Guptakashi and Sonprayag are both accessible from Haridwar. It's a travel of about 200-230 kilometres. From Haridwar, buses are available. The bus route is like Haridwar- Rishikesh-Devprayag-Srinagar-Rudraprayag-Guptakashi-Sonprayag. One can spend the night at Guptakashi or Sonprayag and then take a shared car to Gaurikund the following morning. The path to Kedarnath temple begins from here. To get to the temple, one can either walk or hire a pony or pitthu. Depending on the weather, helicopter service is also available to reach Kedarnath Temple.
Pooja's spiritual journey to Kedarnath Temple will surely inspire you. Here it is.
Activities around Kedarnath temple:
The surroundings of Kedarnath temple that reflect the divine aura of the shrine have spectacular attractions to offer. Here is a list of some of the major attractions one should not miss while visiting Kedarnath temple:
• A holy dip at Gaurikund.
• Trekking to Vasuki Tal.
• Witnessing the beauty of Gandhi Sarovar.
• Visiting the Samadhi of Adi Shankaracharya.
• Trekking to Chorabari Tal.
• Praying at Anusuya Devi Temple
Do you want to do a budget, backpacking Trip to Kedarnath and Vasuki Tal? This is how you should plan.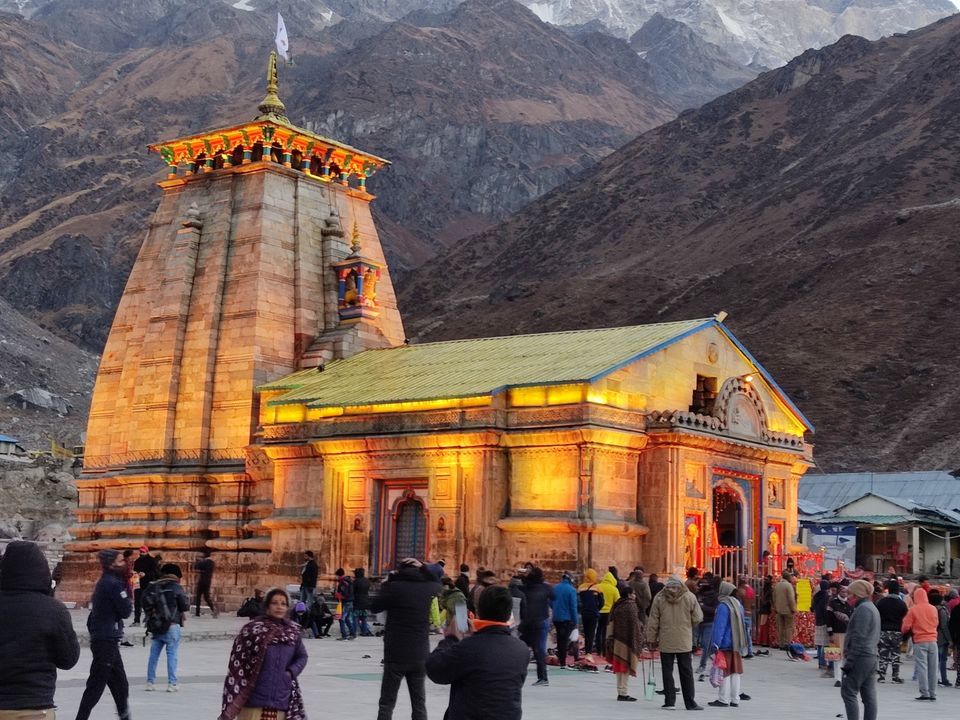 Things to remember:
1. Amongst all four Dhams, Kedarnath temple has the longest trek route. So be ready for it.
2. There are chances of altitude sickness. So carry appropriate medicine for altitude sickness along with the basic medicines.
3. This route has a very frigid climate throughout the year. As a result, bring plenty of warm clothing.
4. If visiting Kedarnath temple during the monsoon, you should also bring a raincoat and waterproof shoes.
5. Keep your extra bags in the hotel's locker room in Sonprayag. It will make your trip more pleasant.
6. If you cannot complete the trek in one day, you can stay at Lincholi because walking after sunset is prohibited. The Kedarnath temple is 9 kilometres away from Lincholi.
7. Registration: The biometric registration is required for the yatra that happens in Sonprayag and takes about 1-1.5 hours in the queue.
8. Helicopter ticket for Kedarnath Temple will be booked only through https://heliservices.uk.gov.in/. No other website has the right to make Helicopter bookings.
Hotels to stay: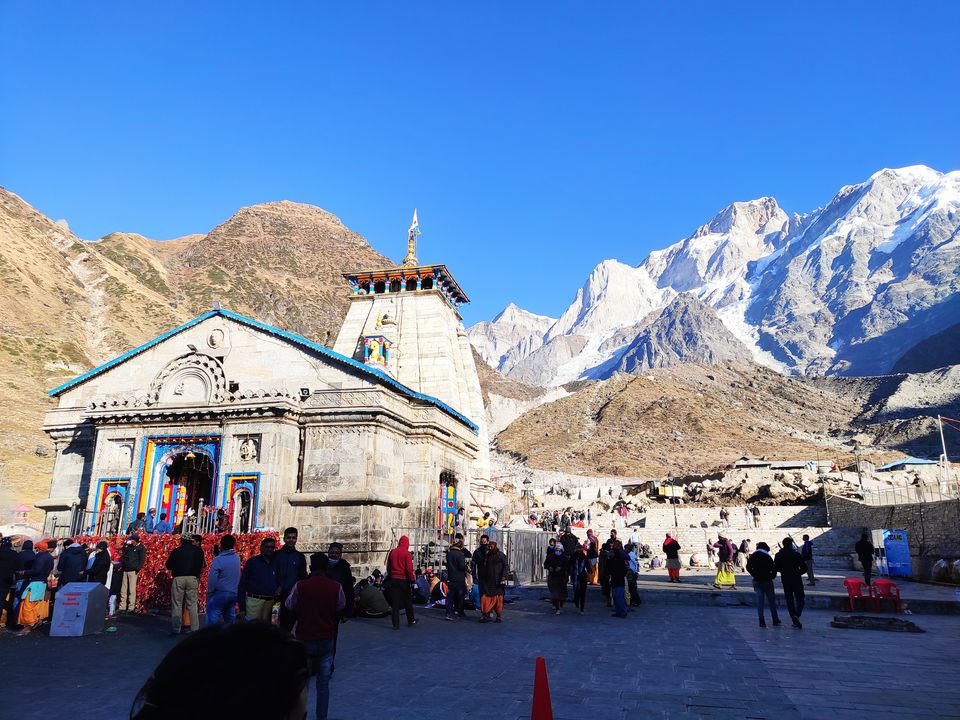 At Kedarnath:
There are plenty of hotels and guest houses at Sonprayag as well as Gaurikund. GMVN Guest Houses are also available and you can book them online. GMVN Guest House and cottages are also available at Kedarnath Base Camp. There are a number of guest houses and dormitories available near the temple as well. Some of those are:
1. Punjab and Sindh Awas:
In Kedarnath it is one of the best places to stay in Kedarnath. It is located only 100 meters away from Kedarnath Temple. It offers an amazing stay option within the best budget. Its soothing ambiance, wonderful hospitality always attracts tourists.
Contact no. – 9412915221.
2. New Himachal House:
Looking for a comfortable stay at Kedarnath? Then New Himachal House will cater to all your comfort needs. It is located at 500 meters from the temple. Its rooms are decked with all the modern equipment and amenities. The rooms will also make you feel like home. It has attached bathrooms with good hot and cold-water supply. The food service provided by Himachal House is awesome.
Contact no- 9412356025.
3. Bikaner House:
A perfect blend of luxury and comfort, Bikaner will suit those kinds of travelers who want to have the best of all. It offers best stay options with best room facilities to the tourists. This hotel has extremely peaceful environment.
Contact no-7466878302.
At Sonprayag: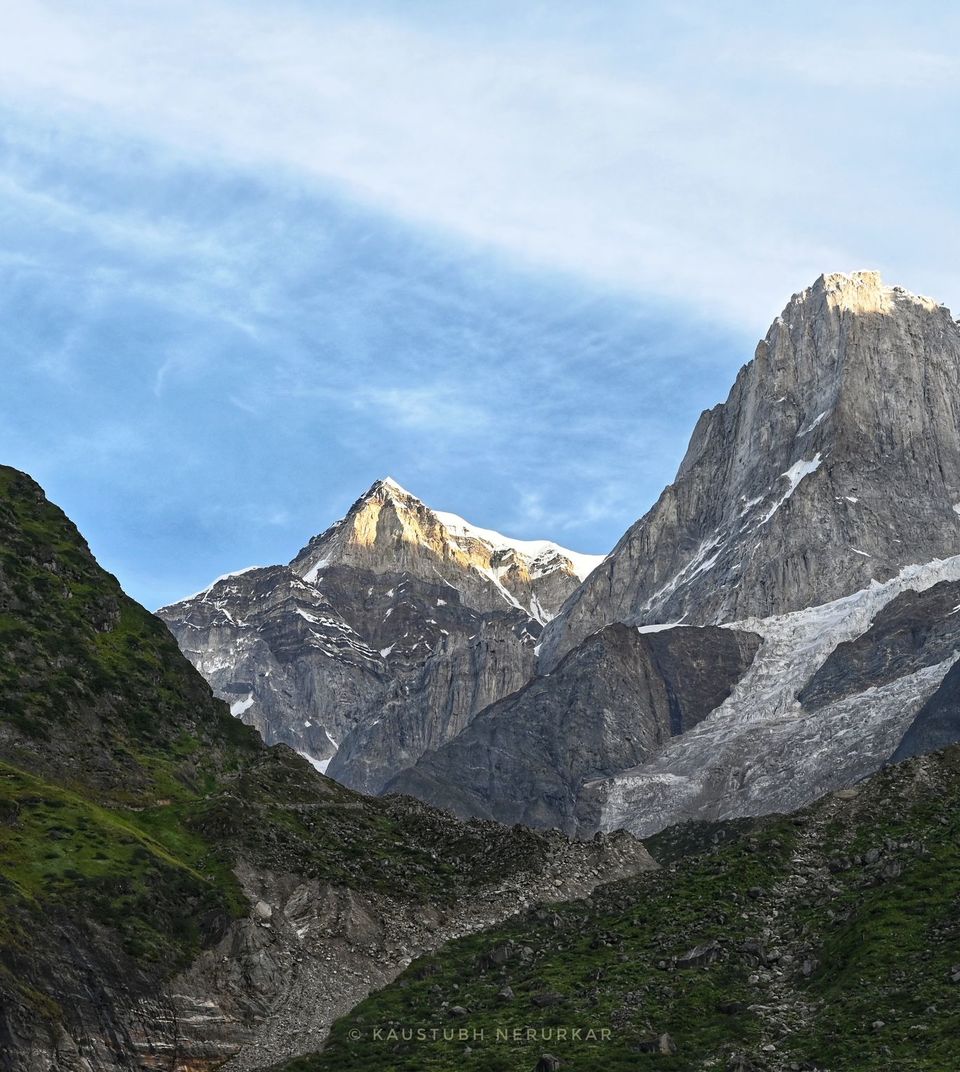 It is one of the best Hotels in Sonprayag. It offers rooms and suits facing the river. Service is also good.
Tariff: Rs. 5000 onwards
2. Hotel Dhariwal:
It is another budget hotel in Sitapur, Sonprayag. It is located on the way to Kedarnath temple. You can enjoy an hour's overview of the beautiful Mandakini valley & Mountain Range.
Tariff: Rs. 2500 onwards
At Guptakashi: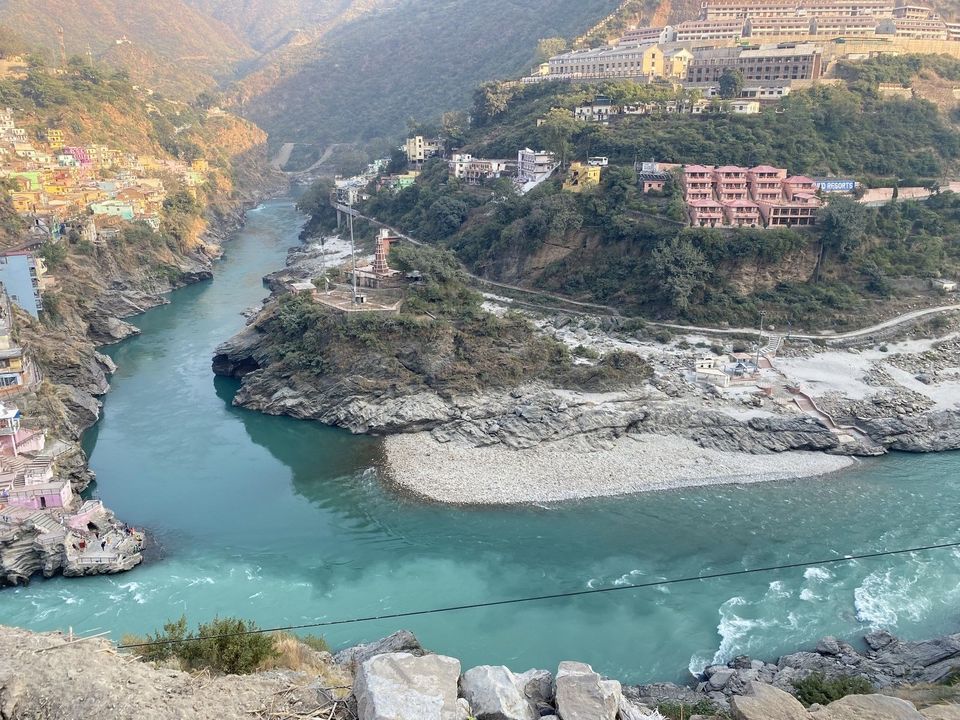 1. Hotel Mritunjai:
It is one of the best hotel in Guptkahsi. It is comfortable and worth staying . The rooms have homely essence. All of the ooms have attach baths.
Tariff: Rs. 1000 onwards
2. Hotel Madhuban :
It is another budget hotel at Guptakashi. Rooms are cozy and basic amenities are available here.
Tariff: Rs. 1500 onwards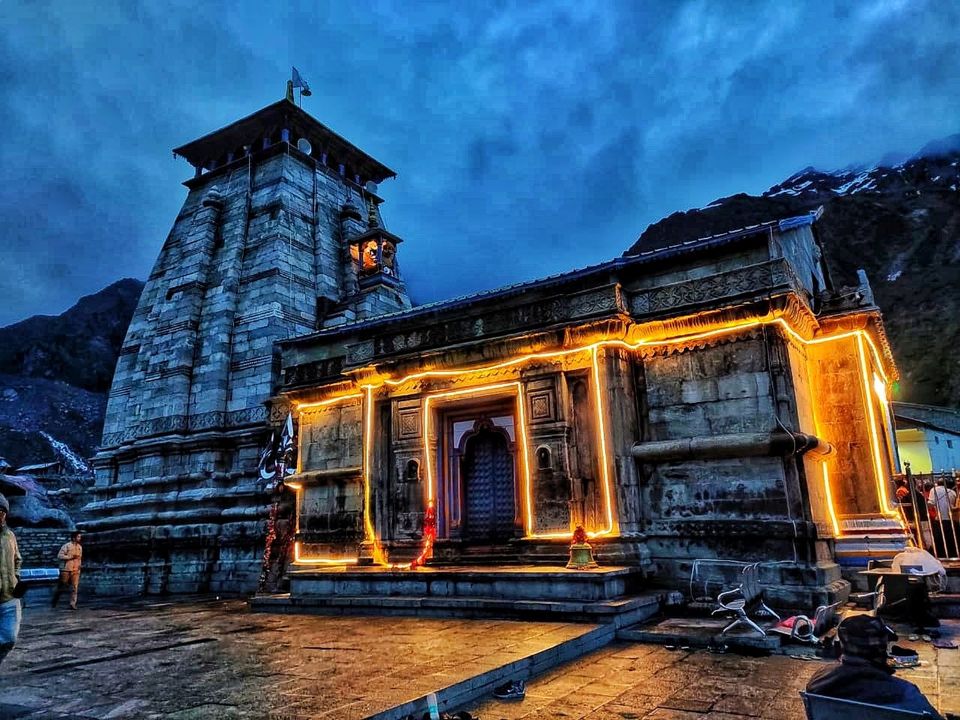 Have you ever been to Kedarnath Temple? If not, make a plan right away. Reaching and exploring the Kedarnath temple might be a little tiring and difficult, but once you are there it is worth the experience of a lifetime. Enjoy a wonderful day amidst the stunning scenery and natural beauty of the place.
Think we missed out on something? Tell us about it in the comments below. Or write about it here on Tripoto and earn Tripoto Credits!