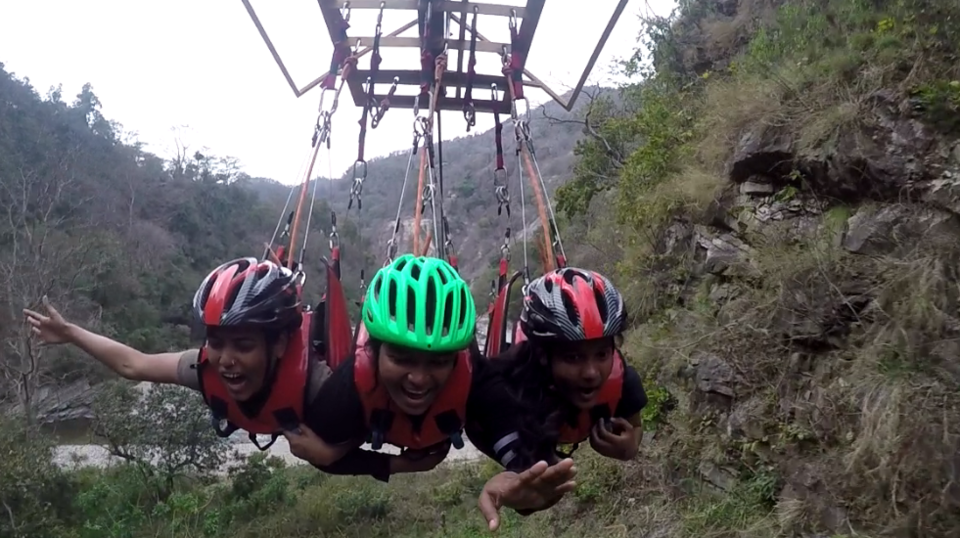 "Life is either a daring adventure or nothing at all" - Helen Keller
Rishikesh (in Uttarakhand) is considered as one of the most adventurous spots of India and travelling to Rishikesh had always been in my bucket list. There is so much that I want to do in my life and with this trip, I achieved a few of it. Cherry on the cake was that I made this trip with my sisters, Sapna and Roshny.
"Fill your life with experiences, not things. Have stories to tell, not stuff to show." Having said that, this blog is all about my amazing experiences in Rishikesh and I seriously hope that you get the passion of making this trip happen for yourself as well. It is once is a lifetime experience.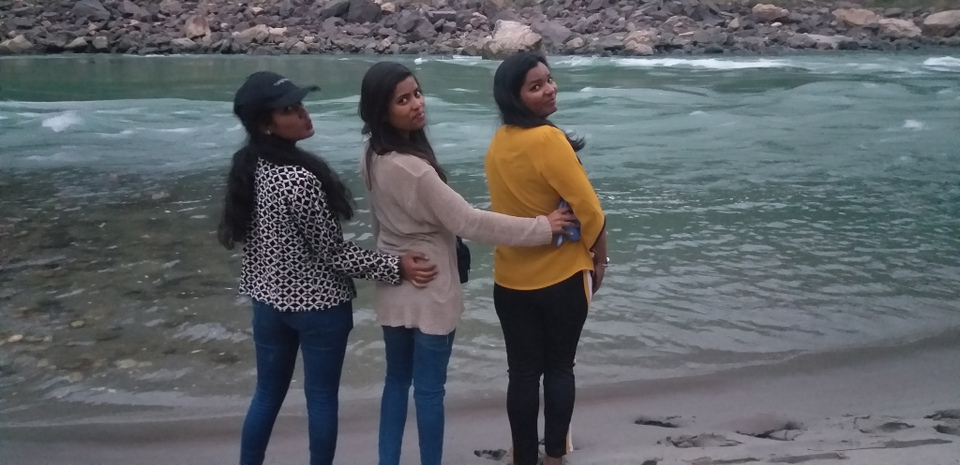 The trip starts
As you all are already aware that I stay in the Silicon city of India, i.e., Namma Bangalore, so, my trip started with a late evening flight from Bangalore to Delhi. From Delhi, I had my train reservation to Haridwar (The Gateway to Hari (God)). Believe me you, rail journeys are the best journey ever. You get to see beautiful sceneries of mystical environment. By the time I reached Haridwar, I already got the essence of the city with holy river Gaga and the Sadhus. At Haridwar I had to wait for a couple of hours for my sisters to arrive from Lucknow. The level of happiness of meeting my sisters is indescribable. This was the very first time we were doing a tour together, cheers to sisterhood.
Day 1 of the trip - Bungee jumping and flying fox
Once they arrived, we booked a local taxi (for INR 1500) to reach to Jumpin Heights (the place to bungee jump) via Rishikesh. The plan was to surprise my sisters with a list of adventure activities for two entire days. Day 1 included bungee jumping, flying fox, small hiking, and then spending some quality time at the resort. Day 2 was to start with river rafting, bit of roaming and shopping at Haridwar, and then way back to home with lots of memories.
While on our way to Jumpin heights, which is in an area called Mohan Chatti, we witness the beauty of river Ganga, Sadhus doing Yoga, and mesmerizing view of mountains covered with mist and fog.
It took us almost 2 hours to reach Jumpin heights, but the excitement never made us feel that long journey. Upon reaching the Jumpin heights office, I displayed the booking tickets to the executive there.
It is very difficult to get the bookings for bungee jumping and flying fox at the Jumpin heights office at spot, so it is advisable to always pre-book before going. There are many travel agencies available in the market. You can even book through www.jumpinheights.com (their official website). Well, I had booked through Thrillophilia ( https://www.thrillophilia.com/tours/bungy-jump-rishikesh) because they offered a combo for bungee jumping and flying fox. I just had to pay INR 3800 per person for bungee jumping and INR 1500 per person for flying fox. Transportation charges are to be taken care by yourself, and make sure to hire the transport for both ways (going and returning) because it is very difficult to get any vehicle from Jumpin Heights. If you know driving/riding, carry a valid driving license since you also have the option to rent a bike or scooter. Also, it is important to carry enough money because there are no ATMs at Mohan Chatti.
Now was the time to reveal the biggest secret to my sisters. I told them that we were going to do bungee jumping. I had to clear that my younger sister, Roshny, would not do it since she was still a minor (below 18 years of age), but both shouted out of excitement and hugged me tight. They were also a little thrilled.
We had to go to the registration office next and sign the self-declaration form. After that they measured our weight and height and wrote it on our wrist.
Our heart was pumping very fast, we hold each other's hands and looked at each other's faces. The team there started giving us instructions that we should not carry any cameras or electronic devices. We were asked to drop your luggage at the lobby itself and to keep our valuables in the locker provided by them.
As the preparations were being done, the excitement started turning into fearfulness. To add more to it, a team member said that it is going to be a lifetime experience and we are going to unveil the Tarzan inside us. We became even more thrilled but at the same time our heart started beating fast.
Before taking to the actual jumping spot, they played a video and told us to watch it carefully. The video was about eligibility for jumping and some safety instructions. After almost half an hour, we were guided to the jumping area.
Activity 1: Bungee jumping
The walk from their office to the actual jumping spot felt like forever. With every step my heart started pounding heavily, I was scared, I had butterflies inside my stomach, and out of nervousness, I stared biting my nails (I always do that when I am nervous). Sapna and I were encouraging each other.
We entered a metal gate and following was a long tunnel cage hanging between huge mountains and surrounded with green trees. When I looked down, I saw the streams of river Ganga and a few experts waiting for us. We were at a height of 83 meters (272.31 feet). We were made to sit there. We both were very calm by now. After a while, a person approached us and said he is Vinay our Bungee master.
Vinay guided us to the other end of the hanging platform and asked us to wait. He gave us some last moment suggestions. He said never look down, and just listen to my voice and what I say. I felt I lost my hearing ability and my heart rate kept increasing. I know I acted very weird out of fear.
Vinay and his team started gearing us up with all the essential harnesses. Out of curiosity and fear, I asked if the harnesses are properly tightened and won't open mid-air. They assured me and made me realise that everything is being verified thrice as per their checklist.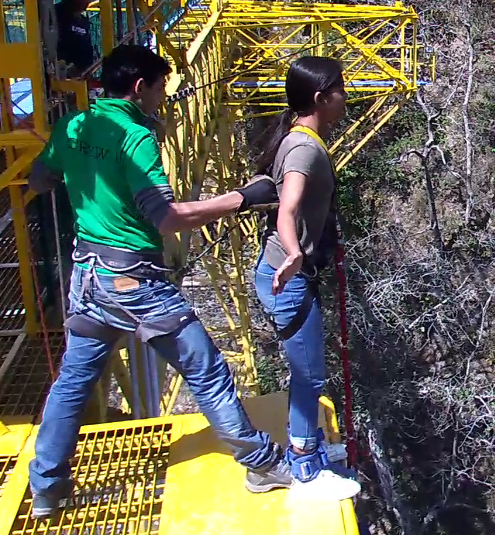 When the bungee cord was attached and all checks were done thrice, Vinay told me to walk forward towards the edge. That's it, the time was here for me to jump. I took three baby steps and I was at the edge of that platform. At this point, I could only hear my heart pounding and somewhere at the background I could hear Vinay saying something. He shook me and said Arti listen to me. He pointed to a yellow mark on the mountain right opposite to me and said just look at the mark and don't look down. I was physically looking at the yellow mark but inside me I was questioning myself - Why am I here, why do I need to do this, is it really worth jumping from 83 meters, what if the cord opens, what if my heart fails, should I abort. Vinay could sense my fear and he said it is a lifetime experience and you are going to be fine. Vinay said he will count till 3 and I should jump keeping all the thoughts aside.
Standing at the edge, looking at the mountain, I closed my eyes, opened arms and said I am ready. The next moment that I remember was that I was in the mid-air flying. For the first time there were no thoughts in my mind, I could only hear is my heartbeat. The feeling that I was experiencing cannot never be described. I was out of the world. After few swings, I was hanging just above the ground and few people standing down were shouting and telling me to hold the wooden log they were passing on to me. I came back to my senses and realized that I did it, I have got guts. I screamed out of happiness and started laughing. They slowly pulled me down.
Once I was down, they removed all the harnesses, gave me a bottle of water and awarded me with a badge which said, "I HAVE GOT GUTS". I was still hallucinating and enjoying that moment. I sat at the bank of river Ganga, splashed some water on my face and waited for Sapna to complete her jump. Within few moments, I saw Sapna standing at the edge all set to jump. I prayed to god that she does it well. She jumped and yelled "Mummy". I could understand her feeling. When she came down, we hugged each other and congratulated on successfully bungee jumping. We started hiking back to the office where Roshny was waiting for us and she was watching our jump on a TV.
ACTIVITY 2: FLYING FOX
We met Roshny and started sharing our experience. Next in the list was flying fox for which we again had to hike till the spot. While walking, we stopped at a shop and had Maggie.
When we reached the flying fox entry, we saw that there was a long queue waiting for their turn. We joined the queue. We clicked many pictures and decided that we three would do the activity together. Finally, our turn had come, the crew hanged us like a bat. After taking care of all the safety measures and harnessing is properly, they asked if we are ready, we yelled in excitement and said yes.
The security door opened, the pulley suspended over cable started rolling and we were propelled by the gravity to travel from top to bottom of the inclined cable to the freely moving pulley. From 60 meters above the river level to 7 meters, we were crossing the entire valley, accelerated up to speed of 160 kmph. In the gushes of air, we were feeling like birds. Once we reached to the lowest point (7 meters above the river level), we were pulled back to the launch platform by a retrieval mechanism. The entire flying fox took around 30 minutes and we enjoyed it a lot.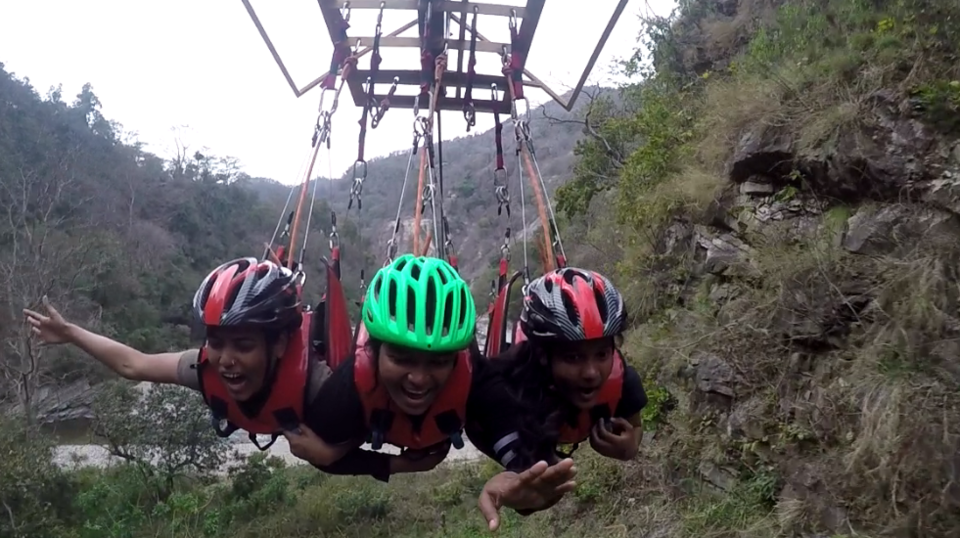 After coming back to the Jumpin heights office, we collected our belongings. All the activities were recorded, and we decided to buy the videos (bungee jumping video at INR 1000 per person and INR 800 per person for flying fox) and some merchandises. We were also awarded with certificates.
Next in the plan was to head back to our home stay, Moonlight Camp located in Shivpuri. It took us 2 hours to reach there but the journey was worth it. We witnessed the beauty of Rishikesh, there is something different in the air, it was so pleasant and cold. The beauty of iconic Laxman and Ram Jhula across the river Ganga, connecting the two villages of Tapovan in Tehri Garhwal district on the west bank of the river, to Jonk in Pauri Garhwal district on the east bank was looking not less than any dream. It is said that the Hindu deity Ram and Lakshmana crossed river Ganga on jute ropes where the bridge is built now, and that is how it got its name.
Entering the camp for night stay
The Moonlight camp is surrounded by hills covered in mist. By the time we reached it was already evening, and they were about to serve the snacks. I had done the bookings for 1 Night and 2 days from Adventure Nation ( https://www.adventurenation.com/trip/experience-rafting-and-camping-at-rishikesh-1-night-2-days) which included camp stay, three times meal, river rafting, and cliff jumping.
We quickly went inside our camp and it was so beautiful. We got freshen up and headed for evening snacks. After that snacks, we spent a lot of time just walking by the banks of river Ganga, as it was close to our camp. We had a lot of fun and clicked many pictures.
After returning to the camp, we saw that there was an arrangement of bonfire, so after our dinner we sat around the bonfire, played music and danced. It was around 12 midnight, the sky was filled with starts, the cold wind was blowing my hair, and hot flames from the bonfire kept me warm. We realized that it's too late, so we went in our camp, and I don't remember when we slept.
Day 2: River rafting and cliff jumping
It was a new sunny morning and Day 2 of our trip. We got up, freshened up, and had our breakfast. The plan for the day was to do rafting and cliff jumping, which the trainer would take around 5 to 6 hours. So, we decided to take our luggage with us as there was a facility where we could keep our luggage and the trip coordinator would bring it to the rafting end point.
We boarded the van and our organisers loaded the equipment required for rafting. It was fun to watch all these activities. We also carried our personal belongings like wallet, cell phone, camera along with us in a waterproof bag. River rafting in Rishikesh is generally organised from Shivpuri, from where you start travelling downstream. The 28 kms rafting from the town to Shivpuri through the hills can take anywhere from half an hour to one hour.
Activity 1: River rafting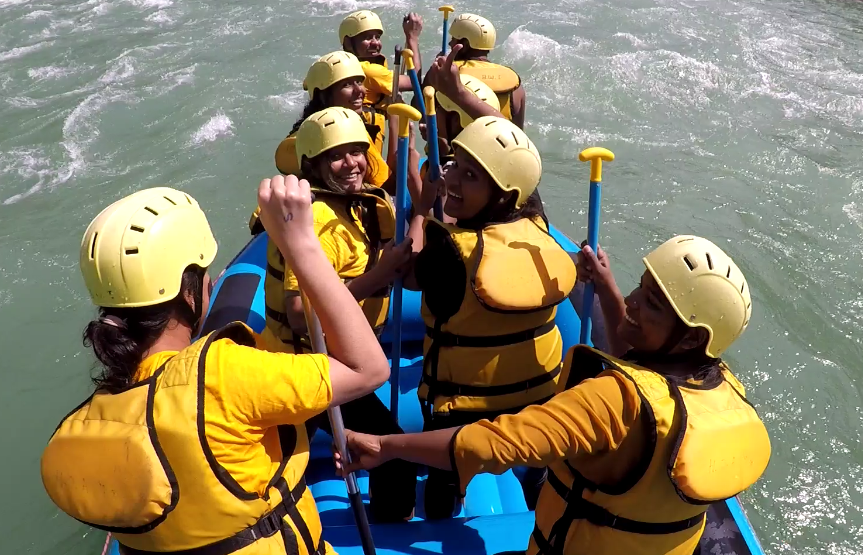 We were excited and trilled, although none of knew swimming. On our way, we can see people doing rafting and yelling. The excitement was on the peak when we reached to Shivpuri and Vishal (our trip coordinator) gave us a quick crash course on the rafting. It was about the navigational techniques, and how to make it safer. Following the briefing, Vishal handed us the equipment like rafts, paddles, helmets and life jackets. On the jaikara of "Jai Ganga Maa", we boarded on the raft. We encountered 8 rapids between Shivpuri to Laxman Jhula. Every rapid had its own behaviour and offered us the greatest thrill of our life.
With every passage of rapid, Vishal was briefing us on when to paddle and when not to. Out of all the 8 rapids, my favourite was the rapid called "Roller Coaster" ratted grade 3 rd rapid and one of the difficult among all (Club house, Shivpuri, Golf course, Cross fire, etc.).
Activity 2: Cliff jumping
The fun reached to another level when we found that we can have Maggie, Tea, and other snacks. There were few stalls selling snacks at the sides of river. Vishal asked us to jump from the raft. We jumped into the river and the water was freezing. We quickly went to the stalls and had Maggie, Tea, Pakoda, etc. At this very spot was a huge rock from which we had to jump. It was around 35-40 feet high. I have seen people jumping from cliffs in movies but doing it myself was a major task for me. I reached to the top of the cliff and my feet were shivering. The entire group started encouraging me by shouting and I finally jumped. It was amazing and it felt so heroic. Sapna and Roshny also jumped after me. We went back to our rafts and started rafting again to complete the remaining route.
The rafting season starts from the month of March and ends in September. There are a lot of rafting camps there, and so are trekking kiosks that take you further into the Himalayas for camping and hiking. It is always suggested to do a little planning before going. You can watch my journey video on my YouTube channel #ArtiPrasad ( https://youtu.be/OnJQctNcAbQ).
By the time we completed rafting and reached to Laxman Jhula, even our luggage was there. We changed our wet clothes and thanked Vishal for such a wonderful experience. Vishal was also recording all the activities in his #GoPro, so we transferred the file into our phone and paid INR 800 for each video.
Bidding adieu to the wonderful trip
After that, we were dropped to the nearest railway station, i.e., Haridwar. Our train was at 10 PM so we decided to spend our time just walking the streets of Haridwar. The mystical environment gives the feeling of inner peace - just by being there and breathing in the city. The holy river Ganga, the Sadhus, the Yoga, the international tourists that mingle there like locals, and the Hindu mythology - there is just so much to absorb and imbibe.
So, this is my story to the adventures at Rishikesh - the city that I can go as many times as I can. I enjoyed it to my fullest with my lovely sisters. This trip also gave us time to spend time together. This city captures the essence of #IncredibleIndia to its fullest.
I will see you in my next blog. Until then, happy travelling and keep smiling!