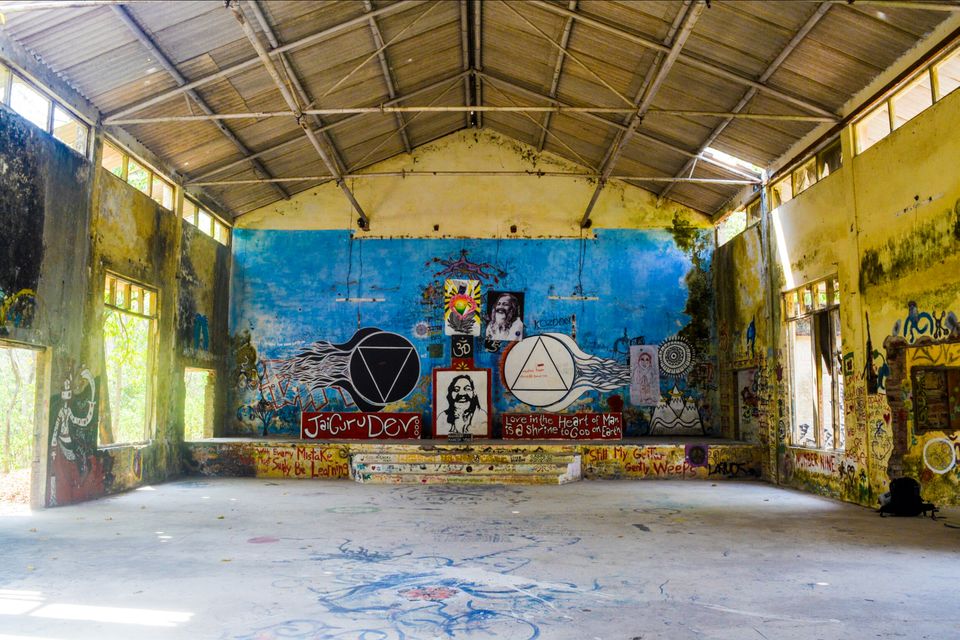 'There's nowhere you can be that isn't where you're meant to be'
- The Beatles
And so I listened to the mountains and the sparkly streams shuffling through pebbles so white. Thick forested beauties crowning tall, sprouting a spectrum of colours on the canvas of the sky from dusk until dawn. My mind always drifted away but their embrace brought me back as they spoke to me in a familiar tongue. One not filled with words but emotion, not of sound but silence worthy of freezing time. The birds, the bees, the rustle of leaves beneath the ripe autumn tree. How I yearned and longed to sway away to their voices, for apart from everyone it's the only place I feel home in. I know not where the road leads, but I trust it's where I'm meant to be.
Finally the words started to make sense to me, it had been too long since I did ink anything down. Having what you would call a 'writers block', I was stuck long in a place where no inspiration fell on me like did the Adams apple. Deep within I knew I had to travel for my mind to breathe again. And so, did I, called a close friend of mine and drifted off to Rishikesh in a bus. Being the young lads, we were, it proved to be the most affordable option for the both of us. And later that night, something inexplicable took place. As I sat beside the calming demeanor of the flowing water of the holy Ganges, with my feet dipped in water. I finally realized the existence of freedom, and I could again knit words into sentences.
It was not even a complete day in the holy city of Rishikesh, and it felt like I had spent a long while of forever in the place.
We stayed at Ram Jhula, one of the two major bridges dotting the landscape of Rishikesh. Built in 1986, it connects the Sivananda Nagar area of Muni ki Reti in Tehri Garhwal district to Swarg ashram in Pauri Garhwal district. Ram Jhula is named after Lord Ram, Lord Lakshman's elder brother. And like we went with the bus, we went with the cheapest accommodation we could find, a certain 'Pink Hotel' somewhere deep in the streets of Rishikesh near Ram Jhula. We had a hearty dinner for a mere 100rs each at a local dhaba in the bazaar and called it a night. Only to be woken up again by my friend's dying crave for an ice cream. Although we did find our lifesaver even at 11 in the night, but that's another story. We didn't realize but to our luck, the location of the hotel we spent the night in was closer to the gem of a place we were to be astounded by the next day.
Set in quaint surroundings beside the holy river of Ganga, lies a long forgotten cultural gem in the city of Rishikesh. The Maharishi Mahesh Yogi Ashram, fondly known as the 'Beatles Ashram'. It is now just an abandoned ashram in Rishikesh, earlier being the home to pilgrims from all parts of the world. The Maharishi Mahesh Yogi ashram is located in a beautiful spot within the Rajaji National Park, with the majestic Ganga rustling gently past it. It was the refuge of the band members of the legendary English rock band The Beatles in 1968. Though over time, it fell into oblivion with now recently the Forest Department of Uttarakhand reviving it as an eco-friendly tourist destination.
As we paid the mandatory entry fee of 150INR (600INR for foreigners), we walked upwards a gentle slope bordered with amazing wall art, leading into the premises of the Ashram. Little we were to know it was just the beginning. A stone clad path over mud pleasantly made us company as we walked further into the jungle. On the front side after the entrance lied Maharishi Mahesh Yogi Ashram, however the Beatles stayed at the back side of this Ashram. The three Ashramas where the Beatles stayed had separate names which were Janak Puri, Anand Puri and Siddha Puri. We saw graffiti everywhere we looked and realized we would not be able to identify the ones made in 1960s.
We walked on further under the red-hot sun and sighted what were the tiny huts known as meditation chambers, which were hard to get into (because of the dwarf-sized doors) but displayed phenomenal works of paint and brush. A total of 84 meditation chambers dot the compound of the Ashram. Made of rocks, they are equipped with all modern facilities like electricity, water and proper western toilets. A thing that came to my notice was that Beatles lyrics were everywhere in acts of vandalism, which made the place have a very rebel vibe. Other types of art painted were in Indian, Western and even contemporary modern art style.
Venturing further we explored the ruined buildings around the complex, which due to neglect and abandonment were devoid of any kind of electricity and had vines growing on them. An eerie feeling persisted in our guts, as we walked inside them in the dark. A number of art ranging from Beatles art, graffiti, quotes and pop-culture references were also written on just about every wall of every room. Now nearly exhausted under the sun, we were looking for water but to no avail and instead ended up stumbling on the most special place leaving us in awe.
The Beatles Cathedral Gallery. Well, it was hard to believe how we did miss such a major attraction in the first place, maybe the sun was not doing so well for us! Previously used as a lecture hall, now it was full of beautiful graffiti all around and also has a stage, where once upon a time the Beatles could have performed. It was the largest open room in the Ashram and we could imagine the footsteps of the maestros themselves, with the rustling of the leaves outside. We took a minute and just sat there in awe, staring at the art, staring into ourselves. It was an introspective session, a fitting end to our day diving into a past long gone, in a place long abandoned.
At last, I found myself being able to write again, in the hotel room back in the town. Rishikesh left its charming expression on me, maybe a different one than it usually does on other visitors.
Oh, and did I mention, I am a huge Beatles fan?
Travel Info
Rishikesh - The holy city of Rishikesh lies at the bank of river Ganga in Uttarakhand state. The region is surrounded by the Himalayas and is also known as 'Yoga Capital of the World'
Beatles Ashram - Ashram where the famous Beatles band once stayed in the 60s, now featuring Beatles art & graffiti. Located in the city of Rishikesh.
Elevation – 372m
Best time to go - February to March and August-October. May, June in Rishikesh are quite hot.
Climate – Cold winters ranging from 10C-25C, with moderate summers from March to June ranging from 25C-35C. Monsoon and high rainfall is prominent in the month of August with the annual mean rainfall being 2136mm. October and November remain pleasant and temperate.
Entry Fees-
Indians – 150 INR, Senior Citizen – 75 INR, Students (<18) – 40 INR, Students (>18) – 75 INR, Foreigners – 600 INR
How to reach-
Arrive Rishikesh Center by auto, which is near to Ram Jhula. Just cross the bridge and walk towards the right side for 10-15 minutes (1km approx.), after which one reaches the gates of Rajaji National Park.
By Road - Rishikesh is well connected to the state capital Dehradun. One can get Auto/Car/Bus from Dehradun. Bus fare is 40 INR from Dehradun. One can also hire a taxi for 1000 INR to 1500INR.
By Airport - Jolly Grant Airport, Dehradun is closest to Rishikesh at a distance of 30km.
By Train - One can arrive at Rishikesh railway station and take an auto ride to Rishikesh Center. (4km approx.)
Written by
Mayank Pathak (visit here for more )