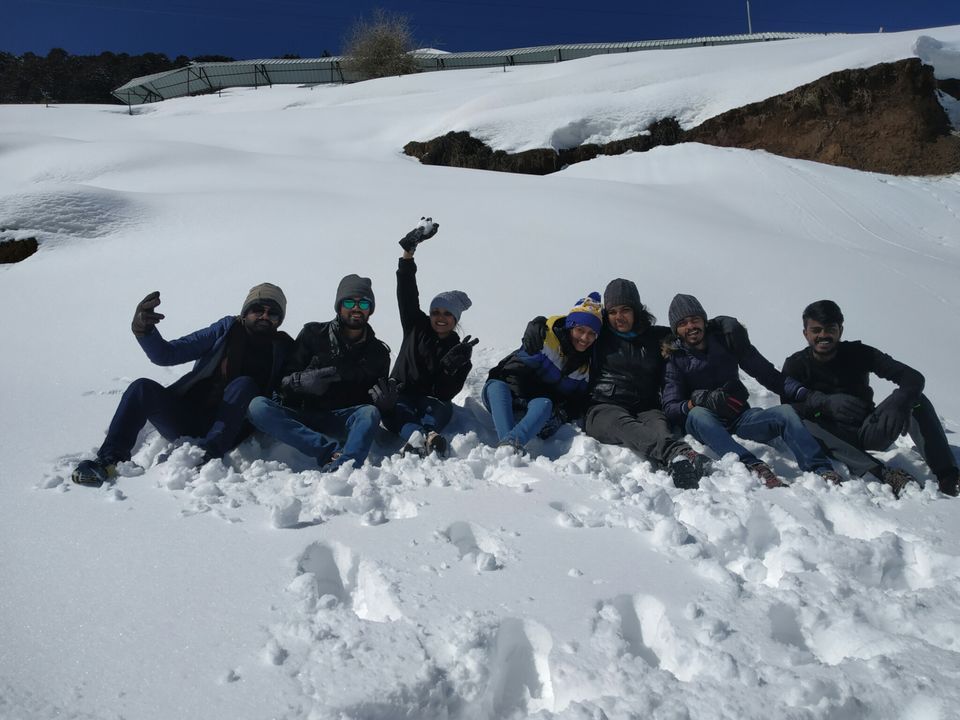 So, We decided to visit Auli for my best friend's birthday. Why should I compromise for a normal cake cutting wishing and cliche stuff. So I wanted a less explored heart warming place and few of our closest friends. On that Wednesday , we were superthrilled and ran after work leaving work pressure taking two days off. We were a gang of Seven Friends working together at Chennai.
So Our hero AULI is a magical valley located in Chamoli district in Uttarakhand and what attracted us to choose Auli is that its less crowded unlike other popular spots like Manali.
We headed to Chennai airport by night and got flight to Delhi and reached Delhi by midnight. At 12 the birthday celebration was inside the flight, thanks to Spicejet.
Our Cab driver picked us from Delhi at 1 and we passed Rishikesh by early morning. Have a tea on the roadside and struggle to hold the glass coz you already started shivering.
We have booked this cab for whole 3 days from picking to dropping back to airport.
Its rate was 20000 INR for seven people totally, it was an Innova, it was really comfortable.
Then we had to travel from Rishikesh to Auli,map shows 260km 8 hours but it definitely will take more time and is unpredictable. The roads were blocked at many places and the travelling was hectic but luckily we got a supercool driver who was full of masti and songs in car. The moment we entered Auli, we were all Awestruck. It was just snow snow snow everywhere, completely white, was like a fairy world for me. Frozen movie crossed my mind and felt like jumping into the snow singing let it goooo.. Lol, we barely could get outside the car without all our accessories like gloves, mufflers, caps, extra jackets and stuff. We couldn't believe our eyes everything was covered in snow, goosebumps moment. But it was already turning dark, so we moved to our Resort. That was the best part of our trip, Our Stay at Royal Village Auli. Small huts covered in snow, two in each, we were living a dream there. The resort had a canteen where bread, Maggie, tea and other small snacks were available. At night, we were freezing at nearly - 7 degree, still we weren't tired, coz that snow just melted our hearts. We went to sleep in many layers of dress, jackets, socks, gloves and everything. Good night from Auli.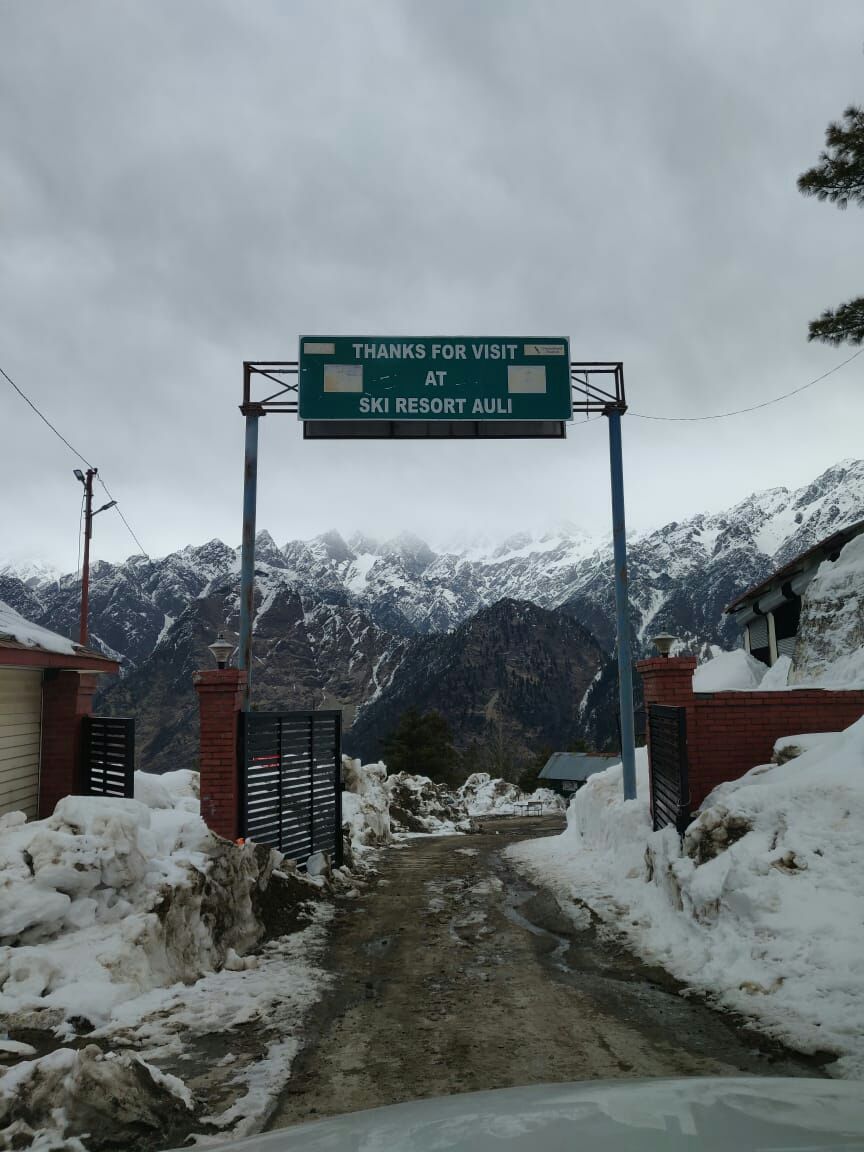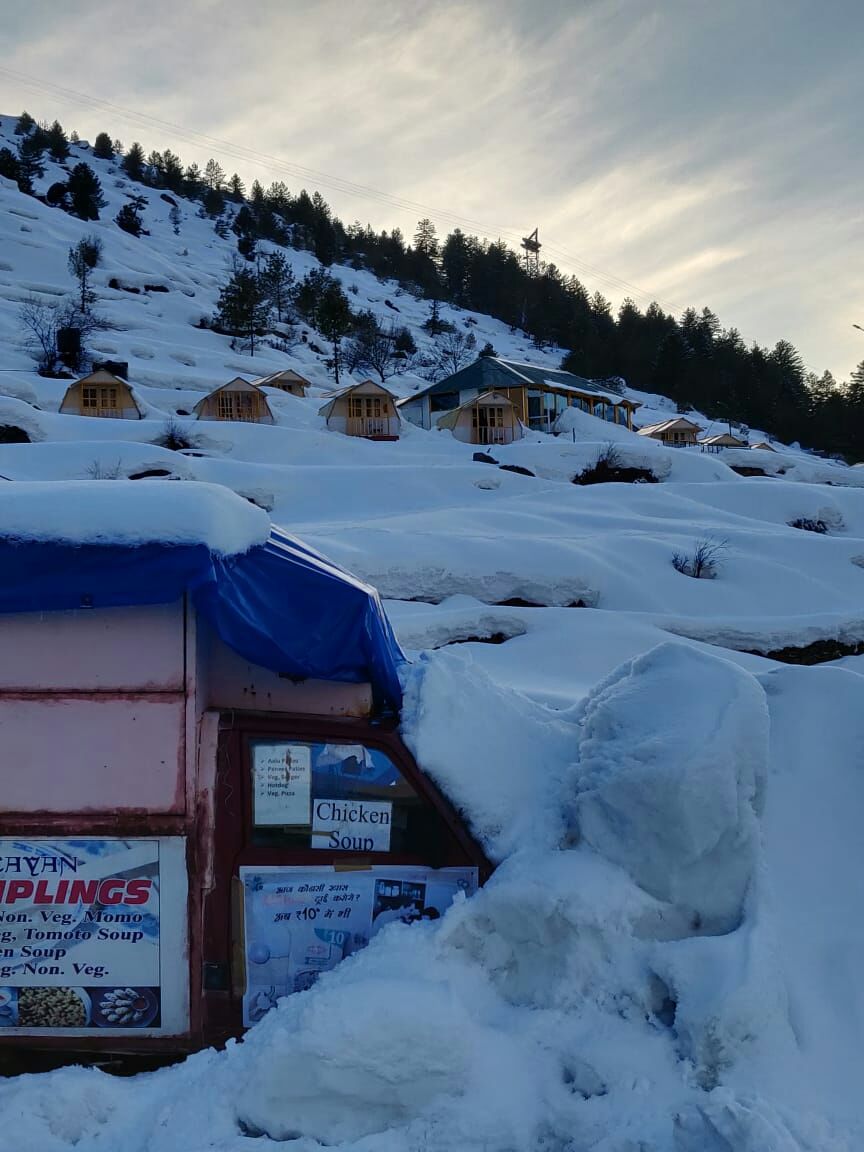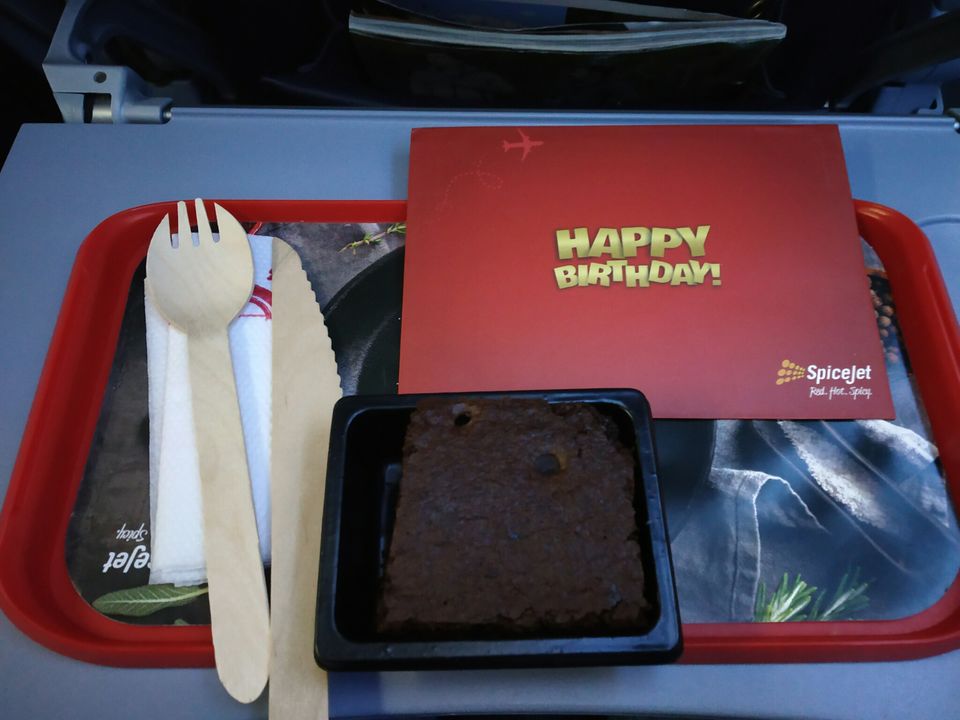 Waking up in that hut next day, it was the best experience in life.
The link for the resort is below.
http://www.auliresort.com/photogallery.html
It was 1800 INR per head per day. But its worth it, such heavenly stay guaranteed. Food is costly which is obvious coz to find another hotel you will have to get down the valley to Joshimath.
The dogs around were really friendly. We played with them, had breakfast and moved to experience a walk . Also, direct sun in snow may affect skin, take necessary care. Use goggles, i couldn't even open my eyes rolling in show , it will be freezing, take all the necessary accessories.
We headed to Auli Ropeways which give a majestic view of Himayalas. We got into the chair lift and trust me it was magnificent , The Himalayas around, snow everywhere, the Chair lift experience was amazing.
Its costs around 300 INR per head for chair lift journey for a short distance of 3km.
Now get down from the chair lift, and here we go, a little trek to the top Gorson Bugyal. You get a breathtaking view of Nandadevi peak and highest Artificial lake on the top. After visiting the lake, we had some drinks and food at the top. We slided, rolled, ran, threw and played everything in snow. Okay, listen to me, making a snowman is impossible when your friends are so cruel.
Then comes our best part, Skiing. AULI is heaven for skiing lovers, we got the skiing accessories and gave a try, some of us learned quick, people like me fell hundred times. There were private instructors hanging around and you can take a lesson with pay.
Skiing rate, 600 INR per head for half a day.
It was so damn fun,it is all snow for you to take a plunge. We enjoyed a lot till evening. And then we went around watching mountains clicking pictures and having more fun in snow till night. Our hut was covered with fresh snow. One more day, we went to bed in that hut forgetting all other things in life, just snow, hut and the beauty of Auli.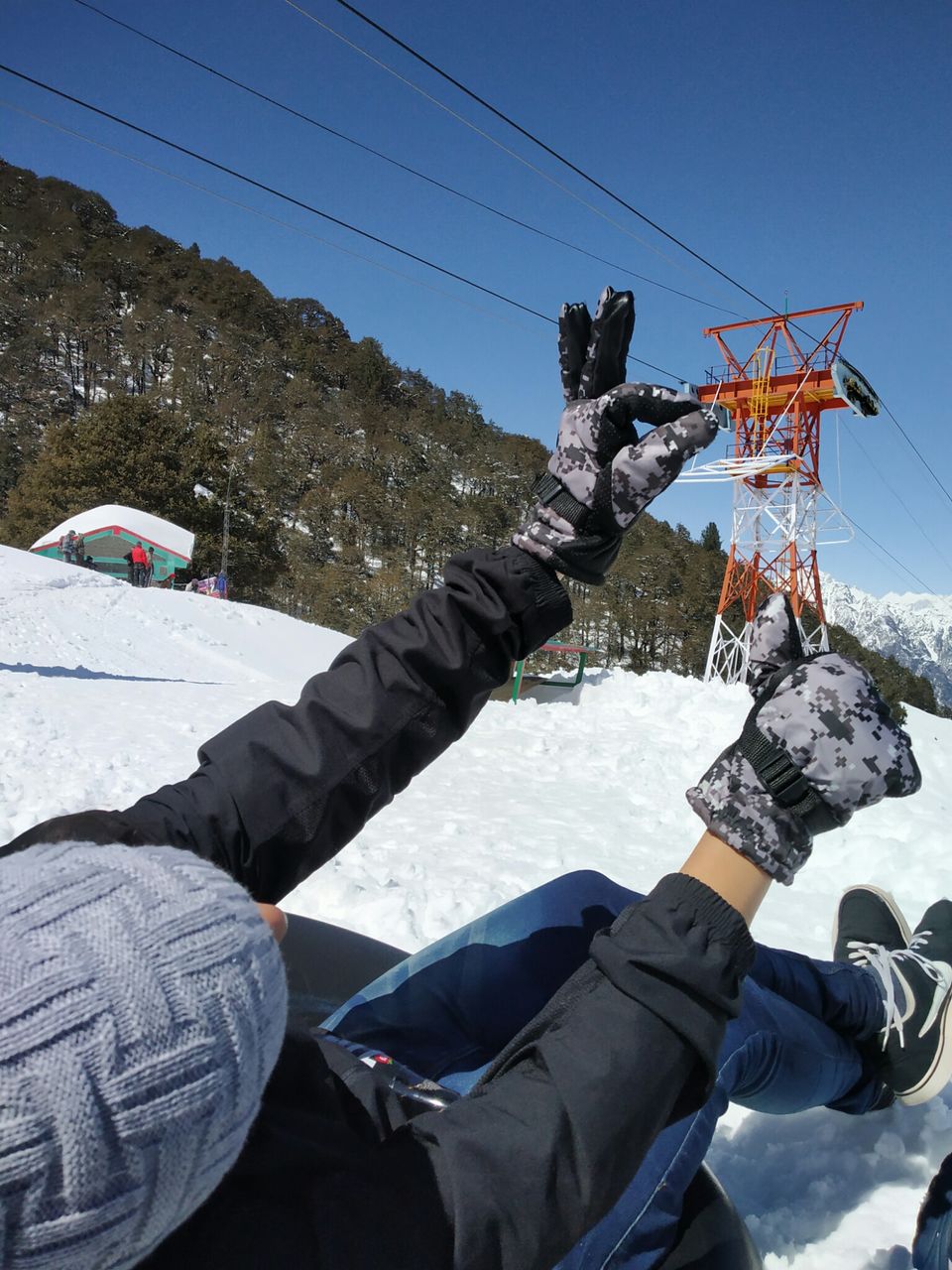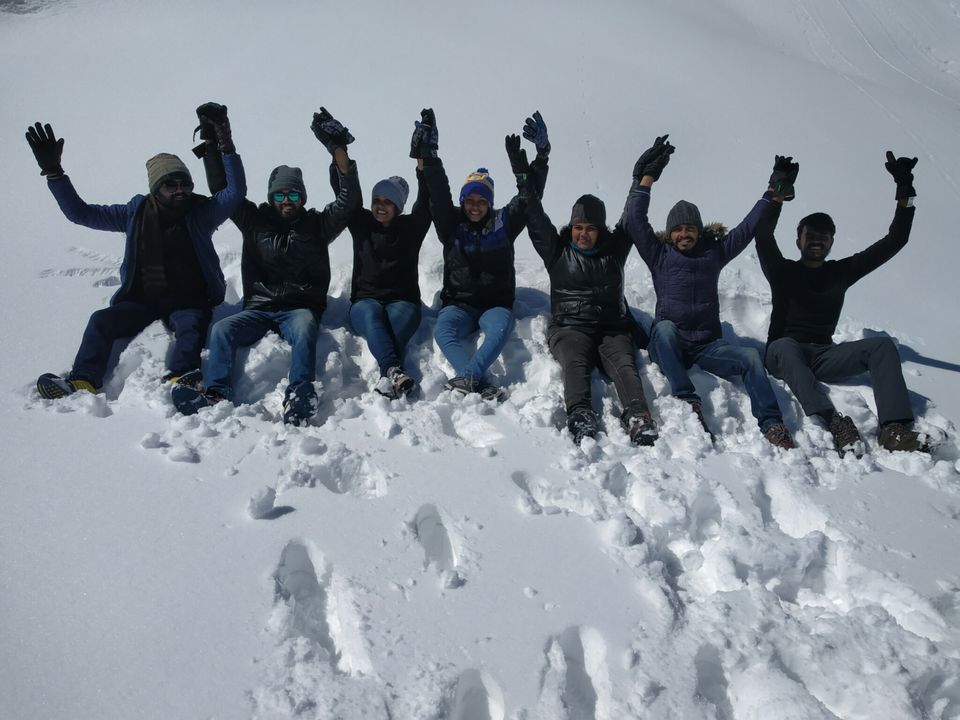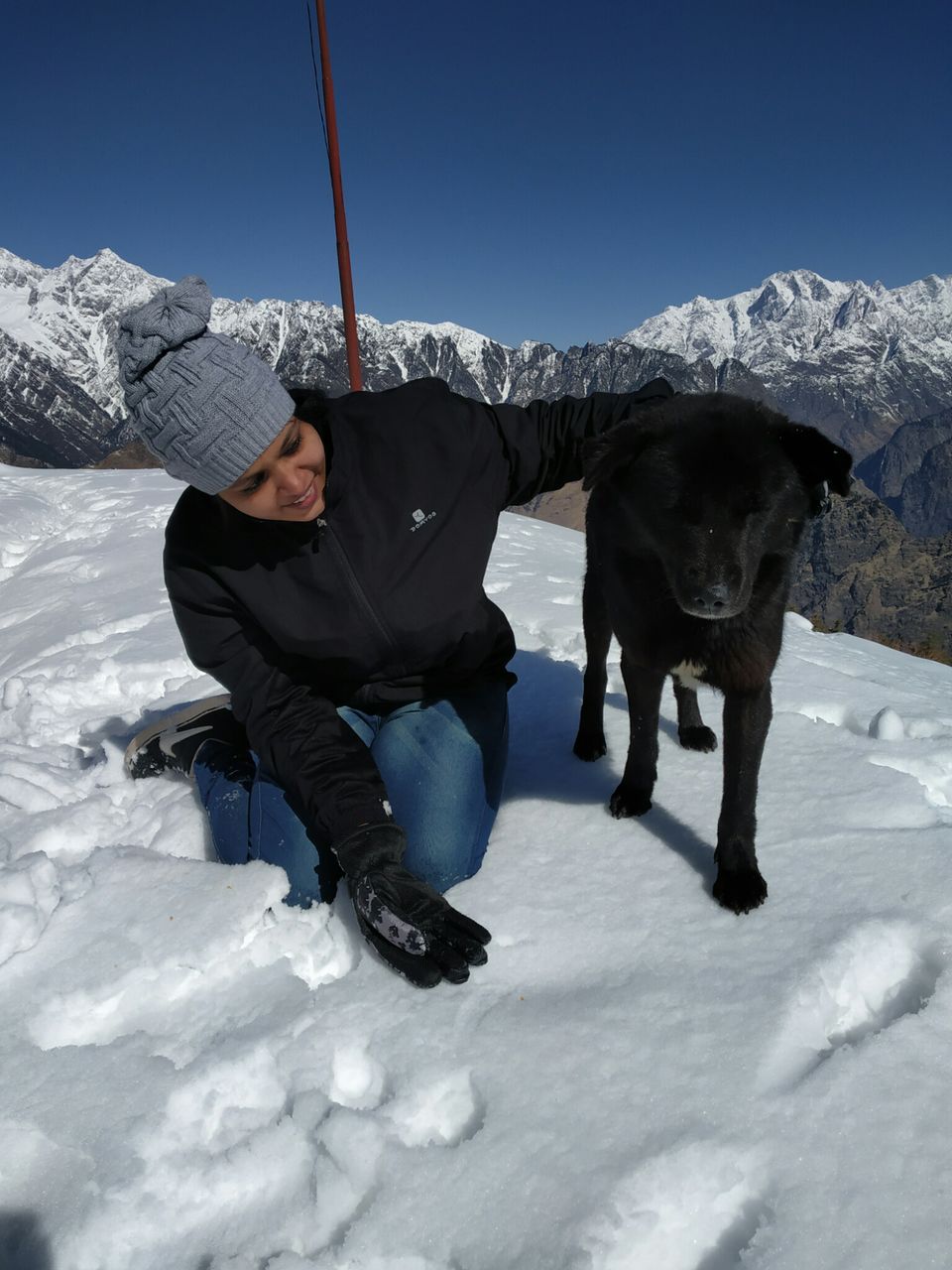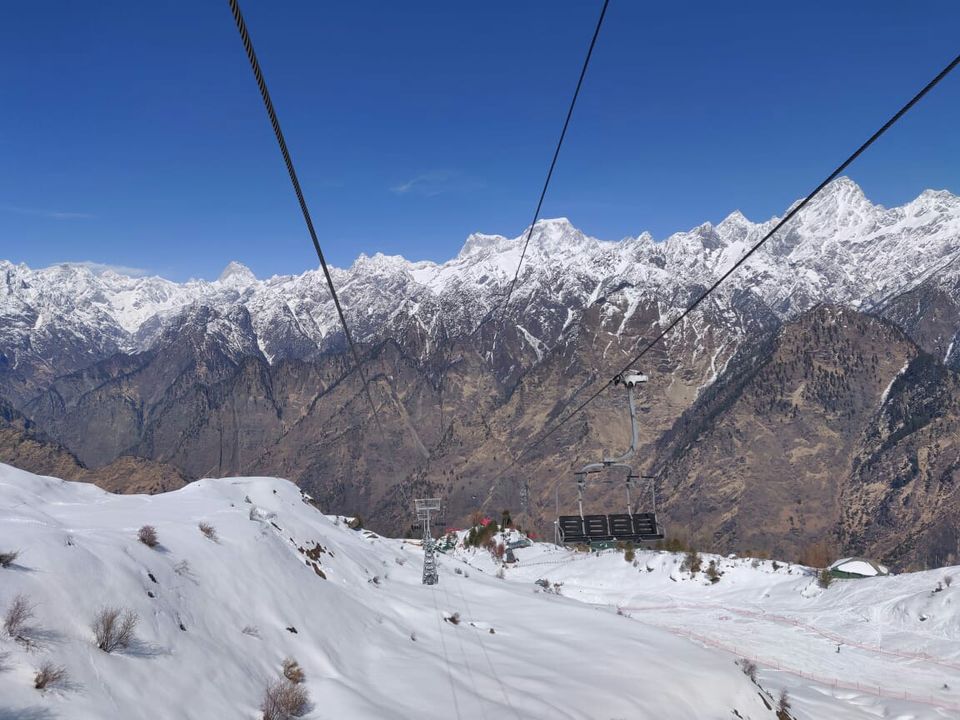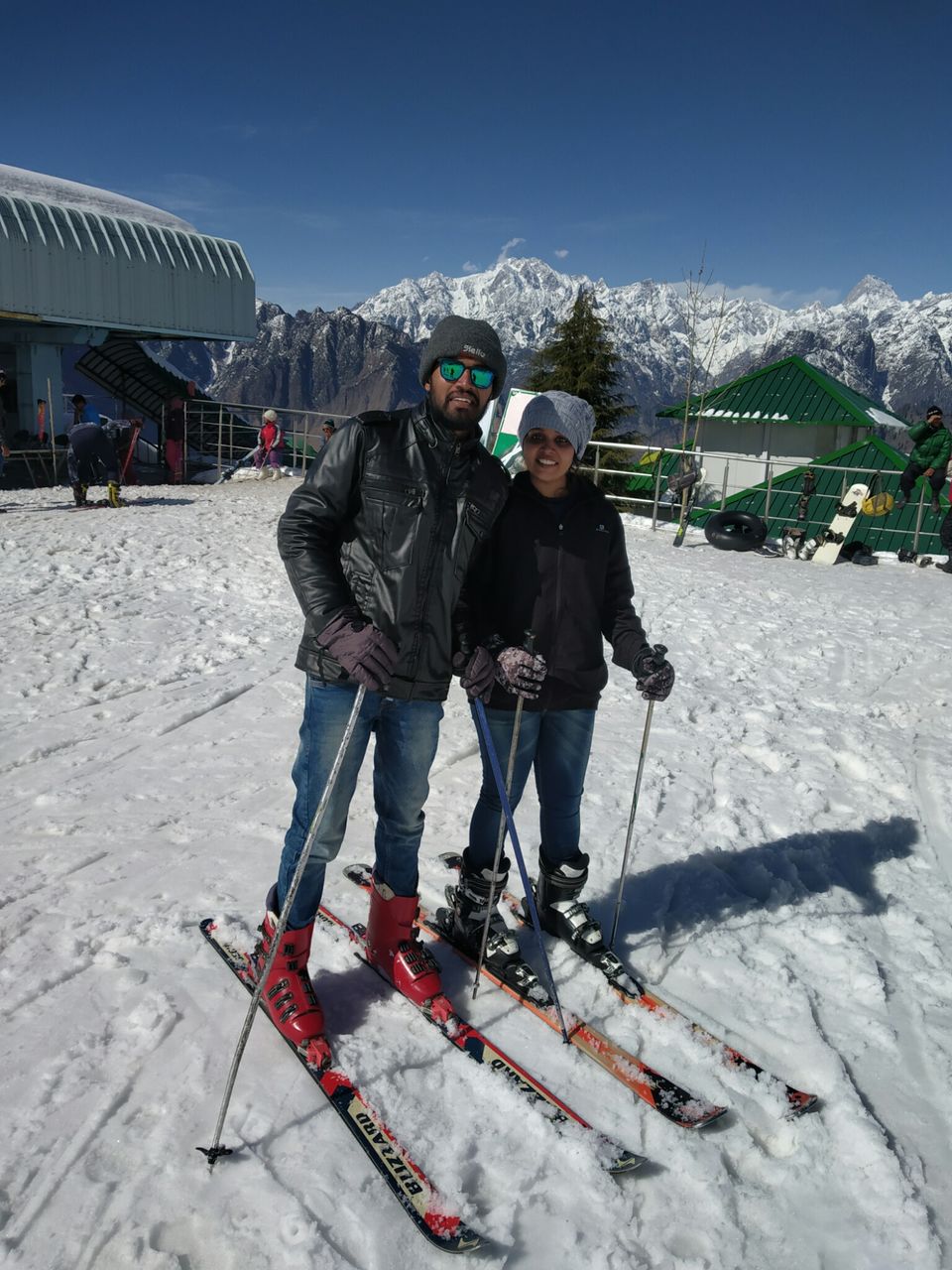 It was with heavy heart we had to say goodbye to this place. We packed and started our return to Rishikesh. There were no much activities this day, just watch the beauty of nature.We Immersed ourselves completely into the charm of Joshimath, Haridwar and Rishikesh. We had several spots like Devprayag, Rudraprayag, karnaprayag, Kedarnath, Badrinath and a lot around which we couldn't spend time because we were running late already. If you are travelling there plan accordingly such that you have time to feel the spirituality of the area. The peaceful surrounding around Joshimath, Haridwar etc could give all your senses a feast and best experience.
Ganga was undoubtedly magnificent inspite of all the pollution we hear about. It justs shows a perfect picture, the mountains all around, green, blue and magic of colors. Ganga, absolute beauty. By night we reached Rishikesh and planned to stay there, just a normal hotel which was cheap and decent.
Early Morning we got ready and went for rafting. We had flights from Delhi this evening, so we missed a lot of fun at Rishikesh like Bungee Jumping. But still we went for Rafting 12 km. It was amazing and thrilling. At some points a little scary too.
Advice you to choose good Rafting team as ours was a quick selection and were some careless people.
It cost 600 INR per head for just nearly 10km.
They clicks pictures and videos GoPro and send us and the rate was 1000 INR. It was a bit high which we now feel we were fooled.
They gave us some Dos and Donts inside raft. Still One of our friends fell into water at a turn, he was quickly taken back by the them. At a point where waterflow was less they told us we can jump. We all jumped in an excitement just to realize the water was freezing, but trust me a dip in Holy Ganga, wow, blessed.After Rafting, we reached Delhi Airport. The white snow flashed our mind the whole time. It was hard to leave.
As per my rough calculation including up and down flight from Chennai, cab, stay, food and all expenses, it was around 16k per head for this 4 days trip. We didn't have a guide or any package, it was self organised, and trust me its worth it, AULI stole my heart. Choose the right time to visit, pull out your coziest jerkins and just go.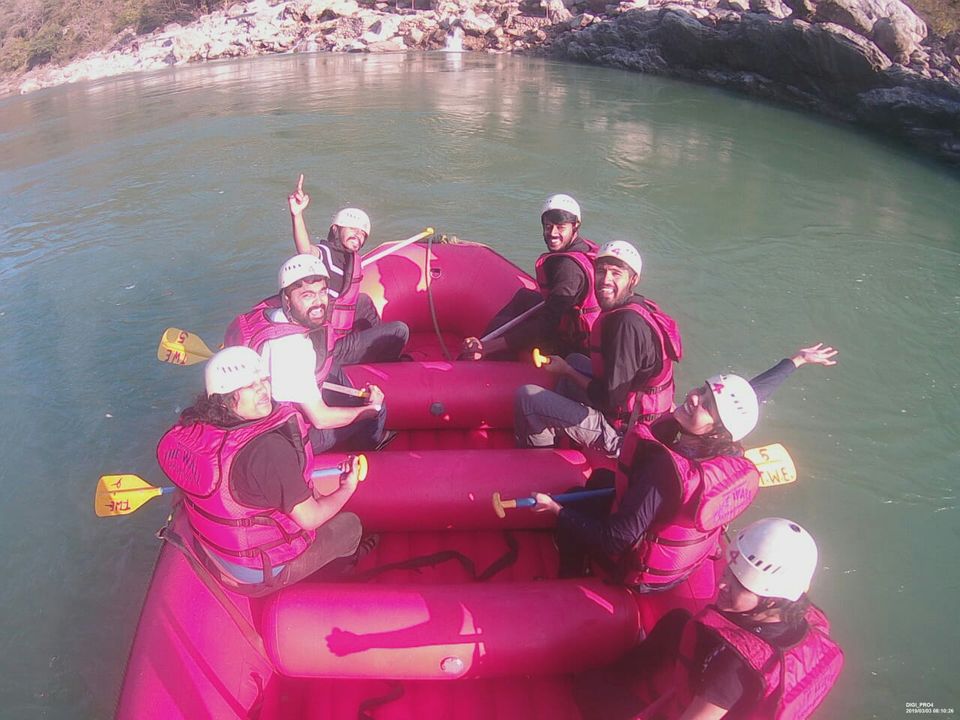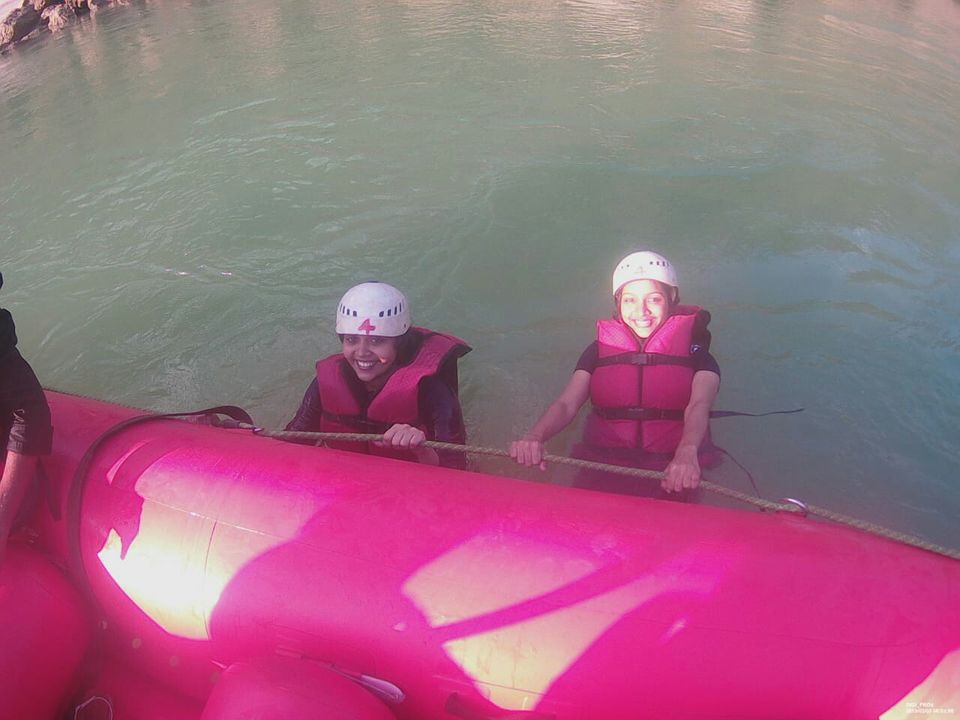 Frequent Searches Leading To This Page:-
Auli uttarakhand tour packages from delhi, tour packages from dehradun to auli, how to go to auli from joshimath, distance between rishikesh and auli, uttarakhand packages from dehradun