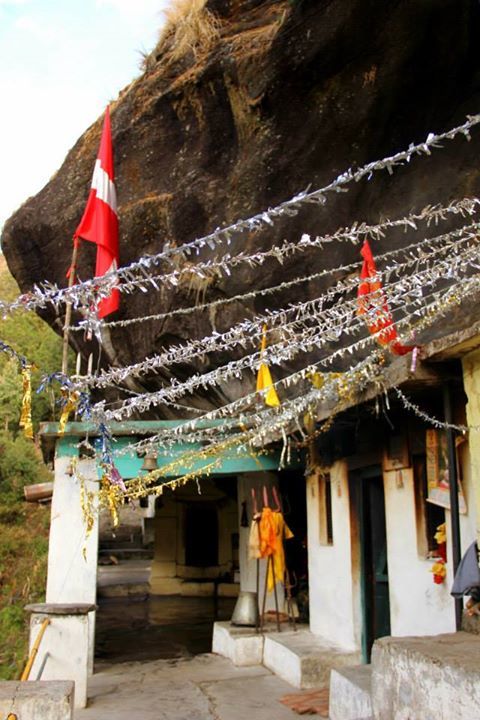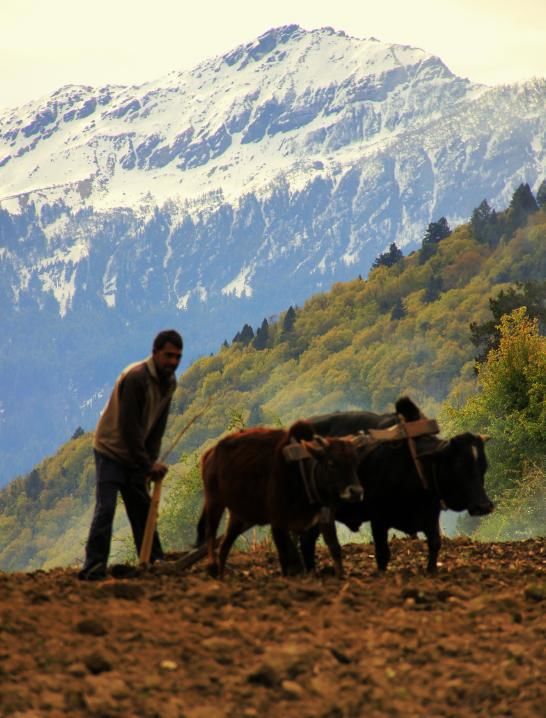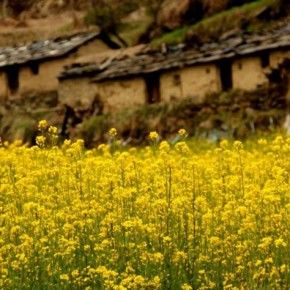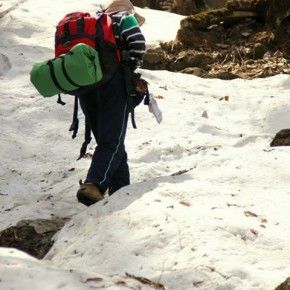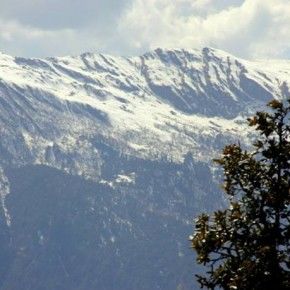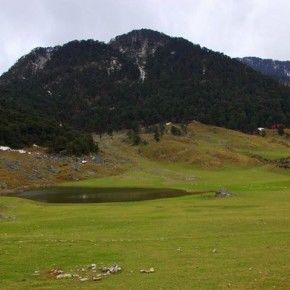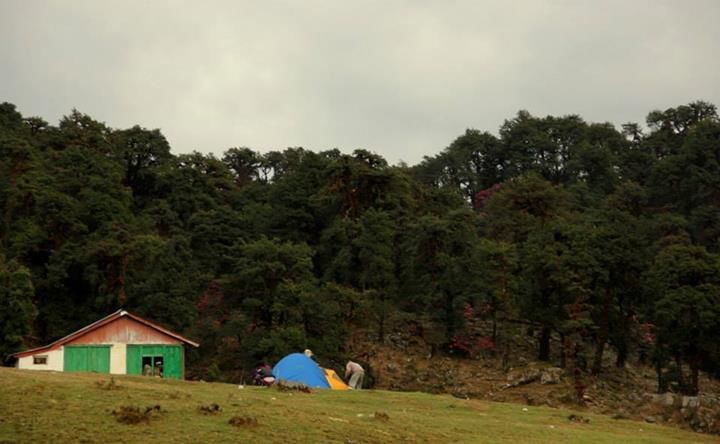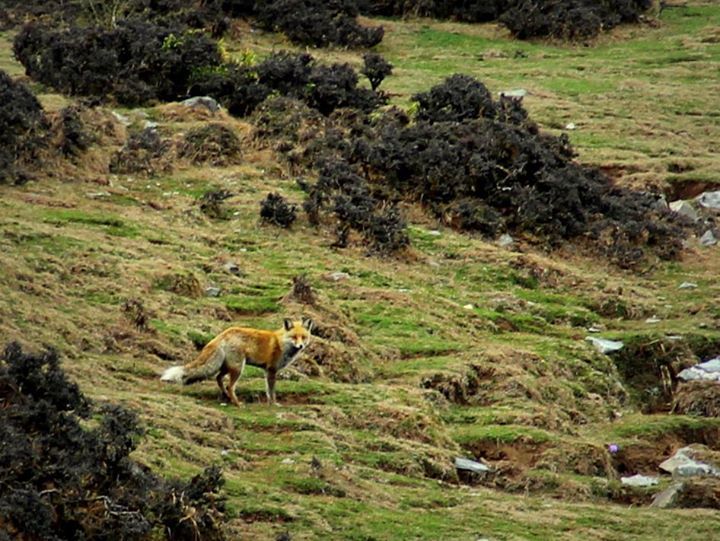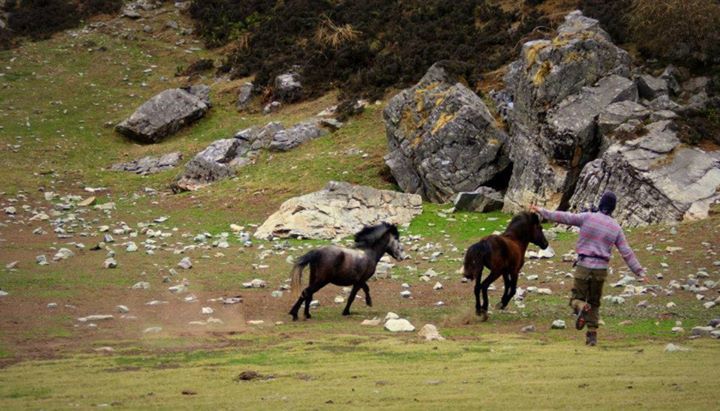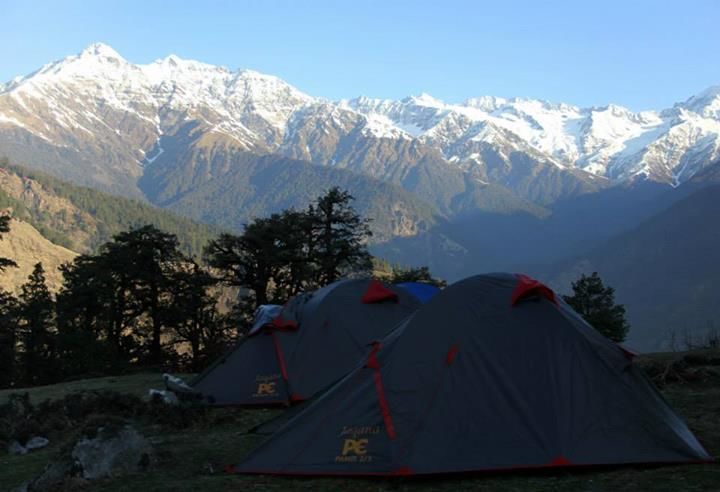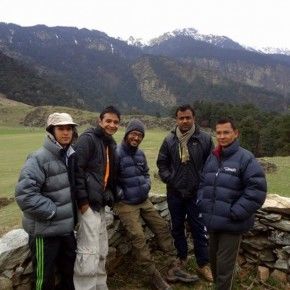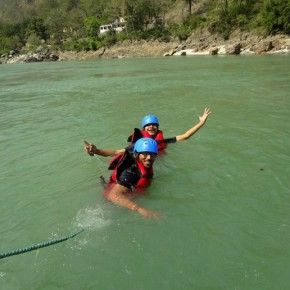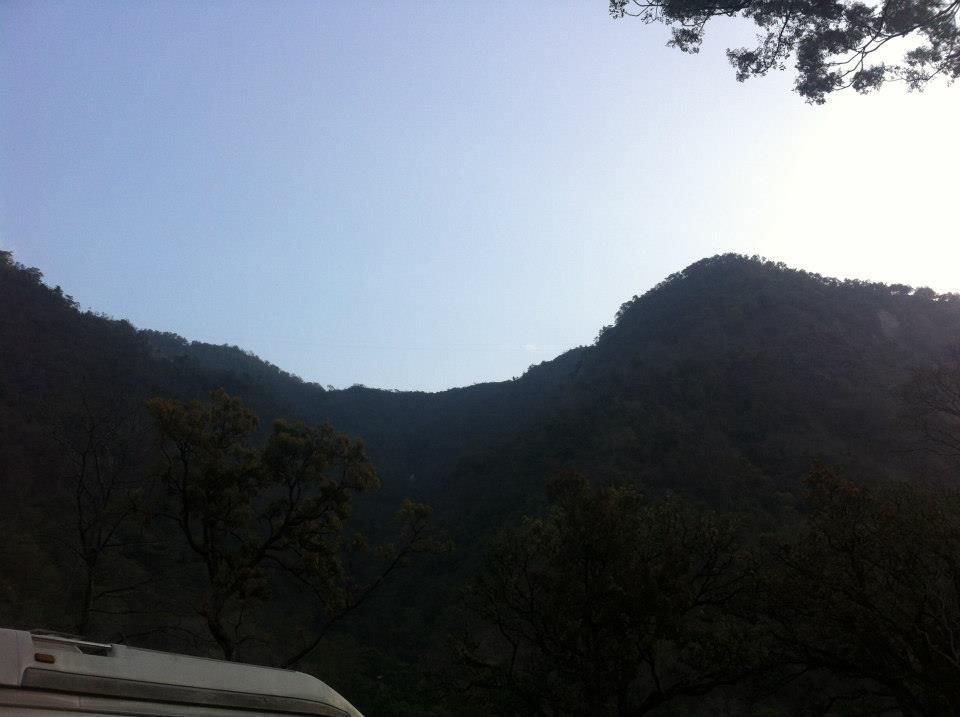 Kalpeshwar is the only temple of the Panch Kedar which remains open throughout the year and it is also the easiest to access. After a couple of days of planning. Bhupi, Saini, Pankaj and my childhood friend Ankit Bhatt agreed to join for Kalpeshwar – Rudranath Winter Trek. We booked a cab and bought ration from Delhi itself. On 26th March we left from Delhi at night and it was one long night I must say. We stopped for tea at a Dhaba after crossing Muzaffarnagar. Our hunger made us order bread butter along with tea. We tasted the legendary Tandoori Bread, and it was delicious.It was still dark when we reached Rishikesh, we made arrangements of tents and sleeping bags which we had to pick up from a hotel. The dawn greeted us as soon as we started off from Rishikesh to Helang. The roads were empty, the dhabas were closed, there was no activity until 9am. We were hungry and kept driving for hours but couldn't manage to find a good dhaba. Hunger made us go to sleep but the driver couldn't escape it. At around 3pm after crossing Karnaprayag, we stopped by a wooden shack where an old man greeted us with a wrinkled smile and said "chhole chawal mil jayenge," those four words meant the world to us. As soon as we reached Helang we saw that the road from Helang to Urgam Valley was in bad shape. After reaching Urgam we were informed that the guide who was supposed to accompany us got a bit too drunk and was not in a state to join us. We booked three other porters who would share responsibility of cooking as well. With the setting sun, we trekked 1 km and reached a school in Devgram, perfect spot for camping.Widespread terrace fields of Urgam Valley made it a beautiful site to watch .Half an hour walk on a well laden path through the villages took us to the bridge below Kalpeshwar Temple. A giant rock hanging from the mountain with a small cave inside is the actual place where Lord Shiva is worshipped in his matted hair form in Kalpeshwar Temple. This trek meant a lot to me and completing Panch Kedar gave me a sense of accomplishment. After taking the blessings of Lord Shiva we started trekking towards Dumak. The path of the first few kilometres was well laden but the climb got steeper with every step. After crossing the dense elevating forest and few bends covered with snow, we reached a pass which opened up to an amphitheatre of an entirely new set of mountains.As soon as we reached Kalgoat we found out that there was still a long way to go. We had to descend all the way to reach the bottom of a stream, nearby that a temple was located. A jogi prepared tea for us at that place. Dumak was one-hour hike away from this place.
We camped at a school ground in Dumak. Couple of local'ites wanted to benefit from us by charging us to camp on school ground but our porters ensured that they didn't. The kids of the village were particularly excited to see when we were pitching our tents, it was a new thing for them. A good dinner was much required that night and Sambhar Chawal proved out to be a wise decision. It was a sunny laidback morning and the target of this day was to reach Panar Bugyal, a pristine alpine meadow situated at an altitude of 3,800mts. It was a long way to go with mostly steep climb. Deep fried paranthas for breakfast boosted us with energy buy also made us a tad lazy. On our way we found a middle aged man who gave us few pills to relieve the pain in our legs. After a short elevated walk within the village we reached a point from where the route of next few kilometres became visible. We had to descend down from a muddy mountain all the way to a bridge over a stream and thereby climb the other mountain. After crossing the bridge we reached a stream amidst dense forest with a small flat ground. After resting for a while we started walking again. The climb was tiring.The clouds started gathering as soon as we reached Toli Bugyal. Cold desperate wind accompanied by mild showers forced us to take shelter in the Forest Rest House of Toli Bugyal which was in a pretty bad shape. It was already 2pm by the time we reached Toli Bugyal. The cook started preparing lunch whereas Pankaj with other two porters went further deep down the jungle to see the route towards Panar.We on the other hand saw a half eaten buffalo and rotting horse behind Toli Tal, a sign that leopards were nearby. We spotted a big wild fox with tail as big as her body. I couldn't resist running after her, she was quick but I managed to get a couple of shots (shutter speed wins).We went back to the Forest Guest House for lunch. After discussing things for an hour we decided to return back to civilization and skip the attempt of reaching Rudranath. The furious wind forced us to stay inside Forest Guest House. The porters were discussing whether to camp near a water source (some 100mts up from the guest house) or not. When we asked in detail about it, they told us about a small temple of a local deity which was located near that water source. I exactly remember his words "agar upar camp karenge toh devta raat ko pareshan karega". Ankit and me were sharing the same tent and found it difficult to sleep that night. But as soon as we were about to sleep, the porters in their tent started to play bhajans, they were even more scared than us.We woke up early in the morning and packed all the stuff. While breakfast was being prepared, we walked to one of the highlands of that region and waited for sunrays to greet us. After covering couple of kilometres of dense jungle the route led to a pass that opened the views of other side of the mountains. Mobile networks started catching so I made a call back home. It was 30th March; my brother told me that he is now a father. My joy knew no bounds.
We kept descending that large mountain for hours. We paid the porters and waited for our cab. The driver couldn't believe that we made it this far from the point where he dropped us three days back, he didn't know much about trekking.
We kept driving and reached Srinagar at 8pm. We booked a 4 double bed room in GMVN for just Rs. 800, discounted rates is one of the reasons why I love travelling during off season. Everyone had a refreshing shower after 4 days. The food we ordered from the Guest House Restaurant was ordinary.In order to give a happy ending to our journey we planned to go for rafting.While arranging rafting trip at Muni ki Reti we came to know that couple of days earlier a rafting But we religiously followed the commands of our instructor and paddled with all our strength. Witnessing a lot of people falling into the water and watching them being rescued, we had a lot of fun on our adventure ride. Our journey ended with saving the brothers who fell in water. No other event could replace its worth. May be we failed to complete our trek because we were destined to save them, who knows if we hadn't been there, what would have happened to them. Even though this is too deep a thought to believe in but such is life in the Himalayas. One walks down the valleys, conquer summits, paddle down the river, only if Himalayas permits to do so. Isn't It?