Altitude gain - 6397 ft (1950 m) to 8280 ft (2524 m)
Prahlad had briefed us about today's plan yesterday night. It was going to be a tough 20km journey. Thankfully, half of it was in a jeep ride. Everybody ran to grab the windows seats to enjoy the views. I thought why not sit on the top and enjoy it better :) Little did I know that it was going to be bumpy as hell! Take a look.
I was confused whether to take pictures/videos or enjoy them naturally and be safe. I tried taking a few but later on realised that it's better to reach the destination in single piece rather than multiple :) We reached Taluka village about an hour later. This was the last village with proper facilities on this trek and the starting point of our trek. All of us huddled together and got tips from Prahlad about how to use the trekking pole to ease our ascents and descents and then we began! We passed numerous small and big bridges on the way over Supin river. The sound of the river flowing is just amazing! That too when it is so close to you!
We also saw few fields with a red coloured crop being grown in them. It's locally known as 'Chaulai' and is used to make rotis. Along with the blue of the river and green of the trees it was lending a beautiful tone to the surroundings. After sometime we even came across a shop stocked with chips, biscuits and many other items. So incase you are hungry and want to take a quick bite, you can buy some stuff from here. The scenery enroute was amazing.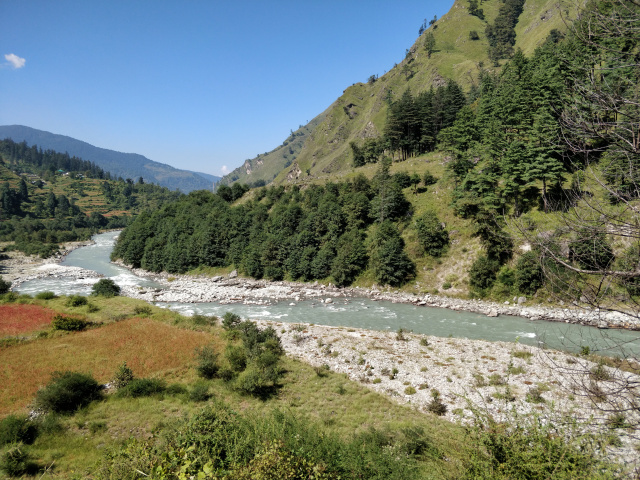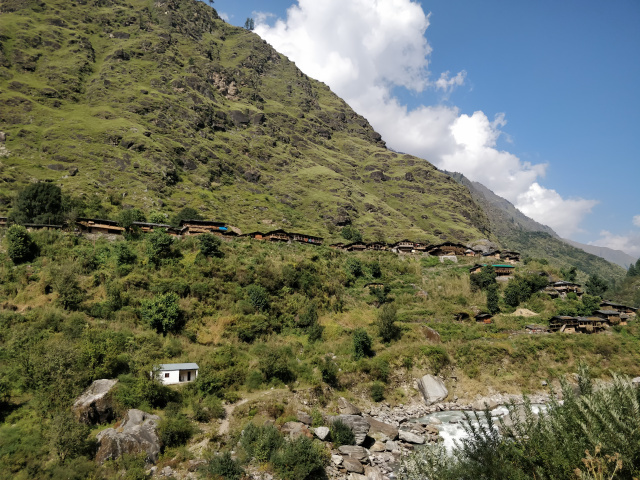 We reached the final campsite for today, Puani Garaat, by 3PM and were welcomed by a glass of Nimbu Paani (Lemon Juice). It was really refreshing to have that after an intense day of trekking. We got our tents and I was sharing mine with Mr. Varma and Mr. Suresh. They had come together along with their relatives on this trek. Once all were done offloading their bags, Prahlad called us all and got everyone engaged into some post trek games to help us cool down. We also got a demo of how to use the sleeping bag as well and some evening chai and snacks. Getting a cup of hot chai after day long walk is amazing. That feeling can't be explained :) We had our dinner around 8PM in the dining tent. Oh, I forgot to mention about the tents! So there are 3 types of tents.
1. Kitchen tents - One for dining where everybody has their food and one for cooking.
2. Sleeping tents - Where we sleep during night.
3. Toilet tents - Where we do our business :)
The toilet tent was something I had never come across before (Obviously since this is my first trek!). It's basically a hole dug in the ground with a spade and some soil kept on the side and covered with a tent. So you need to squat, do your stuff and then cover it up with the soil. And don't forget to zip the tent when you are inside unless you want to be interrupted :) Another trick is to sing a song or give a shout out to check if someone is inside. Well, that's it. I guess this is how it's done in the Himalayas :) You can see the cooking tent (green) and sleeping tents (yellow) in below picture.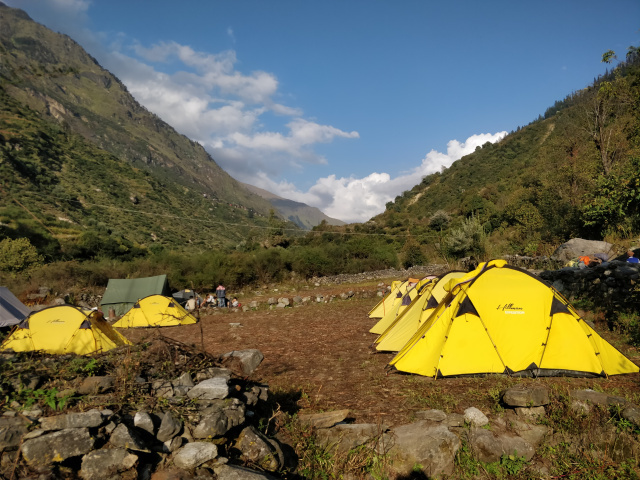 Puani Garaat campsite
For more pics check this link.